General Information
Regarding sound quality, the Qualcomm aptX Adaptive technology allows wireless transmission of high-definition audio at 24-bit 48kHz and 24-bit 96kHz. QCC5171 supports the latest aptX Lossless, providing CD-quality 16-bit 44.1kHz lossless audio. With aptX Voice technology, Snapdragon Sound can also support end-to-end Bluetooth Ultra-Wideband (UWB) voice. With a 32kHz sampling frequency, it delivers a smooth frequency response sound of up to 16kHz. This will bring high-quality voice calls to your earphone.
Apart from sound quality, Snapdragon Sound offers other remarkable features. With the rise of mobile gaming and short video platforms, the increased usage time for gaming and video watching has highlighted latency issues' impact on headphone usage. The low-latency transmission of aptX Adaptive can provide a gaming mode with audio latency as low as 68ms.
Furthermore, Snapdragon Sound utilizes Qualcomm High-Speed Chain Modulation technology to achieve a 4dB gain and Qualcomm aptX Adaptive technology to achieve a 2dB gain. Reducing retransmissions and shortening broadcasting time better supports Wi-Fi coexistence and delivers a more powerful overall connectivity experience.
Advanced modulation and encoding technologies contribute to faster end-to-end Bluetooth connections, improved range, stability, and resistance to interference.
Combined with the advanced process of QCC5171, music playback power consumption can be as low as 4mAh, significantly enhancing battery life.
In summary, Snapdragon Sound technology aims to enhance the user experience with wireless earphones, allowing users to experience wireless audio quality on par with wired audio.
Regarding call quality, Snapdragon Sound integrated into QCC5171 features Ultra-Wideband (UWB) call technology, allowing for voice signal transmission with a 32kHz sampling rate over standard Bluetooth. This significantly improves the sound quality during Bluetooth calls and reduces environmental noise, enhancing the user experience. While standard Bluetooth calls typically provide a frequency response of 4kHz, and wideband calls offer 8kHz, Snapdragon Sound delivers a frequency response of 16kHz.
This means that the call quality provided by Snapdragon Sound can cover the entire range of sounds humans can hear. Generally, the human hearing range falls between 20Hz to 20kHz, with very few people able to hear sounds above 18kHz, and even fewer beyond 15kHz. Thus, Snapdragon Sound's call quality can encompass the majority of sounds that humans can perceive, providing a higher quality experience during calls.
Product Information​
Product Model
KZ AZ20
Bluetooth Version
5.3
Charging port
Type-C
Bluetooth Range
~15m
Earphone playing time
~6 hours
Charging case battery capacity
800mAh
Earhooks battery capacity
35mAh
Supports extra recharging times
~9 times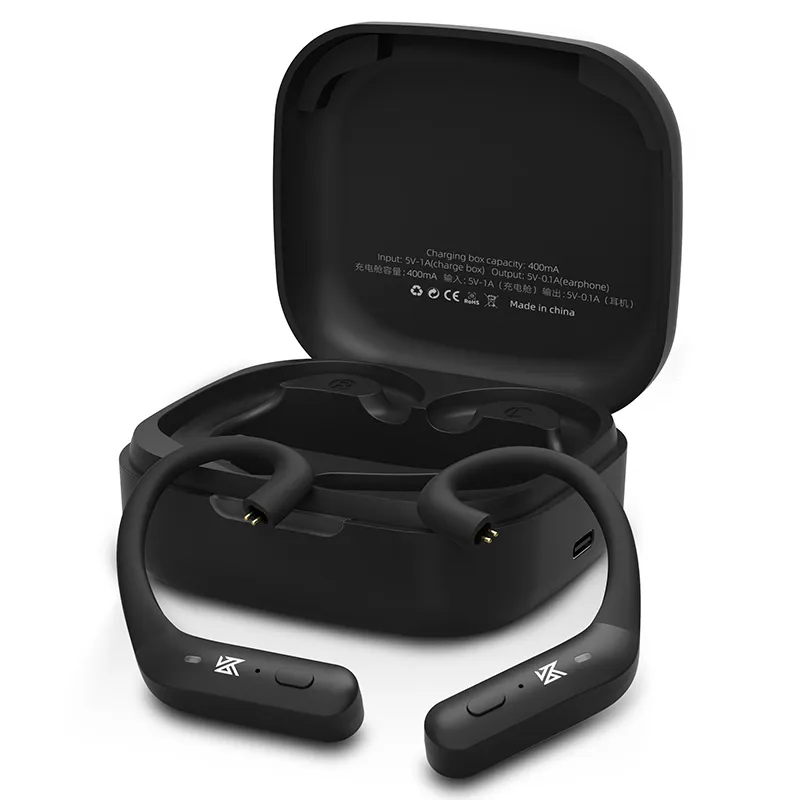 KZ