With features such as wireless charging and ambient awareness, this true wireless earbud from Jabees looks like it does it all for a very reasonable price, but does it live up to expectations?

1/19/2020 - Jabees has released a firmware update for the Firefly Pro via a mobile app. The update process is a bit confusing, the instructions say to take out the buds individually and put them back in which led them to stop playing audio. I performed the update again with the earbuds still in the case which properly updated the firmware. The review has been updated to reflect on any improvements.

The past two years have represented a push towards budget level true wireless stereo (TWS) earbuds that have features rivaling those by mainstream brands. The Jabees Firefly Pro is an improved version of the Jabees Firefly released last year, which offered features such as USB Type C charging and ambient awareness mode. It retails for 80$ USD but with a 20% coupon it can be purchased for 64 USD from Jabees' online store. I had previously tried the original Firefly briefly at a store while travelling and was not particularly impressed, but to be fair it was a brief session. Although I have been told by Jabees that the Firefly Pro sounds mostly the same as the original, it offers improvements in battery life and has a different charging case design that supports Qi wireless charging.
Charging Case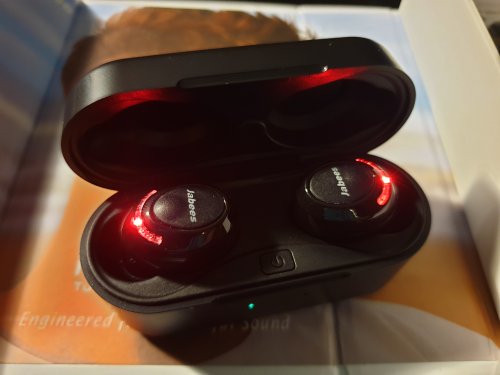 The Jabees come in a plastic rectangular charging case that is a tad bulky, with a similar girth to the Earfun Free – battery life is rated at an additional 18 hours on top of 6 hours of the earbuds. The earbuds snap on magnetically and remain securely in place. The plastic lid is a tad flimsy, but overall the case seems quite durable. There is a large power button in the case only for doing a factory reset for the earbuds. Some odd quirks are the fact that it has 2 charging LEDs only light up turquoise and red when they are charging, and you have no telling what the charging progress (green-yellow-red) is until the turquoise left light turns off or you stop charging. I am thus perplexed by why there is a red light on the right in the first place. This is not a huge issue on its own, but it would have been nice if the lights accurately reflected battery life
while
they were charging, both for the earbuds and the case. Additionally, the yellow light that denotes medium battery life from 25-75% still has a green tint, which can be confusing under certain conditions.
The Firefly Pro supports Qi wireless charging and has a USB Type-C port, so it seems to be quite future-proof. Unfortunately the Type-C port only charges with a Type C to A connection, not with USB power delivery via a Type-C to Type-C cable. This seems to be a common cost-cutting measurewith many budget Type-C TWS (essentially using a USB 2.0 IC with a Type-C connector on one end), but many original Firefly users had already complained about this issue on the original Firefly, so it is unfortunate it has not been improved. As most of my mobile accessories are currently Type C to A, this is not a huge issue for me, but is not as future-proof as it could be.
Wireless charging is a nice addition to the case. Like other budget TWS with this feature, there is also an issue with compatibility, with 5W wireless chargers being the most ideal. While it readily charges with my 10W ADATA charger, my 10W wireless power bank sometimes has problems initiating the charge. It is tall enough that it can be charged with my Samsung Fast Charging stand, but only if it's plugged into either a Samsung Fast Adaptive or Qualcomm QC2.0 power brick.
Battery Life
Battery life is excellent these are rated at 24 hours total playback (6 hour single use + 18 hours from the case) and last me 4-5 days with heavy usage, roughly equating these numbers in total play time. However, I have noticed what seems to be a calibration issue with the case, as it sometimes stops charging the earbuds when the LED indicator is still yellow (which designates anywhere from 25-75%). Sometimes repeatedly opening and closing the case will show red or yellow. I had one occasion where the earbuds kept showing inconsistent capacity between 40% and 70% until they were charged with the case plugged in.
Connectivity
Unlike some other TWS, these power on and attempt to connect the moment the case is opened. Pairing is reasonably quick, but isn't much faster than TWS where they power on when taken out of the case. The music actually plays pretty early upon opening the case, but you still hear the sound to say it's "connected" for a few seconds. The case must be snapped shut to turn off the buds. Although this is fine in practice, if the lid was to break you'd probably have trouble shutting down the earbuds, as they do not have a power-off function via the buttons. They will, however, turn off after 5 minutes of being unpaired.
Connectivity with AAC codec is rock solid – among the best I've experienced so far. I very rarely ever get hiccups/skips/cut-outs, although there is occasionally a faint crackle at higher volumes. Latency is not an issue for video players, but is noticeable with games as with many other TWS. SBC sounds nearly as good with the bass being slightly more boomy, b̶u̶t̶ ̶i̶s̶ ̶p̶r̶o̶n̶e̶ ̶t̶o̶ ̶c̶r̶a̶c̶k̶l̶i̶n̶g̶ ̶a̶n̶d̶ ̶d̶i̶s̶t̶o̶r̶t̶i̶o̶n̶ ̶u̶n̶l̶e̶s̶s̶ ̶a̶b̶s̶o̶l̶u̶t̶e̶ ̶v̶o̶l̶u̶m̶e̶ ̶o̶r̶ ̶m̶e̶d̶i̶a̶ ̶v̶o̶l̶u̶m̶e̶ ̶s̶y̶n̶c̶ ̶i̶s̶ ̶d̶i̶s̶a̶b̶l̶e̶d̶.̶ ̶S̶e̶e̶ ̶t̶h̶i̶s̶ ̶l̶i̶n̶k̶ ̶f̶o̶r̶ ̶h̶o̶w̶ ̶t̶o̶ ̶d̶o̶ ̶t̶h̶i̶s̶ ̶o̶n̶ ̶W̶i̶n̶d̶o̶w̶s̶ ̶1̶0̶.̶ ̶U̶n̶f̶o̶r̶t̶u̶n̶a̶t̶e̶l̶y̶ ̶i̶t̶s̶ ̶S̶B̶C̶ ̶i̶m̶p̶l̶e̶m̶e̶n̶t̶a̶t̶i̶o̶n̶ ̶i̶s̶ ̶a̶l̶s̶o̶ ̶p̶r̶o̶n̶e̶ ̶t̶o̶ ̶l̶a̶t̶e̶n̶c̶y̶ ̶w̶i̶t̶h̶ ̶Y̶o̶u̶T̶u̶b̶e̶ ̶v̶i̶d̶e̶o̶s̶ ̶a̶n̶d̶ ̶g̶a̶m̶e̶s̶ ̶o̶n̶ ̶W̶i̶n̶d̶o̶w̶s̶ ̶1̶0̶,̶ ̶a̶s̶ ̶w̶e̶l̶l̶ ̶a̶s̶ ̶o̶c̶c̶a̶s̶i̶o̶n̶a̶l̶ ̶d̶i̶s̶c̶o̶n̶n̶e̶c̶t̶s̶ ̶w̶h̶e̶n̶ ̶t̶h̶e̶ ̶s̶y̶s̶t̶e̶m̶ ̶i̶s̶ ̶u̶n̶d̶e̶r̶ ̶a̶ ̶h̶e̶a̶v̶y̶ ̶l̶o̶a̶d̶ ̶(̶t̶h̶o̶u̶g̶h̶,̶ ̶t̶h̶i̶s̶ ̶m̶a̶y̶ ̶b̶e̶ ̶t̶h̶e̶ ̶f̶a̶u̶l̶t̶ ̶o̶f̶ ̶m̶y̶ ̶P̶C̶)̶.̶ ̶D̶i̶s̶a̶b̶l̶i̶n̶g̶ ̶a̶b̶s̶o̶l̶u̶t̶e̶ ̶v̶o̶l̶u̶m̶e̶ ̶a̶l̶s̶o̶ ̶c̶a̶u̶s̶e̶s̶ ̶s̶o̶m̶e̶ ̶o̶t̶h̶e̶r̶ ̶a̶u̶d̶i̶o̶ ̶d̶e̶v̶i̶c̶e̶s̶ ̶d̶i̶p̶ ̶i̶n̶ ̶v̶o̶l̶u̶m̶e̶ ̶u̶n̶l̶e̶s̶s̶ ̶t̶h̶e̶ ̶o̶p̶t̶i̶o̶n̶ ̶i̶s̶ ̶r̶e̶-̶e̶n̶a̶b̶l̶e̶d̶,̶ ̶w̶h̶i̶c̶h̶ ̶m̶a̶k̶e̶s̶ ̶i̶t̶ ̶a̶ ̶l̶e̶s̶s̶ ̶d̶e̶s̶i̶r̶a̶b̶l̶e̶ ̶s̶o̶l̶u̶t̶i̶o̶n̶.̶

The latest firmware fixes the SBC distortion issue such that I no longer need to disable absolute volume.
Call Quality
Unfortunately, call quality is rather poor. It sounds as if the noise reduction is too excessive, with some distortion and static. When I'm commuting on a bus or train, or when a vehicle passes by, recipients have trouble hearing me.
Controls
The Jabees use physical buttons which are rather small, and overall I found the controls rather finicky. On my unit at least the right MFB button being far less clicky than the left one. After a few days, this becomes less cumbersome, but I wish the buttons were more consistent. Changing volume, which requires a button hold for several seconds, is particularly cumbersome as if you hold it too briefly (>5 seconds) it also pauses your music, but if you hold it too long, the volume will continuously increase or decrease too much. Playing and pausing can be done on both sides with a single tap, while a double tap will switch tracks. Triple-pressing the right earbud quickly will activate your device's voice assistant. Ambient sound awareness/hear-through is activated with a
fast
triple-press on the left. Sometimes if you press too slowly these features will not be activated. Also note that triple-pressing when the earbuds aren't paired will change the language to Chinese.
Ambient Sound Mode
Budget TWS with this feature are few and far, so it is a nice addition to have, but you're really getting what you pay for in terms of quality and reliability. The mic feed has some hissing and a very slight delay, and overall I find its audio quality worse than the Jabra Elite 65t, especially for wind noise.
On a vehicle, there is a tendency to abruptly increase hiss or buzzing.
There is a slight "sucking" sound heard when vehicles pass by or certain static noise, perhaps due to the slight delay in the mic feed and added/removed phase inversion artifacts. On a positive note it offers a more constant audio stream without affecting audio playback. Nonetheless, the ambient sound is still fairly usable for most purposes.
However, one very odd issue I experienced is that the right earbud's mic feed cuts when exposed to direct sunlight, with an odd clunking sound heard each time I turn towards the sun and the mic feed turns on and off. As there is a narrow window that allows light to pass through, I suspect there is some interference going on since some of the internal components are visible. Another issue I've experienced is that the ambient sound is too loud after ending a call, if I had been using it before the call. The only solution is to re-activate ambient sound again. It remains to be seen if this occurs on other units or just mine – I̶ ̶h̶a̶v̶e̶ ̶s̶i̶n̶c̶e̶ ̶n̶o̶t̶i̶f̶i̶e̶d̶ ̶J̶a̶b̶e̶e̶s̶ ̶a̶b̶o̶u̶t̶ ̶t̶h̶i̶s̶ ̶i̶s̶s̶u̶e̶ ̶b̶u̶t̶ ̶h̶a̶v̶e̶ ̶n̶o̶t̶ ̶r̶e̶c̶e̶i̶v̶e̶d̶ ̶a̶n̶ ̶u̶p̶d̶a̶t̶e̶.
The 1.4 firmware update has rectified this issue. It does, however, add a "call ended" voice prompt when you end your calls.
Comfort and Isolation
I found these to fit quite securely in my ears. Ergonomics are good but could be a bit better. Isolation with the wide-bore stock tips is mediocre. Small-bore tips can improve isolation, but even so the isolation is only average – I could still hear people talking or making coffee at the coffee shop. They also alter the sound quality such that it the bass becomes thicker. This leads me to suspect the drivers are vented just behind the nozzle. On the plus side, the Firefly Pro appears to be devoid of driver flex/ear pressure issues present in some other dynamic driver TWS, and the bass retains its clarity even in noisy conditions.
Sound quality
The Firefly Pro has a bass-heavy V-shaped sound. The sub-bass is quite deep with a further emphasis on the midbass. Although it is mostly well-controlled, the midbass can be overwhelming and bleed into the lower mids which sound recessed. As a result, vocals can sound distant in certain tracks. The treble has good presence and detail without sounding sibilant. However, there is a slight artificial, metallic tone to it, sometimes amplifying pre-existing distortion in a track, making them unforgiving of poorly mastered music, including LoFi tracks that intentionally add distortion effects. The soundstage is
slightly
above average, and the instrument separation is excellent outside of the lower mid region.
Channel imbalance appears to be a fairly common issue with TWS I have tried so far. Out of the box, I thought there was a
bit
more bass on the right bud out of the box. However, after a week of use I started noticing the left bud seemed to have clearer mids and treble – this seems to be in part due to the nozzle filter is wearing out and becoming misaligned. It is made of a stringy felt material, and thus difficult to realign without further damaging it. After further testing and the removal of the filter, this imbalance is still present, but is far less intrusive as some other TWS I have received recently.
For a basshead TWS, the Firefly Pro definitely hold their ground, while retaining good treble detail. However, look elsewhere if you want a balanced or mid-forward sound.
Conclusion
For only 80$, the Jabees Firefly Pro fulfills much of my criteria to be a daily driver – USB-C to A charging, wireless charging and ambient awareness. However, you get what you pay for in terms of quality/execution, and thus I can only recommend them with a number of reservations. They have a borderline boomy bass response, so look elsewhere if you want a more neutral sound and better noise isolation. The ambient sound feature is a great addition, but it is not a perfect implementation, and the call quality is poor.
Case Design
8.5/10
Comfort
7.5/10
Isolation
6/10
Connectivity
9/10
Call quality
4/10
Controls
5/10
Sound quality
7.8/10
Overall: 7.7/10
Comparisons with other TWS can be found in my blog post of the same review.