Item information
Added by
Views

26,275
Reviews

7
Last update
Rating

4.71 star(s)

7 ratings
Latest reviews
Pros
:
One of the best value DAPs in the segment
- Very good sound quality
- Highly attractive 1080p 445ppi screen
- Light weight, easy to use,
- Nice packaging
- Highly customizable Android platform
Cons
:
Nitpicking - Slight WiFi interference when close to router which is very low and doesn't bother me to be honest
- Not the fastest DAP
- Volume wheel could've been of better quality though works flawlessly.
Disclaimer.
I would like to thank iBasso for sending me DX160 to test and review. I am not affiliated with the company or any of its sellers and write this review with an unbiased opinion regardless of how the review turns out.
Link -
Manufacturer website:
iBasso
Genre preferences.
I majorly listen to rock, acoustic, pop, metal, and sometimes popular EDM songs doing the rounds on the charts.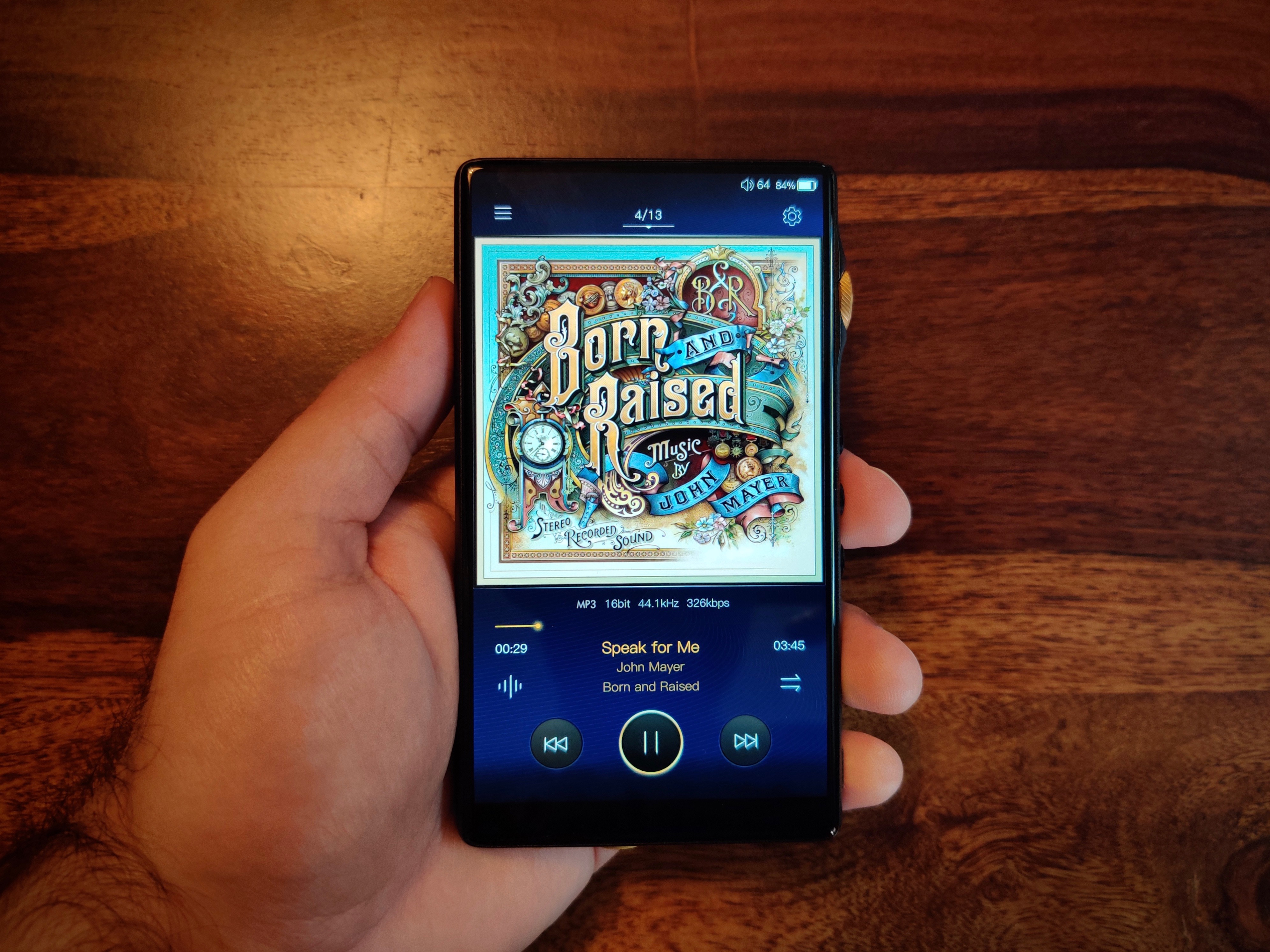 Technical Specifications.
Screen – 5-inch 1080p Sharp LCD
Operating System - Android 8.1
CPU – Rockchip Octa Core | RAM - 2GB | ROM - 32GB
DAC - Dual CS43198
Output Ports – 4.4 mm BAL & 3.5mm (PO/LO/SPDIF)
Battery - 3200mAh
Charging - QC3.0, PD2.0
Wi-Fi - 80 2.11 b/g/n/ac (2.4Ghz/5Ghz)
Bluetooth - Bluetooth 5.0
Weight - 178g
-
4.4mm Balanced Out
Output Level - 6.4Vrms
Output Impedance – 0.4 Ω
Frequency Response - 10Hz-40kHz +/-0.15dB
S/N - 130dB
THD+N - 0.00022% (32Ω, 3Vrms)
-
3.5mm Headphone Out
Output Level - 3.2Vrms
Output Impedance – 0.3 Ω
Frequency Response - 10Hz-40kHz +/-0.15dB
S/N - 125dB
THD+N - 0.0007% (32Ω, 2Vrms)
-
Line Out
Output Level - 3.2Vrms
Frequency Response - 10Hz-40kHz +/-0.15dB
S/N - 125dB
THD+N - 0.00035% (no Load)
Included in the box.
iBasso DX160
USB Type-C cable
Silicone cover
Screen guards
Manual, warranty card and MQA card
Design and Build Quality.
DX160 has a very nice form factor and easily fits in my palm. It has a very nice, highly attractive 1080p sharp 5-inch LCD 'almost' bezel less screen (slight bezel at the bottom). It has an aluminum chassis casing which measures 7x12.5x1.4 cm and feels very solid and well built.
It has a Balanced 4.4mm and a multi-purpose 3.5mm socket (PO/LO/SPDIF) at the bottom and USB type-c charging port and power button on the top. On the left, it has a spring-loaded microSD card slot which supports up to 2TB memory cards. On the right, it has a golden volume wheel and hardware playback buttons (Previous, Play/Pause and Next). All feel nice and very intuitive to use.
User Experience.
DX160 comes stock with Android Oreo 8.1. iBasso has APKPure and CoolAPK installed as stock for you to install all the apps you need as DX160 doesn't come with Google Playstore. I've been using APKPure for a while and find it absolutely easy to install all the apps I need.
DX160's 445 ppi 1080p high definition display is the best display I have come across in a mid-fi DAP, period! It just makes everything look extra good! The touchscreen is very vibrant and responsive. The OS overall is very simple, elegant and easy to use. iBasso preferred using the good old Rockchip with 2GB of RAM instead of the faster and newer Snapdragon/Samsung processors, yet the DX160 isn't slow or laggy by any means. It might not be as slick as your TOTL smartphones or even the fast Fiio M11 but DX160 is still decently quick and responsive to all inputs, sufficing most of the times for all your DAP needs.
iBasso's Mango Music Player (V2.2.7) –
Mango is iBasso's stock music player and I actually quite dig it for its simplicity. When you open it for the first time, the play screen comes up. You then need to access the settings using the GEAR icon on the right top of the screen. There you have the following options,
Gapless – On/Off
Gain – Low/High
Play Mode – Order/Loop/Shuffle/Repeat
Equalizer – Graphic/Parametric
L/R Balance
Digital Filter – Fast Roll-Off/Short Delay Short Roll-Off/ Short Delay Fast Roll-Off/ Slow Roll-Off
Advanced – USB DAC Mode | Sleep Timer | Scanning | System Info
In order to scan the songs, you need to click the Settings (GEAR icon) -> Advanced -> Scanning, and then choose where your songs are located (internal/SD card) and scan the library. Scanning time is on the average side and not the fastest. It depends on the size of your library. It took around 1-2 minutes to scan my 60Gb library. Sometimes it gets stuck visually when in reality it is scanning in the background. Check back after a few minutes and Mango would've scanned your whole library at once.
Mango player is very intuitive to use. You can edit music sorting display in the Navigation Bar Management and select between multiple sorting options like Album, Artist, Genre, etc. You can also select Album and Artist View settings. Artist List view looks great with a nice and easy to read font, font size and artist photos. Album view and album art look great on DX160's attractive hi-res 1080p screen. Below are some pictures for reference.
There are both Parametric and Graphic equalizers available for you to use when you want to fine tune your sound. Though when you enable the EQ, Mango player turns down the volume by a couple of dBs to compensate for all the EQ boosting you'd be doing. As a result, ABing the sound with and without EQ becomes a bit difficult because of the volume difference.
File Formats (MQA Enabled!)
DX160 supports a wide variety of audio formats including APE, FLAC, WAV, WMA, AAC, ALAC, AIFF, OGG, MP3, DFF, DSF, DXD, CUE, ISO, M3U, M3U8.
DX160 is MQA enabled with full hardware decoding (bit perfect) and plays Tidal Masters without a problem. It was a joy to listen to my favourite albums in Tidal Masters (MQA). Plus 5 points to Hufflepuff, ahem, DX160 for that. Haha.
Sound Analysis.
DX160 is a very vibrant, musical, a bit reference like/neutral sounding DAP which impresses you right off the bat with its sound quality, which I think is very difficult to beat in its segment. It has a very nice wide soundstage and instrument imaging is very precise. The sound is very clean, balanced and neither frequency band sounds emphasised. Bass goes deep and low and note weight is very well done. It extends well at both ends and has good amount of air and openness. I don't want to sound overdramatic but I think DX160 hits it out of the park in the sound department.
There are four digital filters that you can toggle between which have a subtle effect on sound, which may or may not make a difference for you and some might not hear or care for the difference. But here is what I felt anyway,
Fast Roll-off – Faster bass transients
Short delay slow roll-off – Deeper bass with natural bass transients
Short delay fast roll-off – Quicker bass transients than option 2
Slow roll-off – Just tiny bit slower bass transients
Pair-ups.
To be honest, since DX160 is a musical, neutral and a bit reference-ish sounding DAP, it was difficult for me to come across an IEM from my arsenal it didn't pair well with, especially since it has low output impedance and good power to drive most IEMs/headphones. Because of the low output impedance DX160 doesn't interfere with the original sound signature of sensitive multi-BA IEMs, something that Hiby R6 did because of its high output impedance of 10Ω.
If you're wanting a DAP to compensate a problem you have with your IEM/headphone, I think that it's easier and simpler to just use EQ than shuffle between DAPs for that specific problem. Of course, some warmer DAPs help with brighter IEMs and brighter DAPs help pump some vibrant life into warmer IEMs but since DX160 is a nice neutral/reference-ish DAP, most of your IEMs and headphones are mostly going to sound their true self with the DX160.
With that said, I've enjoyed pairing the DX160 with some of my favourite IEMs like 64 Audio U12t, BGVP EST12, Lime Ears Aether R, ItsFit Fusion, etc. Here are quick notes about some of these IEMs.
64 Audio U12t – DX160 lets the tia driver shine for its true self and keeps the warmer bass and lower mids sounding absolutely clean and resolving.
BGVP EST12 – Love this pairing. EST12's clean and reference character shines with DX160. The pairing has the whole sound signature sounding vibrant and more open and airier compared to its pairing with other DAPs from my collection.
Lime Ears Aether R – I particularly like Aether R's reference-ish, open and airy character with the DX160. Aether R is very good with instrument definition, resolution and imaging and DX160 makes sure that all of it comes across naturally.
ItsFit Fusion – The magnetostatic driver shines with the DX160 and overall resolution and clarity is very engaging.
Power & Noise Levels.
The 4.4mm balanced out as well as 3.5mm out have a low impedance of 0.4Ω and 0.3Ω and output levels of 6.4Vrms and 3.2Vrms respectively. This is fairly sufficient for most demanding IEMs and headphones.
In my background noise tests, I found absolutely no hissing with Tansio Mirai TSMR-3 Pro which is one of the most sensitive IEMs in my arsenal. There however is slight WiFi/EMI interference every now and then but none when the song is playing or when you're away from your WiFi router or have your WiFi off. A couple of other DAPs like Hiby R6 Pro which have similar low output impedances and high output levels had some interference too but DX160 experiences it minimally compared to them, at least in my case.
Battery Life.
This is an averaged out estimate.
4.4mm BAL Out – Around 9.5 hours with FLAC files and 10.5 hours with MP3 and minimal usage of screen.
3.5mm Out– Around 10.5-11 hours playing FLAC files and 12 hours with MP3 and minimal usage of screen.
Comparisons.
Fiio M11 –
DX160 sounds more vibrant, natural, clean and engaging compared to M11. DX160 has better bass resolution, impact and also a slightly wider soundstage. DX160 has a way more attractive and fun to use high-res 1080p screen compared to M11's 720p screen. M11 on the other hand is faster and better at multi-tasking owing to its faster Samsung Exynos 7872 processor and 3GB RAM. M11 is heavier than DX160 and has sharp edges which I am not a fan of whereas DX160 has smoother edges and is easier to hold and use in your hand. M11's volume wheel feels a bit sturdier than DX160's, though I like the playback controls on DX160 more as they are easier to press whereas M11's needs a bit more power. Overall I like DX160's design language much more.
Hiby R6 Pro (Stainless Steel) –
R6 Pro's chassis is made from stainless steel whereas DX160's is made from aluminium. R6 Pro is much heavier than DX160. DX160 has an almost bezel-less 1080p screen whereas R6 Pro has a 720p screen which is much smaller in size and has a substantial stainless steel border at the bottom. R6 Pro has a snapdragon 625 processor and 3GB RAM and is faster than DX160 but the latter is much more fun to use because of the highly attractive display. R6 Pro has sturdier playback buttons with better feedback but DX160's are good in their own regard for the price. Hiby player can be installed on DX160 but Mango player is proprietary to iBasso devices only. Sound wise, DX160 is a more neutral and reference-ish whereas R6 Pro is slightly warmer, more vivid and richer sounding. DX160 comes off slightly brighter and cleaner relatively whereas R6 Pro has a bit more body. Both have good wide soundstage presentation. DX160 hits very well for its price and is one of the best value DAPs out there in my opinion. R6 Pro Stainless Steel edition is a segment above in price selling at $679, so the price difference is substantial. Hiby has an Aluminium alloy version of R6 Pro which is slightly cheaper at $529, where the only difference between SS and Al is the chassis and everything else is the same.
Conclusion.
Well, so there you go! DX160 might not have the latest CPU or be the fastest DAP in the market but it hits it out of the park in the sound department for its asking price. Plus the highly attractive 445ppi 1080p screen makes it all the more fun to use. #BestBudgetDAPScreenEver! It is based on Android Oreo 8.1 and has a nice and simple UI. Mango player too is very simple and easy to use plus you have the freedom to use whichever Android player you fancy. Also, it has full MQA hardware decoding and streams Tidal Masters seamlessly. DX160 is also very light and easy to carry in your pocket which makes it a good travel partner. All in all, DX160 does almost everything right and very little wrong. At the price of $399, it is a no brainer. If you're looking for a DAP around this budget, look no further and surely give the DX160 a shot! Highly recommended!
iBasso is now selling an updated 2020 DX160 version. If you have the DX160 2019 version and wish to have it updated to the latest buffer that is in the 2020 version, iBasso will update it for you for $32 (USD). They are charging $10 for the buffers, free labor and $22 expedited shipping back to the owner. For Hong Kong, due to the close proximity, the cost is $10 for the buffers and $5 for the shipping. Warranty card needs to be included with shipment as it will be stamped indicating that the DX160 has the new buffer.
Reference Songs list.
Normandie – White Flag album
Dua Lipa - Future Nostalgia album
Dave Matthews - Shake Me Like a Monkey
Foo Fighters - The Pretender, Best of you & Everlong
Coldplay - Paradise, Up in flames & Everglow + Everyday Life Album
Ed Sheeran - Thinking out loud, Bloodstream & Galway Girl
Chainsmokers – Somebody, Sickboy, This Feeling & Closer
John Mayer - Slow dancing in a burning room, Stop this Train & Say
Gavin James - Always & Hearts on fire
Switchfoot - Meant to live & Dare you to move
Porcupine Tree - Sound of Muzak, Blackest Eyes & .3
Our Lady Peace - Do You Like It & Innocent
Linkin Park - Papercut, Somewhere I belong & Talking to myself
Maroon 5 - She will be loved, Payphone & Lost stars
Lifehouse - All in all & Come back down
Breaking Benjamin - Diary of Jane
Karnivool - Simple boy & Goliath
Dead Letter Circus - Real you
I Am Giant - Purple heart, City limits & Transmission
Muse - Panic station
James Bay - Hold back the river
Last edited:
Pros
:
+ Build quality and ergonomics
+ Fancy package, even at this price point
+ Exceptional support from iBasso
+ Sonic abilities, soundstage roundness, overall clarity and detail
+ Quick, fluid OS, no errors
+ Works with google services, apps, everything in between
Cons
:
- Burn-In Cable No Longer included, as with other iBasso DAPs
Majestic Express - iBasso DX160 DAP Review


iBasso DX160 is the latest DAP from iBasso, and it comes to tell us once again that they can outdo their own previous work, which was the DX150. With a price tag of 400 USD, it is 20 USD Cheaper than FiiO's M11, which will be one of its main competitors. There's also iBasso's own DX150 running AMP 9 (for fun), and Opus #3. Bonus comparison with Hiby R6 included as well. For pairings, I picked FiiO's FH7, iBasso IT04, Beyerdynamic Amiron, Campfire Atlas, iBasso AM05, Verum One, and Grado SR80e from different shapes, sizes, and price points, exploring the abilities of DX160 the best I could. It is available in Black, Blue, Red and Silver, and the version explored in today's review is the Silver Version. An Android 8.1 DAP with Dual CS43198 DACs, 4.4mm outputs, BT 5.0 and up to 13 hours of battery life, DX160 is sure to be fun to play with.



Introduction

iBasso is one of those companies who knows how to pursue the dreams of their customers before committing to a product, in time having gained a fanbase that really knows what it feels like to know someone cares about your desires. Indeed, iBasso have put a lot of heart into their products, and never fail to impress when it comes to their products, having greatly outdone all expectations with their DX220 and AMP9, but also having set high bars in the past with their DX200. Even when designing an entry-level IEM like IT01 and IT01S they managed to offer proper support, and proved that a product made by iBasso will last a long time. There have been very few warranty claims, and if you explore forums like Head-Fi, you'll find that all their customers are happy with their products and the service of iBasso.

It should be noted that I have absolutely no affiliation with iBasso. I'd like to thank iBasso for providing the sample for this review. This review reflects my personal experience with the iBasso DX160. Every opinion expressed is mine and I stand by it, the purpose of this review is to help those interested in iBasso DX160 find their next music companion.



About me

https://www.audiophile-heaven.com/p/about.html



Packaging

First things first, let's get the packaging out of the way:




Besides FiiO, one of the companies who makes a great package, there's also iBasso, who makes a package that's just as impressive, if not even more impressive at times, having outdone themselves with previous DAPs like DX200 and DX220. With DX160, they are back one again, and although some of their IEMs, like AM05 may have slightly simple packages, DX160 really impresses.

This time it isn't the design of the package, as much as the raw contents and the modern, elegant and impressive way they are presented. You will get a carrying case, a high quality USB cable, and a spare screen protector with DX160.

There's also the manuals, along with the warranty card, as well as the MQA card, which tells you that DX160 can decode MQA signals, and you will have access to the best music even if you're into streaming and on-the-go.



What to look in when purchasing a high-end DAP

https://www.audiophile-heaven.com/p/what-to-lookl.html



Technical Specifications






Build Quality/Aesthetics/Functionality

Build

Starting with the build quality, DX160 is pretty much the tank iBasso promises it to be, having a full metallic body, but with a glass display, and a glass back. It comes with screen protectors applied on both, and this time around I have not been able to scratch it during the photo shoot, so we can all congratulate iBasso on designing better screen protectors for their products. The entire device is now curved, and holding it in hand feels more like holding a high-end smartphone than what holding an audiophile DAP felt years ago, you can forget about the corners like what QLS QA361 used to have, or even DX150's design, which was considerably less rounded, iBasso went full-out with DX160, and on making it as ergonomic as it was humanly possible.




DX160 is pretty light at 170 grams, at least compared to FiiO M11 which is 210 grams in weight. On the right side of the device you can find the low-profile volume wheel, along with the playback control buttons.

Display

Besides the huge, colorful and bright display at the front, which is an IPS display, with 1080p FullHD Resolution, you can find the buttons, inputs and outputs on the sides. At the top, you can find the power button, and the USB Type-C port. You can use DX160 as a DAP, but also as a USB DAC, so having that port is actually quite handy. I also love the positioning at the top, as you can keep it on your table, and read the display, without having to turn around the DAP when doing so.

Not only the display is bright enough for proper outdoors usage, but you can even switch the resolution of the display to a lower one. DX160's display runs at a 1080p full HD resolution natively, but you can actually turn it down to 720p, and it will eat less battery.




The colors of the display are stunning, and although most people don't stare blankly at their cover art for hours, I admire having a spot of color in my life. I love the brightness for outdoor usage, it is more than enough to see everything in full summer. It is also crisp enough for those who don't like seeing pixelated images, and there's no lag, so the beautiful design is complimented by proper hardware.

Battery Life

Speaking of the battery life, DX160 is a pretty battery-efficient device, which has a lifetime of about 13 hours, at least on paper. Since this paper battery life is usually tested with MP3 files, medium volume, and the screen turned on about 10% of the time, I went ahead and did some tests on my own.

In my actual tests, I was able to get about 11-12 hours on Single Ended, blasting DX160 at loud volumes, with both IEMs, and large headphones like Sennheiser HD660S, Audeze LCD-MX4, and HIFIMAN Sundara. On the Balanced port, I got around 9-10 hours in similar conditions, using Dunu DK-4001, with their modular cables, or pairing Dunu Hulk with HIFIMAN RE2000 Silver, and running it into the Balanced port of DX160.

Internals

Although iBasso priced DX160 at a lower price than their previous releases, they haven't given up on Dual DAC designs, and DX160 now comes with Dual CS 43198 DACs, paired with a high voltage delivery of 3.2 Vrms on Single Ended and 6.4 Vrms on Balanced.

iBasso also relies on 2 GB of RAM, 32 GB of internal memory, having a single microSD slot on the left for you to browse your music. The Android OS takes almost 8 GB of memory by itself, though, so you have about 24 GB of free space for storing music and other files. I always recommend getting a microSD card, and using the internal memory for apps and for the system files. DX160 has OTG compatibility as well, and testing it with two different OTG cables, a microSD reader, and my backup music card, I was able to get proper transfers, everything loaded right up. It won't be practical for outdoors usage, but if you're at home, you can hook up DX160 to a larger data bank, like an external HDD, especially if it is self-powered.




DX160 also has an octa-core CPU, and b/g/n/ac Wifi, as well as Quick Charge, meaning that it will charge considerably faster than DX150, from almost 4 hours for DX150, to 2.5 hours for DX160.

At the bottom of DX160 you can find a Single ended, 3.5mm TRS output, and a 4.4mm Balanced TRRS output. The 3.5mm output can also act as the Line Out of DX160, but also as the SPDIF output.

Software and Navigation

Coming with Android OREO 8.1, this is one of the most modern DAPs on the market at the moment of making this review. By comparison, M11 comes with Android 7 instead. Instead of Google Play, you have to use either APK Pure, or Cool APK to install apps.

You have a really smooth overall system, but the fun part is that you can navigate DX160 in pocket mode, bia the browsing buttons, but now it can also connect with your smartphone, and you can use it as a remote. This new type of Wireless usage is actually quite interesting, and some apps integrate it better than others, but since it has Bluetooth 5.0, which is Bi-Directional, you can use DX160 as a Bluetooth receiver, like FiiO BTR 5, and also as a Bluetooth transmitter. This makes it a skeleton key for your media, and it is just so easy to use it with practically everything you may have around.




You also have full Bit Perfect decoding, so you know you'll only hear what is in your music, no DSP, no effects, and nothing else, but you also have full MQA decoding out-of-the-box. Using Tidal, you can have access to MQA without any further codecs or settings enabled, and you can enjoy Hi-Res music on-the-go, if you use your smartphone to make a Wifi hotspot and connect DX160 to it, as I've been doing in my experiments.

If you need it, you can download Google Play, and use apps that require Google Services to work. This time around there's no Mango OS Dual boot system, but you have iBasso's Music Player there, and it is the one I grew to use the most on DX160.




If you're into DSP and EQ'ing your headphones / earphones, DX160 comes with both PMEQ and Graphic Equaliser. The PMEQ is on par with the one found on DX220, and it has a ton of settings, including variable Q factor, which runs from a value as low as 0.3 up to 20. The values of the Gain go from -20 and +20 dB. There is no loss in volume when enabling the EQ, so you don't have to take the time to adjust to it, but I suggest to be careful when using it, because it helps a lot if you know what you're doing, but a sharp knife is best used when wielded with care. There's also the Graphic EQ, but you need to keep in mind that you can only use either the Graphic EQ or the Parametric Equaliser, and you cannot engage both at the same time. The graphic EQ has 10 bands, and you have five default presets.

I always browse my music by Folder Browsing, because I have the best control of making my own folders, but for those who want a more complex browsing, you can browse by Artist, Genre, Album, and you can also use Playlists.



Video Review

iBasso DX160 First Impressions Youtube Video Review:


iBasso DX160 After One Month In-Depth Video Review:




Sound Quality

Even compared with my initial impressions from my video reviews, at this point, I had the chance to explore DX160 fully, with both full sized headphones, and IEMs, compare it with DX220, Mytek Brooklyn DAC+, FiiO M11, and others. I paired it with Clear Tune Monitors CTM Da Vinci X, Kennerton Thror, Audeze LCD-MX4, FiiO FH7, and iBasso's own IT04, to get a good idea of where the signature of DX160 lies exactly.

I could call DX160 probably the best reference, the most correct, and the most natural DAP in the 400 USD price range. It isn't particularly neutral, and doesn't have that digital-ish treble tinge of M11, the one I kept mentioning about, and thanks to its black background, you get a much better resolution than what you're probably expecting from the price point. The sound also feels snappy and quick, it is nimble, and has an astoundingly large soundstage, with excellent instrument separation.




This isn't to say that you're wrong if you like a lighter presentation, or a darker one for that matter. All that matters is that you find something you love and enjoy, so I'm doing my best describing everything as it is, and the bass of DX160 is one of those quick bass that doesn't necessarily impress by being thicker than what is reference, but it impressed me for sure with the speed and resolution. For bassheads, you can always increase the bass presence, as well as the depth and impact, by adding a few dB from the Parametric EQ, or the graphic EQ. For more depth, you increase the first slider of the EQ (~30 Hz), while for more thickness and more impact, you increase the second one (~60 Hz). To make the entire sound warmer, you increase the third slider (~100 Hz).

There's just a tiny bit of bloom in the upper bass towards the lower treble, and this gives the sound a bit of warmth, making the entire midrange really pleasant. The big thing here is that just like the mighty-sounding and pretty high-end DAP, QLS QA361, iBasso made DX160 a bit more wet in character, so it doesn't sound dry or reference, thus making everything fluid. The midrange is not overly rich, and it isn't heavy, but it has a sweet tinge to all musical notes, guitar notes in particular, like those on Dance Gavin Dance - Strawberry's Wake, or their Prisonier song having an especially appealing glow to them.




The treble is on the softer side, especially compared to DAPs like DX220, but it sounds more wet and more natural, compared to the slightly digital treble M11 has. Not only this, but the upper treble extension didn't have to suffer for this little transition, and while I'm in love with some treble sparkle, especially with metal music, I appreciate this type of softer presentation a lot, and DX160 is exactly what I'd go for if I wanted to make sure my DAP pairs well with everything I have. The soundstage is crazily expanded, especially in width, but without losing focus, and instead of the stage sounding vague, it sounds large, and well separated, precise. The stereo imaging thus is stellar and so is the overall perceived detail of DX160.

There's a little difference between the balanced and the single ended outputs of DX160, and I hear a better dynamic delivery, with a more snappy presentation from the balanced output. Especially when listening very loud, the Single Ended sounds softer, while the Balanced output sounds more precise and quicker.



Portable Usage

Things get even better when you start tweaking and playing with DX160, because you can get OTA updates, and the latest brought me some good clean fun. All Streaming services, like TIDAL, Spotify, SoundCloud, and even rare ones like ROON and IDAGIO work on DX160 just fine.

With MQA Unfolding and native MQA processing, you can see an improvement in the sonic quality, especially for the albums that can be found in hi-res formats. Unfortunately, for an old-style rock / metalhead like me, very little of my music collection is available in those formats, but I can enjoy some high-quality classical, and notice minute improvements, which, when consumed in the silence of my room, are too delightful not to mention.




You can use DLNA if you install third party services, so you can look at Plex, Hi-Fi Cast or BubbleUPnP if you're interested in those, but you will need both Google Play Store and Google Services for that.

There is Bluetooth 5.0 on DX160, and this means both a better maximum range, but also bi-directional communication. The Bluetooth protocol also isn't quite as important as the codecs available, but DX160 has LDAC and other high-quality codecs, like aptX.

When you pair DX160 with something like Lypertek Tevi, you lose the advantage of its amplification and the DAC of DX160, but you have the advantage of portability. This is the best part about DX160, it can do literally anything, from being a portable transport, to being a DAC in a large speaker system, like when using Taga Harmony 806F, and act as your main DAP, when driving headphones, like Rosson RAD-0, IEMs, like Dita Fidelity or Fealty, or when driving something more controversial, like the Electrostatic IEM, Shouer Tape.

iBasso has their own IEMs as well, which are the IT01, IT01S, IT04, and AM05. There's also an iBasso headphone out there, named the SR-1, which I hope I'll get to hear one day. Everyone one of iBasso's IEMs has a unique signature, and I suggest clicking on the name of each, to follow to my full in-depth review, but the short version is that if you're a basshead, you will love IT01 or IT01S, and if you like a natural, more mid and treble-focused sound, that is light, yet snappy, you will enjoy IT04 and AM05 quite a lot.



Comparisons

For the comparisons part of this review, I went with DAPs and solutions in the same price range, at the moment of writing this review. I even went ahead and explored slightly more expensive products, because iBasso is totally able to keep up with competition that's even more pricey. The main competitors for DX160 in Today's Review are Opus #3, Hiby R6, FiiO M11, and iBasso DX150.




iBasso DX160 vs Opus #3 (400USD vs 650USD) - Opus #3 was the thing to get back when it was released, and TheBit still sells quite a few of it, thanks to the magical sound it has. The sound was always really dynamic, punchy, and energetic, #3 having enough power even for some harder to drive headphones, like Ultrasone Signature DXP, but it never had quite enough power for something like Audeze LCD-MX4. Thanks to the latest advancements in technology, a DAP costing just 400 USD can now drive titans, HIFIMAN Sundara and HIFIMAN Deva not posing any hardships for DX160 at all. Of course, it isn't quite DX220 with AMP 7, and iBasso having switched to a more compact AMP module design is something to take into account, as DX150 has more power, but it isn't quite as ergonomic as DX160. Speaking of which, I appreciate some industrial-looking devices, but the level of ergonomics of DX160 is simply much better in 2020, and I grab it more often than #3, the shape is better, the display is more colorful, the driving power is better. The sound is actually different, with DX160 being more gentle, and #3 feeling more forward, more aggressive. #3 is also more analytical, more detailed, more revealing, but DX160 feels effortless by comparison, all music has a wider soundstage, and everything feels like DX160 can do it just fine, where #3 feels forward. If you want a more forward sound, #3 is still a really good choice, but if you want something more open, more gentle, effortless, and sweet, DX160 will be your choice. The OS, hardware, streaming abilities, bluetooth connections and overall system smoothness are not really comparable, DX160 is much smoother, has a much faster CPU, better Android integration with more apps, and it feels like a midrange smartphone, where #3 is a bit outdated right now, so if you need streaming and access to multiple apps, or if you want to use your DAP as a Bluetooth receiver and such, DX160 is the only one that offers those features.

iBasso DX160 vs Hiby R6 (400USD vs 650USD) - Hiby R6 is another DAP that is pretty ergonomic, but also quite a bit more expensive than DX160. This being said, it doesn't have all the features of DX160, like seamless Google PlayStore integration (as of the latest updates for both), it doesn't really have the same control over IEMs like DX160, and it doesn't have the Bi-Directional Bluetooth like DX160. Those are things that may matter to you, so even if you already have an R 6 , and want to upgrade, you can upgrade to DX160, and although it is less expensive, it will feel like a large upgrade, especially if you were eyeing any of the features it has. The sound is different between them, especially if you're using IEMs, because where D X 1 6 0 has a really black background with no noise, R6 has quite a lot of hissing, and given it's 10 OHM output impedance, it sounds different with low impedance IEMs, changing their signature, usually taking away some of their warmth and bass, and making them a bit harsh and aggressive. This may work well if your IEM was laid-back to begin with, like Beyerdynamic Xelento, but it is something to experiment with, and if you really wanted to EQ, iBasso's music all, paired with their excellent Parametric Equaliser, or the graphic equaliser are going to do the trick just fine. The main signature has more body for R6, it has a marginally better dynamic, and slightly more detail, but DX160 is larger in terms of soundstage, has more depth and width, it is more gentle, effortless, and R6 sounds more like an edgy, energetic DAP, with a good body and rich midrange, but DX160 sounds more sweet and warm, wider, and lighter.

iBasso DX160 vs FiiO M11 (400USD vs 420USD) - The big battle is at hand, and this is probably the most interesting comparison in this review, because both DAPs have been released recently, both are similar in terms of build and both have a similar driving power, if not DX160 is a bit stronger. The OS has similar abilities, and it is similarly smooth for both, and with the latest updates installed on both, they eventually look similar, at least on paper. The Parametric EQ is better on DX160, if you consider yourself to be a power user, but FiiO also has a very nifty EQ on their M11. You start seeing some differences when you get to the sonic part, because M11 sounds quite different from DX160, and they are quite far from each other in terms of signatures. In detail, revealing abilities, clarity, and refinement, they are pretty much the same, you will get similar resolution from the two. But the way the sound is presented is different, DX160 has a slightly more warm midrange, with a sweeter presentation. There is more depth to everything, and it has more driving power. M11 has a brighter top end, that can edge on sounding digital, but it also has more texture reveal, and it is more forward, creating the feeling of more dynamics, more overall excitement. DX160 has a more gentle top end, with a more wet character, which I really appreciate and enjoy, where M11 is natural in character. From the two, if you wanted a more edgy, slightly brighter, more wide, albeit edging on digital sound, M11 should be your choice, while if you wanted a deeper, gentler, wetter, sweeter sound, you'd go for DX160. If you want a really well-implemented EQ in the default app, DX160 has the upper hand.

iBasso DX160 vs iBasso DX150 (400USD vs 500USD + 250 USD for AMP 9) - DX150 uses the same AMP modules as DX220, and the DAC inside is quite capable, so it can sound quite close to iBasso's current flagship (minus DX220 MAX which will be released soon). The big thing now is that when I paired DX150 with AMP9 from iBasso, I felt like I totally rediscovered it. The driving power is slightly lower than DX160, and for Sundara, it probably won't do quite that well, but for other headphones, like HIFIMAN Deva, Ultrasone Signature DXP, and even Audeze LCD-MX4, you should be right in heaven. Easy-to-Drive cans like Verum One, or Grado SR80 are a sweet pairing as well. The point here is that even if you feel that AMP9 doesn't quite cut it, you can swap it for AMP 7, and have an excellent driving power, from it, DX150 has something magic in. When it comes to comparing the actual devices, I tend to go more often for DX160 because, although it doesn't have the modularity of DX150, it has a much better OS, which is more fluid, it has more features, and the quicker charging all make me grab it quite often. Since my AMP modules are usually strapped to DX 220, I tend to use DX 150 more like a backup, but DX 160 has been making me grab it so often, my girl is starting to use DX 220 as much as I am. If you're having DX 150 in the default configuration, with the default AMP module, you're getting a pretty warm and smooth sound out of it, which should be quite thick, so DX 160 will sound clearer, cleaner, wider, with more depth, and with better instrument separation. Both have a pretty black background, but with DX 160, it is better, so very quiet details are easier to notice, making it an easier choice, if you're running a default DX150.



Pairing

The pairing part of this review will be as extensive as it is possible, and it includes iBasso AM05, Campfire Atlas, Beyerdynamic Amiron, iBasso IT04, and FiiO FH7, all of those making really interesting and realistic pairings for DX160, and showing how it will react when paired with certain transducers. On a last minute thought, I decided to add both Verum One, which tests how good a DAP is at keeping its cool with ultra-low impedance transducers, and Grado SR80e, as a good benchmark midrange headphone that is averagely hard to drive, but pretty hard to tame.




iBasso DX160 + FiiO FH7 (400 USD + 450 USD) - One of the latest IEMs I reviewed, FH7 is what I would call a full delight. They have enough sub-bass and treble extension to make you think they cost over 1000 USD, and they have the resolution and clarity to scare those weak of heart away from their analytical sound. In fact, that's something to take into account, if you're into thicker, warmer sounds, the FA7 IEMs are much more suited for that, where FH7 are for the analytical signature lover, for those who want to hear everything, and for those who love a large stage. DX160 makes one of the best pairings here, because it helps deliver a gentler overall presentation, and since FH7 were very analytical, with a very revealing nature, DX160 helps tame them down a bit, make them more musical, the pairing sound effortless, clean, but also airy and deep. FH7 can take a lot of EQ if you want to increase the bass, so don't worry, DX160 and its Parametric EQ, and its Graphic EQ are going to aid you, if you'll want to fine tune FH7, beyond the filters it already came with.

iBasso DX160 + iBasso IT04 (400 USD + 500 USD) - Pairing an iBasso DAP with an iBasso IEM feels right at home, and I'm happy to report that if you have an older release, like IT04, you'll be happy to hear a beautiful sound from the pairing, with a natural bass, a pretty wide stage, and a gentle treble. A lot of people fell in love with IT04, thanks to their natural speed, slightly wet character, warm-ish midrange, yet really neutral presentation. Especially those who didn't want a bassy sound, and those who wanted to explore something more open and airy, like a speaker sound, appreciated IT04, and happily DX160 extends on their soundstage, and adds to their detail and clarity. In this pairing, they have enough body to sound great with metal, and enough clarity to reveal all the instruments in a busy orchestra. If there's any downside, you cannot use the Balanced cable, since it is in 2.5mm only with IT04, but the Single ended output of DX160 is clean enough, and has enough power to do just fine, and since they have detachable cables, you can always hook them to something like Dunu Hulk, and you're good to go.

iBasso DX160 + Beyerdynamic Amiron (400 USD + 700 USD) - Amiron is excellent for testing how DX160 pairs with a high-impedance headphone, because you may have one like this around, especially in this price range, although I noticed that not only it did a good job with Amiron, but even with Sennheiser HD660S, where the parametric EQ came in just as handy. Amiron has a very specific sound, which extends well both ways, but it eats through the driving power of DAPs, and it can easily require you to turn Q5s from FiiO as loud as it can get. Now, DX160 once again shows a stellar performance, by having enough power to drive Amiron loud, but also having a gentle enough sound to make it musical, and sweet. The soundstage is huge, and the depth is impressive. The black background of DX160 also helps with the minute details, and you get a great overall performance. And if you want a bit more bass, the Graphic EQ is quite handy, and easy to use, just bump the few first sliders and you're good to go.

iBasso DX160 + Campfire Atlas (400 USD + 1300 USD) - Campfire Atlas is the IEM to get when you want a grand presentation, explosions, and something that will keep amazing you over and over. If you enjoy epic music, if you enjoy explosions, and if you enjoy it all at once, Atlas is as impressive as they get, with an aggressive V-Shaped sound, really strong bass and sub-bass, and a strong treble to counter it, and keep it interesting and exciting. In terms of overall control and dynamics, DX160 couldn't do better for the price, and I'm happy to notice a deeper sound, with no hiss on the background (Campfire IEMs being a bit sensitive to hiss in general). There's a good sense of punch and dynamics, there is a good amount of kick, and I cannot tell you how much I enjoy having the parametric EQ to play with, because sometimes the bass of Atlas can be a bit much, and at times like those I can tone it down a bit. The pairing takes great advantage of the black background of DX160, but also of its more gentle sound, which makes Atlas sound a bit easier for long hours of listening. And if you were concerned about the driver flex I mentioned in my review of it, don't worry, I got it for more than a year now, and they didn't die.

iBasso DX160 + iBasso AM05 (400 USD + 300 USD) - AM05 is a really newly released IEM from iBasso, which I am going to review in writing quite soon, and I am happy to report that it has the magical touch as well. AM05 has a sound that can be described as forward in the midrange, yet really wide. They have a pretty linear bass, but also a gentle treble that has good energy, but a wet character, so they don't really intrude on you. DX160's signature pairs really well with them, and they become even softer in the treble, which is a good thing, since they could be a bit aggressive with the wrong source. The midrange becomes wider, and deeper, giving a better sense of layering, and since AM05 is an all-BA design, I was able to notice a good control from DX160.

iBasso DX160 + Verum One (400 USD + 300 USD) - Verum One was the first Headphone I reviewed which brought almost half of my sources into clipping, and we're talking current clipping. It sounded terrible, and I was scared that I may have burned the headphones, but what happened was much more interesting than I could have ever thought. Verum One has a really low impedance, of 8 OHMs or so, but you usually take it pretty loud to make it sing, so most sources, especially those which are not protected against a short, will detect a short, and you'll get no sound out of it above a certain volume. DX160 does not have such issues, and I can drive Verum One to ear-bleeding levels, indicating a well implemented amplifying stage from iBasso. The sound is also as we know it, rich, thick, and impactful, but DX160's large stage also makes Verum One more appealing for progressive music, bringing it ever so slightly closer to a Sundara.

iBasso DX160 + Grado SR80e (400 USD + 300 USD) - DX160 does a wonderful job at controlling and making SR80e sing, because it has both a top end that is gentle enough for SR80e to be tame, but it also has a sweet enough midrange to make the most out of this headphone. For those of you who don't like Grado so much because it doesn't have enough bass, you can increase that with a few dBs from the Parametric EQ, or even from the Graphic EQ, by increasing the first 2-3 sliders, which should thicken the sound of SR80e, and give it better impact. This being said, they aren't the best at taking EQ, so try to keep it within 5 dB of tweaks when using that EQ.



Value and Conclusion

The value of DX160 is undeniably good, and it can compete on equal grounds on DAPs that have a quicker CPU, thanks to iBasso masterful work at the sonic level. There's also the fact that the package is good, the build quality is good, this is a really ergonomic device, and well, iBasso is right at it when it comes to providing a complete DAP experience, with both a beautiful sound and a beautiful display.

They're not letting things down when it comes to the actual hardware in their DAPs, and with an OCTA-Core CPU, with two headphone outputs, one in the magnifique 4.4mm Balanced format, and one that is a Single ended 3.5mm headphone output, but which can also act as the Line Out, and SPDIF output as well.




The battery life of DX160 is impressive, and any DAP that can reach about 11 hours of battery life with my torture usage, where I change the songs in between, and listen pretty loud, will last you an entire day of normal usage, or even more, if you don't listen the entire day.

For those of you who stay connected at all times, DX160 can run Google Play, Google Services, so IDAGIO, ROON, TIDAL, Spotify, and Soundcloud are all going to work. There's even a Bluetooth 5.0 module inside, so you have bidirectional Bluetooth communication, you can use it as a bluetooth receiver, but also connect bluetooth headphones to it. The Wifi performance is strong enough for me to keep it in my pocket and go for a walk, it downloads everything it needs, from my smartphone, which is acting as a wifi hotspot.




The display is also bright enough to be practical, and I'm really happy to report that using DX160 while in a pocket feels intuitive, the volume wheel comes in handy at all times, the buttons are clicky and satisfying, and it plays music like magic.

The sound is light and snappy, but sweet, it has enough options to configure the sound via its graphic EQ, or parametric EQ, so you could design the sound to work for any headphone, you could tame the untamed, and make a smooth IEM into a beast, with this trickster. It has enough resolution and speed to totally be worth its money as well.




Before the end of this review, I am going to add iBasso DX160 to Audiophile-Heaven's Hall Of Fame, for being one of the most satisfying to use DAPs of the current time, coming with Android 8.1, having support for Streaming Services, Bluetooth 5.0, a good battery life, and an excellent sound.




At the end of this review, if you're looking for a DAP to make a companion for a long while, something with enough juice to drive any headphones or IEMs you'll be using portably, and even some outliers, something that's snappy, quick, but also wide, and precise, something that's sweet sounding, and has all the magic you could need from a DAP, I totally recommend to check out iBasso DX160.

Full Playlist used for this review

While we listened to considerably more songs than those named in this playlist, those are excellent for identifying certain aspects of the sound, like PRaT, Texturization, Detail, Resolution, Dynamics, Impact, and overall tonality. We recommend trying most of the songs from this playlist, especially if you're searching for new most, most of them being rather catchy.

Youtube Playlist




Tidal Playlist

https://listen.tidal.com/playlist/64555551-ec3c-4279-ae44-248fdfcf6c4b

Song List

Bats - Gamma Ray Burst: Second Date
Eskimo Callboy - Frances
Incubus - Summer Romance
Electric Six - Dager! High Voltage
Kishida Cult - High School Of The Dead
Dimmu Borgir - Dimmu Borgir
Breaking Benjamin - I Will Not Bow
Thousand Foot Krutch - The Flame In All Of Us
Gorillaz - Feel Good Inc.
Infected Mushroom - Song Pong
Attack Attack - Kissed A Girl
Doctor P - Bulletproof
Maximum The Hormone - Rock n Roll Chainsaw
Rob Zombie - Werewolf, Baby!
Escape The Fate - Gorgeous Nightmare
SOAD - Chop Suey
Ken Ashcorp - Absolute Territory
Machinae Supremacy - Need For Steve
Ozzy Osbourne - I Don't Wanna Stop
Crow'sclaw - Loudness War
Eminem - Rap God
Stromae - Humain À L'eau
Sonata Arctica - My Selene
Justin Timberlake - Sexy Back
Metallica - Fuel
Veil Of Maya - Unbreakable
Masa Works - Golden Japang
REOL - Luvoratorrrrry
Dope - Addiction
Korn - Word Up!
Papa Roach - ... To be Loved
Fever The Ghost - Source
Fall Out Boy - Immortals
Green Day - Know The Enemy
Mindless Self Indulgence - London Bridge
A static Lullaby - Toxic
Royal Republic - Addictive
Astronautalis - The River, The Woods
We Came As Romans - My Love
Skillet - What I Believe
Man With A Mission - Smells Like Teen Spirit
Yasuda Rei - Mirror
Mojo Juju - Must Be Desire
Falling Up - Falling In Love
Manafest - Retro Love
Rodrigo Y Grabriela - Paris
Zomboy - Lights Out
Muse - Resistance
T.A.T.U & Rammstein - Mosaku
Grey Daze - Anything, Anything
Katy Perry - Who Am I Living For
Maroon 5 - Lucky Strike
Machinae Supremacy - Killer Instinct
Pendulum - Propane Nightmares
Sirenia - Lithium And A Lover
Saving Abel - Addicted
Hollywood Undead - Levitate
The Offspring - Special Delivery
Escape The Fate - Smooth
Samsara Blues Experiment - One With The Universe
Dope - Rebel Yell
Crazy Town - Butterfly
Silverstein - My Heroine
Memphis May Fire - Not Over Yet

I hope my review is helpful to you!

---


---
Pros
:
Compact and well built design
Excellent 5" screen
Android 8 (now with Google Play support)
Sound Quality
Value
Cons
:
Some noise with sensitive IEMs
Bluetooth range is less than on DX220 (on a some units)
REVIEW – iBasso DX160
Website – iBasso Audio
​
​
Specifications
DAC: Dual CS43198
Output Ports: 4.4BAL, 3.5PO, 3.5LO, SPDIF, USB output
Screen: 5.0 inch 1080P Sharp Full Screen
OS: Android 8.1
CPU: Octa Core
RAM: 2G
ROM: 32G
Wi-Fi: 80 2.11 b/g/n/ac (2.4Ghz/5Ghz)
Bluetooth: Bluetooth 5.0
Battery: 3200mAh
Quick Charge: QC3.0, PD2.0
Audio Formats Supported: MQA, APE, FLAC, WAV, WMA, AAC, ALAC, AIFF, OGG, MP3, DFF, DSF, DXD, CUE, ISO, M3U, M3U8
Size: 113mm x 69mm x 15mm
Weight: 178g
Average Play Time: 13 hours (3.5mm output)
4.4mm Headphone Out:
Output Level: 6.4Vrms
Frequency Response: 10Hz~40kHz +/-0.15dB
S/N: 130dB
THD+N: 0.00022% (32Ω, 3Vrms)
3.5mm Headphone Out:
Output Level: 3.2Vrms
Frequency Response: 10Hz~40kHz +/-0.15dB
S/N: 125dB
THD+N: 0.0007% (32Ω, 2Vrms)
Line Out:
Output Level: 3.2Vrms
Frequency Response: 10Hz~40kHz +/-0.15dB
S/N: 125dB
THD+N: 0.00035% (no Load)
Price:
U$D 399.
Currently not available from iBasso website, only from official distributors. Final price may vary on different countries and shipping costs can be extra.
The DX160 unit here was kindly sent arranged by iBasso company for the full review. On a side note, apologies for the delay on uploading the review.
​
The DX160 arrives in the usual compact cardboard box as with most iBasso products. The blue color theme is quite elegant. The outer cover holds minimal information of the player specifications on the back side. The inner box has the same soft magnetic closure, holding the DX160 device at the upper layer safely surrounded by thick foam material, while the underneath section holds the accessories. The package includes a USB Type-C cable, two adhesive screen protectors and a TPU clear case. There is no 'burn-in' cable included this time.
The case covers the whole player back and sides, leaving the micro SD slot, wheel control, audio output and USB ports open. The case does limits a bit of the wheel rotation, which may actually be considered a plus for some. The only observation is that it can fit too tight, causing the power/screen button on the upper side to be pressed.
​
Design
For the mid-fi tier segment, the DX160 features a modern design with a very solid good quality. The form factor is more friendly than the couple previous iBasso I've tried, holds better ergonomics and while not truly compact it is easy to carry around as daily portable player with a slimmer body and rounded edges. The large 5" screen introduced on the DX220 is also here with the same excellent quality, looking more as a compact smartphone, and much cooler with the gold colored volume wheel at the side.
Build quality is quite good, thick yet lightweight CNC machined aluminum on the whole main chassis, though only seen through the contour, while both front and back panels are made of glass; there are no specifications listed, but probably using the same 2.5D glass as on the DX220. The finish is completely smooth and apart from the black color seen here, the DX160 is available in three extra more colors, blue, silver and red to make it even more attractive.
The dimensions are very close to the DX220 in height and width where the 5" screen occupies practically the whole panel, while the DX160 is thinner. Having fewer components inside and dropping the exchangeable amplifier modules feature of the DX150/200/220, the DX160 is noticeable lighter and feels more hollow.
​
The layout follows the usual formula for iBasso players. On the left side there is just a single micro SD card slot; not sure the supported capacity but no issues with a Samsung 128GB card. Quickly recognized by the Android system and simply listed as 'external storage'.
​
On the right side there the three playback buttons placed on the upper half, back, play/pause and next and the volume wheel above. The default buttons setup is upper for next and lower for back, but can be quickly set otherwise. The wheel is diameter is same as the thickness of the player, meaning it is smaller than the DX220's wheel. Easy to rotate with a very precise volume adjustment. All of these controls can be set to be locked when screen is off. The three buttons do not stick out from the player lateral side, but are a bit sensitive.
​
The upper side holds the power button which works for screen on/off as well, and the USB Type-C port in the middle. The USB works for charging (supporting quick-charging) and data transmission and also for DAC functions.
​
On the bottom there are the two audio output ports. Single ended 3.5mm that works as headphone out, line-out and SPIDF, and the Pentaconn 4.4mm balanced audio output. Both are surrounded by large golden colored rings.
​
Screen is of excellent quality. A 5" 1080p Sharp LCD full touch screen and quite wide for a portable player. The resolution is of 1080x1920 and 445ppi, though now can be set to a lower 720p which may help to extend the battery time. The screen shows sharp images, rich color and saturation, good viewing angles and reaches good brightness; there is a Video app already installed, suggesting the DX160 can provide good video playback and with the great audio quality. Screen rotation does work too.
The hardware inside switches to a Cirrus Logic CS43198 dual DAC, still offering various digital filters. Apparently the processor goes back to an octa-core Rockchip used previous models from iBasso, and RAM of just 2G. Internal storage memory is of 32GB (part of it already used by the Android system and apps). The system speed is decent, it runs at about the same level as the DX220, if a bit smoother, but below the faster competitors with Qualcomm Snapdragon or Samsung Exynos SoC.
​
User Interface & Software
The DX160 is not only simpler in its design and layout but also in interface. Unlike the previous iBasso Android based players which offered a dual OS boot, Android and pure Mango OS, the DX160 runs straight into Android OS, Oreo 8.1 version. The touch screen responsiveness is good and the whole navigation is easy and fairly smooth for an Android based platform. The player arrives with a few basic apps pre-installed, and new apps can be installed via APKPure or CoolAPK. Google Play is not included from factory; however, as can be seen here it is now supported by updating to the last firmware and installing directly from APKPure as any other application.
​
On the main home screen it is like any Android one with an extra iBasso icon to access the Mango player App; alternatively, it can be reached by switching to the secondary screen to the left.
This is the 2nd version of the main audio software but any others can be installed. The Mango main playback screen shows a colorful album artwork (if available) and all the playback touch controls and the lower part. The icon to the left will show the track info, while the one to the right toggles between the various playing sequences. At the upper part, the right icon opens the Settings menu, while the left icon is for the Music menu. Scrolling through the music lists and folders is fast and accurate with almost no lag. The DX220 with updated firmware now runs much better and the DX160 is a bit even faster. Still not as smooth as the Hiby R5 with its Hiby Music app, but close, and much more comfortable than any of the Shanling DAPs (excluding the M6). Access to the current playing list is easily done by scrolling down the hidden upper menu. Skipping tracks can be also done by a single swipe right or left to go to previous or next track, respectively. Equalization options are found under the settings options and include the usual ones with extra user defined Custom option.
​

Below are some multiple screenshots of the Android platform:
Wireless features – Bluetooth & WiFi
The DX160 follows the same wireless features as the DX220. Bluetooth version is 5.0 and now one of the few DAP to support it. Sound quality and signal proves to be good enough, no drops or cuts on the connectivity so far with a few wireless headphones or IEMs tried. However, the wireless range is less wide than on the DX220 – there are a few reported units on the DX160 with this issue, but seems that iBasso are working on this. Moreover, the DX160 also supports Two-way Bluetooth so can work as a receiver, so a wireless Amp/DAC with balanced 4.4mm output.
For Wi-Fi it supports the dual band 2.4/5GHz, now a standard for portable devices, and seems to work well with home internet servers for both navigation and streaming.

DAC functionality
The DX160 works as external DAC through the Type-C USB port, connected to either a PC or other smart devices. With a Win 10 notebook there was no need to install any drivers, simply connect it and wait until it is automatically recognized. However, to activate the DAC mode it only possible from the 'Advanced' options under the Settings menu on the Mango app. Also do note that if the playback button is pressed the DAC function will stop.
Battery
Battery time rates to 13hrs of continuous playback, from single-ended 3.5mm output. The time is rather accurate, at least using IEMs after playing a mix of Flac and 320kps Mp3 files, on low gain and with both wireless connections off, it reaches about 12hrs with few random screen uses. 4.4mm balanced output will be lower, around 8~9hrs. It is a decent performance for such a portable device with such a quality of screen. Note that the resolution can be set to 720p which may optimize the battery time a bit further. As usual the needed Quick-charge is supported as well.
Sound Quality
Sources: iBasso DX220 AMP1 mk2 & AMP9, Shanling M5s, HiBy R5 & R6 Pro, Fiio M6.
Ear/Headphones: iBasso IT04, qdc Anole VX & Fusion, Dita Audio Twins, Sendy Audio Aiva, Meze 99.
As the new mid-tier portable player from iBasso, the DX160 implements a Cirrus Audio different DAC chip from the previous takes of AKM and Sabre ESS options used on the flagships DX200/220 or DX120/150. However, it is not iBasso's first take on a Cirrus DAC; DX80 for instance used an older chip model. The one here is a dual CS43198 DAC, found on a few competitors like the A&K SR15 and the newer and more affordable HiBy R5, a much closer rival to the DX160.
Despite this shared audio component, its implementation and tuning of the DX160 still shows the iBasso more characteristic sound, found on the upper DX220 and lower DX120, with a nicely balanced and rich engaging presentation. The DX160 does fit accordingly to its suggested price tag when compared to the lower priced DX120, and more next to similar priced such as the Hiby R5 or Shanling M5s. And more importantly is how it performs next to more expensive players; in fact, the DX160's sound resembles in many ways the DX220 (AMP1 mk2) with the wide soundstage, great layering and touch of musicality.
The volume range is of a standard 100 steps and there are two gain options. it may sound more limited next to the DX220 that raises up to 150 and features an extra middle gain option, but then it is the usual option you get on almost every player. The changes from each volume step are small and smooth, suiting well very sensitive, low impedance IEMs. For example, using the IT04 the required volume of the single 3.5mm output is just around 30 and ~20 on the balanced output. Hiss is audible only with very sensitive IEMs and the DX160 can present some EMI noise with those, mainly when Wi-Fi is on. It is audible when music is paused and mostly when scrolling through menus. On the 4.4mm output it is less noticed. A small impedance adapter definitely helps to fix this issue.
The Cirrus CS43198 offers a short variety of 4 digital filters. Lower than the ESS Sabre Pro chip on the DX220 with 7 options, Shanling M5s with 6, or own DX120 with 5. Even so, the Hiby R5 with same DAC has none. Unless you really can tell differences between all these filters, then this will never be called as a disadvantage. Similarly to the DX220 with the new Mango player app, there is a small graph showing the digital audio filters differences – a nice touch. Anyway, the true changes will be achieved using the Equalizer. Again, the Mango app offers two equalization systems, Graphic and Parametric. On the Graphic Equalizer there are six options, five EQ presets and one Custom; all of them can be still adjusted by user's preference by simple touch on the frequency. graph. The frequency band is wide, with 10 frequencies from 33Hz up to 16kHz in a 12dB -/+ range. A nice feature is that the graph curve will change when adjusting each band. There is a small volume drop when enabling the Graphic EQ to apparently avoid channel distortion. The Parametric Equalizer (or PMEQ) is more interesting and much more complex that requires more time to fully understand, but will give a most precise tuning. As it should work like the DX220, so the same manual (to be found online) will properly explain how to use it.
As usual, for the sake of the review the sound impressions and comparisons were done without EQ options and using the Mango player App preinstalled.
For a mid-tier player the iBasso DX160 performance is excellent, making it worth its price tag with key features over some of the competition. An 'all-rounder' presentation would be the most proper what to describe the sound out of the DX160, pairing with different types of gears from IEMs to over-ear headphones. It is fairly balanced and linear, but not flat or too reference tuned with that cold, clinical approach; but rather, puts a very good overall balance without emphasizing a certain frequency or adding much coloration. There is fullness on notes with a more natural timbre, and probably the most natural among these mid-fi priced DAPs, which only gives up on some transparency in exchange for extra touch of musicality. It also adds better texture and layering without losing in clarity. Moreover, the DX160 stands out having greater dynamics and a wider surrounding effect. The low-end extends well and effortlessly; there is a slight touch of added warmth that does give a bit more body to the lower instruments yet keeps a very good layering and separation. Control and speed are very good as well. Mid-bass has a slight more priority over the sub-bass which results a bit lighter; it shows good rumble just less depth. Midrange is mostly neutral to slightly forward depending on the pairing; with more v-shaped sets then it just less distant and more even. There is almost no coloration but richer texture, and focus in giving better resolution and greater dynamics. It is at expenses of total precision and transparency, though still all accurate and detailed. Highs balance is as good as with the low-end, well textured and energetic enough. Not as resolving as the flagship tier level of the DX220, and not most natural but yes more enjoyable than the treble on the R5 with the same CS43198 DAC. The layering and treble dynamics are well achieved, completing the touch of 'musicality' the DX160 tends to offer, less linear or reference-like, more rounded and very controlled where sibilance or harshness are less perceived. Extension is pretty much equal to the lows, so quite good for a mid-fi range. Soundstage is a key feature on the DX160, and the most expansive among the various mid-tier DAPs compared. It easily offers the best width with more equal depth and height. In fact, it is not far from the DX220 impressive level of large stage presentation. It also has a more realistic imaging and accurate positioning of elements.
The balanced output on the DX160 which is now Pentaconn 4.4mm brings the expected results. On the technical side, there is the usual jump in power, with output level of 6.4Vrms, twice the single ended output. Also, the matching listening volume level is lower by at least 10 steps, depending on the gears used. The real improvements are clearly in terms of dynamic range, greater separation with an even wider and more spacious staging. The sound presentation is more even, open, and well, more 'balanced'. It also is 'less forward' than out of the single-ended out, with better and more effortless extension. With very sensitive IEMs it can result in an extra boost in bass and treble, but otherwise it is easy to recommend if applicable and when battery time is less critical.
Comparisons
HiBy R5
The R5 is probably the closest rival of the DX160. Not only both retail at same price, but also share the same Cirrus Dual DAC CS43198, same dual output options of single 3.5mm and 4.4mm balanced, Android 8.1 OS and all multiple wireless functions, WiFi and Two-way Bluetooth. Build quality is solid on both devices and similar in weight too. Then, they differ in clear physical dimensions being the R5 the most compact out of full Android based players, while the DX160 retains the same excellent wide 5" touch screen introduced with the current flagship DX220. On other internal hardware components, the R5 has the advantage in speed with a faster Snapdragon processor but limited to a lower ROM of just 16GB. The DX160 doubles to 32GB but then is not as fast as the R5. While the R5 arrives with preinstalled Google Play app, it can now also be installed on the DX160.
In terms of sound, both players have immediate similarities in the technical level and a few cons as well; not that surprising, having the same audio DAC component. The detail, resolution, speed and precision are pretty much equal. However, the presentations are differently tuned. The R5 is more average to narrow in soundstage, a bit more linear, cooler and drier in the midrange. It has also a bit more dense texture. The sub-bass is greater on the R5 too, while the mid-bass less emphasized. Treble is sparkly though not the best in quality. On the other hand, the DX160 wins with a wider staging, a bit more open and spacious. It is more musical, especially in the mids, more dynamic but then a tad less accurate. Mid-bass is more focused with less depth on the sub-bass. Treble is better tuned too, more natural and forgiving. Using closed headphones or IEMs, the differences are less noticed, but easier to notice with more open designs.
​
Shanling M5s
Before the release of the new M6, the M5s was Shanling's flagship player. There are not just obvious differences on the outside design, but in the hardware and software applied. For a non-Android based device the M5s is very fast in interface response, and still much less accurate when trying to browse through the various menus. The DX160 is smoother and more comfortable to operate, even not being the fastest in its price bracket.
Sound wise differences are easier to pick than against the above R5. The M5s is more neutral and more linear, less lively and dynamic, but more focused in accuracy and detail. Stage is wide on the M5s but the DX160 is even greater in all dimensions. Bass is shier and lighter on the M5s, though also tighter, while the DX160 is more bodied and forward, especially in mid-bass with more rumble. The midrange is similarly forward on both; however, the DX160 is richer and more musical, whereas on the M5s is a bit drier. Treble is even more different – the M5s is just smooth and much less emphasized, making it darker sounding next to the more lively and energetic treble on the DX160. The M5s still has a more natural treble texture, while the DX160 is still better than the R5.
​
DX220
The most interesting comparison is obviously against the own iBasso flagship player, the DX220 with stock AMP1 (MK2). Does the DX160 sound is a good as the twice priced DX220? Well, no, but it has been tuned to offer a very close (maybe too close) presentation with similar strong key features, like the extension and very wide soundstage, fullness and musicality. If comparing with IEMs or closed portable headphones, differences (or improvements) will be less obvious. The DX220 has better layering and further extension on both ends. It sounds more neutral in the midrange, less forward and leaner for a greater sense of space and air. The detail is presented more effortlessly too. However, in terms of value, then the DX160 has the upper hand and is more portable with the same great screen; unless you need or want the exchangeable amp modules. With both players on their latest firmware upgrades, the system speed is similar, though the DX160 runs a bit smoother, while the Bluetooth range is better on the DX220.
Pairings
Single ended 3.5mm output:
qdc Anole VX
Like with the DX220, the pairing is still limited to the 3.5mm single ended output, until I get a proper cable for the qdc's. Even with all switches off on the Anole VX, there is a strong bass presence, with a warmer tonality. Midrange is a tad forward than neutral and a bit thicker. The treble is sparkly and extends to all what the DX160 is capable of. Soundstage has more width than depth. To be fair, the sound is not as high-end level as when paired with the DX220, although does stand out for its price. The VX shows that DX160 is not a totally neutral, reference DAP, but yes a balanced one with a touch of added fun factor.
​
final E5000
Single dynamic in-ear that with just ~6.4mm driver diameter has a reality low sensitivity for just an IEM and requires greater power to sound best. The DX160 is plenty powerful to drive the E5000 and pairs quite well. Bass is impactful yet controlled and not overwhelming. The midrange sounds clean, forward and more bodied. Treble is more energetic despite the laid-back nature of the E5000. Wide soundstage.
​
Dunu DK-3001 Pro
While the DK-3001 Pro arrives with all the possible plug adapters, with the DX160 I found using just the 3.5mm single-ended output to sound more enjoyable. The DK3001 Pro has a bit of midrange forward sound. The DX160 adds the extra layers of bass, more punch and texture, as well as more treble presence, maintaining a forward, very rich midrange. Soundstage is about average, but tonality is very natural.
​
Custom Art Fibae 3
The Fibae 3 is a right example that shows the less neutral and more dynamic sound of the DX160. It is a very linear IEM with a reference tuning, brighter tone and impressive detail. Synergy with the DX160 is superb. There is a very solid low-end, more dynamic but with the speed and detail the Fibae 3 can present. Midrange is richer, especially more in the low-mids. Treble is still bright and well extended. The presentation is very airy and actually reaches a wide stage with just the 3.5mm single-end port.
​

Balanced 4.4mm output:
Dita Audio Twins
The DX160 benefits well both Dita Twins, but my preference in this case goes for the Fealty. There are very good dynamics, more lively, all-rounder presentation, bass power and richer midrange. The highs are not completely smooth, peak free, but there is very good extension. If available, the 4.4mm plug for the Dita cable will give better results, especially a wider and open staging.
​
iBasso IT04
Still the current flagship earphone from iBasso, the IT04 works as good reference when trying different DAPs and a must if it is an iBasso DAP. Unlike the DX220 with a stock 2.5mm balanced output, a small adapter is needed for the DX160 or if you prefer, a 4.4mm terminated cable. The IT04 still performs greater with the DX220, a cleaner, smoother, more organic sound overall with expansive soundstage. With the DX160, the 4.4mm balanced is also recommended to bring best results out of the IT04. Bass is impactful, with more mid-bass elevation, and good speed and well textured with that graphene driver; deep and rumbly sub-bass too when called for. Midrange is full, and more forward versus the DX220 pairing, especially in vocals or upper string instruments sounding crunchier, but not as layered and resolving. Width and depth are very good. Treble is not as refined, a bit aggressive and not completely harshness free. Some quick EQ can help, or even better small added impedance adapter to smooth down and give more body to the sound.
​
Sendy Audio Aiva
Between both Hiby players, R6 Pro and R5, I already preferred the R5 synergy with the planar Aiva, not for the technical abilities, but simply for the tonality and less bright signature. With the DX160, the results are similar, though the DX160 benefits the Aiva even more: it has the soundstage the Aiva may need and a better treble control, yet not completely forgiving but at least smoother.