Item information
Added by
Views

3,934
Comments

1
Reviews

3
Last update
Rating

5.00 star(s)

3 ratings
Latest reviews
Pros
:
Build quality & sleek design
Driving power output
3 Gain options
Impressive sound quality - Full, rich, engaging. Large soundstage
Innovative interchangeable sockets feature
Cons
:
Large, heavy device
Expensive
Still Android 7 OS
Case not included
REVIEW – Shanling M8 – Flagship Portable Player
Website –
Shanling
Specifications
Manual

Shanling M8 page.
Price:
U$D 1659.

The M8 unit was kindly arranged by Shanling company for the full review.

Available from
MusicTeck store
.
The Shanling M8 arrives in a much more premium box presentation than any of the previous Shanling products, and well worth the flagship and top-tier category. Inside the cardboard box there is a large wood storage box, where the M8 player is safely arranged and next to it a small leather case that contains the extra three balanced interchangeable audio sockets with the metal removal tool – single 3.5mm socket is already installed. Underneath are the extra accessories, USB cable, screen protector films and all the paperwork. Unfortunately, there is no case included and needs to be purchased separately, and honestly, for the high price it is something that should have been part of the whole package.
Design
The unique design that Shanling has settled on their modern players continues on this current M8 top model. Basically, the M8 follows an identical design and shape to that of the M6 and M6 Pro mid-fi DAPs but larger in all its dimensions and weightier, with a few changes in its general layout. The M6 is one of the best built portable players and the M8 keeps the same level of quality – it just does not get much better than that, so the M8 looks solid and pretty durable. Main chassis consists of a CNC machined aluminum single piece, sandblasted, anodized and perfectly polished; there are no sharp corners, the top and bottom sides are flat while the sides are more curved. A shiny glass panel on the front for the touchscreen and a dark, frosted glass panel on the back. The color theme is available only in an all-black color theme.
The screen is now larger with a full 5" display, and like the M6/M6Pro occupies most of the front panel, making it more competitive to some direct rival DAPs with full Android OS. As a daily carrying music device, the M8 can be challenging; it is heavy and large. The M6 was already longer than the DX220 which I already considered not too comfortable, and so the M8 makes it even less friendly – personally, the M5s was still pocketable as a player to carry around all day, but anything larger/heavier is less ideal for me. Although, when you need the advantages of the Android system you need to be less picky.
The layout is still very logical, though a bit different on some key points from the previous Shanling players. A main reason is the unique characteristic of the M8 player having interchangeable audio output sockets. So the M8 features single and balanced options but looks simpler. The sides remain almost unchanged. On the left side are the three physical playback buttons, rewind/previous, play/ pause and next – and if pressed and held, the previous and next buttons can be used for back and fast-forward on the current playing track, even when the screen is off. The buttons' line is recessed within the player contour which avoids them from being unwillingly pressed, but each button is raised and has a good grip; the buttons are larger than on the M6 models and also have a sharper finish on their contour. On the right side, there is just the already classic multifunctional wheel that works for volume adjustment when rotated clockwise and counter-clockwise, and as power and screen on and off button. Pretty much identical to the M6 and just larger to match the maximized player design. The volume control is very accurate with a low clicking sound with each rotation. Volume changes are small from each step and can be perfectly adjusted for most sensitive IEM sets.
Now, the bottom side holds the USB Type-C port in the middle, for charging, data management and digital audio functions, both as source and external DAC. From wireless options the M8 can work as a wireless Amp/DAC, too. To its right, there is the micro SD card slot. It has a different cover than of the previous Shanling players that instead of being lifted needs to be pressed on its left marked dot in order to open.
Finally, the key feature of the M8 is presented on its upper side. Instead of being overpopulated with all the desired single and balanced outputs, the M8 introduces an exchangeable audio socket system. There are four different sockets included, the standard 3.5mm single-ended and three balanced, 2.5mm, 4.4mm and 3.5mm Pro (which seems more popular on the Asian audio market). The sockets are all metal in gold color, and there is a simple tool inside the leather case (which looks like a knob) to remove the socket. The process is too simple, just aline and slide the round tool to fully cover the socket and gently pull it out. To install another socket simply place it with the small dot facing to the left and push. Worth noting that each of the sockets can be set as Line-out from the audio settings or directly from the drop-down menu. It is an innovative design and while it takes just a few seconds to replace the wished output, it does make the whole layout it 'cleaner' and more elegant.
The touch screen maintains a good quality for an audio Android based device – not gonna beat the best smartphones standards, but serves its purpose. A full touch HD display of 5" diagonal size and 1080×1920 resolution. Still not the largest but yes of very good image quality, sharp and vivid colors, good view angle, brightness and contrast. Not something I'd take for video playback or even web browsing (especially when it drains the battery so much faster), but some people may still consider it. Still no screen rotation feature on the default firmware, though should work with an appropriate video playback app.
Inner hardware components. For sound, the M8 equips the best of the AKM chips, a dual AK4499EQ DAC, found on a few more expensive players (with a selection of 6 digital filters for those who think they care). On the other hand, the processor SoC is a Qualcomm Snapdragon 430 CPU, octa-core chip and 4G RAM hasn't been upgraded over the M6. Still a fast Android portable device, but one could expect greater tech for the high price. 64GB ROM memory, with only about 52GB of it available for real use; 128GB would have been ideal, though.
User Interface & Software
The M8 runs on Android 7 (7.1 to be more specific), same thing as the M6 and M6 Pro and the Fiio full Android players. It is quite outdated and kind of disappointing as it was for those players, and more for a $1.5K flagship DAP from the end of 2020, early 2021. Sure, it is not that important for an audio dedicated device, but when paying such an amount one would expect to get the latest software versions possible, even more when other companies already offer Android 9. The M8 still arrives with Google Play installed, and alternatively you may use APKpure. Operating the M8 is as intuitive as any smart device, phone, tablet, with the additional needed audio functions in its modified Android system. It runs fast and smooth with a very good touch screen response. The whole experience is identical to the M6 with just the added extra Turbo gain over the low and high ones. (Yes, low, mid and high would have made more sense, but whatever).
Upon powering off it starts on the home screen with a small display to access the Shanling music app right away or alternatively handle the music playback directly from this main screen. There is a second screen to the left with few basic apps. At the bottom of the screen there are four extra icons: clock (time settings), Shanling music app, settings and info. The extra 'virtual key model' feature is also available, which allows two different gesture navigation options (explanation on the screenshots below taken from the User guide). And there is also the switch between Android mode and Prime mode, which sets the player to work only with the Shanling Music app with no access to the main Android system and stops the other apps processes.
As for the Shanling music app itself it is pretty simple to use. There is a wide array of EQ presets and a Custom EQ with 10 frequency bands to adjust from 31Hz up to 16kHz in a range of 12dB+/-. Folder skip is available, but unfortunately the Gapless playback option is still missing; not a big issue if you already plan to use another music player app, but annoying when wanting to stick with the Prime mode option.
Below are a few screenshots of the Android platform and Shanling app:
Wireless
Finally, Shanling has updated to BT 5.0 on the M8. Not that I found any great improvements over the 4.2 BT performance on the M6 or any other Shanling smaller players, but always a plus to have the latest tech possible. Like with other Shanling players, the transmission is pretty good on the M8, but honestly, using a $1500+ device for wireless headphones is not what I'd pick. The more important feature is the Two-Way Bluetooth allowing the M8 to work as a receiver with up to AptX and LDAC codecs, making it a fully balanced and powerful wireless Amp/DAC. Moreover, the M8 supports MQA for higher streaming quality. I cannot comment much here, as I generally do not use streaming apps.
DAC functionality
Likewise, the M8 can work as an external DAC through Type-C USB port connected to either a PC or other smart devices. The USB DAC function starts immediately (when the Type-C port is set to function as DAC). External DAC can be connected to the M6 as well.
Battery
With a larger battery of 7000mAh, the M8 manages to keep a good performance, similar to the M6/M6Pro, that considering the larger screen and higher power output, is very decent. It actually depends on the gain used – the Turbo will drain the battery even faster. On balanced output it can reach up to 8~9 hours. Still, the main downside is the charging time that may take around 2.5~3 hours with standard chargers, for what the Quick-charge (3.0) feature is highly recommended.
Sound Quality
Main gears used: qdc Anole VX, Campfire Audio Solaris 2020, final A8000, Fir Audio VxV, iBasso SR2, Sendy Aiva, Hifiman Sundara. Lotoo PAW 6000, iBasso DX300, Fiio M15.
I had already tried and covered in full reviews several of the modern Shanling players, from the cute and minimalistic M0 and its retro-looking alternative Q1, to the more advanced M5s and M6 (which both became among my personal favorites DAPs). And I couldn't find a shared tuning within them that could be called a Shanling's house sound. So when getting to the M8 flagship there wasn't a specific sound that could be expected. Well, for the price it ought to be great, but couldn't guess in what way.
The use of the best AKM DAC chip yet, AK4499EQ in dual setup, doesn't say much about the final tuning itself, either. However, in technical abilities it should be top of the line. Personally, for a TOTL flagship player (and price) I thought the M8 would be offering the most neutral, uncolored and even a bit more analytical air compared to the previous mid-tier models. Instead, Shanling had opted for a more flavored sound that departs from total neutrality adding weight and some color to the sound. It leans a bit towards a 'warm' sound, not to be mistaken as being too thick or even dull, but definitely has an extra richness and texture. There is that sense of fullness from lows to mids that ends up with a smoother high end. Dark it is not; there is plenty of air and treble energy but you certainly get a more comfortable, less compromising treble response.
First thing to notice is the low freq. response, striking with more power and greater impact. While the whole bass deviates from total neutrality to a more enhanced in terms of quantities, it does not get congested or overwhelming. On the contrary, it is roomy and spacious. There is more depth and excellent extension reaching the lowest sub-bass regions with more ease. Layering too, is very good and despite the boosted bass amounts it sounds very natural and tight. Dynamics are top-notch and so is the resolution. Surprisingly, I find the synergy good with a variety of headphones, from the very neutral to the warmer and darker ones; I'm not a fan of pure heavy-bass sets, but for reference, the Campfire Solaris and Hyla Sarda pair quite well with the M8 tonality and gain greater technical prowesses.
The midrange is a bit more forward than neutral; fuller, richer and still very detailed. The M8 may be less transparent than DAPs as the PAW6000 or M15, but in exchange it is less dry and not as thin as those. You may refer to it as more 'musical', where the sound is more engaging and immersive. The imaging is very precise with a correct positioning and distance of elements, good weight and texture to each instrument, that despite the flavored tuning provides good density to lower instruments and sparkle and crispiness to upper ones. Vocals sound sweet and more natural than other DAPs I tried so far.
The treble is easier to describe. For the M8, Shanling had opted for a smoother treble presentation compared to their other DAPs (with exception of the M5s which sounds even darker and safer than the M8). It is not laid-back and far from being dark or dull sounding, but clearly a more pleasant and forgiving tuning. To me it is not a 'safe' tuning as there is all the needed sparkle and energy when used with brighter sets like the Hifiman Sundara and Sendy Aiva planars or IEMs like the qdc VX and InEar PMX. On the technical side, it is at top-tier level with best control and precision; high and very effortless extension. Sibilance is taken under control with almost anything (with only exception of the Tin P2 with its flawed impossible treble tuning).
Detail retrieval is excellent and while not presented in a forward way, as its tuning suggests, all the minuscule details and nuances are easily heard and flow with more naturality. It is on the point where you can appreciate the whole music and still find all the detail without starting to analyze the sound. The soundstage is another merit of the M8, and honestly I had not expected any less at this price point, especially after trying the M6 which stood out in soundstage for its mid-fi league. It has a large presentation that expands to all directions. Everything sounds like in a larger space with a greater out-of-head perception. Won't make a miracle for closed or intimate sounding headphones, but those with decent stage and space scale immediately higher with the M8.
Moreover, the M8 also offers a high level of driving power for more demanding headphones. The single-ended 3.5mm output is strong enough on Turbo gain, but when switching to any of the balanced sockets there is not just greater output power but also better more space and air with an even wider and more extended presentation. For demanding IEMs like the final B1 or E5000 there are no issues, and could even drive the Tin P2 to a remarkable level. Only have the Sundara and Aiva as demanding open planar cans, and the M8 can drive them really well and also present a good synergy in tonality.
Comparisons

Fiio M15
With a close price and also very similar technical features, same DAC implementation of AKM dual AK4499 chip, OS, build and form factor, the M15 is one of the direct rivals of the Shanling M8. Both players are pretty much equal in driving power too, and specifically from their balanced output options. Focusing on sound alone, they share some similarities in terms of technical performance such as speed, resolution, dynamics, extension and level of detail. They do, however, differ in the final tuning. The M15 is more linear and fairly less flavored, with still good weight and dynamics on the lows, though with less 'felt' extension, more leveled from sub through mid-bass. Midrange is more neutral and noticeable drier, full but not as rich, with a bit more "clinical" touch on it. Treble is a bit more pronounced and less forgiving. Soundstage is about the same, with the M15 trying to sound a bit wider, whereas the M8 is better rounded. Overall, the M15 is more a 'technical' DAP while the M8 is more forgiving and engaging.
Lotoo PAW 6000
Sound-wise while these both DAPs are very technically strong they quite differ in their tuning. The PAW 6000 is neutral to bright with a slightly midrange forwardness, super clean and very focused in micro details. It offers a tight low-end with very good dynamics and speed with high transparency through midrange to treble. However, it is much less forgiving when paired with brighter headphones, and the bass is much softer in impact than the M8. The sound is leaner and lighter, too. Soundstage is decent on the PAW 6000 but not yet its real forte; imaging is very accurate. The M8 is clearly bigger in stage dimensions and the extension reaches further on both ends. Much fuller sounding, more bodied in the midrange and much more powerful on the whole bass. The highs are smoother, not missing energy on their own, but certainly laid-back next to the PAW 6000. Even so, while the PAW 6000 puts the details more forward, the M8 is capable of even better detail and resolution as the higher AKM dual DAC should suggest. Overall, the M8 has a more entertaining and immersive presentation. The M8 is also a more powerful source, especially in balanced output for more demanding headphones without asking for external amplification.
Shanling M5s & M6
Both of these previous Shanling's DAPs are among my favorites sounding portable players. The M5s has the right size to be used as a daily portable device without having an Android system and works very fast. The M6 is toughly built (as good as the M8) and while less portable, its sound quality rivals more expensive devices. Compared to the M8, neither of these can reach its higher sound quality, and while they each present a different tuning, the sound out of M8 takes some characteristics of the M5s and M6. Wide stage and open sound like the M6 and great sub-bass extension. Treble is smooth and forgiving, a bit like the M5s (though the M5s is much 'safer' sounding), but has more energy and extends way further. The midrange is rather different, more forward and much richer than both M6 and M5s.
Pairings

qdc Anole VX
If the qdc VX is one of the best sounding earphones I've tried, the synergy with the M8 is excellent. 'Epic' would be the best term to describe this combo. With other sources, the VX turns to be more neutral with great balance and unbeatable detail. With the M8 it gets a more flavored, bit colored, presentation that deviates from its usual neutral signature to a fuller and richer tuning. The bass has strong impact, with greater sub-bass reach and impressive dynamics that are very BA unlike. Still a forward midrange with more body on the lower mids and a smoother yet energetic treble response. The detail is the best so far and the soundstage is very large, open and airy, in the way the open large headphones can perform.
Campfire Audio Solaris (2020)
For best sound results I use the Solaris with the JVC Spiral Dots and new final E tips for TWS. With the M8 the sound is warm and full. Bass is rather powerful, and to my taste close to being bass-heavy in pure quantities that occasionally can get tiring, more on the mid-bass area, and still with deep sub-bass. The quality is still excellent, fast, very well layered and very, very dynamic. Midrange is more forward and thicker on the low-mids, something more favorable for the Solaris. Upper-mids and lower treble are a bit more relaxed while remaining natural and very detailed. If the Solaris is known for its large soundstage, then it is well revealed when paired with the M8, beating the above VX in that single regard.
Fir Audio VxV
Now, this is a hybrid that I found very likeable the more I listen to. Easy to drive, but as it arrives with a balanced cable ready to take advantage of the M8's 2.5mm socket. Soundstage expands wider here and has better front to back distance. Tonality differs from the more neutral/mid-forward and gains a bit more body and density on the lows with less sharp, more forgiving treble. Excellent detail retrieval and a touch more organic, natural timbre.
final A8000
Being the only single dynamic driver earphone among these higher IEMs, the A8000 benefits more from the better amplification part of the M8 player, and with a standard 100dB / 16Ωrating it is also less sensitive than the hybrids and full-BA options. With the more linear and brighter sound of the A8000 I was expecting a similar synergy tithe qdc VX + M8 pairing, though the A8000 seems less sensitive to the M8. Still, what the A8000 gains here is impressive dynamics through the whole frequency, better speed and control, more body and depth on the bass with more effortless extension don't find it to have more impact on the mid-bass area, though. Midrange does not sound more forward but yes more spacious. The treble is still bright, but less so than with the PAW 6000 or M15, more controlled and a bit more comfortable to listen to. Wide soundstage, open and very airy presentation and very accurate imaging.
Hifiman Sundara
The M8 is good enough to drive the Sundara open-back planar headphones. Out of the single 3.5mm ended output, on Turbo gain and volume above the 50 steps is already comfortable to listen, and the M8 provides plenty of power and great dynamics. Soundstage is very decent, wider and more open sounding, even though the Sundara are not any master in terms of stage. The bass is more present and forward, gains more punch on the mid-bass and the midrange is thicker starting already from the low-mid area. Female vocals sound pretty sweet, but occasionally edgy and shouty. Treble is still very energetic, if a bit more forgiving, and noticeable less prone to sibilance.
iBasso SR2
The SR2 is a much easier to drive set, and half of the volume is already too loud on the High gain. Paired with the M8, the SR2 benefits from a better defined low-end with finer layering and depth, greater sub-bass extension and cleaner mid-bass. The midrange is more resolving, vivid and even more forward. Female vocals are very clear and detailed, yet male vocals stand out more with more realistic texture. Treble is more presented and natural (especially compared to the M6 and DX220), still lacking some upper extension but very detailed. Personally, I find the SR2 very fun to listen to with the M8 and has a more correct timbre.

Summary and final thoughts

Shanling is not a new company when it comes to portable audio, and while for several years their players' line has been focused on the more traditional style, their rise to the full Android platform has been rather fast. And now managed to reach the top-tier level with one of the best DAC chip and audio components and still maintaining their own unique design and impeccable build quality. The implementation of exchangeable sockets may or may not suit everyone, but nonetheless, it is a unique feature worthy of praise. The M8 is priced high but it does perform at a very high level. Perfect it is not, though the disadvantages are addressed to the software side, mainly running under an outdated OS and the limited music app, which even lacks some of the basic features (especially if you want to use it in Prime mode). As for sound quality, the M8 has its own flavored tuning that departs from total neutrality and yet is easy to like. Driving power is high, especially through the multiple balanced outputs, boosting impressive dynamics, soundstage, space and very high detail.
Last edited:
Shanling M8 - The Seductive Shanling
Pros
:
Outstanding sound quality, powerful, very low noise level, great build quality, excellent screen, smooth operation, Google Play store support, highly versatile thanks to the interchangeable headphone socket
Cons
:
Shanling Music app could use a few tweaks such as gapless playback and proper loading of the library after booting up the M8, quite a big and heavy DAP
Shanling M8
Disclaimer
I would like to thank Shanling for providing me with the M8 DAP in exchange for my honest opinion. No incentive was given for a favourable review.
M8 Specifications
CPU: 8-core Qualcomm Snapdragon 430
Storage: 4GB RAM + 64GB RAM + 2TB Expandable
System: Open Android 7.1
DAC: AKM AK4499EQ × 2
Bluetooth chip: Qualcomm CSR8675, support Bluetooth 5.0,
Hi-Res: 768 kHz/32 bit, DSD512 native
Screen: 5-inch 1080p Sharp display
Bluetooth transmitting support: LDAC/HWA/aptX HD/aptX/SBC
Bluetooth receiving support: LDAC/HWA/aptX LL/aptX HD/aptX/AAC/SBC
Output: Interchangeable 3.5 mm+2.5 mm+4.4 mm+3.5Pro sockets
Output power: 840 mW@ 32Ω (balanced), 260 mW@ 32Ω (single-ended)
Wireless interface: 2.4/5G dual-band WiFi, support MIMO
Other functions: WiFi transfer/SyncLink/DLNA/AirPlay
Battery life: 14h (single-ended); 9h (balanced)
Battery: 7000 mAh
Charging: support QC3.0 fast charge.
Dimensions: 138 x 80 x 20 mm
Weight: 342 g
Price: US$1,659
Links:
https://en.shanling.com
https://www.facebook.com/ShanlingAudio/
Preamble
Back when I wrote my first review of a Shanling product I took some time to get to know the company's history and found out that although in recent years Shanling has made a name for itself with value oriented products, they made some pretty high-end HiFi gear in the past. That past experience, it seems, is now resurfacing with Shanling stepping things up for their portable products. Shanling's new DAPs are leading the way in this trend with the M6 Pro already at a price point I would consider 'higher up'. The flagship M8 however, has moved Shanling firmly into the high-end, even 'Top-Of-The-Line' segment. Not quite at the highest price point and thus still in a way close to its value oriented roots. Then again, Shanling still has a trick up its sleeve with the transportable modular all-in-one M30.
Talking about tricks, when Shanling first announced they were developing the M8 there was mention of it having interchangeable headphone sockets and I was immediately intrigued. So I followed every bit of news after that, eagerly waiting to see pictures of what exactly that was. Eventually though it became clear that the M8 was more than just a one trick pony and that Shanling had every intention of developing a true flagship DAP. I will admit that while interested, I was also sceptical because other companies have moved up from value oriented to the high end with mixed results. So did Shanling's prior experience with high-end HiFi gear give them an edge while developing the M8? Let's find out!
Unboxing
Unboxing the M8 provides you with a truly premium experience, although Shanling has not pushed it over the top. The outer cardboard box is a very nice one with its own unique colour and which opens up with the front folding out to reveal the actual wooden box itself. The wooden box is just what I like to see with TOTL equipment. It is beautiful and gives you the feeling of having invested in something precious, which at this price it is. Some people might buy and sell expensive gear like they have a money tree growing in the garden, but for most of us mere mortals a DAP like the M8 is a big investment and having a stylish and sturdy box for storage is really good to have.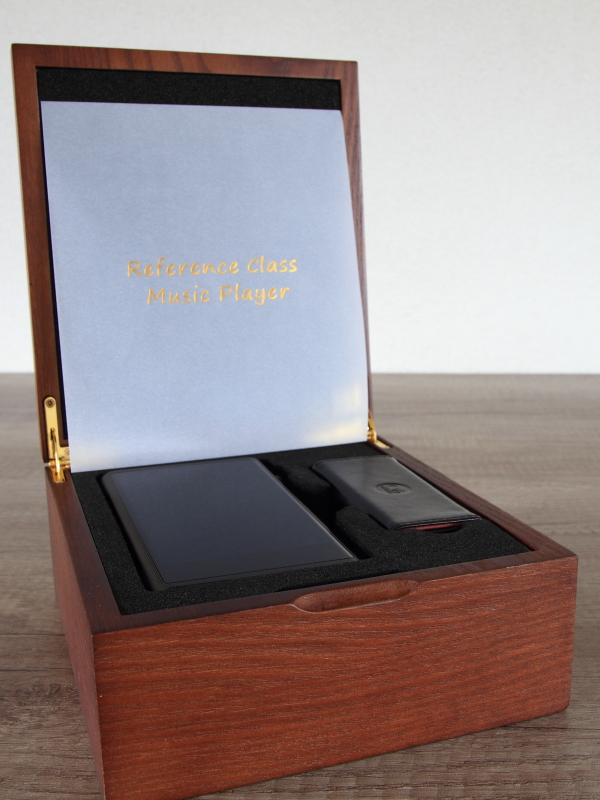 The top layer has the M8 itself alongside which you will find a very good quality leather case that houses the interchangeable sockets and the tool used for changing those. Below the M8 is a charger cable, two screen protectors and a warranty booklet.
Alongside the M8 I also received the leather case Shanling offers for it, which is nothing much in terms of unboxing, but the case itself feels and looks like premium quality. It does show small scuff marks fairly quickly, but I like that and I think the case will develop a great look over time.
Design
There is no getting around it, the M8 is a big DAP. It measures 138mm x 80mm x 20mm and comes in at a hefty 342g as indicated in the specs, although I weighed it at 355g on my own kitchen scales with a microSD card inserted. This is not a DAP that you can fit comfortably in the pocket of skinny jeans. Then again, such jeans are an assault on male fertility, so men should avoid them to begin with and women could use it as an excuse to get a designer handbag to match the M8. (Middle aged men… Whatever you do, nothing, and I mean absolutely nothing, can justify reviving the bumbag.)
Still, the M8 is not the heaviest DAP I have come across, Sony's WM1Z and Astell & Kern's SP2000 Copper both weigh a solid 100g more at 455g and 432g respectively. Not to mention Astell & Kern's older copper DAPs with the matching amps, which I believe come in at over 600g combined. The M8 is in my opinion still a portable, although starting to move towards where I feel the limit would be for me personally. I can see myself taking the M8 along to work for instance, but during the commute itself I would probably prefer a smaller DAP. Especially under the sort of pre-Covid circumstances back in London where I was crammed into the Piccadilly line tube like a sardine, something like the Shanling M0 was a much more convenient solution. Avoids embarrassing conversations that start with: "Is that a DAP in your pocket, or are you just happy to see me?"
While big, the M8 is very well built around a one-piece, high-grade aluminium chassis. At the front you can find an excellent 5 inch, full HD screen that has vibrant colours and is really crisp and clear. I actually installed YouTube just to see what it was like and image quality is great. The large size of the screen also makes it very practical for watching videos and you get great sound to boot. The back has a high-quality plastic cover with two transparent sections under which you see the Shanling logo and the usual "hi-res" type of information. It is a tiny and fairly insignificant detail, but I really like how these are not the usual stickers or printed on. This gives a little bit of depth perception that adds to the overall feel of refinement of the M8.
The sides have a nice indent for good grip, which is similar to what you see on Sony's WM1A/Z except now in Shanling's own very clean style. On the right side you can find the on/off volume button and a small light indicating when the M8 is switching on or being charged. On the left side there are the three standard control buttons: back, play/pause and forward. The buttons feel really good, solid and responsive, and I can imagine someone spent time on getting the feel of the buttons just right. It is another detail, but one you really notice when you use the M8 a lot and at this price point such details are important for the overall perception of quality, which is very good.
At the bottom there is on the right side the memory card slot with a cover, which I like to think it gives a little extra protection against dust and dirt. In the middle is the USB-C connection for charging and DAC function. Then moving to the top we find the finishing touch to a very clean look: the single interchangeable headphone socket. The interchangeable socket system is of course a key design feature and so I will treat it separately.
Interchangeable sockets
Shanling have come up with something really unique in response to an increasing number of balanced terminations that are offered on the market. The system they came up with is, as far as I am aware, unique and allows easy switching between the standard 3.5mm Single Ended out and 2.5mm, 4.4mm and 3.5mm Pro balanced out. It also offers the prospect of more modules being added at a later date to add to the versatility.
It is very easy to use and feels solid. It works by sliding the included tool over the top of the module that is in the M8 and simply pulling it up. There is some resistance for a secure fit, but it doesn't require a lot of force either and so should not cause for concern that you might break something. It is a smooth system. Placing a different socket is simply pushing a new one in, which I usually do with the tool, but I don't think that is necessary. In terms of orientation it is fairly straightforward because there is a ball locking mechanism. On the module you will see a little ball and that needs to point outwards. You can't really go wrong with it because it doesn't fit the other way around.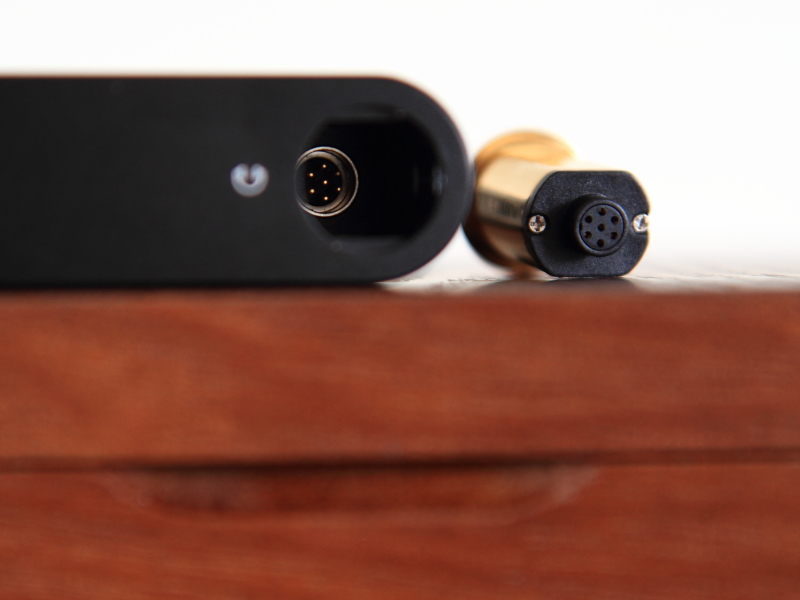 The interchangeable socket system is a very clever solution for the problem that there are too many different terminations out there and more coming, like the increasing popularity of the 3.5mm Pro. This system essentially future proofs the M8 because more modules can and will be added. For instance, at the time of writing Shanling is developing an RCA module for the M8.
Is it the perfect solution? I am not sure. I appreciate that Shanling has been working on a solution that is more elegant than having a DAP full of holes (multiple sockets). There is however the question of durability with frequent changes of the modules. The interchangeable socket might in time form a weak point when changed regularly, but I am not sure if that is the intended way of using the system. For me, I plugged in the 4.4mm balanced and rarely touched it after that. I even often used an adapter for the few times I was using a 2.5mm plug. Only if my reviews required regular use of a different socket type did I change it and then I planned it so that I wouldn't have to change back constantly.
I see the system mainly as a useful way for customers to adjust the M8 to their preferred socket type and have the option to change to another type later on. So less intense use than constantly swapping and more about future proofing the M8. Something of an alternative to Shanling fixing a single socket and marketing different versions of the M8 based on socket type in order to keep the clean look and more space internally, while still being able to offer the M8 with every output. (If you get my meaning.)
That said, I do find I miss the combination of 3.5mm SE and 4.4mm Balanced, as IEMs generally come with a 3.5mm cable stock, but I use 4.4mm most of the time. The best solution in my opinion is still a cable with an interchangeable plug such as DITA's Awesome plug or similar solutions offered by DUNU and FiiO.
All in all I do applaud Shanling for coming up with this innovative solution and expanding it beyond the standard output sockets. That is also where this system has a distinct advantage, being able to offer more sockets for a wider range of uses than traditionally found in DAPs.
Under the Hood
As I indicated before, I was initially a little sceptical about the M8 because I have perviously seen DAPs with on paper excellent specs, only to find out the implementation of the different components was suboptimal. The M8 immediately draws attention to its dual AK4499EQ flagship DAC chips and often times people don't look beyond that. However, implementation is key to getting the most out of those DAC chips.
Shanling clearly have done the work to optimise performance of the DAC chips and every other component they have included, the sound is testament to that. I am not one to dissect the circuitry, as I am more concerned with what it sounds like and how it works in practice, but you can find details on the internal tech on Shanling's website. Some key features are a newly developed current-to-voltage conversion stage and a graphite cooling system that dissipates warmth through the chassis of the M8. That does mean the M8 can run quite warm if pushed to the maximum of its performance. I found no real issues even after streaming lossless music for several hours and the M8 in its leather case. It was just slightly warm to the touch. That will likely be different with something like MQA in combination with a lot of screen time.
The M8 is a very powerful DAP capable of putting 840 mW at 32 Ohms out of its balanced out. Single ended, although connected at the same socket, automatically uses different circuitry and is limited to 260 mW at 32 Ohms. I did some tests with my most sensitive IEMs, the Empire Ears Phantom and Campfire Audio Ara, and both showed no signs of any noise. Three gain settings also help to adjust to whatever IEMs or headphones you might connect. Perhaps the M8 won't do hard to drive planar or high impedance dynamic driver headphones, I was not in a position to test it because I don't have a balanced cable for my HD650 yet, but I expect a lot of full size headphones will work just fine from the balanced out.
The M8 is without doubt a power-hungry DAP, but thanks to a 7,000 mAh battery it is possible to get up to 9 hours of playback while using the balanced out. In my experience that is about accurate, although I used the screen and WiFi a lot, which decreased battery life a bit. Overall, I have been pleasantly surprised by the battery life, which is usually a pet peeve of mine ever since I stopped using my old Sony that came with an insane 30 hours of battery life.
GUI
The M8 is an open Android-based DAP with at its core the Qualcomm Snapdragon 430 processor with 4 GB of RAM and 64 GB of internal memory. Shanling have developed the M8 with what they call their AGLO system, which stands for Android Global Lossless Output, that allows all apps to fully benefit from the M8's sound quality without Android dragging it down. One thing to note here is that the M8 is based on Android 7.1 and that is starting to feel like it is getting on a bit. I mean this in the sense that some apps might possibly not support it anymore in the near future. I am really not sure about that because I don't know how such cycles work, but it would have felt better if it were a newer version. For a DAP in this price range I hope they might be able to update this to a newer version at some point, just to get more milage out of the DAP should app support become an issue. Then again, popular streaming services such as Tidal still support Android 6, so it likely won't be an issue any time soon either and maybe I am just being a little bit of a digital hypochondriac.
Booting up the M8 immediately tells me that it is an Android-based DAP because it is a lot slower than the pure music DAPs I am used to. In fact, both switching on and off takes a fair amount of time more than I am used to, although still a lot better than my Android phone. Once up and running though the M8 feels fast and smooth.
The interface will be familiar to anyone who owns an Android-based DAP or phone. It has the familiar drop down menu with a number of quick access buttons such as for the gain setting, audio settings, mode (Android or Prime), headphone out/line out, switching between DAP and USB DAC and things like WiFi/BT/AirPlay. The settings menu is also fairly standard for Android and so is easy to navigate. Also available on the home screen's bottom right corner is a button for support that will take you to a menu from where you can easily update the firmware, find the user guide, an FAQ and details for contacting Shanling. I really appreciate that menu.
For playing music the main interface will be Shanling's own Music app. While you can opt for a distraction-less Prime mode, that mode is essentially just the Shanling Music app running outside of the Android environment. The M8 will boot up in Prime mode if you switch it off with Prime mode active and so the M8 can feel more like a pure music player. Beyond that there is no difference in the interface when playing music.
The Shanling Music app is nice to use, but in my opinion fairly basic and with a few refinements still needed. For one, I had issues with it not loading my music library properly. Shanling explained this had to do with how the library is loaded soon after booting up the M8 and their software team is working on ironing that out. Another feature that I usually did not worry about, but found myself missing while listening to classical music, was gapless playback. This too Shanling told me is a high priority for the software team. The app itself works smoothly and offers basic functions, including a 10-band equaliser with three custom settings and a few presets.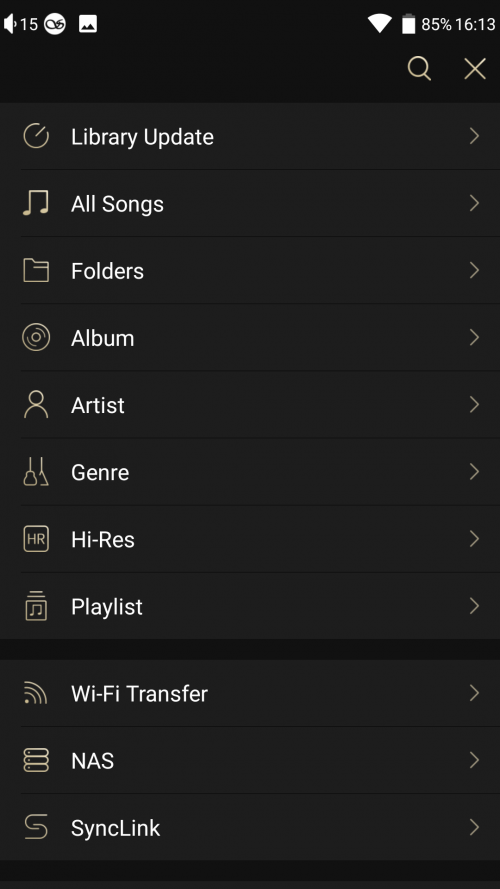 Of course being open-Android, the M8 will allow you to install any third party app you might prefer instead of Shanling's own Music app.
Apps/Streaming
The Shanling M8 now comes with something very important, full Google Play store support. That means you can buy and use all the apps to their full extent. I usually don't really use any of them, but with the M8 I ended up using several.
Because the Shanling Music app did not yet offer gapless playback, I tried out several apps as alternatives: Neutron, Hiby Music and FiiO Music. I bought Neutron on my phone and it took a little while to figure out how to activate it on the M8, there is a setting in Neutron that needs to be activated before other devices will allow Neutron to install without having to pay twice. Nothing to do with the M8, just Neutron being weird. Both Neutron and FiiO had functional gapless playback, but unfortunately Neutron had a terrible waterfall hiss that made it unusable. Hiby offers gapless in theory, but that did not work consistently and I could not figure out what was causing it, as a friend had no such issues on his Shanling M6. In the end I ended up using the FiiO app for whenever I needed gapless.
For the first time I also got a subscription to a streaming service called Idagio, which specialises in classical music and offers lossless streaming in their Premium+ subscription. I have used it extensively and never had issues with streaming. The M8's WiFi worked well to keep up with it and the only problems I encountered were with the Idagio app itself, which kept crashing every time I was browsing and listening at the same time. Apparently the app is not much of a multi-tasking talent.
Video playback using YouTube was great, as the M8 has such a nice crisp and vibrant screen. It also takes advantage of the AGLO system to get the best possible sound quality.
All-in-all I found myself using the M8's full Android features a lot more than expected and did not run into too many problems. For Neutron it might simply be that the app is not yet compatible with the M8, where the M6 and M6 Pro are already listed as supported.
Sound
For analysing the sound of the M8 I used a wide variety of IEMs, such as the DITA Audio Dream XLS, FiR Audio M4, Vision Ears VE5, 64 Audio Tia Trio and Campfire Audio Ara. I primarily used the balanced 4.4mm and 2.5mm sockets and Shanling's own 'Shanling Music' app, as well as the Idagio Premium+ (lossless) streaming service. For music I used a very wide variety such as jazz, EDM and rock, but I also used the M8 extensively as a source for reviews in my 'Masters of Classical Music' series.
The big question with a high-end DAP like this is of course always: How does it sound? At its price point you can expect the sound to be very good and I think the M8 actually sounds well beyond "very good". The M8 has outstanding sound quality, both in terms of tonality and technical ability. Shanling claim "reference class performance" with a "smooth, pleasing and slightly warmer sound" and that is exactly how I would describe it.
The M8 is a highly transparent DAP that presents notes in a very natural way without any articulation in order to increase perceived details. It instead very accurately renders textures and details, which gives the M8 a very pleasing, yet impressive sound. It is slightly warmer, but only a hint I would say, without harming clarity and it offers a very large stage. For my classical music review series I specifically used the M8 with the FiR M4 (with DITA Audio Oslo) because of how it pushed the M4's stage to incredible proportions while also taming some of the brightness the M4 have.
I have seen a lot of comments about the bass and one could be mistaken for taking the M8 as some sort of "bass head king", but it isn't. The bass in my opinion is not exaggerated, rather it is a very high quality analogue type bass with incredible texture and detail, and great extension. I adored the pairing with the 64 Audio Trio (with PlusSound Exo GPS), which was spectacular for its bass. In the midrange the M8 is very natural sounding with a slightly thicker note. It became quite clear early on that the M8 has a particular talent for rendering instruments such as violins, but when I paired the Vision Ears VE5 (with Effect Audio Lionheart) I was also very impressed by its vocal performance, which pushed the VE5's vocal to even greater heights with outstanding clarity and density. The treble is extended and very smooth, which helped tone down the M4 a little while maintaining both air and sparkle. Something that also came back with the Trio, which sparkled beautifully in my opinion.
As the M8 is a very powerful DAP there is of course the invariable question concerning noise level (hiss). I tested this with the Empire Ears Phantom (with Eletech Plato) and the even more sensitive Campfire Audio Ara and both stayed perfectly clean. So I think it is safe to say that noise is not an issue with the M8, even with very sensitive IEMs.
Comparisons
-Lotoo PAW6000-
When I reviewed it I called the Lotoo PAW6000 the quintessential pure music DAP and it offers a very different proposition from the Android-based M8. The PAW6000 has a proprietary UI, does not have apps or even proper WiFi for that matter. Because of its simpler system, the PAW6000 boots up considerably faster and I personally find the UI much more intuitive to use compared to the Shanling Music app. The PAW6000 also has one of the very best PMEQs out there and offers a lot of versatility even though it is a pure music DAP. Basically, everything it does, it does extremely well. It is smaller in size with an outstanding build quality very similar to the M8. The M8 is a lot bigger and heavier, but also offers an outstanding quality screen that the PAW6000 can't match.
In terms of sound both offer a very high-quality sound, as you can expect at this price point. The PAW6000 offers a deep black background that is something of Lotoo's trademark feature and I personally love how vividly notes contrast against that background. It also has a slight hint of note articulation that brings a some added excitement and energy. The M8 by comparison does not quite have that deep black background and the notes do not have the articulation. Rather than that excitement and energy, the M8 has notes that feel more complete, more natural. This results in a more transparent note and here the M8 really shines. Initially it might not feel as detailed as the PAW6000, but eventually textures and details start to come through in spades. The bass is more textured, detailed and feels more realistic, where the bass of the PAW6000 feels punchy, yet dark and relatively flat by comparison. The PAW6000 is just not quite as natural. The midrange also feels more organic and alive with the M8 than with the PAW6000, although the latter still have the high contrast by vividly painting its notes against that deep black background. The treble also feels more natural than that of the PAW6000, which has the articulation that gives especially strings a bit more bite.
As a reviewer I always try to be descriptive, share my opinion with some restraint and try to avoid bias as much as possible. Here though I will state a very clear bias I have because I think it adds something important. I am hopelessly biased in favour of Lotoo. I love the brand's philosophy and I love the PAW6000, which has been my go-to DAP for all my reviews ever since I got it. The million dollar question thus is, can the M8 win me over against such bias? And yes, I think I can safely say that it has done so. There are some practical issues I have with the M8. It is very big, doesn't start up as fast, I am not a big fan of Android-based DAPs, the Shanling Music app is not as refined and intuitive as Lotoo's UI and I really miss having a 3.5mm SE out alongside the balanced out, but other than that the M8 has won me over completely. I love the sound quality, I have discovered the convenience of streaming, the interchangeable sockets are also super convenient to have and the criticisms I mentioned before are actually very minor compared to the overall refinement and quality of the M8.
Pair ups
Although I mentioned a few pairings already, I still wanted to highlight a few to provide a good sense of the strengths of the M8.
-64 Audio Tia Trio-
I paired the Trio with the PlusSound Exo GPS cable and pairing this with the M8 provided great synergy. The Trio get a very analogue-type bass that is full of texture and detail, quite lush and at the same time punchy and physical. It rumbles more than I am used to. The treble gets a very nice, somewhat sweet sparkle and the overall feel is musical and fun.
-FiR Audio M4-
I used this pairing in my classical music series because combined with the DITA Audi Oslo cable, the pairing with the M8 produces the biggest and most natural feeling stage I have heard so far. It felt like a concert hall and as if the M4 were scaling beyond my usual PAW6000. The PAW6000 also made for quite a bright pairing that was toned down by switching to the M8 and midrange notes became a little warmer and fuller sounding, that in my opinion really helped with the timbre of acoustic instruments.
-Vision Ears VE5-
A superb pairing together with the Effect Audio Lionheart cable. I find this pairing to be among the most natural sounding I know and transparency is fantastic. The midrange is beautiful with outstanding vocals that are clear and have great density. The M8 makes the stage of the VE5 bigger and yet they still maintain something that feels intimate and focused.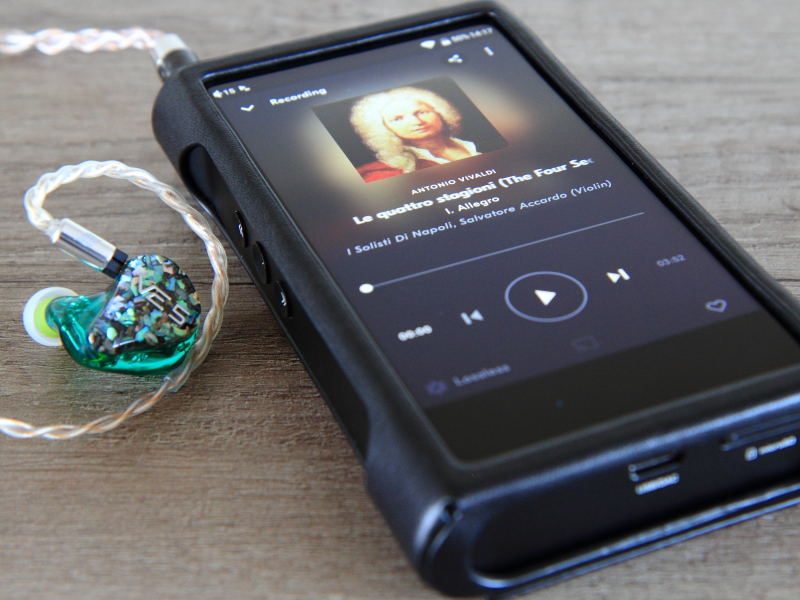 Connections
The M8 has a wide range of connection types that give it great versatility. The Qualcomm CSR8675 chipset offers full BlueTooth 5.0 support with LDAC, LHDC, aptX HD and SBC transmission and reception, as well as additional aptX LL, aptX and AAC reception. It has 2.5/5G WiFi with WiFi file transfer support and firmware updates.
For wired, it has USB DAC function with up to 32 bit/768 kHz and native DSD512 support. It has a software Line Out that sets the volume to LO voltage level and this works with every module, as well as USB digital out. I have used the digital out with the Violectric V380 desktop DAC/amp and it works very smoothly. The M8 automatically recognises a DAC/amp has been connected and when unplugged switches back automatically as well.
Conclusions
With the M8 Shanling have firmly established themselves in the portable high-end with a very refined, high quality and beautiful sounding DAP. A lot of attention to detail went into it and the only area where some improvements can be made is at the software level. The implementation of the AK4499EQ DAC chips has been done very well and the sound quality reflects that, it is a very high quality reference sound with a hint of warmth and a natural feel. It is refined and does not resort to any tricks to add a perception of detail. Build quality is great and the system runs super smooth with full Play Store support. Last but not least, the highly innovative interchangeable headphone socket adds versatility that will extend beyond just the different types of standard headphone out. Excellent job Shanling!
Most Expressive Portable Digital Player
Pros
:
Liquid and analog like, powerful bass, immersive soundstage, vivid details, shiny vocal, tube like fluidity. Remind me of Aiwa players
Cons
:
Removable sockets, can get warm, some bugs in early firmwares. The google play/service have to be installed or patched by Users (link provided for instructions or patch below)
Disclaimer
: M8 player was not sent to me free of charge for this non biased review. It was a purchase out of curiosity. This review was conducted with HD800S, HD800S anniversary, IER Z1R, MDR EX1000. My personal preferences and experiences is my own. Therefore, I recommend everyone to give this player a try before making any decision, and only use my review as a rough guides.
Link to instructions for installation of Google play services. There is also a link in the detail of my shorter impression video at the bottom of the page for people with the earliest firmware
Introductions
: With a name as "Shanling", a China originated company, which may be or not familiar to the consumers. What triggered my interests in their current flagship M8 is due to the reason that they are using the latest AKM desktop IC chips, the AK4499EQ. The last player that I encountered using the same chips were A&K SP2000. Needless to say that I wasn't too crazy over it. However, I still crave for some AKM goodness.
The first intriguing curiosity is that Shanling has a new Chassis design that allow the DAC chips to seat directly on the Chassis metal, the CPU chips also seat on it. This is the middle Metal layer within the Chassis that shield and isolate the incoming Interferences including the touch screen.
The second curiosity is that for a few years back, I tried the smaller Shanling player which I couldn't remember the name as I didn't look into Shanling for a while and they seem heavily investing into portable audio market now. I remembered their special bass lines, and so I straight shot into the M8, which makes the most senses to me
The last time something triggered me to started moving my toes, feeling like dancing to the music. Especially the classical genres and older recordings. It only happened with LP, Reels, and my old Aiwa deck. Then on top of that, the DMP Z1. For the rest of equipments I have been through, mostly they are about details, separations, and soundstage. Yet the M8 has the ability to express the instruments, the timbres similar to the other analog devices that I have been through and still have (DMP Z1 remains king of the hill and also not portable). It is warm in both physically and sound signatures performances, but it has an exquisite blend of timbres density, intensity, details, fluidity and warmth. The only thing I would complain about is the width of stage. The soundstage in X&Y axis is more of an oval scape than a spherical once (high and turbo gains). The Depth in Z axis is excellent. Imagines is excellent with the focused density intensity in a unique way, again, very analog like. How so ? Well, usually in analog systems, each instruments imagines has a very focused energy, density and you can observe the rhythms and it intensity. Then the coherence of it flows. I guess in digital player, people like to address it in a way as fluidity. Yet, not all fluidity is the same. Reel 2 Reel, then LP, then Cassette, rarely anything in digital devices to have it....except DAT tapes. Once I lower my expectations then sure, I could understand the other reviewers to mention about fluidity. Most of the time, however, they are in pretty short segments, like Low spectrum or mid spectrum or high only. From here on, people preferences will dictate which one is a better choice. The M8 has this kind of uniqueness Fluidity, and the only Cons that it has in the timbres balances is the warmth and the emphasized Bass. It is very well controlled and isn't anything bloated or bleeding, but it is just plenty. If you like to give the M8 a spin, I rather recommend pairing it first with brighter gears, neutral, references gears, and take it on from there. IME, the M8 is beautiful and exquisite with HD800S, EX1000, but is a little too warmth and bassy with IER-Z1R. It also depends on the genres as well. I feel the M8 to be an excellent piece of machine for classical and organic collections where as my Max is better in Electrical and modern Pop. It is not to say that M8 is picky on synergies and matching, but it just depends on your own tastes.
Now this focused and expressive signature can be observed in a way that would allow me to rediscover my favorite albums like never before. Despite a long trip into this digital world and even wondering around Into LP, DAT as other mediums. I have yet been satisfied by these wonderful and focused energy and timbres. Yet, both LP and DAT would do, but from all other DAPs and DAC that I have been through, regardless of how much modifications, improvements by cables, PC built....etc...I have yet to observed it this way, at least not this much obvious and enjoyable.
The energies are so vivid, it provides goose bumps all over me, and that I would be so lost in this immersive vividness of the musical experiences that are provided. That all of these recordings are like "Live", like "new" experiences.
So, I have a friend who asked me that do I see my desires to improve the signature any further ? Well...May be more width of stages, better sparkling and brightness up into high spectrums ? But for now, it is wonderful with my classical collections and is too lovely to touch.
Yet, despite the innovative removable sockets. I am fully adopted into 4.4mm Pentaconn world. Therefore that will be my first modifications.
Sound signatures:
it has Bass!! Yes!! The quality kind of bass! Slamming, speedy, powerful with textures, then ripple and bloom away with delicacy!! Thick and meaty body!! Sparkling highs with great extensions. It sits right at the tip of the comfortable level, where you will not be carried into teeth grinding sibilants, but you are never felt it being short either. It is warm and tube like thoroughly. It reminds me of good Aiwa players back a while ago
Recommended synergies
: anything with "high accuracy and precision" can be enjoyable regardless of it overall signatures. With IER-Z1R, a warmer and also bass focused buds, the combination do it wonderfully for people who love brain rattling bass but still crave for extra details, sparkles here and there. With the more References and Neutral buds such as EX1000 and HD800S, the combinations become vividly detailed with plenty of slams, details, trebles sparkles, details and extensions. However, if you are into neutral and references preferences, make sure you start out your first audition with neutral/references gears.
Bass performances
: I said most of it in the sound signature above. That is how wonderful it is. Most importantly is that all smaller segment of the bass are well balanced. Then what is the warmth signature I mentioned ? "The Pitch"!! Deep bass is very unique, it bloom and ripple with accuracy, especially when paired with high quality Silver Litz cables.
Mid performances
: Both end of lower and upper mid spectrums are slightly elevated, with the Middle to be a little recessed. This can be observed when the player is brand new and is out of the box. It would take at least 400 hours to become enjoyable. The slightly elevated lower mid and upper mid result in a very full mid spectrum signatures. It helps the flow, the coherence, the liquidity and together with it warmth and smooth tuning , the M8 is toes tapping fun and enjoyable.
The thick and energetic tonal body with vivid inner resolutions come together as Dynamic intensity. This is something that I enjoyed a while ago from many systems by tapes, LP, Even CD. However, I didn't quiet feel it with the recent and modern devices. The intensity that varies and portrait the "Pace" of forces being applied on the instruments. Honest to say that most of the modern devices sound very "general", like all guitars are almost the same. I would need to focus and pay attentions to tell them being 2 separate guitars. The M8 with it exquisite tuning, I do not have to sweat myself in order to tell 2 of them apart. This specialty makes the M8 a wonderful devices for Classic and organic genres, or anything that has organic instruments, even Swift would be so good. For all EDM genres, it may sound a little boring in comparison which may be caused by the warmth ?
Trebles performances
: Vivid with great resolutions , thick density is carried through up all this way. Even though there is a hint of warmth signature, it isn't lack of details and sparkles, especially metallic sparkles. The intensity dense and unique timbres of each instruments can also be observed by different set of horns, cymbals...etc.
Soundstage performances
: This is where it gets interesting. The M8 has great Depth in all instances, but the width would varies depends on gains. For low gain, the XYZ are all equal and spherical, where as in High gain the width is reduced a little and Turbo is where the whole sphere would become rather an Oval presentations. Imagines and ambient airs are vivid , accurate and plenty, especially the air around each instruments.
Operation System:
It comes with Open Android, but does not have Google play store or service installed. I would need a patch that is available in the short impression video. After that you can install anything you want from play store. Tidal MQA is not working at the moment but offline files would be 8X unfolded by using Shanling App. Shanling has confirmed to continue to improve Tidal and other apps compatibility in future Firmwares
Wireless operations
: I am not too big in streaming or using wireless connections, but briefly testing it out, the signals are very strong. Even hardware wise, the player has 2 wireless antenna within. One in the front and one in the back. It gets warmer, even hot if playing high resolutions files with screen on and wireless on together.
Heat dissipation:
the player gets warm, and that depends on the files being played, the gains. I don't recommend the player being inside the pocket, unless you have to. The reason is that the M8 has the chassis as the main Heatsink for 3 main chips: AK4499EQ 2X and CPU. The more it haul away, the warmer it gets. You may even think that it is so much warmer than other players. But it is actually is a good thing. Because the chips are dissipating the heat as it should. I have yet to see any other Portable Players to have a direct heatsink design like the M8 until present.
Line out performances
: This features can be accessed easily by drop down scroll. The player has plug detections and you will have a pop up to advise you to unplug before enabling the feature. So it protect your ears and gears from accidentally switches. It is still exquisite as much as the player itself. There is no significant differences between line out and phones out. There is still bugs to squash as sometimes the switches between sockets and PO/LO could be very low in volumes until reboot, unplug/plug.
Battery performances:
I have no problem running it all day on red book 8 hours and still having 15% left or so. I tried turning off many androids background apps as possible, including Wifi. Especially for Tidal used, I would assume that you would like to take advantage of the offline features together with Shanling app MQA at the moment
Background blackness
: the player has a very Dark back ground. It is a given since all DAC and CPU chips are shielded by the chassis middle frame, the Low Pass Filter board is shielded by stainless steel metal plate, the line amp and the output buffers are independently shielded by it own steel plate. The Wireless module and it processors are on the opposite side of digital processing board and is also shielded independently. Then finally, even the battery is shielded by it own steel plate . Yes, it has a more silent background than the Max.
Drivability
: I have no problem driving my HD800S with it, even though Ny Modified Max can drive it better but the M8 is no slouch. Surprisingly for a small player (smaller than Max). I have not observed any noticeable hisses from my limited buds and headphones
Conclusion
: Is it worth it ? Yes, defintely worth it to give a try, remember to start out with neutral gears for your first sessions. It fully deserve flagship status, and with the speed of Shanling development as of late, I gotta say that I am crunching my teeth's but at the same time excited for whatever shanling may come out next!
I have 5 rating due to the uniqueness of timbres for independent piece of instruments. Please remember that the game is never ending
If you would like a patch to google play at the moment, you can find it here in the video description

Last edited:
Comments