Item information
Added by
Views

20,439
Watchers

4
Comments

1
Reviews

7
Last update
Rating

4.57 star(s)

7 ratings
General Information
High performance digital audio player with AK4495 DAC chip, 2x TF Slots, and USB DAC feature.
Latest reviews
iBasso DX120 - The best of basics !
Pros
:
Amazing battery life.
Clean, organic sound quality.
Lots of driving power on 2.5mm.
Multiple range of outputs.
Very low harmonic distortion.
2x SD card slots.
AK4495 implementation.
Cons
:
No WiFi, no Bluetooth.
Mango OS is not very fast.
No smooth scrolling.
Missing volume knob.
Introduction :
iBasso
is not a new name and they have been catering the audiophile audience for long. They have an excellent range of DAPs, IEMs and bluetooth solutions like the newly launched CF01.
The
DX200
was a very renowned DAP famous for it's amp swap units,
DX160
is a remarkable DAP for its price and sonic capabilities but can the DX120 justify its price tag with no streaming capabilities?
The DX120 is a very different player from all of iBasso's lineup.
It's a purist player with no frills.
The player is not intended for everyone but those who seek pure music pleasure.
Disclaimer :
The review was tested at 340$ and all the judgement was made keeping the exact same price in mind. We're not responsible for any price change that might alter this review.
The item was purchased from Headphonezone.in from our own money.
Purchasable Link :
Headphonezone
HiFiGo
Specification :


Source : iBasso
Unboxing and accessories :


Unboxing is pretty straight forward, the box has a cover which has an iBasso logo on it and slides right out. The main box opens magnetically and the player is secured in a piece of foam. The player is packed inside a plastic pack to prevent it from any scuffs. On the player, a sticker with the summary of specification along with a
pre applied tempered
is present. iBasso has definitely thought of the accessories and there are enough accessories out of the box to justify the price point at which this player comes in. There are no complaints and we think iBasso has provided everything an end user might need.
The packed accessories include :
DX120 : The player itself, in our case Earth Brown.
USB C cable : Tough, braided cable. Metal terminations on both ends, really well built.
Tempered glass : To be applied on screen, nice touch to provide these out of the box.
A burn in cable : Meant to be used on the balanced port, has some sort of resistor built it.
Coaxial cable : For coaxial output.
Bumper silicone case : Not the greatest case, but does the job. Does not protect from back and has sharp corners. Player is hard to use when applied, so it's better off without a case.
Some warranty paperwork.
Build Quality :
The DX120 is
built like a tank
, it's hefty, compact and easily pockatable. It has a very unusual design for a DAP. A very
streamlined, fluidic look
full of curves and lines is what makes this DAP unique. The bezels definitely don't make it look any futuristic but the body does.
The right side has all the buttons that one requires to switch between songs, increase/decrease volume, turn on/off the device and play/pause the music. The buttons are made out of plastic and they don't feel that great as they miss out on tactile feedback. A volume knob on the side would have been a cherry on top.
On the bottom you've all the outputs you need. There's a
single ended (SE)
and
power out (PO)
port which is shimmered in gold accents. The 2.5mm balanced output is also present on the right side, it doesn't have any gold borders like the single ended output which makes it looks non uniform. The 2.5mm balanced output is quite powerful delivering out about
400mW combined at 32 Ohms load.
The single ended output is moderately powerful with about
100mW combined at 32 Ohms load.
The SE out is perfect to pair up with IEMs and small earphones while the balanced out can power most of the headphones. All the outputs have well built jacks and they feel solid to use.
On the top of the DAP you have access to coaxial out for digital outputs, 2x micro SD card slot which can hold storage up-to
2TB
and USB C for charging. It supports
Qualcomm quick charge.
The back is made out of glass with an iBasso logo in the middle and on the bottom it has the model number "DX120" and some regulatory information. The back is a fingerprint magnet you'll find yourself wiping it all day.
Material choices are excellent for a DAP priced roughly 350$.
Operating System :
The choice of operating system iBasso went with is their own custom
Linux
based OS. It's named
Mango OS.
It's built well and it's really stable and gets OTA updates quite often. The operating system is very well optimized for a great battery backup, and the main reason most DAPs suffer from battery longevity is Android OS. Although it comes with some caveats, it's not the smoothest OS. The OS boots up really quick and takes around four seconds to boot up. There are few bugs that we encountered during our testing.
The album scrolling is really sluggish and slow,
seeking timeline on songs can get a little tricky and the whole OS feels really compact to use. It can be great for some who want hassle free experience but boring for others who are coming from Android based DAPs. The UI and navigation is pretty straight forward, the home screen is basically the last song you played.
Swiping left
reveals playlist, songs, albums etc and
swiping right
reveals gain, digital filter, sound mode, advanced.
Some OS screenshot here :
Battery :

iBasso has promised
16 hours of continuous playback,
and thanks to Mango OS which is well optimised for extensive playback. In our testing we found the player to last us approximately 13 hours on high gain using IEMs on balanced output. Obviously, the file you play, the cans or IEMs you drive has a big impact on battery drainage but this is a player unlike other Android DAPs where battery and sound quality is the number one priority. You don't have to worry about plugging it into the charger everyday as you will have enough juice to last a couple of days. The battery capacity is rated at
3700mAh.
It supports Qualcomm quick charge out of the box and
doesn't come with any adapter.
It takes roughly
2 hours
or less to charge completely on a quick charger but if you try any other charger you'll have a hard time charging as it takes forever.
Sound Quality :
DX120 is a very different type of DAP with no streaming capabilities, simple OS without much customization and there's a special market for these kinds of DAPs. People who want the best music experience without worrying much about other things. DX120 wouldn't make any sense if it didn't sound good, like it has to sound good to overcome the cons. Does it sound good?
YES,
Does it sound better than it's competitors at this price point,
HELL YES!
DX120 is accompanied by
AK4495 DAC
which is one of the top DACs that AKM makes, the DAP is priced very well considering the output power and DAC used. The DX120 sound signature is
fairly neutral
with
stunning resolution and clarity.
The overall spectrum of frequency range from low end to high are smooth and detailed. The balanced output on DX120 spices up things a little more with more dynamics and soundstage added, not to mention the amount of power it pushes out via balanced port is also remarkable.
Bass :
The bass is
smooth
,
neutral
and full of texture but it lacks the amount and attack that
Pioneer XDP-300R
had. It was more attacking and powerful and DX120 falls a little behind as compared to XDP-300R. Overall, the bass is accurate as it should be.
Mids :
The DX120 flaunts ability to do wonderful mids which are
detailed
,
neutral
and
well placed.
Doing constant A-B from
Shanling M0
and DX120 we found Shanling M0 quite bright as compared to DX120, it produced "life-like" vocals and mids stand out more as compared to bass. It even performs better than XDP-300R in terms of midrange frequencies. It is technical, detailed and neutral at the same time.
Highs :
The highs have
excellent reproduction.
Everything about DX120 is natural and so is the treble, it's
non-offensive and neither bright nor flat.
On brightest of the tracks like
Travis Scott's Stargazing
the treble was not biting rather really smooth and welcoming.
Pairings :

DX120 + Moondrop Starfields
DX120 + Moondrop Kanas Pro
DX120 + Jade Audio EA1
DX120 + KZ ZSTx

Possible upgrades over DX120 :
The DX160 : is a nice upgrade over DX120, 70$ more can get you a much more versatile player with MQA decoding along with more powerful outputs like 4.4mm balanced out. A bigger, more beautiful screen to enjoy those aesthetic album arts and a build that looks much more futuristic. The DX160 sounds as good as DX120 with a tad more resolution and dynamics.
Shanling M5S : a nice upgrade over iBasso DX120 in terms of sound, OS, and power. A bit lacking compared to DX160 and fairly bright sounding DAP with "Shanling's signature".
Tracks used :

Conclusion :
DX120 is a great DAP with amazing sonic capabilities, long lasting battery life and quite powerful to power your headphones. It feels really nice to hold it and there are no compromises in build whatsoever. It will take some time to get used to low frame rate UI and classic menus. You should get this DAP without thinking twice if you're someone who puts sound quality as their first priority, someone who is looking for a smooth, well placed, neutral overall tonality. iBasso's customer support is top notch and the accessories included with the box are also adequate. DX120 is priced just 340$ and can even be found for as low as 299$, this DAP really sounds way above it's price point.
DX120 is very easy to recommend if you're on a budget and looking for TOTL sound quality.
DX120 is a DAP that should be chosen wisely, are you ready to give up streaming and listen to only downloadable flacs ?
Grade :


All grades are given keeping price to performance ratio in mind, better grade doesn't mean it's the best.
Reviewer: Audio Rabbit Hole
Pros
:
Sound quality, Simple & Smooth UI, Power(2.5 mm), Much Storage
Cons
:
SE output a touch dry compared to Balanced output
iBasso DX120

DX120
Manufacturer Website:
iBasso DX120 Home
;
Amazon DX120
A Little Technical Stuff:
Specifications:
· Output Voltage: Frequency Response: THD+N:
· DNR: S/N: Crosstalk:
· Output Voltage: Frequency Response: THD+N:
· DNR: S/N: Crosstalk: Output Impedance:
· Output Voltage: Frequency Response: THD+N: DNR: S/N:
· 3.6Vrms 10Hz-45kHz+/-1dB 0.00028%,-111dB (without load) 0.00032%,-110dB(32Ω@2.4Vrms) -117dB 117dB -116dB
· 1.8Vrms 10Hz-45kHz+/-1dB 0.00042%,-107dB (without load) 0.00056%,-105dB(32Ω@1.2Vrms) -115dB 115dB -115dB 0.24ohm
· 1.8Vrms 10Hz-45kHz+/-1dB 0.00042%,-107dB (without load) -115dB 115dB
· 3.5mm Line Out:
· 3.5mm Single Ended:
· 2.5mm Balanced:
Average Play Time: 16 hours. (The play time varies with different resolutions and headphone/IEM loads.)
iBasso DX120
-MRSP: $300
iBasso has been a company with a longstanding reputation among the audiophile crowd. Their DX200, with the ability to swap out amp sets, really made a splash and had become a reference player for many reviewers.
The mindset in the development of the DX120 was different. This player, on the lower end of DAP pricing, was designed to do one thing and one thing only, deliver high-quality music to the listener. I really appreciate and can support a company that spends its research and development time on quality sound versus throwing every feature, including the kitchen sink, at the consumer. I am going to put this out there from the beginning, this little DAP is incredibly good at its objective, delivering a high-quality sound to whatever headphones or IEM's you are using. I have no sensitive IEM's in my collection so I cannot test whether there is a hiss, with everything I own there is no hiss.
My review is seriously delinquent, and I apologize to iBasso and my readers, but life does indeed happen. Hopefully, it is worth the wait.
I have been privileged enough to review DAP's at all levels and my current reference DAP is the Questyle QP2R, but it is a DAP I don't carry in my pocket, or when walking my dog or going to the gym. There are a couple of reasons for that, one being that the QP2R is largish and more substantial in hand than any of the others I have in my collection. Secondly, it is expensive, and I don't want to run the risk of damaging it. As I said, it is my reference DAP, and I use it for critical listening, so sitting at home is perfectly fine when employing the QP2R.
On the flipside, the iBasso DX120 is one of the DAP's I wouldn't leave home without. It has an excellent level of sound, compact and sexy build, and power to drive any of my hybrids, especially in the 2.5mm balanced port make it a welcome traveling companion.
A Little Marketing Hype:

Unboxing and Accessories:

The iBasso DX120 is enclosed in simple packaging. When viewing the packaging and pack-ins one must consider that this has been priced aggressively and everything included aptly fits the price tag. Frankly, I couldn't ask for anything more than what is enclosed.
The box comes wrapped in a silver-gray sleeve. The sleeve is emblazoned with the iBasso logo and the text iBasso Audio, In Pursuit of Perfection. One edge of the outer packaging has the company website address and the other shows DX120, High-Performance Digital Audio Player and beneath a sticker that shows Blue, the color of the unit I was sent. On the back of the sleeve are some basic specs in multi-languages, as well as a sticker that shows DX120 and the S/N.
Upon removing the sleeve, you are greeted by a rectangular shaped box, blue in my instance, with a box top that closes with a magnetic closure. Inside is nestled the DX120, enclosed in a throwaway bag, for protection, and nestled in a foam cutout with the words DX120, High-Performance Digital Audio Player tattooed prominently on the cutout.
Lifting the cutout exposes a black box which included all of the pack-ins. All of the included accessories are listed below, so there really isn't much need to take a deep dive into those. I do want to mention a couple of critical points about the inclusions, the first being that while it is thoughtful to include a border case for minimal protection, it created more frustration than its minimal protection was worth, as far as I was concerned. First, there is no back protection for the DX120, and while with the case on it does keep the back from sitting flush on a table, it offers no further protection. I can deal with this, but the one thing I can't deal with is the fact that the cutout, around the 2.5mm balanced output, did not allow for the cable to connect firmly and seat completely. This would require me to remove the case to use my balanced cable, thus negating even the minimum protection offered by the case. My summation is, any protection is better than none at all, but I think an included case designed to protect from scratching, maybe silicone, would be a better option. I know silicone is a lint magnet, in the pocket, and usually, they lose their shape, but it is only my suggestion.
Included is:
· USB C (braided)cable for charging and data transfer
· Warranty Card/HDtracks Promo
· A border type silicon semi-protective case
· Tempered glass screen protector
· Coaxial cable converter
· A burn-in cable
· DX120
Design and Build: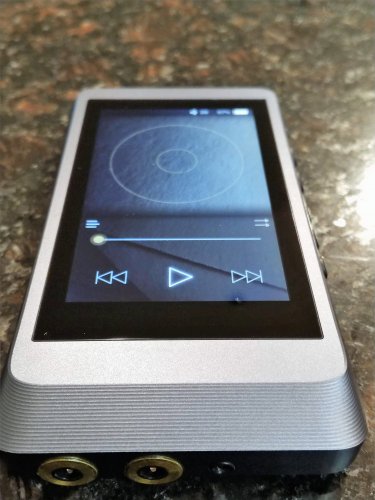 This is my first review of an iBasso product. After reviewing quite a few DAP's I will say that the size, design and build materials and quality are all First Class.
The DX120 is 63mm X 113mm X 15mm with a 3.2" screen and comes in at a lightweight 165g. The aluminum chassis not only contributes to the sexiness of the feel in your hand but also, it's weight. The unit itself is not a plain rectangle with sharp edges and lines, it is designed with sleek lines and a "wave design" on the sides of the unit. The wave design and bevels give the DX120 an engineered look as opposed to something fabricated, absent of thought or consideration as to the aesthetics. There are two colors available, Sky Blue and Earth Brown, my unit is the Sky Blue.
The screen is of decent quality, and while being a touchscreen, it also has suitable colors and contrast for outside viewing. The back side of the DX120 is flat and has a glass covering. Already affixed to the DX120 is a tempered glass back protector.
On the left side of the unit is nothing, no controls, nothing. It has the "wave" design and nothing more.
On the bottom of the iBasso there is a 3.5mm Line Out and a 3.5mm Headphone Out and to the right of those outputs is a 2.5mm Balanced output. In my opinion, the bottom of the unit is the only thing questionable in its design. With the three outputs being linearly placed, both the Line Out and the Single End output are adorned with a gold ring. The same gold ring, with a black text identifier too difficult to see for my old eyes, not to mention it is written in black on a blue colored chassis. With time, you learn that the LO is on the left and the PO is on the right. Until you learn, you will plug into the wrong input, I guarantee it. The 2.5mm output is just a port without a "ring," only with text showing balanced.
The controls are on the right-hand side of the unit. Some of the controls are handled through the touch screen and the UI, while some of the controls are physical buttons. The control buttons all adorn the wave design along the right side of the DX120.
The single top button on the right is the power on/off button. The button also controls the screen on and screen off as well. A slight push will turn on/off the screen while holding the button down will power on/off the unit.
Next, the button line-up is the volume up/down buttons. These buttons are the largest of the buttons. The volume control is broken into 100 volume steps. I really like this level of control as you can always find the proper listening level and in other DAP's firmware which has fewer steps there are times, you would be more satisfied with a half step in-between the full click.
Last but not least of the hard controls are the playback control buttons. There are three buttons in this array, one of which advances to the next track, in order of the playback control buttons this would be the top playback control button. If the button is held, it will fast forward through your music track. The middle button of the trio is the play button which also serves as a screen lock, when depressed and held. The bottom of the playback control buttons would take you to a previous track or rewinds the track when held.
Finally, the top of the unit. The top has a USB-C port and two memory slots and a coax port. The USB-C allows you to charge the device and also provides the functionality for the USB-DAC. The DX120 has a built-in quick charge as well.
I really like the fact that there are dual memory cards. I have mine loaded with 2-256GB cards. This allows for an extensive music catalog. I have been eyeing the 400gb cards as they have started to come down in price. It would be cool to be able to have 800GB of music at my beck and call. You can add music in a couple of methods, the one I use most is to use as an adapter for my micro SD card, insert it in my pc and drag and drop my music in the music folder. You can select inside the Mango OS to use the memory slots as a card reader and install tunes in that fashion.
One thing I would like to mention now, in case I have a senior moment later and forget, is the fact that you can charge the unit and play music simultaneously. I have other unit's that cannot play and charge at the same time. Nice feature!
Battery life is stated to be 16 hours. Obviously, individual use plays a big part in how long your battery lasts. I was receiving anywhere from 12-14 hours on a charge, I feel this is more than adequate. Keep in mind, I am not using mine in a daily commute and subsequent day at work and a commute home again. My cellular devices use USB-C, so if I did continually use the device, I would have a charger nearby anyway. A full charged DX120 should easily get you through your day and then some.
The internals are aptly designed to provide you with a high-quality music listening experience. The DAC is an AK4495, it is a single DAC design as opposed to dual DAC's that many DAP's utilize today. It is capable of playing all of the Hi-Res music formats, including DSD natively at 128X. While the AK4495 is rated to be able to obtain a THD+N of -105dB, it appears it is an engineering feat actually to achieve the THD level. The engineers at iBasso were able to reach -111dB which I am told is spectacular.
A differential operational amplifier is used on each channel with a fully balanced output design which lowers the distortion and crosstalk. The output power of the balanced output is up to 400mW with a 32ohm load, plenty of ability to drive every monitor or headphone I have in my collection.
UI:
The Mango OS is built on Linux architecture. To me, there is an "Androidy" feel to it, but it is Mango. No Android means there is no ability to download Android apps from a Play Store or sideload Android apps. Of course, there really is no reason to do so anyway since this is a no-frills player, without Wi-Fi and Bluetooth, thus no reason for Tidal or Spotify. Utilizing Mango vs. Android also equates to faster boot-up and load times and no additional software except what is needed for controls, adjustments, and playback. For the most part, the response is snappy, and the touch controls in Mango are lag free and fluid.
The UI functions by swiping the screen L to R or R to L depending on what you wish to control. A swipe L to R will take you to My Music, and a swipe from R to L will bring you to Settings. There is also a "center" screen which would be aptly named the Music Playback screen.
I will include some pictures to give you the feel of the OS, but unlike so many DAP reviews I won't bore you with a view of each available screen, it just makes the reviews too freaking long. I will, however, talk about some of the more exciting features available in the OS.
I have always loved A&K and theBIt and used them for the bar to reach regarding their user interface, but now I will gladly lump the Mango OS into that same polished, usable category.
One of the features that warrants discussion is the sound modes. These come already configured for the listener, and there are 5 options to choose from, Reference, Traditional, Original, Classical and Natural. There is not a vast difference between the options, in my opinion, and the decision of which will be your favorite is purely subjective, and I have chosen Reference and Traditional as the two options I use the most, with Reference being my primary go-to.
Directly above the sound modes are the Digital Filters. As with the Sound Modes, the Digital Filters are mostly minor tweaks. The Filters are designed to enhance the level of attack and decay on your music. The Filters are Sharp roll off, Slow roll off, Short delay sharp roll-off, Short delay slow roll off and Super slow roll off. These are designed to allow the listener a higher level of personalization and find the sound signature that agrees most with their tastes.
Of course, the DX120 also comes with pre-loaded EQ settings to align with the Genre of music you are listening too as well as a custom setting to make your own adjustments. The pre-loaded options are Classical, Pop, Dance, Rock and Bass. I am not a massive user of EQ, but it is there for those that do use EQ.
On the Playback screen there is a "quick settings" menu that can be accessed giving you controls for Gapless(on/off), Gain(low/high), Digital Filter, Sound Mode and whether you are using your DAP as a Reader, a DAC or are plugged in wishing to Charge only.
One other noteworthy option on the Playback screen is available when you touch the Album Art. You will be presented with an opportunity to add to a playlist, delete the track or display more information about the track ie. Duration, Sample Rate, Bit Rate, File #, Title, Album, Artist and the Path or location of the track on the player.
The entire OS is well thought out and user-friendly. Since this is a DAP focused on the quality of sound and music playing only, it has a vast array of customizations to allow the consumer to enjoy their music. Hats off to iBasso for simplicity and usability.
Moving on to the sound:
The iBasso DX120 is a mighty, pocket-sized wonder. The signature is dynamic, full and unobtrusive in its coloration of the music, it delivers the music as intended. It is not clinical or dry in its sound, particularly in the 2.5mm balanced output, it does not add a layer of color.
I must say that I am impressed with the overall signature. This is one reason I like the recent trend of DAP's dedicated to sound as opposed to including every feature imaginable. Additional features add to the cost of the device and the DX120 is a device that delivers in its sound signature well above the price of admission.
I have found that some of my hybrid IEM's shine when played through the balanced output, it is not as if in the SE output they don't sound fantastic, because they do, it is that the additional power brings out the best of my music tracks. The balanced output just seems more dynamic and alive, where SE the DX120 can come off a little dry, by comparison to the balanced output. It is not a criticism, it is just a preference of mine, I prefer the dynamic, lively signature.
The architecture of this signature is rendered with a dark background, none of MY IEM's display hiss or any unwanted sound artifacts, it is a dark sound floor.
Overall, the signature comes alive with any genre of music, there is a delicate precision without being clinical. The stage is wide and extends well on the fringes of the spectrums. The treble extends well and does not sound shrill as if it rolls off, it is solid and defined at the edge of the frequency. There is a crispness in the upper range which exhibits the details from cymbal crashes with an average decay. I really enjoy the mids in the balanced mode of the DX120, they are a bit forward, but not obtrusive. The details are portrayed thoughtfully, but detailed. The lower mids accentuate the punchiness in the music, and the bass and sub-bass are full-bodied and robust. The amount of layering showcases your music without any blurring or smearing into any other frequency. The decay is natural across all frequencies, unveiling the sharp, crisp, punchy and dynamic signature. The DX120 is not a thin sounding DAP, it is energetic and full, but without excessive bloat.
I tested a variety of file types and concluded that if you feed the DX120 high bitrate files, you will undoubtedly be rewarded. The tone of the DX120 paired perfectly with the Empire Ears Legend X, and on 2.5mm output, it unleashed the fury that is known as the Legend X, and it's excellent DD bass.
In summary, the treble extends well and is a bit edgy but never offends. It is detailed and stretches the listeners focus to the fringes of the spectrum and assists with conveying the emotion and is never fatiguing. The mids are smooth and accurate, and the lower mids have a wonderful punchiness, especially when utilizing the balanced output. It bears the bass parts without muddiness or smearing, the bass notes are clear and present. Sub-bass is solid and present and the mid-bass punchy. With every IEM I have to test, the noise floor was black, but I have read that with sensitive IEM's there can be some hiss, I apologize I cannot verify this.
You might want to own this DAP if:
+ You utilize the 2.5mm balanced output
+ You prefer a smooth, balanced, non-offensive, dynamic signature
+ You prefer a sound that is full of emotion and excels at long listening sessions
+ You need the power to drive higher impedance IEM's or headphones(balanced)
+ You want to carry two micro-SD cards with your entire music collection
In Closing:
It is essential to compare apples to apples when comparing DAP's. This is a sound first and focused player. It is not for you if you need features like streaming and WI-FI.
There is undoubtedly adequate storage with the addition of two micro-SD slots, a welcome addition.
The DX120 plays all of the popular file formats and truly excels with high bitrate files.
I must include the subjective part of this review and say that while I have more expensive DAPs in my collection, the DX120 receives more play time than any of the others. The sound is top notch.
I could go on and on in the conclusion/summary, but I will say in closing that the DX120 has an excellent form factor, build quality, simple UI, and TOTL sound quality. I see no reason that it shouldn't be on your short list to buy!
Hats off to iBasso for a quality product at a quality price
Reviewer: AudiophileHeaven
Pros
:
+ Clear, Dynamic, Punchy Sound
+ Lots of Driving Power on the Balanced output
+ Low THD
+ Very good ergonomics
+ Sexy curves, sleek design
+ Good Battery Life
+ 2 MicroSD slots
+ Excellent support from iBasso
+ Stable and quick firmware
+ USB DAC functions with minimal lag
+ Very good overall user experience
+ Excellent Price / Performance Ratio
Cons
:
- No bells and whistles, no Wifi, no Bluetooth
- No case that would protect the glass back included in the package
- Not a lot of power on the Single Ended Headphone Output
Little Joy - iBasso DX120 Review

iBasso DX120 is a more affordable Player from iBasso, one of the most trusted names in the audio industry, but given the very saturated state of the price range it comes at, DX120 has to be pretty good to hold its ground. It is time to see what iBasso can offer for 300 USD, and how it compares to other similarly priced DAPs (Digital Audio Players).

Link to the review on Audiophile-Heaven: https://www.audiophile-heaven.com/2019/02/little-joy-ibasso-dx120-review.html
Introduction

iBasso is a very strong name in the audio industry, and not because they are the largest, but because they are some of the most friendly and helpful folks there are. They are known to interact with people over Head-Fi, and Facebook, and iBasso has long been known to offer some of the best support there have been. Not only that, but they tend to offer excellent support for their Players, including the way they offered strong software upgrade and support for their previously released Players, like DX200 which was upgraded to Android Oreo recently, being one of the very few Players supported so well by the company behind it.
It should be noted that I have absolutely no affiliation with iBasso, I am not receiving any incentive for this review or to sweeten things out. This review is not sponsored nor has been paid for by iBasso or anyone else. I'd like to thank iBasso for providing the sample for the review. The sample was provided along with iBasso's request for an honest and unbiased review. This review will be as objective as it is humanly possible, and it reflects my personal experience with iBasso DX120. Every opinion expressed is mine and I stand by it, the purpose of this review is to help those interested in iBasso DX120 find their next music companion.
About me
https://www.audiophile-heaven.com/p/about.html
Packaging
First things first, let's get the packaging out of the way:
iBasohave always been a company to include a lovely amount of extras with their Players, and DX120 is no exception. It is packaged in a very premium suit, just like DX200, and DX150 were, in a finely designed overall package.
There are a large amount of extras in the box, including a silicone carrying case, premium USB cable, with textile cover, one coaxial cable to use DX120 as a transport towards an external DAC/AMP, and a burn-in cable, to allow you to burn-in your DX120.

Extra Tempered Glass screen protectors are also included in the package, so you don't have to worry if you scratch or break your current one.

Overall, there's nothing I can say is missing from the package, especially given the sweet price point of DX120, and I feel iBasso did an awesome job with the package. Furthermore, although I will not be using the silicone case, it is a really good addition if you want to offer your DX120 further protection, and the premium cables included surely make the DX120 experience quite a bit better.
What to look in when purchasing a high-end DAP
https://www.audiophile-heaven.com/p/what-to-lookl.html
Technical Specifications

OS: Mango OS
DAC: AK4495
Screen: 3.2-inch 480X800 IPS touch screen
Sampling rate: PCM: 8kHz-384kHz / native DSD: DSD64/128
Battery/Charging: 3700mAh 3.8V Lithium Ion Battery
microSD slots: 2 Micro SD card slots
Size: 63mmx113mmx15mm
Weight: 165g
2.5mm balance po:
Maximum output level: 3.6Vrms
Frequency response: 10HZ - 45KHZ+/-1dB
THD+N: 0.00027%, -111dB (no load @2.4Vrms), 0.00032%, -110dB (32Ω load 2.4Vrms)
Dynamic range: 117dB
Signal to noise ratio: 117dB (32 ohm load) (132dB)
Crosstalk: -116dB
3.5mm single-ended po:
Maximum output level: 1.8Vrms
Frequency response: 10HZ - 45KHZ+/-1dB
THD+N: 0.0004%, -107dB (no load @1.2Vrms), 0.00056%, -105dB (32Ω load 1.2Vrms)
Dynamic range: 115dB
Signal to noise ratio: 115dB (32 ohm load)
Crosstalk: -115dB
3.5mm single-ended line out:
Maximum output level: 1.8Vrms
Frequency response: 10HZ - 45KHZ+/-1dB
THD+N: 0.0004%, -107dB (no load @1.2Vrms)
Dynamic range: 115dB
Signal to noise ratio: 115dB
Play time: about 16 hours

Build Quality/Aesthetics/UI/Firmware
Startng with the build quality, DX120 is fully made of metal, it has buttons on the side, and it comes with a glass screen protector already applied on it. Furthermore, it comes with high-quality gold plated jacks, and a glass back, making sure it stays sleek and sexy. There are no hard corners, and all edges and corners of DX120 are rounded, making it extremely pocketable.



DX120 is also quite a bit smaller than the higher-end offerings from iBasso, staying in like with the pocket-ability factor for a 300 USD Player.

There are two colors available, one is the one presented in this review, which is a blue color, and there is also a brown / darker colored version available.

Now, the aesthetics of DX120 are simply stunning, it is a very modern, sleek and ergonomic device, based on curves and gentle slopes, everything feels really well put in place, even the buttons following the curved design nicely, and being different in size, making blind navigation much easier.

iBasso always had an excellence in presenting the technical abilities of their Players, and DX120 is no exception, with the very good DAC being a central highlight for DX120, along with the operational amplifiers, and the buffers being presented by iBasso.

Now, DX120 is a unique product, because it features two microSD slots, but it doesn't feature Android like its bigger brothers, rather, being the best Player sonically, and offering the best simple music experience for enthusiasts. While it doesn't feature Streaming, DX120 does offer USB DAC abilities, 16 hours of declared play time, a 3700mAh battery, Native DSD decoding, Line Out / Coaxial ports, MangoOS Operating system, and Quick Charge.
It is a full plate really, the only reason you could look into something else from a feature standpoint, is, if you'd want Streaming or Bluetooth, but otherwise, you get pretty much everything you could desire with DX120.


Starting with the USB DAC abilities, and the huge battery included, the USB DAC feature is supported by iBasso, as it has been with all their DAPs, so you can use DX120 as your main sound card, and since it has extremely low latency, it will even work for gaming. Furthermore, DX120 sports a huge battery beneath the surface, so you can take it as a truly long-lasting DAP, being able to follow you even through a 2-day trip through the woods.
DX120 can do Native DSD decoding, up to DXD 128, which should be enough for most people, and it offers a Line Out, in case you want to pair it with something like Feliks Echo (since it also has USB DAC abilities), or with something like iFi xCan portably, and DX120 even features Coaxial Output, if you want to use it as a transport, being a rather capable swiss knife of a Player.
DX120 is supported by the very powerful Mango Operating system, which is a very mature and hassle-free OS. Furthermore, it features Quick Charge, so you won't have to wait for too long for the huge 3700mAh battery to be ready to go, so quite a lot of fun prepared for DX120.
I haven't experienced a single crash with DX120, it reads all my files, including the cover art I have in my folders, it has been super stable, and offers a really good overall user experience.
Gapless Playback works flawlessly, and DX120 is extremely light and quick, switching between songs is almost instantaneous, and a lot of this happens because iBasso has included a multi-core CPU with DX120, which allows it to be fast enough, and the RAM features Direct Memory Access, helping achieve this speed.

The balanced output is extremely strong, at almost 400mW into a 32 OHM load, while the Single Ended Output is quite a bit less powerful, rated at almost 100 mW in a 32 OHM load, basically better suited for more portable headphones, or IEMs.

I personally cannot hear much hiss with DX120, even from its uber-powerful Balanced port, but for those who are quite sensitive to hiss, or who like to listen extremely quiet, iFi created something like the 2.5mm Balanced iEMatch. Now, I prefer the sound of the balanced output with most of my IEMs and Headphones, since it has better dynamics, power delivery and overall control / authority, but, on the other hand, I still do not have balanced cables for all my IEMs and Headphones, making the inclusion of a 3.5mm Single Ended output a necessity.

I love how responsive the UI is, and how light it feels, and one thing I also love to bits, is the way the GUI reacts to volume changes when the display is turned on. You can also swipe down in the volume screen, to adjust it quicker with, and for higher magnitude adjustments, making DX120 rather cool, even if you're switching from a full headphone, to a very sensitive IEM.
Overall, DX120 reaches a golden standard for the Firmware, Build Quality and Design for a 300 USD Player.
Sound Quality
For the sake of the Capacitors reaching their optimal state and working condition, I have let DX120 burn in using the burn in cable, for about 100 hours, as iBasso instructed. I also used iBasso IT-04 for taking the sonic impressions, along with Campfire Atlas, Dita Fealty, HIFIMAN RE2000 Silver, and Ultrasone Signature DXP, all of them switched between sonic modes, digital filters, and where possible, switching between Single Ended and Balanced outputs. You can find a list of tracks I use for sonic impressions at the end of my review.

DX120 features more than one tonality, or sonic signature, so I will try my best to talk a bit about each one of them. Generally, it has excellent soundstage, detail retrieval, and clarity for its price range, being quite amazing already, but iBasso felt like including a few sonic modes, besides the digital filters already built into the DAC. All of this comes above the EQ, which is implemented as well in DX120.

Now, I have listened to each of the sound modes, and tried my best to compare with each other.
Reference Mode - This mode has the most treble presence and overall clarity, the overall tonality leans towards being more neutral rather than euphonic, being a touch colder, crisper and faster than the other Sound Modes. This is where my favorite setting is at for Metal Music.
Traditional Mode - Slightly more forward vocals, working really well if you love a slightly forward vocal presentation, with a slightly smoother top end, and with a more lush overall presentation. Works really well for Jazz.

Original Mode - Makes me feel this was the intended signature for, it has a deeper and more present bass, with more rumble, but also has a more crisp and sparkly treble, probably my most favorite overall signature for DX120, and where I'd leave it at for most headphones and IEMs.

Classical Mode - This one is most probably intended for Classical music, as the treble is rather smooth and less present, with the overall speed also being a touch slower, each musical note being presented like this. Works really well with slow music, and music where you don't want quite that much sparkle.
Natural Mode - Natural mode is probably the most thick and lush from all the sonic modes available on DX120, with the sub-end rumble being the main star, and with the lower mids having a fuller body, and the treble and midrange being smoother and less aggressive.

Overall, I am quite impressed by how much fine tuning you can give to your DX120, and I am also amazed by the amount of work that was put into this, but, the fun does not stop here. With an extremely low THD (Total Harmonic Distortion), DX120, is quite exceptional on all levels, but that still wasn't enough for iBasso. They also allow you to fine tune your digital filters, feature which is embedded in the DAC chip of DX120.
The differences between digital filters is much much smaller than the one between Sound Modes, but it is still present. I noticed only after taking all my impressions of the Sound Modes that I had the digital filters left on Sharp Roll Off, so I will describe the other ones here. Please keep in mind that the differences between digital filters can be extremely small.

Slow Roll Off - Now, this filter tends to slow down everything a bit, takes the edge off the sound a bit, especially in the treble, and gives the lower midrange and the bass a touch more body, resulting in a more thick overall sound.
Short Delay Sharp Roll Off - I can hear that it has a touch more sub-bass rumble, compared to the Sharp Roll Off, and a touch smoother treble, but that is pretty much it, can't say I notice much else going on.

Short Delay Slow Roll Off - Slightly faster attack and slightly faster overall music notes, with a slightly more forward midrange, but very slightly.
Super Slow Roll Off - This seems to be the most lush of the filters, with an ever so slightly thicker sound. Very very slightly.
Quite a handful different signatures and a lot of information to take, I know, but you should just keep in mind that this is a really wide-sounding, powerful DAP, with good clarity, and clean sound, in the 300 USD price range, and all of the above are extra options you can engage to fine tune it to your tastes.
Portable Usage
Now, DX120 excels at being portable. As I was just talking with other users of DX120, it is really easy to slide it in your pocket, as it is easy to slide it out of your pocket, due to its really sweet rounded edges. The curves and different sized buttons make it really easy to switch songs, and adjust volume while in pocket, which is quite essential for a portable Player.

There are no interferences, and iBasso actually has a good design, with anti EMI shielding in all of their DAPs, thing which can be easy to tell, if you're riding the subway and using DX120, it will not pick one bit of interference.
The display is bright enough, and colorful enough, for most scenarios, although I personally would prefer a slightly brighter display where possible, since it would make the user experience a touch better for those who travel a lot, or who use it in really bright outdoors scenarios. The display inputs the touch really well, and I have an almost 0% fail ratio for my touch input, and the overall device is really responsive.
This is one of the most important aspects of DX120 to me. As a portable device, it has a large capacity, of using two microSD cards, and I tested it with two 256 GB microSD cards loaded with flac files, and it didn't feel one bit slow or sluggish even with this huge library loaded. In fact, I was quite happy with the speed with which my library list loaded, although I should mention I do use folder browsing and I have a neatly ordered library, with my overall library looking like Genre / Artist / Year - Album / number. Song Name , so I can quickly browse my entire library. I heavily suggest having a tidy collection if you want to have the best audio experience with any device.
I was able to get about 12 hours of music, with heavy usage, maximum display brightness, very loud listening volume, and a lot of folder browsing. This means that iBasso's figures for 16 hours are pretty accurate, if you will be using IEMs, and have a more mixed usage, and especially if you won't be switching songs a lot.




Other than this, I found no issues while using DX120 portably, it is a dream Player for portability and for outdoors usage. DX120 reaches a golden standard for a Player in this price range, with excellent battery life, amazing build quality, good display, and fast speed, as well as buttons that allow for browsing it while in a pocket.
Select Pairings
DX120 is quite excellent for being paired with a large number of IEMs and Headphones, one of the most versatile DAPs there are, especially with the multitude of Filters and Music Modes. It has a low THD, low noise floor, so it will work with pretty much anything you throw at it.

iBasso DX120 + iBasso IT04 - IT04 has been a favorite for me ever since I reviewed it, and for a good reason. Its flexibility, build quality, soundstage, and smooth, musical midrange, paired with that energetic and vivid top end, and the tight and amazingly fast bass, really worked wonders for Metal, Death Metal, Black metal (Especially black), but electronic, and pop as well. Paired with DX120, they sound a bit more forward in the midrange, with the right digital filter, and sound mode, so you can get the best of both IT04's abilities, but also make them more balanced if you wanted to. DX120 can also make them sound a bit wider than they typically do, but also a tad more punchy and energetic, overall the pairing being a personal favorite.
iBasso DX120 + ClearTune VS4 - ClearTune VS4 is still very loved by the users, because it is a really comfortable IEM with a unique tuning that will immediately appeal to Rock and more vintage music lovers. DX120 can make them go a bit wider than they typically do, but also gives them a nice amount of dynamics and an excellent punchiness. Overall, I am quite pleased with the pairing.

iBasso DX120 + Campfire Atlas - Campfire Atlas is quite a unique IEM, flagship actually. Tuned for fun, with a large bass, imposing soundstage, and a bright top end sparkle to balance the large bass, Atlas is surely impressive, as much as it is fun. Now, DX120, although being a rather impressive entry-level IEM, can really push Atlas well. There is a very slight hint of hiss with the pairing, but it is way too faint for me to hear it while music is playing. As for the sound of the pairing, with the right choice of Music Mode and Digital Filter, the pairing is very punchy, huge-sounding, dynamic, imposing, controlled, and sparkly, the two working so well together, that I often use them while going for a stroll through the woods.
iBasso DX120 + HIFIMAN RE2000 Silver - HIFIMAN RE2000 is also an interesting flagship, pretty different from Atlas that I just spoke about, because RE2000 Silver is extremely balanced and neutral, being on the analytical side of things, impressing with its detail and clarity, rather than a large bass. RE2000 is excellent at revealing how good a source Player actually is, and this is why I pair it with almost every single source I review, since its extremely analytical nature will quickly reveal how good a source can hold its ground. With DX120, RE2000 Silver is able to reveal how clear and dynamic, but also punchy DX120 really is. A very low noise floor and very good overall THD are also easily audible from the pairing, and DX120 has enough power to really push and control RE2000, which although are not very hard to drive, they do appreciate a higher quality source, and they seem to be appreciating DX120 quite a lot.

Comparisons
DX120 compares fairly well with similarly priced Players, but most people are also curious how it compares to DX150, so I will dive right in.


iBasso DX120 vs DX150 (AMP6) - DX150 running AMP6, the default one, is the big brother, and the other option you're probably considering, if you're considering going with an iBasso Player. DX150 features only one microSD slot, but it comes with a much more rich set of features, like full Google Play support, a brighter display, Bluetooth Support, and most importantly, support for iBasso's excellent AMP modules, making it almost as versatile as DX200. On the other hand, the AMP module it comes with, AMP6, has its own specific tuning, which is quite warm, and DX120, in comparison to DX150 + AMP6, sounds more bright, more revealing, more reference, has a more clear overall sound, while DX156 has more bass impact, and a more thick and lush overall sound. Setting DX120 to slow roll off filter and traditional sound will bring it closer to DX156, but it still isn't quite the same, as the love DX150 has for being thick and lush. If you're looking for a more versatile Player, can spend a bit more, and if you plan on upgrading the default AMP module, DX150 makes a lot of sense, and it is quite lovely on an overall level, while, if you're looking for a really clear, revealing, and punchy Player, and if you don't require any of the bells and whistles DX150 has, and if you prefer a more traditional music player experience, DX120 is a really sweet player for a really sweet price.

iBasso DX120 vs Cayin N5ii - Cayin N5ii is quite interesting because it has Android, and Streaming abilities, but it had a few bugs when it was launched, so some people were discouraged to go with it, rather than a more simple DAP like DX120. Both Players have dual microSD cards, both players have an excellent amount of accessories included in the package, and both are premium devices. The battery life is longer on DX120, but N5ii is smaller physically. There is no volume wheel on DX120, but there is one present on N5ii. The UI and overall firmware is much faster and more responsive on DX120, although N5ii provides bluetooth and Streaming abilities / Wifi if you're looking for those. Sonically, DX120 tends to be brighter and more revealing, more detailed than N5ii, while N5ii tends to have more body, and to be more lush, along with offering a deeper and punchier bass. Overall, if you're looking for Streaming, Bluetooth and a smaller device, along with a thicker and more lush sound, N5ii is still quite amazing, while if you're looking for a simpler Player which can use your microSD cards for its music library, and if you're looking for clarity, and a more neutral overall sound, DX120 is quite amazing and an excellent purchase.

iBasso DX120 vs Opus #1s - Opus #1s is probably the most forward direct enemy of DX120, since they have a very similar approach, dual microSD slots, long battery life, lots of driving power, excellent design, clear and bright display, and similar features. DX120 is physically smaller, and has a longer battery life in practice. The largest differences will be felt in the sound, where DX120 feels like it has an even wider soundstage, and I kid you not, #1S was already huge in the stage, DX120 goes even wider, and the noise floor seems to be actually lower on DX120, which is a great thing, especially since #1s never had a loud noise floor to my ears. Furthermore, they have a pretty similar overall tuning, I'd say almost identical, but they do have a few points where they're different, like the midrange, where DX120 is a touch smoother and more natural, while #1s is a bit more energetic and forward, as well as a touch brighter. The overall sound, and especially the bass seems to be a bit more impactful on DX120, while it tends to be a bit more neutral on #1s. If you're looking for the Opus experience, #1s is still quite easy to recommend, while if you want to experience the iBasso version of this signature and experience, especially if you want to have a multitude of micro-adjustments available, DX120 makes a really interesting option right now.
Value and Conclusion
iBasso created quite a unique Player with DX120, and they are not only in the market, but they are slowly overtaking their competition with those awesome releases lately. I like seeing more competition, and I like the fact that they are able to deliver both excellent Build, Sonic, and Firmware quality. iBasso's warranty and customer support is also one of the best there are, and working with them and with their representative, Paul, is always a pleasure.
The DX120 Player is pretty much the wet dream of someone who doesn't require any kind of bells and whistles, but access to his large music collection, a quick and reliable Player, with a stable firmware, excellent display, and just an awesome music experience.

The body of DX120 is made of Aluminium, so it is both durable and lightweight, and DX120 was designed to be both small and portable, with rounded edges, and sexy lines defining a player that looks both sleek and futuristic. The firmware behind is iBasso's ultra-solid Mango OS, which works wonders for DX120, especially since it is optimized to take advantage of DX120's multi-core CPU, resulting in one of the fastest, most engaging user experiences of the audiophile Player market.

Two microSD slots, and a huge battery are responsible for your portable enjoyment, and you can be sure to have lots of fun with DX120, especially if you're going on a long trip, since it features quick charge, and if you packed an external battery pack that can do quick charging, you can get even double, or even triple the already amazing battery life DX120 has.
The price point of DX120 is also very sweet, being priced at 300 USD, so being quite competitive when placed against Players in a similar price range. To be fair, it has its own charm, and it is easy to recommend and consider, especially with the support iBasso offers it, and with their golden history, at this point having upgraded their almost two-year old Flagship to Oreo, DX120 will be a long-lasting Player in your collection, rather than a flavour-of-the-month.

At the end of this review, if you're looking for a simple music player that can play your music, do everything it should do, but which doesn't feature any other bells and whistles, if you have a large music library, and if you appreciate a long battery life, a responsive GUI and firmware, and if you want a clear, dynamic, punchy, wide, and fine-tunable sonic signature, DX120 is really hard to miss, and it is one of the Players I would really recommend you to consider, especially if you're on a budget, being priced so friendly, that it stands out as an outstanding option for a music enthusiast.



Link to the review on Audiophile-Heaven: https://www.audiophile-heaven.com/2019/02/little-joy-ibasso-dx120-review.html

Playlist used for this review
While we listened to considerably more songs than those named in this playlist, those are excellent for identifying certain aspects of the sound, like PRaT, Texturization, Detail, Resolution, Dynamics, Impact, and overall tonality. We recommend trying most of the songs from this playlist, especially if you're searching for new most, most of them being rather catchy.
Bats - Gamma Ray Burst: Second Date
Eskimo Callboy - Frances
Incubus - Summer Romance
Electric Six - Dager! High Voltage
Kishida Cult - High School Of The Dead
Dimmu Borgir - Dimmu Borgir
Breaking Benjamin - I Will Not Bow
Thousand Foot Krutch - The Flame In All Of Us
Gorillaz - Feel Good Inc.
Infected Mushroom - Song Pong
Attack Attack - Kissed A Girl
Doctor P - Bulletproof
Maximum The Hormone - Rock n Roll Chainsaw
Rob Zombie - Werewolf, Baby!
Escape The Fate - Gorgeous Nightmare
SOAD - Chop Suey
Ken Ashcorp - Absolute Territory
Machinae Supremacy - Need For Steve
Ozzy Osbourne - I Don't Wanna Stop
Crow'sclaw - Loudness War
Eminem - Rap God
Stromae - Humain À L'eau
Sonata Arctica - My Selene
Justin Timberlake - Sexy Back
Metallica - Fuel
Veil Of Maya - Unbreakable
Masa Works - Golden Japang
REOL - Luvoratorrrrry
Korn - Word Up!
Papa Roach - ... To be Loved
Fever The Ghost - Source
Fall Out Boy - Immortals
Green Day - Know The Enemy
Mindless Self Indulgence - London Bridge
A static Lullaby - Toxic
Royal Republic - Addictive
Astronautalis - The River, The Woods
We Came As Romans - My Love
Skillet - What I Believe
Man With A Mission - Smells Like Teen Spirit
Yasuda Rei - Mirror
Mojo Juju - Must Be Desire
Falling Up - Falling In Love
Manafest - Retro Love
Rodrigo Y Grabriela - Paris
Zomboy - Lights Out
Muse - Resistance
T.A.T.U & Rammstein - Mosaku
Grey Daze - Anything, Anything
Katy Perry - Who Am I Living For
Maroon 5 - Lucky Strike
Machinae Supremacy - Killer Instinct
Pendulum - Propane Nightmares
I hope my review is helpful to you!

---

Contact me!
---
Comments
I think I found a bug. If I am listening to a song on my DX120 and halfway through I tap another song, the song I tapped will start playing from the beginning BUT the progress bar will not reset to the beginning...it will just continue on from the halfway point.

Does anyone else have this problem?