Disclaimer:
I bought this IEM at halfprice off at the recent aliexpress sale at my own expense.
Specifications:
- Driver: 5 Balanced Armatures (Knowles)
- Sensitivity: 102dB
- Cable: MMCX detachable cable (there's an option to get a 2 pin connector on the shell for slightly extra cost)
- Frequency response: 20Hz - 20kHz
- Impedence: 20Ω
Accessories:
In addition to the IEM, it comes with:
- IP65 waterproof casing - seems to be a special offer during the August Aliexpress sale (usually it is a non waterproof one)
- X8 8 Core OCC cable - seems to be a special offer during the August Aliexpress sale (usually it is a 4 core SPC one)
- multiple foam and silicone tips of various sizes and bore sizes
- cleaning cloth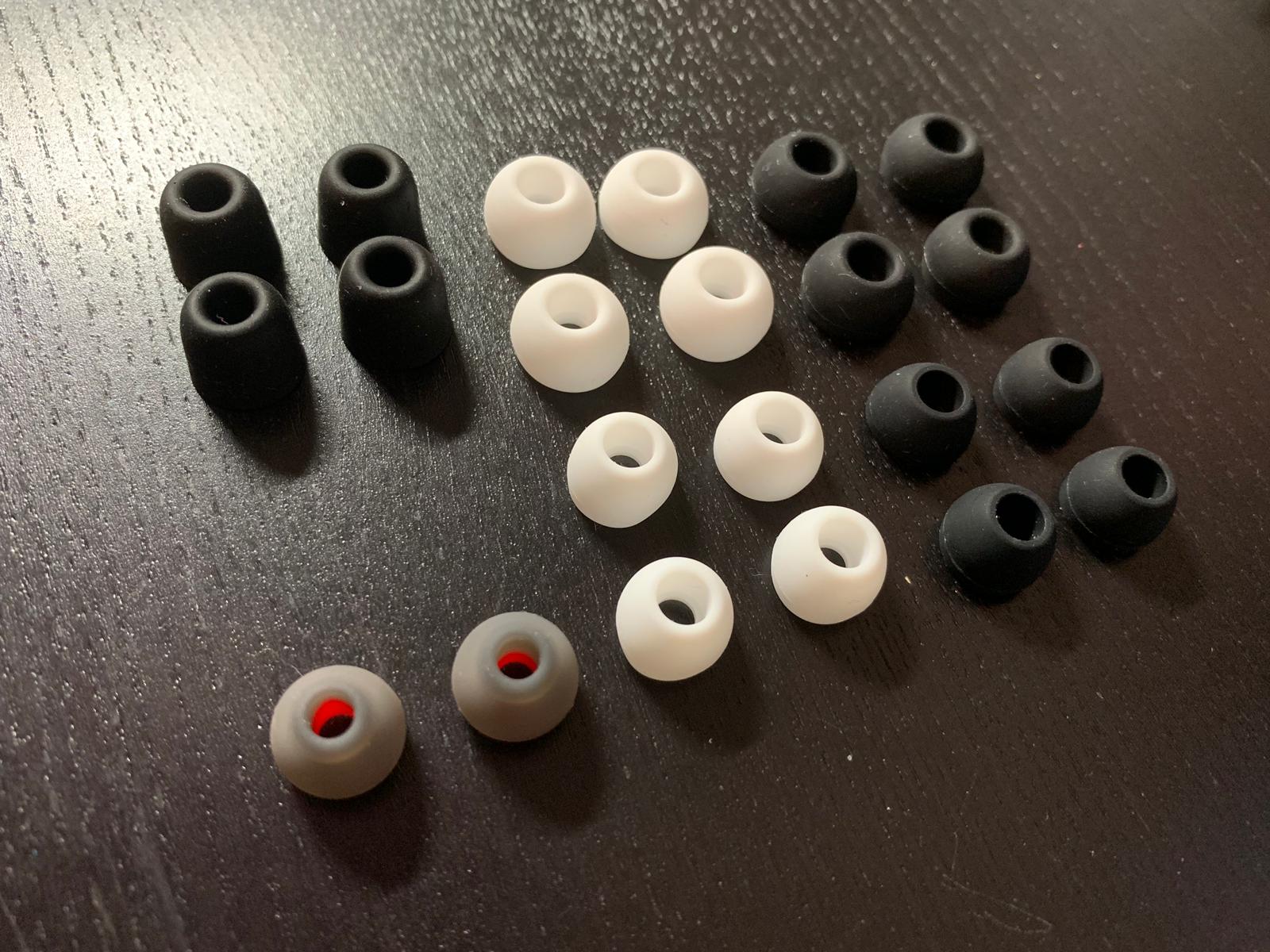 Build/comfort:
Excellent quality resin build. In fact Hisenior can customize the shell design and colour for you and whether you want the Hisenior logo on the shell. I got a plain black one without the logo.
It is light and the shell is on the larger side. A small bugbear of mine is that the nozzle is short. So with prolonged usage, I encountered the shell coming into contact with my ear and this causes a tinge of discomfort. I managed to mitigate this by using a longer nozzle eartip (spinfit CP100) so the shell is elevated away from contacting my ears. Though this comes at a small expense of changing the sound signature compared to the stock tips.
Hisenior also gives you an option to get a 2 pin connector on the shell for a slightly extra cost if you are worried about the durability of its stock MMCX connector.
Isolation:
Excellent, assuming you have a good fit and good eartips. The shell itself covers the ear and blocks out a lot of sound. I had no issues using this on the subway/bus. Their store claims with a good fit there is a -18dB isolation, and I think it is thereabouts. It loses in isolation to my gold standard of isolating IEMs (the Audiosense T800) by a bit, but I think it would be better than most budget CHIFI IEMs.
Sound:
I tested this with a desktop -> Khadas Tone board -> Fiio A3 and android -> Tempotec Sonata HD. The Hisenior B5+ is easily drivable and can be used on smart phones without any external amping. I didn't have any hiss with this IEM on laptops/PC/smartphones. It scales better with a good source and good DAC/AMP.
This IEM is very unique in that it is one of the rare midcentric CHIFI IEMs in the market. The bass and treble is rolled off at the extreme frequencies. Hence I would term it "n" shaped instead of the usual L/V/U shaped signatures we see nowadays in the consumer market.
Importantly, I would only recommend this IEM for genres that shine with a midcentric predominant sound signature, such as for vocals, acoustic/guitar songs, jazz. These are my mainstay genres that I listen to and hence I got this IEM for this reason. Even then, I am a part time basshead and I did need to EQ my subbass and midbass up by a few dB to really enjoy the music. The Hisenior B5+ takes to EQ very well, so no worries on that point. But I think for those that like a non fatiguing, somewhat neutralish tuning, this will suit you.
Bassheads and trebleheads will find the Hisenior B5+ boring and lacking. EDM and electronic music lovers would definitely not appreciate this IEM IMHO.
In fact, the Hisenior rep I spoke to says they can tune their custom and universal IEMs to their customers' liking, at no extra charge. I was initial thinking of boosting the bass when I ordered the Hisenior B5+ as the few reviews that are available mentioned the lack of bass. But I was worried that this may affect the lush mids that influenced me to purchase it in the first place, so I decided to just stick with the stock tuning, and maybe use EQ to boost the bass.
The Hisenior B5+ is very very tip dependent, and I found that widebore silicone ones would boost the bass, and foam tips made the music more lifeless. Unfortunately due to the short nozzle, the shell would press on my ear after prolonged listening, and hence I had to stick with using spinfits with it (as mentioned above).
It has very precise imaging and instrument separation despite its above average soundstage (see below). It has a very dark background that allows instruments and vocals to be projected clearly. Clarity and details are excellent as expected of a 5 BA knowles setup, but it loses in this area to my goldstandard pure BA setup, the 8 BA knowles Audiosense T800.
Bass:
The bass quality is excellent as per a BA Knowles bass, in terms of timbre, accuracy and speed. Unfortunately, there is a notable subbass roll off (in quantity and extension) and I felt the overall quantity of midbass was also lacking. But then again, I am a basshead so maybe those that prefer a neutralish tuned bass may appreciate it. I had to EQ the subbass and bass a few dB up to enjoy my music, YMMV.
Mids:
The mids are the best part of this IEM and the reason why I bought it. To me it seems the lower mids are more elevated than the rest of the frequency, with a dip in the lower treble/upper mids, contrary to the usual CHIFI peak in the lower treble/upper mids area. Lovers of acoustic guitars, vocals will have a field day listening to this IEM. Timbre of instruments and voices are very accurate, almost as good as some pure single DD IEMs that I have heard.
Treble:
There is a dip in the lower treble, but after that it extends quite well till a roll off in the higher frequencies. I didn't hear any sibilance or harshness and it is very non fatiguing. Due to the slight dip in lower treble, some details may be lost compared to other brighter multi BA/hybrid IEMs like the Audiosense T800, so this is a slight tradeoff I feel.
Soundstage:
Soundstage is above average compared to other hybrids/multi BA IEMs due to the midfoward signature.
Comparisons:
1) Audiosense T800
Both are knowles multi BA setups, but the Audiosense T800 has 8 BA compared to the 5 BA Hisenior B5+.
T800 is better in terms of clarity, instrument separation, details, bass (quality and quantity), fit, isolation and soundstage.
The Hisenior B5+ has lush boosted mids (especially lower mids) that are better than the T800.
Timbre wise the T800 is very slightly less accurate than the Hisenior B5+, but the two of them are definitely better in timbre than most of the CHIFI multi BA/hybrids out there.
2) KZ ZS10 Pro
Suprisingly, the ZS10 Pro (4BA + 1 DD) has better details and clarity due to its brighter tuning. Bass is also of better quantity than the Hisenior B5+, as expected of a DD bass, though quality is not as good as Hisenior B5+'s bass. Imaging and instrument separation is less precise on the ZS10 Pro, and timbre, soundstage, isolation and build is not as good as the Hisenior B5+.
3) Westone W30
The Hisenior B5+ is better in clarity, details, instrument separation than the Westone W30, which is a 3 BA setup. For a pure BA bass, the Westone W30 is not too bad in terms of quantity and quality, and maybe that area and the fit/comfort is the only aspect that is better than the Hisenior B5+ IMHO.
Conclusion:
This IEM is a specialist IEM that would suit midcentric lovers who like genres like jazz, vocals and acoustic songs. I wouldn't recommend it for trebleheads or bassheads for sure, and not for certain genres like EDM, techno, electronic music.
Imaging and instrument separation is outstanding. It's timbre and tonal accuracy is also excellent, maybe better than some DD type IEMs I have heard.
It does require a bit of work with finding a eartip that suits you, and may require EQ for some of us. But I think it is excellent if you know what sound signature and music preference this IEM truly shines with.
It won't displace the T800 as my endgame multi BA IEM for now, but it's a keeper for me for a non fatiguing sound and lush mids for my favourite jazz and vocal songs.