DISCLAIMER
I would like to thank HIFIGO for providing this review unit. The Hiby R3 Pro Saber 2022 can be obtained here:
https://hifigo.com/products/hiby-r3-pro-saber-2022
(no affliate links).
How is the R3 Pro Saber 2022 different from the original R3 Pro Saber (non 2022 version)?

Photo courtesy of: https://store.hiby.com/products/hiby-r3-pro-saber-2022
Well, the external chasis and dimensions are similar, but the R3 Pro Saber 2022 packs an upgraded dual ES9219 DAC chip, instead of the ES9218 chip used in the predecessor. The R3 Pro Saber 2022 also is slightly more powerful on both the 3.5 mm and 2.5 mm outputs.
SPECIFICATIONS
Flagship Dual ES9219 DAC Chips
•3.5mm PO: 32 ohms loaded
•2.5mm BAL: 32 ohms loaded
Output power:
•3.5mm PO:101mW
•2.5mm BAL: 340mW
Maximum output voltage:
•3.5mm PO: 1.8Vrms
•2.5mm BAL: 3.3Vrms
Rated output voltage:
•3.5mm PO: 1.5Vrms
•2.5mm BAL: 2.6Vrms
THD + Noise:
•3.5mm PO: 0.00002
•2.5mm BAL: 0.00002
Signal to noise ratio (SNR):
•3.5mm PO: 118dB
•2.5mm BAL: 120dB
Frequency response:
•3.5mm PO: 20Hz-90kHz
•2.5mm BAL: 20Hz-90kHz
Channel separation:
•3.5mm PO: 63dB
•2.5mm BAL: 93dB
Dynamic range:
•3.5mm PO: 116dB
•2.5mm BAL: 119dB
Two-Way Bluetooth 5.0
Up to 32-bit 384kHz PCM, DSD256 audio data and MQA 16x unfolding
PO/LO 3.5mm port and BAL 2.5mm port output, USB2.0 support USB DAC in put/out put, SPDIF USB port output and OTG function
Micro SD card slot, expandable memory up to 2TB (playlist can only scan up to 20,000 songs)
Supports Bluetooth formats such as AAC/SBC/APTX/LDAC/UAT, as well as 2.4&5.0 Wifi/dlna/airplay/hiby link and other wireless connection methods. APTX does not support two-way
Support Tidal & Qobuz Streaming online, support Internet radio
Custom theme/Ebook/pedometer/hardware control key/breathing light
1600mAh battery, 50 days of standby time, 20 hours of single-ended playback, 15 hours of balanced sound playback
Tested at $209 USD
Summarized specs for the R3 Pro Saber 2022:
Photo courtesy of: https://store.hiby.com/products/hiby-r3-pro-saber-2022
ACCESSORIES
Other than the DAP, these are included:
- 1 x USB C cable
- 1 x tempered glass screen protector
- 1 x soft screen protector
- Plastic case
Before starting this review, I updated the DAP to the latest firmware (
https://store.hiby.com/apps/help-center#hc-r3-pro-r3-pro-saber-firmware-v20-update
). One can update the R3 Pro Saber 2022 via WIFI or manually from a firmware update copied on a micro-SD card.
BUILD/UTILITY
The R3 Pro Saber 2022 is very compact, measuring 82 mm x 61 mm x 13 mm. It can fit into a pocket or bag easily. You can opt for a black, grey or red version during ordering.
Build is solid, the edges are smooth. It is a nice touch that Hiby has provided some spare screen protectors and even a plastic case in the packaging.
On the base of the DAP, you have a type C port, which is both a data and charging port. A micro-SD card slot is also present, and Hiby says this supports up to 2TB. However, it seems the DAP can only accept a playlist scan of a maximum 20,000 songs, which is a bit of a bummer.
The Hiby R3 Pro Saber 2022 sports a USB 2.0 connector, and this can be used as a USB DAC input/output, SPDIF USB port output and OTG function.
The top of the DAP has a PO/LO 3.5 mm (single-ended) and 2.5 mm (balanced) output. No 4.4 mm port is available, and for balanced connectors, I personally prefer 4.4 mm slots over 2.5 mm ones, as the latter is thin and prone to potential breakage. Nevertheless, one can get an aftermarket 4.4 mm to 2.5 mm adapter if one's cables are mostly 4.4 mm types.
On the sides of the fuselage, you have the volume controllers on one end, and on the opposite end, you have the power button, pause and forward/back buttons.
The buttons work as advertised, turning on and off the Hiby R3 Pro Saber 2022 just involves holding the power on button for a few seconds. This DAP's UI is very fast and it powers on in less than 5 seconds (in contrast, some other DAPs eg Sony A55 will need much longer to power on and scan songs). The UI is quite user friendly and it is easy to search the various settings, with minimal lag or delay.
The R3 Saber Pro 2022 can function in various roles as a digital source, USB DAC, Bluetooth receiver, Bluetooth transmitter and/or WIFI music receiver: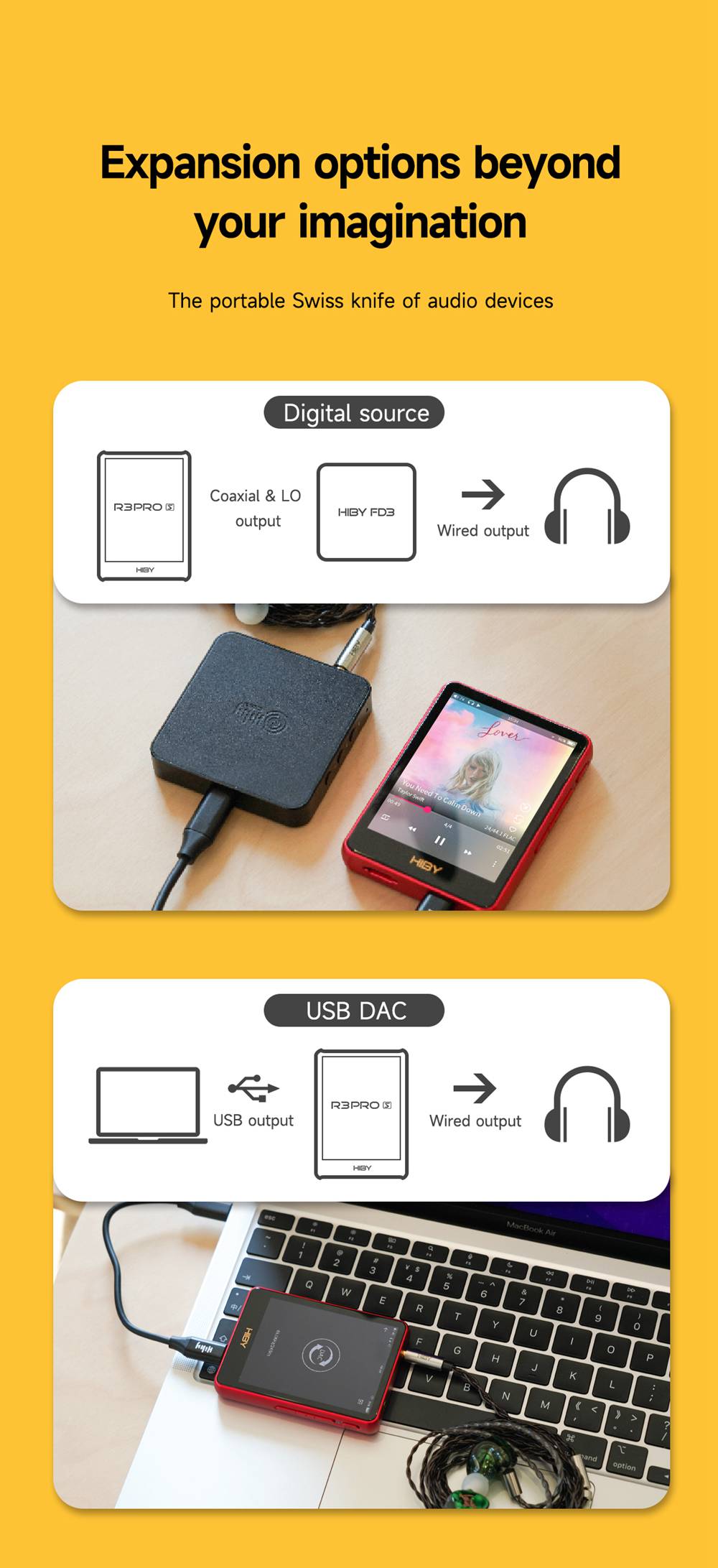 Photo courtesy of: https://store.hiby.com/products/hiby-r3-pro-saber-2022
The R3 Pros Saber 2022 supports Hiby Link, which allows smartphones to remotely adjust playback, volume control and playlist management via their app.
The R3 Pro Saber 2022 has touch screen functions, which are described below: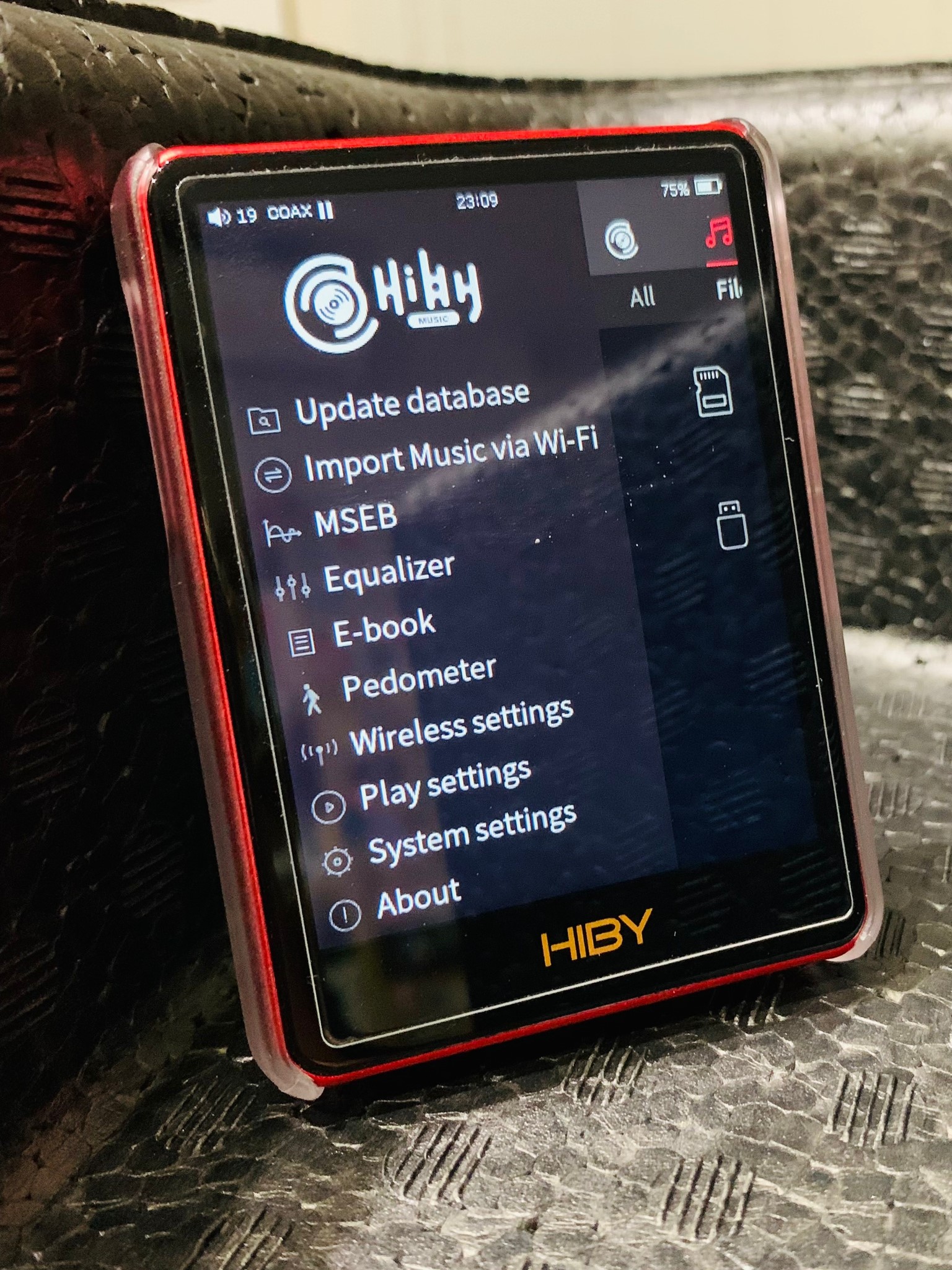 On the first tab, you have an option to update the music database, and the R3 Pro Saber 2022 scans songs very rapidly. You can link the DAP to WIFI and upload songs via this method, or via the micro SD card. 2.4GHz and 5GHz WiFi dual band WiFi are supported on the Hiby R3 Pro Saber 2022.
An MSEB function allows one to play with various permutations, such as note thickness, sibilance, bass extension/texture and even change the tonality to overall warmth or brightness. There's a built in custom EQ for 10 bands, and even pre-set EQ settings.
The R3 Pro Saber 2022 supports gapless playback, crossfade, digital filters and has high/low gain options. Do explore around and fine-tune your preferences (no pun intended). One can also adjust multiple other settings, with regards to brightness, backlight time, UI themes/colour, font size, idle/sleep timers/LED/screen savers and screen rotation. You can even create customized playlists, or play songs via albums/folders/artists/genres.
Hiby supports custom theme authoring tools to design your own UI theme, for creative-inclined consumers. This DAP even has a search function, which is a real nifty tool for folks who have large databases of songs.
The Hiby R3 Pro Saber 2022 continues in the Hiby R3 lineage in supporting streaming from Tidal and Qobuz. Internet radio is also marketed as a supported tool on this DAP. Interestingly, Hiby has added an E-book and pedometer too. Maybe I should start using this DAP to exercise and hit my 10,000 daily steps?
The touch screen is quite responsive album arts are nicely displayed. Swiping around is quite fuss-free. On rare occasions, I did encounter the screen not responding to my touch, but those were few and far in between in the past month that I put the R3 Saber Pro 2022 through its paces.
Swiping up brings up some quick launch buttons, such as Bluetooth, WIFI, gain settings, timers etc.
The volume controls can be adjusted via the buttons on the side of the DAP, or via the touchscreen, and 100 volume steps are available. Hence, the volume controls steps are very fine and sensitive, so changing the sound levels to one's desired volume is very easy and intuitive.
The R3 Pro Saber 2022 supports PCM up to 384kHz/32bit, and DSD hardware decoded at up to DSD256. It is compatible with myriad file formats, such as APE, WAV, WMA, WMA Lossless, FLAC, DSD, DFF, ISO, IFF, M4A, MP2, MP3, AAC, OGG Vorbis and Opus. Perhaps only the ISO DST format is unsupported.
MQA 16x unfolding is also able to be done on the R3 Pro Saber 2022, but MQA is a controversial issue, and that is a story for another time.
BATTERY LIFE
Sporting a1600mAh battery, Hiby advertises that the R3 Pro Saber 2022 has 50 days of standby time, 20 hours of single-ended (3.5 mm) playback, and 15 hours of balanced( 2.5 mm) playback. In practice, I found that the battery was a bit less than advertised. Do bear in mind, that the above advertised specs are in ideal conditions, and battery life is expected to drop with repeated charges.
Battery life is however, partially dependent on whether you are going to be turning the screen on throughout, the volume played at, gain settings, 3.5 mm or 2.5 mm output, and also whether you use lossy or lossless files. Ballpark I would say via single-ended output, playing at moderate volumes via FLAC/WAV files, I get about 12 - 15 min usage per 1% battery drop. For the balanced output (moderate volumes and using FLAC/WAV), I get about 7 - 9 min usage per 1% battery drop.
The R3 Pro Saber 2022 supports fast charging and charges very rapidly, though personally I would rather use slow charging with lithium ion batteries to preserve its life. Strangely, there is no battery care mode on the Hiby R3 Pro Saber 2022, such as those found in other DAPs which only charge up to 90% to prolong battery lifespan.
The R3 Pro Saber 2022 is generally cool during usage, but during charging, it can get slightly warm.
FUNCTION/CONNECTIVITY
I had no issues pairing the R3 Saber Pro 2022 with various Bluetooth devices (both apple and android based, and even on laptops and other DAPs). They found the R3 Saber Pro 2022 easily.
Bluetooth connectivity can reach about 8 meters or so with thick walls, and around 15 meters without obstructions. I did experience stutter with obstructions or further distances, though dropouts were infrequent.
Admittedly, the Bluetooth stability/range is perhaps not class-leading, but I didn't detect much lag with music via Bluetooth. This DAP can be used for 2 way Bluetooth (as detailed above), it uses Bluetooth 5.0 and various codecs such as LDAC, aptX, AAC, SBC, etc, are all supported. Unfortunately, APTX is only able to be used one-way.
Hiby's inhouse two way UAT (Ultra Audio Transmission) Bluetooth codec is also supported. Apparently, Hiby says this codec gives an industry-leading 192kHz transmission sample rate and up to 1.2Mbps Bluetooth bandwidth, which is supposedly the highest fidelity for wireless gear, at the time of writing.
TECHNICAL ASPECTS
Hiby markets that the R3 Pro Saber 2022 is equipped with clocks with dual active high precision NDK crystal oscillators, which boasts minimal jitter and reduces incoherency. It has four independent amplification channels, thus the 2.5 mm balanced output can bring more power, a wider soundstage and better details to the table.
In terms of sonic performance, the R3 Pro Saber 2022 is quite neutral, yet musical with excellent technicalities. It doesn't colour the music much, and lets the transducer that is connected to do the talking.
The 3.5 mm output seems to be down-throttled a bit, compared to the 2.5 mm balanced output. It seems this is a common practice on sources with both a balanced and single-ended port, and the 3.5 mm provides less power, and has noticeably lesser soundstage and technicalities.
Hence, between the 2 outputs, the 2.5 mm is my preferred one, though it ate more power during playback. Using the 2.5 mm output, note weight is just nice, and the R3 Pro Saber 2022 isn't very dry or sterile sounding, but boasts a very organic timbre. Soundstage is expansive in all 3 directions, micro-detailing and clarity are exceptional, with good imaging and layering on tap. It really lets the IEM sing, and musicality meets technicalities in a nice little package with this DAP.
Even though Hiby doesn't advertise the output impedance of this DAP, low impedance fussy loads such as the Audiosense T800 and TRI Starsea (both sporting 9ish ohms impedance) were driven without much skewing of the FR, so I do surmise that the output impedance is probably 1 ohm or less, as per the audiophile rules of 8ths.
On the high gain setting and on the 2.5 mm balanced output, the R3 Pro Saber 2022 manages to satisfactorily drive the notoriously low sensitivity Final Audio E5000, all the way to harder to drive 300 ohm loads, such as the Sennheiser HD650 and RY4S 300 ohm. Some weaker DAPs with insufficient juice will cause the E5000 to sound very boomy and nebulous in the bass, and I'm glad the R3 Pro Saber 2022 could handle such tough customers.
COMPARISONS
Sony A55 DAP
The A55 is a single-ended only DAP, and in stock form, it is very warm and buttery smooth, as per the usual Sony house sound. In stock form, the R3 Pro Saber 2022 kills it in technicalities, and it is a total bloodbath.
Thankfully, Mr Walkman has kindly provided a free firmware mod that unlocks the A55's hidden potential that was gimped. With this firmware mod, technicalities improve, volume locks are overridden, and there are even 4 new tuning options, from warm to neutralish to bright that can be installed. Battery life is also much better with the firmware mod.
Comparing the neutral firmware mod installed on the A55 to the R3 Pro Saber 2022, the latter is still better in technicalities. Soundstage, imaging, clarity, micro-details, instrument separation and transients are better on the 3.5 mm output of the R3 Pro Saber 2022. If the 2.5 mm output is used, then the A55 falls even further behind, and it is not a close fight.
The A55 has a very slow UI that is not too user friendly, and takes a long time to boot up, whereas the R3 Pro Saber 2022 boots up in a few seconds.
The A55 cannot power more demanding transducers, but the R3 Pro Saber 2022 has no issues with that.
In terms of battery life, the A55 with Mr Walkman mod is better, and it can give me about 32 hours playback (moderate volume, FLAC/WAV files). The A55 also has better Bluetooth connectivity/range than the R3 Pro Saber 2022.
Shanling Q1
The Q1 is a small musical DAP that is pretty neutralish. The Q1 is slightly weaker in technicalities (soundstage, imaging, micro-details, instrument separation) than the 3.5 mm output of the R3 Pro Saber 2022. With the 2.5 mm output of the R3 Pro Saber 2022 used, the Q1's difference in technicalities is amplified even more (no pun intended).
The Q1 has better battery life at about 21 hours, and also has slightly better Bluetooth connectivity/range. The Q1 however, isn't too powerful, and definitely cannot power stuff like the Sennheiser HD650 or Final E5000.
The Q1's UI is also a bit unresponsive and the touch screen is not very sensitive, making swiping about quite frustrating, which isn't the case with the R3 Pro Saber 2022.
CONCLUSIONS
It is no exaggeration to call the R3 Pro Saber 2022 a swiss army knife DAP or even a little power rocket.
It is small, yet compact, with various source functions, from 2-way Bluetooth to Tidal/Qobuz streaming, and supports various Bluetooth codec and file formats. The R3 Pro Saber 2022 is musical yet with excellent technicalities, and has a neutral soundscape that does not colour the attached transducer.
I really like that this DAP can power fussy low impedance multi BA/hybrid types, all the way to demanding behemoths without a sweat (via single ended/balanced outputs or even high/low gain settings). The background is dark, without hiss, and the UI is very fast and user-friendly. There are various filter and EQ settings to play with, and this DAP even supports a pedometer and ebook!
Unfortunately, there are areas where the R3 Pro Saber 2022 doesn't fare so well, and that is in battery life (especially on the 2.5 mm output) and with Bluetooth range/connectivity. If one isn't too particular about these 2 areas, the R3 Pro Saber 2022 is really an excellent DAP to consider, especially for the amount of clean power and great technicalities, and all-round multi-functions it brings to the table.