INTRO:-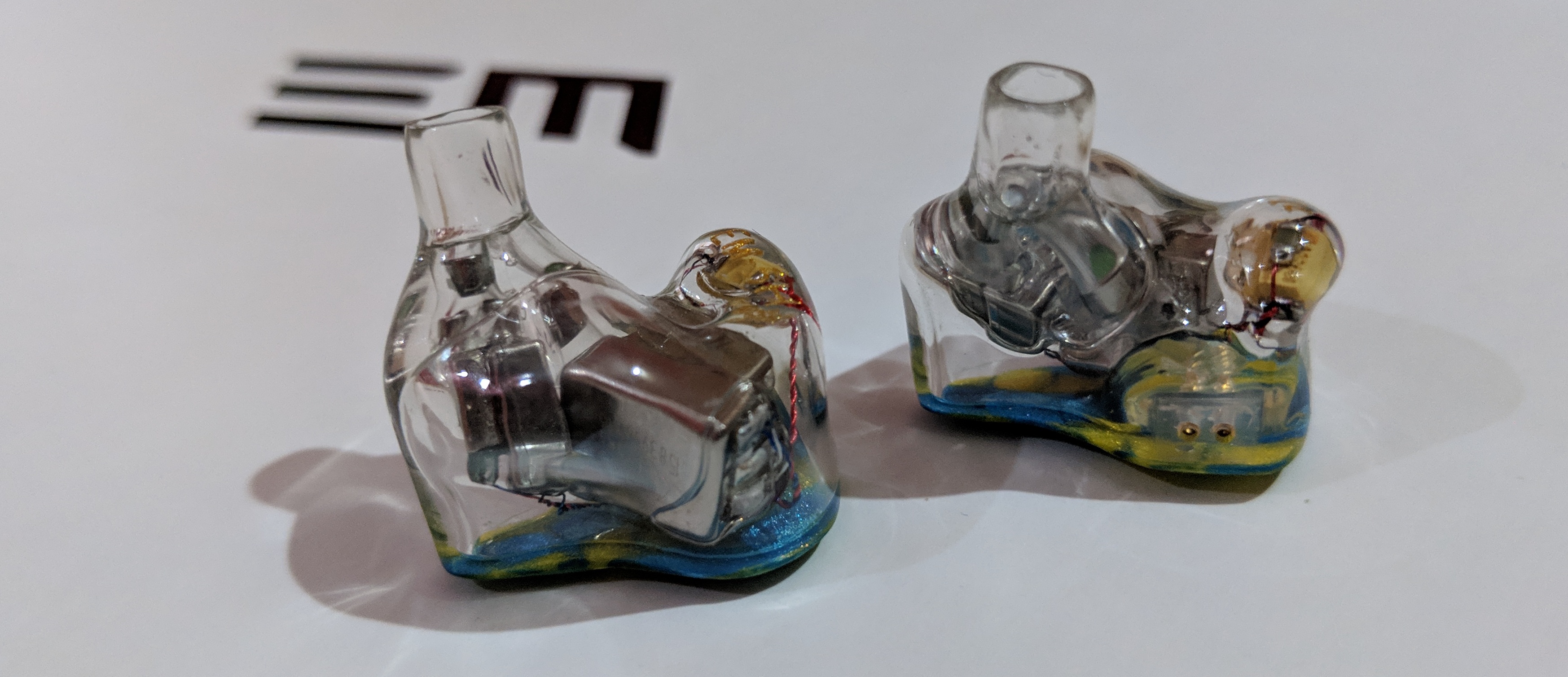 This review is about a brand, not much publicized, not very popular between audiophiles like us, mostly because
Eternal Melody
doesn't have much exposure. They are slightly reserved with their approach, but man, do they make fantastic earphones for the price.
I am reviewing their
EM-5H
iem. It
houses 5 BA
drivers, with a slightly different setup compared to the EM-5. The EM-5 has Two for bass, two for mids and one for highs. The EM-5H has one for bass two for mids and two for highs. Both have the same number of Drivers but have different setups. Except the setup the only thing that sets these part is the EM-5H written on the shell. There is no other way to know which is which.
5H is priced at around $650-750 for both Universal and Custom versions respectively, available with variety of faceplate options is going against popular earphones like the Campfire Andromeda, Shozy Pola and EE bravado. I am going to compare the EM-5H with the Shozy Pola, Bravado and Fibae 3.
Get one for yourself from their own store:-
https://item.taobao.com/item.htm?spm=a21wu.12321156-tw.0.0.3e9034baftOGCA&id=549772190370
https://world.taobao.com/item/549772190370.htm
ACCESSORIES & PACKAGING:-


The 5H comes in a nice looking box. The best thing I found in the box after the EM-5H is the full metal carry case, milled out of single pieces of metals, it looks stunning and feels very solid. One can be totally assured that their earphone inside that case can stand some extreme conditions without any problem.
inside the carry case you will find some wide bore tips which fit the 5H nicely. Other things out of the box are a cleaning cloth, an airline adapter, a65.mm adapter, user manual and a wax or dust pick.
There is a choice of cable color, white and black, I choose black.
BUILD QUALITY:-
Build quality of the 5H is very good, it is up to the mark of every other earphone in its price range, it feels more solid compared to the Shozy pola, the shell looks stronger and more robust. I don't think it will break but a deliberate effort to break them.
The Back plate or faceplate is fused nicely into the body and it feels seamless. Contrary to the EM-5 design, the 5H has a dual bore design without any specification.
There are no vents in the shell, there is no need for one. The nozzle length is good and gives the 5H a nicely deep insertion, deeper than the Shozy brothers.
CABLE:-
Eternal Melody has a couple of cable color options. They have Black and white color cables with 2pin socket.
The 3 core braided cable has nice feel to it, there are no unnecessary layers of rubber on it, hence it's not bouncy at all. It's very supple and doesn't tangle easily either. There is no microphonics to worry about. The cable guide is metal inserted which keeps shape once shaped to ones comfort. Cable splitter is of decent size and there is a cable slider too.
COMFORT, ERGONOMICS AND SEAL :-
All of the custom earphones have very good fitment with plenty of customization. Their universal earphones, like the one I am reviewing too have a very comfortable and ergonomical feel to them.
It is very comfortable for a 5ba earphone, Even some single BA earphones have bigger shell size. The smaller size and ergonomically design makes it a very comfortable earphone, unless you have very small ear cavity.
Last time I reviewed the NCM NC5 v2 I complained about the Nozzle length, the EM-5H has an aptly deep nozzle making it more stable and secure. 5H fits better than the Fibae 3, EE bravado and the Campfire Andromeda thanks to its very ergonomically shape.
CAUTION:-
don't use earphones where you have to be aware of your surroundings like driving and walking on the road, stay home and enjoy your music or at gym.
SOUND QUALITY:-
The 5H is for those audiophiles who demand clarity, details and transparency, it is very accurate, there is little to no coloration. Weightier and deeper notes makes it sound very natural.
Before the EM-5H I had tried a few 5+ ba based earphones, reviewed one too, AF1120 to be precise. Reviewed a few more in the price range of $700, EE bravado, AF1120 and Fibae 3 to name some.
All of these are very good at what they do, so does the EM-5H and does a few things better than most. None of these have the amount of density and level of details delivered by the EM-5H.
The EM-5H has been burned for more than 100hrs and I am using my Plenue R and D for this review.
TECHNICALITY AND MATCHABILITY:-
The EM-5H is very easy to drive out of any portable device without much problem, even when using some capable mobile phones, you will still be able to get most out of it, but a dedicated dap will always bring out the best of it. Amping is not necessary but if you have one, you can use one and you will find a bit more energy.
BASS:-
The Bass region is very well defined and paced with plenty of precision and details, it has good amount of energy to the notes but it is not for a bass heads for sure.
The 5H has one BA driver to do the heavy lifting. Sub Bass notes are very much in line with typical BA earphone like AF1120 and ER-4 micro series. Thankfully the lower end note are weightier and less dry when compared to these flat bass earphone. 5H does move better amount of air and the slam is acceptable, the bass body is nicely rounded and delivers a more fuller notes. When compared to the likes of Ee Bravado the 5H can feel very flat.
Best comparison for the 5H is the Fibae 3, both have similar bass size and body, the 5H has better precision, details and accuracy. The decay of the 5H is as good as the ER-4P but has better weight and depth to the notes, which means it is faster than the Fibae 3 and miles ahead of the Bravado. Notes don't vanish into thin air, they make their presence felt while keeping the speed up to the mark.
The sub-ass extension is as good as AF1120 and ER-4P but is slightly less compared to the Fibae 3. There is some rumble, nothing to write home about though. Mid bass is slightly more energetic giving the bass most of its body. Upper bass has better amount of energy compared to the Fibae 3.
Notes are very well defined. Notes weight is in between the Fibae 3 and ER-4P. It is not as dry as the 4P or not as juicy as the Fibae 3, it lies just in the middle of these two. There is no compromises made when it comes to the amount of details and imaging the 5H delivers. The level of accuracy, resolution and amount of resolving details is up to the mark.
The 5H as I said earlier is not for those looking for Bass, it can deliver but can not please a bass head.
MID RANGE:-
EM-5H has two BA driver for mid range, transition from upper bass to lower mid range is without any obvious drop of energy. It maintains very good amount of energy at the lower mid range. The mid range is slightly more forward compared to the bass region giving the instruments and vocals a more central projection. Notes are sharper and more precise compared to the Fibae 3. Fibae 3 tries to deliver smoothness over level of details or clarity. EM-5H notes have nice finishing to them, sonicality, too is up to the class.
The first thing to notice with the mid range is the amount of accuracy it shows with notes, its exceptionally paced with plenty of details with plenty of energy to them. The mid range sounds very transparent and delivers one of the cleanest notes presentation in the price range, it has very good instrumental distribution and density, sibilance and aggressive notes are nicely kept at bay, things do get sharp but not overly.
Thanks to dual BA drivers, vocals on the EM-5H are very well defined with good amount of throaty feel to them. Let it be male of female vocals both sound very clean and have accurate tonality to them, more accurate compared to the Nocturnal Avalon. Level of sharpness is kept well under control to avoid vocal sibilance, still the 5H have very good reach and vocal notes have better than average body to them. In comparison the Fibae 3 feels milder and Nocturnal Avalon overly excited.
Instruments shine like the star of the show. There is plenty of energy and bite to them, they bite well, leaving a mark, without getting close to uncomfortable. They have better amount of details, resolution and transparency when compared to the likes of Fibae 3 and EE Bravado, but it is not as clearer as the Shozy Pola, as the Pola delivers better defined notes and feels more spacious too. Still I love the way the 5H projects its mid range, the level of resolution is mention worthy, it is willing to go the distance with plenty of accuracy and precision, without crossing the line. Upper mid range is kept nicely under limits, there is no sibilance to worry about, but there is plenty of details and spark to enjoy.
Layering and separation of the 5H is very good and is in line with others, the level of density is better than Fibae 3 and Bravado, keep in mind that Fibae 3 and Bravado are no slouch the 5H does a very good job of keeping its head over these two. The stage size of the 5H is nicely rounded with very good height, width and depth to it.
Level of isolation too is very good, better than the Pola and Bravado.
HIGHS:-
Transition from upper mid range to the lower treble region is very good, but there is a small dip in energy to keep the spikes and any type of sibilance in check. There is good amount of energy around the transition but nothing that is uncomfortable. Eternal Melody deserve praise for this, cuz the AF1120 was sibilant at this very region. Level of details at this region too is very good.
Going up the spectrum, energy with the notes increases, instruments exhibit class leading details and transparency. Let it be pianos, trumpets or cymbals, they have the very good amount of sharpness and the finishing of the note, along with the presentation is very good. Let it be resolution, clarity or imaging, the EM-5H doesn't hold back. The level of imaging delivered is cleaner and clearer when compared to the Fibae 3 and Bravado.
The 5H's treble works around two BA drivers and it is evident. It delivers plenty of details and has very good amount of spark to them, EM has not tried to dial the energy back, which is admirable. The amount of extension too is up to the class. Yes the Treble doesn't feel as endless as the Fibae 3 or AF1120 but it is not a thing one can put a finger on either.
Layering and separation is better than the two earphones I have been constantly comparing the 5H with. The 5H feels more airier and dense. Stage size is big, not as big as the Fibae 3 but still bigger than Shozy Pentacle.
COMPARISONS:-
Comparing the Custom Art Fibae 3 Vs Nocturnal Avalon, Shozy Pentacle, EE Bravado and Eternal Melody
Comparing the Lime ears Model X against the Eternal melody EM-5H and Shozy Pola
CONCLUSION:-
The Eternal Melody EM-5H is an earphone which cannot be anything but brilliant. It delivers very good vocal tonality, the instruments are very clear and transparent, nothing holds the 5H back from delivering an imaging with plenty of resolution and details. Not a single thing that is wrong with this 5H, let it be build quality or accessories or sonicality or level of details or ability to keep the sibilance at bay, the 5H does everything effortlessly.
Yes it lacks a bit of bass prowess, it doesn't go boom like the Bravado, but the Bravado is has nothing else over the 5H and 5H does everything else better than the Bravado.
The EM-5H is an earphone for an audiophile who wants plenty of details with their music and they feel being choked when the music is not good enough to push the earphone to its limit. (look at me I am one). The 5H cant appeal to types of music which doesn't have density to them as the dynamism of the 5H will feel limiting, which it is not.
If you want to enjoy your music with class leading amount of transparency, details and sharpness and if your music is capable, close your eyes and you will find yourself losing touch of your surroundings with the 5H.
I hope you guys had a nice time reading the review. Enjoy your music. Cheers.
Upcoming… Shozy Pola.