Effect Audio Axiom
Pros
:
Neutral with reference signature, detailed with good highs and bass. Wide sound stage, and has good separation
Cons
:
It's not a con for me but it is not for bassheads. Fit, for me personally due to my ear canal shape, I had to go through tons of tips till I found the proper tips that suit me which were the Sony IER Z1R silicon tips, I am stressing how important it is to find the correct tips. Also it needs a lot of burn in ( 72 hours )
Background:
I had my share of totl iems which you can see in my profile. The tonality that I like is a full rich detailed tonality in the mids especially for vocals, were I accept no sacrifices what so ever, so if the vocals are not done right then that product is not for me, no matter how good the bass or highs are. Of course I like a good dose of bass as well, and to have details in the highs, but my sole "make it or break it" approval lies in the midrange for me personally, simply cause if the mids are not done right you will not be able to easily fix it through EQ, yes you can address the mids with EQ but usually the results are not stellar
Gears used in this review:
Chord mojo –poly
Cayin N3Pro in tube mode – ultra linear
Ifi pro idsd
Ibasso dx160
Tips used:
-Sony IER Z1R silicon tips, size Medium Large
Cable Used:
Effect Audio Maestro
Songs I used:
Dave Gahan--- Metal Heart
Daft Punk—The game of love
Leonard Cohen--- You want it darker
Jonsi--- Obsidian
Massive Attack--Angel
Tool--- Invincible
The war on drugs--- Stranger Things
Strand of Oaks – Horses at night
Dire Straits – Don't worry
Dead Can dance-- Amnesia
Felix Marc--- Substance
Adele—Hello
21 Savage--- A lot
Sarah Brightman-- Hymn
Listening time:
I like to keep things simple and to the point and not drag into writing complex passages. I listed the songs above, which I used for testing, so my impressions will be in reference to those songs. Please pay attention to the tips I used as they made a huge difference compared to all other tips I used, since it's a short stem and that is usually a problem for me personally, when I tried other tips from for example Final Audio, stock tips and many others, the difference in sound was big for me, this is why again my experience is with using Sony IER Z1R silicon tips. Also note I never rated any totl iem that I tested or owned to be perfect and that applies to even the most expensive iems I own or owned, or the ones I heard that can reach over 4k usd in price.
Bass and Sub Bass
: here I used the song by Massive Attack – Angel to test the sub bass and bass, and it was a good impactful experience, the Axiom reached deep into the sub bass, with a good bass punch. It's not a basshead bass but definitely it will please audiophile members who like the right dose of bass and sub bass. Make sure to find the correct tips, for me the Sony tips were the perfect ones.
Mid
s: Mids and especially vocals are as mentioned before the most important factor for me in judging an iem. The mids are a bit recessed, were it would be noticed on female vocals more than male vocals. It is neither too rich nor too lean. Leonard Cohen's voice was a good indicator that it has a good tonality and presence for male vocals. I then played some other songs mentioned above and the experience I had just confirmed my findings, among the songs was the latest song by Dave Gahan - Metal Heart -which again was a good indicator that the male vocals are done in a good way. Then I played Adele's "Hello" song, as with some iems when she goes into the chorus the experience can be not stellar, but the with Axiom somehow I enjoyed that song, although with female vocals the Axiom could come across as a bit recessed but it worked well with that song
Bass and Mids Important note
: I want to keep stressing how important choosing the right the tips are with the Axiom, I had to do a lot of tip rolling. It is really worth it and actually a must to not judge too fast with tips that you usually use, for example the tips I use most are the Final Audio tips, but they did not work for me at all with the Axiom and so did not many others. Till I used my spare Sony IER Z1R which gave me a total different experience from any tip I used. So my advice is do a lot of tip rolling, again others might not get such an experience or have difficulty with tip rolling as we each have different ear canals
Highs
: Well the highs, I am so glad that the detail in the highs is to my preferences, it got the extension to make everything sound coherent. Thanks god it's not a dark iem or a brittle one. You will hear the finest details, without being sibilant. It's presented in a good way.
Sound Stage and separation
: Its soundstage is wide, with good sense of width and has proper depth. It reminds a bit of the soundstage of the Sony IER Z1R. As for
separation
I wanted to choose a busy track and see how well it handles separation when things are supper busy in a song, so I listened to Hymn by Sarah Brightman, that song is a tough one to enjoy on many iems, as things can sound as an orchestra of mess, but with Axiom the separation was good that it allowed me to enjoy such a track
Speed
: Well I love to listen to Tool, their song Invincible has a nice fast kick drum and the Axiom captured that perfectly.
Conclusion:
I want to thank Effect Audio for lending me the Axiom, I hope that Effect Audio does a tour for Axiom XP when it gets released, as it is really intriguing me to give that a review as well. The Axiom is good choice for people who like neutral reference signature
Effect Audio Axiom: The Tweaker's Delight
Pros
:
Solid build quality and comfortable fit
Unique modular system
Powerful, bold bass and lively sound signature
Free teabag
Cons
:
Modular system not everyone's cup of tea
Lack of accessories for the price
Treble can be too strident for some
Premium price
Full disclosure: @EffectAudio sent me an Axiom review sample on loan, without any expectations other than my honest opinion and write-up. The opinions expressed in this review are entirely my own, based on my personal preferences, music selection, and mood swings.
Singapore-based boutique cable maker Effect Audio has been a very active company of late. Between new Roman-themed gold-infused cables (that literally cost their weight in gold) and interesting takes on modular connectors (at both ends of the cable), it seems Effect Audio is looking to seriously broaden its horizons.
What better way to do that than release your own set of IEMs? Enter
Axiom
, a pair of premium IEMs that not only bucks the trend when it comes to what you'd
expect
to get in the box for a
premium
price, but also advances the theme of perpetual modularity.
The pitch
Axiom is billed as a reference-quality hybrid IEM, featuring one 12mm magnesium dynamic driver for lows and mids and twin Knowles balanced armature drivers for highs.
But Axiom is also different to most other IEMs by virtue of the new Modular Unit (MU) system, user-swappable modules that let you switch between MMCX and 2-pin connectors on the IEM shell itself, and promise to add sound tweaks and improvements to the base configuration with future modules.
The reason for the connector choice: Axiom is only IEM I'm aware of that ships
without a cable
, ironic considering Effect Audio is first and foremost a cable maker. I get the reasoning here; most IEM enthusiasts, especially at these price points, either have their own collection of cables, or will likely roll whichever cable would have shipped with Axiom anyway.
This follows on from Effect Audio's stated intention to build more
environmentally sensitive
products, if you read the marketing verbiage anyway, which means reducing the number of superfluous accessories and packaging extras that ship with Axiom.
But to say that Axiom's packaging and accessories, nevermind the missing cable, are spartan would be an understatement. For a $1,500 IEM, what you're getting in the box – goodwill aside – is positively
barebones
. One type and set of eartips (S, M, L silicone), one set of MU adapters, and a screwdriver to affect the module change.
That's it. No case, not even a raw hessian-milled pouch made of biodegradable compost. You get two plastic info cards (recyclable, I hope!) with QR codes to the user manual and other information, and, wait for it, a bag of exotic tea leaves, for when you're finally ready to sit down and relax with a cuppa.
Look and feel
Make no mistake, Axiom is very well built, using smooth anodised aluminium and featuring a fascinating, highly-polished He Tian jade inlay on the faceplate. What spoils the whole look, for me, is the bulbous MU module that sticks out the back of the IEM like a tack-on, although it appears to be seamlessly integrated into the shell. The result is a rather odd-looking half-moon shell that's a lot bigger and fatter than a two-driver hybrid would otherwise be; heck I've seen eight-driver IEMs with less bulk before.
Despite the bulk, Axiom's shells are fairly light and admittedly quite comfortable in the ear. The nozzle is on the thick side, but short enough that it doesn't try skewer your eardrums, and can be worn with a shallow or deep-fitting eartip depending on your preferences. For the purpose of this review I used Axiom with my go-to Acoustune AET 07 and JVC Spiral Dot tips, and had no issues with the fit or seal with either.
Each nozzle is protected with a mesh inlay to prevent wax getting into the IEM cavity, and the nozzle base is shaped like cookie batter being poured into a tray, for no apparent reason other than to make it look more interesting.
On balance, then, this is a delicious-looking, well-fitting, well-made IEM, as it should be for the asking price. The only issue I have with the overall design circles right back to that bulbous MU module, and it's not so much the look but the
concept
.
A conundrum of concoctions
I'll be honest, I'm not a fan of modularity, at least not when it comes to a finished retail product. To me, modularity, especially in audio gear and specifically in IEMs, smacks of wastage – the exact opposite of what Effect Audio has supposedly set out to achieve with Axiom.
In pitching for convenience and choice, trying to cast a wide net to match as many tastes as possible with a single product, what ultimately happens is that you land on a favourite combination and stick with it, at which point any possible benefits of modularity go out the window. Not only does this add to the cost, it also adds to the complexity, and as far as I'm concerned,
complexity needs to stay as far away from the end-user experience as possible
.
The very notion of giving users a choice of different connectors and sound profiles, while possibly being attractive to the indecisive among us, is a solution looking for a problem. It gets worse though – try as I may, I couldn't figure out how to switch out the MU connector, which seemed intent on sticking firm despite me taking care to remove and not lose the tiny screw that secures it in place (a small storage case for the MU units and spare screws would have been useful here). I'm sure it's easy enough once you've figured it out, just as I'm sure someone, somewhere, is going to end up with broken connectors.
And as for swappable connectors, why? Yes, this lets you use your own cables regardless of termination, but why is Effect Audio not taking the opportunity to promote and upsell their very own, very excellent ConX system, which takes care of any termination issues you might have, even with your own cables?
I'm sorry to say but in my opinion, this 'simple' idea is an over-engineered mess that this user could have done without. At best it's an attempt to reduce waste, but more likely it's a clever way to get people to try different cables without adding to the base cost of the IEM, and at worst it's just a strongarm way to get you to buy
more
cables (but not ConX cables, which are made redundant by the swappable modules).
I can only think that somewhere along the line, everyone in the design department put up their hands with an idea for a new IEM, and in the spirit of inclusiveness, environmental advocacy, and peace on Earth, no idea was left behind.
The right stuff
Thankfully, Axiom is more than just pie-in-the-sky and strangely missing accessories. It's a damn fine IEM, and performs at a level I'd expect at this price range. Is it competitive against similarly-priced IEMs? I'll answer that later; first I want to cover what you're actually getting for your money, sound-wise, and then you can decide whether it's the right IEM for you, cost and conundrums aside.
All testing was done over a three-week period, having first 'burned in' the dynamic driver for 100 hours to eliminate any potential variance to the sound profile over time. Effect Audio sent me a
Maestro
cable from the Vogue Series to use for the review, but believe it or not, the right connector was DOA (confirmed by switching to another cable), so I used my own cable. Oh wait, maybe that was the point…
Sources used included HiBy's RS6 DAP and
@iFi audio
's GO blue and xDSD Gryphon, all three of which were more than sufficient to drive the 32-ohm, 112dB sensitive Axiom with ease. Music used included local hi-res and streamed Tidal files across a variety of modern and classic pop from the likes of Lana Del Rey, Heart, Billie Eilish, Sarah McLachlan and Lorde, with a sprinkling of classic rock from Pink Floyd and Jethro Tull, and modern instrumental from Max Richter, Hans Zimmer and Daft Punk, to name a few.
Tonality
Axiom is stacked in the
bass
department, with a ton of low-end weight and presence. This surprised me actually, as I was expecting a more balanced tuning, but to be fair, the bass, while big, didn't crowd out the other frequencies, especially where the bass isn't baked into the track.
There's plenty of sub-bass rumble in Lorde's
The Louvre
from the big 12mm dynamic driver, but an equally generous amount of midbass. This is not the fastest bass I've heard, not the most textured, but it's not the slowest or flattest either. It doesn't quite keep up with the bass benchmarks I compared it to, smoothing over some of the tense sub-bass-driven buildup in Hans Zimmer's
Mountains
, for example, but it's better than many others I've heard at this price. You might be a cable short, but you definitely aren't going to be shortchanged by the bass.
The
midrange
is where things get a bit trickier. I'm not an authority on what constitutes a great midrange by any measure; what I generally listen for is vocal purity, vocal clarity, and instrument presence and timbre (or at least realism), and Axiom didn't fail on any score. Mind you, it didn't ace them either. Vocals, both female and male, were forward and clear, but Ocie Elliott's Jon Middleton sounded a touch thin and sibilant on
Slow Tide
, and Rebecca Pidgeon was a touch more wistful and airier than I'm used to hearing her on
The Raven
.
There is also a dryness to Axiom's vocals that will please some people and displease others. I Personally prefer my vocals a touch more organic and natural, and if you're someone that doesn't listen to lots of vocal-driven music, the point is probably moot for you anyway.
On reflection, this could be more a factor of Axiom's BA
treble
poking around where it doesn't belong and infusing the DD mids with some glassiness. There's definitely a hint of the lower treble vocal harmonics being a hair too sharp here, like static on the trailing edge of the high notes. The liveliness up top is also apparent in instrumental tracks, where Daft Punk's
Within
delights with its full and rich piano strikes – dampened slightly by the warmth in the bass – but the zing in the 'tss' of the hi-hats is a touch too tizzy for my liking.
Overall I hear Axiom to have a steep U-shaped (bordering on V) tonality, with elevated bass, neutral mids, and at least two upper-midrange/treble peaks I could pick out (looking at
@crinacle
's
Axiom graph
, these appear to be at 5kHz and 8kHz respectively, with some added air infusion above 15kHz too). It's not bright per se, but
brighter than I'm used to
. If like me your tinnitus is triggered by zingy treble, just don't pump the volume too high and you'll be fine.
Technicalities
Axiom is a competent technical performer at this price point. Stage is fairly wide and spacious with the relative recession in the mids lending more space for the notes to live in. The many overlapping layers in Owl City's
Saltwater Room
, for example, never got overwhelming to my ears, and vocals were neatly separated from the electronic effects.
Detail retrieval is also very good, but maybe a touch overdone and unnatural with some sibilance creeping in from the overenthusiastic treble. Still, nothing I found too fatiguing. To explain myself better, it's the type of detail that I find to be
forced
rather than real, with highlights getting extra shimmer and 'spittle texture' (for want of a less colourful phrase) being a little too coarse. It's all there in the track, but it sounds like details are pushed towards you in some instances, rather than letting you pick and choose what to listen for. Once again, your own preferences will determine if this presentation is a pro or a con for you.
Overall, I'd say Axiom mixes up musicality with technical acuity quite well. I personally hear it as being more analytical than musical in its execution – generous detail, separation and dynamics but lacking some fluidity and smoothness – which will suit some more than others. I find this to be a disconnect between its bass and midrange
tuning
, which is very good, and its treble, which is not as good, leading to some coherency issues – and I generally
never
pick out coherency issues in an IEM.
Select comparisons

Sennheiser IE 900
. While not exactly a 1:1 comparison, given the single-driver design of the IE 900, Sennheiser's flagship IEM comes in at $200 cheaper than the Axiom, including two excellent cables and a case. Where Axiom makes it easy to interchange almost any cable, IE 900 makes it harder, with proprietary recessed MMCX connectors that, ironically, are perfectly suited to Effect Audio's ConX system. In fact, it was the Sennheiser's cable that I used for testing Axiom.
Sound-wise, I hear Axiom to be fuller but also slower and less articulate in the bass, with more midbass emphasis than the sub-bass-focused IE 900. I've often said IE 900 has one of if not
the
best bass presentations I've heard in an IEM, and that still holds despite Axiom's bombastic bass bravado.
Axiom's midrange is more forward than Sennheiser's, but also drier and more abrasive, whereas I hear IE 900's vocals and midrange instruments to be more natural, if slightly recessed. Some take issue with IE 900's treble, finding it a bit too bright and distended, but it's positively laid-back compared to Axiom's zing, at least to my ears. IE 900 is smoother and more linear by comparison, but some will prefer Axiom's liveliness up top.
Sony IER-Z1R
. I've had the Sony in my stable for about the same amount of time as I've had Axiom, and in that time I realised there's not really any contest here for my preferences. So, I'll stick to describing the differences I hear and let you guys decide which is preferable. Price-wise, Z1R retails for about $300 more than Axiom, but comes with two stock cables that don't need rolling, a massive selection of tips, a luxury case, and a premium presentation fit for jewelry. That it can be bought used in mint condition for far less than Axiom is also something to consider.
For sure the Sony is a bigger, bulkier IEM than Axiom, and yet feels far more premium and sophisticated with its mirror-like Zirconium finish and pearlescent faceplates. Fit is hit-and-miss for Sony (it fits me like a glove, but it doesn't for everyone), so on fit alone it's much easier to recommend Axiom.
Sound-wise, Axiom again has more bass elevation than Sony, but is also bloomier and less refined. Considering Z1R is now the standard by which I measure all IEM bass, Axiom didn't really stand a chance here, but for many who prefer the added midbass heft and resulting warmth in Axiom's signature, it may prove to be a preferable tuning to Sony's sub-bass-focused, speaker-like bass presentation.
Like IE 900, Z1R is often criticized for its 'recessed' midrange, which to my ears doesn't really add up. I hear Z1R vocals to be far more fluid and natural than Axiom's, with none of the grain or sibilants in the latter, even though Axiom is more forward and on balance more 'clear'. Treble-wise, it's a no-contest. Sony's combination of custom-BA and super tweeter dynamic treble is silky, extended, airy and incredibly polished, whereas Axiom's is more lively, zingy and strident. You may indeed prefer the latter, but I can't say I do.
Verdict and conclusion
Axiom is a
fascinating
IEM. It bucks the trend of set-and-forget IEMs because unlike most IEMs, it expects you to do a fair amount of work before sitting down to listen.
With Axiom, every component matters – you need to find the right cable, and makes it easy enough to cycle through an entire collection if you already have one. You need to find the right tips, because the base tuning might not be to your liking and tips are a sure way of tweaking that. You also need to find the right source; it's easy to drive with anything, so your phone might be enough, but it's also sensitive enough to be influenced by source tonality, output impendance and other factors.
In short, Axiom is a high-end tweaker's delight, which should come as no surprise given it's made by a company that sells tweaking for a living. If you're the type of person that revels in variety and choice, and wants every product to give you as much of that variation and as many configurable options as possible, you'll find lots to like about Axiom.
I'm
not
that type of person. I prefer my IEMs to be intricately designed from the ground up to give me a very specific experience, even if I have to pay more for the privilege. I find an abundance of choice paralysing and counterintuitive. So perhaps I'm not the right demographic for Axiom, but I can certainly appreciate the intention, and give credit where credit is due for what it does really well.
As such, despite some tuning choices that don't quite match my preferences, quality is high, harshness is low, and if you love your bass and treble in equal measure, this is an IEM I'd add to the list. Cost no object – it can't be when you have an IEM this costly that demands even more investment in peripherals – Axiom gives you a malleable base to work with, and if you like the look, feel and overall sound signature, can potentially outlive many other IEMs by virtue of its evolving MU options.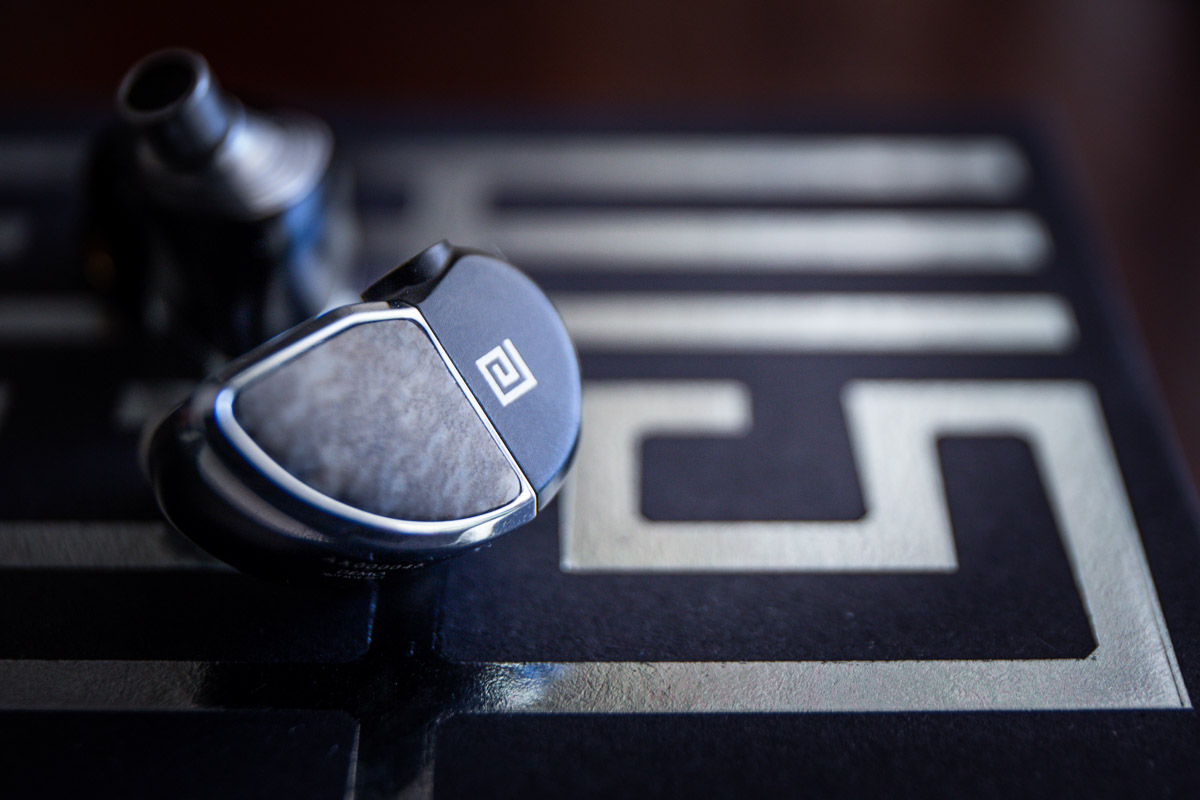 TL;DR
Effect Audio made some bold choices here, not least the idea of developing an IEM in the first place. Whether it's more of a sales tool for their range of excellent cables or a serious attempt at creating a new market niche for modular IEMs doesn't really matter, because if nothing else it adds something new and different in a market fast reaching saturation point. I'm not convinced Axiom is competitive enough at the price point yet, but as a blueprint for future designs, it may be just that.
Last edited:
A Modular design for the future!
Pros
:
Design concept
Good sound quality
Sustainability
Very good cable
Cons
:
Lack of accessories
Price
Effect Audio Axiom with Maestro Cable

Introduction
For those not familiar with Effect Audio (EA) they are a Singapore based company, primarily known for their premium cables, I emphasise, premium both in quality and price. In this review, I evaluate Effect Audio's Axiom In Ear Monitors (IEMs) and Maestro cable.
As an introduction to those who are not aware, Effect Audio appears to have taken a corporate decision to do their part to reduce waste, this has taken the form of small packaging, and in their recently launched set of IEMs (I use the terms IEMs and earphones interchangeably) they revealed their innovative concept of designing their Axiom earphones to have detachable connections and thus a choice of MMCX or two-pin cables. Unfortunately you have to buy the cable separately.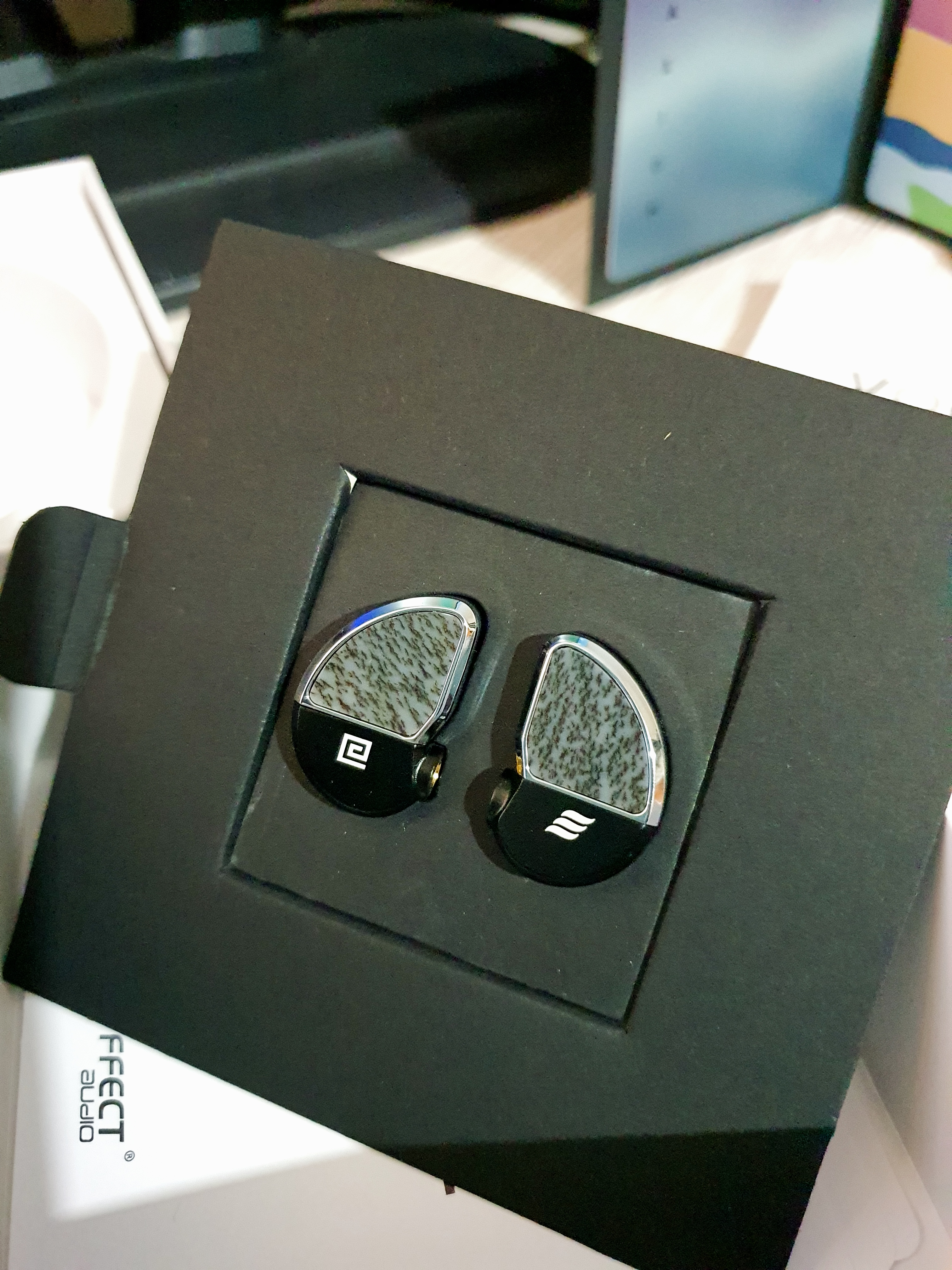 The Axiom comes with separate modules for connecting MMCX cables and two-pin cables. As I understand it, the decision to drive towards sustainability includes the concept of excluding cables in their packaging. The exclusion of cables in their earphone packaging is, in my view, a very bold move, particularly for a cable manufacturer.
How this bold move will be perceived by audio enthusiasts remains to be seen. I can imagine a day when an audio enthusiast will mix and match at the point of purchasing their earphones. "I will have the earphones with MMCX, plus (substitute the cable of choice). Arguably that is what we do anyway, but usually from multiple vendors. The worst audiophile "sin" is the cable we never use, is incredibly wasteful.
In my view, the concept is good. Having said all that, my reservation is the lack of accessories (yes, you are provided with a screwdriver for swapping the modules) but no case for use outdoors after you unwrap your beautiful earphones.
Disclosure
I was sent the EA Axiom IEMs and the Maetro cables by Effect Audio on loan, for review. Effect Audio has not made any requests or suggestions nor did they seek to influence any aspect of my review.
All opinions I express here are my own with no influence from anyone. No one has editorial control or influence over the contents of this review. I make an effort to ensure that I give the reader factual information. I would appreciate your feedback.
I am neither paid for anything associated with any review I undertake nor do I have any financial benefit from reviewing any product of any sort. The time I spend reviewing items is my own time for the enjoyment of my hobby.
My setup for this review
I paired the Axiom, at various points, with Samsung galaxy note 10 Plus, Mi Mix and Fiio M11, as my source, and for amplification variably, The HAA FEE HA11, Fiio BTR5, the Littlebear B4X tube DAC/Amp, TRI TK-2, Rod Ran Audio DAC/Amp and Xduoo MT604 tube balanced Amp, using mostly 2.5mm and 4.4mm. I also used Amazon Music, YouTube Music, but primarily UAPP music player.
Form, Fit and Finish
These IEMs bring an interesting innovation to the earphone realm, modular design. One of the novel features is the ability to swap from MMCX to two-pin by simply undoing one screw and swapping one module for the other, so you can change the cable to a different connection type.
It is an interesting concept. I am not sure how many audio enthusiasts would swap cables regularly. In my experience, once you find the cable you are content with and leave it in place. I also find it interesting that the concept should come from a company known for making cables, given the company is reliant on cable sales. Nonetheless, true innovation does not come around often and Effect Audio deserve the accolade for being innovative.
The Axiom is sturdily and beautifully built of metal, with a subtle and elegant style. There appears to be three coherent modules together, the driver housing, the spout, and the detachable cable connection module (which is the only detachable module at this stage). You then have a choice to have your earphones built as a custom set plus Effect Audio's full range of cables. Truly custom.
The drivers used are, one dynamic driver and one balanced armature driver.
The cable sent to me is the Maestro, from Effect Audio's Vogue series, a braided, four strand copper cable, punctuated by a chrome wire-split to two twisted strands for the left and right ear pieces. At one end of the cable you get a chrome tube shaped MMCX housing flattened on one quarter of the tubular design with the Effect Audio logo etched into each of the MMCX housings. On the other end you get a solid feeling plug with a matching design cue, but this time both sides of the plug flattended, pesumably for better grip.
The Maestro is almost a skinny cable, it is not the most supple of cables but it is more than adequately malleable. It has a beautiful copper sheen showing through the transparent sheathing on each of the four tightly braided strands.

At this juncture, I have to declare that I am not yet a convert to the sonic attributes of cables, notwithstanding my philistine position, I love well built cables which I attempt to match with my earphones. I believe a large number of audio enthusiasts, would admit to loving their cables for aesthetics, robustness and feel regardless of where they fall on divide on the topic of the sonic attributes of cables.

Sound

I spent quite a bit of time with the Axiom and I have to say, initially, I thought these sound good but..… Call it burn-in, call it acclimatisation, but they sounded better and better with time. Each time I put the Axiom in my ears I am taken aback by their resolution and coherence. These are a wonderfully balanced set.

Bass

The quality of the two elements of bass, sub-bass and mid-bass, on the Axiom is easily one of the most competent and immersive bass delivery I have heard.

The sub-bass is incredibly visceral and potent. This is as good a delivery of sub-bass as I have heard. The sub-bass impact is not limited to high volume, regardless of volume you feel that sub-bass, a bit more subtlety at lower volumes but nonetheless potent at any volume.

The mid-bass is but an extension of the quality of the sub-bass, no matter what track or to which instrument you listen, if recorded, the bass just registers beautifully with precise definition. What makes the bass standout for me is that to my ears these earphones are not tuned for bassheads, they are simply not intended for dominant bass. However, where the track demands bass, the level of bass that kicks in is immense, so immense that bassheads would be happy with the bass delivery.

The bass is further infused with warmth when using the tube amps.

Rouge by Al Marconi:

,

has multiple guitars playing gently in the Spanish traditional style, with sparse and soft bass notes, the Axiom renders the track with subtle sub-bass, it feels so reassuringly calming.

In

The Dark Nicholas Cole

:

.

This track is recorded with sub-bass which registers complete with vibration, but only if your earphones are capable of rendering sub-bass to such depths. The Axiom took the track in their stride, complete with visceral sub-bass of the vibrating kind.

Midrange

Mid range does not disappoint, it is not forward but not held back either. Both male and female voices are well presented. Instruments such as the piano, flutes or saxophone give you vivid coherent notes without blaring out at you.

Over smooth midrange is not my taste, and the midrange on the Axiom does not disappoint. It is simply realistic, not placed at the fore, withheld, or smoothed over.

Rio De Janeiró Blues Randy Crawford and Joe Sample:

Bad News - Melody Gardot

:

Highs

The Balanced Amature drivers are not electrostatic drivers but on the Axiom the highs are so well executed I do not miss electrostatic drivers when listening to the Axiom.

I am not suggesting that I do not enjoy listening to electrostatic drivers after listening to the Axiom, what I am saying is that they are so well tuned that the BAs gives you bags of sonic information with strain. I have not heard the Sony Z1R but from the descriptions I have read, the Axiom seem to do the Dynamic Driver and Balanced Amature drivers combination at that level of competence.

Look at Me Now - Kool & Klean:



Schindler's List- John Williams - NL Orchestra:



Timbre

When you hear piano notes or guitar notes, picked, plucked or strummed it is so clear, detailed and precise. It feels like you are sitting with the musicians.

Stage

On the track, "

Smooth chilling" [endless waves mix]

(I am not into smooth jazz much, but..) at 6.02, there is, in the distance and slowly moving closer, what sounds like feet taping and clapping. It slowly comes in and builds up. I had to take the earphones out of my ears to check what was happening, I thought it was coming from outside the earphones.

That is how expansive the sound can get, of course it varies with the recording.

Brian Culbertson Lights Off:

, a delightful track which shows off the instrument separation on the Axiom. The clarity of these IEMs makes the instrument separation on these earphones stand out.

To wrap up this review I would say that is the stand out features of the Axiom, clarity, detail retrieval and timbral accuracy.

Is there anything that would stop me buying the Axiom, unfortunately, yes, the price. At $1,500 not many of us can have first hand experience of what they offer. I am certain a lot of us would appreciate the innovation, time and effort which went into the production of the Axiom if we could, but many cannot, which is a pity.

These earphones make listening to music a pleasure.

Enjoy your music!
Last edited: