[size=24.57px]

The T51i.

[/size]                                                                            
Setup
My listening setup is a PC running AIMP connected to a Yulong D100 via optical acting as a DAC, connected to a Gustard H10 via XLR connectors. For the testing I reduced the gain to zero in order to switch headphones easier (usually I leave +6 gain for my HE-400s).  My current headphone inventory is HE-400's, DT990 pro's, an Ostry KC06A, and now a T51i (which was provided by AVL Electronics). For testing though I will only be comparing between the headphones. Due to my relatively small inventory of equipment I will be testing the T51i's against headphones which probably shouldn't be compared to portable closed cans, but it should be fun.      
 Click to enlarge photos, batterys are for scale to see the size differences.                                                                                                                           

For this review I will first provide you with the general info, followed by the look, feel, and usability of the headphones. Next we will listen to some music. And finally some thoughts on the specific sound signature of these headphones. I would also like to apologies in advance for any inconsistencies or errors as this is my first proper review. Hope this review is helpful.    

[size=15.08px]

    The experience and usability

[/size]    
Unboxing
The t51i's come in the classic Beyer packaging style. They have large clear pictures of the back and front of the HP's and come is the easy to open packaging. When you open the box you will be greeted by a nice carrying case, which has a handle and opens with a single Velcro strap (kudos here as it makes packing the HP's very easy). When you open the case you will see the headphones which are stored within, a 6.3mm adapter, the manual, guarantee booklet, and inside the pockets on the back you will find the 2pin airplane adapter, and a TRRS to TRS adapter, mine also came with an extra O ring which is supposed to help the fit of the 3.5mm jack in certain Apple devices. Pretty useful, nice packaging and accessories overall.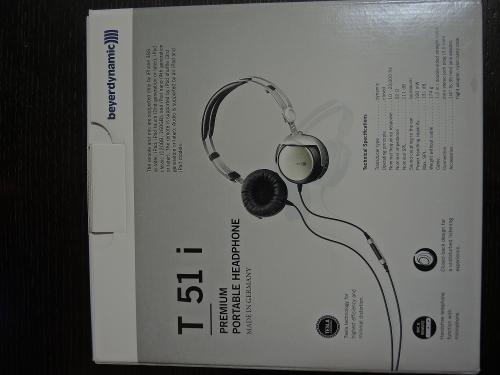 Build/comfort
The T51i has some epic build quality, it's pretty much entirely spring steel with a small ring of high quality soft touch rubber/plastic, and height adjustment mechanism. The ear/head pads are filled with very soft and comfortable memory foam which conforms nicely creating a great solid and most importantly comfortable fit, which you can wear for hours with very little adjustment. The material on the ear pads feels like very soft leather or incredibly high quality pleather; which feels very nice. The closed design and good seal also has the benefit of blocking out the majority of ambient noise, about 25-40% of the noise without any music on, and when you play music you can hardly hear any external sounds. The headphones are also very light and compact, but feel incredibly solid. The head phones have 3 angles of adjustment, height, 90 degrees swivel, and tilt which all work together to create their great and comfy fit. The T51i's cable is pretty nice as it is very light, flexible but feels sturdy this is connected to the drivers with a Y split, the total cable length is 1.2M and is terminated in a 90 degree 3.5mm connector. Accessories; the t51i comes with a nice high quality protective nylon carrying, a 6.3mm adapter, an airplane adapter and a TRRS to TRS cable. A pretty nice set for someone who's on the move allot, and should pretty much cover everything you would need to do. The carrying case also has extra space to put some other things as well. Some things of note though; when you first wear the HP's the clamping force may feel a bit tight. Not to worry though as this loosens up very soon and manages the perfect clamping force; same goes for the height adjustment mechanisms as lots of Beyer HP's it may feel a bit rigid at first but it soon fixes up. Everything about this headphone feels premium and I have no quarrels especially for a headphone of this size, except WHY IS THE CABLE NOT REMOVABLE! I understand that making the cable removable would make it slightly bulkier but the benefits of having a removable cable, especially for a portable Headphone which could get its cable destroyed in many more ways compared to a stationary headphone is a bit annoying. It's honestly not big a deal though and doesn't change my opinion of them. But it would be very nice if there next model has a removable cable. Great work Beyer the build quality, comfort, and overall looks of these headphones are immaculate and stunning.                                                                                                                     
Usability
The T51i's are honestly very useful headphones, at this point they have pretty much replaced my in-ears. So far everything I had a use for in in-ears I can do better with these. They have been great at keeping up, the grip is solid which prevents them from falling of my head and because they are on my ears not in them I avoid all the ear pain I get with in-ears. I have been using them all around the house, from simple studying to cooking, I have also been used them for working out: jogging, running, pushups, I have even been doing some kendo with them and they have not even come close to falling of my head (of course YMMV). Also because of their great look and compact size they are pretty much a fashion accessory, from how good they look this is very especially if you commute or travel allot. They also have a 3 button remote to control your phone Volume up Volume down, Pause/Play and they have a microphone on the back, just keep in mind that the volume up and down only work with Apple devices. I also took a few calls using the on board mic, and received no complaints but when compared directly to my note 4's mic it was a tad less clear but not a problem. The only slight flaw on the remote is that it is very hard to feel for which button is what (maybe next time Beyer), but a little practice fixes that up. Another nice thing is that the swivel and tilt also help if you want to use the HP on one ear only. They are also very neck-able (putting them around your neck lol), which is subtle but a very nice touch if you need to have a conversion in person. The T51i's also have pretty much zero sound leakage. All in all they are one heck of a commuter or travelers headphone, without a doubt.    
Comparisons between the T51i, dt990 pro's, and HE-400's (with Audeze vegan pads)
Not sure how well it shows, but the HE-400's are giant when placed next to the T51i's
Time for some music
For the music I just listened to my ordinary while trying to listen to a broad category of music and marked ones out that felt particularly interesting on the T51i's; weather positive or negative. My thoughts with the tracks names and album info are listed below in no particular order. The info will be Displayed as: Artist/group – Album (date) – Song – extra info "if any" (all music is lossless audio mainly FLAC but also several APE).  
Secret Garden – Songs from a Secret Garden (1996) – Nocturne. This is usually my go to test song for headphones as it has many subtleties, makes use of a variety of instruments, includes vocals as well and has allot of dynamics.  Many HP and earphones I try tend to fail playing it to my liking, and cannot replicate certain aspects of the song.  For example starting at 30 seconds into the song the violin starts to play after this there are very subtle sounds of flapping wings in the background which many other headphones don't replicate well and make them sound like errors in the track instead of part of it, but the t51i plays them very well. The highs played by the violins, flutes and Chellos are heard nicely along with the great rhythm and depth of the percussion instruments in the background. The vocals also sound very nice on this track as they are mainly on the higher frequencies, and play to the strengths of the T51i.
Meat Loaf – Back into Hell (1993) – I'd do anything for love duet with Lorrain Crosby – Full unedited version. Time for some Rock, this song sounds great on the T51i's, it just seems to do everything right, Lee Adays voice is powerful, has great dynamic and feels very clear. The guitars keyboards, and drums all feel very lively and sound great. At the end of the song Lorrain Crosby's vocals come though perfectly and completes the song. The t51i's really do this song justice, compared to the HE-400 the only real difference is the feeling of airiness you get from the open cans, but they sound great and it suits the song as well as it makes the bass feel very powerful which contrasts nicely with the vocals, in this case.
Five Finger Death Punch – Wrong Side of Heaven but the Righteous Side of Heaven Volume 1 (2013) - The Wrong Side of Heaven. This song is interesting, even though it is rather heavy in the lower frequency's the T51i don't sound very good with this track (not bad but feels a bit muddy). But when you listen to the track on the HE-400's you can feel the space and the separation between the vocals and instruments, which falls short on the t51i's as they are close backed, which removes the airiness and depth from certain aspects of this song and makes the vocals mess with the instruments.
Halestorm – Halestorm (2009) – Familiar Taste of Poison. This track is played magnificently on the T51i's Lizzy Hales voice is clear powerful and dynamic, and you can perfectly hear the instruments as well as vocals with no issues. Great marks on this song, it right up there with my HE-400s. One thing of note interestingly enough on this track the vocals feel like they take center stage on the t51i's compared to my he-400's where the instruments feel like they are more pronounced and the vocals in the background, it sounds pretty epic on the t51i's to be honest.
The XX – Coexist (2012) – Reconsider. This is a very vocal heavy track, but manages to be played perfectly on the T51i's the males vocals are deep and pronounced while the females is clear and dynamic, overall the song is perfect on the t51i's maybe just a slight lack of sound stage compared to the HE-400's.
Lindsey Stirling - Lindsey Stirling (2012) – Crystallize. This song really plays to the strength of the T51i the mix of dub step and the violin creates a great setting for the t51is to shine and shine they do. The t51i's great bass and treble reproduction work perfectly this track. The violin sounds great: sharp, crystal clear, and fast, whereas the great bass on these cans helps make this track shine and balances the treble.
Varnus Xaver - From Ravel to Vangelis - Carl Orff's Carmina Burana 7. The organ a pretty interesting instrument, but is one of my favorites. Organ music is usually my got to test music to see how good the bass on a set of cans is and the T51i shines in this track; the organ is reproduced exquisitely with even the lower notes being heard precisely. The only mention other than it being excellent for the organ is that is lacks a bit of the airiness you get from organ music.
So far I have about 48+ hours of listening time on these cans. These are just a few mentions, but I have so far listened to pretty much everything under the sun with these cans am I am very pleased overall. Next take a look at the specifics of their sound signature.        
     Sound and Dynamics Comparison.
The highs on the T51i are pretty great. They have crystal clear highs, but not piercing or annoying. Compared to the DT990 pro's they are also very sharp, but unlike the dt990 pros they don't have any sibilance or screechiness. Whereas compared to the treble/highs in the HE-400's which need more of volume to hear the upper frequencies, the t51i allows the treble to be heard nicely without needing any extra volume. This is not to say that the HE-400 is bad at reproducing treble which they do great but the very high frequencies tend to have a slight roll off.  Whereas the T51i's feel relatively stable though out the higher frequencies, especially so for a closed small/portable set of cans they reproduce them incredibly well. The highs are one of my favorite things about the sound signature of these and is definitely placed at the forefront.    
The bass, I was honestly incredibly surprised by this. The bass on these cans are great: tight, powerful, they go low and have a great punch as well as being very clear and dynamic. I was amazed that tiny portable headphones were even capable of doing that, a very pleasant surprise indeed. The bass on these is even better than my dt990 pro's; the power and clarity in the low end is great. Now let's compare it to the he-400, (I know that is a really unfair comparison) but the T51i really holds its own here even though they don't beat the 400's they definitely hold their own without question and are better in some aspects. No doubt the closed back design helps with this. Overall the bass is very powerful and well-articulated. There is no boomy-ness, they are tight, punchy, dynamic, accurate and clear. Great marks here as well.    
The mids on these cans are good; the only problem is that they seem to be slightly overshadowed by the low end and the and slightly by the highs. I would say that they have a slight dip in the mid frequencies (not in quality just volume). But when there aren't too many background sounds, the vocal reproduction on these are perfect. All in all even the mids and vocals are great and I am even currently listening to vocal heavy tracks perfectly and I have no gripes, Just that they feel like they are lower (in sound) than the bass and treble (since I tend to particularity enjoy the mids to be more forward, just my opinion). Compared to the dt990 pros listening to vocals on the t51 I actually feels more comfortable, as the sibilance on the dt990 pros are slightly overwhelming (they need the Schiit Vali to tame them a bit); not so on the t51i's though which feel rather laid back and clear. But when compared to my HE-400's with the Audeze pads, the t51i's fall short. The HE-400s have very smooth, airy vocals due to the fully open design, which beats the dt990's and also passes the t51I (although I only enjoyed the mids on my HE-400 after switching to the Auduze ear pads, before that it felt very dull with vocals).     
The sound stage on the T51i is pretty good, especially for a very small and closed headphone. It feels like there is about 90 degrees of sound space; for example you can hear left, right and center. But when compared to fully open cans like the DT990 and HE-400's; a small closed can really is not going to beat the competition, although it still manages to hold its own. For example on my HE-400 it feels like the music is coming from outside the headphones whereas on the t51i's you can tell they are coming from the headphones on your head. Something interesting though is that even though the sound stage isn't immense the instrument separation is great; I think the Tesla drivers help in this aspect as the headphones feel incredibly fast and responsive at all frequency's which helps keep each instrument separate and avoids the feeling of sounds messing with each other. It is pretty amazing how fast the HP's feel. I would describe it as very fast sound decay and very fast drivers which makes the music feel very clean and dynamic; no doubt the Tesla drivers are to thank for that. Something of note, these headphones don't really need an amp with their sensitivity of 111db/mw (they will work fine from any phone), but an AMP really helps make these cans shine and improves the overall tonality and dynamics of them.      
Everything about these headphones feels premium, from the materials, to the comfort and even the sound; it hardly makes any compromises except for a few nitpicks. All in all though I would easily recommend these to anyone who is looking for the perfect set of portable cans and would also make the perfect gift for any one, audiophile or not. The T51i's now have a permanent place on my desk at all times, whenever there is too much ambient noise, or I don't feel like sound leakage, I pop the T51i's on and have no worries about ambient noise or sound leakage. I will update this review with any relevant information as I use the T51i's and get more time with them. Good listening to all, and if you have any opinions, thoughts or anything to add please feel free to inform me and I'll add it. I know this wasn't really a fair comparison but the t51i's really held up well and I am amazed that such small portable headphones were capable of such a large sound, one hell of pair of headphones no doubt, portable or otherwise.  
I give them a solid 4.5/5 stars.     
Thanks for reading, I know the review was to long. Sorry about the horrible photography skills.