Here is the video version of this review:
Price & Specifications
Price: AUD$849.99 / USD$649.99
Audiofly AU
Audiofly Amazon
Driver type: Six Balanced armature drivers with 3-way crossover
Driver arrangement: Dual bass, dual mid, dual high
Frequency range: 15-25kHz
Crossover: Passive 3-way electronic crossover with Butterworth filter
Acoustic tuning: Physical 3-way frequency divider
Impedance: 11Ω
Sensitivity: 109dB at 1kHz
Cable length: 1.2m / 47"
Plug type: 3.5mm gold plated, right angle format
Introduction
Audiofly has been around since 2012 and they create bluetooth products for the casual listener under the name of Audiofly Headphones, and IEMs for audiophiles, musicians and sound engineers under Audiofly Pro. In their lineup of "Pro" IEMs, the 1120s were tuned to be neutral for audio professionals who require an accurate playback.
I'd like to thank Michelle from Audiofly for arranging to have these IEMs loaned out to me for a full review. I greatly appreciate Audiofly's kindness and generosity.
Accessories
Protective hard case
2.5mm balanced cable
3 sets of dome silicone tips
1 set of Comply tips
3 sets of foam Flytips
3 sets of Dekoni Audio Bulletz
3.5mm to 1/4" adaptor
Airline adaptor
Cleaning tool
Cable tidy
Comments on accessories
Unlike other brands which have been progressively moving toward compact round carrying cases, Audiofly has chosen a pelican-style hard carrying case for the 1120s which tends to be more space consuming. Nevertheless, it will protect the IEMs just the same.
The cable may not seem fancy like what boutique cable manufacturers offer these days but I've grown to like its ergonomics. The fabric makes the cable more pliable and I can see it remaining so, unlike PVC based cables which tend to get stiff over time with exposure to sweat and UV light, which is normal.
It has also been reinforced by CORDURA fabric for better durability. It's not something audiophiles who listen at the desk and on their daily commute will strictly need but rather, this is something that stage musicians might better appreciate. The thin 2-wire braid above the Y-split is light which is also something stage musicians will find reliable to work with when wearing the IEMs from behind. I've read of people who found the stock cable lackluster but I'm alright with it as I prefer thin and ergonomic cables.
If there's anything I would change about the cable, it's that the Y-split is too big for my liking and the plastic used for the Y-split and 3.5mm connector feels relatively cheap for a premium priced product.
It's a nice thought to have the 2.5mm balanced cable included for those who have a balanced output on their source. But it should be noted that the balanced cable feels stiffer and cheaper when compared with the stock cable. The discrepancy in build quality is significant and I would have preferred to see the same implementation of the CORDURA fabric on the balanced cable.
Additionally, the balanced cable may not be necessary unless your source's balanced output has a low noise floor. The 1120s are very efficient and when connected to my ZX300's balanced output, electronic hiss was very much audible. This is why all testing was done with the stock cable on my Sony ZX300.
Sound
Here is the raw graph provided by Audiofly.
The 1120s have a warm-neutral sound signature. They feature a very broad bass lift by about 2dB which does more to lend the music a sense of warmth than to emphasize either the sub or mid-bass. Despite the bass boost being broad, the boost itself is mild hence the 1120s leave no room for any muddines or boominess, just enough to lend warmth.
The 1120s have minimal content in the sub-bass, which is only mildly audible in hip-hop rumble drops.【1】 Consequently, it's more difficult to track bass guitars when they are adjusted to be heard in the sub-bass.【2】 It can certainly be heard in all its definition because the 1120s are very resolving but it's just softer than what I'm used to. I might not have noticed the growl of the basslines on first listen if I wasn't looking out for it in my music.
The mid-bass retains the same reserved quality as the sub-bass, which makes kick drums and synthetic bass beats sound tight.【3】
The upper midrange rises at 2kHz and peaks at 3.5kHz at 4dB. I feel that this doesn't balance out the wideband bass boost enough, causing music which prioritises instruments over vocals to sound slightly veiled.【4】 There is more transparency with music where vocals are at the forefront of the mix.【5】 The 1120s will certainly be welcome by lovers of smooth, tube-like presentations out of the box. I have to add that the 1120s top this off nicely with its midrange tone which is almost spot-on.
There is also a pronounced scoop in the lower treble following the 3.5kHz peak which may be a potential dealbreaker for some. The lack of energy past 4kHz reduces presence of vocals and instruments, causing the 1120s to be a very laidback set of monitors. This isn't a problem for me as the midrange is still tonally acceptable and it has the added bonus of being non-fatiguing. It's just that such an aggressive lower treble dip may not provide the energy and aggression that some audiophiles crave.
While cymbals and hi-hats are primarily driven by the mid-treble from 8-9kHz, the dip in the lower treble reduces the intensity of their attack. Cymbal crashes and hi-hat patterns are heard at the volume the audio engineer intended for them to be heard in the mix, nothing more, nothing less.【6】 There is neither any bite nor sparkle, or a feeling haziness - dead neutral.
The 1120s are by no means detail monsters from its laidback treble but it doesn't fall short in terms of note definition. To me, the biggest selling point of the 1120s lie in their technical ability. It has outstanding instrument separation and resolution which sit well above average. For instance, tracking background electric guitars which often get masked by lead vocals is a breeze and busy metalcore mixes never sound congested.【7】 It images well within its modestly sized soundstage.
Comparison with M7 & M9
I felt that it is only appropriate to compare these with my favourite sets of warm-neutral IEMs which are none other than the Sony IER M7 and M9. I'd like to thank Addicted To Audio for allowing my friend and I to audition and take pictures of the IEMs in their beautiful showroom here in Perth. We appreciate the staff's kindness in assisting us.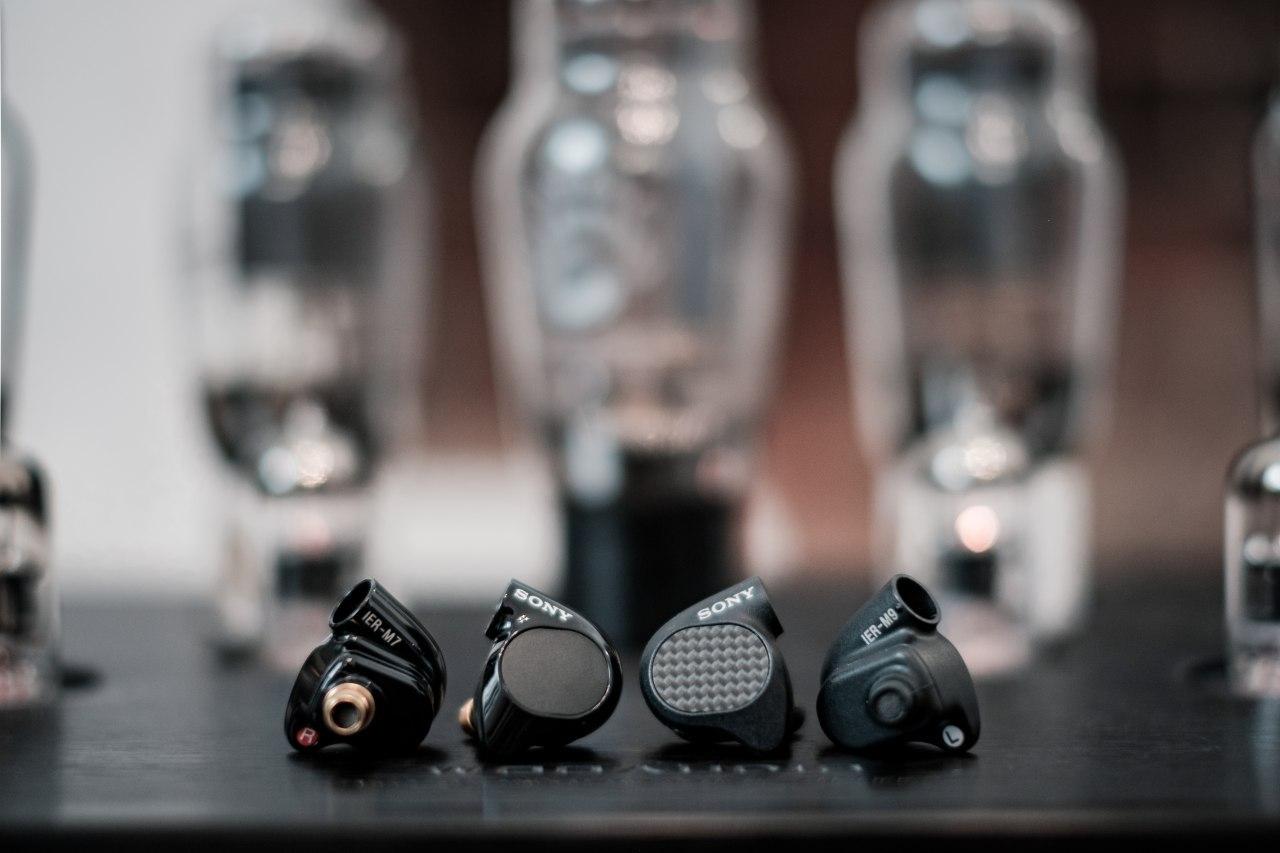 I will speak about the M7 and M9 broadly as a whole as they sound very similar to me, with the exception of the M9 having a superior treble response over the darker M7, due to its magnesium super tweeter.
In terms of tuning, the M7 and M9 have more sub-bass relative to the 1120s, causing them to have much more impact when the mix calls for it. The M7 and M9 have more energy in their upper midrange relative to their low end. To me, this makes the M7 and M9 more transparent than the 1120s.
In the grand scheme of things, both the M7 and M9 are pretty laidback IEMs due to their well-controlled lower treble presence. Similarly, the 1120s are also laidback but to a much greater extent.
In terms of resolution, 1120s = M7 < M9. The 1120s sit on par with the similarly priced M7 and the M9 edges out both these IEMs marginally. It should also be noted that the M9 costs almost twice as much as the other two.
Another possible reason why a potential buyer may choose the M7 or M9 lies in their superior soundstage over the 1120s. This could be because the semi-tubeless design employed in the M7 and M9 gives the impression of expansive width and depth to complement their extremely precise imaging.
Conclusion
To sum up the differences, I am certain that many consumers will find the tuning of the M7 and M9 more appealing, being musically-inclined whilst retaining the excellent technicalities befitting of a studio monitor. The combination of the spacious staging qualities, high level of transparency and tonal accuracy makes for an organic listen. Their ambience is just a whole lot more immersive which is why I'd pick them for personal enjoyment, especially so for listening to playback of live performances.
In contrast, the 1120s are much more clinical in nature. They adopt a flat neutral approach and a clear focus on precision, which allows the listener to hear exactly what the audio engineer envisioned when adjusting the volumes of different instruments in the song - their excellent dynamic range accomplishes this with ease. It clearly achieves what Audiofly set out to do with the 1120s' neutral tuning direction as it doesn't emphasise any frequency.
All in all, the 1120s are a highly technically competent workhorse. Their warm and flat neutral signature makes them an all-rounder for studio mixing and non-fatiguing stage monitoring. Audiofly also offers CIEMs but the program is on hold for the time being due to COVID-19. I feel that a perfect fit from having a CIEM version of the 1120s may increase perception of its clean sub-bass response. Additionally, its non-fatiguing signature is likely to work well with a CIEM firing past the 2nd bend in the ear canal for long audiophile listening or music mixing sessions in the studio.
This is it for my Audiofly AF1120 MK2 review. All photographs were taken by my good friend @teriyakeith.
Thanks for reading!
These are some of the notable tracks used to come to my conclusions for those who're interested (not exhaustive).
Sample tracks for reference:
Artiste 1
–
Song 1, Song 2
.
Artiste 2
–
Song 1
…
1.
Falling in Reverse
-
Popular Monster, Losing My Mind
.
2.
MY FIRST STORY
-
With You
.
3.
Coldrain
-
REVOLUTION
.
Josie Dunne
-
Old School
.
4.
Coldrain
-
COEXIST, THE SIDE EFFECTS
.
5.
The xx
-
Angels
.
Machine Gun Kelly
-
I Think I'm OKAY
6.
ONE OK ROCK
-
Yes I am (mixed louder)
,
Taking Off (mixed softer)
.
7.
Bring Me The Horizon
-
Antivist
.
Crystal Lake
-
Watch Me Burn
.