The Audinst HUD-DX1 was sent to me by Audinst as a free sample for the purpose of doing this review and including it in my recently started $250+ amp/DAC comparison thread. A big thank you to Audinst for sending it to me!
The Audinst HUD-DX1 is available from numerous online and domestic resellers with prices ranging from $399 to $450 at the time of this review. This is a link to the current Amazon listing for the HUD-DX1 :   
https://www.amazon.com/Audinst-corresponding-headphone-amplifier-HUD-DX1-BK/dp/B01828YY26
For more information about the HUD-DX1 you can also visit the Audinst website:  
http://audinst.com/en/product/hud-dx1/
I'm not in any way affiliated with Audinst Inc.  
Short introduction to Audinst Inc.:
Audinst Inc. is a Korean based company that was established in 2009.  
This is what they say about themselves on their website:
Audinst Inc. is audio component manufacturing company that launched in 2009. With the goal of bringing PC-based audio components to the hi-fi grade level, the company possesses technical staff with excellent know-how's on digital and analog sound technology along with professional designing part with outstanding aesthetic senses in external-type equipment design. We are putting our utmost effort in making unique high quality products for both domestic and overseas markets, to become the unrivaled, leading company in the field.  
About me:
I'm a 43 year old music and sound lover that changed my focus from speakers to headphones and IEM's about five years ago. At that time I realized that it wasn't realistic for me to have all the different setups that I wanted and still house a family of four children and a wife so my interest turned first to full sized headphones and later also IEM's.
 
My preferences are towards full sized open headphones and I believe that also says something about what kind of sound signature I prefer (large soundstage in all directions, balanced and organic sound).
 
My music preferences are pretty much all over the place (only excluding classical music, jazz and really heavy metal). My all-time favorite band is Depeche Mode although I also listen to a lot of grunge/indie, singer/songwriter/acoustical stuff as well as the typical top 40 music.
 
I tend to value function over form within reasonable limits.
 
I do not use EQ, ever.
 
I'm a sucker for value for money on most things in life Head-Fi related stuff is no exception.
 
Built, accessories and functionality:
The Audinst HUD-DX1 is a solid state headphone amplifier and DAC combo.    
The HUD-DX1 is available in two different colors: black and white. I've got the black version.  
Output power is rated to 1,500mW@ 32Ohm when running on DC power and 500mW@32Ohm when running on USB power. Output impedance is rated at 2Ohm.  
The HUD-DX1 has a sturdy, albeit slightly generic looking, housing that feels durable. The physical controls available on it do feel reliable although I'd have preferred an even more solid volume knob. Speaking of physical controls those sums up to a switch to choose between headphones put or line out, input selector combined with an off switch and the already mentioned volume control. Although it doesn't feel very heavy the overall build still feels solid enough for a desktop unit and its weight is actually identical to the iFi Micro iDSD  
The HUD-DX1 offers one USB B digital audio input and one separate DC power input should you prefer to not use USB for powering it. It also offers both optical input as well as output. There's also not one but two headphone out sockets: one 3.5mm one and one 6.3mm one. I find this very handy for comparisons but even more so for being able to use any headphones or IEM's without the need for an adapter. In addition there's also a RCA line out option, I'd like have liked an analogue input as well to be able to combine it with other, non-digital sources.  
The HUD-DX1 works very well with Android when connected with an OTG cable and using USB Audio Player Pro (UAPP) as music player. Although Android and sound does not have a great reputation the HUD-DX1 have worked with every Android device I've tried it with (sometimes with the help of UAPP) even without using the DC power adapter but just from USB power. One feature of the HUD-DX1 that I really like is that it deliver less power when connected only to USB, this makes battery drain less as well as adding compatibility with more devices. That being said battery drain is still pretty severe when using it with a phone or tablet running on USB power alone.  
The HUD-DX1 uses an Xmos USB receiver that is supposed to work with Apple devices using the Camera Connection Kit (CCK) but I haven't been able to test this myself.  
The HUD-DX1 support all popular file formats for audio up to DSD128 and 32bit/384kHz files.  
The accessories included are:
1 USB cable (USB A to B Type, 1.5M)
1 User's Manual (including warranty card)
4 spikes for fixing (to attach the main body to the floor)
1 L-wrench (to attach and detach the volume knob)
1 Power adaptor (DC 12V~15V)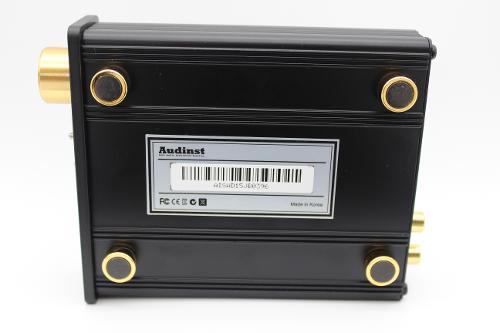 The specs:
Dimensions / Weight
104(mm) x 120(mm) x 34(mm) / 300g

Headphone Output
Type : 6.35mm Stereo phone jack / 3.5mm Stereo mini 4-pole jack
Max Out Level : ±10Vpp@600Ω(When removing the gain Jumper)
Max Output Power : 1.5W @ 32Ω
Output Impedance : 2Ω (Load : 16Ω ~ 600Ω)

Line Output
Type : Unbalanced RCA
Level : ±3.2Vpp max
Impedance : 200Ω

USB Audio
Type : Max 32bit 384kHz, USB 2.0 High-Speed
OS Support : Windows 7 / 8 / 8.1/ 10, Mac OS X Compatible

DSD Playback
Native DSD Support : DSD64 (2.8 MHz) / DSD128 (5.6 MHz)
DXD Playback
DXD Support : DXD 24bit 352.8 kHz ~ 32bit 384 kHz

PCM Playback
Bit depth : 16 / 24 / 32-bit
Sample rate : 44.1, 48.0, 88.2, 96.0, 176.4, 192.0 kHz

Digital Input / Output(PCM Only)
Type : S/PDIF Optical on TOS-LINK 44.1~192kHz
Format : IEC-60958, S/PDIF Compatible
Sample rate Detection : 44.1, 48.0, 88.2, 96.0, 176.4, 192.0 kHz

D/A Converter
Type : 32-bit Hyperstream Reference Stereo DAC
DNR : 127dB
THD+N : -120dB

OPAMP
Operating Voltage : ±12V(with DC Adapter), ±5V(USB Bus Power)
I/V Converter : MUSES8920E (SMD x 2)
Differential Amplifier : MUSES8920 (DIP)
Line Out : MUSES8920 (DIP)
Headphone Out : TPA6120A2 (SMD)

Power Supply
DC 12V ~ 15V
I've used the HUD-DX1 for the last couple of weeks and my unit has played for well over 100 hours.  
Demo list:
Mark Knopfler – Sailing to Philadelphia
Røyksopp (Feat.Susanne Sundfør) – Save Me
Ane Brun – These Days
Michael Jackson – Dirty Diana
Metallica – Die Die My Darling
The Peter Malick Group – Immigrant
Eva Cassidy – Songbird
Thomas Dybdahl – A Lovestory
Norah Jones – Don't Know Why
Celldweller – Unshakeable
Jack Johnson – Better Together
Seinabo Sey – Younger (Kygo remix)
Dire Straits- So Far Away
Björk
- Moon
Lupe Fiasco - Deliver
Morrissey – Earth Is the Loneliest Planet
S
ound impression:
I've got to be honest and admit that I find it pretty difficult to describe the sound from an amplifier. To me the sound of headphones/IEM's is more easy to describe than that of amplifiers and DAC's but I'll do my best and hopefully the comparison section will also be of help.  
The first thing that I noticed when I started to listen to the Audinst HUD DX-1 was the warm and engaging sound with great bass and dynamics drive it produces.    
Bass extension and quality is very good without any noticeable roll off in the lower frequencies. Mid- and upper-bass is well represented making the presentation more intimate than airy.  Although the impact of higher bass is quite high on the DX-1 it still feels fairly detailed in its presentation.  
The midrange is liquid and lush with a good amount of warmth, with good help from the bass presence. Male vocal has good weight while female voices are full and smooth but lack some air and sparkle.    
The treble is also full warm and lush with good extension. The treble presentation stays well in line with the rest of the frequencies and once again I find myself wishing for some more air and sparkle.  
The HUD-DX1 has better soundstage depth than width and I'd describe the presentation as intimate with good bass drive and dynamics but lacking some air and sparkle and actually sounding a bit dull with some pairings and music.  
Comparison:
Please note that the comments in the comparison section are not in absolute terms but in comparison between subject A and B. This means (as an example) that if subject A is found to be brighter than subject B it does not necessarily mean that subject A is bright sounding in absolute terms. I hope this makes sense.  
In these comparisons I've been listening through my AKG Q701's.  
I've been using the USB input when doing these comparisons. Both units has been hooked up to two different laptops both running Windows 7 with the same settings and I use MediaMonkey as my player of choice.  
Burson Audio Conductor V2+ (1,499) vs Audinst HUD-DX1:
Compared to the HUD-DX1 the V2+ has more airiness in its presentation as well as a larger soundstage width. The V2+ has better bass presentation with a higher quality (better layering) while impact is pretty similar.  The greater bass quality makes the V2+ equally dynamic sounding but with better defined bass and more airy presentation while the DX1 is duller in its presentation in comparison. The DX1 is good when it comes to detail retrieval while the V2+ is top notch. In short I'd say that the V2+ is the more realistic sounding out of the two.    
The V2+ of course has some other advantages as well such as significantly higher power output (4W @32Ohms compared to 1.5W@32Ohm on the Audinst), two analogue RCA inputs and both pre-amp and DAC direct RCA outputs. In addition it also has a great quality remote control. The HUD-DX1 on the other hand offers an optical output, is if not portable so at least moveable around the house, work with only USB power and is of course smaller.  
Although both these are both desktop units that offers multiple inputs and outputs the V2+ pulls ahead on both sound quality as well as build quality and should also do so costing almost four times that of the HUD DX-1.  
iBasso D14 Bushmaster ($249) vs Audinst HUD-DX1:
Compared to the Audinst the D14 has a more airy and brighter presentation. The Audinst has more bass presence and is definitely the warmer sounding of the two. The D14, being brighter, also gives a perception of having better micro details while the Audinst offer more energy and attack while still maintaining warm and smooth. The treble on the D14 is more airy, detailed and natural to my ears. Overall the D14 is brighter and more detailed while the DX1 is more dynamic and warmer sounding.  
Feature wise the D14 offers both coaxial and optical inputs in addition to the mini USB input. It does also have an analogue input which the HUD DX-1 does not have. The Auidinst has an old school USB type B sound input in addition to an optical input. The Audinst also has both optical and RCA line outputs while the D14 has a 3.5 mm line out in addition to its 3.5mmheadphones output. The Audinst has the dual headphone outputs, one 3.5 and one 6.3mm. The D14 also has an internal battery making it more versatile when used with phones and tablets on the go. The footprint of the D14 is quite a bit smaller. Build quality feels very solid on both units with the D14 pulling slightly ahead.  
For even further comparisons feel free to visit this thread for breakdown between more $250+ amp/DAC units (this is a work in progress and several other units will follow in the near future).  
http://www.head-fi.org/t/816410/peter123s-250-amp-dac-combo-comparison-thread#post_12771442
Op Amp rolling:
The HUD-DX1 come equipped with the highly regarded MUSES 8920E op amps in its stock form. I happen to have a couple of Burson Audio V5i op amps around  (thanks to Burson Audio for sending me the samples) that is compatible as a direct replacement for the 8920 so let's see what happen if we switch the op amps.  
The op amp's in the HUD-DX1 is DIP 8 socket mounted so they're very easy to replace. If you'd like to try this for yourself make sure that you put the op amps in the correct way and that the op amps in use are compatible with the DX1, as long as you've got this covered it's a very simple procedure to switch them.  
The Burson Audio V5i ($39 for one or $69 for two) is available from here:  
https://www.bursonaudio.com/products/supreme-sound-opamp-v5i/
After having properly installed the V5i instead of the 8920 I started listen with the VE Zen 2.0 since they were the last pair I used while doing the matching section and WOW!!!!  
This was truly a surprise. Although I've done quite a bit of op amp rolling before I've always considered it to be fine tuning and the changes to be pretty subtle. That's certainly not the case here. When listening to the HUD-DX1 with the V5i installed it's really as if a vail is lifted from the stock sound. The DX1 does still have a prominent low end with good drive but now it's supported by a lot more airy midrange and treble and an easily detectable wider soundstage. The overall sound does now remind me a lot more of that from the Conductor V2+ although not necessarily with the same quality.  
To me the $69 V5i op amps take the DX1 from being OK sound wise to being very good.  This is a highly recommended tweak in my opinion and I honestly cannot believe the difference in sound quality that's achieved by using changing the op amps.  
Matching:
The output impedance of the headphone out on the HUD-DX1 is rated to 2Ohm. This means that it may not be the ideal partner with headphones and IEM's with lower impedance than 16 Ohm.  
In this section I've tested how some of my favorite headphones but also one earbud and one pair of IEM's pairs up with the Mojo.    
AKG Q701 ($300):
The Q's pairs up very nicely with the HUD-DX1. The warm and dynamic sound of the DX1 suits the Q's very well. The Q's has enough energy in the higher midrange by themselves to never feel dull or unengaging with the DX1 and the treble feels full and well-articulated in this pairing. The DX1 has no problem at all to power the Q's to louder listening levels even when only powered from my phone.  
Philips Fidelio X2 ($300):
I'd suspect that the X2's, being quite warm and full by itself, wouldn't be the best match for the DX1 but this is actually not the case. The X2 sounds very engaging and fun in this pairing. This is exactly the way I love the X2's with great dynamics and a presentation that never gets boring in any way.  
VE Zen 2.0 ($138):
The Zen 2.0 is a 300Ohm earbud that I like a lot and tend to use instead of closed headphones.  
The soft and smooth signature from the Zen 2.0 works very well with the more dynamic presentation of the HUD-DX1. The full and smooth presentation of the HUD-DX1 gives the Zen 2.0 a great drive and this combination is very enjoyable  
Aurisonics ASG-1PLUS ($500):
The ASG-1PLUS is an 11Ohm hybrid IEM (1 DD + 1 BA).  
The 1PLUS has an excellent out of head presentation and its bass (especially mid- and upper bass) is a bit subdued. This works really well with the character of the DX1 that fills in more bass giving the 1PLUS a dynamic and enjoyable presentation.    
Super Audio 6 ($250):
The Super Audio 6 (SA6) is a six BA driver Chines DIY offering. It has a warm, smooth, intimate and mid-centric overall presentation.  
The combination of the HUD-DX1 and SA 6 makes for a relatively unengaging listening experience in my opinion. The SA 6 lacks a bit of energy and is intimate enough it its own signature and this is even more obvious when paired with the DX1. To be honest this combination is not the best I've heard the SA6's but it's a big difference between that and it sounding bad, which it's not.  
To sum up the matching section the signature of the HUD-DX1 does make some of my headphones and IEM's sound very good while some lack a bit in performing their best when paired with the DX1.  The DX1 do have some low amount of audible hiss when paired to my most sensitive IEM's so for those very sensitive to this it may be worth noticing. This is not something that bothers me much, especially not with music playing. The DX1 does have enough power for all my full sized headphones which still make it very versatile in practical use.  
Summary:
The Audinst HUD-DX1 is a Swiss Army knife for your office or home desktop. It provides all crucial inputs and outputs accept for an analogue input and can even work as a bridge between your computer/laptop and a DAC lacking USB input thanks to its optical output.  
Priced at $400 it may not offer the best value when it comes to sound but if you value its great amount of connections it may still be a worthy contender for your new rig. Also if you've got headphones or IEM's that match the sound signature of the HUD-DX1 I'd still rate it as a very good performer. Adding another $69 to the total cost by upgrading the op amps to the Burson Audio V5i is highly recommended in my opinion. Not only does this upgrade delivers the biggest difference in sound that I've ever experienced from op amp rolling so far but it actually makes the overall value of the Audinst HUD-DX1 better since it holds up much better to other competitors in the price class this way.  
Audio Quality: 3.5
Design: 4
Quality: 4.5
Value: 3.5
Features: 4.5  
With the V5i op amps mounted in the HUD-DX1 I'd probably rate the total Audio Quality to 4-4.5 and value to 4.  
Once again the light box was occupied when I came to do the photos