ALPHA & DELTA AD01 (very late) Review :

CONSTRUCTION: 7.5/10
DESIGN: 7/10
SOUND: 7/10
VALUE: 7/10
Alpha and Delta is a very promising earphones company from Singapore that aim for quality instead of quantity and have create 6 different iem up to date. There goal is to stay budget friendly while delivering good sound quality, wich their last model call the Alpha & Delta D6 show perfectly.
Now, for the AD01, there first attempt, they try to create something for the mass with a bass oriented soundsignature that will entertain the basshead while keeping enough details and clarity to be enjoyed by music lovers as well, these I think aren't mean for critical listiner or audiophile but more for youngster that enjoy bass driven music and want to make a first step in good quality audio.

CONSTRUCTION, ACCESSORIES AND DESIGN :
Very pleasant unboxing experience with lot of extra eartips of all type, ear hook and cable clip. As well a good quality protective case is include. It look like A&D give lot of attention to details when it come to product presentation ,as we can see with the cute little box that contain eartips.
A&D do not idle on construction, always goind toward durability for their iem, AD01 is no exception and have a built like a tank housing made of thick (and heavy) polish metal. As well, it come with all copper detachable cable of average quality this time.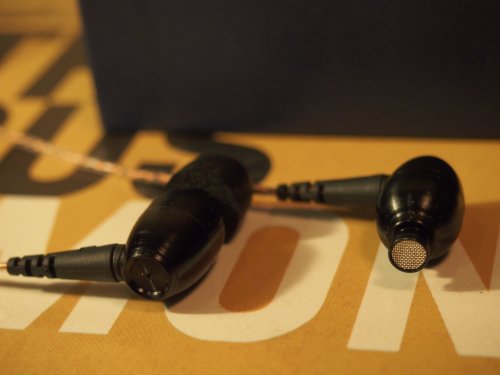 For design, i'm a little more reserved due to the iem being very big and heavy wich will not suit every type of ears and even if it do not fall from my ears I guess I look dumb wearin. As well, not having MMCX connection but an old type of connection that make you dependant to their store when it come to buy extra cable is a drawback for me becaus yes, I would be curious to try a SPC cable with the AD01 because the one caming with it are just basic copper one, sure they are cute and have the advantage not creating microphonic, but these days its either MMCX or 2pin connection so I don't see the goal of this type of cable choice.
SOUND :
Overall impression of the sound is rather positive if I forget the 100$ asking price for a V shaped soundsignature that hesitate between darkness and warmnest and struggle with complex music or anything that need a well controled bass or treble. This is a very wide sounding IEM with big impact and pumped but not detailed and well layered bass that without sounding completely boomy is stilla little muffly and well, immature sounding. Treble curve help mids being more hearable than low grade V shaped IEM and we have some details to enjoy, but attack decay and speed is above average in this price range, as well, no sparkle to be found and layering is kind of veiled.
BASS
have pumped up impact that lack resolution where the sub and mid bass mix togheter and gain in weight but not really in energic thickness, it can be too slow for very fast electronic or jazz rock, but can deal great with some rap like Sudan Archive wich is very well mastered and clean sounding by its own. These are freakin basshead earphones where A&D try to keep the mids not too recessed, even if there some bass bleed it do not feel it veil them, its more the whole overall sound that feel little veiled in fact and lacking enough texture in lows to make the punch enough fowards as we can heard in RAGE track from Rico Nasty where everything sound as a big wall of sound without lot of deepness to it, so in some sens, the bass sound cavernous but at the same time in your face wich is a very strange experience that lack realism. Anyway, bass is energic and do not sound boomy, so it will not be a problem with excellently mastered music.
MIDS
are warm but have some magic trick extra grainy resolution that make them just okay and not completly overshadowed by vast bass, its not really an IEM for instrumental music because violin or piano lack treble and details, but it do okay and have laid back non fatiguing approach that can be still enjoyable for some jazz and such. Transient response is well coordonated in all range but lack in finess, transparency and layering. Vocal can slightly sound hissy because of upper mids peak, but they have above average resolution for a bassy tuned iem.
HIGHS
are roll off in upper region and non fatiguing, as the most fatiguing aspect of these iem is bass. It have enough treble to show details and some push in lower high but it do not really help percussion to shine and be easily hearable, even snare lack fowardness here, but the bigger problem is even if soudnstage is wide it do not feel clean as well as having enough air in all the space to make precise sound have well spoted presence. Overall, the AD01 is slightlydark in this region even if whole sound have lot of grain to it.

COMPARAISONS:
VS NiceHCK M6:
Around 100$, the M6 is well tuned comapred to AD01 and even if both have good bass energy, the separation from mid and lower bass of M6 is in another league as it have better separation in whole sound spectrum. Mids of AD01 feel congested compared to M6 wich is in the middle, well separated and barely recessed. Both M6 and AD01 are onthe warm side without fowards highs but M6 because of great layering due to its multi driver implementation (Dual DD+4BA) is clearly more detailed even if less fatituing.
VS Macaw GT600S:
Bass of AD01 have more impact even if less textured, its more energic and weighty and give a more exciting fun sound. Soundstage of AD01 is wider while the one of GT600S is deeper and cleaner. Mids of GT600S are more fowards and textured but somewhat thinner than AD01. GT600S have more fowards highs and details and can be fatiguing for treble sensitive people in this aspect, M6 are more permissive in this region.
CONCLUSION
as said, isn't as disastrous as it can look , because these AD01 are quite enjoyable and fun to listen with some (simple well recorded) beat driven music, but unfortunatly it's a minority of them. The V here lack resolution and details retrieval to create an enough clear sound and I say that using very clear and detailed sound source (Ibasso DX90 and Xduoo X20). As well, I feel at 100$ we can find lot of better IEM because last years competition in budget earphones go crazy. All in all, this AD01 is an average sounding classic V shaped earphones with wider than average soundstage and great fun for beat driven enthusiast but not for audiophile or critical listener (wich wasn't the consumer targeted).