Joined

Sep 15, 2014
Posts

2,402
Likes

2,010
Campfire Audio Andromeda And Vega
An Impressive Binary Sunset
| PREVIOUS REVIEW | REVIEW INDEX | NEXT REVIEW |
​
A LONG ABSENCE
Apart from getting 20 yards away from a bear, accidentally descending down a snow-packed couloir (via a controlled* 50-foot slide) at Denali NP, and driving on a seriously questionable road somewhere above the Arctic Circle, I've been fine. Mostly. Yes, I've been in Alaska for a month, putting myself in precarious situations and generally relying on "hold my beer" logic to survive; I almost qualified for several Darwin Awards as a result. Naturally, I was absent, for the most part, from the audio world. But I've returned, and in fairly good time. The number of reviews I've built up is certainly not insignificant, and it seems that a lot has happened since I was last in the Lower 48. Those who have been keeping up with the Sony MDR-Z1R thread will know. But that's old news, and this certainly isn't the Donna Reed show – so let's get going.
*To the extent that sliding through waist-deep snow is "controllable".
INTRODUCTION, PROPER
My interest in Campfire Audio actually began a while ago at the first Canjam Singapore after a fellow audio enthusiast insisted that I audition his Jupiter. It sounded good, but lacked that je ne sais quoi that would have otherwise made me leap. Needless to say, I was interested in Campfire Audio's various developments, and I wrote to them regarding covering their lineup. Well, a year later, I'm privileged to have finally gotten the chance to cover Campfire Audio's flagship models. The good folks at CA are busy, and rightfully so, because they are certainly producing excellent earphones. But wait! One of the flagships is a dynamic too. EX1000 fans may now take a moment to briefly reminisce about the days of old.
For those of who are still (somehow) in the dark about Campfire Audio, here's a quick primer. Based out of Oregon, Campfire Audio was actually a project conceived by the good folks at ALO Audio. Ken Ball and team have clearly set their goal on producing high quality UIEMs capable of competing with the best, all while introducing new driver materials and featuring a rather unique design philosophy. It's an approach that stands in stark contrast with the increasingly astounding (and pricey) contenders of the ongoing driver count race. Nicely done, I must say. Interestingly, Campfire Audio's product offerings are split into two lineups. One is comprised primarily of BA driver earphones, while the other features more varied dynamic/ hybrid offerings. I think it is fairly safe to conclude that the latter mixes sound signatures up a bit, but I'll discuss that more when I compare the Vega and Andromeda.
A little while back, I mentioned the importance of flow in my reviews. This long trip certainly has given me more than a couple of ideas for future pieces and the fresh makeover of Head-Fi is good reason to do some spring cleaning. Prepare yourself as I attempt to break up an otherwise rigid review format and go on hopefully entertaining tangents. And watch as none of this comes to fruition (50% chance, give or take, especially if it's a Monday). I'll also be introducing my measurement rig in this review. I've been working on it for a while and I do have decent confidence in its capabilities as of now. It's a rather big section, and for those who are not interested please do feel free to skip it. It is an interesting recap of the process and hopefully articulate enough to be helpful.
DISCLAIMER
The Campfire Audio Andromeda and Vega were provided directly by the CA team for the purposes of this review. I am neither a paid affiliate nor an employee of Campfire Audio. As always, I do reserve the rights to the media in this review, so if you would like to use the photography/ videos please do drop me a line (at the very least please provide an appropriate attribution). I dislike watermarks on photos and would rather not use them. It's been a blast putting these two earphones through their paces. It's also been a great time for me to push forth on my measurements of IEMs (my expedition in headphones having temporarily reached a "satisfactory" point, as I await further findings). Once again, a big thanks to Campfire Audio for this opportunity and I hope you enjoy reading this review as much as I did writing it.
Editorial Note 1: Have posted a thread as well as a "review"- still don't fully understand the new showcase system yet and text formatting system, so I'm sticking to the tried and true thread post.
Editorial Note 2: Some of these photos had to be posted lower-res than I had initially wanted due to the fact that I can't seem to locate the "resize" function in the new editor. Thus, manually resized in Photoshop. If there's a workaround, please let me know immediately.
Packaging And Accessories
​
Quality! These are excellent products to unbox. The packaging is both functional and sensible, leaving little in terms of material waste. Arriving in a star-studded (literally) cardboard box and sealed in with plastic wrap, the Campfire Audio IEMs are nestled inside a leather carrying case. The interior lining is definitely a nice thought, and the case shuts compactly enough to the point where the earpieces will not be sliding and scratching each other. As added protection, the Vega features two earpiece pouches. Strangely, this is not present on the Andromeda (and it should be). Apart from that, the general package is fairly comprehensive and complete. A full list of items is provided in the description below the photo.
Package is fairly complete, featuring 1) Carrying Case 2) 2 x Earpiece Pouches (Vega Only) 3) IEM Cleaning Tool 4) Campfire Audio Logo Pin 5) 3 Pairs Comply 6) 3 Pairs Spinfit 7) 3 Pairs Silicone Stock 8) Earphones 9) Literature 10) Warranty Card
Build Quality And Design
​
The build quality on the Campfire products is quite commendable. It is certainly a highlight that must be mentioned. The Andromeda is made in the USA, and features a machined aluminum body with an anodized finish (Zirconium blast treatment). Some have asked if the earphone is really as green as it looks in the photos - the answer is yes. However, the carefully milled facets of the housing lend a very nice colored gradient to the earphone that changes with various lighting conditions. I suppose I know this because I spent too much time on the photography in this review. Other key design features include the 5-balanced armature drivers (2 low, 1 mid, 2 high) and a proprietary "tuned acoustic expansion chamber".
The Vega is comprised of parts from Taiwan and made in China. That said, the earphone's build is still high quality. It features a liquid alloy metal housing with a PVD (physical vapor deposition) finish. It's a type of finish achieved by evaporating a solid/liquid into gaseous form and depositing it back onto the target surface as a thinly applied coating. The nozzle is plastic, and there is indeed a faint injection mold line on it (more sanding?). A tuning port can be found at the top of the housing. Throughout my time with the Vega, I did notice driver flex manifesting itself as a crinkling sound depending on how I inserted the earphones. It has been mentioned on the forums that there is no danger of damage from this flex though. The Vega's driver is an 8.5 mm dynamic driver made from ADLC (amorphous diamond-like carbon).
Stock cable is very nice and is a silver plated copper litz wire in medical grade PVC jacket. There's a sturdy 3.5 mm plug with good strain relief, and the y-split is also quality, if not prone to scratching. Cinch is made from clear transparent plastic. The real star of the show is the ear guide, which blends heat shrink with a guide wire - it's simply the best of both worlds. MMCX connector is made from beryllium copper.
Those who have read /been following my reviews will remember that we discussed, at some length, my personal headphone measurement rig/ process in the Sony Z1R review. It is fairly obvious that the results of non-standard measurement rigs are far from absolute, and should generally be applied in relative comparisons for best effect. Given these various limitations, one may ask why we, as enthusiasts, should even be bothered to develop measurement systems at all, considering that we are generally unable to match industry-standard equipment, and can in fact potentially mislead ourselves with erroneous results. The answer is two-fold and quite practical in my mind. First, it is an undoubtedly enjoyable process. The ability to quantify the qualitative (i.e. subjective) is gratifying (and equal parts, frustrating). But in general, it provides us with a better understanding of the devices we are measuring, and this comprehension can make the pursuit of audio far more enjoyable. Second, when applied effectively, decent measurements can provide objective insight – and allow for many meaningful, tangential explorations. Did you ever wonder just how "distorted" distortion is? If yes, a rig can help in the understanding of that area of sound. The list continues. Furthermore, it allows us to avoid the serious issues that can arise from purely subjective descriptions and misunderstandings. In my mind, certain descriptors can be directly correlated with measurements, giving us very substantive evidence to assist in descriptions. This isn't to say that numbers are everything, but when applied appropriately, they can account for much indeed. Henceforth, I leave this open to interpretation, and for use as the reader sees fit.
Editorial Note 3: I wrote the above section of the review a little while back as I was reflecting on the process. That is to say, over a month ago. Given the recent discussion about measurements, I've decided not to edit this section at all - this is, and has been, my perspective on measurements for a long time.
I use the UMIK-1 from MiniDSP, a measurement microphone with an onboard soundcard. It is quite convenient and comes with its own calibration file. There is, to my knowledge, a 3rd-party company called Cross-Spectrum offering further, more extensive calibration services, albeit at an increased cost. It's certainly worth a look for those investing in a measurement microphone. Microphone aside, the coupler is probably the next most important aspect of a working system. As I describe my own system, do note that this isn't meant to outline the construction of the definitive measurement system. Instead, it is an objective look at the capabilities of my system, its shortcomings, and what I feel confident in assuming/ sharing.
Meant for illustrative purposes only, this photo shows my rig with the guide on. Obviously missing is the foam surrounding, and clearly wrong is the fact that the rig is lying directly on the table.
​
There are three factors that I ran into quite frequently in assembling the rig – coupling distance, seal, and resonance. In describing the modifications/ build of my own measurement system, I will go over the issues I encountered with each of these elements and how they can be resolved. Let's start with the microphone. It is very much possible to detach the head of the microphone from the body. Clasp it with a vice and give the body a hard tug. Have your soldering kit ready, because from personal experience, it is easy to snap the wire off the solder point. In fact, I had to re-solder two points on the microphone (one broke and needed repair, the second broke in the process of the repair). To detach the microphone from the head, push gently using a soft object (pencil eraser, etc.). The microphone capsule should come off easily. As per recommendation, I've applied a ring of glue around the microphone capsule. Do note that depending on the glue used, you could potentially make it impossible to remove the capsule from the head, so do take caution with those soldering joints. I've thought about it, and in fact it may not be a bad idea to put some hot glue down, sealing the microphone permanently to the microphone headphone compartment and more or less securing the solder joints. There were pieces of white foam that came out the head compartment as well, and looked rather skimpy. To replace that, I cut a foam tip and pushed it directly behind the microphone. It seems to be a needed upgrade. You'll also notice a large tangle of wires that came out from the body as well. When putting everything back together, use a pencil to push the tangle back in, as opposed to pushing on the microphone head. You will break the wire (especially at the solder point) doing this.
The next step in the process is to build a coupler. I've got close to 10 iterations of "coupling" devices lying around. The one I've more or less settled on is shown in the pictures. I've used electrical tape to create a ring (just thick enough) such that the slightly larger ½ inch PVC tube can be sealed very completely with a bit of a push. The end of the chamber features a plastic flange that forms the PVC tube and enables better fits with certain types of IEM tips. This is where coupling distance really comes into play. As I will demonstrate in a graph below, it is very important that the coupling distance is correct, otherwise you'll notice key FR landmarks (peaks, dips, etc.) in wrong places. I'd take a generally accepted uncompensated FR, and adjust your coupling distance such that the peaks align where they should. I've found that this will float in the ballpark of 1-1.5 cm depending on how you couple the IEM to the microphone. The further you couple your earphone away from the microphone, the more you see artifacts in the higher frequencies (repetitive peaks, and such). Resonance from the coupler discounted most forms of thin metal coupling for me. I'd stick with PVC and plastics for enthusiast measurement systems. Now, the Andromeda/ Vega present a very unique opportunity to adjust one's rig. This is because Ken @Campfire Audio has provided uncompensated measurements that we can do comparisons against. Considering that his is a well calibrated, industry standard rig, I find this to be an interesting proposition. I do not believe my measurements to be better, so feel free to take note of the differences. And it is always fruitful to discuss your measurement techniques with other individuals - it provides insight/ means of improvement. One last mistake I made – don't rush to take a bunch of measurements of tons of earphones, find one IEM to work with and go from there. Otherwise, you've but just a pile of fairly unhelpful numbers. IEM measurement is unforgiving, and can be more difficult than headphones in fact, so do take your time.
Some things I noticed for the Andromeda – subbass attenuation feels like it should be 1-2 dB less. The region past from 1K-4K as measured is not perfectly flat, but has some dips and artifacts. I should note that higher frequencies, when measured on this rig, aren't particularly accurate – best that the reader look and evaluate him/ herself. Third harmonic distortion exists on the Andromeda, but this is may be an attributable characteristic to the BA driver itself. Other measurements seem to support my measurements, at their current distortion levels. Overall, most things seem to check out fairly nicely. Vega came through generally unscathed and the difference between these two should be obvious.No smoothing has been applied in any of these measurements.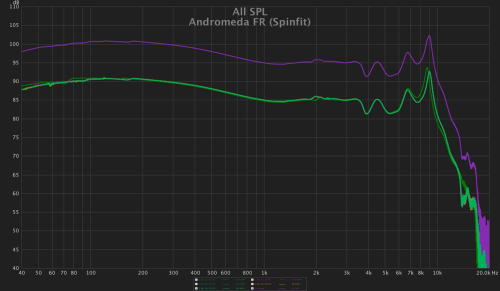 Green are the various trials performed, Purple is the average.
Ken Ball's measurements for the Andromeda. My rig has artifacts in the higher frequencies.
My distortion measurements for the Andromeda.
Green are the various trials performed, Purple is the average.
Ken Ball's measurements for the Vega. Differences in higher frequencies.
It seems that mine correlates to measurements from another site.
My distortion measurements for the Vega.
​
Sound​
The Andromeda is a superbly balanced earphone, made even better by choice ear-tips. Bass performance is responsive and tight, but not lacking. Sub-bass is rendered as needed with detail cues demonstrating the reproduction capabilities of the earphone. Mid-bass is expectedly inoffensive. The midrange is linear and connects to the higher frequencies without a hitch. Upper frequencies are naturally well-extended and liquid without ever coming off as tiresome. Detail retrieval is excellent and soundstage and imaging are spot on. A touch of coolness tints the Andromeda's tonality, and it's certainly something that resonates with me. As a long time ER4 user, I'm truly impressed (I'll explain a little later). This isn't an earphone for specific genres or songs or setups. It's a transducer that reveals and navigates almost all source material.
Like a Klingon ship racing through the galaxy. Federation be damned.
​
The Vega is certainly the Danny Zuko of the Campfire Audio line up. Featuring a prominent bass response that makes full use of the earphone's dynamic driver, the Vega digs deep and hits hard. It's a heck of a lot of fun to listen to. In certain ways, the Vega reminds me of the Sony Z1R in earphone form, the comparison being rather crude, of course. Given this, it is surprising that the Vega doesn't suffer much bass spill, and midrange generally comes through intact. Higher frequencies are well-extended, but do fall behind the Andromeda. Overall technicalities of the Vega are slightly behind the Andromeda. Instrumental timbre was one of the Vega's weaker points. That said, the Vega moves in ways the Andromeda doesn't. I can't emphasize it enough, but the Vega is simply tons of fun.
Together, these two headphones could complete a collection, providing a versatile toolkit that will satisfy even the most dedicated of enthusiasts. It is a rather refreshing look at IEMs, considering that recent developments have been marked by increasingly pricey offerings prompted by the informal driver count war. I'm not thrilled by all of these offerings – and some of my experiences with large multi-BA drivers have been quite negative. I'm not convinced that more is better, and I've tried some extremely expensive earphones where crossover points were audible and general coherency was atrocious. I've never quite given up on the merits of a properly executed single dynamic driver earphone, and the Vega has satisfied in this regard. In the course of this review, I've utilized the Onkyo DP-CMX1, theBit Opus#1, Teac HA-P90SD, and borrowed the Chord Mojo and Questyle QP1R from a fellow newly-converted audiophile. Sounded pretty good out of all of these sources. The earphones do have very low impedance though (Andro 12.8 ohms @ 1K, Vega 17.6 ohms @ 1K) so damping factor can be an issue. The sensitivity of the Andromeda means that noisy sources will be punished!
SELECTED LISTENING IMPRESSIONS
I've often been asked to be more narrative in my approach to reviews, and I do think that providing comparisons and walking through specific pieces of music will allow readers to get a better sense of what I'm addressing. I've picked moderately complex compositions that provide opportunity to showcase interesting aspects of each earphone, and will conclude on some general observations.
A typical mess as everything gets sprawled out during the listening/ auditioning/ testing process.
​
The Planets, op.32, Venus
Gustav Holst, conducted by Karajan and performed by BPO
The opening (00:00) features a horn call comprised of four ascending notes. It's a smooth, haunting motive that is also texturally detailed. The timbre of the horn is appropriately rendered on both the Andromeda and ER-4S. However, the Vega portrays a mellower, smoother sound that reminds me less of a horn and more of a euphonium. Not exactly accurate. At 00:10, the second horn call is answered by a combination of oboe and flute chords. There's a certain clarity conveyed by the Andromeda/ ER-4S – the reedy sound of the woodwinds being clearer and more incisive than on the Vega. At 00:37, the gentle rumble of the bass hints at a larger orchestration. The Vega and EX-800ST both deliver satisfying performances, while the Andromeda tends toward a more balanced portrayal. The ER-4S falls on its face. The violin solo at 02:05 is poignant and chilling. There's a lack of bite from the Vega that reduces the realism of sound. The theme that begins at 03:15 is fantastically grand on the Vega though. Spot the celeste at the 07:36 mark. You'll notice that the Andromeda has more sparkle. I imagine that Karajan may have preferred the Vega. The smoother, more rounded sound, exemplifies the musical vision of the "emperor of Legato". However, from a technical standpoint, I find the Andromeda to be better for classical music in general – it simply presents instrumental timbres better.
Time Out, Take Five
The Dave Brubeck Quartet
A jazz classic, Take Five features an instantly recognizable tune in the uncommon 5/4 time. The start of the piece (00:00) provides easily accessible comparison material. With Joe Morello on the drums alone, it's clear that reproduction on the Vega and Andromeda differ greatly. The bass drum kick is emphasized, while the cymbal ride is smoother and less brassy compared to the Andromeda. Snare drums seem about the same. Beginning at 00:20, Paul Desmond enters with the alto saxophone, and here we have yet another point of analysis. The left/center/right recording method with single mic means that each of the instruments is panned hard to a side spatially. While modern methods may dictate this as being less than ideal, it does provide an opportunity to test the soundstage/ imaging of our transducers. Perceived width and depth on the Vega is still smaller (but not small) than on the Andromeda. At 02:30 where the drum solo begins in full, the Vega proves once again that while it may not be as technically proficient as its sibling, it can be great fun to listen to.
The Vega sports a sleek profile, one that seems to hide the fact that it can easily produce a massive sound.
​
Others
It should be no surprise that the tonal balance of the Andromeda favors midrange performance over that of the Vega. Listening to Diana Krall's East Of The Sun (West Of The Moon), there's a certain spaciousness that pervades Krall's voice. Appropriate rendering of vocal texture and linearity aid in the easiness of sound. It's a fuller (and slightly wetter) sound than the ER-4S, which is a good thing. The Vega's mids are smoother, and are slightly less defined and present. It's well-executed considering the earphone's impressive bass, but for those who listen exclusively to vocals the Andromeda is the go-to.
CHOICE OF EARTIPS
I've begun work on eartip measurements, though I do not yet feel confident in utilizing them yet. Here's a quick look at my general measurements (but should not be relied upon!). I urge readers to use the subjective impressions below.
This is simply meant as preliminary look into how eartips affect sound.
However, measurements not entirely reliable at this point in time.
​
Spinfit (Baseline) – I've chosen this as the baseline for observations as they seem to be one of the most popular, and I do find myself returning to them a fair bit. Tends to yield a brighter character to the earphone with a nice zing. Extension is excellent. Spinfit can be unpredictable between user-to-user, if not by its whole premise alone.
Spiral Dot – Another excellent choice. Doesn't have the same sonic edge as the Spinfit, but doesn't lack in extension and certainly adds extra weight to sound. Many will find this to be a nice and pleasant ear tip, provided it fits. I recommend buying ½ a size smaller than your usual as the diameter on these eartips is fairly large due to its wide bore design.
Sony Stock Silicones – Not bad, but between the Spinfits and Spiral Dots, I really don't see what these do better. Higher frequency extension is weaker than the Spinfits, and lower frequencies are less clear. Vocals are less immediate too. Deeper fit brought housing into contact with the ear, which was uncomfortable.
Sony Isolation Hybrid – Clear improvement over Sony Stock Silicones. Brings extra isolation, slightly improved bass response, all while maintaining comparable extension and clarity. It's a nice flavor. Fairly comfortable to wear, if not a little difficult to fit onto the nozzle.
Sony Foams – Available in Japan only (I think). If you need foam tips and have access to Japanese products (import/export, etc.) I'd use these. Featuring a foam eartip with a silicone backing, these eartips tend to last longer than Comply tips, are far less prone to ripping, and generally less icky. Complies do seem to isolate and seal better though. Similar to the hybrid tips, but adds slightly more warmth and bass. Highs less extended?
Stock Silicones – Somewhat similar to the Spiral Dot in terms of bore and insertion depth. Sound isn't remarkably different, but I find the fit to be slightly less agreeable. Those who prefer a softer ear tip will probably enjoy the stock silicones better. They do tend to bring the housing closer (and into contact with the ear) too.
Comply – I don't really like the way Comply eartips fit and feel. They wear out fast, have a tendency to rip, and just annoy me. That said, Comply eartips do offer a decent amount of isolation, and for me increase the bass. It should be noted that Comply eartips affect sound based on the amount that they are compressed. More compression leads to better seal, which in turn can increase bass and treble. Less compression can result in the foam attenuating the highs, etc. I'd suggest going with the former in most cases.
Final Thoughts
​
To me, the Andromeda and Vega are excellent earphones. The Andromeda's balance is very pleasant to me, and the Vega offers a similarly well executed signature that features a tonal balance that is indeed rather hard to pull off. Couple that with the excellent build quality of these IEMs, and it's just hard to argue with these earphones. If you're in the market for a new pair of high-performance IEMs, you definitely need to do yourself a favor and at least give the Vega and the Andromeda a try.
Last edited: