Joined

Jan 14, 2008
Posts

835
Likes

11
Synopsis:
This review is meant to serve as a long-term review of each platform. What are these phones like after you're done playing and you have to start living with them? I've spent an average of 6 months with each of these phones to get to know them inside and out.
I would still love to try an Android phone (maybe when Android is available on better hardware). Symbian is also noticeably absent, but the real battle in the US is BB-WM-iPhone. You just can't get a decent symbian phone from the networks. Several iPhone-like phones have also come out for much cheaper (LG Voyager, Samsung Glyde), but all lack features that are necessary for me to actually consider them.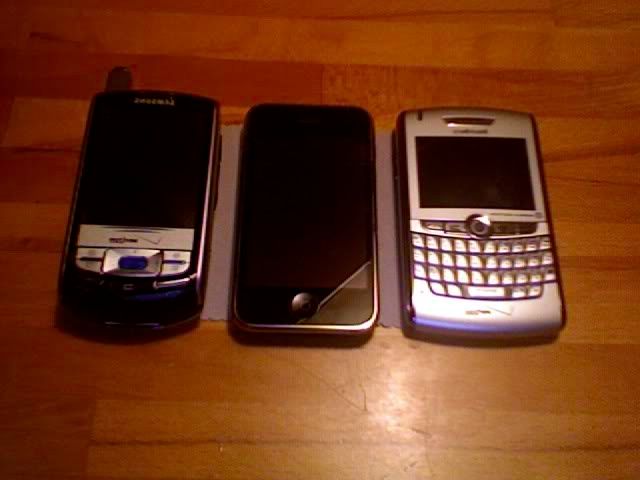 Contenders:
-Apple iPhone 3G, 8GB
-Blackberry 8830 World Phone
-Samsung SCH-i730 Windows Mobile 5, Touchscreen, QWERTY keyboard
Reviewer's Tilt:
A little background on myself is probably necesarry to understand what I look for in a phone. I started using Windows Mobile back in 2001 (then called PocketPC OS) on PDAs. As I went to college, the PDA sat in the closet collecting dust and I went on using typical cell phones for the next several years.
Fast-forward to the iPhone release. Increased work load and being constantly on the run, I decide it's time to get a smartphone (an iPod+phone+PDA+wallet+keys is just too much to carry in my pockets).
My background is in human factors and biomechanics. My graduate thesis work studied human-machine interaction and I now work as a design engineer with a heavy focus in biomechanics.
This drives my experience with these devices significantly. Whereas many reviews focus specifically on technical specs, I take a human-in-the-loop approach that looks at the performance of the overall system- human and device. I don't care how powerful a device is if it's clunky- these phones are ultimately tools that should let you get the job done.
Design and Cool-Factor: 1st- BB, 2nd- iPhone, 3rd- WM
It will probably come as little surprise that the iPhone handily wins the design category. It has a gorgeous (if scratch prone on the back) case, perfect weight, and feels incredibly solid. Anybody that says it's fragile probably hasn't even touched one.
What is surprising is that, to me, the blackberry had the edge on cool-factor. Whereas the iPhone has become the toy of choice for just about everybody, the blackberry still has the high-end business cachet, especially the top-of-the-line 8830 (a pink Pearl, maybe not so much). You just feel more serious pulling out a BB than the sorority-girl-favorite iPhone.
The Windows Mobile phone can't compete on either front. As has been my experience with every WM phone I've tried, they just all feel like cheap plastic toys. Whereas the iPhone and BB feel like solid blocks of material, the WM phones all have noticeable flex and creak. They are often covered with little hooks, fastener holes, doors, and other blemishes that get caught and/or show wear and tear very quickly as paint rubs off.
Price (Phone + Contract): 1st- iPhone, 2nd- WM, 3rd- BB
The first generation iPhone was, in my opinion, not worth the up-front cost (Yes, I know the 3G is more expensive after 2 years of contract...). At $300 for the 8GB 3G, I think the new version is a bargain. High-end WM phones with touchscreens will easily fetch over $300 (ie the SCH-i730, XV6800) with fewer usable features and less on-board memory.
I don't have much to say about the BB phones price-wise. The pricepoints for the Pearl, 8830, and Curve all seem perfectly reasonable.
Where BB loses this round is with plan costs. The BB monthly rate was more expensive than the iPhone and WM voice+data plans, and I wasn't even paying for Verizon to unlock the GPS (how I loathe Verizon....)
Features and Usability: 1st- iPhone, 2nd- BB, Undeserving of rank- WM
This is where Microsoft has a LONG way to go to catch up to anybody. The phone I used last year (and the new WM6 phones are the same), works exactly like the PocketPC PDA I used in 2001 with a fancier theme pack. These phones still rely on the user closing programs through Windows Settings> Memory (some fanboys will argue you should always do this as a good user, I say that's BS from a cognitive-model point of view). The other two phones manage their memory on their own, WM expects the user to do it. When you forget, or just don't have time to do your phone's job for it, it will crash. Often. A typical day on the WM phone saw 3 hard resets. The BB had a total of 2 resets. The iPhone, none. WM is crap. Period.
Trying to use WiFi on a WM phone on anything but a security-free network is futile. On an unsecure network, it's still a painful process as the phone tries to connect to every network it's ever connected to, even if it's across the country and completely out of range. I won't even get into VPN networks with WM. WiFi on the iPhone has actually been simpler than any computer I've ever used.
WM is pretty barebones overall, it has a good task list, decent calendar, worthless browser, worthless mail, and solitaire. It does have office, but saying that's of any use is like saying the Quattro on an Audi R8 makes it a good offroader, document editing on a phone is a ridiculous concept. WM does have a lot of 3rd party software available, but in 8 months I never found anything worthwhile and/or stable.
The BB felt like the most closed system of the three, but I was never wanting more from it. It has a great calendar, good task list, google maps, great mail program, and an okay browser. The BB definitely felt far better integrated and consistent than the WM phone.
From an end-user perspective, the criticism of the "closed system" of the iPhone is ludicrous. With the App store, I've been able to download a ton of excellent free apps. The browser is far better than the other two phones, calendar is good, mail is good (almost BB good), and apps are consistently good across the board (task list leaves a lot to be desired though).
I have to emphasize that the usability of the WM phone is absolutely horrible. It's mind-boggling that huge 9-year-old flaws are still so prevalent in the system. This is where a long term test was valuable, I could live with the problems for the first couple months, but it became unbearable at around the 6-month mark. As far as I'm concerned, this OS isn't clunky, it's broken.
Interestingly, the iPhone is the laggiest of the bunch with all of the eye-candy animations. Techies will take that to mean it's the slowest, I disagree. As I said, I'm more interested in human-in-the-loop metrics. The time it takes me to turn on the phone, check my mail, and respond to a message is much quicker on the iPhone than the other two. On the iPhone, it's all only a couple of taps and swipes to get done. The BB requires a little extra scrolling. The WM requires pulling out the stylus, tapping impossibly small icons, navigating menus, etc....
Media Features: 1st- iPhone, 2nd- WM, 3rd- BB
Much of the appeal of the iPhone had to do with media. In stock form, it absolutely blows away WM and BB. Even better, with the Remote app, I can control my iTunes over WiFi, sending the data wirelessly to my DAC in the living room for listening sessions without dragging out the laptop. As a standalone player, the iPod function is far better than WM's Windows Media Player. BB's media features generally felt tacked-on and limited.
Overall
1st- iPhone, 2nd- BB, in a distant 3rd- WM
The only real competition was between the BB and the iPhone, and I can only assume it will get closer with the new BB Bold and Storm phones. In it's current form, WM is grossly outdated and terribly designed. The only person I would consider recommending a WM phone to is somebody that wants to tinker with registries, spend time maintaining the OS, and generally playing with/hacking the phone. Viewing the phone as a tool, I prefer something more streamlined that doesn't impede my work- WM just doesn't fit that bill. iPhone and BB are far more efficient tools. The iPhone gets the edge over the BB due primarily to the additional features and usability, but I was very happy with both. The explosion in apps for the iPhone has just made it a more valuable tool for media, navigation, events, restaurants, etc. than the BB.