Joined

May 15, 2021
Posts

202
Likes

314
Location
Hello, everyone. I've been striving all my life to visit London, and here is such a chance that I am here and have time to visit Canjam. Immediately disclaim that the author of the post for two days listened to so many devices that weakly perceived the reality and heard and, in general, does not have a medal in the shape of golden ears. It is also important to note that the narrator of these lines does not like the rise and boost of the mid-bass, gravitates to even graphs, and considers the middle in the face regular tuning.
Owns and has listened to everything on the exhibition, except the desktop solutions on:
Cowon Plenue L, Qudelix 5k, Phatlab Sassy
JVC 10k ,64 Audio u12t, Dita P71, Kenerton Rig Custom
If someone is stuffy and it is important to him, the ear tips almost everywhere were Azla vocal (purple) 85% of the time, spiral dot 10, Azla crystal.
Cables -lavricables master 22AWg silver , stock JVC , Dita.
It's not a financial recommendation.

Lottoo Mjolnir, I listened to different ones for the longest time on Focal Utopia 2023 because I know them quite well.
The video shows that the UI works quite well. Everything is fast and without delays, which is what you expect from a lot and a product for a lot of money. Visually, I expected a slightly terse look; it looks flashy in person, but still okay.
It squeezes almost everything you need out of the Focals. It is a solution for cottagers and those who don't want a big desktop bundle. It will give a head start to almost all players; it is very well-tuned.
Bottom with shelf, but fast, information in the low frequencies is read well. HF with the necessary length, without pepper and unnecessary aggression. Clean, without soap. A transitional option between the station and the port. It is not comprehensive, but those who have listened to utopias will understand why; it is a feature of the headphones, and it is essential to realize that the Lotoo does not artificially blow stage for enormous size as Chord Hugo 2 does, for example.
The dynamics are good. Susvaras did not play on it, but Meze Elite, Focals, and Torino played without question.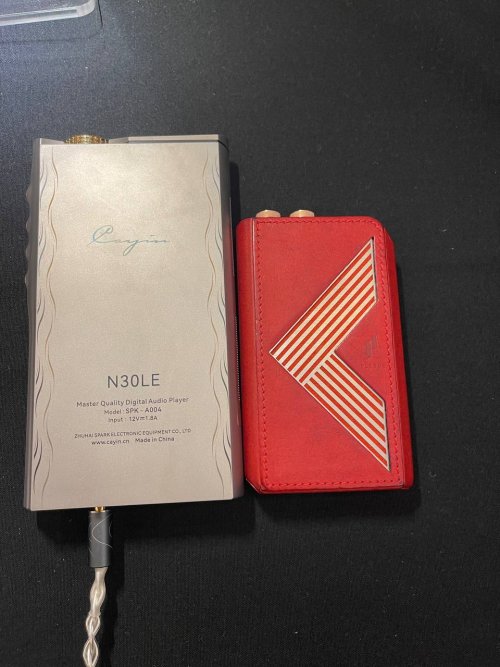 With the tremendous and terrible Cayin N30LE, I listened on the first day to my headphones and on the second day to UM Mentor, UM Mest mk3.
The most important thing you need to know about it is that it is incredibly vast and heavy, it was not very comfortable to use even sitting at the table.
The second fact is that on the second day its connector broke, it was very unexciting, the expensive flagship did not survive the second day.....
In terms of sound, it's a kind of rocker. It surprises you and tries to keep you interested the whole time you're listening to it. It's technically higher than N8-2; it's more elaborate but just as energetic.
I must admit that the two runs were insufficient because there are hyper, tube, and amp modes, and all this changes the sound tangibly; all I can state is that as well as it was with the N8-2, I like it more without tubes. The dynamics and attacks were excellent. It is very far from linear presentation, but to deny that it is well-presented, everything from bass to treble, would be strange; there is too much emphasis on everything. The tubes are not as muddy as with the N8-2; they have been refined.
But there are so many accents he tries to put at the same time, which is a little tiring. But as a solution, there are a bunch of modes that change the sound without spoiling it and making your collection variable - damn good. All that's left is to find a working, trouble-free sample and suspenders for pants.

X-Mems + the new Diablo, with a function for these very mems.
Unfortunately, Oni for 1600$ was not given out at the show; I listened to the one on the photo.
Mid dominates the sub, but the bottom is friendly and fast.
Trebles are pleasant and extended, but it will be tough to distinguish from the BA unquestioningly without revelations. Vocals are not squeezed.
Sibilants are present, and I think not everyone will like it because of their presence. I didn't listen to it for long; it's quite an annoying story. I didn't hear any super victories.
EE raven.
I never gravitated toward their tuning and the idea of a bone bass driver. There is no miracle here because EE has its fanbase, and a lot of people like this type of bass. I must admit that I thought it would be Odyssey or Evo in another variation, but surprisingly, it's something more like Odins, which are the ones in the pictures to compare the size of the shells. The shells are giant, sticking out of the ears, but still quite comfortable and light. In terms of sound, these are the Odins, which trimmed all the annoying parts of the range and added warmth perceptibly. The woofer is for company fans, but I can not say everything is terrible. They are my favorite from EE now. The middle is squeezed, and there is a lack of transparency; trebles are good. For such money, honestly, I'm not very much impressed. Odins sound more exciting but are unbearable for a long distance and cause fatigue. In Ravens, you can sit for hours without fatigue from the brightness on the upper treble if your ears will not against such giants.
Questyle. There is nothing much to write about the DAC-AMP combo; it's not bad. The headphones with a whistle built into the cable are excellent.
These are good dynamic headphones in the classic sense; they are not transparent, they don't have a ton of detail, but they are fun, give a good punch, and don't feel like a smear. The dongle is weightless, natively works with Apple lossless, and has lightning and USB-C connectors.
Singularity, Subtonic Storm, and Crimson.
I liked their booth - charming guys; they told me how they made tuning headphones, about the bass shelf and purity of the middle at the middle bass, about black Acoustunes, and many other exciting things. The sound of their ears is catchy.
I hope it's not the effect of 15 minutes of listening, which then tires me out

1)Crimson on the background of the other two dark tunings, not particularly sharp bottom, not particularly liked, listened for a short time, so
2) Storm - many details. Everything seems to be very beautiful but aggressive regarding the upper middle. After 10 minutes, I got used to it, but I know it can be rough for long sessions. At the same time, the bass is very vigorous and dynamic, excellent for BA, but you can not take it without listening to it. I, for fun, hooked them up in Phatlab Sassy GT amp - things became better, but still, even with a half-tube Sassy, someone may not be comfortable.
3) Singularity is unexpected here. I was expecting a ton of bass, bloat, and treble in the face, but no. Guys somehow manage to keep the balance, and the bass does not overwhelm me as I expected.
Singularity sounds not clamped but requires a lot of power, speed, and attacks on a reasonable level. Of course, they are not linear, not once, and it's a fan, but this is the type of fan when the creators did not go to all lengths and customized the product, which does not tire but gives a charge of positivity, given the price, then straight must-have. Bonus, of course, coherence because it's a single DD
To summarize the company - I recommend them to those with a powerful source because all their ears sounded significantly better with additional amplifiers or, for example, with m17 in desktop mode.
TBC tommorow