Joined

May 28, 2009
Posts

1,075
Likes

2,115
Location
Audeze & Embody Team Up to Deliver Unmatched Virtual Studio Mixing Experience on Headphones
Audeze and Embody are proud to announce a major update to the
Reveal+
virtual studio plugin
. Featuring an enhanced HRTF algorithm, new studios from Multi-Platinum and Grammy Award-winning artists, a refreshed user interface, and much more, this "remastered" version of Reveal+ offers producers and mix engineers an unprecedented opportunity to experience world-class studios from the comfort of their
Audeze
headphones.
With so many other companies rushing to create virtual studio plugins, you may be asking yourself the question, "why should I choose Reveal+?"
Personalization: The Difference is You
While other virtual studio plugins rely on generic HRTF profiles, Reveal+ dynamically generates a completely personalized HRTF profile from your unique ear structure. Why is this important? Because when you're listening to audio inside a physical space, the sound interacts with your ear's anatomical structure before entering the auditory cortex of your brain. If you want to translate that real-world listening experience into a virtual medium, your ear structure is as critical a part of the equation as the room acoustics themselves.
To put you into the sweet spot of a virtual studio, Reveal+ uses proprietary Artificial Intelligence algorithms developed by Embody to interpret a picture of your ear. After mapping your unique ear shape, the AI extrapolates a complex set of data that comprises your HRTF, creating a completely personalized profile in less than 30 seconds.
Artist Certified: Trusted and Accurate Studio Monitoring
The goal of Reveal+ is to put you inside real mixing environments used by world-renowned audio engineers including
Bob Horn
,
Carlos de la Garza
,
Erik Reichers
, and
Warren Huart
. To guarantee our virtual studios' authenticity, the audio engineers themselves tune the acoustic signatures. It isn't until they confirm that the virtual mixing experience is identical to their real-world experience that the studio is then certified and added to the plugin. With this approach you can trust in the accuracy and authenticity of each virtual studio included in Reveal+.
In the words of the multi-platinum, Grammy Award-winning mix engineer Bob Horn, "Rest assured that what you hear from the Reveal+ plugin on a pair of headphones is what you'd hear if you sat at the desk in my mixing room. I worked with Embody and personally tuned it. It is the sound of my studio."
Audeze Headphones: True Uncompromised Audio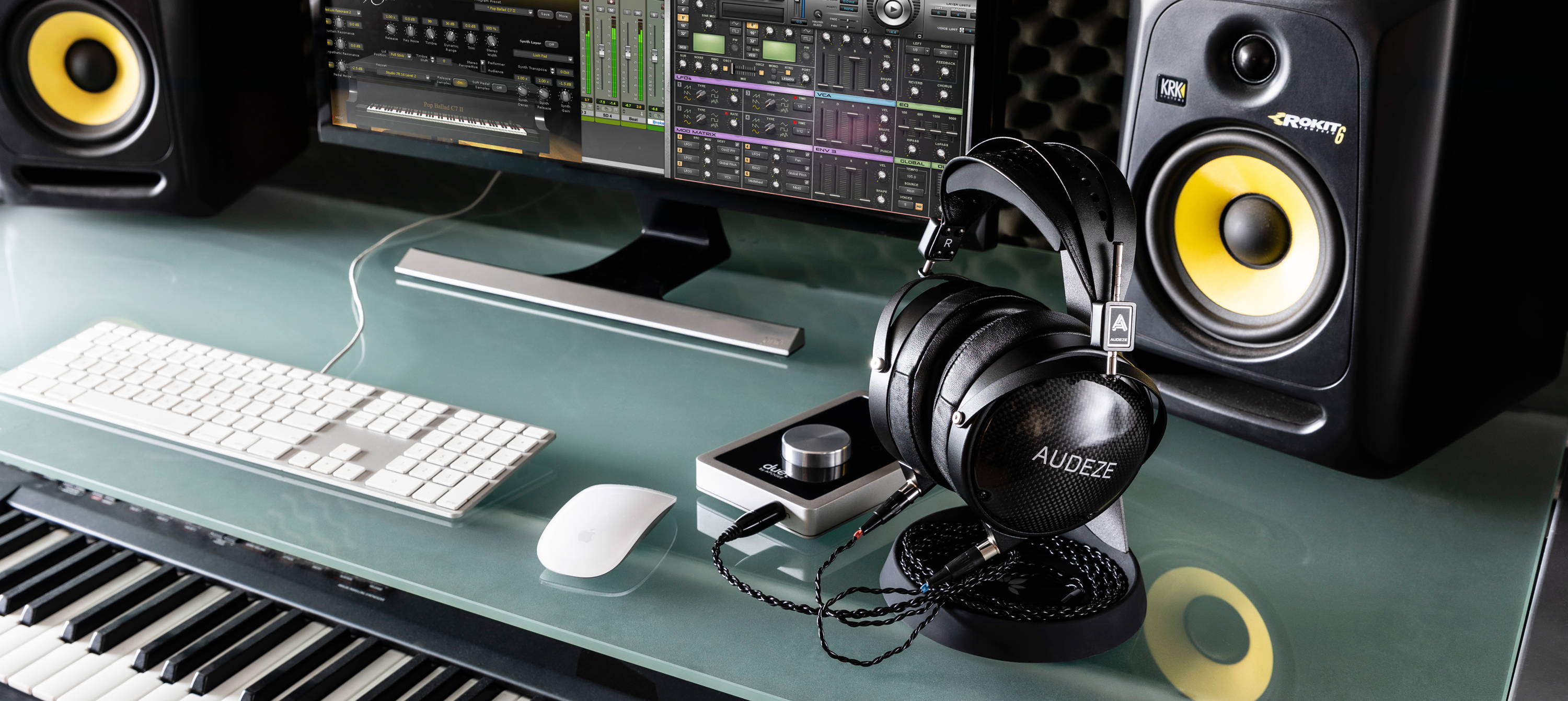 To experience the full benefits of a virtual mix environment, you must choose a headphone that delivers highly accurate sound reproduction. In this regard, Audeze headphones are the perfect complement to Reveal+. Recognized worldwide for their incredible detail retrieval and sonic accuracy, Audeze headphones are the preferred solution for many of the world's most respected artists and audio engineers, including
Glenn Schick
,
Kurt Rosenwinkel
,
Tony Visconti
,
Susan Rogers
,
Maria Schneider
, and the list goes on, and on, and on.
When you combine Audeze headphones with Reveal+, you'll hear every single sound with impeccable clarity and separation. Every studio monitor, every acoustic space, will be rendered with uncompromised transparency and integrity to make you feel like you are truly sitting in the sweet spot.
Reveal+ is available now for $199, or you can try it free for 14 days! You can also save $100 on Reveal+ when you purchase it together with any
Audeze Reference
headphone, including the
LCD-1
,
X
,
XC
, and
MX4
. Simply add both items to your cart, and your discount will be automatically applied at checkout.
Learn more at
www.audeze.com/reveal
Also Check out
Audeze
and
Embody's
videos
on how to setup Reveal+:
​