Item information
Added by
Views

7,719
Reviews

3
Last update
Rating

3.33 star(s)

3 ratings
Sennheiser Momentum Wireless Over Ear Headphones
General Information
Sennheiser Momentum Wireless Over Ear Headphones in Black M2AEBT
Latest reviews
Pros
:
Wireless, Sound Quality, Comfort, Sound Stage, Bass
Cons
:
Price, ANC Always On
I've become a big fan of wireless headphones over the years with aptx codec, bluetooth 4.0 technology, and li-ion batteries becoming the standard. This allows more of the battery to be dedicated to driving the headphone rather than maintaining a connection. 
 
My previous wireless headphone the Sony MDR10RBT, was recently highjacked by my girlfriend, so I took the opportunity to look for an upgrade. I stand by the Sony being a great headphone at that price, just a good ol' walkin' around headphone, with not much to worry about except the music.
 
I've gone into detail for notable features, expect the rest to perform as expected respective to its rating.
 
Overall
 
I've found the M2 to be a great listening experience. I've noticed the momentum is a love/hate relationship with some, and if you're horribly picky about sound signature being perfectly dry and neutral this might not be for you. I would call this phone a music listeners headphone. I would never use this in the studio for any reason, but I use it whenever I'm not at my desk, and even at times over the TH-900 if I know I'm going to be getting up a lot. If I really need to focus on some work, the ANC does it for me.
 
Like the TH-900 I often find myself when one of my favorite tracks comes on, especially getting into the complete sound this headphone offers without taking anything away. It's easy to get lost in the entire track, and it's easy to pick out certain instruments if you want. Neither is so obvious and that's what makes this headphone special and worth it to me.
 
Sound Quality 4 / 5
Sound Signature: Depends on Individual, for me 4.5 / 5
Highs: 4 / 5
Mids: 4 / 5
Bass: 4.5 / 5
Staging: 5 / 5
Instrument Separation: 5 / 5
Comfort: 5 / 5
Build Quality: 5 / 5
Controls: 3.5 / 5 (Due to Next / Previous track being a bit unintuitive)
Value @ 350 USD: 4 / 5
 
Sound Quality
 
Very good detail across the board.
 
Sound Signature
 
Mostly balanced with seemingly emphasis on bass due to the excellent bass on this headphone.  Those who are extremely into neutral headphones might say that these are coloured. They are not studio monitor-like in any sense. The bass quantity + quality really is something to be treasured that a lot of cans really have a hard time finding this kind of balance with the rest of the sound in mind.
 
The headphone offers a smooth, detailed sound that allows your listening preference to stand out. If I want to pick apart a song, I can. If I want to lay back and enjoy the music, I can. Both seem to come effortless.
 
As an owner of the Fostex TH-900, I've come to truly appreciate any headphone that can have great bass without taking anything away from the rest of the spectrum, and this is a similar feeling to that, scaled down respective to the price.
 
Controls
 
The controls are for the most part very good, I have two gripes though. On my much cheaper Sony wireless, there are separate up down controls for both volume and track, while you press in the track switch button to pause. For the senn there is only one switch for volume and changing tracks. For pause, press once, for next track twice, previous track thrice.  With no tactile feedback on the button, it can be hard to tell if your press is being registered. It's easy to accidentally pause while switching to next track, and when some of your music starts tracks with silence this can take a second to figure out.
 
ANC can't be turned off which, if you're walking around and looking at your phone for example (I use my ears often in these situations), the ANC can leave you totally blind when you might otherwise not want to be. The ANC itself is very good however, and works as well as I could expect.

Pros
:
Sophisticated & mature design, good build quality, good ANC
Cons
:
horrible honky sound
These sound like a telephone call. They have an n frequency response to my ears and are just nasally/honky colored in sound. Maybe the highs and bass have some quality superior to say the QC25 from Bose, but the mids are colored to me. Just as bad as the original Momentum from many years ago. The only difference being these have more upper mids and maybe the bass has gained some quality.
 
In terms of sound the Plantronis Backbeat Pro destroys the Momentum Wireless in every way, just a much clearer less wooden sound. Perhaps they are on the same level in terms of Imaging. But everything else the Momentum loses out.
 
Hands down the worst 361€ I have ever spent. Sold them on at a great loss....
 
But if you happen to like the sound these are excellent in every other aspect, the NC was great and the build quality is stellar.

Pros
:
excellent sound quality, foldable design, ANC, 22hr battery, aptX support, wired/wireless connection, USB DAC connection
Cons
:
pricey, minor glitches w/ANC, wired connection to right earcup
Before I start my review, I would like to Thank Sennheiser US for providing me with a review sample in exchange for my honest opinion.
While waiting to receive my review unit of recently introduced Sennheiser Momentum 2 Wireless headphones, I was both excited and a bit concerned.  Personally, I thought it was a risky move for Sennheiser to make a leap from a wired headphone world where they are a well known audiophile player and into a wireless universe dominated by products fueled with celebrity endorsements and exaggerated bass.  Wireless Bluetooth technology has been maturing year after year, and now with BT4.x and aptX codec the performance of BT headphones have improved significantly with a sound being less compressed, more dynamic, and with a better transparency through a digital domain delivered to your headphones.  But you still need to consider D/A conversion, amplification, and transport of analog signal to your headphone drivers.  This fusion of digital wireless domain and analog driver tuning is the biggest challenge to tackle in order to deliver a transparent natural sound, something Sennheiser wired headphones are well known for.  So, was Momentum 2 able to accomplish this wirelessly?  You BETTER BELIEVE IT!!!  Here is what I found.  
Arrived in a sturdy cardboard box packaging, I had to pause for a second while looking at the cover picture.  Even so it was a familiar image from my review of the original wired Momentum, I still took a moment to enjoy sexy lines of their design.  Before opening the box, I usually like to take a tour around it to get acquainted with key features, list of accessories, design details, and technical spec data.  Some of this info really stands out with key features of 22 hr battery life, BT + aptX support, NFC pairing, Active Noise Canceling (ANC), foldable design, wireless and wired connection, and 2 year warranty – quite an impressive list to get you excited for what awaits inside of the box.  With a cover off, you will find a compact case made out of a soft material (kind of reminds me of suede texture) inside of a foam cutout, a familiar display setting I found with other Momentum models, though case material usually varies.  
Unboxing.
In addition to this soft touch case with a yellow stitching around the edges, other included accessories (all inside of the case) were a detachable audio cable, usb to micro-usb charging/data cable, a flight adapter, a soft draw-string pouch with headphones inside and the pouch placed in the case, and a comprehensive quick guide.  Personally I prefer a more heavy duty hard shell case and eventually will look for one which shouldn't be a problem to find since Momentum 2 has a foldable design, but I do have to admit this case looks really sweet with a yellow stitching matching the one used on leather headband.  Audio cable has a right angled gold plated slim connector going to your audio source and 2.5mm twist-on connector going to earcup.  This is the same connector used in the original wired Momentum, and my only comment here is that I would have liked to see some kind of an alignment marker so you know when connector is engaged and twisted correctly inside of earcup, but with a few tries you get used to it anyway.  
Flight adapter is rather rare to see nowadays, but it also very appropriate since a lot of people use headphones with ANC during their travel, and sometimes you're required to turn off Bluetooth on a plane (putting your phone in airplane mode).  Having a wired connection gives you the flexibility to use headphones when battery is low or when you don't have access to Bluetooth or in a situation like an airplane.  USB to micro-usb connector is obviously for charging, but there is also another undocumented feature which I'm going to talk about later in the review.  
Accessories.
I already mentioned that unfolded Momentum 2 looks just like its original predecessor.  You get the same stainless steel metal arc headband, split at the top, partially wrapped in premium leather with a dense foam padding inside and yellow stitching around the edges.  Instead of a typical height adjustment mechanism and headphone yoke, you can slide the earcup up/down across a slit of exposed stainless steel headband sides.  The sliding adjustment is very fluid and easily controlled with one hand without being too tight or too loose.   The earcup itself is attached to a mounting pin and has a full 360deg pivoting rotation to adjust comfortably to the anatomy of your head and your ears.  This adjustment mechanism has a pure German engineering quality written all over it, and at the same time it has a very fashionable modern-classic look.  The wires from earcups going to headband are flexible and still have a heavy duty shielding.  At the point of their entry to headband you will find 4 metal screws for additional security.  
One of the most noticeable design changes introduced with Momentum 2 (both wired and wireless) has to be a foldable headband.  Such mechanism is easy to implement with a traditional headband where you can design-in foldable hinges.  Looks like Sennheiser decided to challenge themselves keeping the original design, making it look identical from outside, and adding a durable locking hinge on inside right at the point where leather band wrapping begins.  This is another example of well executed German engineering - done with a slim hinge which is hardly noticeable from outside.  The only comment I have here, you have to be careful when folding earcups in to make sure metal endpoints of the headband don't brush against leather earpads.  
And speaking of earpads, you will be pleased to know these have been updated with a bigger opening in comparison to the original Momentum headphones.  I never had issues with those original Momentum earpads, though my ears are just average and about 60mm in height.  For me with original earpads it was tight but still comfortable.   The new earpads are just perfect with an approximate opening of about 65mm in height, but that doesn't mean that 70-75mm ears won't fit in.  The earpads are deep, with memory foam and a soft leather wrapping.  According to a quick start guide, they are removable and replaceable, so it's definitely a big plus.  The donut shape of earpads is not symmetrical where the thicker part is faced toward the back making fitment more comfortable.  This also means that you can't flip left/right sides and always have to put headphones one way.  The L/R marking is inside of the headband, right underneath of the hinges, and you also get 3 dimples on the outside of the left side at the folding edge, though I wish those dimples would be a little bigger for a "blind" id.  
Looking closer at earcups, you will find the Left one having NFC pair up area and what appears to be a two microphone grills.  A spec of M2 Wireless lists NoiseGard hybrid feature using 4 mics where I assume these are two of them.  Right earcup is where you will find the actual controls.  First of all you have a port for 2.5mm cable with twist-on lock, and also micro-usb port for charging and USB DAC input (more about it later).  As a right handed person, I prefer cable attachment on the left side, but it's not an issue moving forward since I'm planning to use these headphones mostly wireless.  Right next to it you have another long microphone grill and 2 control buttons.  One is a Power button (with led next to it) which also serves a purpose of initiating BT pair up once you hold it down.  The other control has a spring-loaded rocking multifunction push button where you push it once for Play/Pause/Call and rock it up/down for a volume control.  Furthermore, double and triple click while playing audio will trigger skip track next/prev, and double click and hold or triple click and hold will trigger a fast-forward/-back transport control.  In idle, triple click informs you about battery status.  
Design details.
Moving on to Bluetooth functionality of these new Momentum beauties, let me first start with a "digital" domain of the design.  As it was mentioned before, Momentum 2 Wireless supports BT4.0 and aptX codec which is among the latest Bluetooth standards that enables high definition sound without lossy compression of the source.  Pair up was effortless and headphones connected to phone and media audio without a problem.  As an alternative you can also use NFC pair up.  Keep in mind, with power on, ANC will be enabled automatically and you can't disable it.  Also, I had no issues making/receiving clear phone calls, though it was a bit of a new hearing experience considering ANC noise isolation.  
Another way to connect to your source is wired, using detachable cable.  With wired connection you have an option to use headphones in passive mode (with power off) or active mode (with power on).  According to Momentum 2 spec, this will change input impedance (where btw, the packaging box has a typo so please refer to a spec on the web), thus you will be able to drive Momentum 2 wired with power off like a regular pair of cans, even with addition of external portable amp if you prefer to.  With a power on, I would recommend direct connection without any external amping to avoid sound artifacts.  I don't know the exact chipset inside of these earcups, but once you turn the power on sound becomes wider/deeper, more textured and better balanced (especially when it comes to bass) - suggesting a high quality of internal DAC and maybe some amplification stage.  Furthermore, with addition of ANC you will also hear a cleaner black background.  
Now, here comes a total undocumented surprise!  You can push Momentum 2 wired performance even further by using a direct USB connection to your smartphone or laptop/PC.  Yes, in a typical fashion of USB OTG connection (to your smartphone) or USB DAC connection (to your computer) you can now bypass analog HO driven by low quality internal DACs inside of your phone or laptop.  It's hard to quantify the level of improvement since with some of the latest phones, like my Note 4, I find a lot of USB OTG DACs to offer only a marginal step up, but when it comes to laptops – you can expect a better wired sound through usb cable.  
USB OTG / USB DAC functionality.
Before I proceed to a more detailed sound analysis, I want to bring up another key feature of these headphones – Active Noise Cancellation (ANC).  I typically don't require ANC in my everyday routine since I don't take public transportation or work in a noisy environment.  As a matter of fact, I probably wouldn't even take these headphones outdoors.  But I'm well aware that a lot of people rely on it during their daily activities and very serious about the quality of ANC implementation.  I have briefly tested ANC offered by other headphones, and a lot of you probably will agree that Bose is at the top of that game, but I also found Momentum 2 Wireless to be not too far behind and sometimes even better than others (such as noisy hiss of Beats Wireless Studio).  Personally, I was pleased with a quality of noise reduction implemented in Momentum 2, and found no annoying hissing or periodic pulsating white noise.  There were some occasional bursts, but it happens rarely.  I'm not going to carry on about these having the best ANC in the world, and in my opinion if this is your only top priority – Momentum 2 Wireless is not for you.  But considering everything else these headphones have to offer and their outstanding performance, ANC implementation is just an icing on a cake!!!  And just to be clear, ANC implementation in Momentum 2 Wireless doesn't feel like an afterthought feature added to make them look complete.  This is actually a well functioning active noise cancellation!  
So how do these sound?  I tested them both wired and wireless, and found some interesting differences.  As it was previously mentioned, in wired mode you have an option of passive mode (w/power off) and active mode (w/power on and ANC enabled).  In passive mode the input impedance is 28 ohms and headphones function just like a regular wired set of cans which you can drive directly from HO of your audio source or through external amp.  Even so stock OFC cable does its job well, I was testing these using Whiplash Modular Cable (Pure Silver Litz cable) with a custom 2.5mm connector that plugs right into earcup without a need for a twist-on lock.  
Whiplash modular cable.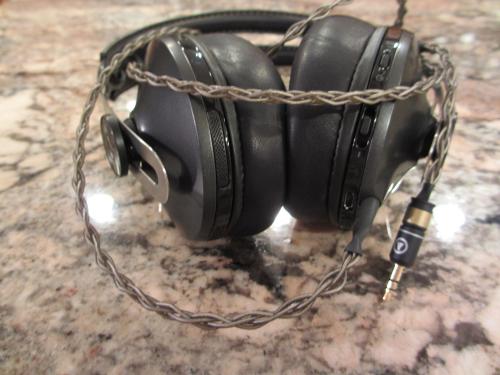 In this passive mode I found sound to be well balanced and with just slightly overwhelming mid-bass hump.  What is interesting, the impact of this bass enhancement only comes out to play in the tracks with a strong 4x4 kick/bass drum, while it was hardly noticeable in mellow tracks.  In general, wired passive mode is OK if you completely drained your battery, but I personally prefer to keep active mode always on.  As soon as you turn on the power of active mode, you are greeted with an improved sound tuning and an expanded soundstage.  One interesting phenomenon, most likely due to internal DAC, in active mode the input impedance goes up to 480 ohms (!!!), and it becomes quite noticeable since the volume drops and you need to compensate it from your source.  
In active mode with a stock cable sound signature was close to a wireless mode performance.  It was a very impressive comparison since this is a truly best audiophile quality wireless sound I heard to date.  When I switched to Whiplash Pure Silver cable, level of detail retrieval went up and sound became just a little bit brighter and crispier.  That was also expected and I was very pleased with a level of improvement using a custom cable.  But for the sake of my testing, I will refer to how Momentum 2 sounds in a wireless mode of operation since I consider it to be the most important characteristics of these headphones.  
So, overall I found Sennheiser Momentum 2 Wireless to have a balanced sound signature with a smooth warm organic tone and moderately enhanced bass.  
Starting with a low end, you have a good extension down to a sub-bass layer which is smooth and well balanced with a mid-bass punch.  The bass presence is excellent and builds a strong warm foundation without muddying the sound or overwhelming the rest of the frequency range.  Also, it is well controlled without spilling too much into lower mids.  The mid-bass hump I experienced in passive wired mode was completely gone and smoothed out as soon as you enter active mode.  
Mids are warm and smooth, maybe just slightly recessed.  They contribute to a full body sound starting with a thicker lower mids and going into a detailed lush of upper mids.  Both male and female vocal delivery was very smooth and organic with an intimate feeling.  Even though mids are warm and smooth, they still have an excellent retrieval of details without being harsh or analytically bright.  
Treble is relaxed, detailed, organic, not too crisp or grainy and without any sign of sibilance.  These are definitely great for extended listening period without ear fatigue.  Some might perceive treble extension as a bit rolled off, but after a closer listening you realize that it's just a warm nature of the sound.  
As I mentioned before, in passive mode soundstage was just average, controlled by your source, but once you put it in an active mode - soundstage expanded to a 3D depth and width with an amazing separation and layering of sounds.  
Conclusion.
Overall, I know that wireless experience can vary depending on the make and the vintage of your phone or tablet, BT version and aptX support, Android vs Apple (where aptX is not even supported by iDevices), and perhaps your location due to surrounding that can interfere with a signal.  But in my everyday use during a test period I experienced a flawless performance with a wireless sound quality that rivals some of the top wired headphones I've tested.  Of course a big factor in sound quality has to do with a great job Sennheiser team done in tuning of these headphones to have a warm and natural full body sound that oozes with a high level of detail retrieval.  When people think of wireless headphones, usually convenience of cutting a chord is at the top of their list.  With Momentum 2 Wireless you don't have to compromise a sound quality and can add it at the top of your priority list as well.  On top of that Momentum 2 Wireless has a remarkable 22hrs battery life, a choice of wired or wireless connection, USB DAC support to connect to your smartphone or PC/laptop, very high quality build and comfortable fitment, convenience of foldable design, latest Bluetooth with aptX support and also NFC pairing, 2 year extended warranty, and of course a bonus of very capable Active Noise Cancellation making Momentum 2 Wireless a complete package with a great value even at its premium price.
Comments
There are no comments to display.