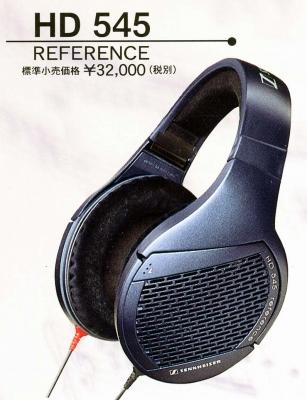 Sennheiser HD-545
Over-Ear item created by Nordwestlicht, Feb 14, 2011
Average User Rating:

4.125

/

5

,
Tags:
Recent User Reviews
"Superior comfort, wide soundstage, easily serviced"

Pros - Superior comfort, wide soundstage, easily serviced

Cons - Flaky stock 1/8" cable.

I'm in accord with the observations in the other 3 reviews. I bought the HD 545s at Best Buy for $189 back in 1998. Since then, I replaced the ear pads, headband cushion, and cable (1/4" HD 600/650 version) with OEM parts over the years.

The old 1/8" jack stock cables always had a flaky connection (frequent drop-outs), but the replacement 1/4" cable 2-pin connection is, for some reason, much more robust.

I find thes cans are my go-to for movie watching, due to their superior comfort (and I have big ears), good neutrality, and broad soundstage.



"Great sounding reference phone."

Pros - Lightweight, comfortable, good soundstage.

Cons - Not suitable for small heads, channel drop out (design flaw)

I found these at the local Value Village for $5.99.  A great price for a $200 (at the time) headphone.  300 ohm impedance makes them great on my 5687 SRPP amp.


"Sweet Vintage Headset!"

Pros - Beautifull Sennheiser house sound

Cons - Open build - everyone else will hear

Bought these used, in excellent shape, to use mainly for listening to FLAC files on my MacBook Pro using MPlayer X. Also ordering a Pono Player which I plan on running in balanced mode with these puppies. I noticed that Surf Cables makes balanced headphone lines for them, so I searched them out. Remarkably, I found a pair for 35 Canadian dollars. I have noticed after the first day that they seem to naturally carry a little more bass than my beloved HD 380s. Early indications are leading me to believe that the 545's soundstage is more spacious. I've already read favourable comparisons of the 545s to the HD 580s right here on Head-Fi. Super comfy. Apparently there is a intermittency issue after some age with the two pin connectors and their sockets. I haven't experienced that yet and hope not to. All I can say is that listening to Rush's 'A Farewell to Kings' at 24bit/96KHZ is a heavenly experience with the HD 545s!

User Comments
To view comments, simply sign up and become a member!