Reecho spring 2.0 (equinox)
Big improvement from the origonal Reecho X peacock spring without hiking the price.

Stereo imaging and Separation of all components in the music blew me away for the price.

Versatile for genres

Details are top class, absolutely exceptional.

Vocals sound full and not valed behind excessive bass or treble

Looks great and has good build quality. Shell looks different (better imo) to the ones I have seen in photos, unsure if this was for the western market or not. Faceplate is the same but she'll is a greeny blue colour with a slight sparkle.

Quality of the bass is brilliant even though this is not a Basshead set. I hear no audible bleed into the mids.

Extension both high and low is impressive.

Cohesion of the two different driver types is great.

Very deep and not too narrow sound stage.

The graph on reecho's website reads as this being a very V-shaped but it does not sound like this to the ear. It sounds like a much more gentle V, almost balanced with a sub bass boost And a great sense of Air. I would be interested to see any uploaded graphs onto squig in comparison with the graphs on Reechos website.
Doesn't come with a Balanced cable if that is your thing.
I own a number of IEMs and I have not been impressed like I have been with this set for a while, so much so I wrote a review which I havnt done for a few years.
For 100 pounds this will be hard to beat in my opinion and I hope more people get to experience it. I would be surprised if the community doesn't catch on to these.
(Listened to these through btr 5, qudelix 5k, ifi xcan and Ifi idsd signature, apologies about the photos I'm no photographer and were taken on my phone)
Last edited:
Reecho Spring MK2
Pros
:
Newest hybrid from Reecho
All resin build with, upgraded components.
10mm LCP dynamic for bass and mids + 2 RAD Knowles treble BAs.
Light, smaller side of medium in physical size for better comfort
3 sets of well matching silicone tips.
5N silver plated OFC cable in single ended.
Balanced tuning for versatility.
Solid mids and bass presentation.
Easy to drive but comes alive with amping
Natural tonal character with excellent timbre
Good note weight for vocals and instruments alike.
Treble presentation and emphasis is complimentary to the mids
Musical sound presentation due to richer mid tones and impactful bass.
Cons
:
Passive isolation is below average due to 3 well placed vent holes.
mid trebles need a slight boost for better balanced trebles.
Not the most resolving of sound presentations.
Reecho Spring MK2
I have been lucky to hear most of the Reecho offerings in the past including their seasonal themed earphones the Spring and the Summer IEMs which was released prepandemic in 2019.. Both IEMs were decent sounding IEMs but I can't say they were anything special or did they really compete with the best IEMs at their price points at the time. The one aspect about a company's designs that have to progress is that they have to get better at their craft with the ever increasing competition at all price ranges. The new Reecho Spring MK2 not only incorporates upgraded drivers. A 10mm LCP dynamic drivers using a strong N52 magnet and a dual RADs knowles BAs handling the trebles. But most importantly the tuning for the new Spring MK2 has gotten considerably better. The new Reecho Spring MK2 is not just a bit of an upgrade on the prior Spring and summer IEMS, but so happens to be one of their best sounding IEMs
Reecho recently released an upgraded SG-03s. And before that the SG-01 OVA. What was clearly evident from both of these budget dynamic IEM releases was that both were very capable of some of the best money can buy for sound quality at their given prices. So how does the new Spring MK2 fare?
I would like to thank Penon audio and Reecho for the review sample of the Spring MK2, you can look them up on the Penon website
here.
.They have been burned in for a period of a weeks time and are now ready for evaluation using my sources. Fiio K9 Pro ESS, IBasso DX300Max, Fiio M15, Shanling M6 pro, Fiio BTR7, IFI Gryphon, IFI signature for amping.
Today's In Ear Monitor is seeing variety like never before. There are numerous types of IEMs now than ever before at what seems to be all price ranges. It will be the more affordable offerings that will see the most use from enthusiasts vs the expensive high end offerings. But that does not mean the IEMs have to have a cheaper sound. Far from it, the Reecho Spring MK2 is exemplary of a company that is getting better at what they are doing with each newer release. It helps that they are using more resolving drivers and not really asking for a higher price to own a set. The Spring MK2 comes at an affordable $115.90 on Penon website. This is at the price range where one would expect refinements to the sound profile and most importantly has to have good versatility for its sound. And this is exactly what the enthusiast can expect when looking into the Reecho Spring MK2.
Two ways of tuning a hybrid IEM. One way is using the dynamic for bass only while the mids and trebles are done with the BAs. The other is using the natural tonal and timbral characteristics of the dynamic and utilizing the BAs for treble. The Spring MK2 is the latter of the two design methods. There is no sound descriptor that states this. I can tell from the open box sound that this was the case.
Open box sound was interesting in that the cohesion of the two types of drivers used for the Spring MK2 was not their best and you can tell which drivers are doing what as it was clearly evident. Transient and timbre properties for both sets of drivers sounded distinct and different from one another. Mids and bass had a thicker note weight and natural tonal character while the treble was much faster, more chiseled with tighter transient notes, and showed some metallic overtones vs the more natural mids and bass notes. No question the mids are done by the LCP dynamic driver. Once they got several days of run in is where both driver types gelled. Now it has become one sound. In other words, much better cohesion. Burn in is highly recommended.
What you get.
The Spring MK2 comes with a nice clamshell type magnetic case, 3 sets of well matching tips and lastly a 5N silver plated OFC copper cable in single ended termination. Standard fair, and with a good matching decently resolving cable the Spring MK2 you can get a very good understanding of how the Spring MK2 sounds. But it isn't till you start experimenting with aftermarket cables and tips is when you will realize just how good the Spring MK2 can truly sound.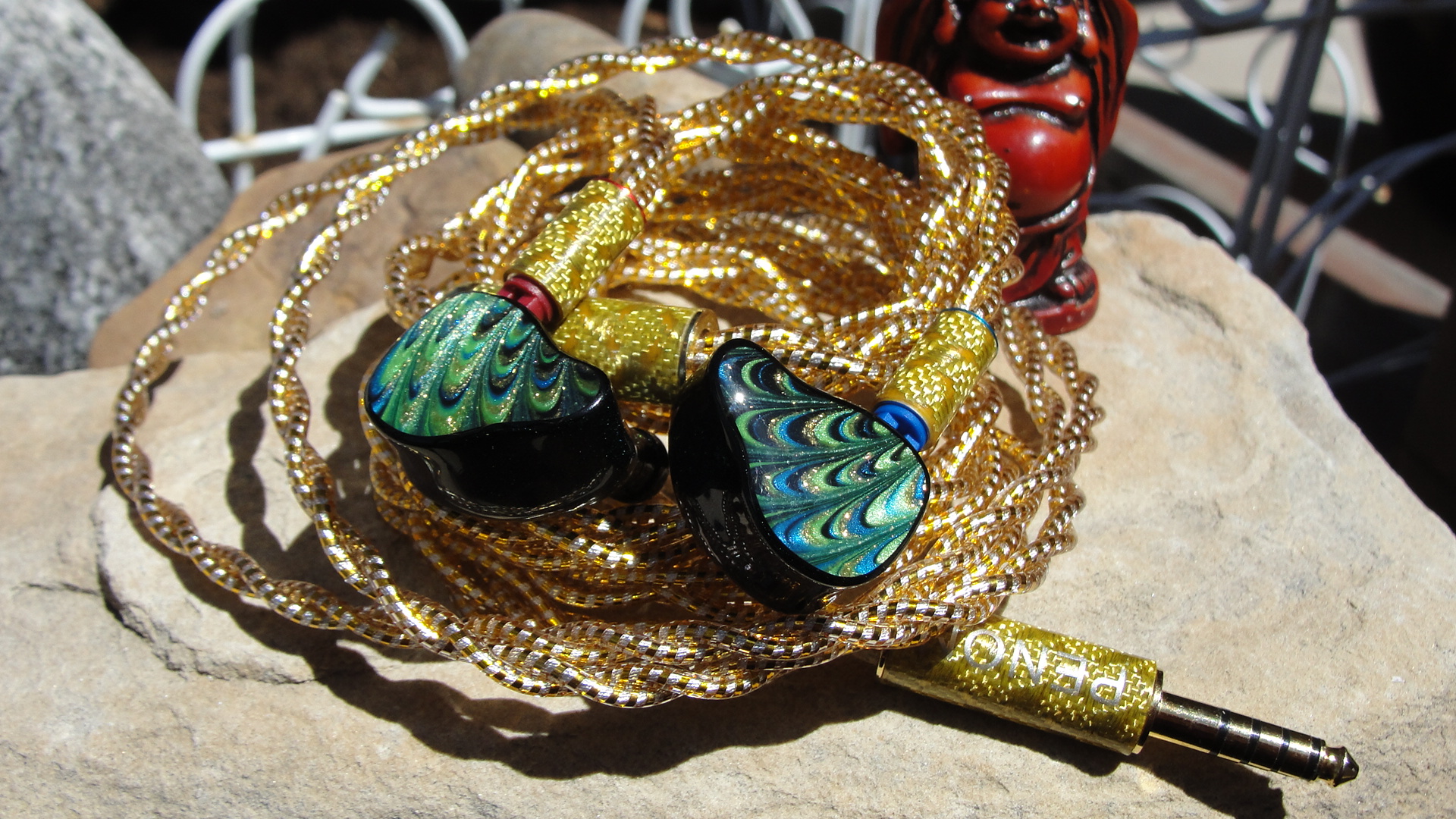 Its build
Is a hand painted all resin build and the hand painted peacock faceplate motif will be recognizable among Reecho enthusiasts. Very colorful mix of blue, green and gold flakes.
Yes very Peecock like. The shell size is a bit on the smaller side of medium and should fit a majority of folks just fine. The nozzle is just a bit on the short side but nothing a longer fitting aftermarket tip won't fix. The shells are light and easy enough to use. Passive isolation is a bit below average for resin builds but otherwise the build looks good, lighter in weight and usability should be standard fare.
The sound
The sound of the Spring MK2 shares more similarities based on their recent tunings in the SG-01 OVA and even the SG-03S. This is actually a good thing as their recent offerings offer more of a balanced harmonish take on their tunings vs being bass heavy like the SG-03 or a V shaped tuning like their insects awaken and older Spring IEMs. The upgrade here has to do with two factors. The first being a better tuning in general but they are using upgraded components from prior offerings. The 10mm LCP diaphragm brings a natural dynamic tonal and timbral character with a solid foundational bass to go with it. When adding a dual Knowles RAD treble BAs in the mix. The idea is to get the best of both worlds.
Trebles
Reecho as of late has been tuning their trebles to be more forgiving vs anything that will cause undue fatigue for the region. The Spring MK2 is no different. Bulk of treble emphasis seems to be from its lower trebles, then sees a dip around the 7Khz region and then an uptick in emphasis around 12Khz region. That dip around the 6-8khz range is what brings an easier listening experience for the Spring MK2 but in doing so loses a bit of articulation and balance for their treble tunings.
The trebles sound natural in tonal character and have good macro ability. It lacks a touch of micro nuances due to the big dip in the region. In tuning the trebles in a similar fashion to the SG-01 OVA and the SG-03S. It seems to be their new way of tuning for longer and easier listening. Trebles can sound a touch subdued at times but is mostly balanced with the mids presentation. Folks that would like a bit more in the way of treble emphasis, I recommend trying out a pure silver or a more transparent cable to bring out more of the treble aspects of the Spring MK2.
The dual RADs Knowles BAs brings just enough treble emphasis and details to balance the sound of the Spring MK2. Treble has moderate extension, not a lot of appreciable air and sounds more grounded than anything ethereal or too dimensional. Its treble tuning leads to an easier full bodied listening experience more focused on its mids, but has just enough emphasis to play a nice supporting role for the Spring MK2 sound profile.
One suggestion I have for Reecho is that while the treble tuning here plays safe, they need to tune for a bit more presence in the 6-8Khz region.The Spring MK2s are enjoyable to listen to yet lacks a bit of air and its trebles are how I would have guessed coming from the group. A standard harmon tuning has a mild 6-8Khz emphasis while these newer Reechos have a rather large dip for the region. Balancing your treble tunings better and it will go a long way to make your IEMs sound even higher end than they are. As it is tuned for these more recent Reecho offerings. This uneven treble tuning could be better balanced which also has an added effect of better treble articulation and extension.
Unlike the open box experience I heard where there was a clear separation from the treble vs the mids and bass. Cohesion has not only gotten much better after burn in. The sound has solidified. Cohesion is something manufacturers strive for in hybrid and tribrid tunings and some are better than others. I can still tell what each driver set here is doing just based on different transient characteristics but unless you are listening with a critical ear. The cohesion turned out very nicely for the Spring MK2.
The Spring MK2s treble tuning could use just a bit more emphasis for is mid trebles like I mentioned but the trade off is an easy going type of treble presentation that plays more of a supporting role vs being the focus for its tuning like a lot of IEMs sold at this price range. If you're sensitive to undue overhyped treble emphasis. The Spring MK2 is highly recommended due to its mild/ moderate treble emphasis.
Mids and Bass
I am grouping the two regions of the Spring MK2 sound as these are sound aspects that are handled by the nice LCP diaphragm using an industry standard N52 strong magnet. The mids presentation has a very good body of note vs sounding thin or recessed. In fact I would go as far as to say it is the mids and the bass end of the Spring MK2 that puts them squarely as one of the better offerings for its sound in the price range.
Dynamics do timbre better than BAs at the price. Cheaper BA sets tend to give off BA timbre a type of rigidity and metallic tonal qualities that are commonly used for budget sets and even IEMs priced well into the midfi category for IEMs. I am seeing more and more manufacturers realize mids are better suited for the dynamic drivers. Everyone knows dynamics handle bass to be more real hence a lot of hybrids have adopted the dynamic driver to handle both the mids and its bass end. Its technicalities are good but not outstanding. Where it wins is it brings a natural richer fuller tonal quality to the Spring MK2 sound presentation that becomes very addicting.
Its mids detail, sound separation imaging in space and timbre characteristics are all decidedly dynamic in character. In other words, more natural. If you have owned some of the better pure dynamic IEMs in the price class. You know what to expect here but at the same time the Spring MK2s provides correct tonal and timbre characteristics with a richer thicker natural tonal character that makes vocals and instruments sound very nice at their price point. These have some of the best mids I have heard from Reecho actually and that is reason enough to try out a set.
The bass
end much like the mids presentation is very natural and has much more in the way of being good than average for its price class. Bass has a moderate emphasis with solid tightness speed and control. Impactful when called for and has moderate rumble for its sub bass notes. It seems to be just a bit more mid bassy than sub bass focused but otherwise its bass is tight, correct tonally and has enough impact to be satisfactory for pop and bass genres alike. Where the treble aspects come a touch uneven and lacks a bit of presence. It is the bass end that easily makes up for it with a solid ability on top of some gorgeous mids presentation.
The heart of your music is well represented with the Spring MK2 and here is where the strong suit for this hybrid really lies. It's mids and bass. I would have liked to see just a bit more emphasis for its sub bass notes but for what it has. The Spring MK2 is a musical sounding experience more so than being overly technical and at the price point there is nothing wrong with that. It does vocal music just fantastic due to its richer denser body of note and has excellent natural timbre for all things instrument wise.
In the end
Deciding to go with a hybrid design in the Spring MK2 that brings the best focused mids and bass presentation while letting the dual Knowles BAs handle the quicker transient treble notes. This is how a hybrid should sound. Its balanced full sound presentation is very good at getting you into your music and in that regard I feel the Spring MK2 is a success.
However its treble presentation is hampered a bit by their more recent treble tunings that makes the trebles sound a touch uneven. This treble tuning will be loved by folks that are sensitive to undue treble emphasis. "All things in moderation." Should be applied here as the treble tuning has just enough presence and ability to compliment the rich full bodied mids and bass experience that is the Spring MK2. It's not the most detailed presentation but if you take musicality into consideration for IEM listening. Then there is a lot to like about the Spring MK2.
These are easy to like, and certainly easy to enjoy as they will bode well with an eclectic music collection. Easy to drive and scales amazing with sources and cables to boot. Hybrids in the price range are never perfect but if musicality comes first, Reecho has made a damn good sounding IEM. Thanks for taking the time to read.
Last edited: