DISCLAIMER: PlusSound provided me with the Exo Silver + Gold in return for my honest opinion. I am not personally affiliated with the company in any way, nor do I receive any monetary rewards for a positive evaluation. The review is as follows.
PlusSound is an American cable manufacturer based in Los Angeles, California. Founded in 2012 by Christian Oliver, the company specialises in aftermarket cables, but they've since ventured into developing amplifiers, as well as a series of in-ear monitors. PlusSound is unique among its peers in how it presents its products. Instead of separating them by metallic composition, each product category determines how the conductor itself is treated. The Apollonian, Dionysian, Echo and Poetic line-ups all contain different methods of shielding, while the X, Exo, X6 and X8 line-ups feature unshielded cables in their individual wire counts. The user is then free to choose whatever metal composition they'd like – creating an exploratory and customisable shopping experience. Today, we'll be looking at the Exo Silver + Gold: The 2018 iteration of a PlusSound classic, sporting a thrillingly energetic and surprisingly balanced signature for all to enjoy.
PlusSound Exo Silver + Gold
Wire composition: 26 AWG Litz Silver + Gold
Default configuration: 4-wire
Key feature(s) (if any): Proprietary PS Insulation
Price: $349.99
Website: www.plussoundaudio.com
Build and Accessories
Even before my first listen, PlusSound's visual presentation immediately impressed. The Exo Silver + Gold comes in a beautiful, well-thought-out and compact package. While it's neither as luxurious as Effect Audio's pricier offerings, nor is it as simple as something PWAudio would provide, Christian has found the perfect balance somewhere in between. Covered all round in a striking matte-black finish, embossed with shimmering PlusSound branding
and
topped off with a firm magnetic latch, the box simply
oozes
class. Inside, you'll find a PlusSound brochure, an elastic band – for your stacked rigs – and the cable itself within a protective plastic wrap. Again, the Exo Silver + Gold was packaged with admirable restraint and excellent finesse. It showcases outstanding attention to detail without going over the top, and it's a testament to how much care Christian and his team put into their products beyond just performance.
The Exo Silver + Gold comes equipped with PlusSound's brand new PS Insulation. While my two-year-old Exo Tri-Metal has aged well cosmetically and ergonomically, their latest innovation exhibits obvious improvements on all fronts. Visual transparency is one, displaying the Exo Silver + Gold's silvery strands with aplomb. They don't shine as radiantly as Effect Audio's conductors do, but there's a lot to love about its more understated and less
bling-y
look. Ergonomically, the cable warrants another comparison to the Singaporean giant. Effect Audio has been my clear personal frontrunner when it comes to weight, suppleness and pliancy. With PS Insulation, PlusSound is looking to close that lead. The Exo Silver + Gold showcases great flexibility and minimal weight, besting a majority of its competition on looks and feel alone. PS Insulation may prove to be Christian's ace in the hole – an element usually underrated, but brilliantly effective.
Sound Impressions
The Exo Silver + Gold is a cable that prioritises contrast, energy and excitement. Impressively, though, it does so whilst compromising neither body nor timbre – as is the norm in
fun
-oriented cables. Although specific dips and peaks have optimised the cable's dynamic performance, the Silver + Gold maintains excellent linearity – ensuring great tonal balance throughout its frequency response. It sports a moderate W-shape and structures a clean stage. With an especial focus on width, it dons a pitch-black background perfect for those transients to cut through. Through mid-bass control and an upper-treble lift, the Exo excels in headroom; exuding openness and air without resorting to any sense of brightness. Neutral would be a more apt term to describe its tone, sparing organicity through a bodied and resonant midrange.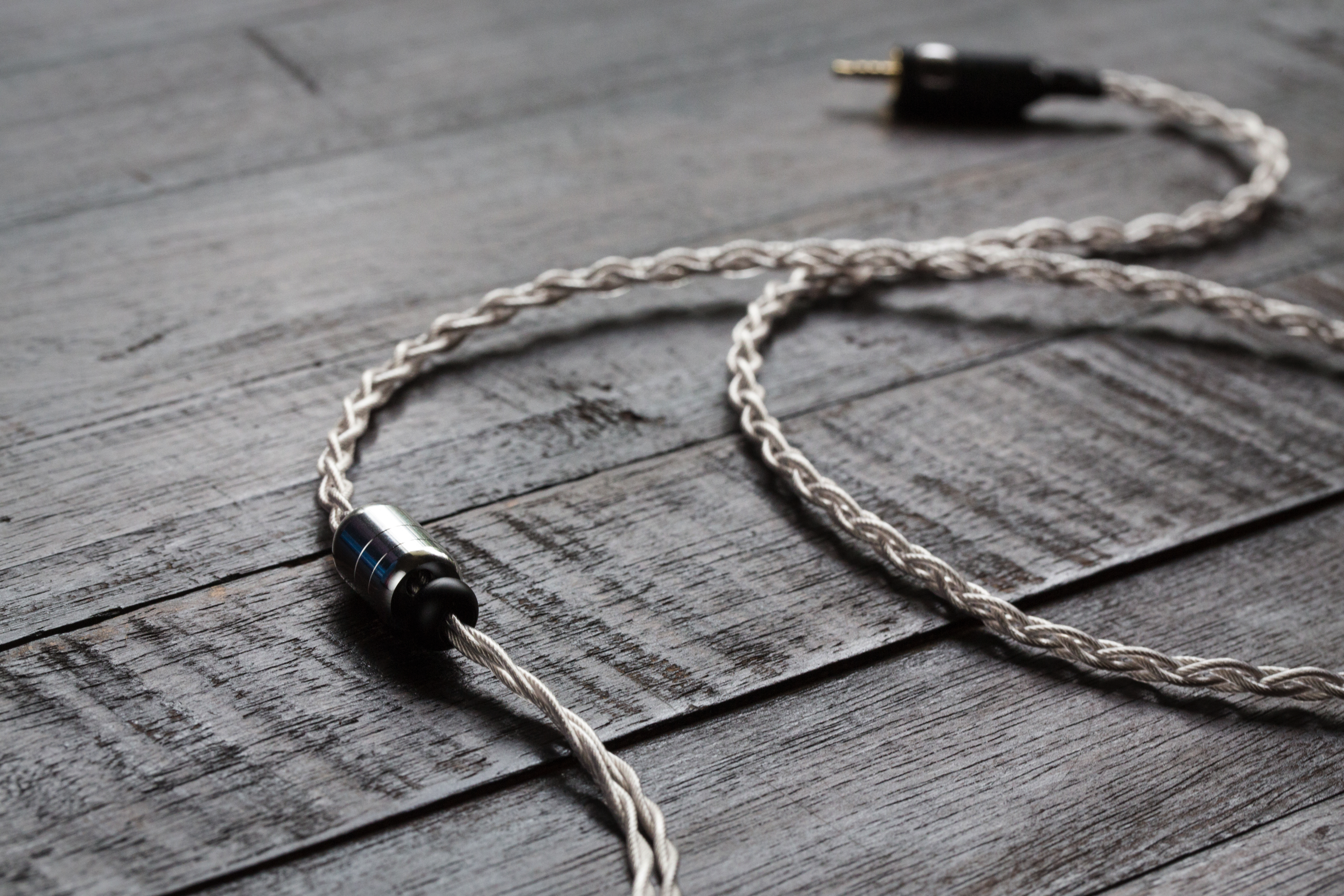 Bass is the highlight of the Exo's presentation. Amalgamating the cable's two greatest strengths – dynamism and control – the Silver + Gold increases low-end impact whilst managing bloom all at the same time. By attenuating the mid-bass and improving low-end extension, the Silver + Gold provides punch with clarity; balancing musicality and technicality with grace to spare. Upper-bass is the definite focus of the Exo's signature, while sub-bass rumble exists purely out of extension. Instruments like tom-toms and upright basses benefit from this region's impressive clarity and layering, giving listeners the ability to detect harmonic nuances as they decay into the background. Finally, low-end tone is on the brighter side – due to an upper-treble peak – but the aberration is slight at best. The Exo Silver + Gold prides its bass as the epitome of its philosophy: Energetic and restrained, vibrant and disciplined, impactful with finesse.
The Exo handles midrange with great balance – sporting a linearity often sacrificed for clarity and energy. Where brighter-sounding cables would often attenuate the lower-midrange, the Silver + Gold maintains body here well. There's neither a cloy-ness nor a chestiness that tampers with vocal presentation; instead, just enough weight to endow notes with proper heft. Instruments are forwardly placed with excellent presence, and tone errs on neutral for versatility. A lift in the upper-midrange gives the Exo both the air and the
zing
it needs to complement its contrast-y signature. Transients cut brilliantly, showcased most prominently with snare drums in busy metal tracks, and percussion and keyboards in jazzier recordings. But, none of those jabs ever sound thin or hollow or artificial, all because of the midrange's excellent balance – proving that
bright
and
bold
can exist in the same signature with brilliant harmony.
In the treble, PlusSound – again – displays great sophistication. A calmed lower-treble ensures smooth sailings for the Exo's dynamic attack – ensuring transient energy without a hint of brittleness. The Silver + Gold instead draws its air from the upper treble. A rise in the 15kHz range brings an assured sense of clarity. But, this is also where the cable gains its bright-
ish
signature. It's neither dry nor thin, but it definitely shines brightest (no pun, intended) when paired with warmer transducers. Great extension benefits its wide and open stage – conjuring a pitch-black canvas for optimal detail retrieval. And, this aids separation as well, showing admirable organisation along the x-axis. The Silver + Gold's top-end is its most crucial component; the tentpole for its entire philosophy. Thankfully, it beams with restraint. Clear, calm and collected, this treble is the Exo's moist, fluffy sponge as much as it is its cherry on top. Well done.
Select Comparisons
PlusSound Exo Tri-Metal (now discontinued; the new Exo T-Metal retails at $449.99)
The only other PlusSound cable I've ever carried with me is my two-year-old Exo Tri-Metal – a 4-wire cable comprised of copper, silver and gold. This was long before Christian developed his new PS insulation, and that
definitely
shows. Although the Tri-Metal is still a decently ergonomic cable, it simply can't compete with the Silver + Gold's softness, suppleness and weight. Visuals also benefit from the upgrade, while the Tri-Metal is beginning to show cloudiness from age. PS Insulation has made the Silver + Gold a touch thicker, but it's at absolutely no consequence. The PlusSound branding on the latter has worn out significantly as well, but only time will tell whether or not the same will happen to the Silver + Gold. Even on looks and feel alone, the Silver + Gold is a vast improvement over its aesthetic predecessor.
The Exo Silver + Gold serves as a sonic foil to the Tri-Metal. Both cables maintain excellent top-to-bottom balance, yet they each have traits that significantly set them apart. The Tri-Metal is a warmer shade of neutral, while the Silver + Gold maintains as much cleanliness as smoothness allows. And, to this end, the latter is the more exciting cable – more dynamic and aggressive in its approach. A large majority of it has to do with differences in soundstage depth. Seemingly, the Tri-Metal is the winner here, due to its calmer overall midrange. However – because of okay treble extension – this lack of presence soon morphs into fatigue; vocals begin to sound recessed as a result. Despite its upper-midrange tilt, the Silver + Gold excels in instrumental energy – serving a more reasonable amount of body to complement its deft articulation. Pair that with great organisation, and you have yourself a better foundation for the overall presentation.
The bass is a significant contributor towards the Tri-Metal's warmer tilt. There's a clear emphasis on the mid-bass that gives the cable a slight bloom. It's a richness that permeates the soundstage with a euphonic warmth, improving musicality and cohesion between notes. However, due to lacklustre extension, this bloom interferes with bass definition. By comparison, the Silver + Gold displays greater technical finesse. Low-end notes come through with strong outlines, palpable layering and commendable resolution. The upper-bass focus does impart a slightly brighter tone, but – considering the improvements in transparency – it's a welcome trade. The Silver + Gold is all about cleanliness, precision and punch, while the Tri-Metal has its heart set on organicity and warmth. This trend continues into the midrange, where the latter is more linear between the lower and upper registers. The Silver + Gold – again – is punchier here, with a slight disadvantage in overall tone. But, its sheer transparency is head and shoulders above its little sibling.
The treble is truly where the Silver + Gold cleans house. Open, airy, articulate and smooth, it has the hallmarks of a technically impeccable top-end. By comparison, the Tri-Metal has a more linear upper-treble, but its largest misstep is extension. Unfortunately, where the Silver + Gold shines brightest, the Tri-Metal lacks sheer reach in order to pull its entire signature together. Although its aim at a natural tone is admirable, it suffers from a bloomy low-end and okay stage organisation as a result of its technical shortcomings. It's certainly not
bad
by any stretch of the imagination, but the Silver + Gold is the clear victor here. The new Exo variant boasts a pitch-black background – creating gorgeous contrasts against transients – superior precision and better versatility. I struggle to make sense of the Tri-Metal with darker-sounding IEMs, while it performs brilliantly with brighter transducers. The Silver + Gold will maintain technical finesse regardless of its pairing, and will never serve as a bottleneck to anything it's attached to.
Verdict
The PlusSound Exo Silver + Gold is a shining example of how
fun
should translate in the aural realm. Boasting excellent balance between dynamic energy and vocal weight, it truly is style
and
substance. Through crafty tuning and sheer wit, the company has created a cable that has its cake and eats it too. The Exo takes the qualities of a clarity-focused, articulative and impactful presentation, and refines it with finesse, elegance and grace. Bass remains beautifully controlled despite its punch, instruments carry equal servings of cleanliness and weight, and the treble glistens without a brittle note in sight. Besides its neutral-bright tonal balance, there's not much I can fault the product for. With the Exo Silver + Gold, PlusSound have once again proven themselves as a force to be reckoned with. If this is the kind of quality we can expect from them in the future, then 2018 is shaping up to be one
heck
of a calendar year.