At the time this review was written, the LZ-A3S was listed for sale on Penon Audio's website. Here's a link to their listing of the product:  
http://penonaudio.com/LZ-A3s%20?search=lz  
Introduction
LZ gets it.  
They are one of my favorite in-ear monitor companies, period. They not only bring great performing earphones to market, they are slightly ahead of the curve as compared to many budget-fi manufacturers. LZ continues to offer products that rival earphones that cost much more, and in the time frame that beats other budget earphone manufacturers to the punch. LZ's price to performance is often times off the charts.  
For me it started with the LZ-A2. This earphone is a hall of famer. They still sound incredible today. I've been asked several times if I would be willing to part with them for cash or trade. I tell them "sorry, they're a promotional sample, not for trade or sale." Truth be told I wouldn't sell or trade them if I could. They are an elite earphone that marks a shift in hybrid earphone technology. Here is the A2 review:  
http://www.head-fi.org/products/lz-a2/reviews/14722
More than a year later LZ has released several other models. The LZ-A3 was hyped significantly because it was claimed to be an upgrade over the A2. Having reviewed the A2, I was afforded an opportunity to compare to the A2. Here is the review of the A3:  
http://www.head-fi.org/products/lz-a3-lz-a3/reviews/15829
Although some may feel the A3 was an improvement from the A2, it was primarily for those looking for a warmer and smoother sounding monitor. I enjoyed the heck out of the A3, but was left wishing the upper frequency range had a little more extension and sparkle.  
LZ listens.  
I am confident will grow to be larger and more successful because they're giving customers what they want. Whoever is tuning their earphones knows what they're doing. LZ's new earphones are based on community feedback. This is evident in the re-release of the LZ-A2 (named the A2 Pro) and the earphone I will be covering today, the LZ-A3S. If that wasn't enough, the A4 is arguably the hottest in-ear product on Head-Fi, and another great offering I will be reviewing soon.  
Disclaimer
I purchased a sample of the LZ-A3S at a discount. I am in no way affiliated with LZ.  
My Background
I AM NOT a numbers and graphs audiophile or sound engineer. Personal audio enthusiast? Absolutely! Headphone junkie? Possibly…  
There's something about quality DAPs, DACs, Amplifiers and Earphones that intrigues me. I want to hear any earphone that looks promising, in hopes that I can share my impressions with  enthusiasts and help them find the audio product they're looking for. My Head-Fi profile has a list of audio products ranked from favorite to least favorite. For me, this hobby is more about getting great price to performance ratio from a product, and having a variety of different gear to mix and match. With personal audio gear, we tend to pay a lot of money for minor upgrades. One thing I've learned over the last few years is that just because a headphone has a higher price tag, it doesn't mean that it has superior build and sound quality.  
I'm always looking for great audio at a great price. I'm after headphones and IEMs that give me the "WOW" factor. I can appreciate different builds and sound signatures as long as they are solidly built, with ergonomics and sound that is pleasing to my ears. It's my pleasure to share my experiences with audio products and make recommendations based on gear I have owned and used.  
REVIEW
The A3S comes in a black box with red foil print on the front.  
The back of the box lists contact information.  
Opening the box, I'm greeted with a glimpse of each housing seated and a variety of silicone tips  in velvet covered foam.  
Removing the top foam reveals a very nice red oversized clamshell case and detachable cable. Opening the case reveals more tips and a shirt clip.  
Specifications and Accessories
Specifications
Driver: Hybrid 3 Driver(2 Balanced Armature 1 Dynamic Driver)
Impedance: 16Ω
Headphones Sensitivity: 120dB
frequency range: 15-24000Hz
Interface: 3.5mm
Cable Length: 1.2m ± 5 cm
Weight: 30g
Interface Type: MMCX interface
Accessories
1x Pair LZ-A3S earphones
1X Detachable MMCX cable
1X Clamshell case
1X Shirt clip
3X Pair black silicone single flange tips (S,M,L)
3X Pair gray/yellow silicone single flange tips (S,M,L)
4X Pair Sony-ish silicone single flange tips (XS,S,M,L)
1X Pair silicone dual flange tips (M)
1X Pair memory foam tips (M)
Housings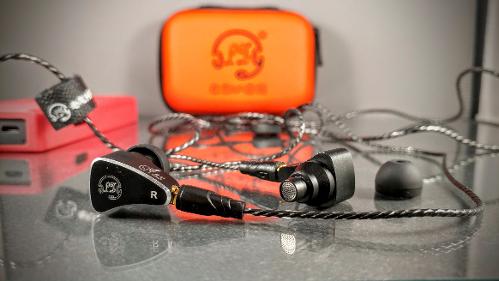 The housings of the A3S are identical in shape to the original A3 with the only difference being a black finish (the original A3 is gold). The A3S is an all metal design and seems to be very solidly built. Over the course of reviewing the A3S I dropped them a few times and everything held up perfectly. Although its shape isn't ideal it sets up for a decent under or over ear fit. The LZ and A3S logos are printed on the housings.  
The A3 and A3S suffer from a minor design flaw. A back venting hole for the dynamic driver is placed in a location that it could be blocked depending on how they rest against the listener's ears. If you own a pair of these and aren't getting some nice bass impact, it is most likely an issue with this vent being blocked due to it resting your ear's lower concha. If this is the case a slight housing adjustment should be the fix.  
Cable, Y-Split, Cable Jack, Strain Reliefs
I really enjoy using the A3S cable. There isn't anything about it I wouldn't say is ideal. The cable is covered in a black and transparent striped rubber coating. It has virtually no spring or memory and rarely if ever tangles if handled correctly. A velcro strap is included with the cable to make winding and storage easier to do.  
The Y-split is a slightly larger than average piece of rubber. A chin/neck slider made of the same material is included and works well. Each MMCX connector is made of a gold plated material and has a firm plastic housing that seems stronger than the average in-ear monitor. The cable jack is a sixty degree plug with a heavy duty rubber housing. I've tested a lot of in-ear monitors and I will admit, the A3S cable outperforms cables from many earphones that cost many times more. In terms of functionality it's bordering on perfect.  
Functionality
My review sample didn't come with a microphone or remote. The fact that these are MMCX replaceable makes it possible to have this feature with an aftermarket purchase.  
Ergonomics, Fit and Microphonics, Isolation
A3S fits identically to the A3. They can be worn over or under the ear. Both are comfortable and easy to listen to for hours (with the right tip). Although comfortable, they don't sit flush with the listener's ear and can be somewhat awkward/unique looking in comparison to other earphones. Isolation is average at best. When music isn't playing I can hear my surrounding. When music is playing (even at low volumes) outside noise disappears. Thanks to the smooth cable and convenient chin slider microphonics is well controlled. Over the ear (with chin slider used) cable noise is non-existent. Under the ear (with or without chin slider used) cable noise is minimal in comparison to other earphones.  
Sound Review
I did my demo with my usual gear. I used an LG-V20 for smartphone use, and either my Fiio X7 or iBasso DX80 DAP/Bushmaster D14 DAC/Amp for high fidelity portable use. For desktop use, I used my Toshiba Satellite Laptop in combination with a ifi micro iDSD playing at 32/192 kHz. I tested them with several other sources as well. I used Google Music in its highest download quality (320 KBPS), and also streamed FLAC via Tidal streaming service. I also used purchased and downloaded tracks in MP3, FLAC, WAV and DSD. I make sure that any gear I test has sufficient playtime before writing a review.  
I used my usual same songs for testing gear:
"Limit to your love" by James Blake (bass speed, punch, response)
"Doin' it Right" by Daft Punk (sub bass)
"Get lucky" by Daft Punk (bass to midrange transition resolution, male vocals)
"Madness" by Muse (soundstage, separation)
"Some nights" by Fun (soundstage and male vocals)
"The soundmaker" by Rodrigo y Gabriela (texture and imaging)
"Bassically" by Tei Shi (bass to midrange resolution, female vocals)
"Skinny Love" performed by Birdie (female vocals, acoustic playback)
"One" by Ed Sheeran (male vocals, acoustic playback)
"Outlands" from the Tron Legacy Soundtrack (symphonic presentation, imaging)
"Sultans of swing" by Dire Straits (detail, separation, balance)
"And Justic for All" by Metallica (driver distortion, treble response, rock playback)
"Ten thousand fists" by Disturbed (driver distortion, treble response, rock playback)  
Note: Other tracks were used, but the listed songs were primarily used to assess and break down the gear's response.  
Source Selection
The A3S uses a titanium diaphragm and two Knowles armature drivers in its set up, none of which call for much power. The A3S comes in at 16 Ohms, meaning it can easily be powered by a phone or portable DAP. I got great sound from just about all of my portables. The only devices I could pick up background hiss or EMI from were primarily more high powered devices or sources in high gain. High powered desktop gear is overkill and will not add anything to your music that a phone or DAP can't.  
I think these earphones will pair well with most players but are more ideal with a warmer and more colored sounding source. Linear and more neutral sources may make the A3s seem a bit bright at upper frequencies. Of all the portables I used, the A3S sounded great with my Aune M1S, Cayin i5 and iBasso DX80 (all in low gain).  
Sound Signature
The A3S is a relatively neutral tuning with a upper midrange emphasis and extended treble presence. To my ears it's somewhere between neutral and U-shaped, packing plenty of bass with a soft lower mid-range attack and highs that are crisp and clear. If you have heard the A3 and found them to be a bit too rolled off and smooth, this is your answer. LZ has not only improved the cable, they also made the sound more natural. The A3S is more open airy and detailed sounding to my ears than the original version.  
Bass
Bass is tight and responsive with a bold dynamic punch. There are equal amounts of punch and rumble. Although not as tight as bass heard in armature drivers, it is very responsive and satisfying. Although the A3S bass measures pretty flat it is perceptually slightly north of neutral.  
The nicest thing about the A3S bass is the sense of balance between sub and mid-bass frequencies. Bass lines have a nice flow to them and there doesn't seem to be too much that jumps out or seems lacking. During Daft Punk's "Doin' it Right" bass tones were evenly balanced and extended as low as the song warranted. As long as you aren't looking for a super lean sounding earphone with minimal bass or a basshead looking to rattle your skull, I'm confident you will enjoy the A3S bass and appreciate the tuning. It does a whole lot well, leaving me without very many bad things to say about it.  
Mid-range
Midrange sounded a bit thin at lower mid/mid-range tones. The mid-bass to lower mid-range transition is very clean (almost too clean) to my ears. This gives me an open and airy feel paired next to what seems like more emphasized neighboring frequencies. You will not miss any details in this range thanks to the reduced warmth and color. At the same time I say this it comes at the expense of losing a little bit of mid-range dynamics and texture. The lower midrange  and male vocals will be more on the thin side of the audio spectrum and give a softer and more delicate presentation.  
As we venture into the upper midrange portion of this earphone things become noticeably more emphasized and aggressive. Vocals (especially female vocals) pop really well and kind of jump out from the lower mid-range tuning. It's engaging without being shouty. During Fun's "Some Nights" the lead singer's voice seemed to jump out in front of the mix as he sang higher pitched notes. If there's one thing that IS NOT missing from any mid-range frequencies, it's clarity. The A3S brings it in terms of resolution and detail. The Dual Knowles armatures used in the A3S definitely have that bright and clear sound I've grown accustomed to from earphones with these transducers.  
Treble
Treble is extended and airy, with a small bump at around 6-7kHz, meaning it doesn't shy away too much from sibilance in a recording. Pronunciations of the letter S and T are crisp from time to time (depending on the recording). While I don't think it does a terrible job handling harsh noise and plays it with a reasonable amount of clarity, I would probably refrain from suggesting it to someone who is extremely treble sensitive or listens to their music at loud volumes. Doing either or both might lead the listener to think the A3S is harsh with some tracks. If that's the case the good news is the original A3 addresses this for you. If you listen to music at healthier and more responsible listening volumes, you'll probably find the A3S to be more natural and engaging at upper frequencies (and not harsh at all). If you listen to music at louder volumes, the A3 is up your alley.  
Soundstage and Imaging
The airy and soft lower mid-range and somewhat perceptually U-shape of the the A3S give them a big sound. Although it has a somewhat airy presence this is more of an "in-head" sensation. There isn't a huge soundscape that puts you in the front row of a giant concert hall (primarily due to a softer lower mid-range attack). However, there's enough detail and separation to say that it's spacious. Because of this I give the A3S a higher than average score in terms of soundstage. Imaging is slightly unnatural due to a somewhat unbalanced midrange. Extended lower and upper frequencies help the sense of instrument placement but still leaved vocals kind of all over the place (depending on tone).  
Comparisons
LZ A3 ($135 to $175 USD on several websites)
The original A3 is a warm and creamy sounding earphone that is easy on the ears and sounds better at loud volumes. Revisiting these earphones I can see why LZ would make the A3S. Just as much as the A3 is warm and smooth the A3S is airy and extended.  
The A3 has slightly more bass and midrange than the A3S. At the same time the original A3 treble is tune down a bit. A3 has more midbass and lower midrange emphasis than the A3S which puts weight on vocals and to my ears sounds a bit more natural and full. The A3S take a thinner and softer attack but also sounds more airy and open. The A3 sounds better at higher volumes while the A3S is designed to work better at lower volumes. A3 has slightly better imaging while the A3S has superior detail retrieval and soundstage.  
Accessories goes to the A3S (I might be wrong on this if LZ changed the stock packaging of the A3). The A3S cable is a far superior in terms of its design and ease of use.  
If I had to pick between the two it would without a doubt be the A3S because I prefer this sound signature. Your mileage may vary.  
Warm and smooth, gold color (louder volumes)= A3  
Neutral and brighter, black color (lower volumes)=A3S  
AAW Nebula Two ($199 USD on AAW's website)
The Nebula Two is a dual hybrid. Using one dynamic and one armature driver, the Nebula Two brings a big, bold and detailed sound to the table.  
Comparing the two, the Nebula Two bass is is a bit more forward but also a touch slower and loose in terms of response. Lower mid/midrange tuning of the Nebula Two is a touch more natural and full. The Nebula Two mid-range is all around more balanced than the thinner and softer lower midrange of the A3S. The A3S mid-range on a whole sounds more detailed and spacious. Upper frequencies of the Nebula Two is a touch smoother and easier to listen to at louder volumes, while the A3S is crisper and sounds better at lower volumes.  
Housing design goes to the Nebula Two. Their disc shape housing and angled nozzle provides a flush and is easier to wear than the bulkier housing of the A3S. A3S gets a huge advantage for their removeable MMCX cable. Accessories is a draw. Both earphones come with a nice tip selections and quality clamshell case.  
Conclusion
LZ took any gripe people had about the A3 and released another earphone that addresses many of the perceptual issues while catering to another demographic of listeners. Doing something like this shows just how capable LZ is at shaping sound. I wouldn't be surprised to see LZ continue to bring better and better earphones to market in the months and years to come. I can see them venturing into the world of high end monitors and eventually challenge some of the bigger names in this industry. Their stuff speaks for itself. Listen to the LZ lineup and you will see for yourself.  
Thanks for reading and happy listening!