Item information
Added by
Views

2,049
Reviews

5
Last update
Rating

5.00 star(s)

5 ratings
Latest reviews
Wonderful DAP with 1 small quirk
Pros
:
Outstanding sound quality
Natural, neutral sound
Lightning fast interface
Tons of features including bi-directional bluetooth and USB dac
Parametric Equalizer
Cons
:
Does not make full use of music tags
Heavier than expected
Lotoo is a Chinese brand who has been in the audio market for many years making audio players and audio recorders and have had a line of digital audio players that have been very well received. I personally had never had a chance to really play around with one save a few minutes with the Lotoo PAW Gold.
In looking at various DAPs to invest in, the one that I always came back to was the $1200 Lotoo PAW 6000. I never committed to buying it because I always felt I wanted to have streaming capabilities and quickly turned my attention to Android-based players, which led me to buying and owning the Sony NW-ZX507 for nearly a year now.
But things change of course. Nothing against the ZX507, but I did want to get something a little more neutral and resolving, and my search picked up more recently after picking up the Cowon Plenue 2 Mk II which was surprisingly marked down to nearly 70% off it's retail price during a special sale just prior to Prime Day.
I learned to use both the Sony and Cowon players without streaming capability and it was good for most cases but I still occasionally missed not having the ability to quickly use Qobuz or Spotify. In came the Paw 6000, which I purchased from Andrew of MusicTeck at the following link:
https://shop.musicteck.com/collections/lotoo/products/lotoo-paw-6000



Unboxing
The Lotoo PAW 6000 comes packaged in a small black box that opens up with the PAW 6000 player, various booklets, and some accessories. The player comes with a USB-C cable, 2 tempered glass screen protectors and a black leather case.
The interesting thing here is that the player comes with dual layers of glass already is raised from the main body. Adding the tempered glass screen protector on the front screen actually causes it to bubble and lift up when you use the included case. That's kind of annoying. I replaced it with a Boxwave branded film screen protector and it worked much better with the included case.
The case is very nice by the way, slim enough to be easy to hold still and stylish enough to not tempt me to find a new one. It is needed too, since, like I mentioned earlier, both sides have raised glass, and could be very prone to cracking and chipping.
There is a gold volume dial on the top that is placed horizontally and rotated like a dial. It's actually very easy to use and a nice addition. When you start the dial, it activates a volume slider on screen and you can switch to using the on-screen slider or continue to use the hardware dial.
Next to the volume dial are the headphone outputs. One is a 4.4mm balanced and the other is a 3.5mm single ended jack. Both outputs have 300mW of power on a 32 ohm load. This is interesting as both balanced and single-ended have similar output power, which is unusual. Both modes also have low and high gain options.
There are 4 buttons on the right hand side for power, play, and skip forward and skip back. Placement is fine and I don't have any issues with using these buttons.
On the bottom side of the player, there is a USB-C jack and the microSD slot. The slot is not covered and self ejects by pressing on the card.
User Interface
Lotoo uses their own operating system for the PAW 6000 as well as the PAW Gold Touch. The player boots up in less than 5 seconds and is ready to go immediately. This is easily the fastest booting player I've ever used.
The OS is quite slick with an abundance of features and tools. I tried pretty much all of them at this point and there's some quirks, but let's just start with the list of features.
First there's various icons to choose to find music by Album, Artist, Folder, Playlist, and Songs. There's a nice sized font that works well for visibility and looks modern. Responsiveness through the folders is quick and loading of data is also fast.
Among the music tools available are several DAC filters, options for Lotoo's DSP feature called ATE (Acoustic Timbre Embellisher), and a parametric equalizer. This PEQ has plenty of user slots and lets you choose 5 bands at any frequency and choose to have it be a low shelf, high shelf, or a peak filter, along with custom Q-factor. I have an example of my PEQ settings for the Smabat DT-S10s Gold Edition ear buds below.
In addition to just normal file playback, the PAW 6000 also has bluetooth and wifi. The wifi is only used for firmware upgrades and streaming is then only limited to bluetooth or through USB. Bluetooth features all the major codecs including LDAC, and can be used bi-directionally. That means, you can stream to headphones or speakers, or stream music from your phone to the PAW 6000.
In addition to bluetooth streaming, you can also use the PAW 6000 as a USB DAC for your computer or phone, with an option to have the device power the DAP or have the DAP be self-powered for phone pairing. I've tried the USB DAC in both modes on my Windows PC, Android phone and iPhone and have have no issues with any device.
Ok, now the quirks.
The Lotoo OS does not really make full use of music file tags. The way it reads and sorts files is totally based on how you format the file name! This is quite ridiculous in my opinion, but luckily I was able to format all my music quickly using the free Windows/Mac application,
mp3tag
.
To correct format the files, I recommend using two digit track number first followed by a space or separator and then the song title, like this:
01 TRACKNAME
. You can use the following expression in the CONVERT menu to automatically add a track number into two digit:
$num(%track%,2) %title%

I place each set of music files into the folders with the following notation:
Artist - Album
This was almost a deal breaker for me, but luckily, I was able to batch change the file names using the mp3tag tool and saved hours upon hours of work for 200GB of music.
Sound Impressions & Comparisons
I find the Lotoo PAW 6000 to have a neutral-ish sound signature, but I also don't find it super sterile either. I do find the player has a small added bit of warmth and fantastic resolution, with good layering and texture capability. Extension is good on both ends, and is something I sorely did miss with it's airier sound signature than my incumbent daily driver. I have been listening to it a lot lately and comparing it directly to the Sony NW-ZX507 and the Cowon Plenue 2 MK II.
Sony NW-ZX507
The comparison to the Sony NW-ZX507 is pretty apparent and clear to me. First off, the two players differ in size, features, and price, but also in sound characteristics. The $829 ZX507 is Android-based and has full Google Play store capability, which allows full streaming capabilities via any app you want. The 507 is also slimmer, thinner, lighter and easier to hold in your hand. It is, however, a touch taller.
When it comes to sound, these two are contrasting in their sound qualities. The ZX507 has a much warmer sound, with a boomier low-end and a more laid back upper treble region. The PAW 6000 is a more even keeled presentation with better extension on the upper-treble region, which gives it both a more airer presentation, as well as a more clear and clean presentation. I do find the PAW 6000 to have increased resolution, texturing, and layering capabilities.
Cowon Plenue 2 MK II
The Cowon Plenue 2 MK II is a much closer competition in terms of sound profile and capability. Both of these DAPs are custom operating systems with no app capability. The Cowon P2 MK II takes it a bit further and does not even include bluetooth, so there's no wireless antenna at all. It also still uses the micro-usb plug, but has onboard memory of 256GB and two dials for volume control and a custom dial for user preference. I use it for fast forward/rewinding within a track.
Both the players are very similar in size. The Lotoo PAW 6000 weighs about 20 grams heavier, though both are fully machined metal shells, though the PAW 6000 does have a glass overlay on the back.
The Cowon is an interesting player. By default, it sounds very neutral and not too dissimilar from the Lotoo PAW 6000 in its sound signature and quality. I do think the Plenue 2 MK II has a slightly more compressed sound in its default stock sound signature, but only slight, and is a half a tick below the Lotoo PAW 6000, but there's some magic in this little beast. The DSP features in the Cowon players have some fairy dust in them and the use of BBE+ and some of the other filter implementations do some real results that are both stunning and natural. Just the basic use of enabling the BBE filter, which adjusts phase of the music, can really put new life into the songs that make both resolution seem improved and the sound more lively. Adding the Mach3 Bass to my Viento makes hit slam with power I didn't know it had. There's some voodoo there that make the Cowon Plenue series of DAPs quite powerful and stand out, even against the enjoyment I've had on the Lotoo PAW 6000.
Wrap-Up
I have gone back and forth with whether I wanted to have streaming or not, and always wanted it just to have, and that has always gravitated me towards an Android-based player. With both the Cowon Plenue 2 MK2 and the Lotoo PAW 6000, my thoughts have changed slightly. While the Plenue 2 lacks any type of wireless antenna, the PAW 6000 has a nice combination of great sound quality, and a ton of features that still lets me stream music from my phone to it when I need to use Spotify or Qobuz.
With the PAW 6000, I have found a nice experience from a lightning fast OS and easy to use UI with full parametric EQ and a good balance of neutral, but appealing sound signature with good resolution and technical performance. It's one that I recommend and one that I'll be enjoying for the next forseeable future.
Lotoo PAW 6000
Pros
:
Excellent sound
Excellent power
Great build quality
Excellent battery life
Great EQ
Excellent UI
Supplied high quality leather case with excellent fit
Cons
:
No streaming services
No internal memory
I recently purchased a
Lotoo PAW 6000
from MusicTeck and extremely happy with my new DAP. I wanted to share my initial thoughts and journey in making this purchase, hoping to help others who may be considering the same DAPs and IEMs. A shout out to Andrew from MusicTeck who provided amazing service to help me finalize my decision. I live in Sydney, Australia, so there are no Lotoo dealers here locally, so Andrew's time was greatly appreciated. Also received the order from the US within a few days which is amazing!
Please note that my feedback is very subjective, and I am no audiophile so please take my observations for what it's worth. Also worth noting that your experience will vary based on the DAP which you are upgrading from, quality of your music files, genres, and IEM / headphones used.
Before purchasing the LP6K, I owned an AK70mkII and Campfire Audio Polaris II IEM. I was never happy with this combination. Although I love bass, the Polaris II had too much bass which was overwhelming the mids and highs. The AK70II had poor battery life, tiny screen, some quirks with the UI which was frustrating, and the overall sound was good, but not great … however I wasn't sure if the problem was the IEM or DAP.
I started researching my next purchase, initially thinking to change the DAP before the IEM. I was eyeing the new AK-SR25 and also the new AK-SA700; my preference being the SR25 because of the rave reviews for its sound signature and also the amazing battery life.
I spent time at my local dealer testing and comparing the SR25 and SA700 against my AK70mkII. I had made three micro SD cards with the same HD tracks (mixed genres), so that I could insert into each DAP and quickly switch my Polaris II IEM between all 3 DAPs listening to the same tracks.
I first compared the SR25 vs SA700 – the SR25 $1,199 (Australian RRP) was very disappointing to say the least. It sounded very flat, no colour and the soundstage was not comparable to the SA700; nor comparable to my AK70mkII which was only $899 (Australian RRP). The SA700 in comparison sounded good, expansive soundstage, the bass was sharp and punchy, mids and highs sounded good. There was nothing to not like about it except for the weight, average battery life, body heating up, and off course the price tag $2,149 (Australian RRP).
I then compared the SA700 to my AK70mkII. To my surprise, I was struggling to tell the difference between the two players, the sound signatures sounded almost identical. The SA700 still sounded better, had more power and just did everything a little better … also the bigger screen was welcomed. It sounded 10-15% better, hardly justifiable in spending the extra $2,149 asking price to gain such a small difference.
I then shifted my focus to the IEM's and tested out the new Campfire Audio Solaris 2020 with my AK70mkII. Wow, I immediately heard a huge difference. It made me feel I was now in the main concert hall, whereas before I was standing just outside of the main concert hall using my Polaris II. These IEMs were easily 100% better (if not more) than my already capable CA Polaris II's. They made all 3 DAP's sound great and really allowed me to immerse myself into the listening experience and feel like I was at a live concert. I was so impressed I immediately purchased the CA Solaris 2020 and love it.
Although I was now satisfied with my new IEM, the shortcomings noted above regarding my AK70II still bothered me so was still keen to upgrade my DAP. Per my tests I was not happy with the SR25 and I thought the SA700 was not worth the asking price with its noted shortcomings. I did not get a chance to test the SE200 which was still on backorder at the time. I read reviews on many other DAP's, including iBasso X220, Hiby R8, SP1000M, FiiO M11 Pro, FiiO M15, Lotoo PAW Gold Touch and Lotoo PAW 6000. I ruled out nearly all except for the Lotoo PAW 6000 as the rest were either out-dated and about to be refreshed with a new model, too big (not portable), average battery life, slow charging, slow start-up times, sluggish UI's, or most importantly sub-par sound signatures relative to price. All of these points are a deal breaker for me. I found the LP6K to meet these criteria's and more, and the few shortcomings this player has are not a problem for me … including no streaming services, no internal memory, or no dealer network here in Australia.
After a number of emails back and forth with Andrew over at MusicTeck, I took the plunge and ordered the LP6K based on online reviews, and I must say this DAP is really as good as they say it is. The LP6K just sounds amazing, has excellent power, its built extremely well, the battery life is just excellent, great EQ, and love the supplied leather case which is a really nice touch by Lotoo which makes this feel even more of a luxury product. But above all, I must say the UI is the star of the show … its blazing fast, very intuitive to use, allows for loads of customization, and super-fast start up time (2 second start-up time vs 20-40 seconds dependent on the player). I have paired my LP6K with my Campfire Audio Solaris 2020, which appears to be a match made in heaven … at least I think so!
I strongly recommend the Lotoo PAW 6000 for anyone looking for a well priced flagship DAP which is pocketable, has excellent sound and with great battery life.
Pros
:
Reference sound signature
Supreme build quality
High quality leather case and charging cable
Smooth interface
Bi-directional Bluetooth
LDAC enabled
Long-lasting battery life
Powerful output power
USB DAC function
On-the-air (OTA) firmware update
Cons
:
No streaming services
With the success of the latest flagship, Lotoo Paw Gold Touch (LPGT), Lotoo heard the demands from those who have a stricter budget. The all-new Paw 6000 is the solution for them.
Disclaimer
This review is originally posted on
Headphonesty
. Thank you, Pauline and team from
Lotoo
, for sending me the
Lotoo Paw 6000
from Beijing, China, despite facing the Covid-19 pandemic. It was provided to me free of charge in exchange for my honest review and opinion.
Introduction
For those who have been in the audiophile community for a long time, Lotoo is definitely not a stranger. Founded in 1999, Lotoo is a professional audio equipment manufacturer in Beijing. Initially, Lotoo put all their focus on professional voice recorders. After several years in the recording industry, Lotoo decided to take a leap forward, embarking into the digital audio player (DAP) market.
A fact that cannot be denied is that Lotoo has the top-level professional audio technology

R&D team in Asia

. And with their long experience in this industry, they have never failed to fulfill the community's needs in audio quality.
Paw Gold Touch was launched in early 2019. I first auditioned the DAP in
CanJam Singapore 2019
. It is amazing and I'm surprised by the sound quality as well as the portability compared to other flagship models that are as heavy as a brick, such as
Sony NW-WM1Z
or
Astell and Kern SP2000
.
Not long after CanJam, Lotoo revealed the sneak peek for Paw 6000. I anticipated to audition the Paw 6000 and even attended the launch event by
Project Perfection Pte Ltd
in Singapore. I am sold to it after the first audition of Paw 6000 in the launch event.
In this review, I will guide you through how this Paw 6000 won my heart at first sight.
Unboxing
The unboxing experience for Paw 6000 is pleasant. Compared to other models within the price range of USD$1200, Paw 6000 has a relatively simple packaging. It's similar to
Sony NW-WM1A
's packaging. It comes in a black sturdy box with the brand and model name printed on the paper sleeve.
Opening the sleeve, Paw 6000 makes its first appearance to the user. The accessories are kept underneath the DAP. Here's a list of items you can expect in the box:
Paw 6000
Leather case
Two hardened 9+ glass screen protectors
Microfiber cleaning cloth
Multilingual user manual
Warranty card (in Chinese)
USB Type-C charging and data transfer cable
The leather case is well-designed. It fits the DAP like a glove. Besides the fit, Lotoo is very thoughtful in designing the case. The charger opening on the case is opened wider so that the user can eject or insert the SD card without removing the case.
This is the design I need because I have four DAPs and only two SD cards. I need to eject and insert the SD card very often.
The Integration
Paw 6000 is designed to be a smaller and more affordable model compared to the current flagship, Paw Gold Touch. It could be defined as the upgrade for
Paw 5000
and
Paw 5000 mk II
, too. Powered by a single
AKM AK4493EQ
DAC chip, Paw 6000 can support playback for audio files up to 32bit 768kHz and native DSD256 easily.
Similar to its predecessors as well as the current flagship, Paw 6000 is not equipped with internal memory. It has a micro SD slot that can support up to a 2TB micro SD card. I'm using a 256GB SD card and Paw 6000 handles file reading effortlessly and flawlessly.
Paw 6000 is using a 3.77"
in-plane switching (IPS)
touch screen. This is a major upgrade from predecessors which are using the mechanical button for controls. The included screen protector is a good accessory to protect this implementation. I installed it immediately after unboxing.
For analogue output, Paw 6000 supports
3.5mm unbalanced and 4.4mm Pentaconn balanced output
. Based on the technical specifications listed on Lotoo's official website, both outputs are giving the same amount of power. The only difference between balanced and unbalanced outputs is the noise floor. Pentaconn balanced output offers you a better noise floor.
Similar to the predecessors and flagship models, Paw 6000 is
parametric equalizer
enabled. However, if you research or study in more detail, you will realise Paw 6000 is not equipped with a hardware
digital signal processing (DSP)
chip. The functionality of the DSP in Paw Gold Touch is to support DSD512 and dual
phase-locked loop (PLL)
clocks. Paw 6000 can only support up to DSD256, so it's normal for Lotoo to remove DSP from the design.
I used Lotoo Paw 5000 mk II for a while and I was surprised to see that Paw 6000 is WiFi enabled. The WiFi is solely for software updates. It's not designed for streaming services. I like this design because I no longer need to connect my DAP to my laptop to update it. I can do it with the DAP connected to WiFi. This is very convenient and I tried it once. Tested and proven!
Paw 6000 has a few identities. It can act as a DAP, a USB
digital analogue converter (DAC)
, Bluetooth DAC and Bluetooth transmitter. With one device on hand, it can fulfill almost all the needs from the users in terms of entertainment. Paw 6000 utilises USB Type C 3.1 connection. With this USB Type C enablement, the file transfer is lightning fast.
You can find bi-directional
Bluetooth
version 4.2 under the hood of Paw 6000. It supports
LDAC
Hi-Res
codec. For those who need some freedom and wish to preserve high sonic quality, LDAC implementation is a great selling point. The codec that can be decoded through LDAC is 24bit/96kHz, far beyond other codecs like Advance Audio Coding (
AAC
) or low-complexity subband codec (
SBC
).
Another selling point that won my heart is the battery life. Paw 6000 is powered by a 5200 mAh battery. On the specification sheet, it states that Paw 6000 can last for 16 hours with continuous playback. Out of curiosity, I tested and it's right! Actually, I got a total playback time of slightly more than 16 hours.
I'm totally satisfied with this and, compared to my current DAP,

iBasso DX220

, 16 hours is really a luxury. The DX220 can barely last for 6 hours with continuous playback.
Technical Specification
DAC chip: AK4493EQ
Supported formats: DSD256 / PCM up to 768KHz
Operational amplifier: OPA1622 (both single-end and balanced)
Headphone output: 300mw / channel @ 32ohm
Battery capacity: 5200 mAh
Playable time: 16 hours
Storage: MicroSD card (theoretically supports up to 2TB)
Bluetooth Version: Bluetooth V4.2
Dimension: 112x65x18mm
Weight: 228g
Build and Design
I like the luxury color code in Paw 6000's design. The combination of black and gold makes it a social status for audiophiles.
As a Paw 5000 mk II user, I am impressed by the improvement Lotoo achieved in Paw 6000. The build quality of Paw 6000 is extraordinarily good. The chassis is
computer numerical control (CNC)
crafted with aircraft aluminium alloy. On the front top left corner, there is a "Lotoo" logo engraved in the alloy. The 3.77" screen integrated perfectly with the chassis, forming a bezel-less design.
The back of Paw 6000 is covered by glass too. However, there is no screen protector included for the back panel. This is a small issue for me because I protected it with the provided leather case from the first moment I used it.
The audio outputs are located on top of the DAP, together with the volume control knob. They are in gold - a perfect match with the matte black chassis of Paw 6000. Initially, the audio outputs were a little tight for me but they are getting a little wider now after a period of usage.
Moving to the volume control knob, there is a "breathing light" embedded under the knob. You can turn it on in the setting of DAP. I think this is a cool feature, especially when I am listening at night with lights turned off. I can easily find the DAP with the breathing light. The volume control knob is well-built and provides a tactile response for every step you adjust.
The physical control buttons are located on the right side of the DAP. The top button is the power button for waking up the screen and turning on/off the device. Following the power button are conventional buttons for audio controls, play/pause button and next/previous track button. In the settings, users can change the next/previous track button to suit personal preference.
The charging and data transferring USB Type-C port is located on the bottom of the DAP, together with micro SD card slot. The overall design of Paw 6000 is sturdy. It has a dimension of 112 x 65 x 18 mm and puts 225g on the scale. It is, without a doubt, a pocket-friendly design. I have no issues carrying it around in my pocket.
User Interface
Paw 6000 is powered by Lotoo Touch Operating System (LTOS), similar to its elder brother Paw Gold Touch. This OS is in-house specially designed by Lotoo for these two models. We can expect a perfect integration between the hardware and software since the OS is proprietary catered to the hardware in Paw Gold Touch and Paw 6000. Without disappointing the user, Paw 6000 can be booted within 3 seconds. This is the fastest that I experienced so far.
On the main screen, there are six different options for users to play around with - Playlist, Album List, Songs, Folders, Artist and Settings. It is very user-friendly and easy to navigate. Below these six options, there is a minimized 'now playing' screen. Users can control it there, or go to the maximized 'now playing' screen by tapping on it.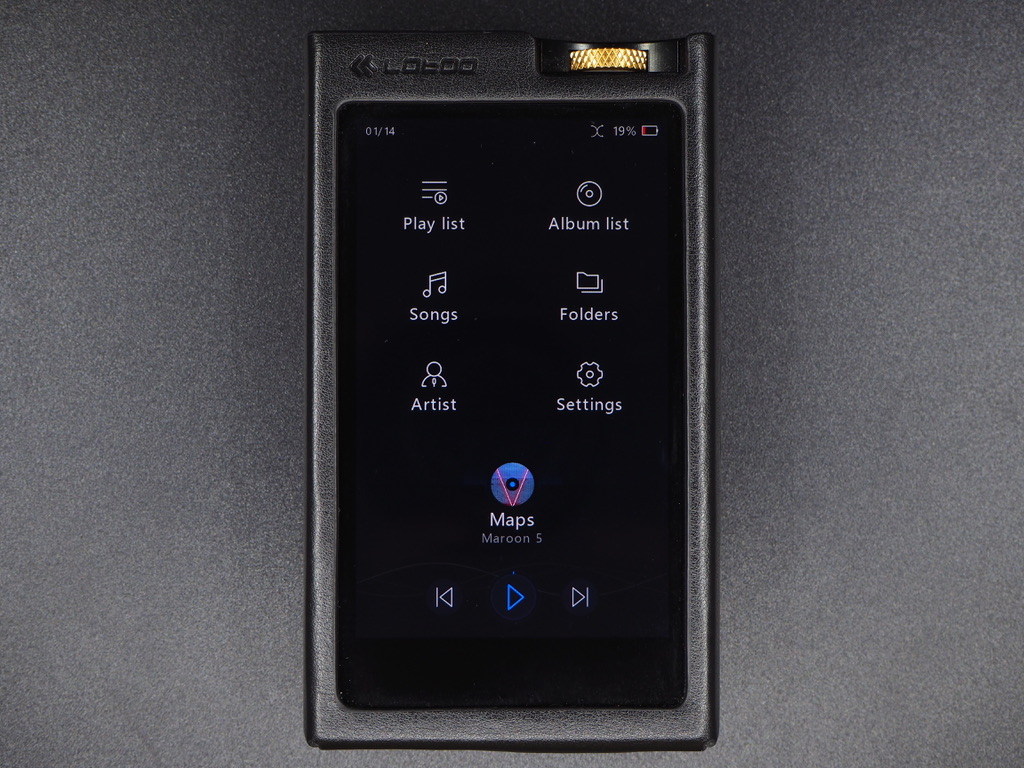 Media Management
Navigating the media on Paw 6000 is an easy task. Users can go into any option, except Settings to find the desired track easily. To set up a playlist, you can set up the playlist in the Playlist option on the main screen and add in your tracks. Users can choose the artist or album and add all the tracks that fall under the selection into the playlist, too. This is applicable to folders as well.
There's a cool feature in Paw 6000 that I often use - the search function. If you drag down the control panel on the screen, you will see a search bar. Simply key in the track name and Paw 6000 can immediately show you the track. I have more than 100GB of tracks in the SD card and this function really shortens time for me to find a particular track. I love it!
Parametric Equalizer (PMEQ) and Acoustic Timbre Embellisher (ATE)
In the maximized 'now playing' screen, users can find a control button that will lead you to the PMEQ and ATE settings. I am not a big fan of PMEQ. However, this is a good inclusion in the firmware development because this allows users to do the final tuning in the pairing.
In the PMEQ setting, there is a list of pre-set profiles that you can choose from. If you want something that is customized to your personal preference, you can create a profile in the setting, too. PMEQ allows you to create a profile in 5 bands equalizer.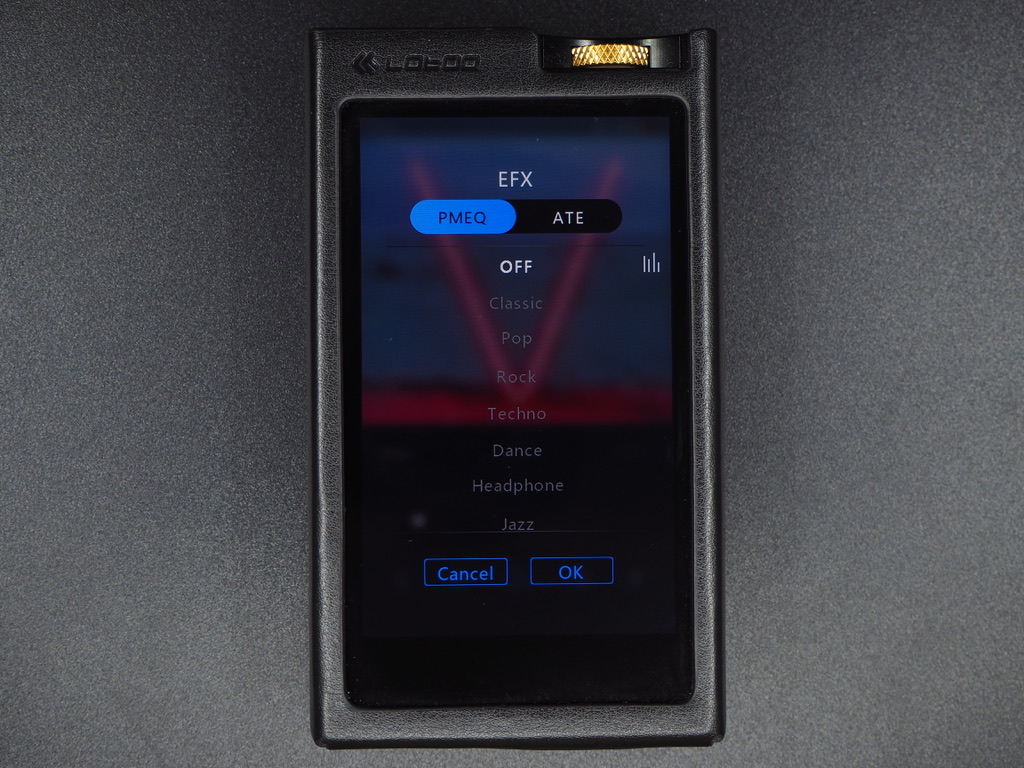 On the other hand, ATE also has a list of profiles that users can select from. These profiles can be easily understood as Lotoo's studio quality filters. Besides PMEQ and ATE, users will get the conventional option to switch between digital filter settings of the AK4493 DAC. There are six options for PCM and two for DSD.
Bluetooth
As mentioned briefly in the previous section, Paw 6000 is implemented with a bi-directional Bluetooth. To define the term 'bi-directional', it simply means Paw 6000 can be used as a transmitter and a receiver. In transmitter mode, you can connect your wireless headphones to Paw 6000.
On the other hand, in receiver mode, you can connect your phone to Paw 6000 and use streaming services on your phone. Paw 6000 will act as a Bluetooth DAC in this scenario. This perfectly addresses the non-existing streaming capability on Paw 6000. Although I do not usually stream, I still think this is a good feature to be implemented.
USB DAC
Another cool feature Paw 6000 provides is USB DAC function. Simply connect Paw 6000 to your laptop or PC, there will be a pop up screen. Choose USB DAC (PC) if you want to charge your Paw 6000 simultaneously. Otherwise, you can choose USB DAC (phone).
After choosing the desired connection, the screen will show 32bit/44kHz. This is the sampling rate requested by Paw 6000 to the source. In the USB DAC mode, the PMEQ and ATE features can still be used.
The PAW 6000 always requests 32bit/44kHz sampling rate from the host device. If the file played is lower than the requested sampling rate, the host will just add zeros to "up-sampling" to the requested sampling rate.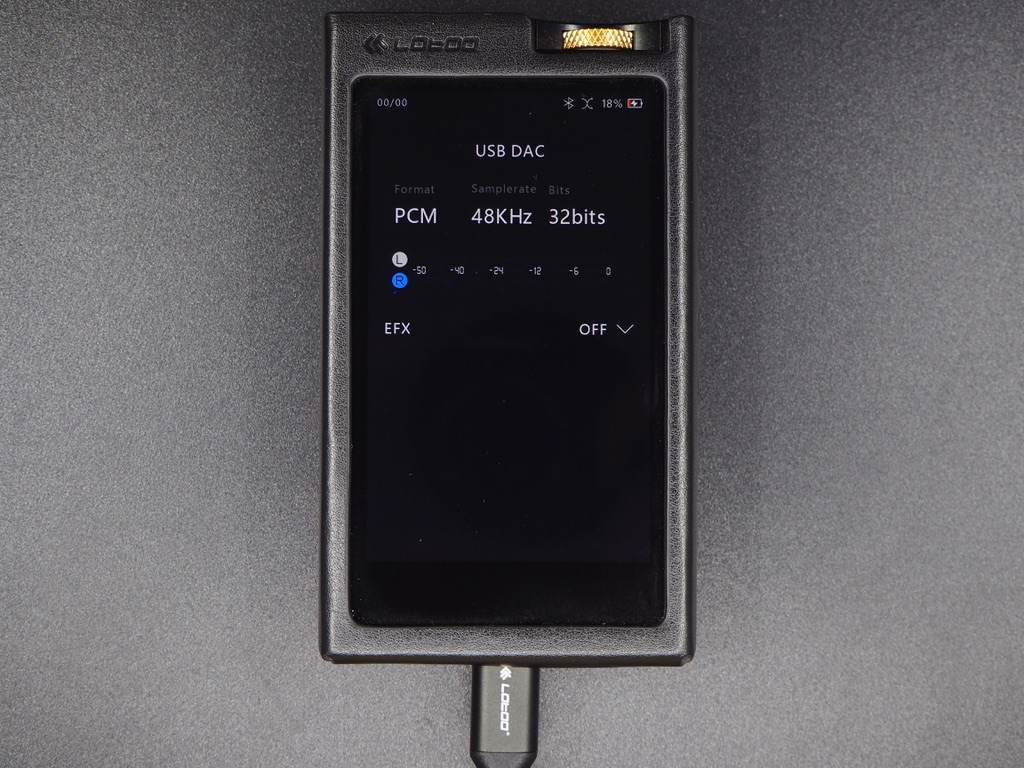 Sound Analysis
Before listening to Paw 6000, based on my experience in using Paw 5000 mk II and auditioning for Paw Gold Touch, I could roughly predict the
sound signature
. It is going to be neutral, just like its predecessor and elder brother. Without any disappointment, the sound signature of Paw 6000 is indeed neutral and well-balanced across frequency spectrums.
It is a reference sounding DAP. The overall presentation is transparent and free from coloration. No one is getting any additional "flavors" from the Paw 6000. It delivers according to what it is tasked to play. I have been using the Paw 6000 as my reference DAP, together with my
iBasso DX220
. I will comment about the comparison in the latter part in this article.
Lows
The lows are presented with a good weight and full body. The richness in the lows is well-balanced - neither too warm nor too lean. I am satisfied with the dynamic and punch presented by Paw 6000 in lows. The layering has been handled well, too. You are not going to face any congestion in the presentation.
The speed of the low frequency delivered by Paw 6000 is very well-controlled - between muddy caused by slow decay and analytical caused by speedy decay.
Mids
The mids are very transparent and breathy, just like the overall presentation. The vocals delivered are natural and realistic. There is no additional coloration to the midrange. Similar to the lows, you can expect a rich textured midrange to be delivered by Paw 6000. The soundstage is very open. The positioning of vocals and other instruments is precise.
Closing my eyes and listening to what Paw 6000 delivers, I can feel the headroom and the space, making it very entertaining.
Highs
The highs of Paw 6000 portray a natural timbre. It hits you like spring wind breezes on your eardrum. It's comfortable to listen to. You should not expect an overly forward or shy treble. It is well-maintained to be at the same level as the other two frequencies. The treble is very well-extended. There is neither distortion nor early roll-off in the treble observed within this reviewing period of around 1 month.
Pairing
I did several IEM pairings to test out the capability of Paw 6000. Surprisingly, it pairs up well with them and I cherry picked a few to share in this article.
Dita XLS Dream
This is a dream pairing. Kenneth, from Project Perfection Pte Ltd, Lotoo's distributor in Southeast Asia, recommended this to me. The dynamic driver in the Dream XLS is well-activated. The soundstage is something that I am sold on. The term "XLS" in the model name of Dream XLS stands for "Extra Large Soundstage". Paw 6000 further enhances this characteristic. The presentation is simply spacious and airy.
Avara Custom AV3
This is my first acquired custom IEM. It has a very well-balanced sound signature, just like Paw 6000. I love this pairing because the overall presentation just sounds referencing. I'm impressed by the transparency presented in this pairing. The midrange sounds natural, with rich texture. I feel very comfortable listening to this pairing. No overwhelming lows and fatigue-causing highs.
Sennheiser IE400 Pro
This is another reference grade IEM, just like AV3. I first listened to IE400 Pro with my
Opus #3
. The presentation is above average with good fidelity. When I paired it with Paw 6000, I was immediately amazed. The soundstage is opened up. The bass has a thicker texture, compared to what my Opus #3 presented initially.
It gives me the same feeling of what I get with Paw 6000 and Dream XLS pairing - high fidelity with wide soundstage.
Origami Audio Silver
I'm glad to have a chance to audition this amazing IEM with my Paw 6000 in Singapore. In March, David from E1 Personal Audio Singapore got the Origami Audio Silver from founder Oya-San for local audiophiles to audition. I spent almost two hours listening to it with my Paw 6000. The pairing is impressive. The presentation is dynamic with a punchy bass. The vocals, female vocals especially, sound sweet and breathy.
I shared my impression with Oya-san and I'm happy to say that he is listening to this pairing now.
Comparison
Sony NW-WM1A
WM1A is my favorite reference grade digital audio player (DAP) before I came into contact with other brands like IBasso Audio DX220 or Lotoo Paw 6000. WM1A has good neutrality in terms of sonic presentation which makes it an all-rounder for different genres.
I actually prefer the neutrality in Paw 6000 more. The presentation is more analogue as compared to WM1A. WM1A sounds technical and cold when we compare it with Lotoo. I think this analogue sounding DAP stole my heart.
The battery life of Paw 6000 is around half of WM1A's 33 hours. Rated at 16 hours, I think this is sufficient for most of the people, including me. I can charge the device once every 2-3 days.
In terms of output power, I find Paw 6000 to have a better power output. Rated at 300 mW @ 32 ohms, I am able to drive most of my IEMs well. I revisited my
Tin Audio P1
, a power-hungry beast. I'm glad that it's potential is fully unveiled by Paw 6000's powerful output.
The background of Paw 6000 is darker and the noise floor is lower too. Besides driving those power-hungry beasts, Paw 6000 can handle sensitive IEMs like
Campfire Audio Andromeda
well, too.
iBasso DX220
Another favorite reference DAP for comparison here. The first thing that caused me to prefer Paw 6000 over DX220 is definitely the battery life. A short playback duration of 6 hours is always a problem for me. I always need to charge my DX220 in the office during a workday. Paw 6000 totally solved my problem.
DX220 runs Android. You can enjoy the streaming services such as Tidal and Spotify on DX220, but not on Paw 6000. However, this is not an issue for me because I always rely on my personal music library. For those who stream, you can still use Paw 6000 and connect it to your phone via Bluetooth. Not a big deal here.
In terms of sonic quality, both of them are reference grade. However, there are still slight differences between them. DX220 is more forward and aggressive, as compared to Paw 6000's calm and steady. The bass of DX220 is punchier, but with a faster decay speed. The richer texture bass of Paw 6000 sounds more natural.
FiiO M15
M15 is the latest flagship from FiiO. FiiO released
M11
,
M11 Pro
and
M15
in a timeframe of 12 months; an exciting year indeed. Hardware wise, M15 uses dual flagship DAC chips from AKM,
AKM4499
. This is very attractive to users because the other DAP that is using this chip is
Astell and Kern SP2000
which is tagged with a price of USD$3499 while M15 costs only USD$1299.
However, while I tested and compared it with my Paw 6000, I observed the importance of integration. I still remember when I first posted the information of Paw 6000 on my social media page; a netizen questioned why a DAP with single AKM4493EQ chip is selling more than USD$1000. My initial thought is: you're paying for integration.
To illustrate this, I would like to use Apple as an example. Apple's iPhone is always deemed as overpriced. However, if you are an iPhone user, you understand what you are paying for. It's not the brand, but the hardware and software integration.
In terms of sound signature, FiiO M15 is on the brighter side while Paw 6000 is a more reference sounding DAP. FiiO M15 reminds me of my Opus #3. They have similar sound signatures. The detail presentation from M15 is superb. However, they sound a little "dry" or technical for long listening.
M15 is running Android 7.0. Users can stream from services on M15, just like on DX220. The battery life for M15 and Paw 6000 is similar. However, I believe with streaming services and WiFi on, the battery life might be shorter. M15 has an additional 2.5mm output besides 4.4mm Pentaconn balanced and 3.5mm unbalanced.
Verdict
The Lotoo Paw 6000 is a great choice for those who are looking for a reference grade DAP like Paw Gold Touch but with a stricter budget - just like me. I'm happy to see this option offered by Lotoo. More audiophiles can now be blessed by the greatness of Lotoo DAP, physically and sonically.
It has an outstanding build and smooth navigating firmware. The form factor of Paw 6000 is pocket friendly. I believe these are some external factors that come into picture when an audiophile is choosing a DAP. Besides that, its natural and well-balanced sound signature is definitely a selling point that won my heart over other DAPs in the market.
Paw 6000 is retailing at USD$1199. You can purchase it from
Lotoo's authorized agents
. In Southeast Asia, you can check out
Project Perfection Pte Ltd's official website
.
Reference sound signature, supreme build quality, smooth user interface and long-lasting battery life of Paw 6000 gives it a well-deserved five star rating. Congratulations, Lotoo. This is my very first five review for a DAP.
Last edited: