Lotoo PAW 6000
Pros
:
Excellent sound
Excellent power
Great build quality
Excellent battery life
Great EQ
Excellent UI
Supplied high quality leather case with excellent fit
Cons
:
No streaming services
No internal memory
I recently purchased a
Lotoo PAW 6000
from MusicTeck and extremely happy with my new DAP. I wanted to share my initial thoughts and journey in making this purchase, hoping to help others who may be considering the same DAPs and IEMs. A shout out to Andrew from MusicTeck who provided amazing service to help me finalize my decision. I live in Sydney, Australia, so there are no Lotoo dealers here locally, so Andrew's time was greatly appreciated. Also received the order from the US within a few days which is amazing!
Please note that my feedback is very subjective, and I am no audiophile so please take my observations for what it's worth. Also worth noting that your experience will vary based on the DAP which you are upgrading from, quality of your music files, genres, and IEM / headphones used.
Before purchasing the LP6K, I owned an AK70mkII and Campfire Audio Polaris II IEM. I was never happy with this combination. Although I love bass, the Polaris II had too much bass which was overwhelming the mids and highs. The AK70II had poor battery life, tiny screen, some quirks with the UI which was frustrating, and the overall sound was good, but not great … however I wasn't sure if the problem was the IEM or DAP.
I started researching my next purchase, initially thinking to change the DAP before the IEM. I was eyeing the new AK-SR25 and also the new AK-SA700; my preference being the SR25 because of the rave reviews for its sound signature and also the amazing battery life.
I spent time at my local dealer testing and comparing the SR25 and SA700 against my AK70mkII. I had made three micro SD cards with the same HD tracks (mixed genres), so that I could insert into each DAP and quickly switch my Polaris II IEM between all 3 DAPs listening to the same tracks.
I first compared the SR25 vs SA700 – the SR25 $1,199 (Australian RRP) was very disappointing to say the least. It sounded very flat, no colour and the soundstage was not comparable to the SA700; nor comparable to my AK70mkII which was only $899 (Australian RRP). The SA700 in comparison sounded good, expansive soundstage, the bass was sharp and punchy, mids and highs sounded good. There was nothing to not like about it except for the weight, average battery life, body heating up, and off course the price tag $2,149 (Australian RRP).
I then compared the SA700 to my AK70mkII. To my surprise, I was struggling to tell the difference between the two players, the sound signatures sounded almost identical. The SA700 still sounded better, had more power and just did everything a little better … also the bigger screen was welcomed. It sounded 10-15% better, hardly justifiable in spending the extra $2,149 asking price to gain such a small difference.
I then shifted my focus to the IEM's and tested out the new Campfire Audio Solaris 2020 with my AK70mkII. Wow, I immediately heard a huge difference. It made me feel I was now in the main concert hall, whereas before I was standing just outside of the main concert hall using my Polaris II. These IEMs were easily 100% better (if not more) than my already capable CA Polaris II's. They made all 3 DAP's sound great and really allowed me to immerse myself into the listening experience and feel like I was at a live concert. I was so impressed I immediately purchased the CA Solaris 2020 and love it.
Although I was now satisfied with my new IEM, the shortcomings noted above regarding my AK70II still bothered me so was still keen to upgrade my DAP. Per my tests I was not happy with the SR25 and I thought the SA700 was not worth the asking price with its noted shortcomings. I did not get a chance to test the SE200 which was still on backorder at the time. I read reviews on many other DAP's, including iBasso X220, Hiby R8, SP1000M, FiiO M11 Pro, FiiO M15, Lotoo PAW Gold Touch and Lotoo PAW 6000. I ruled out nearly all except for the Lotoo PAW 6000 as the rest were either out-dated and about to be refreshed with a new model, too big (not portable), average battery life, slow charging, slow start-up times, sluggish UI's, or most importantly sub-par sound signatures relative to price. All of these points are a deal breaker for me. I found the LP6K to meet these criteria's and more, and the few shortcomings this player has are not a problem for me … including no streaming services, no internal memory, or no dealer network here in Australia.
After a number of emails back and forth with Andrew over at MusicTeck, I took the plunge and ordered the LP6K based on online reviews, and I must say this DAP is really as good as they say it is. The LP6K just sounds amazing, has excellent power, its built extremely well, the battery life is just excellent, great EQ, and love the supplied leather case which is a really nice touch by Lotoo which makes this feel even more of a luxury product. But above all, I must say the UI is the star of the show … its blazing fast, very intuitive to use, allows for loads of customization, and super-fast start up time (2 second start-up time vs 20-40 seconds dependent on the player). I have paired my LP6K with my Campfire Audio Solaris 2020, which appears to be a match made in heaven … at least I think so!
I strongly recommend the Lotoo PAW 6000 for anyone looking for a well priced flagship DAP which is pocketable, has excellent sound and with great battery life.
Pros
:
Reference sound signature
Supreme build quality
High quality leather case and charging cable
Smooth interface
Bi-directional Bluetooth
LDAC enabled
Long-lasting battery life
Powerful output power
USB DAC function
On-the-air (OTA) firmware update
Cons
:
No streaming services
With the success of the latest flagship, Lotoo Paw Gold Touch (LPGT), Lotoo heard the demands from those who have a stricter budget. The all-new Paw 6000 is the solution for them.
Disclaimer
This review is originally posted on
Headphonesty
. Thank you, Pauline and team from
Lotoo
, for sending me the
Lotoo Paw 6000
from Beijing, China, despite facing the Covid-19 pandemic. It was provided to me free of charge in exchange for my honest review and opinion.
Introduction
For those who have been in the audiophile community for a long time, Lotoo is definitely not a stranger. Founded in 1999, Lotoo is a professional audio equipment manufacturer in Beijing. Initially, Lotoo put all their focus on professional voice recorders. After several years in the recording industry, Lotoo decided to take a leap forward, embarking into the digital audio player (DAP) market.
A fact that cannot be denied is that Lotoo has the top-level professional audio technology

R&D team in Asia

. And with their long experience in this industry, they have never failed to fulfill the community's needs in audio quality.
Paw Gold Touch was launched in early 2019. I first auditioned the DAP in
CanJam Singapore 2019
. It is amazing and I'm surprised by the sound quality as well as the portability compared to other flagship models that are as heavy as a brick, such as
Sony NW-WM1Z
or
Astell and Kern SP2000
.
Not long after CanJam, Lotoo revealed the sneak peek for Paw 6000. I anticipated to audition the Paw 6000 and even attended the launch event by
Project Perfection Pte Ltd
in Singapore. I am sold to it after the first audition of Paw 6000 in the launch event.
In this review, I will guide you through how this Paw 6000 won my heart at first sight.
Unboxing
The unboxing experience for Paw 6000 is pleasant. Compared to other models within the price range of USD$1200, Paw 6000 has a relatively simple packaging. It's similar to
Sony NW-WM1A
's packaging. It comes in a black sturdy box with the brand and model name printed on the paper sleeve.
Opening the sleeve, Paw 6000 makes its first appearance to the user. The accessories are kept underneath the DAP. Here's a list of items you can expect in the box:
Paw 6000
Leather case
Two hardened 9+ glass screen protectors
Microfiber cleaning cloth
Multilingual user manual
Warranty card (in Chinese)
USB Type-C charging and data transfer cable
The leather case is well-designed. It fits the DAP like a glove. Besides the fit, Lotoo is very thoughtful in designing the case. The charger opening on the case is opened wider so that the user can eject or insert the SD card without removing the case.
This is the design I need because I have four DAPs and only two SD cards. I need to eject and insert the SD card very often.
The Integration
Paw 6000 is designed to be a smaller and more affordable model compared to the current flagship, Paw Gold Touch. It could be defined as the upgrade for
Paw 5000
and
Paw 5000 mk II
, too. Powered by a single
AKM AK4493EQ
DAC chip, Paw 6000 can support playback for audio files up to 32bit 768kHz and native DSD256 easily.
Similar to its predecessors as well as the current flagship, Paw 6000 is not equipped with internal memory. It has a micro SD slot that can support up to a 2TB micro SD card. I'm using a 256GB SD card and Paw 6000 handles file reading effortlessly and flawlessly.
Paw 6000 is using a 3.77"
in-plane switching (IPS)
touch screen. This is a major upgrade from predecessors which are using the mechanical button for controls. The included screen protector is a good accessory to protect this implementation. I installed it immediately after unboxing.
For analogue output, Paw 6000 supports
3.5mm unbalanced and 4.4mm Pentaconn balanced output
. Based on the technical specifications listed on Lotoo's official website, both outputs are giving the same amount of power. The only difference between balanced and unbalanced outputs is the noise floor. Pentaconn balanced output offers you a better noise floor.
Similar to the predecessors and flagship models, Paw 6000 is
parametric equalizer
enabled. However, if you research or study in more detail, you will realise Paw 6000 is not equipped with a hardware
digital signal processing (DSP)
chip. The functionality of the DSP in Paw Gold Touch is to support DSD512 and dual
phase-locked loop (PLL)
clocks. Paw 6000 can only support up to DSD256, so it's normal for Lotoo to remove DSP from the design.
I used Lotoo Paw 5000 mk II for a while and I was surprised to see that Paw 6000 is WiFi enabled. The WiFi is solely for software updates. It's not designed for streaming services. I like this design because I no longer need to connect my DAP to my laptop to update it. I can do it with the DAP connected to WiFi. This is very convenient and I tried it once. Tested and proven!
Paw 6000 has a few identities. It can act as a DAP, a USB
digital analogue converter (DAC)
, Bluetooth DAC and Bluetooth transmitter. With one device on hand, it can fulfill almost all the needs from the users in terms of entertainment. Paw 6000 utilises USB Type C 3.1 connection. With this USB Type C enablement, the file transfer is lightning fast.
You can find bi-directional
Bluetooth
version 4.2 under the hood of Paw 6000. It supports
LDAC
Hi-Res
codec. For those who need some freedom and wish to preserve high sonic quality, LDAC implementation is a great selling point. The codec that can be decoded through LDAC is 24bit/96kHz, far beyond other codecs like Advance Audio Coding (
AAC
) or low-complexity subband codec (
SBC
).
Another selling point that won my heart is the battery life. Paw 6000 is powered by a 5200 mAh battery. On the specification sheet, it states that Paw 6000 can last for 16 hours with continuous playback. Out of curiosity, I tested and it's right! Actually, I got a total playback time of slightly more than 16 hours.
I'm totally satisfied with this and, compared to my current DAP,

iBasso DX220

, 16 hours is really a luxury. The DX220 can barely last for 6 hours with continuous playback.
Technical Specification
DAC chip: AK4493EQ
Supported formats: DSD256 / PCM up to 768KHz
Operational amplifier: OPA1622 (both single-end and balanced)
Headphone output: 300mw / channel @ 32ohm
Battery capacity: 5200 mAh
Playable time: 16 hours
Storage: MicroSD card (theoretically supports up to 2TB)
Bluetooth Version: Bluetooth V4.2
Dimension: 112x65x18mm
Weight: 228g
Build and Design
I like the luxury color code in Paw 6000's design. The combination of black and gold makes it a social status for audiophiles.
As a Paw 5000 mk II user, I am impressed by the improvement Lotoo achieved in Paw 6000. The build quality of Paw 6000 is extraordinarily good. The chassis is
computer numerical control (CNC)
crafted with aircraft aluminium alloy. On the front top left corner, there is a "Lotoo" logo engraved in the alloy. The 3.77" screen integrated perfectly with the chassis, forming a bezel-less design.
The back of Paw 6000 is covered by glass too. However, there is no screen protector included for the back panel. This is a small issue for me because I protected it with the provided leather case from the first moment I used it.
The audio outputs are located on top of the DAP, together with the volume control knob. They are in gold - a perfect match with the matte black chassis of Paw 6000. Initially, the audio outputs were a little tight for me but they are getting a little wider now after a period of usage.
Moving to the volume control knob, there is a "breathing light" embedded under the knob. You can turn it on in the setting of DAP. I think this is a cool feature, especially when I am listening at night with lights turned off. I can easily find the DAP with the breathing light. The volume control knob is well-built and provides a tactile response for every step you adjust.
The physical control buttons are located on the right side of the DAP. The top button is the power button for waking up the screen and turning on/off the device. Following the power button are conventional buttons for audio controls, play/pause button and next/previous track button. In the settings, users can change the next/previous track button to suit personal preference.
The charging and data transferring USB Type-C port is located on the bottom of the DAP, together with micro SD card slot. The overall design of Paw 6000 is sturdy. It has a dimension of 112 x 65 x 18 mm and puts 225g on the scale. It is, without a doubt, a pocket-friendly design. I have no issues carrying it around in my pocket.
User Interface
Paw 6000 is powered by Lotoo Touch Operating System (LTOS), similar to its elder brother Paw Gold Touch. This OS is in-house specially designed by Lotoo for these two models. We can expect a perfect integration between the hardware and software since the OS is proprietary catered to the hardware in Paw Gold Touch and Paw 6000. Without disappointing the user, Paw 6000 can be booted within 3 seconds. This is the fastest that I experienced so far.
On the main screen, there are six different options for users to play around with - Playlist, Album List, Songs, Folders, Artist and Settings. It is very user-friendly and easy to navigate. Below these six options, there is a minimized 'now playing' screen. Users can control it there, or go to the maximized 'now playing' screen by tapping on it.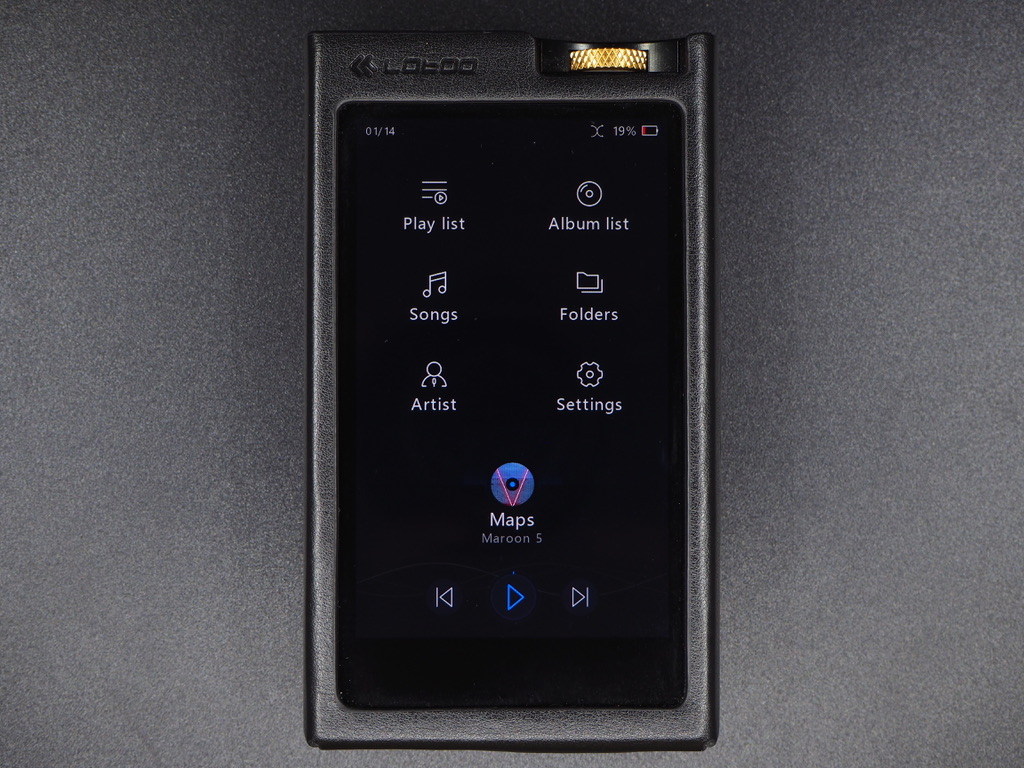 Media Management
Navigating the media on Paw 6000 is an easy task. Users can go into any option, except Settings to find the desired track easily. To set up a playlist, you can set up the playlist in the Playlist option on the main screen and add in your tracks. Users can choose the artist or album and add all the tracks that fall under the selection into the playlist, too. This is applicable to folders as well.
There's a cool feature in Paw 6000 that I often use - the search function. If you drag down the control panel on the screen, you will see a search bar. Simply key in the track name and Paw 6000 can immediately show you the track. I have more than 100GB of tracks in the SD card and this function really shortens time for me to find a particular track. I love it!
Parametric Equalizer (PMEQ) and Acoustic Timbre Embellisher (ATE)
In the maximized 'now playing' screen, users can find a control button that will lead you to the PMEQ and ATE settings. I am not a big fan of PMEQ. However, this is a good inclusion in the firmware development because this allows users to do the final tuning in the pairing.
In the PMEQ setting, there is a list of pre-set profiles that you can choose from. If you want something that is customized to your personal preference, you can create a profile in the setting, too. PMEQ allows you to create a profile in 5 bands equalizer.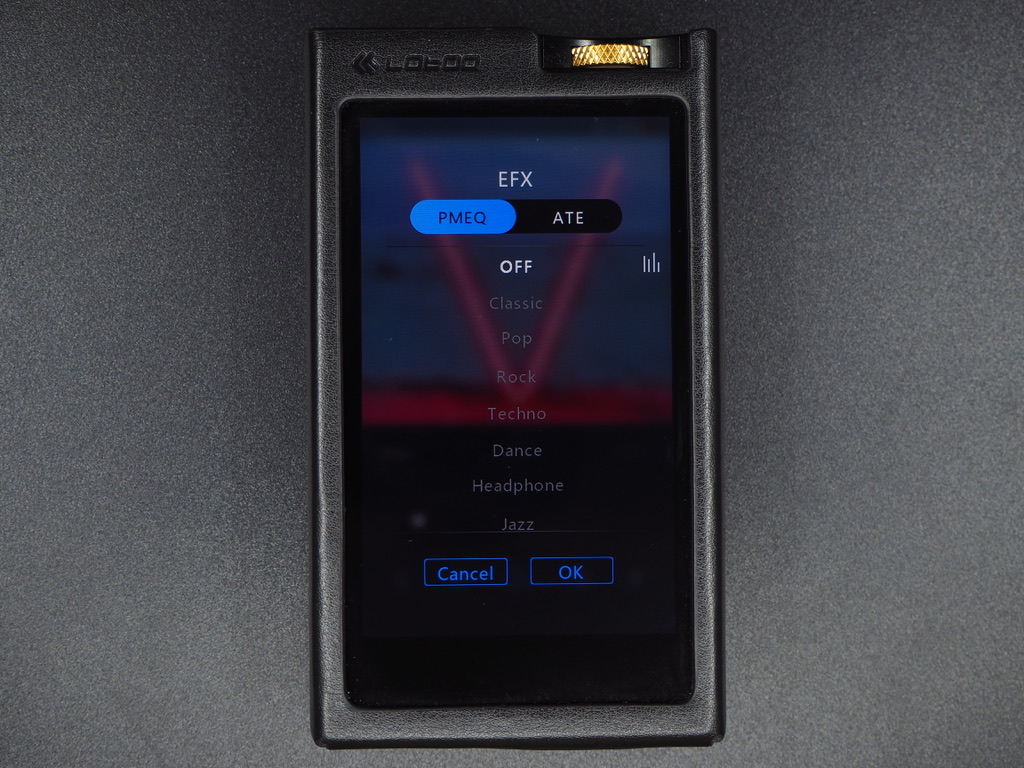 On the other hand, ATE also has a list of profiles that users can select from. These profiles can be easily understood as Lotoo's studio quality filters. Besides PMEQ and ATE, users will get the conventional option to switch between digital filter settings of the AK4493 DAC. There are six options for PCM and two for DSD.
Bluetooth
As mentioned briefly in the previous section, Paw 6000 is implemented with a bi-directional Bluetooth. To define the term 'bi-directional', it simply means Paw 6000 can be used as a transmitter and a receiver. In transmitter mode, you can connect your wireless headphones to Paw 6000.
On the other hand, in receiver mode, you can connect your phone to Paw 6000 and use streaming services on your phone. Paw 6000 will act as a Bluetooth DAC in this scenario. This perfectly addresses the non-existing streaming capability on Paw 6000. Although I do not usually stream, I still think this is a good feature to be implemented.
USB DAC
Another cool feature Paw 6000 provides is USB DAC function. Simply connect Paw 6000 to your laptop or PC, there will be a pop up screen. Choose USB DAC (PC) if you want to charge your Paw 6000 simultaneously. Otherwise, you can choose USB DAC (phone).
After choosing the desired connection, the screen will show 32bit/44kHz. This is the sampling rate requested by Paw 6000 to the source. In the USB DAC mode, the PMEQ and ATE features can still be used.
The PAW 6000 always requests 32bit/44kHz sampling rate from the host device. If the file played is lower than the requested sampling rate, the host will just add zeros to "up-sampling" to the requested sampling rate.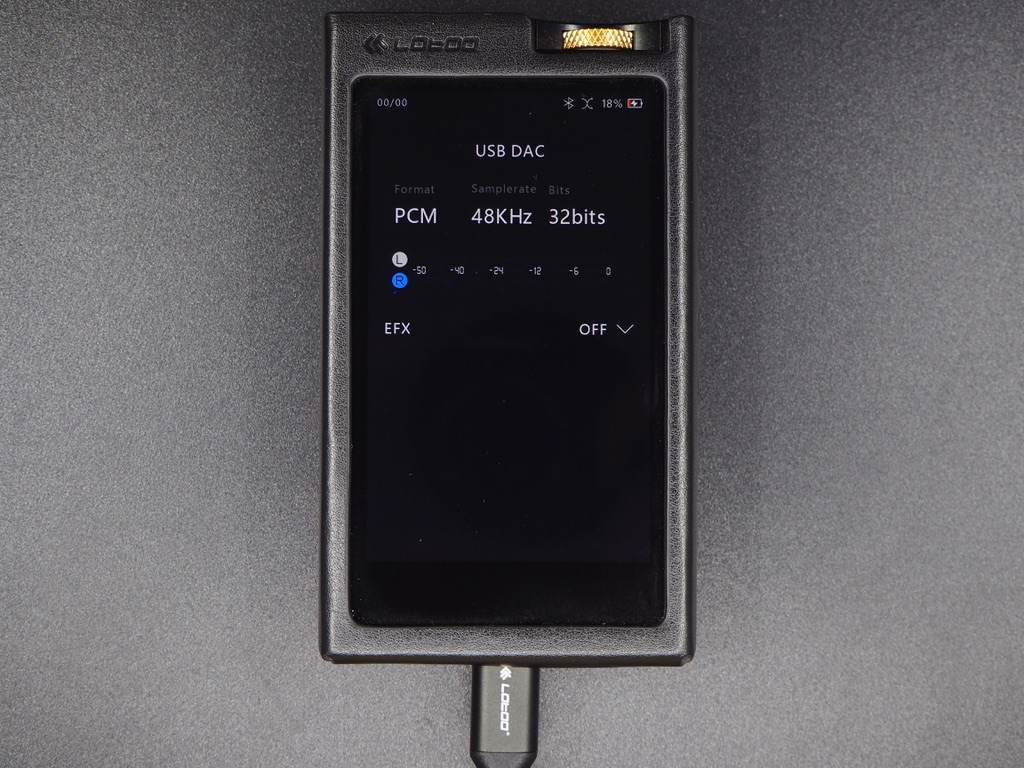 Sound Analysis
Before listening to Paw 6000, based on my experience in using Paw 5000 mk II and auditioning for Paw Gold Touch, I could roughly predict the
sound signature
. It is going to be neutral, just like its predecessor and elder brother. Without any disappointment, the sound signature of Paw 6000 is indeed neutral and well-balanced across frequency spectrums.
It is a reference sounding DAP. The overall presentation is transparent and free from coloration. No one is getting any additional "flavors" from the Paw 6000. It delivers according to what it is tasked to play. I have been using the Paw 6000 as my reference DAP, together with my
iBasso DX220
. I will comment about the comparison in the latter part in this article.
Lows
The lows are presented with a good weight and full body. The richness in the lows is well-balanced - neither too warm nor too lean. I am satisfied with the dynamic and punch presented by Paw 6000 in lows. The layering has been handled well, too. You are not going to face any congestion in the presentation.
The speed of the low frequency delivered by Paw 6000 is very well-controlled - between muddy caused by slow decay and analytical caused by speedy decay.
Mids
The mids are very transparent and breathy, just like the overall presentation. The vocals delivered are natural and realistic. There is no additional coloration to the midrange. Similar to the lows, you can expect a rich textured midrange to be delivered by Paw 6000. The soundstage is very open. The positioning of vocals and other instruments is precise.
Closing my eyes and listening to what Paw 6000 delivers, I can feel the headroom and the space, making it very entertaining.
Highs
The highs of Paw 6000 portray a natural timbre. It hits you like spring wind breezes on your eardrum. It's comfortable to listen to. You should not expect an overly forward or shy treble. It is well-maintained to be at the same level as the other two frequencies. The treble is very well-extended. There is neither distortion nor early roll-off in the treble observed within this reviewing period of around 1 month.
Pairing
I did several IEM pairings to test out the capability of Paw 6000. Surprisingly, it pairs up well with them and I cherry picked a few to share in this article.
Dita XLS Dream
This is a dream pairing. Kenneth, from Project Perfection Pte Ltd, Lotoo's distributor in Southeast Asia, recommended this to me. The dynamic driver in the Dream XLS is well-activated. The soundstage is something that I am sold on. The term "XLS" in the model name of Dream XLS stands for "Extra Large Soundstage". Paw 6000 further enhances this characteristic. The presentation is simply spacious and airy.
Avara Custom AV3
This is my first acquired custom IEM. It has a very well-balanced sound signature, just like Paw 6000. I love this pairing because the overall presentation just sounds referencing. I'm impressed by the transparency presented in this pairing. The midrange sounds natural, with rich texture. I feel very comfortable listening to this pairing. No overwhelming lows and fatigue-causing highs.
Sennheiser IE400 Pro
This is another reference grade IEM, just like AV3. I first listened to IE400 Pro with my
Opus #3
. The presentation is above average with good fidelity. When I paired it with Paw 6000, I was immediately amazed. The soundstage is opened up. The bass has a thicker texture, compared to what my Opus #3 presented initially.
It gives me the same feeling of what I get with Paw 6000 and Dream XLS pairing - high fidelity with wide soundstage.
Origami Audio Silver
I'm glad to have a chance to audition this amazing IEM with my Paw 6000 in Singapore. In March, David from E1 Personal Audio Singapore got the Origami Audio Silver from founder Oya-San for local audiophiles to audition. I spent almost two hours listening to it with my Paw 6000. The pairing is impressive. The presentation is dynamic with a punchy bass. The vocals, female vocals especially, sound sweet and breathy.
I shared my impression with Oya-san and I'm happy to say that he is listening to this pairing now.
Comparison
Sony NW-WM1A
WM1A is my favorite reference grade digital audio player (DAP) before I came into contact with other brands like IBasso Audio DX220 or Lotoo Paw 6000. WM1A has good neutrality in terms of sonic presentation which makes it an all-rounder for different genres.
I actually prefer the neutrality in Paw 6000 more. The presentation is more analogue as compared to WM1A. WM1A sounds technical and cold when we compare it with Lotoo. I think this analogue sounding DAP stole my heart.
The battery life of Paw 6000 is around half of WM1A's 33 hours. Rated at 16 hours, I think this is sufficient for most of the people, including me. I can charge the device once every 2-3 days.
In terms of output power, I find Paw 6000 to have a better power output. Rated at 300 mW @ 32 ohms, I am able to drive most of my IEMs well. I revisited my
Tin Audio P1
, a power-hungry beast. I'm glad that it's potential is fully unveiled by Paw 6000's powerful output.
The background of Paw 6000 is darker and the noise floor is lower too. Besides driving those power-hungry beasts, Paw 6000 can handle sensitive IEMs like
Campfire Audio Andromeda
well, too.
iBasso DX220
Another favorite reference DAP for comparison here. The first thing that caused me to prefer Paw 6000 over DX220 is definitely the battery life. A short playback duration of 6 hours is always a problem for me. I always need to charge my DX220 in the office during a workday. Paw 6000 totally solved my problem.
DX220 runs Android. You can enjoy the streaming services such as Tidal and Spotify on DX220, but not on Paw 6000. However, this is not an issue for me because I always rely on my personal music library. For those who stream, you can still use Paw 6000 and connect it to your phone via Bluetooth. Not a big deal here.
In terms of sonic quality, both of them are reference grade. However, there are still slight differences between them. DX220 is more forward and aggressive, as compared to Paw 6000's calm and steady. The bass of DX220 is punchier, but with a faster decay speed. The richer texture bass of Paw 6000 sounds more natural.
FiiO M15
M15 is the latest flagship from FiiO. FiiO released
M11
,
M11 Pro
and
M15
in a timeframe of 12 months; an exciting year indeed. Hardware wise, M15 uses dual flagship DAC chips from AKM,
AKM4499
. This is very attractive to users because the other DAP that is using this chip is
Astell and Kern SP2000
which is tagged with a price of USD$3499 while M15 costs only USD$1299.
However, while I tested and compared it with my Paw 6000, I observed the importance of integration. I still remember when I first posted the information of Paw 6000 on my social media page; a netizen questioned why a DAP with single AKM4493EQ chip is selling more than USD$1000. My initial thought is: you're paying for integration.
To illustrate this, I would like to use Apple as an example. Apple's iPhone is always deemed as overpriced. However, if you are an iPhone user, you understand what you are paying for. It's not the brand, but the hardware and software integration.
In terms of sound signature, FiiO M15 is on the brighter side while Paw 6000 is a more reference sounding DAP. FiiO M15 reminds me of my Opus #3. They have similar sound signatures. The detail presentation from M15 is superb. However, they sound a little "dry" or technical for long listening.
M15 is running Android 7.0. Users can stream from services on M15, just like on DX220. The battery life for M15 and Paw 6000 is similar. However, I believe with streaming services and WiFi on, the battery life might be shorter. M15 has an additional 2.5mm output besides 4.4mm Pentaconn balanced and 3.5mm unbalanced.
Verdict
The Lotoo Paw 6000 is a great choice for those who are looking for a reference grade DAP like Paw Gold Touch but with a stricter budget - just like me. I'm happy to see this option offered by Lotoo. More audiophiles can now be blessed by the greatness of Lotoo DAP, physically and sonically.
It has an outstanding build and smooth navigating firmware. The form factor of Paw 6000 is pocket friendly. I believe these are some external factors that come into picture when an audiophile is choosing a DAP. Besides that, its natural and well-balanced sound signature is definitely a selling point that won my heart over other DAPs in the market.
Paw 6000 is retailing at USD$1199. You can purchase it from
Lotoo's authorized agents
. In Southeast Asia, you can check out
Project Perfection Pte Ltd's official website
.
Reference sound signature, supreme build quality, smooth user interface and long-lasting battery life of Paw 6000 gives it a well-deserved five star rating. Congratulations, Lotoo. This is my very first five review for a DAP.
Last edited:
Pros
:
neutral natural tonality, Lotoo optimized OS with 2sec boot up, duplex Bluetooth, Parametric EQ II, solid build quality, SE and BAL Line out, high level of config in Settings.
Cons
:
no internal storage, WiFi only for fw updates.
---
A Touch of class runs in the family!
The product was provided to me free of charge for the review purpose in exchange for my honest opinion. The review was originally posted on my review
blog
, and now I would like to share it with my readers on Head-fi.
Manufacturer website:
Lotoo
. Available for sale from
MusicTeck
.
---
Intro.
It has been almost 2 years since I covered Lotoo Touch (LPGT), and it became my reference source which I use in most of my reviews. Today, many DAPs become obsolete within 4-6 months, replaced by newer updated versions with beefier spec. But the relevance of LPGT hasn't faded away yet, thanks to its super-fast proprietary OS which doesn't rely on Android and its build like-a-tank design with lots of pro features.
It is clear that Lotoo put a lot of thought into LPGT to guarantee its longevity, and instead of releasing the new updated version, they decided to follow their own footsteps from the days of the original LPG. Back then, LPG got PAW5000 (PAW5k) as a sidekick, a cutdown budget friendly version with a similar functionality. This time, the cutdown version got reincarnated as PAW6000 (PAW6k), except to call it a cutdown will be an insult.
Of course, you can't release a budget friendly version of a flagship without cutting some corners, but you also will be surprised to find out how much PAW6k inherited from its big brother. Here is more about it!
Unboxing and Accessories.
Unboxing experience of PAW6k was nearly identical to LPGT. While there was no golden sleeve box cover, PAW6k cover sleeve was black with a golden outline of the DAP. With a sleeve off, the rest was the same as Touch, a giftbox quality storage box with a foam cutout under the cover to keep DAP secure during transport, and accessories organized in separate boxes underneath.
Inside you will find all the essentials with a manual, a pair of tempered glass screen protectors (one included as a spare), a cleaning cloth, and a premium USB/USB-C braided cable. The premium leather case was also included.
This leather case fits PAW6k like a glove, enhancing the grip, and protecting from scratches and minor drops. I actually found it to be an improvement over the Touch case. With a large opening at the bottom, the micro-SD card and USB-C charging/data port are now fully open and you no longer have to remove the case to replace the card. Also, the case covers the playback and power buttons on the right side with an easy to feel indented outline/shape around the controls. The top of the case is open, giving full access to Headphone/LO ports and the golden volume wheel. And the actual material had a better-quality leather which felt more premium in comparison to Touch's softer leather feel.
Design.
It was a big step for Lotoo to transform their original non-touch LPG into a touch-screen version. While the PAW6k overall design looks like a slimmer version of LPGT with a thinner volume wheel, the rest of the exterior remained very similar. Relative to Touch, the size of PAW6k is a little smaller, measuring 112mm x 65mm x 18mm (vs 119x69x21) and the weight is down to 224g (vs 310). You still have the same 3.77" IPS Retina LCD touch screen (with 800x480 resolution), and the volume wheel above it in upper right corner with a secure guard around it.
The golden wheel is a signature of PAW design, but PAW6k has a slimmer version which doesn't protrude outside of rectangular DAP outline like it is LPGT. And just like in the original (LPG and LPGT), you can configure its direction to change volume either clockwise or counter-clockwise. The level of configuration and customization in PAW6k is identical to LPGT, and you can still configure to double tap the screen to wake it up (love this feature!).
Bottom of PAW6k hosts micro-SD card, held inside with a spring-loaded mechanism. There is no internal storage, and that's all you get, though capacity of flash memory has been going up while price is dropping down. Next to it is USB-C port for charging of the DAP, data transfer, and USB DAC connection.
Nothing is on the left side, and the right side has 4 round metal buttons with their functionality etched on the surface. 3 playback control buttons (play/pause and skip) are grouped a little closer while a power button (also used for screen on/off) is a little further away. Unlike LPGT, play button here doesn't have a bump identification (for a blind id), assuming Lotoo realized that PAW6k users will have the case on anyway. Buttons have a nice tactile response, with or without a case.
The top of the DAP, besides already mentioned volume wheel which also has optional "breathing light" underneath, also has 3.5mm single ended and 4.4mm balanced outputs with a flexible dual configuration of either Headphone output or Line Out. As HO, you can set the gain to high/low and have independent L/R balanced adjustment of either of the ports. As Line Out, you can set the output to a few fixed voltage settings or variable output to control it with a volume wheel.
Overall, PAW6k feels as solid as LPGT with a similar aircraft aluminum alloy chassis and Corning Gorilla Glass (std 5) display with anti-fingerprint and DLC coating. The one noticeable difference is that LPGT has a metal back panel while PAW6k is glass. Aesthetically, it really doesn't make a difference since many will be keeping this slippery DAP in a case. Functionally, perhaps a glass back will allow placement of some internal antennas.
Under the hood.
Obviously, Lotoo had to cut some corners so that PAW6k wouldn't overshadow the flagship LPGT. So, in the heart of PAW6k you will find the AKM AK4493 DAC (down from AK4497 in Touch), and there is no AKM AK4137EQ up-sampling chip or ADI BF70x DSP. While up-sampling on the fly was a cool feature, I end up turning it off on LPGT to extend battery life. Also, according to Lotoo design team, the functionality of DSP in Touch was for DSD512 support and dual PLL clocks. The PEQ and ATE effects were running on the main Freescale iMX6 processor with everything optimized around Lotoo's own OS with a super-fast boot up time.
PAW6k, just like LPGT, supports all the popular lossy and lossless formats up to and including DFF, DSF, ISO, FLAC, APE, WAV, AAC, ALAC, MP3, WMA, M4A, and OGG, with PCM sampling rates 32kHz-768kHz. It also supports DSD64, DSD128, and DSD256 with corresponding sampling rates of 2.8MHz, 5.6MHz, and 11.2MHz. I didn't notice any lag or glitches when switching between different file formats or during Gapless playback (which usually buffers ahead), thanks to its multi-processor architecture which handles multiple tasks in parallel.
Regarding the internal design, Lotoo mentioned about the implementation of TI OPA1622 SoundPlus opamps, though more details were not provided. And similar to LPGT, both ports have the same output power, except PAW6k is rated to 300mW (down from 500mW), and I confirmed the output volume level to be the same when switching between SE and BAL headphone ports. Each of these ports can be selected as Line Out as well, to drive external amplifier in either Single Ended or fully Balanced connection.
USB DAC is supported without a problem when you connect PAW6k to computer or smartphone. You also have 2-way Bluetooth (BT4.2) support, though BT DAC doesn't support LDAC yet, but you can pair it with LDAC enabled headphones. But in general, duplex BT will allow you to either pair up with wireless headphones and speakers or to connect PAW6k as a wireless Receiver to your Smartphone or Tablet/Laptop to stream audio.
No need to worry about proprietary charger like in LPG. You are charging from USB-C port and PAW6k 5200 mAh battery should yield a playback time of up to 16hrs. Of course, that is an ideal case with display off and at average volume level. There also a nice feature of when connecting USB DAC to either select "computer" so you charge the battery or USB DAC Phone, so you don't drain your phone battery.
WiFi interface (b/g/n) is available, but only implemented for over-the-air (OTA) download and update of the firmware which I verified to work without a problem.
GUI - Interface and Playback screen.
Since the Interface of PAW6k is identical to LPGT, you can refer to my LPGT review on
Head-fi
or my PAW6k review on my
site
.
Sound Analysis.
In this test I was using PAW6k with 64 Audio U18t while playing the selection of my favorite test tracks, such as Agnes Obel "The curse", Sandro Cavazza "So much better" (Avicii remix), C-Bool "Never go away", Ed Sheeran "Shape of you", Alan Walker "Darkside", Galantis "Hunter", Iggy Azalea "Black widow", Indila "Boite en argent", Counting Crows "Big yellow taxi", David Elias "Vision of her", and Michael Jackson "Dirty Diana" to analyze the sound of this DAP. Also, I had about 100hrs of playback burn-in prior to starting the sound analysis.
I'm sure the first question on many people's mind is how PAW6k compares to LPGT. My readers always ask, which one is better? In terms of tonality, one is not better than the other, they are just different. When it comes to technical performance, LPGT will have the upper hand and I will cover it in more details in Comparison section of the review.
PAW6k has a neutral signature with a more natural tonality and a fuller body sound, including a little more weight in lower end. While I have been trying to analyze the sound of PAW6k on its own, I still have Touch in the back of my mind due to its neutral reference tonality which I compare everything to. Thus, I would consider PAW6k to have a stronger impact in lower end, more natural fuller body mids/vocals, and smoother treble response with a modest level of airiness. As a result, while LPGT can bring out more flaws in a poorly recorded audio, PAW6k is able to smooth out the sound and render it in a more natural and musical way.
From a perspective of technical performance, the sound has good dynamics with a decent vertical expansion of the peaks. As a result, the sound never felt compressed or congested. Again, relative to LPGT, the transient response of note on/off is a little slower, giving the sound its natural smoothness. The background is relatively black, hardly any hissing even with very sensitive IEMs. The soundstage expansion is definitely above the average with a good depth, and it also has a good imaging with a relatively precise placement of instruments and vocals.
As already mentioned, 4.4mm (BAL) and 3.5mm (SE) headphone ports have identical power out. And I also found the difference is tonality to be nearly identical. But if I would to split hairs here, 4.4mm balanced output is a bit more transparent with a little wider soundstage. But overall, these ports sound very close.
Comparison.
In this section of the review, sound comparison was done using LPGT 4.4mm headphone balanced output, with all the effects off, while using 64 Audio U18t with EA Code 51 balanced terminated cable and Pentaconn pigtail 4.4mm adaptor. In every comparison I made sure to match the sound level between DAPs. Also, I only going to cover the sound difference as I hear it. Obviously, every DAP has their own set of features and functionality differences with Android DAPs having direct access to streaming services. I used 4.4mm in every comparison except for N6ii w/E01 where I had to use 3.5mm
PAW6k vs Cowon Plenue L
- this is a very interesting comparison because after going many times between PAW6k, LPGT, and PL, I came to a conclusion that PL fits right in a middle between these two Lotoo models. For example, starting with soundstage expansion, while I found LPGT to have a wider left/right spread in comparison to PAW6k, PL is a touch wider than PAW6k but not on the same level as Touch. The bass extension and impact, relative to U18t pair up, is very similar between PAW6k and PL; I would say it's nearly identical to my ears. When it comes to mids/vocals, PL is also somewhere in the middle due to lower mids being a little leaner and upper mids sounding more revealing when compared to PAW6k, but not on the same level as Touch. Treble has some similarity as well, except PAW6k has a little more sparkle. Both have a very dynamic and layered sound.
PAW6k vs FiiO M11 Pro
- relative to U18t, I hear PAW6k to have a little wider soundstage expansion, though not by a lot. M11 Pro bass is closer to neutral relative to PAW6k which has more impact and deeper extension. Also, I hear PAW6k bass to be more articulate and faster, while M11 Pro bass sounds a little more laidback. With mids/vocals, PAW6k has more body and the tonality is smoother and more organic, while with M11 Pro I hear lower mids to be leaner, and upper mids more revealing, more transparent. Treble is very similar. M11 Pro is definitely a noticeable improvement over their original M11, but still when you are analyzing the sound with higher res IEMs or headphones, you can hear in this comparison that PAW6k sound has a better vertical dynamics expansion and better layering, making M11 Pro sound a bit compressed in a relative comparison.
PAW6k vs iBasso DX220 w/AMP8
- I didn't realize how similar these two will sound! But there are still a few differences, like for example I found DX220 soundstage to be a little bit wider. And PAW6k has more mid-bass impact and the bass sounds faster than with DX220. But the rest of the sound, in mids and treble, is very similar in quality and presentation. Maybe DX220 having a touch more sparkle/airiness in treble, but not by whole lot. Both have a very dynamic and layered sound. I tried this comparison in a blind test, and after going back'n'forth multiple times, soundstage width was the main difference to my ears.
PAW6k vs Hiby R6 Pro
- If PAW6k and DX220 sounds similar, in a comparison of the sound performance between PAW6k and R6 Pro relative to U18t I hear them being even closer in tonality. Other DAPs were not able to match PAW6k bass impact at the same level, but R6 Pro was able to keep up without a problem. Mids/vocals performance was also very similar, with fuller body more natural tonality and a layered detailed sound. And the treble performance was not too far off. But the blind test comparison was easy since PAW6k is dead quiet with U18t, while R6 Pro has a noticeable hissing. That was really the main giveaway during the blind test.
PAW6k vs Cayin N6ii w/E01
- N6ii soundstage expansion is a little bit wider, even when comparing its single ended output to PAW6k balanced; it's not a huge difference, but noticeable. Both have a deep low end extension with a nice elevated rumble, but in mid-bass PAW6k has more impact and faster attack/decay, making its bass sound more articulate and faster, while N6ii w/EO1 bass is slower and a little more laidback, more analog. When switching to the default A01 card, N6ii has bass response which sounds closer to PAW6k. Mids of PAW6k are a little thicker and more organic in comparison to more layered and more revealing mids of N6ii w/E01 (in Class AB mode). Treble is similar, though I find PAW6k to have a little more sparkle. The tonality of A01 card will be closer to PAW6k.
Of course, I saved the best for last (with a relative volume matched setting in high gain from 4.4mm).
PAW6k (vol 38) vs LPGT (vol 36)
- Touch has more expanded soundstage where the sound has a wider left/right spread. Overall sound sig is more neutral revealing with a greater level of transparency in Touch while PAW6k is more neutral natural with a slightly warmer tonality. Relative to U18t, when you break down the sound you will hear PAW6k to have more sub-bass rumble and slightly elevated mid-bass analog impact, while Touch bass has less sub-bass rumble, bass is more layered, and more articulate. With mids/vocals, Touch is leaner in lower mids and more transparent and more layered in upper mids, while PAW6k has more body in lower mids and smoother and more organic tonality in upper mids. The treble response is a little smoother in PAW6k. Overall, Touch presents sound in a more neutral, transparent, analytical way, while PAW6k gives you a more fun flavor with a deeper low end impact and a smoother and more organic presentation of mids/vocals. Both have a very dynamic and layered sound, though you can hear a bit more air between the layers of the sound when paired up with LPGT.
Pair up.
PAW6k has plenty of power to driver some of the demanding full-size headphones and at the same time take care of high sensitivity IEMs without any noticeable hissing. Here is how I hear PAW6k pairs up with a selection of headphones and earphones.
64 Audio U18t
- wide soundstage expansion with a little more depth than width. The signature is balanced with a neutral natural tonality. Bass goes deep and has extra impact. Lower mids have extra body and upper mids/vocals are very detailed and natural in tonality. Treble has a great definition and extension, and overall sound has zero hint of brightness. This pair up delivers a very natural detailed sound with a nicely balanced sig. No hissing.
Campfire Audio Solaris
- wide/deep soundstage expansion. The signature here is balanced with a slight hint of a mild v-shaped due to a little extra impact in bass and extra sparkle in treble. Bass impact is quite powerful, not L-shaped elevated, but has an extra dynamic-driver punch that cuts right through the mix, very articulate and fast. Mids are a little more on a leaner and more revealing side, nicely layered with a very good retrieval of details. Treble is crisp and airy, not harsh at all, but has a well control sparkle. The overall tonality here is neutral-revealing with additional fun factor, thanks to quality of bass. There is a very mild waterfall hissing when idling. Very hard to detect, and not audible at all when playback starts.
Campfire Audio Andromeda
- wide/deep soundstage expansion, actually even wider than Solaris in this pair up. The signature is balanced for sure, and tonality is smoother and more natural. Bass sounds like it is coming from a dynamic driver, not BA, and bass is smooth, rounded, not as fast as with Solaris. Mids have a little fuller body, sound more natural, smoother, clear and detailed, but not as layered. Treble has nice definition, not as much sparkle, just very natural and detailed. The overall sound is neutral, natural, and smooth. There is a very faint waterfall hissing when idling, but hardly detectable when music is playing.
Fir Audio M5
- wide soundstage expansion with a little more depth than width in this pair up. The signature is slightly v-shaped due to extra impact in low end and more sparkle in treble. Bass has a powerful dynamic driver impact, going deep with a nice rumble and punching hard in mid-bass, fast, articulate, and layered. Lower mids are a little leaner and upper mids/vocals are clear, micro-detailed, layered, a little brighter, and with a slight out of your head presentation. Treble is crisp, airy, extended, and with a fun sparkle. No hissing here.
Empire Ears Legend X
- the soundstage here is actually reaching a holographic level due to a wide left/right expansion and the depth expansion. The signature is L-shaped, your typical LX sound, but there is a very interesting phenomenon here. The bass is powerful and goes deep, actually more sub-bass rumble than mid-bass punch, but mids/vocals take the front row, grabbing the main focus of the sound presentation, while the bass is more in the background where you feel the rumble more than you hear it. And the same with treble, being crisp, airy, and well controlled, coming through clear and detailed, along with mids/vocals. Very interesting pair up, and kind of surprising since I don't think I heard LX to have their bass pumping more in the background like I'm hearing here. No hissing.
VE Sun Dice
- the soundstage is close to holographic in this pair up. PAW6k had no issue driving these 180ohm earbuds, and I only needed about 50/100 of volume in HG. The overall tonality is smoother and more organic in this pair up, with a balanced signature. Bass has a nice fast punch, mids/vocals are very detailed and a little more forward, smooth, organic. Treble is crisp and has a good definition. Personally, I liked the pair up of Sun Dice with LPGT, and I think these earbuds pair up better with more revealing sources, while PAW6k is a little too smooth for Sun. It's not a bad pair up at all, just smoother and more laidback.
Final Audio A8000
- closer to holographic soundstage expansion, in both width and depth. The overall signature is a little v-shaped with a more revealing tonality. I'm hearing a deep extended sub-bass rumble, fast mid-bass punch, a little north of neutral bass quantity, fuller body lower mids with more organic upper mids/vocals tonality, crisp airy treble which I find to be brighter. Upper frequencies are more revealing and brighter with a slightly colder tonality. No hissing.
Audio-Technica ATH-R70x
- open sound with a wide/deep soundstage expansion; of course, you would expect that from open back headphones, but it was also nice to hear that PAW6k wasn't limiting this performance. The signature is balanced, and the tonality is very natural and quite detailed. I was expecting it to be a little smoother, but the retrieval of details here is very impressive, suggesting that PAW6k has no issues driving these 470ohm open back headphones. Bass is not the fastest, but it goes deep with a nice rumble you can hear and feel, and mid-bass has a nice average speed punch. Mids/vocals are natural, detailed, high level of clarity while still sounding organic. Treble is well defined and has a well-controlled amount of sparkle and natural airiness. I really enjoyed this pair up, definitely brings the best in R70x.
Meze Audio Empyrean
- open sound with closer to holographic soundstage expansion. The overall signature is balanced and the tonality is neutral and natural, actually quite an organic sound. Bass goes deep, but has more neutral mid-bass punch, and overall low end is slower and smoother. Lower mids have a fuller body and upper mids are very detailed, smooth, natural, soulful. Treble is crisp, well extended, and well defined, has a natural sparkle. I have seen Empyrean sound a little faster and more revealing in some other pair ups, but with PAW6k it had a different, more natural and still quite detailed sound. I actually enjoyed the pair up with these planar magnetic cans.
Wired and Wireless Connections.
In this section of the review I will go over various wired and wireless connections I tested and verified with PAW6k.
Bluetooth DAC
- the pair up was effortless, though I didn't see an indicator of BT codec. In BT DAC mode you can use PMEQ and ATE effects. Also, I was able to adjust the volume from my phone (S9) and from PAW6k. Plus, I was able to remotely control my phone (S9) playback with Play/Pause/Skip buttons from PAW6k - verified with HibyMusic app and while streaming with Qobuz. I hear the tonality of the sound to be nearly identical when playing the same track from PAW6k internal storage vs using PAW6k as BT DAC.
According to Lotoo, it doesn't support LDAC in BT DAC mode, only SBC, but they are working to add it soon. Still, as I mentioned already, the sound was close enough between local storage and wireless BT DAC playback.
Bluetooth
(w/Senns HD1 M2 IEBT) - hassle free pair up, codec was indicated in BT list. Full dynamic crystal-clear sound, similar to what I'm used to with these from my S9. I can control the volume from PAW6k and from Senns, and I can control playback (Play/Pause/Skip) from Senns remotely. Was able to use headphones about 50ft away from PAW6k in open space with a solid connection. PMEQ/ATE could be used during wireless connection without problem as well.
USB DAC
- (
S9
) fast connection, was using Neutron - the sound was nearly the same as playing from local storage. (
T480s Win10 ThinkPad
), within minutes device was setup in windows and ready to be used. I was testing with Qobuz on laptop, and to my surprise tonality had a little more transparency and soundstage was wider, noticeable change. ATE effects can be selected when used as USB DAC. While I enjoyed using PAW6k with my phone as BT DAC, I preferred a wired connection from my laptop, not the phone.
USB Digital Audio
(as transport with iFi micro iDSD BL) - once connected and even before I turned micro iDSD on, PAW6k recognized USB-OTG cable and asked me if I want to enter USB Audio mode. When I turned micro iDSD on, playback started without a problem. Using PAW6k as a transport and micro iDSD BL as external DAC/amp, the sound I'm hearing now has a more typical tonality of iFi with narrower soundstage and a little thinner mids.
Line Out
(w/FiiO E12A portable amp) - Line Out has to be selected as output, depending if you are using BAL or SE external amp. Also, you have the option of either Unfixed LO where you can use volume on PAW6k to control the output in addition to external amp vol control. Or you can select either 0.77Vrms, 1.2Vrms, or 2Vrms fixed LO output where you can control volume from the external amp. This is very convenient, depending on the gain of your amp, so you don't saturate the input and allow wider range of volume change. Plus, with some portable amps without volume control, Unfixed option will allow to control volume from PAW6k.
One interesting observation since I consider E12A to be very neutral, the sound was a little more transparent with less body in mids. This suggests that PAW6k internal head amp adds more body to the sound.
Conclusion.
When I first heard of PAW6k, I was a bit skeptical based on my experience with PAW5k. Doesn't mean PAW5k was bad, but I clearly remember a much bigger gap between build and sound quality of LPG. PAW6k turned out to be a nice surprise. LPGT is a flagship, and people often ask me if that makes PAW6k to be its mid-fi level counterpart. I honestly can't say that, and just like I mentioned in the Intro of this review, calling PAW6k a cutdown version of LPGT would be insulting.
Of course, we have to be realistic. No company is going to release a lower model close to their flagship at a fraction of the price because it will kill the sales of the flagship. But Lotoo managed to preserve a nearly identical build quality and functionality, only changing the sound performance. Yes, relative to LPGT, PAW6k doesn't have as wide soundstage or as high resolution and retrieval of details. But at the same time, PAW6k can go head to head with other higher end models and hold its own.
I actually talked to a number of my readers who found LPGT to be too revealing and analytical for their taste, preferring something smoother and more musical to pair up with their already revealing IEMs. The same people didn't care about DSD512 support and had a stronger preference for micro SD over SD and for longer battery life. Those are the people who don't have to give up on their dream of owning LPGT because they can get the same build quality, the same fast OS, the same PEQ and ATE effects, and most of the same bells and whistles of the original Touch at a fraction of the price.
Pros
:
Neutral yet very dynamic sound, excellent imaging, pitch black background, high transparency and clarity, very clean, fast UI, PMEQ, 4.4mm balanced out, battery life, high quality leather case
Cons
:
Not Android based (if required), no streaming directly from the DAP, no on board memory, WiFi only for firmware updates, not all special characters available on keyboard (for WiFi password), language settings geographically restricted
Lotoo PAW6000 - The Quintessential Pure Music DAP
Disclaimer
I would like to thank Lotoo for providing me with the PAW6000 in exchange for my honest opinion. No incentive was given for a favourable review.
PAW6000 Specifications at a Glance
Screen: 3.77 inch IPS GFF Retina LCD
Dimensions: 112 x 65 x 18mm
Weight: 225g
Memory: Micro SD only (max 2TB)
WiFi: For firmware update only
Bluetooth: Bi-directional BT 4.2
OS: LTOS
DAC: AK4493EQ
Amp: OPA1622
Decoding: Up to DSD256
Battery: 5,200 mAH Li-Polymer
Playback: 16 hours
Output 3.5mm: 300mW (32Ω)
Output 4.4mm: 300mW (32Ω)
SNR: 121 dB
Channel isolation: -135 dB (balanced), -120 dB (unbalanced)
Price: US$1,199
Links:
http://m.lotoo.cn/en_index.html
https://www.facebook.com/lotoopaw
Preamble
Lotoo was founded in 1999 as the professional audio brand of the Beijing Infomedia Electronic Technology Co. Ltd. It has made quite a name for itself with the release of the original PAW Gold, a DAP that still has a very strong following within the head-fi community. The PAW Gold is a unique DAP that combines a pure reference tuning with a design and OS that sets it apart from other DAPs on the market. This is something that has always piqued my interest in Lotoo and why I was very curious about the PAW Gold, the recently released PAW Gold Touch and the newly released PAW6000 (LP6K). I my opinion Lotoo makes choices that do not just distinguish their products from the rest, they seem to plan out every aspect in great detail in order to achieve an optimal result for the DAP as a whole.
Let me explain, as I think this is something that really sets apart the LP6K I am reviewing here. We audiophiles like to look at specs and I have seen a lot of people who judge purely based on that. In fact, some manufacturers play specifically into that by using components from expensive DAPs in their own more affordable products. This makes people very excited because it plays into the narrative that TOTL products are overpriced and that this DAP can do the same at a third of the price. We all love a great deal after all, especially if it means we can keep both our kidneys. What is ignored in that narrative however is that it isn't so much the components themselves that determine the resulting quality, it is their implementation. A DAC chip for instance is not that expensive by itself, but to get the most out of that chip is where the real challenge can be found. With the LP6K Lotoo has shown that this is exactly where they concentrate their efforts.
This is why Lotoo keeps piquing my interest. Their approach seems to be thoughtful and understated in order to produce a product that speaks for itself. They still need the exposure like any other company, but this is not hype-train gear for the masses, to me the LP6K is for serious audiophiles who want maximum control with minimum fuss. Obviously some of my previous reviews come to mind here. Indeed the FiiO M11 uses two of the same DAC chips as the one in the LP6K, and while a good solid DAP at its price point (I stand by what I wrote in my review), the M11 is nowhere near the LP6K.
As I hope I can clarify with my review, while missing some features valued by today's audiophiles, such as streaming services running directly on the DAP, the LP6K is an audiophile tool with a great deal of refinement.
Unboxing
The unboxing experience is nice, be it a fairly standard affair, as it is based on the ubiquitous satin black box with sleeve. Many companies use these and I can see why because it is a very classy presentation. As soon as you remove the sleeve and open up the box the LP6K is presented in all its glory and that is really what it is all about, that beautiful DAP. Underneath are two more layers of boxes. One with manuals, a cleaning cloth and two sets with screen protectors and cleaning wipes. The other layer holds a charger cable, which is very sturdy and has a decent length, as well as a high quality leather case. The case is very nice and fits snugly around the LP6K so there is no chance of it falling out accidentally. In all, it is a good selection of quality accessories without any superfluous items.
Design
I absolutely love the look and feel of this DAP. It is shaped a little bit like a brick with somewhat curved sides and I personally really like that. It is not the smallest or the lightest DAP, but it feels great when I hold and use it. Everything about it feels like careful thought was put into it, on how it would be used, what buttons need to be there and how you use them. Even access to the micro SD card slot is easy with the leather case on because a space has been cut out for it together with the USB type-C port at the bottom. On the right side there are four buttons (power, forward, back, play/pause) that have a really good size so it is easy to find them, even with the case on. On top there are the 4.4mm Pentaconn Balanced out and 3.5mm Single Ended out, as well as a lovely hint of gold in the volume dial. The volume dial is nicely protected and I have not had issues with accidental volume changes. Plus, it feels really nice and tactile. On a side-note here, it is possible to change the direction for volume up or down. So if you are used to a specific clockwise or counter-clockwise volume change, you can set your preference easily.
I have been using the LP6K a lot and find the design works really well. The thickness and the curves of the sides actually improve the grip and the size and weight sit very comfortably in my hand. I can easily reach all the buttons and the volume dial without loosing a secure grip and one-handed operation of the screen is easy.
Under the Hood
As I indicated in the preamble, the LP6K is equipped with the same AK4493EQ DAC chip as you might find in the FiiO M11, but Lotoo has by far the better implementation of this DAC chip. It is paired with the OPA1622 for the headphone amp. Now, I am a "music lover" audiophile and not that interested in all the technical details (I will leave that to other reviewers), but both the 4.4mm balanced and 3.5mm Single Ended out put out a healthy 300mW at 32 Ohms. More importantly, it is an exceptionally clean sound with a very low noise floor. Although I will admit that I do not have sensitive enough IEMs to put the LP6K really to the test here. My most sensitive IEMs are the Empire Ears Phantom and I managed to listen at high gain without the slightest hint of any hiss whatsoever. This is what keeps impressing me about the LP6K. It sounds so clean, so stable and with such a pitch-black background that it really makes every single note and every little detail pop out with great dynamics.
GUI
Because this is a pure music player, the GUI is fairly simple and yet I was absolutely amazed at how fast it was. When I first booted up the LP6K I was expecting that it would take a few moments at least to update the music library from the micro SD card I had inserted. So I was putting it to the side in order to do something else and even before the LP6K touched the table it was ready to go. I have noticed that album art can take a little longer to load in, but at least you don't have to wait until its done.
The main menu is simple, with buttons for making a Play List, to see your music based on Album, Artist, Songs or Folders, a Settings menu and at the bottom of the screen your current music. The current music screen is again very simple with aside from the regular controls a button that will take you to the EQ for the available PMEQ and ATE pre-sets. Listed there is also any custom PMEQ setting you might have saved.
From the home screen you can enter the Settings menu, which has a good selection of options with a few notable ones aside from those you might expect. It is simple yet effective. The Play and Player settings are very straightforward, except that if you select Language, you will find very few options there. Lotoo restricts the languages geographically and so you will not be able to select "English" if you bought the LP6K in China. The EU version I have is also restricted to just English. So this is something to be aware of if you are buying abroad, as it is embedded in the hardware and so there is no way to change it through a firmware update or such. The Output settings are very nice and again give the user a lot of control. Each out (4.4mm and 3.5mm) can be set individually: Left/right balance, gain and whether it is headphone out or line out. In the drop down menu it is also possible to adjust the gain setting individually if you want to get there more quickly.
Beyond that, the Settings menu has the Bluetooth connection and BT DAC function, online update via WiFi and of course that all important PMEQ. Let's have a look at that...
PMEQ
This is without a doubt one of the main selling points of the LP6K and why I consider it such a great tool for every audiophile who likes to have a lot of control. The LP6K is equipped with Lotoo's second-generation parametric equaliser (PMEQ) that offers a choice between 8 standard PMEQ pre-sets (Classic, Pop, Rock, Techno, Dance, Headphone, Jazz and Full Bass), 7 Acoustic Timbre Embellisher (ATE) pre-sets (Brighter, Sweet, Dental, Style 701, Style 990, Diffuse Field [Near Field] and Diffuse Field [Far Field]), as well as fully customised settings.
The pre-sets are quite useful and I found myself enjoying playing around with them a little. Most interesting for me personally were the ATE settings. The 'Sweet' setting tones down the LP6K just a hint to make for a smoother sound that I quite liked on days that I was already fatigued from work and just wanted to enjoy music in the most easy-going way possible. I used the 'Diffuse Field (Far Field)' setting quite a lot in combination with the Astrotec Lyra Collection earbuds while using the LP6K as a BT DAC as I was watching YouTube. I really liked that effect, for that specific purpose. Mostly though, as is usually the case with me, I did not care much for the pre-sets and my main focus was on the custom PMEQ.
The LP6K offers a highly versatile 5-band parametric equaliser. This means that you can adjust any frequency you like with a great deal of control. You can choose between a Low Shelf Filter (LSF), High Pass Filter (HPF) or Band Pass Filter (BPF), dial in the exact frequency you are targeting, set the amount of Gain you want and the width of the range you want to affect (Q).
Now, confession time, I have never cared much for using EQ, but that was mostly because I never had a proper EQ to work with (looking at you Astell & Kern). That changed a lot when I got the Cowon Plenue 2 and I really enjoyed experimenting with it because the Plenue 2 had an excellent EQ. The LP6K goes a step further still by allowing for full-on parametric EQing. This allows for much more precise control, dipping and lifting exactly the right frequency range you are after. It is great, albeit not easy if you are just getting into it. This is something that Lotoo seems to acknowledge, given that if you have made adjustments and press the back button, the LP6K offers the options 'save', 'save as...' and 'give up' (ie. quit without saving). Got to hand it to Lotoo for having a good sense of humour! The interface for making the adjustments is very easy to use and it is great to be able to see exactly what you are changing displayed in the graph above.
Sound
For analysing the sound I used the LP6K together with the DITA Fealty because the stock cable comes with the very convenient Awesome plug that makes switching between sources (4.4mm and 2.5mm) easy and avoids the need to use an adapter. I also used the 64 Audio Trio (PlusSound Exo GPS) and Empire Ears Phantom (Eletech Plato/Effect Audio Eros II 8W) with an adapter by Astrotec. I always listen to a wide variety of music from Mozart's Requiem to Caro Emerald and from Agnes Obel to the Rolling Stones. My aim is always to get a broad experience with the DAP that most closely resembles day-to-day use.
If the PMEQ is one of the LP6K's main selling points, then the sound quality is the other. I have been really impressed with it. The LP6K has a neutral tuning and yet I would not be tempted in any way to call it sterile or clinical, quite the opposite. It is a highly dynamic sound that I found addictive from the first time I listened and it has not changed since. The LP6K provides a more open stage that is very clear and airy. Moreover, I felt that the imaging was excellent. I can't compare this to TOTL DAPs, but it is the best I have personally heard so far. The image is very stable and the background is absolutely pitch black so that notes contrast very clearly against it. The level of detail that it helps retrieve is also very high and for a lover of classical music that is great because it helps to bring across nuances in the music much more clearly.
I always love listening to Paganini's Violin Concerto no.4 with the Fealty and using the LP6K I find that more details come through of how the bow dances on the strings of the violin with the various Martelé and Spiccato techniques. Paganini uses a lot of those techniques where the bow bounces on the strings and the different techniques give different accents to the note. It makes the difference between a slow romantic waltz and cheerful jumping around in song and dance. The combination of the LP6K's high dynamic range and level of detail makes this piece of music especially enjoyable. With Jazz, such as the smooth tunes of Madeleine Peyroux's California Rain, this pairing seems to emphasize each instrument and the vocals without pushing them forward too much. The black background works especially well as a backdrop against which the instruments are set, each with plenty of air around it while maintaining coherency. It is so easy to enjoy that one instrument when I want it, or just listen to the performance as a whole.
A setup I really loved was the LP6K paired with my Phantom and the Eletech Plato. Both the LP6K and Plato improve transparency and the combination pushed the Phantom to a level of transparency I had not heard from those before. They are generally quite lush with full sounding timbre and this setup toned that down and although the Phantom are somewhat sensitive, the background remained pitch black even when I tried the high gain setting. This made Mozart's Requiem especially enjoyable, as I had never quite heard the placement of the choir and solo vocals as clearly as this without loosing overall coherency.
Overall I am very impressed by the sound of the LP6K. It balances on a fine line between being analytical and musical, leaning just a little more towards the musical side thanks to its excellent dynamics, and managing to do that with all the advantages of an analytical sound. This is what in my opinion makes the LP6K such a great tool for the serious audiophile. It presents a foundation of technical excellence that combined with the PMEQ means you can adjust in any direction you might like and it will work great because that foundation is so solid.
Comparisons
I don't have many DAPs that would make a reasonable comparison. I really have just the one, which is the Cowon Plenue 2 (P2). It might be a bit dated, as by now Cowon has introduced two models succeeding it, the Plenue 2 mkII and the Plenue L, but it is an interesting comparison nonetheless, as it can still be found at a slightly lower price than the LP6K.
The P2 is a great DAP that I have used extensively for my reviews and the two DAPs are quite close, although I must definitely give the edge to the LP6K. The P2 is a bit warmer and can perhaps be said to have a slightly more natural tonality. The LP6K on the other hand has a larger and more airy stage, better dynamics, more detail retrieval and a blacker background. Interestingly, I find the LP6K smoother, despite the P2 being the warmer of the two. Both have an excellent EQ, but again Lotoo have gone the extra step to implement a fully parametric EQ that offers even more control. I say "even more" because Cowon's EQ is nothing to be sniffed at either and the vast number of JetEffect 7 pre-sets is great if you do not like fiddling around with the EQ yourself. And lets be honest, Cowon's EQ is pretty darn close to parametric as well.
Build quality of both is very similar and both come with very good quality cases. One significant different is that the Cowon comes with a 2.5mm balanced out, whereas the Lotoo has a 4.4mm balanced out. I have used the 4.4mm a bit more lately and I can see why so many people prefer it over the 2.5mm. I am even considering switching to it myself.
I love the P2 and I never feel like I am missing out when I use it, but I do feel that the LP6K offers a bit extra. Because I try to review as a day-to-day user, my measure is always how much I am inclined to use something and I found myself using the LP6K almost exclusively since I got it in.
Connections
Because the LP6K does not allow for apps to be installed, streaming has to be done by pairing it with your phone (etc) via the Bluetooth connection. I don't stream myself, but do sometimes use a DAC for my MacBook Pro. Unfortunately my MacBook is dated (late 2011) and this has caused some issue in the past with pairing other devices, which was once again the case with the LP6K. I am fairly certain this was entirely due to my MacBook because of the fact that I have had it with other devices as well. I also used it as a USB DAC with similar issues to those I had with (for instance) the FiiO K3 such as de-synching of videos.
Using the LP6K as a BT DAC was a lot of fun when I finally got it to work and I liked using the ATE setting 'Diffuse Field (Far Field)' in combination with my Lyra Collection earbuds so that the sound would feel more like it was coming from in front of me, instead of around me. I expect it should work fine with newer devices and to test it at least once, I also paired the LP6K with my Sony XA2 phone. With only a minor blip during the pairing (it took a couple of tries) I got it to work perfectly smoothly. The connection was also a lot better because with my MacBook I could not get up and walk to the kitchen without the connection failing, while with the XA2 paired I could walk around the house without any issues while leaving my phone on my desk.
Like I said, I don't stream and don't use Bluetooth that much, so this section can be considered 'baby's first BT steps'.
The LP6K is also able to connect via WiFi, but this is strictly limited to firmware updates. One issue a head-fi friend of mine had was that the keyboard does not support certain special characters that people do often use for their network passwords and it forced him to change his password before he was able to update the firmware. I did not have this problem, but it is something important to note and perhaps that a future firmware update can resolve this issue... which is rather ironic, now I think of it.
Conclusions
The Lotoo PAW6000 is in my opinion an amazingly good piece of engineering and as a pure DAP it performs superbly well with very few flaws. The few I found were only minor and in my opinion do not weigh in against the strengths the LP6K has to offer. It is a neutral but highly dynamic DAP with outstanding imaging and a pitch-black background. It has a fast UI, excellent build quality and a number of quality accessories such as a very nice leather case. Most of all, the solid foundation it offers in terms of sound quality is complemented by an outstanding PMEQ, which allows the user to change the sound in any direction. This makes the LP6K a powerful tool for serious audiophiles who want maximum control with minimum fuss. I can highly recommend a demo to anyone in the market for a DAP in this price range.