The best TWS option available
Pros
:
Mobile
Strong connection
Good output
Cons
:
App could be much better
Missing Xtra bass and Xtra space options that ifi is known for
This isn't going to be a technical review. There are enough of those already. They are like the recipe blogs where you learning the history of bread when you just want to get to the recipe!

So here's the deal. These are good. They destroy the options from Fiio, Shure, and ibasso. I've opened and returned all of them.

These have better driving power, a strong connection, and ldac. And they sound darn good! That's why we buy them. Do these sound better than the other tws options like the xm5, az80, and perl pro? That will depend on the iem you pair them with. These work great with my Thieaudio Monarch mkii. Bumping the bass a bit using power amp gives them a nice little kick. Staging is solid as well. Huge improvement over the fiio utws5, but for 3x the cost, they should be.

I recommend downloading and paying for Bluetooth codec changer, as that can force your phone to always do 990 kbps in ldac mode instead of changing every time in developer options.

So do I rec these? Hell yeah! Best option on the market. Works with fairly hard to drive iems, but the app needs a lot of work. Ifi needs to do better there and include more features and dsp options.
Last edited:
Almost the Perfect Alternative to TWS
Pros
:
The GO Blu but as adapters for IEMS. Comes with the common connector attachments. Snazzy case.
Cons
:
Case is huge and not very portable. No xBass or xSpace.
I haven't reviewed any iFi gear in forever. I normally like their gear and the last thing I reviewed from iFi was the GO blu portable DAC/amp. So given the enjoyment I got from that unit, I was interested in checking out what looked to be the GO Blu but in the form of adapters for IEMs to make them into a TWS. The GO pod uses a Cirrus Logic DAC in combination with the higher end Qualcomm QCC5144 chipset for better Bluetooth performance. This unit comes in at $399.
Quick shoutout to @iFi audio for setting me up with a review unit. While I always appreciate stuff being sent in to test and review, It never affects the rating of my review.

The iFi GO pod can be picked up from their website below.
https://ifi-audio.com/products/go-pod/
Gear used​
iPhone 14 Pro Max, Mackbook Pro M1, DUNU SA6 MKII, THIEAUDIO Monarch MKII, Moondrop Blessing 3.
Looks and Feel​
The units are stiff but not overly heavy. The actual IEM connector arms are also a little stiff but somewhat flexible. On first use they felt so stiff that IEMs would lose their seal after a bit. After some flexing of the arms and tip swapping, I could get all the IEMs I used with it to work fine in my ears for long sessions. The units are big enough that most people might think you're wearing a hearing aid. There isn't much to say about the looks which isn't a bad thing.
Now, for the charging case! The charging case they provide is quite large. I'll have some complaints later about it but they at least get points from me for making it the most over the top case in terms of quality. The case when you open it has two LED lights inside the case which shine down on the IEMs attached and make everything I put in there look like exotic jewelry with the way the light shined on them. The case is felt lined and has a lot of room to fit what I imagine are any type of IEMs and possibly CIEMs as well. The case also supports wireless charging but with how big the case is, I didn't try in on my small wireless magsafe puck.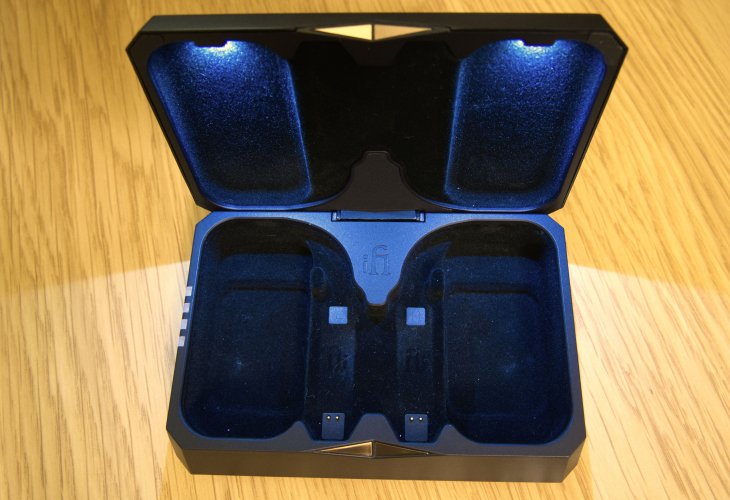 Accessories and unboxing​
As with most iFi packages, they make good use of the space of their boxes. Inside the box we get the charging case with the TWS adapters inside the case. Under that we get a basic USB-C for charging and a few extra IEM connector arms to swap. Their website claims you get a 2 pin and MMCX arm set but my sealed production box came with those and a set of Pentaconn arms as well. So I'm not sure what is included in general but not many IEMs use Pentaconn so it might not matter if they don't include them normally.
Sound(overall)​
These final impressions are from Bluetooth via my iPhone 14 Pro Max. These impressions will be what the GO pod sounded like with all the IEMs I used. Things like headphone pairings or different Bluetooth codecs will produce different results and impressions vs what my ears hear on my specific gear.

While it's been forever since I last heard the iFi GO blu, I took notes on the GO pods and compared them to my GO blu notes. It's mostly the same so much so I'm pretty much parroting my review impressions from the GO blu review. There's indeed some subtle difference in my notes between the two however.
The GO pods go for a neutral signature but with a hint of a brighter sound. The bass performance is pretty good and provides a strong sense of bass if called for. I would call this a more controlled quick decaying bass so not a warm sound at all. The mids are accurate and relaxed but still keep good details coming through. The vocals are detailed and sound natural. The upper mids and treble are a little stronger sounding but they add some perceived detail retrieval to the sound. The GO pod, even on AAC from my iPhone and Macbook Pro, sounds quite detailed and I had a hard time picking up the differences once I moved to my Hiby R6 Pro II DAP using LDAC. While this might be a short sound section, I do believe the GO pod does well at simply providing a good representation of a IEMs sound quality without adding any unneeded color to the sound. It won't however replace going wired to a strong performing source device depending on the IEM being used.
Filters and fun features​
None? I didn't see anything about activating xBass or xSpace so i'm guessing the feature is missing here. This GO pod is kinda like the original iFi NEO and it's missing what makes iFi products so special to me. Which is fine at the end of the day. It sounds good enough and since it's neither too warm or bright sounding, It gets a pass.
Imaging/Soundstage​
The soundstage and imaging tend to be headphone specific(at least to me) but DAC/amps can add a little extra on occasion. I found the staging to be about average in comparison to a good dongle and high end desktop amp. Won't do anything to add staging or imaging but it also won't subtract from an IEM with fantastic staging/imaging.
Battery life​
I unfortunately didn't do a battery test but I only used the GO pod a max of a few hours at a time and I of course put them back in their case when I wasn't using them. I did make it home after a 8 shift with about half the case battery left so I would say it can make it through a whole day without any real issue. I would recommend looking for battery life results from other reviewers for the GO pod.
Personal grips with the G5?​
My only real gripe with the GO pod outside of wanting my iFi xBass/xSpace features would be the charging case. When the GO POD TWS units turn off from timing out, I can't get them to turn back on unless I throw them back in their case and pull them out again. The case is gigantic. I know it would be hard to make the case smaller while supporting all the possible IEMs out in the market but it would have been nice to see them shrink this down in the future. The GO pod is unusable to me in my normal everyday work schedule since I don't want to carry around the giant case and it doesn't even fit in my pocket. Which means I'm down to having to use the GO pod with my IEMs only in a sit down situation. If I'm sitting down, I'm running wired IEMs normally. If the GO pod units I had would turn on again after timing out, I might throw them in a portable case to use and then bring them back to the charging case when needed but for now, this setup just doesn't work for me personally as a true portable solution.
GO pod power output​
Power output from the GO pod is 120mW into a 32ohm load. This will power most IEMs just fine. I can think of a few really expensive $2k+ IEMs that might not get the full power they need to sound magical but I think these power numbers will do fine for everything else IEM wise. If you use an adapter and connect these to full size headphones, it might not be enough juice to get full volume or bass response from harder to drive headphones. The GO pod isn't meant to be used with full size headphones though.
IEM pairing opinions​
DUNU SA6 MKII​
The SA6 MKII still maintains its nice warmer sounding bass and sounds about right when compared to a comparable dongle. The mids are accurate natural sounding. The vocals still sound natural and warmer. The treble is a little lacking normally but there is just a hint of added treble splash which compliments the SA6 MKII pretty well. The staging sounds about the same here which is great. Overall a good pairing and I'm happy to see no noticeable degradation even from the ACC codec on both my iPhone and Macbook.
THIEAUDIO Monarch MKII​
Given the more flexible arms of the connectors, I was actually able to get a more comfortable angle which has always been a problem for me. The MKII still sounds just as good as it always has. Bass is still strong and fast. Mids are super accurate and sharp. Vocals are a little sharper with a slightly more artificial color and finally the upper mids and treble are still very detailed and sound quick. The only real difference I could find between the GO pod adapters and a comparable dongle would be a slightly more closed-in soundstage. It's just barely noticeable but something worth mentioning. Still, getting most of the performance out of the Monarch MKII from a source device that is half the price is quite impressive.
Overall thoughts​
So! At the end of the day I think the GO pod sounds pretty good but I don't find it works as a portable solution for me specifically. Is it worth the price, yeah, sure. If I was gonna use these in a sit down situation or in short bursts throughout the day I would definitely want these for some of my favorite IEMs. The bluetooth range is great so you don't have to be glued to your source device either.
I'll give the GO pod a recommendation.
Just keep in mind the case is crazy big and it won't fit in most people's pockets so it's not the perfect portable solution. It does allow you to enjoy your favorite IEMs in a TWS setting with no degradation to the sound quality. I liked the GO blu so it's nice to see the same awesome performance but in a TWS adapter. Good job to the team at iFi and I look forward to what goodies they come out with next. Thanks for reading!!!
IFi GO pod: Innovative Bluetooth DAC/Amp that works with all IEMs!
Pros
:
Topline Bluetooth (v5.2) Snapdragon chip from Qualcomm, 24/96 capability, LDAC, LHDC, AptX Adaptive / Low Latency, & AAC codecs, interchangeable cables included for increased compatibility, Cirrus MasterFi DACs, Qualcomm cVc circuitry for enhanced telephony, firmware updatable, 37 total hours (including the case) for worry free playback, fully balanced design for noise free performance.
Cons
:
No ANC, case is on the large size, modules that contain the circuitry may be a comfort issue for those with smaller ears, price.
Introduction
iFi Audio is no stranger to the Head-Fi community having designed and manufactured a full range of audio gear over the years. With the introduction of Qualcomm's latest AptX Adaptive codec, bluetooth audio playback has reached new heights in performance.
The
GO pod
($399) was designed to provide wireless playback that rivals cabled IEMs. Its unique design allows connection to any IEM for wireless playback, and iFi includes interchangeable cables (2-pin, MMCX, and Pentaconn), with other specialty connection types that can be ordered directly from iFi.
Performance
I'd like to take this opportunity to thank Lawrance @ iFi for sending me a review sample which is to be returned at the completion of my review.
My source for this review is an Apple iPhone SE Gen 3. I used my collection of Bandcamp lossless album purchases as source material. Finally, for this review, I chose to use my qdc Anole VX ($2,300) for listening.
The first issue I want to talk about is that aptX is not iOS compatible, and if the GO pod is used with an iPhone (as in my case), the codec defaults to AAC, Apple's proprietary lossy codec. At some point, it would really be nice if Apple added aptX compatibility to its products, but I've read that Qualcomm and Apple have a bit of a stormy relationship, so I don't know if we'll ever see this.
With that said, I was frankly surprised on how good my VX sounded with AAC. The VX is an all balanced armature (BA) design with exceptional performance, especially in the high frequencies. After putting about 50 hours in burn time on the GO pod, I settled down for some extended listening.
The most apparent sonic character with the GO pod is a bumped up bottom end, but done in a pleasing manner. The VX has switches on it to allow the tuning to be varied, but I kept them off for this review. The midrange/upper frequency performance was quite extended with sparkling detail that added to the enjoyment and realism of the sound.
One nice feature of the case is not only is it lit, but it includes space for a set of IEMs. Of course, this increases the case size which makes it not very pocketable, but many will like this feature. The case adds 30 hours of playback capability with an additional 7 hours for the GO pod. Nice!
Conclusion
I really enjoyed my time with the GO pod. It is an easy to use bluetooth adapter that unleashes one's IEM collection for wireless playback, and for the most part, with not much sacrifice in the listening experience. I do hope that iFi continues to revise the GO pod in a future edition with smaller modules to aid in comfort, and perhaps a heftier build from the all plastic design.
Last edited:
The end game TWS Buds cheat?
Pros
:
-lush, open and bassy musicality
-big holographic spatiality
-plenty of power for all IEMs
-natural timbre
-very good sound layering
-good technical performance for TWS
-max quality Ldac
-excellent connectivity range up to 20 meters
-excellent connectivity stability, even with walls between the source
-changeable 2pin and mmcx connector
-intuitive care free control (bit button)
-good mic quality (based on phone call)
-good value for IEMs collector seeking best TWS solution
-versatile sound-power-connectors
Cons
:
-not the blackest noise floor
-not crispest, sparkliest and cleanest sound
-slightly colored tonality might not charm purist
-thight earhook (can be loosen)
-not super impressive built quality
-very big carrying charging case (don't fit pocket)
-No ANC (for those that are concern about it)
-No proper app for EQ and Gain selection
TONALITY: 8.8/10
TECHNICALITIES: 8.5/10
TWS AMPING POWER: 9/10
QUALITY: 8.5/10
CONNECTIVITY: 9.5/10
BATTERY LIFE with charging case: 9.5/10
without: 8/10
CONSTRUCTION: 8.2/10
DESIGN: 8.5/10
VERSATILITY: 10/10
SOUND VALUE: 8.2/10

INTRO
iFi doesn't need a lenghty presentation since their are well known and well established audio company from UK that specialize in DAC-AMP making. Their CEO, Vincent Luke, is directing iFi and AMR audio companies, which are surely connected, the latter aiming higher end DAC and Amplifier deskop solution, while iFi seem to focus more on portable audio solution like the Gryphon DSD and well, the surprising iFi Go Pod I will review today.
Priced 399$, the Go Pod is a TWS DAC-AMP thinked to transform all your IEMs with detachable cable into capable TWS Buds. It use high end Cirrus DAC as well as independant amping section that can deliver up to 120mW and 4vrms.
The Go Pod might feel like a niche products for TWS IEMs collector, but for IEMs collector, it might be the dream come true they were waiting for!
And as a self called TWS IEMs hater, and owning at least 100 good IEMs, the Go Pod really came into my demanding audiophile life as a savior.
The fact it use high end DAC and it's compatible with highest quality Ldac is certainly promising unheard sound benefit in TWS realm. Let see in this review if the iFi GO pod deliver versatile high sound quality that can make you forget the need to seek for TWS Buds sound quality compromise ever again.
CONSTRUCTION-DESIGN-ACCESSORIES
AT 400$ we might expect incredible construction quality, but i've learn we most lower those expectation with TWS IEMs and product in general, well, at least based on TOTL Final ZE8000, UM Ufree and even Hifiman Svanar which are all made of plastic and doesn't really feel pristine in craftmanship and durability. ZE8000 is very light plastic and dont feel worthy of 350$ price tag at all, the case feel like it will broke in 2 piece if dropped on hard floor but hey, it's not about those TWS buds we talk about but just slightly better built yet still all light plastic construction of Go Pod.
While it doesn't feel plain cheap, i find a bit underwhelming the all plastic built of both the case and TWS DAC-AMP, let say it look good for they eyes, less so for they hands because we feel the plastic of the case might be prompt to easy breaking if it fall. The door squeek when we open it, and the velvet like material inside seemto attire and stick dust on it, which isn't best thing to cohabit with IEMs.
So, begining with the Case, it's not a true portable one, it don't fit pocket well, in that regard its opposite of both ZE8000 and Ufree and 2 times bigger thant chunky Svanar TWS case. The weight is consequent, which is to be expected with a 1500mah battery inside. The light open up when we open the case, it's a nice addition that can be usefull when you want to hook an IEM in the dark. The design is minimalist and elegant and there a light indicatore at the side to show how charged is the case.
Now when it come to TWS DAC AMP built sturdyness, i'm a bit less afraid to drop it on the floor because plastic feel thick and sturdy. Still, we aren't in end game craftmanship, we can feel asperity of 2 piece sticked togheter making the module, the metal button especially seem to age fast and loose their paint, especially uppon metal plate which we hold thight when we change cable connector. Their a rubber like texture to the module, but its not convincing due to near matte finish.
Connecting the ear hook connector is a bit frustrating too, it's recessed and 2pin, so you need to guess exact position blindy, sometime your lucky, other time less so. This make me worry of damaging the 2pin female and male connector, but it doesnt happen for now.
These detachable ear hook 2pin and MMCX connector are very VERY thight when you receive it, and i read couple of consumers complaining about it. Ok, for me it would be a con if it was impossible to make it looser, but it is. You just need to bent in opposite side for about 30 seconds and voilà! It can fit better my big ears and i have no comfort issue. Nonetheless, i think better ear hook design can exist.
Overall comfort is good but the Go Pod might feel a bit thick for smaller and more flat ears. It's not really heavy, but it's not the kind of TWS IEM youl forget you wear.
In term of packaging and accessories, it's very minimalist so nothing really to write about. The box is small, near the same size as the TWS case. Their 2 pairs of ear hook connector: 2pin and MMCX, other one like Pentaconn, T2 and A2DC can be buy separately, which is logical because they are very niche connectors.
Other mandatorry acceossires is a usbc to USB charging cable, an entry level one, as said nothing to write about but I did. Nothing to complaint either really.
CONNECTIVITY
Pairing the Go Pod with your phone is a child play, and after you do it first time it will connect automatically to your phone if bluetooth is ON.
As well, be carefull to select the bit rate and codec you want, it can favor connectivity over sound quality. With my Samsung S20 phone, I need to go in Developer Option and select ''Bluetooth Ldac codec: playback quality'' to trigger Optimized full 990khz rate.
Even with this more demanding mode, the connectivity of Go Pod is excellent, stable and have long range too. So, i think with APTX it can be even more care free since it's lower bit rate of 44khz/16bit.
From all TWS buds i've try, Go Pod solution opffer best Ldac connectivity, I don't encounter random noise cutting and interference walking on the street like I did with Svanar TWS. Thats one of reason that make me so addicted to this lil TWS marvel.
BATTERY LIFE
If the Go Pod charging case is that big, it's surely because it use a 1500 mAH battery, this is quite insane and sure promise long autonomy. It's stated up to 35H of playing time and I have no doubt it's true since I have to charge the case only 2 times in 2 weeks, using daily the Go Pod with power hungry IEM like Hifiman Svanar or Letshuoer S12.
On single charge I get between 4 and 6 hours depending of amping gain, battery life seem near infinite with 9ohm and 16ohm IEM with high enough sensitivity.
This is another reason of my addiction to this product.
SOUND IMPRESSIONS
Firstly, i've tested the Go Pod with a very wide range of earphones which include Final A8000 and E5000, Hifiman Svanar, Unique Melody Mest MK3, 64audio U18T, Penon Fan2, ISN Neo5 and H50, SuperTFZ Force1, Tangzu Zeitan Wu, Letshuoer S12, Hiby Zeta, Geekwold GK100, Audiosense T800....etc. Yes, I'm crazy and try a high diversity of amping and source performance need.
I can confirm the Go Pod is extremely versatile in pairing, should it be sensitive 9ohm IEM like the Kinera Skuld or demanding 60ohm Hifiman Svanar it drive them properly. I think it's when it come to low sensitivity IEM that it would struggle a bit more, like with the famous power hungry Final E5000 which lack a bit of dynamic push and proper spatial stretching, yet, the fit was problematic too due to bullet shape design not thinked of above ears fit.
Unlike with most TWS buds i've try, the volume wasn't limited and the dynamic was fully awake with 99% of IEMs ive try. I was surprise it can offer proper headroom and dynamic heft with both Tangzu Wu and Hidizs MP145, since planar tend to sound a bit dull and tamed in dynamic amplitude with lower than 200mW source, so here the gain is real but as noted above, you need to unlock it yourself sometime, you just know it when Go Pod is at 16ohm low gain, especially with IEMs that arent high in sensitivity.
So yes, I,ve been intensely using this Go Pod non stop for more than 2 weeks, it become part of my life....which is very surprise for a TWS Buds hater. This is explained by this great freedom of choice and simple straight up usage of this TWS DAC-AMP.
As well, since it's time I devlop more my sound impressions, this Go Pod obsession is due to the versatile, lush, bassy and natural tonality it deliver. It's not a cold neutral audio source, it's vast in spatial openess in an analog holographic way.
Whats does analog mean to me? It's about a rendering gently colored with euphonic warmth, it doesn't feel over sampled or artificial sounding like in too digital sounding device. You know this varied of euphonic smoothness tube amp can deliver by coloring the tonality with hint of mid and lowers mids warmth and softed treble edge? It's what we get with the Go Pod and it's in line with iFi house sound I feel, which tend to focus more on musical than technical rendering, without omitting the latter at all, it's just not forced, nor analytical nor seeking for most serious high fidelity reproduction as if you look at the music instead of living it.
Your put right in middle of the jam with the Pod and this engaging immersivity isn't fatiguing nor agressive, it's smooth and buttery as a whole while varied in dynamic amplitude for proper sound layering within it's vast spatiality.
What is the cirrus DAC used in the Go Pod? Surely the CS43131 but perhaps CS43198 too, since it's not stated but one thing sure the independant amping section inflict on both performance and tonality, since all other dongle i've try with this DAC tend to use inner amping of the chip, which migth lower noise floor and THD but deliver thinner leaner dynamic too. This amping section does add ''gain warmth'' and does boost the soundstage rendering too, whatever the volume you listen too.
So I would describe overall tonal balance of Go Pod as warmish W shape, natural and smooth in balance with slight bass and lower mids boost, well rounded upper mids that never had sibilance sharpness, and a thick tactile treble free of spike, and not very brilliant clean or sparkly. IThe Go Pod isn't the type of source that will extract crazy amount of sound info and blow your mind with micro details, it's main focus is bass and mid range then the naturalness and fullness of timbre, the sweet color of tone, the proper presence roundness of instrument presence.
So in term of W shape, it's not about a crisp one which would have extra boost in ultra high section to add sens of clarity brilliance. Nor a bright one with lot of upper mids energy.
The bass is warm and vibrant
, the sub rumble is thick and never tamed but does add warmth to mid bass if already boosted with your IEM, separation of bass isn't improved with Go Pod, it's the dynamic weight that is highlight as well as bass line tactility and extra bodied presence.
The rumble extension has a thick sustain to it, it tend to make IEM with thin bass more bodied and wider in slam tactile presence.
The mid bass warmth does darken kick drum definition and will tend to favor bass like layering over proper separation of sub and mid bass. This slide into a boosted lower mid range too, so overall macro resolution will feel glued togheter, not very sharp, airy or clean in that regard.
Tone color is boosted with extra low harmonic, Go Pod isn't magnifiing presence definition and texture, but paired with something like UM Mest MK3, texture will not lack details, it's more with warm or U and V shape dark sounding IEM that it might be problematic.
The mid range is star of the show
for me with the Go Pod. It's a master of vocal, both male and female are lush, full bodied and fowarded without any sibilance or unwanted texture artifact. It's a hint creamy in definition edge with an holographic 3D presentation, and sens of proximity with the singer. All woodwind instrument sound marvellous too, which is previsible since it's similar to vocal. Violin will do better with slow music because the attack bit is polished, so fast playing can lack this sharp definition of note stroke a bit while presence is wide, lush and envelopping.
The transparency is average as well as overall clarity, we aren't in clean open mid range and the background isn't black enough to permit limpid imaging.
Piano note are weighty but a hint warmed in definition and the resonance don't feel airy but blurry here. It's a mellow presentation, again, better for slow jazz or classical that fast savant track.
The treble is a hint dark and don't boost ultra high
pass 10khz so we don't have extra air, brilliance and sparkle, in fact, in that regard it's softed even for tribrid with EST, still, tribrid are great pairing because it cant be completely tamed in sparkle and brilliance.
It's not a dull treble at all, and we have some slight boost in middle treble around 6khz-8khz, its more about airy sustain of acoustic guitar that will lack a bit, while electric guitar sound fabulous, they are crunchy enough and well rounded in low and high harmonic balance, the natural density of instrument is well reproduce too and generous in details, especially in not too busy track like Charlie Hunter & Bobby Previte blues.
One thing sure, it's not screamy not feeli unbalanced with too much micro details pick up like lot of ES9038q2m dongles or DACs. Just don't expect end game clarity analytical way, the Go Pod offer smooth thick highs that sound natural and not forced in resolution. We can say it's laid back.
TECHNICAL PERFORMANCE
The dynamic is lively and just a hint excited in attack control, which mean macro dynamic is better than micro dynamic in term of attack speed sustain and release.
Fast complex percussions will be harder to read in term of timing definition and separation, the sustain will dominate the release and affect imaging accuracy of those micro details.
The bass isn't very well separated and define, we have lot of euphonic coloring in this section that affect fidelity of reproduction.
Fine details of upper treble can get lost in the mix, Go Pod will not facilitate high resolution reproduction.
The background noise floor is there, and it's a mix of the amping and bluetooth codec noise it seem. With extremely analytical IEM like GeekWold GK100, i get distract with background electrical noise, hard to explain....but a dynamic hiss if we can say, that follow upper range percussion mostly, as if the big percussions boost of this IEM fight with an analog damping and once you notice it, you can't go back. The good news is that it doesn't do this with other IEMs, including UM Mest MK3 that sound clean but not 100% transparent and resolved.
The spatiality is very wide and tall but not super deep even if the multi layering add an holographic dept to it, this depth isn't clean enough to permit full digging freedom of sound info.
This mean Go Pod isn't a master of imaging, especially for static instrument without alot of loudness diversity to permit proper sound layering projection and articulation. If I underline the Go Pod isn't a technical sounding DAC-AMP, i think it's not surprise both resolution and imaging aren't mind blowing. But it's important to note that the IEM used will greatly inflict on final result and most likely surpass any other TWSM Buds in term of technical performance that I judge as severly as I do with cabled IEM here.
PAIRING
With UM Mest MK3:
This is my fav pairing since MK3 can sound a bit too lean neutral with some source and here it goes full fun mode, it go bassier but bone conduction driver permit good kick drum definition. Timbre go thicker for mids as well, vocal are more dynamic and foward, treble is still plenty snappy and detailed unlike some other pairing, especially single dynamic.
With Final A8000:
As said above, their bass warmth going on and bass quality of A8000 is affected but boosted in slam and wide presence, sub bass isnt as lean and deep and goes more lush and boomy. Mids get smoothed in sibilance and upper mids shoutyness, they are less thin too, treble loose a bit of sparkle and air but is well textured.
With Audiosense T800:
It goes warmer and bass seem slower but rumblier. Mids are lusher thicker. Macro resolution is darker and layering not as sharp. These are 9ohm and sensitive to distortion and their none with this pairing.
With Final E5000:
The fit is so wrong it don't even deserve impressions, but I feel it's properly drived even not biggest in headroom, E5000 benefit more than 120mW gain.
With Letshuoer S12:
Wow, very good pairing and I wasn't expecting this lively open dynamic. Vocal are improved in timbre and less sibilant, bass is round and warm, less bright punchy and gain extra sub rumble density too. It can play plenty loud at 60% volume and up. Its properly amped here.
COMPARISONS
VS QUDELIX 5K (dual es9219 DAC-100$)
The 5K isn't a true wireless Bluetooth DAC-AMP, but still extremely portable and among the best sound and app control wise. In fact, this comparison underline how valuable is a proper control application to take full advantage of DAC and AMP potential.
In that regards, the 5K is from a far above other league since Go Pod don't have dedicated app to control amping gain, change sound filter, play with EQ.
Then talking about connectivity ange and stability, they are about on par but 5K seem even more stable and the special antenna it use permit even longer distance range and fewer intermitence with Wifi on, but again, very minimal so ill put both on same level here.
In term of amping power, it's quite similar since both can deliver 4vrms, i feel the dynamic is more authoritative with the Go Pod, which is surely due to an independant amp chip.
Now the sound is most important factor and these 2 don't offer similar musicality and dynamism at all. 5K is colder, cleaner and more neutral, aiming for an high fidelity reproduction of music instead of a fun and engaging one that Go Pod offer. Timbre is thinner but more transparent, bass leaner, less round and impactfull but more textured and less warm, mids are more open and crisp with more precise imaging but dryer timbre, vocal feel more recessed as well as instrument seem all on same loudness amplitude range, feeling more digital in rendering while lusher, more holographic and analog with Go Pod. Treble is more brilliant with longer natural resonance, cleaner airier openess and edgier definition. Macro dynamism is leaner, lighter in weight note and impact, not as holographic and wide and tall in spatiality.
Go Pod offer warmer, bassier and fuller bodied sound experience, the sub bass doesn't seem roll off in rumble, mids are lusher and more bodied, more fowards yet creamier and smoother too and treble is thicker so percussions feel moe tactile and 3D, less compressed in overall rendering. Sound layering is superior though transparency of timbre isn't as boosted.
To my ears, it's evident i prefer tonality and dynamic push, timbre and soundstage of Go Pod, since this is no1 reason i never hype the 5k: it doesn't trigger any emotional response and keep me away from music, while im in the middle of it with Go Pod.
Nonetheless, in term of technical performance and overall price value, it's evident the Qudelix 5K is a smarter buy....if you don't care about the cable laying around!
VS FIIO LC-BT2 (AK4431 DAC-AMP chip, 23mW@32ohm, 80$)
While this is based on old memories, i feel the LC-BT2 is interesting to compare with Go Pod because its only similar product i've own, sure this one is not totaly wirelessbut its a bluetootjh module with cable thinked to hook MMCX or 2pin IEM on the go without other audio source, but apart not being able to only use one IEM TWS way, it's very similar product.
But it's way cheaper, this is what impress me at the time, the sheer sound value it deliver with....very easy to drive IEM since max output is 23mW@32ohm, which will do OK with IEM with 9ohm impedance or 16ohm and high sensitivity.
As well, you can't swap connector so your either stock with MMCX or 2pin, another drawback compared to more versatile Go Pod which is near 6 times more powerfull at 32ohm load (120mW output).
In term of comfort, the ear hook is even more thigh and uncomfortable than Go Pod, as well, it can't be bent to loose it's thighness.
Then battery life is poorer because on run on one charge without charging case, so you get max 6h, while its up to about 20H with Go Pod.
Sound wise, dynamic is leaner, tonality is warm but more organic, less textured and thinner in timbre, overall spatiality is notably less open and more intimate-compressed. Bass doesn't hit as hard and round, mids aren't as lush and fowards, overall dynamic feel more of a mellow L shape compared to warmish W shape of the Go Pod. Biggest difference im confident about is how more lively, punchy and articulate is the macro dynamic, how wider and taller and more holographic is soundstage and how each sound layers feel better extracted in soundscape with the Go Pod.
In term of price value, it's hard to fault the BT2, but at they end, it's a more frustrating products to use for multiple reason, from wired BT module, to lower than a phone power output to limitation of 2pin or MMCX connector to more limited battery life....it's clear the iFi Go Pod is morre versatile in term of power output, freedom of movement and battery life, as well as delivering notably superior sound performance, so the real contender that is missing in this comparison is Fiio UTWS5, but power output is still 4 times lower than Go Pod, and we can't change connectors (ear hook seem too thight too).
Hifiman Svanar+Go POd VS Hifiman Svanar TWS
It most be noted here that I was puzzled to compare a TWS to cabled IEM with mid or high end source, so to be fair i downscale the Svanar with best TWS dac-amp out there. WHy down scale? Cause Svanar are 60ohm of impedance and benefit more than 120mw@32ohm amping.…
Nonetheless, it's evident technical performance like clarity, attack control, imaging accuracy, fine micro details and everything but soundstage is better with OG Svanar.
Yes, the TWS have bigger soundstage, which underline the benefit of R2R DAC-AMP, which i dynamic gain is superior to Go Pod, at least, for the very Svanar driver…
Tonality is near identical, but OG Svanar offer a more balanced W shape, hint less warm and bassy, we don't have as much sub bass resonance warmth in low end so the bass is more textured, better define in mid bass for kick drum presence and tighter-faster in attack control, which mean it's better separated from mid range too.
OG Svanar mids are cleaner, better resolved, edgier in definition and more transparent yet richer in texture info too. For ex, piano note are less warm and have longer cleaner natural decay. It seem upper mids are less smoothen and hint brighter too, female vocal aren't as lush and wide in presence than the TWS but they are better extracted and layered, less softed in definition edge. Overall mids are less colored and thick than TWS too.
Treble is more snappy and sparkly, percussions are easier to follow and level of macro and micro sound info are all superior with OG Svanar. Overall treble is cleaner, less softed in sustain-release.
Svanar TWS soundstage is taller and wider but not as deep since clarity isn't as sharp and clean, silence being more ''noisy''.
Imaging while less holographic is notably more accurate, precise and sharp with OG Svanar.
All in all, the Svanar TWS isn't far of OG Svanar tonality but technical performance can't compete with them, especially if we use high end source, but with something entry level like GO POD, the Svanar TWS surpass OG Svanar in term of spatiality and offer a more holographic and immersive musicality, with warmer but fuller tone and overall more pleasant performance even if not as technical.

CONCLUSION
I think it's evident i'm highly enthusiast (and even addict) to the iFi Go Pod.
I wasn't expecting to love this wearable TWS DAC-AMP that much, but since i'm always concern about one thing -best sound portable way- this TWS solution was a real blessing for an audiophiloe that is never satisfy by the TWS IEMs he try, even if they are suppose to be the best like Final ZE8000 and Hifiman Svanar TWS, they just can't compete with proper DAC-AMP implementation as well as higher end MMCX or 2pin IEM pairing.
For once, I truely feel free with my wireless IEM and this is due to tremendous versatility of both sound and design as well as very good connectivity, something of prime importance for proper immersive musical experience.
The Go Pod is especially a great buy for those IEMs collector like me, since its can transform all of them in surprisingly competent TWST Buds.
I'm not finish to rave about the Go Pod, even if I feel it's the begining of new era that can be push even further. Add a good controlo APP to Go Pod, and it could go next level in term of amping gain ,EQ, sound filters control.
Very highly recommended for TWS Buds hater or sceptic as well as IEMs collector and all those non-believer audiophile that think Wireless Bluetooth device can't deliver high sound quality with plenty of dynamic gain.
-------------------------------
PS: I want to thanks iFi for sending me this review sample. I'm not sure if these are loaner or not, but in any case, this will not change my honest opinion about this product.
For more info about the Go Pod, give a look to official product page here:
https://ifi-audio.com/products/go-pod/
You can order the Go Pod for 399$ at this store (keep an eye on Open Box deal!):
https://audio46.com/products/ifi-go-pod-wearable-hd-bluetooth-dac-and-headphone-amp
Previously known as Wretched Stare
Convenient and Easy
Pros
:
Very easy to get started, sounds fantastic, and its made well.
Cons
:
The ear hooks are small, case is huge, and the cost is three times higher than the average hook.
https://ifi-audio.com/products/go-pod/
Specifications of the new iFi GO pod:
DAC: Cirrus Logic Master-HiFi 32-bit DAC
Bluetooth Chipset: Qualcomm QCC5144 Bluetooth 5.2
Supported Codecs: LDAC, LHDC/HWA, aptX Adaptive, aptX HD, aptX LL, aptX, ACC, SBC
Sampling Rate Support: Max. 24bit-96kHz
SNR: 32Ω ≥ 129dB (A) / 300Ω ≥ 132dB (A)
THD+N: ≤0.002% (1kHz/32Ω)
Auto Impedance Detection: 16Ω / 32Ω / 64Ω / 300Ω
Output Power: 120mW@32Ω; 4V@300Ω 16Ω: ≥0.98V/60mW 32Ω: ≥1.96V/120mW 64Ω: ≥2.77V/120mW 300Ω: ≥4.0V/53mW
Battery Capacity: 180 mAh Each Adapter + 1500 mAh Case
Battery Life: Up to 35 hours
Features: TWS Mirroring, Snapdragon Sound, IPX5, MMCX/2-pin, Qi Wireless Charging 5V/1A or 5V/2A + USB-C Fast Charging, cVc Mics, Single GO pod Mode & more.
Case Dimensions & Total Weight: Approx. 116 x 76 x 38.5 mm (4.6″ x 3″ x 1.5″), 126g
Ear Hook Dimensions & Total Weight: Approx. 43.5 x 16.4 x 9.5 mm (1.7″ x 0.6″ x 0.4″), 12g
MSRP: 399 USD/GBP
The ifi GoPod is a Bluetooth ear hook adapter that lets you turn your IEM into a great sounding TWS earphone.
The device comes with a large 1500mAh battery case and two different connecting hooks a MMCX and a Two pin 0.78mm, there is also others available to purchase. It has touch controls and placing the connect IEM in the case will activate the IE match feature. Call quality is excellent thanks to its Qualcomm chipset. Comfort is okay, I think the hooks themselves are a little stiff and small for larger ears. otherwise, I would have given it a 5*
Sound:
The quality is large with a nice open and detailed presentation. It is for the most part neutral and transparent.
It has excellent dynamics, and it is linear. There is little difference using a all BA or a Single Dynamic in terms of ground noise, it's very silent with no hiss or static. I ran a large variety of IEM both hard to drive and very sensitive, from Planar to multiple configurations, BA, DD, Estat, Planar and Hybrid. The GoPod handled them all perfectly.
Conclusion.
The ifi GoPod is a super convenient way to enjoy my collection, with LDAC and enough power I don't see any big limitations with this product.
The first bluetooth device that has made me go "wow!"
Pros
:
Sound, performance, functionality...
Cons
:
Price, case is too large for pocket use...
TLDR version on YouTube:
TDLR - iFi Go Pod
The iFi Go Pod have been loaned me to by iFi Audio for me to check them out and to share my opinion of them in this review. As usual with iFi, they have made no requests or comments and I will do my best to be as unbiased and sincere as humanly possible.
You can find the official page for the Go Pod here:
https://ifi-audio.com/products/go-pod/
As always, this is a non affiliate link. I do not benefit in any way from clicks or purchases made via the link (or any other link that I share).
Intro…
The Go Pod are a set of bluetooth ear hooks that attach to IEMs of your choice, effectively turning them into a set of TWS IEMs. This idea is nothing new, there are quite a few options on the market and there have been for a while, however, I do think that this is the first time that a company has specifically aimed for the higher end of the market with this kind of product.
I say higher end as the Go Pod sell for just under 400€, which is by no means a price point that is going to attract those of you who are more interested in my sub 50€ reviews! They make this even more apparent by offering the Go Pod as part of a bundle, selling them in combination with IEMs and giving a choice of 6 different models to choose from, ranging from just under 800€, up to 1400€.
The IEMs that you can choose as part of a bundle are two models from Meze Audio (the Rai Penta and the Advar), one from Symphonium Audio (the Meteor), the Craft Ears Aurum, the 64 Audio U4s and the Westone Mach 60. As you can see from the list, iFi know that the Go Pod is not something people are going to pick up for a set of budget IEMs (although, if you have the available funds, you will have a great source for them!).
Apart from the Go Pod, iFi was also kind enough to send along the Meze Audio Rai Penta for me to check out, which is very much appreciated as it is a set of IEMs that I had never had a chance to listen to until now.
One final note before I continue is just to recap on my usual use of Bluetooth, which is not exactly a main part of my set up. I do own a few TWS IEMs but I hardly use them and I have a few more that I have tested lately but haven't really found them interesting enough to spend time with them and create a review. My main use case for Bluetooth (except in the car or with BT speakers around the pool etc.) is when I am moving around and want to be hands free. For this I have two devices that I use almost exclusively, the Shanling MW200 (a bluetooth neckband) and the iFi Go Blu.
The Go Blu is the "throw in my pocket" device, while the MW200 is something I choose when I want to be totally hands free, such as when travelling through airports etc. While I feel there is margin for improvement with the MW200, so far I haven't come accross a TWS set that has made me want to ditch the neckband set up. One reason is that I can use any IEM that I choose but another is because I love being able to just remove and dangle the IEMs around my neck without having to worry about putting them in a case and then in my pocket etc.
So, what does the Go Pod have at 400€ that makes it better than the alternatives?
Presentation…
Keeping up with the traditional packaging of iFi, the Go Pod arrives in a simple white box with images of the product on the sleeve that covers it. On the back we find information an spec about the product.
Inside the box, well packed as is usual with the brand, we receive a fairly large storage/charging case, inside of which sit the pods themselves. Underneath the case, we get 3 sets of cables (MMCX, 2 Pin and Pentaconn Ear), the charging cable and the usual documentation, start guide and iFi sticker.
Straight off we already have something that sets the Go Pod apart from the competition, being the inclusion of three sets of cables. Usually we would need to choose the connectors of choice when purchasing the device but iFi includes all three options, meaning we can use it with the IEMs of our choice without worrying about connector types.
This is something that I find is a huge plus as, although I don't have any Pentaconn Ear style, I do have a combination of MMCX and 2 Pin IEMs in my collection and this has allowed me to try whatever I felt like at the time. Well, that would be true if two of my most used IEMs didn't have connectors that are such a pain to find cables for. The Svanar has a 2 pin socket that is slightly smaller than usual, meaning I have had to sand down cables in the past to fit. However, although a little tight, the Go Pod cables do actually fit (more on that in a second). The Sennheiser IE600 is a different story, the MMCX sockets have a ring around them that stops normal MMCX connectors from entering enough, as is the case with the Go Pod, but all is not lost, I will talk about these a bit more in just a moment..
So, as usual, I have no complaints with the presentation of products from iFi, they are packaged in a simple but effective way and include the items necessary to just enjoy the product.
Build and Aesthetics…
The pods themselves are a long rectangular shape (sort of), with corners that taper in at the bottom. At the top of the pods there is a recessed 2 pin connector that is where the cables connect, forming ear hooks that rest over your ears. The body of the pods is made from plastic which has a textured black finish to it. On the outer side of the pods there is a large metallic surface which is divided by a small line (it is easier to look at the photos than me explain it), which is where the controls reside. On the inside of the pods there are two small round contacts that are for them to charge when placed in the case.
The case is also made of black plastic, without any texturing this time but with a modern use of shapes on the top, along with the iFi logo, to break up the monotony of a simple black box. On the left of the box there are 4 square LEDs that illuminate to show the battery remaining in the case. Due to the way these are pleced, they are visible both from the outside and from the inside when opening the lid.
The lid is on hinges and opens to reveal two large spaces at either side of the interior, with two small white LEDs built into the inside of the lid. These LEDs illuminate when opening the case and do give it a bit of a premium look as they reflect onto the velvety inside of the cover. They also illuminate it enough in a dark place for you to see what you are doing when placing the IEMs/pods back in the case.
The interior of the two large spaces, towards the center, has a shaped divider, creating two smaller compartments that where the pods fit (and charge), with the top of the spaces shaped to the angle of the cable and leading to two very large open spaces where your IEMs will sit. The design and space means that there should be no issue fitting any IEMs you choose inside the case without having to detach them from the pods.
As far as comfort… The pods are noticeable when you are first wearing them, as the bend of the hooks is quite sharp (sharp as in angle, not sharp as in will cut you) and you are effectively placing two big black boxes behind your ears. After a short while, the sensation disappears and you no longer notice the boxes (at least I don't). Comfort will also depend on the IEMs of choice though, as the hooks/cables do dictate to some extent where the IEMs will sit. In other words, how deep you can insert them. I have found that I have had to opt for larger tips on a few of the models I have tried due to them sitting a little further out of my ear than they do with a normal, more supple, cable. With other models that already sit further out of the ear, there should be no difference in comfort to using a normal cable (except for that short while of getting used to the feel of the boxes).
To be honest, I can't say I am hugely in love with the aesthetics of the Go Pod but I do understand that what you can do with a box containing a battery and electronics is rather limited, especially if you don't want to sacrifice size or comfort. I suppose that the only negative here would be the size of the case, as it is on the large side, too large to comfortably carry around in a pocket (at least my pockets).
Functionality…
It is nice to find that the Go Pod includes all of the functionality that I would personally like from a TWS device. A single tap works to play/pause/answer calls, a double tap skips forwards, a triple tap skips back and then volume is increased or decreased by holding the corresponding side (left for down, right for up). To those manufacturers out there who insist on not putting volume control on their TWS IEMs, please take note, it's not that difficult
Other functions are calling the assistant by tapping then holding, entering pairing mode by holding both sides for over two seconds and a full power reset by holding for over 12 seconds.
In my opinion, that is all the functionality I need and nothing I don't. If iFi decides to release an APP for the Go Pod, then things like EQ would be more than welcome but as far as control, I am very happy without needing to do anything on my phone.
Sound…
As I mentioned already, my go to for wireless is either the Go Blu (which is not exactly wireless, at least not to the IEMs) or the Shanling MW200. Both offer me enough as far as sound quality while on the move and whenever I am doing any detailed listening, or specifically listening to music (i.e: not doing other things at the same time), then I opt for a cable.
With the Go Pods, I would say that the step up in quality in comparison to both of those devices is very noticeable. Where with other portable BT setups I have always been under the impression that it's "good enough", with the Go Pod I get the impression that it's just "darn good", and I don't mean just "darn good for Bluetooth"
Obviously the IEMs selected are going to play the biggest part in the sound quality, which is to be expected, but using the same IEMs across multiple sources, the Go Pod is high on the enjoyment list. In fact, for general listening, I would have no issue with just using these instead of the Gryphon (which is my portable DAC/Amp of choice).
The Go Pod have some kind of tech in them that senses the impedance of the IEMs you connect and adapts the amplifier output to best match said IEMs. This results in something that has a lot less background noise than on the majority of other iFi portable solutions with IEMs (even the Gryphon can be a bit noisy with super sensitive IEMs).
I obviously can't say how this will work with all IEMs out there, whether there will be sets that don't work well with this technology or that still experience noise, but with the IEMs that I have tried, I have had no noise issues at all.
My first session was with the Meze Rai Penta that iFi kindly supplied with the Go Pod. This pairing sounds very good but as I have not heard the Rai Penta on my other systems, I couldn't really say what the Go Pod is adding or taking away from the mix. If I get a chance, I will at least give the Rain Penta a quick listen on my other systems and maybe offer a quick report later.
Then I moved on to IEMs that I know much better, starting off with the Hifiman Svanar. The Go Pod cables do fit these IEMs but they are very tight. In fact, I regretted putting them on the Svanar when I tried to remove them. WIth patience, they will come out but I have to be honest, I got a little worried because the Go Pod are on loan! However, I am glad I tried them as they are not only my preferred IEMs, they are also IEMs that I find very revealing of sources.
With the Go Pod, I feel that the Svanar is a bit warmer and smoother than with my other portable set ups. These are not harsh IEMs anyway, they have a nice bit of warmth to them, and the combination seems to highlight that warmth and smoothness, becoming even more relaxing and musical. I could (and did) sit for hours listening to these. In fact, it is the only time I actually ran out of battery with the Go Pod (although I didn't actually time it, so that's not much use to you all
)
With the Kiwi Ears Quintet, which is a set that I spent a fair bit of time with lately and enjoy, I also enjoyed the pairing, although that lack of excitement that I mentioned with some female vocals in the review is a little more apparent with the Go Pod.
I also threw on the Dunu Talos and found that the midbass that I liked so much on them is very well presented, along with no lack of that detail in the mids that I enjoy on this set. The slight sibilance in the upper ranges is tamed a little, although not eliminated, and I would say that this set is improved by using the iFi as a source. As this was the case, I grabbed the Vulkan, another Dunu set which is a little harsher and unbalanced in the upper ranges, and again, things got just that little bit smoother with the Go Pod.
The last (but certainly not least) set I want to talk about is the Sennheiser IE600. As I said under presentation, the included MMCX cables do not fit the IE600, however, speaking with another member of the headphones.com forum, he mentioned that iFi has actually released some MMCX cables that do fit the Sennheiser IE series (he has the IE900) and that the newer packages include these cables, although he was sent a set separately when he contacted iFi to enquire. This was something that interested me even more and being the pain I am, I reached out to iFi to see if I could get hold of a set.
Ricardo (from iFi), who puts up with me being a pain, went out of his way to track down a set and send them out to me also. I am so glad he did.
I mentioned in a recent update that I have been using custom tips on my IE600 and how they have not only improved sound slightly but also improved isolation by a lot. Well, the IE600 paired with the Go Pod is nothing short of a great portable set up. I do find it a little difficult (even more than I mentioned in my custom tip update) to get them in and out, but when they are in, wow. I can't see me needing anything else when travelling or just generally moving around hands free. The sound combination is a match that just works well for me, with that extra bit of punchiness from the improved tips along with that extra bit of smoothness from the Go Pod.
Usually, when I get to my desk, I will either swap to headphones or IEMs connected to my desktop set up or the Gryphon, with the Go Pod and IE600, I found that I didn't even bother, I just continued to enjoy. The only problem was getting them out when I needed to talk to someone
While I would have loved to go through a ton more sets, from cheap to expensive, I think that we can already see a bit of a trend as far as sound with the iFi Go Pod. Things are slightly more relaxed and there is a bit more musicality and warmth without forfeiting detail. For me to be saying this about a bluetooth device is quite an achievement.
Conclusion…
I have gone through quite a few Bluetooth combinations over the past couple of year, from dongles to neckbands and TWS IEMs to BT headphones, none of which have really drawn me in. Out of all of them, I have just stuck with the Go Blu and the MW200, which are not the most amazing as far as sound (although both are pretty good) but trump the rest when it comes to function.
The Go Pod are the first device that I would actually say that I would happily replace both of them with, as it maintains the functionality but increases sound quality. I would miss the neckband style of the MW200 as I love the fact that I can just remove them from my ears and let them dangle, but there are solutions that can be implemented with the Go Pod.
That is not to say that there aren't any negatives with the Go Pod. The most notable for most is going to be the price. 400€ for a set of Bluetooth ear hooks is by no means cheap. Then again, nor is 600€ for the iFi Gryphon, so it's all a case of perspective. I know plenty of people who want to be wireless and seeing the options that are out there, I think that the Go Pod plus a set of IEMs that you really enjoy could be very much an end game for many people.
Myself, I enjoy sitting down and plugging in, yet, for the first time in my BT experience, it may come down to just that, the feeling of sitting down and plugging in rather than any necessary sonic improvement.
The Go Pod really is the best portable Bluetooth source that I have heard to date and I have them clearly on my wish list. In fact, if it wasn't due to me reviewing IEMs and headphones, I would seriously consider replacing all of my portable devices with just these. As it is, I am seriously struggling to not purchase them!
____
As always, this review is also available in Spanish both on my blog (www.achoreviews.com) and on YouTube (www.youtube.com/achoreviews)
Time to cut the wire!
Pros
:
Sound Quality
Support for multiple connections
Ease of Use
Disclaimer: This unit as send to me by iFi UK however, all the thoughts shared in this review are my own and reflect my honest opinion about this product.
A special thanks to Karina for this review sample, as always iFi Audio and particularly Karina are always a joy to communicate with, bringing an incredibly open and charming communication which makes the whole review process so much easier and enjoyable.
I am new to the head-fi world and I have only recently started to appreciate the intricacies of the high-resolution audio, so do not expected this to be a technical review It will be a review that will address the major features of the product from the consumer point of view specifying its usefulness or not.
The iFi GO pod is the new addition to iFi's GO series of ultraportable headphone enhancers. It is a pair of wearable Bluetooth DAC/headphone amps designed to make any pair of corded in-ear monitors (IEMs) wireless. The GO pod supports Bluetooth 5.2, with processing handled by Qualcomm's top-tier 32-bit, QCC5144 module. It supports as well, Sony's proprietary LDAC hi-res wireless solution to their maximum 32-bit/96kHz specifications, with LDAC's highest 990kbps bitrate available to users of Android devices that support Snapdragon Sound (660kbps with other LDAC-enabled devices).
Its use is fair and simple, you just detach the cable from your favorite IEMs and connect the earpieces to the left and right pods using the appropriate adaptor, to start your listening experience just proceed with the simple pairing process to connect your GO pods to your source device. The adaptors come in three different flavors, MMCX, 2pin and Pentacone and it's simply a brilliant idea to include them all in the package, since it future proofs this product for future IEM purchases.
Packaging and accessories
The product comes as per usual packaged in its traditional white box enclosed in a cardboard sheath, the device rests in a cut out and beneath it are the included accessories (USB-C charging cable, MMCX, 2pin and pentacone adapters, quick start guide, iFi sticker). Once again USB-C was the standard decided for the charging port, making it the de facto connector for all electronics. This unit instead of buttons has a touch surface across the whole GO pod, the touch surface is pretty responsive and enables you to do all the normal functions you expect from a media player, like play/pause, previous/next track, volume up and down, voice assistant between others. I still prefer physical buttons to interface with these functions, but the touch surface worked flawlessly.
Build Quality
Both GO pods are made from a tough and stiff plastic, that with the metal accents on the touch surface make the unit look premium. Unfortunately, the ear hooks are a bit too stiff and difficult to adapt to a different shape, this is my case made that I couldn't use the GO pods for longer listening sessions, after the one-hour mark I would start to have pain in the back of my ears where the GO pods sit. This ended up being the only point in favor of the Fiio UTWS3, the rubber and plastic construction although less rigid makes it more comfortable to wear for long periods of time.
Features
According to iFi, the GO pods are the first TWS solution to feature full 24 bit/96 kHz sound, this comes from a tight integration between the top tier amp, dac and Bluetooth receiver that are included making it a unbeatable experience in wireless sound. All this in a water and resistant enclosure, although I didn't test this last part so you will have to take their word for it.
Both earpieces include a microphone, so you can make a voice call while wearing only one of them. The quality of the microphones is pretty good making voice calls a breeze.
The case that's included to charge and carry the GO pods is pretty big and is not pocketable as the Fiio ones, its designed only for storage and transport. Beside this the case is pretty good for what it was designed to, it features two small led lights on the top lid that illuminate the inside of the case once you open it, giving it a very premium feel, like you were opening a jewel box. The lights do turn off automatically if you leave the lid open.
The GO pods have an estimated battery life of 7h playing content, according to my testing they don't deviate a lot from this value, an advantage of the bigger case is that it elevates the total battery time to 43 hours of playback between charges. The case charges either via usb C or wireless charging.
Sound
iFi revolutionized this small market segment in audio, creating a truly high-end solution for TWS.
The audio quality from these adapters is almost comparable to wearing the IEM's wired there's absolutely no noise or hiss even with low impedance IEM's like the Shure SE846, these IEM's where used to test the GO pods during the making of this review.
The GO pods provide an amazing sound, neutral with great transparency and definition between the different instruments while providing a reasonably wide soundstage.
This neutral approach makes the GO pods especially good for style of music that emphasize the higher and middles frequencies like classical music and rock.
Once again iFi tried and reached higher ground with their sound signature, still managing to keep it sounding less analytical/digital while keeping all the detail.
Before updating this unit firmware, I used to have pretty recurrent disconnects when using aptx with my Onkyo DP-X1, fortunately that problem solved itself when updating the units to the last firmware.
Conclusion
iFi outdone themselves once again, they managed to improve several characteristics of a niche market within audio giving a truly high-end product for anyone that wants to convert their wired IEM's to wireless.
So, are they worth $400/400€?
In my opinion they are if you wish to have a no compromise experience between wireless and sound quality, and at the time of writing this review they simply don't have a competitor at this or at a lower price range. For half the price you could buy one of Fiio's units but the sound quality although good is not at the same level in my opinion.
Will I ever need wireless earphones again? The new standard for wireless listening on the go
Pros
:
- Lightweight
- LDAC
- Multiple earphone connection options
- Sound
-Ease of use
Cons
:
-Price
-Lack of an app to use alongside the Pods
My wireless journey
I've never been totally convinced by wireless as for me it has always meant a big compromise compared to my wired options. I've tried various different wireless earphones and more often than not struggled with fit, the exception being my Samsung Pro Buds, although even they tend to slip out after a period of time.
I've also tried different DAC/AMP options to provide a wireless option, currently using the Shanling H7 but it's not something I take out and about with me. I've also currently got the Fiio BTR7 but again this doesn't leave the house.
The only time I now use audio equipment away from home is when cycling to work or leisure, which is around 3-4 days per week. My cycle is on an Ebike and on a cycle trail with only a 1-2 miles of road use each trip (total trip is around 12 miles to work). So far I've found my wireless earphones to be a bit awkward for cycling, often needing readjusting which then changes tracks or volume etc. I don't really want to use the Fiio or Shanling due to having to use wired earphones with them.
This is where the Go Pods seemed an ideal option for my use. The ability to use my custom earphones without wires made this a no-brainer to try out.
Disclaimer
iFi-Audio provided me the Go Pods to review. Once finished I will either send back or purchase.
The box and instructions

If you've bought or used iFi-Audio products before then the packaging is up to their usual high standards. Clear instructions with everythng required to get started with the pods.
Charging Case and Go Pods
The charging case for the Go Pods is on the large side but this is no bad thing as it means that it should be able ot accomodate almost any IEM that is connected to the Pods. I've had both sets of customs that I own and the Fir Audio Rn6 attached and they all fir the case with no issue.
The case has some nice LED's that light up for 60 seconds.
Charging is via USB-C or wireless, works perfect with my Samsung charging pad. iFi-Audio's claimed battery times of 7 hours for the Pods and 35 hours for the case seem accurate to me, maybe a tad under but not by much.
Charging lights are on the left side of the case. The felt like material inside is a bit of a dust magnet but can't be helped and is easilly cleaned. The pods connect easily with the charging points and I've had no issues with charging.
The pods themselves are very light, 12g according to specs and they do feel light, I can't feel them once they are behind my ears. They never slip or move out of place.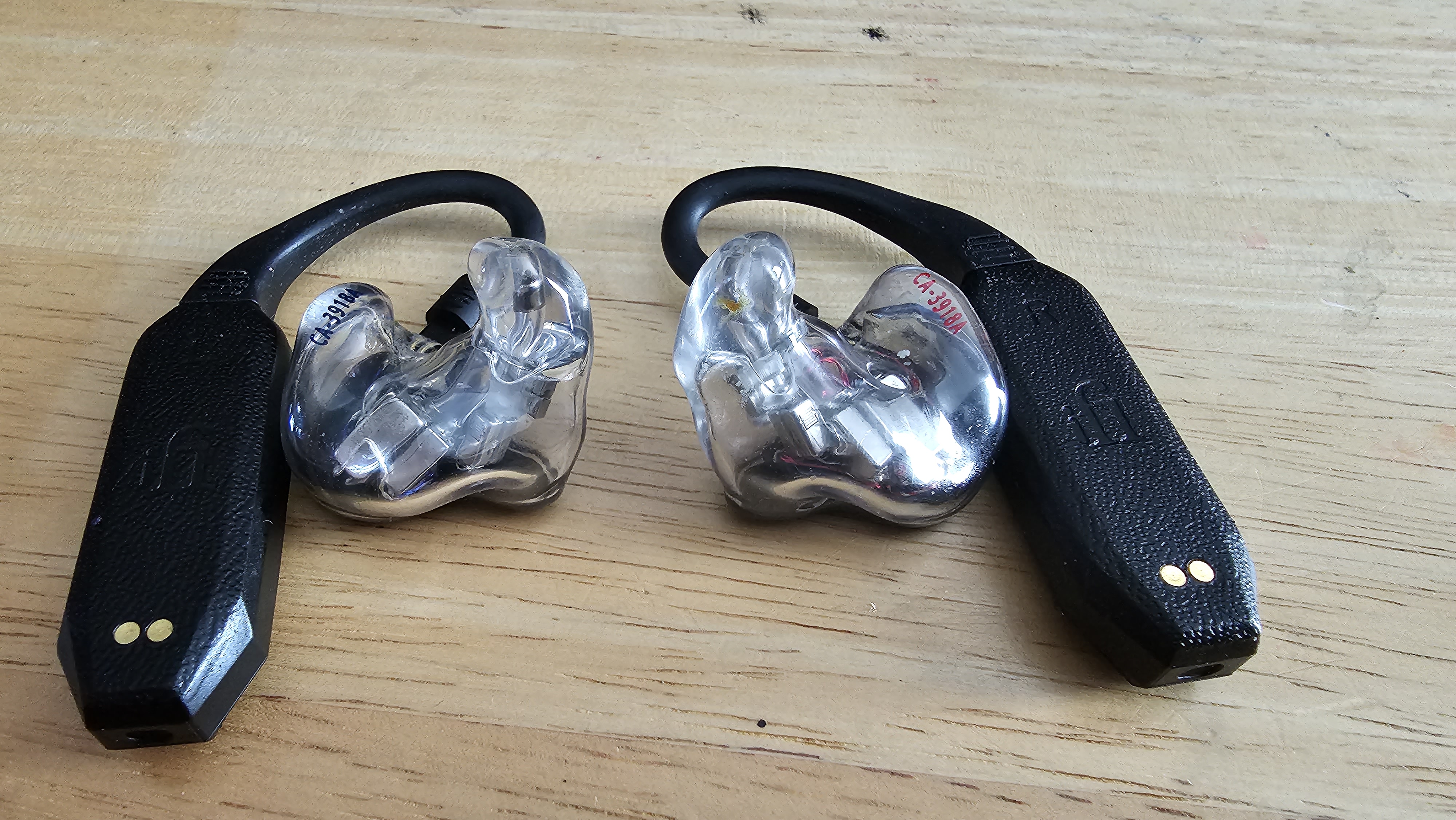 Pictures of the Pods connected to my Custom Art FIBAE7U, these are the main earphones I've used in the 3-4 weeks I've been using them.
Somebody asked in the main thread about fit behind the ears, here's a picture with it on my fat head! (excuse the dry skin, have an allergic reaction to medication)
Bluetooth Connection and Controls
Connecting to my Samsung S23 Ultra has been no issue, set up was easy and they connect every time with no problem. LDAC is my default on the Samsung's bluetooth setting menu, from the advanced developers options I choose the medium LDAC rate 660. I've not tried any other codecs, however I have had no connection issues with LDAC at any of the rates. When using the highest rates I get some dropouts at around 15 feet away from source and that is in a different room. This is better performing than say my Sony wireless earbuds which drop connection at around 10 feet on highest LDAC setting. On the middle and adaptive settings I can more or less wander around my hosue with no conneciton issues.
Controls work really with everything controlled via the touch pads on each pod, they are easy to reach behind/above the ear and are simialr in operation to all other wireless earbuds I own.
Sound and Comparasions
Now this is a tricky part to write as I wasn't really intending to compare to my other bluetooth products, mainly because the other products don't really do what I want them to do when I'm cycling. Wires mean the Fiio BTR7 is not useable and my wireless earphones/buds don't have great fit when cycling, plus the sound quality just doesn't come close to my wired options.
This is where the Go Pods excel. My F7U custom earphones fit my ears and stay in with no need for adjustment. I have more volume if I need it witht he Go Pods rated 120mw @ 32ohm which is quite an increase on my wireless earbuds.
My custom earphones don't sound markedly different to when I use them wired via the Fiio BTR7, the Fiio has more power but I wouldn't use it's extra power when cycling. If I was pushed to make a comparasion between the two I would say the Go Pods are more neutral sounding than the Fiio BTR7 with maybe just a wee leaning to the warmer side of things (I find this with most iFi products, to my ears anyway). The Go Pods do mean that I'm unlikely to use the BTR7 due to excellent form factor and sound.
When using the Pods with the Fir Audio Rn6, the bass remains impactful and they don't suffer from not being paired wired to my primary DAP.
This review might not meet other people's need for direct comaprasions but for me the whole attraction of the Go Pods is the ability to use them as a true wireless product with my earphones that are normally restricted by wires. Obviously they don't match the sound quality and depth I would get from using my normal DAP wired or from the Shanling H7 Bluetooth AMP/DAC or even iFi's own Gryphon however they still need your earphones to be wired to them.
Conclusion
Are they worth £400? - For me, yes they are. They meet a cetain requirement for me, I've used them for a fair few miles when cycling, they dont interfere with my helmet, my glasses aren't affected by them and they give me the excellent sound quality I'm used to from my earphones when used wired.
The lack of an app to use alongside the Pods needs addressing, an app would make firmware updates easier and other functions. Not a deal breaker for me but would be a welcome addition.
All in all another great product from iFi-Audio that for me just might be there best to date in regards to bluetooth products.
Last edited: