Disclaimer.
I would like to thank iBasso for sending me DX160 to test and review. I am not affiliated with the company or any of its sellers and write this review with an unbiased opinion regardless of how the review turns out.
Link -
Manufacturer website:
iBasso
Genre preferences.
I majorly listen to rock, acoustic, pop, metal, and sometimes popular EDM songs doing the rounds on the charts.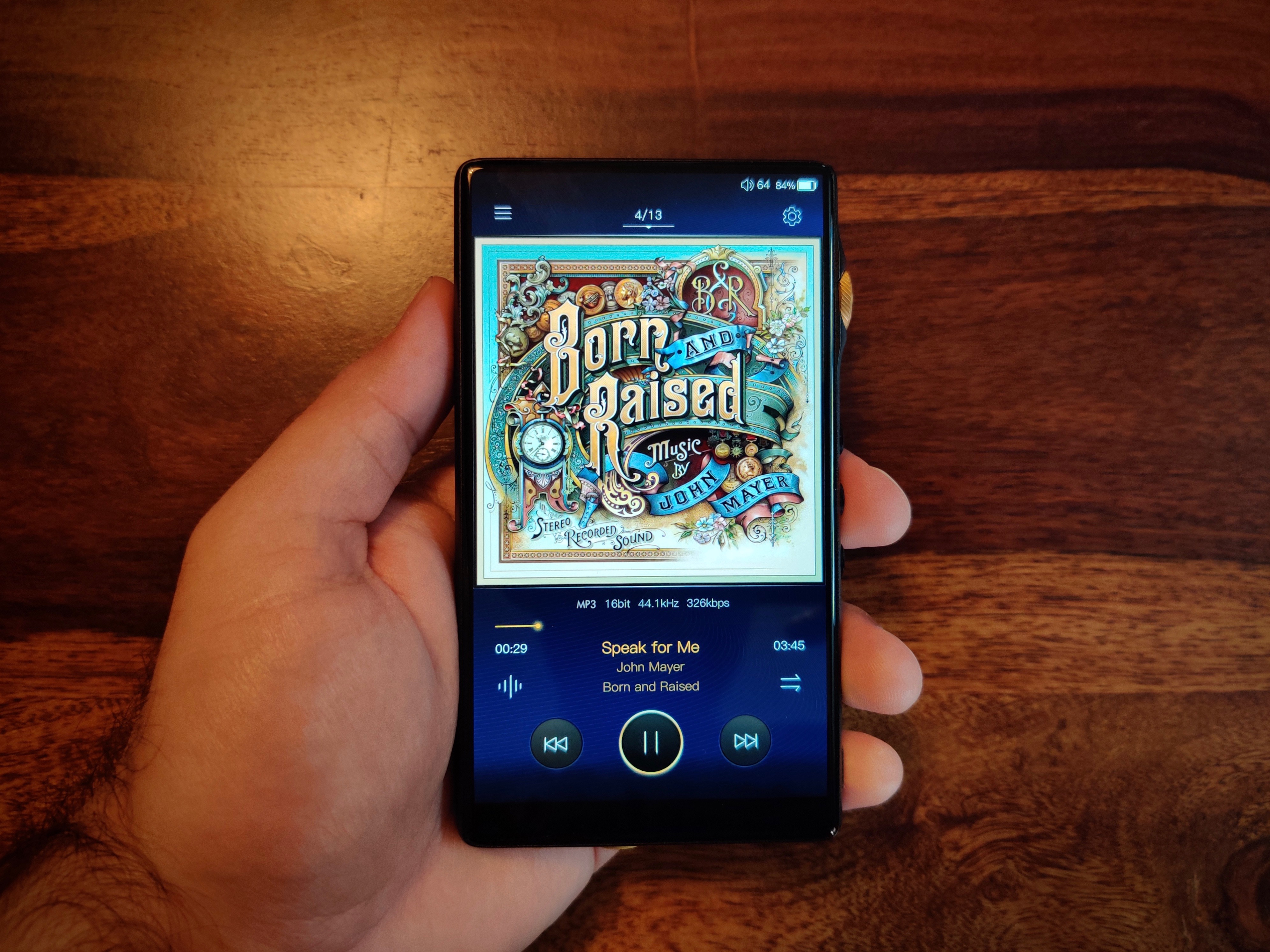 Technical Specifications.
Screen – 5-inch 1080p Sharp LCD
Operating System - Android 8.1
CPU – Rockchip Octa Core | RAM - 2GB | ROM - 32GB
DAC - Dual CS43198
Output Ports – 4.4 mm BAL & 3.5mm (PO/LO/SPDIF)
Battery - 3200mAh
Charging - QC3.0, PD2.0
Wi-Fi - 80 2.11 b/g/n/ac (2.4Ghz/5Ghz)
Bluetooth - Bluetooth 5.0
Weight - 178g
-
4.4mm Balanced Out
Output Level - 6.4Vrms
Output Impedance – 0.4 Ω
Frequency Response - 10Hz-40kHz +/-0.15dB
S/N - 130dB
THD+N - 0.00022% (32Ω, 3Vrms)
-
3.5mm Headphone Out
Output Level - 3.2Vrms
Output Impedance – 0.3 Ω
Frequency Response - 10Hz-40kHz +/-0.15dB
S/N - 125dB
THD+N - 0.0007% (32Ω, 2Vrms)
-
Line Out
Output Level - 3.2Vrms
Frequency Response - 10Hz-40kHz +/-0.15dB
S/N - 125dB
THD+N - 0.00035% (no Load)
Included in the box.
iBasso DX160
USB Type-C cable
Silicone cover
Screen guards
Manual, warranty card and MQA card
Design and Build Quality.
DX160 has a very nice form factor and easily fits in my palm. It has a very nice, highly attractive 1080p sharp 5-inch LCD 'almost' bezel less screen (slight bezel at the bottom). It has an aluminum chassis casing which measures 7x12.5x1.4 cm and feels very solid and well built.
It has a Balanced 4.4mm and a multi-purpose 3.5mm socket (PO/LO/SPDIF) at the bottom and USB type-c charging port and power button on the top. On the left, it has a spring-loaded microSD card slot which supports up to 2TB memory cards. On the right, it has a golden volume wheel and hardware playback buttons (Previous, Play/Pause and Next). All feel nice and very intuitive to use.
User Experience.
DX160 comes stock with Android Oreo 8.1. iBasso has APKPure and CoolAPK installed as stock for you to install all the apps you need as DX160 doesn't come with Google Playstore. I've been using APKPure for a while and find it absolutely easy to install all the apps I need.
DX160's 445 ppi 1080p high definition display is the best display I have come across in a mid-fi DAP, period! It just makes everything look extra good! The touchscreen is very vibrant and responsive. The OS overall is very simple, elegant and easy to use. iBasso preferred using the good old Rockchip with 2GB of RAM instead of the faster and newer Snapdragon/Samsung processors, yet the DX160 isn't slow or laggy by any means. It might not be as slick as your TOTL smartphones or even the fast Fiio M11 but DX160 is still decently quick and responsive to all inputs, sufficing most of the times for all your DAP needs.
iBasso's Mango Music Player (V2.2.7) –
Mango is iBasso's stock music player and I actually quite dig it for its simplicity. When you open it for the first time, the play screen comes up. You then need to access the settings using the GEAR icon on the right top of the screen. There you have the following options,
Gapless – On/Off
Gain – Low/High
Play Mode – Order/Loop/Shuffle/Repeat
Equalizer – Graphic/Parametric
L/R Balance
Digital Filter – Fast Roll-Off/Short Delay Short Roll-Off/ Short Delay Fast Roll-Off/ Slow Roll-Off
Advanced – USB DAC Mode | Sleep Timer | Scanning | System Info
In order to scan the songs, you need to click the Settings (GEAR icon) -> Advanced -> Scanning, and then choose where your songs are located (internal/SD card) and scan the library. Scanning time is on the average side and not the fastest. It depends on the size of your library. It took around 1-2 minutes to scan my 60Gb library. Sometimes it gets stuck visually when in reality it is scanning in the background. Check back after a few minutes and Mango would've scanned your whole library at once.
Mango player is very intuitive to use. You can edit music sorting display in the Navigation Bar Management and select between multiple sorting options like Album, Artist, Genre, etc. You can also select Album and Artist View settings. Artist List view looks great with a nice and easy to read font, font size and artist photos. Album view and album art look great on DX160's attractive hi-res 1080p screen. Below are some pictures for reference.
There are both Parametric and Graphic equalizers available for you to use when you want to fine tune your sound. Though when you enable the EQ, Mango player turns down the volume by a couple of dBs to compensate for all the EQ boosting you'd be doing. As a result, ABing the sound with and without EQ becomes a bit difficult because of the volume difference.
File Formats (MQA Enabled!)
DX160 supports a wide variety of audio formats including APE, FLAC, WAV, WMA, AAC, ALAC, AIFF, OGG, MP3, DFF, DSF, DXD, CUE, ISO, M3U, M3U8.
DX160 is MQA enabled with full hardware decoding (bit perfect) and plays Tidal Masters without a problem. It was a joy to listen to my favourite albums in Tidal Masters (MQA). Plus 5 points to Hufflepuff, ahem, DX160 for that. Haha.
Sound Analysis.
DX160 is a very vibrant, musical, a bit reference like/neutral sounding DAP which impresses you right off the bat with its sound quality, which I think is very difficult to beat in its segment. It has a very nice wide soundstage and instrument imaging is very precise. The sound is very clean, balanced and neither frequency band sounds emphasised. Bass goes deep and low and note weight is very well done. It extends well at both ends and has good amount of air and openness. I don't want to sound overdramatic but I think DX160 hits it out of the park in the sound department.
There are four digital filters that you can toggle between which have a subtle effect on sound, which may or may not make a difference for you and some might not hear or care for the difference. But here is what I felt anyway,
Fast Roll-off – Faster bass transients
Short delay slow roll-off – Deeper bass with natural bass transients
Short delay fast roll-off – Quicker bass transients than option 2
Slow roll-off – Just tiny bit slower bass transients
Pair-ups.
To be honest, since DX160 is a musical, neutral and a bit reference-ish sounding DAP, it was difficult for me to come across an IEM from my arsenal it didn't pair well with, especially since it has low output impedance and good power to drive most IEMs/headphones. Because of the low output impedance DX160 doesn't interfere with the original sound signature of sensitive multi-BA IEMs, something that Hiby R6 did because of its high output impedance of 10Ω.
If you're wanting a DAP to compensate a problem you have with your IEM/headphone, I think that it's easier and simpler to just use EQ than shuffle between DAPs for that specific problem. Of course, some warmer DAPs help with brighter IEMs and brighter DAPs help pump some vibrant life into warmer IEMs but since DX160 is a nice neutral/reference-ish DAP, most of your IEMs and headphones are mostly going to sound their true self with the DX160.
With that said, I've enjoyed pairing the DX160 with some of my favourite IEMs like 64 Audio U12t, BGVP EST12, Lime Ears Aether R, ItsFit Fusion, etc. Here are quick notes about some of these IEMs.
64 Audio U12t – DX160 lets the tia driver shine for its true self and keeps the warmer bass and lower mids sounding absolutely clean and resolving.
BGVP EST12 – Love this pairing. EST12's clean and reference character shines with DX160. The pairing has the whole sound signature sounding vibrant and more open and airier compared to its pairing with other DAPs from my collection.
Lime Ears Aether R – I particularly like Aether R's reference-ish, open and airy character with the DX160. Aether R is very good with instrument definition, resolution and imaging and DX160 makes sure that all of it comes across naturally.
ItsFit Fusion – The magnetostatic driver shines with the DX160 and overall resolution and clarity is very engaging.
Power & Noise Levels.
The 4.4mm balanced out as well as 3.5mm out have a low impedance of 0.4Ω and 0.3Ω and output levels of 6.4Vrms and 3.2Vrms respectively. This is fairly sufficient for most demanding IEMs and headphones.
In my background noise tests, I found absolutely no hissing with Tansio Mirai TSMR-3 Pro which is one of the most sensitive IEMs in my arsenal. There however is slight WiFi/EMI interference every now and then but none when the song is playing or when you're away from your WiFi router or have your WiFi off. A couple of other DAPs like Hiby R6 Pro which have similar low output impedances and high output levels had some interference too but DX160 experiences it minimally compared to them, at least in my case.
Battery Life.
This is an averaged out estimate.
4.4mm BAL Out – Around 9.5 hours with FLAC files and 10.5 hours with MP3 and minimal usage of screen.
3.5mm Out– Around 10.5-11 hours playing FLAC files and 12 hours with MP3 and minimal usage of screen.
Comparisons.
Fiio M11 –
DX160 sounds more vibrant, natural, clean and engaging compared to M11. DX160 has better bass resolution, impact and also a slightly wider soundstage. DX160 has a way more attractive and fun to use high-res 1080p screen compared to M11's 720p screen. M11 on the other hand is faster and better at multi-tasking owing to its faster Samsung Exynos 7872 processor and 3GB RAM. M11 is heavier than DX160 and has sharp edges which I am not a fan of whereas DX160 has smoother edges and is easier to hold and use in your hand. M11's volume wheel feels a bit sturdier than DX160's, though I like the playback controls on DX160 more as they are easier to press whereas M11's needs a bit more power. Overall I like DX160's design language much more.
Hiby R6 Pro (Stainless Steel) –
R6 Pro's chassis is made from stainless steel whereas DX160's is made from aluminium. R6 Pro is much heavier than DX160. DX160 has an almost bezel-less 1080p screen whereas R6 Pro has a 720p screen which is much smaller in size and has a substantial stainless steel border at the bottom. R6 Pro has a snapdragon 625 processor and 3GB RAM and is faster than DX160 but the latter is much more fun to use because of the highly attractive display. R6 Pro has sturdier playback buttons with better feedback but DX160's are good in their own regard for the price. Hiby player can be installed on DX160 but Mango player is proprietary to iBasso devices only. Sound wise, DX160 is a more neutral and reference-ish whereas R6 Pro is slightly warmer, more vivid and richer sounding. DX160 comes off slightly brighter and cleaner relatively whereas R6 Pro has a bit more body. Both have good wide soundstage presentation. DX160 hits very well for its price and is one of the best value DAPs out there in my opinion. R6 Pro Stainless Steel edition is a segment above in price selling at $679, so the price difference is substantial. Hiby has an Aluminium alloy version of R6 Pro which is slightly cheaper at $529, where the only difference between SS and Al is the chassis and everything else is the same.
Conclusion.
Well, so there you go! DX160 might not have the latest CPU or be the fastest DAP in the market but it hits it out of the park in the sound department for its asking price. Plus the highly attractive 445ppi 1080p screen makes it all the more fun to use. #BestBudgetDAPScreenEver! It is based on Android Oreo 8.1 and has a nice and simple UI. Mango player too is very simple and easy to use plus you have the freedom to use whichever Android player you fancy. Also, it has full MQA hardware decoding and streams Tidal Masters seamlessly. DX160 is also very light and easy to carry in your pocket which makes it a good travel partner. All in all, DX160 does almost everything right and very little wrong. At the price of $399, it is a no brainer. If you're looking for a DAP around this budget, look no further and surely give the DX160 a shot! Highly recommended!
iBasso is now selling an updated 2020 DX160 version. If you have the DX160 2019 version and wish to have it updated to the latest buffer that is in the 2020 version, iBasso will update it for you for $32 (USD). They are charging $10 for the buffers, free labor and $22 expedited shipping back to the owner. For Hong Kong, due to the close proximity, the cost is $10 for the buffers and $5 for the shipping. Warranty card needs to be included with shipment as it will be stamped indicating that the DX160 has the new buffer.
Reference Songs list.
Normandie – White Flag album
Dua Lipa - Future Nostalgia album
Dave Matthews - Shake Me Like a Monkey
Foo Fighters - The Pretender, Best of you & Everlong
Coldplay - Paradise, Up in flames & Everglow + Everyday Life Album
Ed Sheeran - Thinking out loud, Bloodstream & Galway Girl
Chainsmokers – Somebody, Sickboy, This Feeling & Closer
John Mayer - Slow dancing in a burning room, Stop this Train & Say
Gavin James - Always & Hearts on fire
Switchfoot - Meant to live & Dare you to move
Porcupine Tree - Sound of Muzak, Blackest Eyes & .3
Our Lady Peace - Do You Like It & Innocent
Linkin Park - Papercut, Somewhere I belong & Talking to myself
Maroon 5 - She will be loved, Payphone & Lost stars
Lifehouse - All in all & Come back down
Breaking Benjamin - Diary of Jane
Karnivool - Simple boy & Goliath
Dead Letter Circus - Real you
I Am Giant - Purple heart, City limits & Transmission
Muse - Panic station
James Bay - Hold back the river