---
Preamble:
Before I start with my actual review, let me start by thanking Elekit Japan for providing me with a sample of the TU-HP02 portable headphone amplifier (
http://www.elekit.co.jp/en/product/TU-HP02
) in exchange for my honest opinion. The conversations I had with them were always very friendly, competent and helpful.
The story of the Japanese company Elekit begins in the 1970s: the owner of a shop for electrotechnical parts saw many children with a technical book in their hands who came in to buy electronical parts for building a radio. Out of these observations, he created various DIY kits that gained a lot of fame among Japanese children, and so it is not much surprising that Elekit's web shop today also contains many kits that mainly aim at children. But besides that, the Japanese company also offers serious and technologically well-made hi-fi products that are either sold as a kit or already finished, like their portable headphone amplifier TU-HP02.
Technical Specifications:
Price: 29700 Yen (~ $240)
Type: discrete transistor amplifier
Headphone Impedance: 16 – 300 Ohms
Max. Output: 170 mW (with Alkaline batteries, into 16 Ohm headphones)
Residual Noise: 6 µV
Frequency Response: 1 Hz – 230 kHz (-3 dB)
Power Supply: 4x AA Alkaline (1.5 V) or 4x rechargeable AA NiMH batteries (1.2 V)
Power Consumption: no signal: approx. 40 mA; at 10 mW into 16 Ohms: approx. 60 mA
Battery Life: ~ 30 hours of continuous use (10 mW, 16 Ohms output, 20 °C, Alkaline or 1900 mAh NiMH batteries)
Dimensions (WxHxD): 75 x 19 x 132 mm  l  75x19x112 (Chassis only)
Weight: 175 g (without batteries)
Delivery Content:
The TU-HP02 arrives in a compact cardboard box that is designed in the colours red and white and has got a picture of the amplifier on the upper side, along with the technical features in Japanese as well as English. The rear side shows the serial number.
Opening the box, one will find the amplifier which is securely covered in pink bubble wrap, along with a 3.5 mm to 3.5 mm interconnection cable and a Japanese instruction manual (on request, one can get an English version as PDF file as well).
Batteries are not included.
---
---
Looks, Feels, Build Quality:
The amplifier's enclosure entirely consists of silver-coloured, brushed aluminium as well as red PCB material on the front and rear (as you can see, the colours of the packaging continue on the amp itself and also resemble Japan's national flag's colours). The build quality is sublime and the enclosure feels very sturdy.
On the front is a centric volume potentiometer which is machined of aluminium too, and is knurled, which guarantees for a good grip. The turning resistance is not too weak, wherefore it is unlikely that the volume level gets changed unintentionally when you are using the TU-HP02 on the go. It is also unlikely that the gain switch gets activated unintentionally.
All connectors and switches are labelled white and easy to read.
However, what I am missing are rubber feet on the bottom.  
---
---
Features, Connectors:
The analogue volume potentiometer that also acts as combined on/off switch is located on the front's centre. Turning the amplifier on, the "Virtual Triode" sign lights up in green and signalises that the amplifier is ready to use.
On the front's far left is the 3.5 mm headphone output socket, with a 3.5 mm audio input on the far right. Next to the quarter jacks is enough free space so that big jacks can be connected as well. Between the audio input and the potentiometer is the two-position gain switch located.
In the centre of the rear side is a screw cap. Once it is unscrewed (which can easily be done with your fingers), the aluminium enclosure can be pulled off.
What you will find then is a chassis that is entirely made of red PCBs, with the amplification stage in the upper section and the battery compartment in the lower (the TU-HP02 receives its power entirely from four AA batteries, which is something you won't find often these days, but it is very handy).  
---
---
Battery Life:
Elekit states a battery life of around 30 hours with continuous use. Of course, this value depends on the used batteries but also the headphones, volume level and gain.
For testing, I used the Eneloop Panasonic BK-3MCCE 1.2 V, 1900 mAh rechargeable batteries that were fully charged before testing. The connected load was an inexpensive Superlux HD681, the volume potentiometer was at roughly 1 o'clock and the gain was set to "low".
With this test environment, I was able to reach astonishing 50 hours and 15 minutes of battery life.
By the way, the "Virtual Triode" sign's illumination turns from green to red when the battery capacity is low.  
---
---
Sound:
My listening tests were mainly made with the iBasso DX80 and DX90 with a wide variety of my in-ears and full-sized headphones. Music material was mostly stored as FLAC files; the audio levels were metrologically adjusted for my listening tests.
Technical Background/Implementation:
Mainly the harmonic distortion (provided the amp's output frequency response is neutral) is responsible for the typical, gentle tube sound. Besides the warm-up time, one disadvantage of tube amplifiers is their typically high output impedance which alters the frequency response of in-ears and headphones that don't have a flat impedance response (i.e. all multi-driver in-ears and many open-back dynamic headphones).
The TU-HP02 is a fully discrete transistor amplifier with semi-conductor elements and no OP-Amps, and therefore does not run on tubes. Instead, its input circuit is "trioderized" (as Elekit calls it), which means that harmonic distortions are added on purpose to achieve a more gentle, tube-like sound.
Channel Balance/Potentiometer Balance:
After turning on the amplifier, its adjustment range starts at pretty exactly 9 o'clock with a very minor channel imbalance of only 1 dB (with analogue stereo potentiometers, a channel imbalance at the low adjustment range is normal and usually greater than the small 1 dB of the Elekit). At ca. 10 o'clock, the channel mismatch is only 0.5 dB and entirely gone at 11 o'clock, with a perfect channel balance.
Measurements:
Frequency Response:
The (unloaded) frequency response is perfectly flat, wherefore all sonic characteristics can't be attributed to the frequency response:
---
Output Impedance:
Especially multi-driver in-ears that have a varying impedance over their frequency range require a low-impedance source, else the source device's output frequency response gets altered. As usual, I used the Ultimate Ears Triple.Fi 10 for recording the frequency response (which is a complex load that has a varying impedance response) and calculating the output impedance: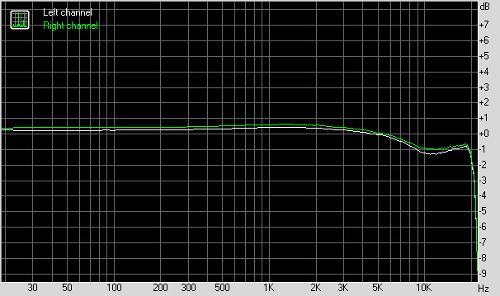 From the (peak to peak) deviation, an output impedance of about 1.5 Ohms can be calculated (if I haven't miscalculated). This value is still good and ideal for most multi-driver IEMs and literally all full-sized headphones.
---
IMD:
As expected, the "trioderized" input circuit adds harmonic distortions to the sound which are however still much lower than with a typical, real tube circuit: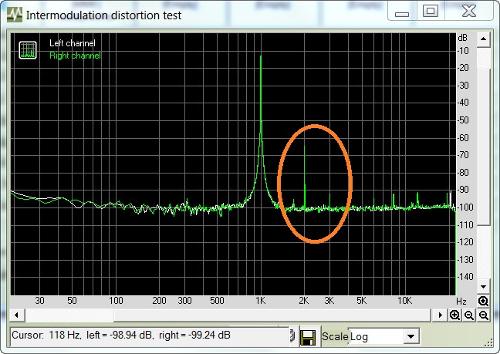 ---
Gain:
The amplifier's gain (with inserted 1.5 V batteries) was also something I measured.
In Low Gain mode, the amplification is -1 dB (which means that it is 1 dB lower than the input signal) as well as 8.5 dB in High Gain mode. Upon request, Elekit also confirmed these measured values.
In a chart, the gain looks like that:
(The minor bass roll-off here is produced from my soundcard and not the TU-HP02, as I used a different audio interface for measuring the Gain. The Elekit amplifier itself is perfectly flat, what my frequency response measurements with other rig also prove further above.)
Hiss:
For testing the ground-hiss, I used two of my most hiss-sensitive IEMs, namely the Shure SE846 and Ostry KC06A.
With those "hiss-microscopes", I (who considers himself as very sensitive to hiss as well) was able to spot some higher than quiet hiss (louder than the 1
st
gen FiiO X3) that lays between the LH Labs Geek Out IEM 100 and iBasso DX80, but is closer to the iBasso's.
With less sensitive in-ears like the Sennheiser IE 800 and all full-sized headphones, there was no hiss at all, just as expected (and I also see the TU-HP02 as being mainly made for portable full-sized headphones).
With very sensitive, yet not extremely sensitive IEMs (Ultimate Ears Reference Monitors, Ultimate Ears Triple.Fi 10, …), there was some hiss at moderate listening levels when music was being played, but it was not distracting.
Resolution, Precision, Soundstage:
Now to the more subjective part of my review. My opinion and experience regarding the sound signature of source devices and amplifiers goes like this: there is an existing audible difference between various devices, but it shouldn't be overrated – as the basic character of a headphone won't be completely changed (if the circuit follows a clean design philosophy), but sometimes rather "shaped" a bit and is rather subtle in many cases.
Let's go on with my subjective impressions:
Starting with the volume: when the amplifier is directly connected to a Line-Out, the low adjustment range could be too rough with very sensitive in-ears and if you are someone who is rather a low-level listener (like me). Therefore, as also mentioned above, I see the amp to be better suited with portable full-sized and on-ear headphones (unless you are a high-volume listener with IEMs).
With headphones like the Sennheiser Amperior, HD 800 or the Beyerdynamic DT880 Edition (600 Ohms), the amplifier had more than enough power (at least for me, so your mileage may vary).
But the more interesting question is, how does the TU-HP02 sound?
Definitely different than what I expected. Based on Elekit's description, I expected a warm, probably even slightly woolly sound, but the amplifier is far from being that – the small Japanese sounds very clean, detailed and the "trioderized" stage is less obviously implemented than expected.
If I had to describe the sound, I would say the Elekit sounds "defused analytical". Due to the small harmonic distortions, the midrange and especially treble sounds less sharp, but doesn't lose the slightest amount of details: subjectively, the treble doesn't sound darker at all, but "splashy" and ringing treble attacks as well as cymbals sound a bit spread out, wherefore their attack is not as hard anymore and the ringing gets reduced: the sound gets smoother, but not audibly coloured. The bass is clean and quick, however not as fast as the Geek Out IEM 100's, but also not slow by any means.
Regarding spatial presentation, the TU-HP02 takes a similar approach as the LH Labs Geek Out IEM 100, with a soundstage that is rather on the narrow side (like the Geek Out's), but has a very good and deep layering – it could even educe some spatiality from the Triple.Fi 10.
Summarised, I can say that the TU-HP02's sound is very well-made and the "trioderized" stage gentle, but audible, however rather unobtrusively implemented.
Conclusion:
The Elekit TU-HP02 is a superb portable headphone amplifier with a good build quality, user-replaceable AA batteries, an impressive battery life as well as a well-layered sound signature that tends to being analytical, but also smooth and defused due to the "trioderized" input stage.
On the negative side are the lack of rubber feet and the fact that it is probably not the best match for listening to extremely sensitive IEMs at low levels, although the output impedance is still quite low.
Well done, Elekit!