I tend to avoid cable reviews since I find the sound quality side of cable reviews to be super subjective to a point. Plus that's not usually why I opt for aftermarket cables. Luckily for me, Dekoni's new Cablez doesn't claim to be a special cable that improves sound. I was interested in their new offering since this seems to be new territory for them. Plus I like the way it looks. The Cablez comes in at a length of 1.2M and comes in 4.4mm Pentaconn. It is a fairly standard 5N copper cable.
Shoutout to Dylan from Dekoni for sending the Cablez in for review. While I always appreciate the chance to test and review products sent in from manufacturers, it never affects the rating of my review.

The Cablez can be picked up here https://dekoniaudio.com/product/dek...nnheiser-hd600-series-headphones-1-2m-length/
Gear used
IPhone 12 Pro, SMSL SU-9/SP400, iFi NEO, custom tube amp.
Looks and feel
When I got the Cablez in I was quite surprised since these had a material pretty close to my stock audeze cables. It's hard to explain the feel of the cable material but it has a silicon/grippy feel. This material made for zero micro phonics when it was plugged into my 6xx. The cable is lightweight and didn't tangle easy when I used it so I was pretty happy about that. It does require some effort to get them plugged into the headphones but I didn't feel like I was breaking anything. They will wear down with time if for some reason you cable swap a lot. The cable is on the shorter side which was perfect for me. I tend to either be at my desk or relaxing on the bed/couch. This will of course be an issue if you have a setup where the amp is far from you. The other issue is that Dekoni(as of this writing) doesn't offer any longer lengths. I hope that if the Cablez sells well, that some cable length options are added. The Cablez is also only offered in the 58X/6 everything series connectors. No options as of yet for other headphones.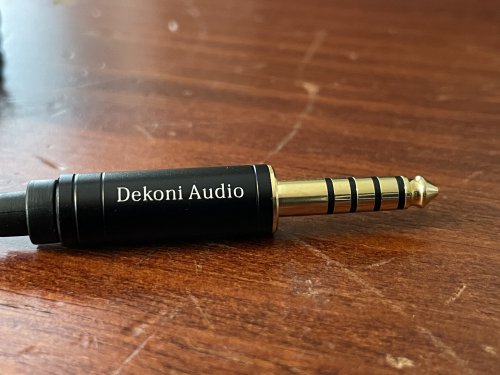 Sound thoughts
Dekoni claims the cablez won't do any magical sound changes and they're correct. In my testing I noticed no difference from the stock cable and the Cablez(ran through a single ended adapter). The few balanced cables I tried for the 6xx all gave a slightly wider soundstage and the same thing happened with the Cablez as well.
Cost
I can hear a lot of people screaming "WHY WOULD I PAY $120 FOR A CABLE FOR MY $170 58X?!". Well it depends on a few things IMO. Of course you can pick up some cheaper cables of unknown build quality off Ali or amazon but here you get a really nicely made cable with no micro phonics that's lightweight for a "middle of the cable road" price. It also depends on what headphones you plan to pair the Cablez with. If you attach it to a 58X the price is a little harder to swallow. If you throw the cable on a normal HD650 or 660s then the price of the Cablez doesn't seem that bad. Dekoni is already running a deal on the Cablez as part of its launch so I recommend grabbing one now vs later if there is an interest in trying their new Cablez.
Overall thoughts
Like I stated in the beginning, I try not to do cable reviews as I like to avoid the subjective side of what a cable does to the sound quality. I usually buy an aftermarket cable because I have a need for a balanced cable. Looks and feel are important to me and I really like the new Dekoni Cablez.
For those with the original HD600/650 and the 660S, I would recommend the Cablez!
It was a blast to use and I enjoyed it quite a bit. Those with the 58X and 6XX will wanna determine if the price is worth it for the features of the cable. Thanks for reading.
*Side note*
I had planned to finish this review by grabbing my pair of 6XX from work and taking pics with the final production version of the Cablez. I've had the cable in for quite some time waiting for a release. I usually leave my 6XX in my cube at work since I'm the only one from my team going in currently. Someone was nice enough to take my headphones out of my cube while I was out of the office but left the custom tube amp that was worth way more behind. So unfortunately there won't be any pics of it attached to my now missing 6XX.