Will be doing a re-review soon, I've had so much time with these cans, and I've learned a lot in the time since I had these. Many parts of this review will be slimmed and observations will be changed. Stay tuned for the time being. -Programmar
---
---
I. Introduction - Plenty Of Pictures
---

Hello, this will be my first review on the Head-Fi website, I will try to go in depth on these headphones and I hope I could provide some insight on these sweet cans. -Programmer​
Please provide feedback on terminologies or spelling/grammar mistakes I have made, this will make future reviews much better and still retain the same amount of details in this review!​
 ​
Note: I have multiple silent revisions already, please come check back every now and then to see if I updated important info!​
 ​
Note 2: All pictures were shot from my LG G4, they are my pictures.​
---
II. Impressions
---
I have to say, I was struggling between the Sony MDRXB950BT in blue or red, the Audio-Technica ATH-M50xBL Professional Studio Monitor Headphones, the Sennheiser HD 598 Special Edition Over-Ear Headphones, and the Phantom Chrome V-MODA Crossfade M-100s. Ultimately, I am pretty happy with my purchase of the V-MODA Crossfade M-100 in Phantom Chrome.  
​
---
​
---
III. Unboxing
---
I am really impressed with the new cover design, more so the color scheme of it.
A very unique unboxing experience.
---
EXTRA: COMPARISON WITH THE WHITE SILVER CROSSFADE M-100 BOX
---
---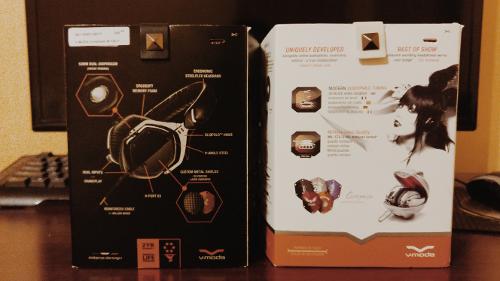 ---
---
---
PACKAGING:
---
Now once you open the box, here's what you get:
V-MODA User Manual
Letter From CEO Val Kolton + Immortal Life Activation  
V-MODA Sticker
V-MODA Accessory Handbook
¼'' [6.3mm] Pro Plug-In Adapter
New Magnetic Exagonal Screwdriver w/ Grip
2 V-Corks [Used to cover-up unused ports]
12 Black Screws
An Extra Shield - Chrome
Crossfade M-100 Hard Exoskeleton Case - Black w/ Black Carabiner Clip and V-STRAP to organize your cables
---
​
---
EXOSKELETON CASE
---
Now once you open the Exoskeleton case, which is a deep black color, both outside and inside, that is accompanied with the orange "V-MODA" text on the bottom of it. Nothing too fancy.
---
---
INSIDE EXOSKELETON CASE:
---
Here's what you get:
Phantom Chrome Crossfade M-100
Share-Play Kevlar Black Cable,
45 Degree 3.5mm Plug, 24k Gold
[79" / 200cm in length]
One Button Speak-Easy Black Kevlar Cable
45 Degree 3.5mm Plug, 24k Gold
[52" / 132 cm in length] [Universal Compatibility]
---
---
IV. The Headphones
---
---
---
---
A. Value - $249.99 USD - Compared to other brands that offer what the M-100's offer at this price point. You get more here then you get with any other brand. Good value-to-price ratio.
You can even find these headphones for as low as $220, keep a lookout for this or similar prices.
---
B. Headband
-
Supposedly the STEELFLEX headband is virtually indestructible. What's present is a nice black color with slightly slanted V-MODA text on top. Headband is capable of bending in any direction, and 10 flat bends.
[Not Recommended]
Left and Right are also labeled in plain sight. But if you need help remembering which ever port you want to use only, use the V-CORK's provided to cover up the unused port.
---
C. Shields
- The headphones come with 2 shields black and chrome.
[The chrome shields are a major fingerprint magnet, but the black shields are less noticeably so]
With the new Exagonal Screwdriver, you'll scratch the shields less, meaning more precision when taking out the screws.
The screwdriver is also magnetic so the black screws won't be lost so easily.
After taking off the shield, you are treated to the M-100's V-PORT V3 Airflow system. DON'T TAKE THE TAPE OFF!
---
D. Cushions - Memory Cushions -
Provides a very good seal for very good sound isolation. Not recommended with glasses, because it will ruin the isolation and it will hurt your head. These headphones get really uncomfortable with the standard cushion, I'd recommend a paper towel mod, adjusting the ear cups slightly higher than normal, or just buy the XL-Ear pads.  
These headphones became comfortable after 2 weeks of almost nonstop use, but honestly, I shouldn't wait 2 weeks to have a comfortable pair of cans. My score for comfort will still stand.
---
Crossfade M-100 BLISS Memory Cushions [Included] [Colored Black] [$15 USD]:
2 pads made from Ergosoft Memory Foam.
---
Included BLISS Memory Cushion within the hours:
0-15 Minutes: Very comfortable [2 WEEK BURN-IN] Very comfortable actually, no pain when I first put it on.
15-30 Minutes: Little force can be felt on the ear, light compression. [2 WEEK BURN-IN] No compression can be felt, still comfortable.
30-60 Minutes: Some force can be felt on the ear, slight pain ensues. Even more compression. [2 WEEK BURN-IN] No compression still, but heat starts to build up.
60-120 Minutes: Noticeable stronger compression can be felt. [Recommended to take a 10-15  minute break.] [2 WEEK BURN-IN] Still no compression. Heat still continues to build up.
120+ Minutes: Ears become numb, ear becomes hot, ears turn red, and pain comes on in full force after you take the headset off. [Recommended 30-60+ minute break.] [2 WEEK BURN-IN] Still comfortable, could honestly go for a few more hours. Ear becomes very hot, and only light pain.
---
XL Cushions [$20 USD] [Recommended with purchase of Crossfade M-100]: I had previously bought these with the White Silver M-100s about 8-9 months ago, so they had plenty of usage time. I was also told by fellow Head-Fi'ers that these are not memory cushions.
---
XL Cushions within the hours:
0-15 Minutes: Very comfortable
15-30 Minutes: Very comfortable still
30-60* Minutes: Comfortable with very light compression.
60-120* Minutes: Cushions begins to compress even more.
120+* Minutes: Ears begin to feel some pain, any longer would make me want to take a break.
---
*=The
XL-Pads
will lose its original structure, after
8-9
months of constant use, the cushions will lose that very comfortable feel within that 30-120 minute marks.  
---
E. Dual Inputs -
The inputs have a nice locking mechanism in it, but it will lose its locking mechanism quite fast, and the cables will pop out easily. So be weary of that.  
[2 WEEK BURN-IN] I was right, the locking became much more loose and the cables will detach more easily. This is only when good amount of force is applied, light pulls won't take the cables out so easily, but accidental pulls will.
---
This headphone will allows you to daisy chain up to 2 headphones with SharePlay cable. This means you can share your music with others, its feature that's there if you need it.
You can plug in the SpeakEasy cable either side of the headphone inputs and it will work. Make sure you plug in the cable with the 45 Degree jack on the audio source or else the SpeakEasy cable won't work.
The entry is so narrow and deep that many cables won't be able to fit in it
Use the V-Corks to cover up the unused ports.
---
F. Cable Quality -
The reinforced
Kevlar
cable for the
SpeakEasy
cable and
SharePlay
cable is amazing on paper, but in person, it's absolutely annoying.  
The cables will fray within 2-3 weeks, and the cable will twist/kink in certain spots and will put unnecessary stress on the cable, but don't worry about the cables fraying to the point where you will see the internal wiring. I have used these cables for almost a year already with my other M-100s and they still hold strong. They just fray alot.  
The button on the
SpeakEasy
cable is serviceable, just make sure to not press the button on the cable too hard, or else it will get stuck and become useless.  
UPDATE: The black SpeakEasy/SharePlay cable DOES NOT, I repeat, does not fray within 2 weeks of use, still doing further stress tests. Be weary though, it will still twist in many directions.
What I recommend to do if the cable kinks/twist, is to remove the cable from your headphones, or audio source, and unkink/untwist the cable themselves. It will prevent further stress on the cable, help it retain its shape, and quite possibly keep it from fraying.
---
G. Weight -
Very lightweight for me, this will weigh around
280 grams
, and won't feel heavy on your head at all.  
But I do have to mention the noticeable down force on the headphones. Sometimes it hurts the top of my head, but it goes away after adjusting the headphones on my head.
[2 WEEKS OF USE] No noticeable down-force anymore within an hour of listening. It will begin to creep up after the 1 1/2 - 2+ hour mark.
---
H. Design -
I love the
CLIQFOLD
hinge mechanism, it is pure genius. Making the headphone comically small for easy storage, it is a no brainer!  
I also love the
"no-gaps"
design of the headphones, gives the headphone some sense of style and sleekness to it. Its suppose to align with the features on your face.  
The build quality is superb might I add, metal material in all the right places. And I have treated these headphones like
@#$%
without the case!    
NOTE: The Phantom Chrome variant of the M-100 is a fingerprint magnet, not very noticeable, but look well enough and you can see the finger prints.
---
V. Sound Quality - This is based on information given from V-MODA themselves, fellow Head-Fi users, and myself.
---
A. Impedance and Sensitivity - 32 Ohms and 103 dB -
The Crossfade M-100 falls near the average for impedance and would not require an amp for the regular listening. But if you want, I would recommend the
FiiO E6
. Its cheap, it works, and it will give you some bass boost features if you want it.  
---
B. Frequency Response - 5 Hz - 30 kHz-
The Crossfade M-100 frequency range of is a little excessive. Given the low bass frequencies, this pair of headphones is a great set of headphones for bass heavy music.  
---
C. Diaphragm - 50mm Dual-Diaphragm Driver -
Inner and outer rings separate the bass from bleeding into the mids and highs. The Crossfade M-100 diaphragm diameter is 1.90 inches, which is a bit higher than the average of 1.60 inches for other over-ear headphones. This makes it slightly better for bass.  
---
E. Noise Isolation - Analog Noise Isolation:
I used these at school and in car rides and they block out the outside noise pretty well, but not as well in in-ear headsets or noise-cancelling headsets. But I find the pretty well isolation to be beneficial, because it makes me aware of my surroundings.  
At obviously really high volumes these do leak a good amount of sound, it also puts unnecessary stress on the drivers. You shouldn't even be listening that loudly in the first place. At normal listening volumes, leakage is nonexistent.  
The
V-PORT V3 Air Flow System
vents on the earcups, allows air to flow through the drivers. This will likely decreases noise isolation, and as a result there is some sound leakage, but it's very minimal.  
It shouldn't be a problem to people sitting next to you in a quiet classroom or library.  
---
F. Sound Signature - U/V-Shaped -
There is a defining sound signature of these headphones. Overall the headphones had a somewhat of a U/V-Shaped signature. The M-100s is really more prominent in the bass and slight forwardness in the trebles.  
But the mids are somewhat more neutral/flat however due to the characteristics of the bass and trebles.  
The U/V-Shaped signature is very desirable for me, but probably not for others.  
---
G. Sound stage -
 The sound stage is beautifully textured, the sound stage also has both good depth and width. The sound stage feels large, though not quite on par with open headphones, you will genuinely get a 3D effect of being in a club.  
Action movies also sound very immersive especially during actions scenes involving weapons discharging and explosions.  
These factors also make the instrument separation noticeable and increases the ability to focus on instrumental details. This is something you will yearn for when you listen to other types of headphones, different types of music,different types of movies, or playing different types of games.  
---
H. Vocals -
Vocals on the M-100 are intimate, clear and lively. The M-100 provides plenty of clarity and details. A way to illustrate the M-100 sounds; its like you're sitting near the stage at a concert.  
---
I. Bass -  
The bass rendering is the most prominent feature in the M-100's. This was the trait
I fell in love
with, because honestly I am a bass head.  
The bass on the M-100 has demonstrated to reached deep
[I mean really deep]
bass, yet it is well controlled. On tracks that do emphasize on bass, there is this beautiful 3-Dimensional bass rendering that is oh-so crystal clear, high quality and reverberating. The M-100's bass traits have attuned to me on how to appreciate high quality bass. Very tight bass I might add.  
It has resulted me actively searching for new bass-oriented tracks that excels in this quality.
[Especially Trap music, with hard hitting bass]
Where as other headphones attempt to reach that deep in these cans, ultimately resulted in boomy fart cannons or bleeding bass into the mids.
I did some more testing and found out that the bass can be quite over powering in some chaotic games, such as Battlefield.
---
J. Treble* -
The trebles is just above neutral. This in itself is a positive trait. I found the trebles have been creeping up to be a little more above neutral and I'm appreciating it a lot more the longer I use it. It's airy, transparency and micro-detail, is a treat to my ears. Not too sharp or shallow.  
In more complex/intensive music the treble can become painfully ear piercing, an example can be trap/EDM hybrid music.  
*=Do some more research on this bit, every person hears things a little differently.
---
K. Mids -
To my ears the mids are somewhat restraint, it seems to be neutral/flat. For me, I'm alright with this. Because the bass is controlled and doesn't bleed into the mids, my ears can focus pretty well on it if I wanted to and there is clarity and detail to be heard in the mids.  
The recessed mids can be considered a con for some people.
---
NEVER PUT A SOFTWARE EQ ON THIS HEADPHONE, IT WILL JARBLE UP THE SOUND QUALITY!* 
*=This is from personal experience.  
---
VI. Video Game Sound Quality:
---
For this sound quality test, I will be using a PC equipped with an High Definition sound card with Nivida HD sound drivers.
---
Counter Strike: Global Offensive - 
Weapons sound great, especially the AWP. Footsteps are very audible, which is crucial for a game like this. Get the V-MODA BoomPro gaming mic if you want to use the M-100 as a chat headset, or some other detachable microphone.
---
Battlefield 3: Multiplayer - 
Weapons sound amazing, great sound design. Dialogue from allied and hostile players sound good for tactical play.Vehicles sound pretty good, but the T-90/M1 Abrams sound very bassy. Overall, distant sounds and explosions sound great and you'll be very immersed. 
---
Grand Theft Auto V: Single Player -
Vehicles sound great, not too bassy when in first person view. Weapons sound good I guess, but I'd recommend a mod that changes the weapon sounds. Character dialogue sounds very good and well done. The radio and ambient soundtrack sounds very good the M-100s.
---
Tom Clancy's Rainbow Six Siege: Single Player - 
Footsteps and speech is very audible and gives you a very good sense of how close or far away they are. Echoing while stepping on certain surfaces sound good and accurate. Weapons sound great and heavy, and pack a serious punch too. 
---
VI.
Audio Test - FLAC's & 320KPS MP3's
---
VIII. Final Verdict + Scores
---
Wrapping up this whole experience, it has been one of the most, if not
the
most, interesting experiences I have ever experienced.[
WOW
] Especially the unboxing. The M-100 was developed for the purpose of fulfilling the needs of "Modern audiophiles". For me, the M-100's are the best on-the-go, or stay-at-home headphone I have ever laid my hands upon and so they have a high sentimental value to me.The M-100 provides a mostly balanced sound for my multiple genres of music. The Crossfade M-100 really is the perfect all-around headphones, easily. In comparison, other headphones I've tried can only somewhat meet, but not exceed these standards. These are not analytical, flat headphones, no. These are high quality portable headphones with a sleek look, and exquisitely detailed sound. Seriously, these blow the previous brands I have owned right out of the water.  
---
PROS: High Quality Bass, U/V-Shaped Sound Signature, Industrial looks, and bang for your buck!
CONS: Uncomfortable for long listening sessions w/ Regular Pads or XL-Pads.
---
Audio Quality: 9 
                          8 With more intensive music.
Comfort: 6 w/ Regular Pads
                7.5  w/ XL-Pads
Design:  9
Value:  9
---
PRICE: [ $220 - $270 ]*
*=Be sure to compensate for sales tax and purchase of accessories.
---
"A unique unboxing experience, tasteful industrial look, and unique sound with high quality bass is guaranteed!" -Programmer
---
​
---
---