Item information
Added by
Views

26,880
Watchers

5
Comments

1
Reviews

9
Last update
Rating

4.78 star(s)

9 ratings
General Information
The Audio-Opus Opus#2 is the lastest DAP from Audio-Opus.
Latest reviews
Reviewer: AudiophileHeaven
Pros
:
Excellent Sound, Good Ergonomics, Good Battery Life, Stable Firmware, Excellent Built Quality, Wide Soundstage, Organic-Revealing Signature, Good Detail Level, Clear Screen, Powerful Amp Design, Good DAC Implementation, Clicky Buttons, Nice Volume Wheel, Summit-Fi Overall Quality
Cons
:
High-End Quality Comes at a Price
Opus #2 - The Magic of Music
Opus #2 is the flagship DAP from Opus, a growing company from Korea, known for having brought us some of the best DAPs in the world, like Opus #3 and Opus #1.

Introduction
Opus DAPs (Digital Audio Players) are some of the best-known Audiophile products around, being famous for their excellent musical and revealing abilities, along with exquisite designs and excellent support. Opus are known to employ some of the most strict quality control procedures in their production lines, leading to long-lasting and reliable products and purchases.
It should be noted that I have absolutely no affiliation with TheBit, Opus or MusicTeck, I am not receiving any incentive for this review or to sweeten things out. This review is not sponsored nor has been paid for by TheBit, Opus or any other company. I'd like to thank Jongwon from Opus for providing the sample for the review. The sample was provided along with Opus's request for an honest and unbiased review. This review will be as objective as it is humanly possible, and it reflects my personal experience with Opus #2. Every opinion expressed is mine and I stand by it, the purpose of this review is to help those interested in Opus #2 find their next music companion.
About me
https://audiophile-heaven.blogspot.ro/p/about.html
First Impression
It was a beautiful late Autumn day when I received Opus #2. It was already noon when the curier gave me a call and woke me from my deep slumber. It was one of those days when I was back, visiting my hometown of Campulung, a small and traditional-looking town in the Carpathian mountains of Romania.

The courier arrived in about ten minutes from the moment he called, so I barely had enough time to wash my face and change into street clothes. The package was handled with a smile, then the man went on his way to deliver more stories and presents to people who were waiting for him.
I quickly rushed back to my room, ready to unravel the magic of Opus's flagship.

To my amazement, Opus #2 was packaged quite differently from Opus #3, this time being seated in a fully white box, everything besides the device being presented as white and immaculate. It was easy to tell that this was a very well-made high-end DAP from the construction quality and from the materials used in the box, down to the feeling of opening it. #2 comes bundled together with a genuine leather case, cables, and an extra screen protector.
I charged it a bit, then I plugged in my microSD card and started to listen to the first song that came to my mind - Arctic Monkeys - R U Mine?. After the first few seconds, I was stunned by the amazing amount of detail and by the sweetness of the guitars. The way Opus #2 presents music with a a lot of emotion and in a very organic manner left me searching for more, as I really wanted to rediscover the magic and naturalness of every single song I've been listening to for years now. I closed my eyes, sat down, then let my mind drift away in a heaven of musicality and emotion, guided by the magic provided by Opus#2.
I couldn't stop from listening for the next few hours, dazzled by the sweetness of this DAP.

Packaging
First things first, let's get the packaging out of the way:

Opus decided to go all-out when it comes to their packaging, and dressed #2 in a white package, with everything looking quite elegant and High-End. The unboxing experience is as amazing as it gets for a high end device, but Opus didn't try to make the box as large as possible, but instead they went with a package that keeps everything together in a tidy place, while still looking sleek and elegant. The golden writing on the outside, along with the fine textures really make the unboxing experience of #2 intricate and impressive.
You can find a whole lot of extras in the box, starting with the genuine leather case, which fits #2 perfectly, the manuals and books on #2, and the Audiophile Grade USB cable for using #2 as an external DAC. There is an extra screen protector in the box, with one applied on #2 from the factory, and it does a great job at protecting the screen, as I've noticed after using it for a while.
As #2 is seated in a foam cutout, you can notice from the first moment of owning it that Opus provides and immaculate experience for their customers, with a pearly white package etched with golden writing, a beautifully designed device, along with high quality extras hidden in the box.


What to look in when purchasing a high-end DAP
https://audiophile-heaven.blogspot.ro/p/what-to-lookl.html
Technical Specifications
DAC - Dual ESS9018KM Chips
Perfect Bit Playback - Yes
Max Decoding - 32bit / 384kHz
USB DAC - Yes, Dedicated Tesycon Driver
Display - 4.0" IPS (800 x 480) IPS Panel
RAM - 1 GB DDR3
CPU - Quad Core, ARM Cortex A9
Internal Memory - 128 GB
Wifi - 2.4 GHz
Bluetooth - 4.0
Battery - 4000 mAh, 3.7V Li-Polymer
Balanced Output - Yes, 2.5mm
SE Output - Yes, 3.5mm
Weight - 252g
Dimensions - 76 mm x 124 mm x 18.3 mm
Body Material - Full Metal Body, Aluminium
Output Level - 2.3V RMS SE, 2.5V RMS, Balanced
Clock Source - 50ps
Optical Out - Yes
USB - MicroUSB
Build Quality/Aesthetics/UI/Firmware

By now I have seen, bought, and owned quite a few Audiophile Devices, but every time I see another high-end device, it reminds me that even after seeing a lot of awesome devices, one can still be impressed.
Starting with the outer appearance, Opus #2 looks like a device taken from another dimension. It skillfully combines an elegant outline, with a glass plate in the back, smooth lines in the front, gentle yet precise slopes that raise the display, and a snazzy volume wheel, with four industrial-looking screws, one in each corner, giving #2 a unqiue appearance.




The display is an IPS panel with amazing viewing angles, great brightness, and vivid colors, providing both good outdoors usage and a nice touch for those who love to admire the album art of their favorite bands. The screen also has good resolution, looking quite sharp to my eyes.

The volume wheel is guarded by two metal wings that make sure you can't damage it while using #2 in your pocket or in your backpack. The volume wheel is clicky, and you have a clear definition of how many volume steps you're adding or subtracting from the tactile and audible click feedback. Although it has a little play between two clicks, it never turned by itself while in my pocket, and it seems that this design is one of the best there are. Opus #2 is also one of the few devices where you can change the volume while using its screen, without any other tricks. This means that if you want to adjust the volume by a large margin, you can do this with one simple swipe.
There are 3 playback control buttons on the left side, all of them round, spaced well enough from each other, and clicky, providing excellent blind control for Opus #2, even while it is dressed in its leather case.
The microUSB port can be found on the bottom, along with the mSD card tray, which supports up to 200 GB mSD cards officially, but which was proven to work flawlessly with 400GB mSD cards as well. You can find the 3.5 Headphone Out / Line Out on the top, along with the power button, and the 2.5mm Balanced Out.
When it comes to its usability, #2 sits comfortably in one hand, you can use and access everything if using it one-handed, including changing song, changing volume, and everything else. The metal ridges on the sides help a lot with its stability and with its grip, while the screen has a very good size for music control.
On the inside, the Dual ESS Dac Chips do a great job, and they take full advantage of their Dual DAC configuration, offering a configuration where each DAC processes each channel. The AMP is quite strong, and you have a fairly good voltage swing from both the SE and the BAL outputs, of about 2.3 and 2.5 Volts. The battery inside #2 is quite huge as well, rated at 4000mAh, being one of the largest batteries in a DAP to date. Charging it takes around four hours and its battery life can reach ten hours of usage at lower volumes and with lower screen brightness, or around eight-nine hours with max brightness, WiFi turned on, and with moderate screen activity. I've been using it far more at very high volumes, with the brightness maxed out, and it was still able to pull a good eight - nine hours on every charge, being a real champ when it comes to its battery.

The firmware is based on Android, and while it is a deeply customized version of Android, it still works out greatly, providing both an amazing level of sound, but also features like streaming. Tested with my typical usage patterns, the firmware works out quite nicely, the UI is quite intuitive, and Opus #2 has all the bells and whistles you can hope for, including gapless playback, Playlist support and even Streaming services support, although the last one might be a bit trickier to set up.
You have all the power of Android, but with TheBit's Optimizations, leading to an excellent sonic representation, with a lot of power. To use another music app than the default one, you must sideload it, from Settings -> Streaming, but other than that, it seems to work flawlessly. One thing that should be noted is that while #2 uses the same jack for their LO and HO outputs, and while the LO option seems to set the volume at 100%, after a few experiments, it seems that the option actually activates a different circuit setup which makes the DAP a very good DAC to use for feeding your AMP.
All in all, the device looks and feels elegant, and with the beautiful leather case included, it really makes up for one of the best DAP devices there are.
Sound Quality
As a few reviewers mentioned this before, describing the Sonic Signature of a DAP (Digital Audio Player) can be fairly complicated, as the ideal source should sound transparent and it should leave the coloring for the IEMs and Headphones. This being said, every single DAP out there will change the sound in some way with every headphone and IEM, some people naming this "Headphone - DAP Synergy".

Opus #2 has a balanced signature, with a neutral sound, a full body, and a very nice, rounded, organic and natural tonality. The sound is always very nicely layered, the bass is always very quick and has great impact, while the transient response is excellent. Although it has a full body sound, Opus #2 also presents all detail with an excellent edge, providing a great example of a DAP that can be both full-sounding and extremely detailed at the same time, even without going into the territory of bright and analytical signatures.
Although #2 relies on an ESS DAC, the "ESS Glare" is clearly replaced by a sweet, smooth and organic signature.
Song impressions have been taken with HIFIMAN RE2000, which was also reviewed by Audiophile Heaven:
https://audiophile-heaven.blogspot.com/2017/11/hifiman-re2000-amazing-ample-absolute.html
Bass
The bottom end of #2 is a very agile and tasty one, with a lot of punch and deep bass when it is called for, along with an excellent speed and a good texture representation. Bass guitars feel deep, full bodied, and satisfying.
Midrange
#2 has a magical way of presenting the midrange with excellent detail, naturalness and richness leading to a very organic and tasty sound. The Guitars have excellent representation of their textures and musical notes, voices feel natural and tangible, and background instruments always feel vivid and well-presented. An excellent instrument separation coupled with a large soundstage lead to a very realistic experience that sends the listener on a trip through the music they are listening. The dynamics are also top notch, #2 having a good amount of dynamic range for those who want to hear the fine nuances in their music.
Treble


#2 has a very well-extended top end, reaching the highest registers with ease, and extending even beyond, but without being fatiguing or having any kind of glare, the treble being in line with the rest of the signature, organic, natural and well-detailed. Cymbal crashes last for the ideal amount of time, while trumpets bear a very good impression.





Soundstage
The soundstage of #2 extends very well in all directions, being excellent on both the SE and the Bal outputs. The instrument separation is also quite excellent, revealing background instruments and quieter instruments in a complex arrangement quite well. Even so, #2 is never analytical, being organic in its presentation, and revealing everything without separating things from each other.


ADSR/PRaT


The ADSR and PRaT (Attack, Decay, Sustain, Release, and Pace Rhythm and Timing) characteristics of Opus #2 are very impressive, as it is extremely precise, but natural at the same time. Things have excellent dynamics and textures, each musical note being very well-defined. The resolving abilities of Opus #2 are worthy of a summit-fi DAP, as it provides a good introspection into the depth of every song it plays.

Portable Usage
Opus #2 is quite portable, and although it is one of the larger DAPs I had, it still is smaller than my smartphone (Xiaomi Mi Max 2), and it is easy to hold and use with just one hand. The firmware is rock-stable and it is possible to use it for up to ten hours from one battery charge. Opus #2 can get warm, but not overly so, being possible to use it in both Summer and Winter with no issues. Since both audio output ports are on the top, I tend to place it bottom-first in my pocket or side-bag, so I usually pull it straight for usage. The volume wheel and the buttons can be used while it is in a pocket, and the whole GUI makes an excellent usage while on-the-go.
Although Opus #2 is designed as a summit-fi DAP with a lot of power and an amazing sound, it can do far more than that, being able to provide a Line-Out Signal to an external AMP, and even having Bluetooth and Wifi abilities.
All in all, Opus #2 provides usage in all my typical scenarios, being one of the best DAPs I used portably.

Select Pairings
Please note that for any pairing, the IEM has more impact on the final result than the DAP, the best DAP being one that is as transparent as possible - #2 being quite good at this.

Opus #2 + Dunu DK-3001 - #2 provides an excellent driving source for DK-3001, with no apparent hiss, and with an excellent amount of details, featuring a warm and full sound. Dk-3001 presents its typical clear and relaxed sound, all while gaining a little edge on musicality and instrument separation. The soundstage size is quite good with this pairing, and the whole sound is quite natural and enjoyable.
Opus #2 + FiiO F9 - By now F9 are quite well-known for their comfort and excellent price-performance ratio. Opus #2 makes them sing quite nicely, with a strong bass, a sweet, slightly recessed midrange, and an energetic and slightly bright top end. The instrument separation and musicality are excellent with Opus #2 driving F9.
Opus #2 + FiiO F9 Pro - F9Pro is the bigger brother of F9, providing a similar result as F9, but with considerably better instrument separation, resolution, detail level and soundstage width. The midrange also sounds a tad sweeter on the F9Pro than on F9 while driven by #2.
Opus #2 + Unique Melody Martian - UM Martian is quite a precise and clear IEM with a tight bottom end, a clear and very detailed midrange, and a bright and energetic top end. Opus #2 helps them sound fuller and makes their bass a little more natural, while it gives them an edge in musicality and instrument separation.
Opus #2 + Sennheiser ie800 - ie800's original character is sweetened a bit, their midrange becoming even more vivid, and their top end becoming a bit more detailed as well. The mighty bass of ie800 stays impactful, full and deep, while their instrument separation is as excellent as always.
Opus #2 + HIFIMAN RE2000 - Being a Summit-fi IEM, RE2000 is given proper driving power by a summit-fi DAP like Opus #2, as it helps them sound their best in dynamics, details and soundstage size and precision. Instrument separation is quite excellent, and the bass is natural, slightly thick, the midrange is natural and very detailed, while the top end is bright, energetic, and very detailed.

Opus #2 + HIFIMAN RE800 - RE800 is another Great IEM to own alongside Opus #2 as it is a magical IEM when it comes to acoustic music. #2 enhances RE800's musicality and their tendency to have a sweet and dynamic sound, providing them with an excellent instrument separation and a very natural tone in the midrange.
Opus #2 + Beyerdynamic Xelento - Being quite the Romantic IEM, Xelento is helped a lot by Opus #2 to gain an edge in realism and naturalness, their signature not being changed, but their instrument separation and their soundstage becoming better, providing an even more romantic experience.
Opus #2 + Ultrasone Signature Studio - Although Signature Studio is fairly hard to drive, Opus #2 proves to be not only fit for the job, but it is clear that it could drive even harder-to-drive headphones just as well. The bottom end is tight, deep and has a great speed, the midrange is slightly recessed, but very wide, with excellent instrument separation, while the top end is bright, but without being harsh, splashy or sibilant, the pairing having a very open-sounding signature.
Opus #2 + Meze 99 Classics - Meze 99Classics is skillfully driven by the magic of #2, as they sound impactful, with a thick and satisfying bass, a natural and open-sounding midrange, and a natural and tender treble.
Opus #2 + iBasso IT01 - IT01 is quite skillfully driven by Opus #2, and although it is not an expensive IEM, IT01 surely sounds like one, being very well-detailed, with a natural and open sound, an enhanced bottom end, and a smooth treble, leading to a romantic and fun signature to which you could listen to for hours.
Opus #2 + MO MZero - MOOH BE00BT are a very classy headphone that's priced just a little above 100$, but which provides sound worthy of a much higher price range. They have a very strong and enhanced bottom end, a lively, well separated, and wide midrange, and a smooth top end. The sound is clearly better when #2 drives them as a DAP rather than through a Bluetooth connection, #2 showing its impressive abilities as a summit-fi DAP, with an excellent DAC and AMP setup.
Comparisons

Most comparisons have been taken with RE2000, Signature Studio, RE800, ie800, and DK-3001. Hiss is usually very hard to notice and I tend to not notice it at all, but I tried my best to compare how DAPs perform relative to each other in this aspect, as well as other aspects that might come off as relevant.

Opus #2 vs iFi Micro iDSD BL – Two quite different devices, #2 being a standalone DAP, while iDSD is an high-end portable DAC/AMP. In sound, both present music with excellent soundstage expansion. #2 and iDSD BL are similarly organic and have a similar amount of warmth, while the soundstage is presented deeper on iDSD BL, while it has a wider feeling to it on #2. Even when placed against iDSD BL, #2 is able to hold its ground and provide an excellent sound that makes you understand how far the summit-fi DAPs have came. iDSD BL can drive headphones that are more power-hungry, up to the mighty HD800S, while #2 tends to work excellently with anything up to HD600.
Opus#2 vs iBasso DX200 – Opus #2 is the Top Of The Line DAP from Opus, while DX200 is the Top Of The Line DAP from iBasso. They have similar abilities, but rely on slightly different firmware and hardware. Opus #2 is an all-in-one solution, while DX200 has interchangeable AMP cards. When it comes to their sound, the soundstage is similar in width and depth. The sound signature is fairly similar as well, with Opus#2 being a bit smoother, musical, and a touch less transparent while DX200 holds an edge in transparency and resolution. #2 tends to be a tad more organic in the long run, but they are pretty similar devices.
#2 vs X7 w/AM03A – The Flagship devices from FiiO and Opus! Starting with their abilities, X7mkii has interchangeable AMP modules, just like DX200, while Opus #2 is a standalone DAP which provides best experience by itself. When it comes to their sound, the overall tonality is fairly similar, both being neutral and transparent, with good warmth and body, and a natural timbre. #2 tends to sound a tad more organic, while by comparison X7mkii can be a bit more analytical and provide a tad more detail, but X7mkii never sounds like an analytical device either, so both can be considered quite natural-sounding devices.
Value and Conclusion
Opus #2 is currently selling for about 1300$, its price placing it in the summit-fi category of DAPs. Opus #2 comes presented in an immaculate white box, along with an excellent set of accessories, a beautiful leather cover, a very good USB cable (which helps it act as a USB DAC), extra screen protectors, and #2 itself. With an excellent set of internal components, #2 sounds very good for its price, being able to compete fairly well with its direct competitors, DX200, and X7mkii.
Instead of focusing on the absolute analytical ability, #2 focuses on how musical and organic it can sound, providing a full-bodied signature, a very wide and deep soundstage, an excellent instrument separation, and a natural, balanced and slightly smooth signature that can be listened for hours in a row and which can still provide an excellent experience for the listener.
All in all, #2 is one of the best DAPs in the world at this hour, and it most certainly looks and acts like it. With an excellent build quality, a high-quality display with excellent resolution and image quality, a good leather case included in the package, and with its excellent sound, #2 makes an excellent entrance for Opus and TheBit in the Summit-Fi area of Audiophile-Grade Digital Audio Players.

If you're looking for a very organic sound, or for a DAP that can steal the eyes of everybody once you enter a room, or even if you're merely looking for one of the highest quality DAPs, Opus #2 can surely be one of the best answers to your search, a really sweet DAP to be your companion!
I hope my review is helpful to you!
Stay safe and remember to always have fun while listening to music!
Link to the review on Audiophile-Heaven: https://audiophile-heaven.blogspot.com/2018/01/opus-2-magic-of-music.html
Link to the official Thread on Head-Fi: https://www.head-fi.org/threads/thebit-opus-2-dap-out-september-october-2016.819708/
Link to the official product page: https://shop.musicteck.com/products/opus-2-hi-res-portable-digital-audio-player
Link to the official product page #2: http://www.audio-opus.com/?page_id=16867
Link to the writer's Head-Fi page: https://head-i.org/members/dobrescu-george.170938/
Audiophile Heaven: https://audiophile-heaven.blogspot.com/
Audiophile Heaven on Facebook: https://www.facebook.com/AudiophileHeaven/
Pros
:
Easy UI, Excellent sound, robust
Opus#2 Dap Review
- Expatinjapan
Opus#2 and Campfire Audio Vega
Opus#2 dap review
-expatinjapan
Opus#1 review
https://headpie.blogspot.jp/2016/07/the-bit-opus1-dap-review-expatinjapan.html
Opus#3 review
https://headpie.blogspot.jp/2017/06/the-audio-opus-opus3-dap-review.html
"Hi-Res Portable DAP Opus#2 is a brand new total solution for audiophiles who possess high expectations and great anticipation from available Hi-Res audio players in terms of sound quality and overall performance." -TheBit
Unboxing and build
The Opus#2 comes with a protective screen factory installed
Body : Aluminum [Full Metal Body]
Display : 4" IPS Touch Display (480*800)
Dimensions : 76mm(W)*124mm(H)*18.3mm(D)
Weight : 252g
Micro SD card slot and micro usb charge port
*There are reports on Head-fi of 256GB and 512GB cards working-
Power on/off button, balanced and single ended jacks. FF, play/pause, REV buttons
"Control buttons are ergonomically designed and positioned to provide
a full control over the device holding it in one hand."
"Volume control wheel is very smooth and comfortable to handle as well as very detailed to reach
that necessary level of volume. 1-150 volume steps may be controlled without turning screen on."
"Power On/Off button is ideally located to switch on and off the device with only one finger.
Power button is also used to wake your set up from the Sleep mode."
Once again a beautiful case to protect your Opus device.
I find the side buttons (FF/PP/REV) which don't protrude much when in the case
to be tactile enough to use whilst in my hand or pocket
"Bit to Bit Decoding & High Definition Audio Files Playback
Opus#2 Portable DAP has an outstanding performance in Native DSD Playback as well as Hi-Res Audio files up to 32bit/384kHz. The best Sabre 32(ES9018K2M) Real Dual DAC will provide the clearest and brilliant sound." -TheBit
Case and charger cable
Specifications
Core Specs:
-Native DSD Playback
-32bit / 384kHz High Resolution Sound
-4" Touch display (IPS panel)
-SABRE32 ES9018K2M x 2EA Dual DAC
-ARM Cortex-A9 1.4GHz, Quad-Core CPU DDR3 1GB
-Internal Memory 128GB (External Micro SDcard up to 200GB)
*There are reports on Head-fi of 256GB and 512GB cards working-
-Full Metal Body (Aluminum CNC)
-WI-FI : 802.11 b/g/n (2.4GHz)
-Bluetooth V4.0(A2DP, AVRCP)
-Ultra Power Saving Mode
All specs:
-Model Opus#2(HA-600)
-Manufacturer/Origin the bit/Korea(2016)
-Body Material Aluminum (FULL METAL BODY)
-Display 4″ TFT Touch Display(480*800)
IPS PANEL
-Dimensons 76mm(W) * 124mm(H) * 18.3mm(D)
-Weight 252g
-CPU & MEMORY ARM Cortex-A9 1.4GHz, Quad-Core
MEMORY(RAM) : DDR3 1GBYTE
-Button BUTTON: POWER, PLAY/PAUSE, FF, REW VOLUME(WHEEL)
-Supported Audio Formats WAV, FLAC, ALAC, AIFF, WMA,
MP3, OGG,APE(Normal, High, Fast)
native DSD(DFF,DSF)
-Sample rate PCM : 8kHz ~ 384kHz (8/16/24/32bits per Sample)
/ DSD Native: DSD64(1bit 2.8MHz), Stereo/ DSD128(1bit 5.6MHz), Stereo
-EQ & Effect EQ:10Band NORMAL/USER1/2/3
-Input USB Micro-B input (for charging & data transfer (PC & MAC))
/ Connection Mode : MTP (Media Device)
-Outputs PHONES (3.5mm) / Optical Out (3.5mm) /
Balanced Out(2.5mm, 4-pole support)
-Wi-Fi 802.11 b/g/n (2.4GHz)
-Bluetooth V4.0 (A2DP, AVRCP)
-Feature Enhancements Firmware upgrades supported (OTA)
-Battery 4,000mAh/3.7V Li-Polymer
-Battery Life (Play) Time & Charge Time
Play: Approximately 9.5 hours.
Charge:4 hours
-Memory Built-in 128G
External microSD*(Max 200GB)Supports SDXC exFAT,NTFS
*There are reports on Head-fi of 256GB and 512GB cards working-
-Clock source/ Jitter 50ps(Typ)
-OS Android 5.1.1
-Supported OS Windows 7,8,(32/64bit), MAC OS x 10.9 and up
-Accessory (Package)
-Audio Performance
-DAC ESS9018K2M * 2EA (Dual DAC)
-Decoding Support up to 32bit / 384kHz Bit to Bit Decoding
-Frequency Response ±0.02dB(Condition: 20Hz~20KHz) Unbalanced & Balanced
±0.3dB(Condition: 10Hz~70KHz) Unbalanced & Balanced
-Signal to Noise Ratio 115dB @ 1KHz, Unbalnced
116dB @ 1KHz, Balanced
-Crosstalk 130dB @ 1KHz,Unbalanced / 135dB @ 1KHz, Balanced
-THD+N 0.0009% @ 1KHz
-Output Impedance Balanced out 2.5mm(1ohm) / PHONES 3.5mm(2ohm)
-Ouput Level Unbalance 2.3Vrms / Balance 2.5Vrms(Condition No Load)
-Volume Step 150 steps
-Gapless, Remove Silence O
Opus#2 and Meze 99 Neo headphones
Body (again):
-Aluminum [Full Metal Body]
-Display : 4" IPS Touch Display (480*800)
-Dimensions : 76mm(W)*124mm(H)*18.3mm(D)
-Weight : 252g
Nothing Tricky about this smooth volume wheel
Opus#2 and Dita - The Truth (sounds fantastic).
Opus#2 and Campfire Audio Jupiter
Opus#2 Dap and case back
Photo comparisons between the three Opus models
From the left to right: Opus#1, Opus#3 and Opus#2.
Opus#2, Opus#3 and Opus#1
from top to bottom: Opus#1, Opus#3 and Opus#2
A shot from an earlier review where I utilized all the Opus daps for coherency
Price
Prices of the Opus#2 have been known to vary.
One the official distributors of the Opus daps is Musicteck
https://shop.musicteck.com/products/opus-2-hi-res-portable-digital-audio-player
They have the Opus#2 for sale at US$1,099.00, down from an original $1,599.00.
The Opus#1 retails from US$300 - US$599 .
The Opus#3 retails for US$699 - US$899.
Depending on where one shops.
Opus#1 review https://headpie.blogspot.jp/2016/07/the-bit-opus1-dap-review-expatinjapan.html
Opus#3 review https://headpie.blogspot.jp/2017/06/the-audio-opus-opus3-dap-review.html
Opus#2 and Clear Tune Monitors VS4
Sound
As per usual I got an ample amount of hours on the Opus#2 dap before proceeding with the review.
Files used were mainly FLAC.
The Opus#2 echoes its siblings the #1 and #3 in terms of UI and underlying power, it has similar features to the Opus#3 in having internet connective capabilities and they differ in their DACs.
Off course a DAP is sum of its whole parts and whatever amplifier used also plays a big part.
The Opus#1:
Cirrus Logic CS4398 x 2EA Dual DAC
ARM Cortex-A9 1.4GHz, Quad-Core CPU DDR3 1GB
The Opus#3:
Burr-Brown PCM1792A DAC
ARM Cortex-A9 1.4GHz, Quad-Core CPU & DDR3 1GB
The Opus#2:
SABRE32 ES9018K2M x 2EA Dual DAC
ARM Cortex-A9 1.4GHz, Quad-Core CPU DDR3 1GB
All of the Opus Daps have 2 ohms output impedance on the single ended jack, and 1 ohm output impedance on the balanced jack. I often use multi driver BA IEMs and find I get a truer response and result by using the balanced jack. Those with single dynamic drivers or headphones would generally be ok with either.
So is the secret sauce of the Opus#2 in the dac alone? I truly and honestly don`t know.
I do know that I find all the Opus Daps to be pleasing in their own way (I haven't tried the Opus#1 metal version). As noted earlier I have reviewed the Opus#1 and Opus#3 on Head pie already.
But I can say I think the Opus#2 is above the previous other Opus daps, as the #3 is definitely above the Opus#1 in terms of sound quality.
To quote from the earlier Opus#3 review:
"I found the Opus#3 to be more resolving overall.
The Opus#1 has a vocals forward signature at ordinary volumes, whereas with the Opus#3 seems the music is up with the vocals, making the sound more engaging and richer and there is more definition.
The sound stage on the Opus#3 is much larger than on Opus#1, on height and width. Making the Opus#3 more exciting, intimate and engaging. But its incremental and not absolute.
The Opus#3 sound stage is increased in the width, slightly in the height whilst not much more in the depth.
The sound stage increases when using the balanced out, as does instrument separation.
They both retain the characteristic smoothness of the Opus brand, more so when using the 2 ohm single ended out, things get a bit more apart when using the balanced out.
Instrument separation is cleaner on the Opus#3.
When I turn up the volume louder the Opus#3 seems to cope better with it.
In summary, its very close to call in terms of sonics but the Opus#3 just pulls ahead on the single end, and more so on the balanced out.
In terms of extended listening sessions I would pick the Opus#3 over the Opus#1.
The Burr-Brown dac just adding that extra little something."
So where does that leave us? In earlier uses of the Sabre dacs the implementation was found to be on the bright side. Now days designers seem to have found ways to incorporate them into daps in a more pleasing and balanced fashion. No more of that famous glare we used to read about. And the Opus#2 certainly doesn't suffer from undue brightness.
The Opus#2 departs from the earlier models in its ability to achieve a wide sound stage, in height, width and depth, its speed, effortlessness, detail, neutral transparency and separation.
Highly resolving and detailed without using any tricks of boosted treble.
The Opus#2 veers slightly onto a warm edge at times, but my emphasis is on slightly, If anything it gives a sense of fullness, of weight and gravity.
It comes across as neutral, transparent and all those other goody good good audio buzzwords we like to hear and read being bandied about. But the Opus#2 is the real deal in this matter.
The separation, detail and resolution are truly stunning.
I haven't dithered too much in this review, which I usually do when I am not sure about gear I am reviewing, or If it hasn't hit my sweet spot - regardless of price or personal audio signature preferences.
The Opus#2 is an item I am truly impressed by and enjoy using. The ease of its UI, the beautiful neutral to reference quality of its performance. The naturalness and musicality that doesn't sacrifice detail, speed, clarity and resolution. The graceful separation which creates and intimate listening space. A sound stage that reaches far into the ether, 'an infinite sphere, whose centre is everywhere and whose circumference is nowhere'.
Now I may have delved into pontification and a poor sense of poetic license, yet I stand by my words. The Opus#2 belongs on the top shelf with the other TOTL daps.
User interface
A quick look.
The main screen can be seen in the many photos of the Opus#2 within this review.
The usual Android drop down menu.
Settings menu.
Songs, Albums, Artists, Genre, Folders, Favorites, Playlists.
Size
The Opus#2 fits into ones hand comfortably.
Overall
The Opus#2 is a stellar offering from the already competent stable of daps thebit/audio-opus also produces.
Being the second portable dap of the series Opus#1, Opus#2 and then Opus#3 (not to mention the metal version of #1), the Opus#2 is their higher end dap.
In terms of the build it is robust, solid, not too weighty, fits well in the hand, not over sized.
The volume wheel functions well and has many steps with which to control the volume to pinpoint levels, and has a lovely click, click, click to it.
The side buttons are raised just enough so that one doesn't accidentally pause, fast forward or reverse. Sometimes I think I would have liked them a little bit more raised so that one can feel them more when the case is on, at other times they seem satisfactory.
The case is well made, and fits like a glove.
Its UI like the other Opus daps is very easy to use and navigate. The UI is similar If not identical across the three daps. So familiarity with one means you can step right into the other audio-opus product with ease.
With 128GB on board storage, a decent and fast processor, ESS dac, wifi connectivity, an excellent sleep mode and more. The Opus#2 certainly has it all.
*There are reports on Head-fi of 256GB and 512GB cards working-
Sound is neutral towards reference with a hint of warmth here and there at times, it packs detail and resolution with a deep depth of musicality that at no times alters its intent as an accurate player. The instrument separation is brilliant, and with a sound stage that doesn't disappoint.
The Opus#2 is a dap that handles all music I have thrown at it with ease, It stands on the shoulders of the previous quality offerings by Opus.
I have no regrets when I take it on my daily commute and pair it with a TOTL set of IEMs.
As I reach the end of this review I am listening to the delicate track 'Corpus Christi Carol' by Jeff Buckley from the album Grace...and it is sublime.
And then Slayer - 'Reborn' comes on, handled superbly. And I smile.
Thank you to thebit/Audio Opus for sending the Opus#2 dap to Head pie for review
Reviewer: The Headphone List
Pros
:
Lifelike sound. Great build. Excellent UI. Volume Wheel. 128GB Internal Storage. Leather case.
~::I originally published this review on The Headphone List. Now I wish to share it with my Head-Fi fellows::~
To learn more or purchase the Opus#2:
theBit (Audio-Opus)
MusicTeck
MusicTeck on Amazon
Here I am, on the very threshold between reality and absolute madness. Some would say we've already crossed it. I can't argue with that sort of reasoning. I mean look at the evidence: Pinky, that delusional pervert from Head-Fi, writing for The Headphone List?! You may be asking, "What evil villain is responsible for this?" That, my good people, would be
Flinkenick
. Cast thy blame appropriately.
Before I begin this, my first review for THL, perhaps a small introduction is in order. If you knew a little about me then you'd have something to cling to when the fear takes hold. My secret truths could be a beacon in the dark tumult that follows. So heed them well:
I am Pinky.
Awesome. Now that's done, let's get on with this.
I must give a hearty call of thanks to Andrew over at www.musicteck.com He let me purchase the Opus#2 for $1,000 in exchange for my honest review. And he did so BEFORE I joined THL. This was based solely on my Head-Fi reviews and my strangely earnest disposition.
Hmm… if you look at it from a different perspective, I'm thanking him for letting me give him lots of money. If I didn't like this device so much, I might find some irony in that. But instead, I
am
thanking him, from the bottom of my heart. Thanks Andrew!
Since early September, 2015, my everyday carry (EDC, for us knife folk) has been the Astell&Kern AK120II. I've tested numerous DAPs against this high watermark. None have conquered it. There are plenty I haven't tested. DAPs I suspect would beat the AK in sound quality, if at least by a little.
The reason I've never upgraded, or even felt a strong urge to try those other DAPs, is I made myself a promise. I would only consider upgrading from the AK120II if a device gave me EVERYTHING the AK does, but also improves on sound quality and output power.
That means I'm looking for: The same storage capacity. Touchscreen. Great, bug-free UI. Highest quality build, with volume wheel. Duel-DAC balanced output. And an over-all strong product that isn't plagued with QC issues. At or around $1K (same price I picked up the 120II for).
You can see why I never upgraded. That DAP did not exist.
Until now.
In fact, there may be three distinct players which meet most of my prerequisites. Each one new on the market and promising superior sound and output power: Sony WM1A, iBasso DX200, and theBit Opus#2.
With such devices swimming round me, I felt the itch. I felt it bad. The Sony looked REALLY good, but I loathed the notion of re-terminating all my balanced cables to 4.5mm. Using an adapter, while not a terrible option, is a cumbersome chore I'd rather avoid.
The DX200 was at the time (and still is, to be honest) too new to be sure of. Plus, it's the one player out of the three which fails to match my AK in storage capacity.
That leaves the Opus. It meets all my requirements, uses the now prolific 2.5mm balanced output, and is the only DAP out of this lot to have a Twister6 review. His DX200 review will come soon enough, I'm sure. But at the time of this writing, all the cards came up Opus.
Another point which held a lot of weight with me is that I just reviewed the Opus#1, and felt sheer ecstasy under the glory of its radiance. It's the only DAP I've heard that stands neck to neck, unflinching, before the auditory perfection of my AK120II. For the price the Opus#1 goes for now, it's a MUST BUY if you're in the market.
So with high hopes to billow my sails, I embarked on a search for a goodly price on the Opus#2.
With Andrew's help, I found that price, and the Opus arrived around two weeks ago, on the 10th of February.
For those of you familiar with my work, I don't cover the boxing/packaging. Not unless a gun's to my head, or I've been offered erotic delights as an incentive. I'll just say the box is nice, and everything was safe inside.
The first experiment that came to mind was to try and power the thing on. The battery was dead. Ok, no big deal. That's not unusual. I plugged it into my 2-amp Samsung microUSB cable. But the screen didn't come On, and there were no LEDs letting me know it was charging. So I freaked out, and hooked the player up to my PC's USB port, using the supplied Opus cable. Still nothing. Did I fry the thing, using 2 amps of power? I gave it about 20 minutes of charge time before I tried again, and this time the Opus#2 booted up.
Phew!
I have since used that same 2-amp adapter and cable again, and it works just fine. Your options for charging this player are good and broad.
Boot-up is around 20-30 seconds (I didn't time this, so don't hold me to an exact count). Scanning a full internal storage and a full 128GB microSD takes forever. Fortunate for Pinky, I only ever use Browse By Folder on any DAP I use, and this doesn't require the scan to be complete. You can find a song and start listening right away.
This might not be a big deal for you, either. Because the Opus#2 (and #1) has the world's best Deep Sleep Mode. In fact, today was the first time I've powered it off since I got it. The battery can go something like 2 months in Sleep Mode, waking up with just a quick press of the button. There's no re-scanning, coming out of Sleep Mode, so this doesn't have to cause undue stress on your life.
Don't ask me why, but I love volume wheels. I have a dangerous fascination with them. Now there are so many good options in the wild, I won't buy a DAP without one. My favorite player, in terms of physical build and aesthetics, might be the Cayin i5. The massive knob at the top has a lot to do with that. The Opus#2 may possess my second-favorite wheel. It's certainly sturdier than the AK, which wobbled some and turned a little too easily. I like some resistance. It makes the volume less likely to change by accident.
Button arrangement could be better, though to be fair, I'm not sure how. All I know is, due to the wide dimensions of the Opus, it sits awkward in the hand, and from time-to-time I will unintentionally hit the track back on the side. I shall not mark this against the Opus, because with amperage comes size. It's what I wanted, I keep telling myself. Still, next to the AK120II, it does seem massive and ungainly.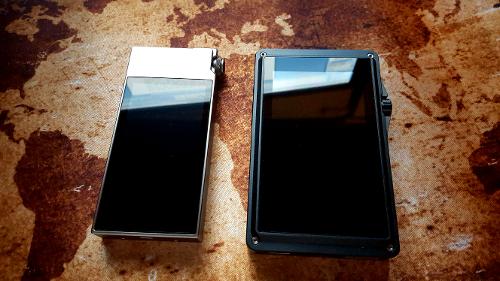 The screen is a 4" IPS. It's good, but certainly no AMOLED, like my Astell&Kern. In comparison, the Opus looks washed out. But the image is clear and detailed, and does its job.
Coming from the lap of luxury in my old DAP, I am accustomed to only the prettiest of things. The Opus is not exactly sexy. It dresses less for the ball and more for a military assembly. That's not to say it's without artistry or elegance. With a full aluminum chassis, and tight, strong assembly, the Opus#2 is utterly top of the line in build. The feel of the thing leaves no question as to its status.
My biggest complaint with the Opus#2 must be operating speed. Just switching on the screen takes a second longer than it should. Regular UI interaction isn't terrible, but there is a sense of lag that I just don't experience with the Astell&Kern.
The GUI is quite good. Minimalistic, and classy. It's the best I've seen apart from the AK. Much better than Cayin, or FiiO's X7. This is on firmware v1.00.03, before they implement the full Andoid OS, with App Store and streaming (something they assure us is coming). Pinky is not looking forward to that. I've preached enough in the past, from my high and noble pulpit, on the sins of smartphoning our audio players. I've gone on and on about how a DAP should be a standalone device, and a smartphone a pocket PC, and keep the two ideologies as separate as possible. For the sake of the sound! Keep them separate! I don't have it in me to kick that up right now. ho ho! Don't relax too much, though! I'm sure I'll get worked up about it again, sooner or later. After all, it is the gravest plight facing our species today.
Good man Andrew tells me the case which is included with this package is genuine leather. I guess it could be, though I wouldn't have thought so. It doesn't look like real leather. Nor does it smell like it. When I lick the hide, I do not taste the soul of the creature it came from. It's been treated so thoroughly it's indistinguishable from synthetic. Either way, the case is neatly wrought, and fits like a love glove on a rhino.
So far, I've experienced only one crash. It was a hard lock. The screen wouldn't turn on, and none of the buttons worked. I did not panic because just recently my Samsung Galaxy S6 had a similar crash, where even the LED light remained dead when I plugged it into the charger. I freaked the ****** out! Before I gave up all hope, though, I consulted the Interweb and found out how to perform a hard reset. This also worked for the Opus#2. Just a few seconds holding down Power+Track-Down and the device rebooted.
Right. Yes. I say that about covers the boring ****. On to SOUND!
Sabre DACs are a perilous proposition to anyone who loathes an overly bright signature. If you are my kin, your heart belongs to a warmer profile. Sabre DACs can be thin, harsh, and unnaturally metallic-sounding. I am not a fan of the FiiO X7 for this reason, though it is not the worst offender. Yet when they are handled right, Sabre truly exemplifies neutral, transparent, high-resolution rendering while maintaining a full, dynamic sound that comes off wholly organic. My Audio-GD NFB-28 is one such marvel. I would never call that thin or brittle.
The Opus#2 is Sabre done right.
It's actually ever-so-slightly on the warm side. Or maybe I've been tricked into thinking that because it is so smooth, and with such meaty bass slam. The Opus#2 presents a highly musical, weighty sound that pours out of your headphones like melted butter. It is resolving to the highest degree, detailed like a mofo, with a soundstage that matches or bests everything I've tested thus far. The Opus does all this while being the most natural and realistic DAP I've had the pleasure of hearing.
The Astell&Kern AK120II shall be my main comparison, since I have it on-hand, and specs and pricing put these in the same league. Not to mention, it's the only comparison that matters to me, since the Opus is meant to be my upgrade. But worry not, I'll throw in some quick thoughts on other good music players, for perspective.
During my A/B comparisons, where I use a source switcher to give me split-second access to multiple DAPs, I found the Opus and AK to sound freakishly close to each other. The Opus#2 is clearer by a hair. There's a touch more treble and dynamism. Vocals are forward on the AK, and more neutral on the Opus. The AK120II is warmer, which seems like a veil compared to the clarity of the Opus#2. But really, the difference is absurdly small. Same note weight. Same thick, full sound. Even soundstage was equal. I tried my amazing 24Bit Beatles re-masters, and even the brilliant binaural record, SESSIONS FROM THE 17TH WARD by Amber Rubarth. There was no track that delivered a winner between the AK120II and Opus#2. The staging was equally grand. Going from A to B, and back to A, all the instruments stayed put, no matter where they were on the plane. Only the vocals moved forward or back a step.
This was via the 3.5mm single-ended output. I don't have an A/B switcher that runs balanced signal. Maybe I should build one. However, when I engaged in the more traditional fashion of testing—unplugging from one device and plugging into another— comparing the two's balanced output, I felt the Opus was indeed a little wider. I also felt the Opus might have greater depth and separation. But since I couldn't verify this with a switcher, I suggest you take that with a pinch of salt.
Just as I discovered with the Opus#1, that extra treble sparkle makes this a better pairing for very warm headphones, like my 64Audio ADEL U12. It sounds a bit airier and brighter than it does on the AK120II, without losing any of its richness and bass. Anyone who's heard the U12 knows that can only be a good thing. This pairing is supernatural, sounding bigger and more spacious than any IEM has a right to sound. Both DAP and IEM are paradigms of the satiny, refined class of audio. Lana Del Ray's Black Beauty from ULTRAVIOLENCE is a study in lushness. Together, the Opus>U12 make miracles happen. Especially with a little EQ, which has a much better effect on the Opus than it does on my AK. I'm deeply impressed by the results. A few Db in the Presence Region and the U12 becomes a whole new IEM.
The Rhapsodio Solar is hungry and angry next to the U12. It's quick, sharp, and clear. The Opus gives it all the energy it could ever want, driving that thunderous bass and sparkly treble to their fullest. Solar has never sounded wider than it does on the Opus#2 in balanced. The notes are clean and thick, the details intricate. Imaging is holographic, immersing you entirely in a well-mastered extravaganza, like Radiohead's new album, A MOON SHAPED POOL. With the Opus, Solar enunciates a perfectly accurate picture with layers of depth.
One of my favorite headphones right now is the Meze 99 Classics. It's also the newest, so that may have something to do with it. Whatever the psychology, this thing cannot sound bad on anything. It's so well tuned. The Opus, being the perfect lord of neutral, exemplifies all the 99C's best attributes. Where Meze usually rumbles deep, now it does so with control and authority. Where the treble pranced and twinkled, now it unleashes secret stores of passion for the old dance. The vocals have never sounded more crystalline, while keeping their rapturous warmth. There is majesty in this pairing of which I cannot get enough. Listening to the rich acoustics of Nirvana Unplugged gives Pinky the chills.
Sennheiser's collaboration with Massdrop, the HD6XX, also known as the Massdrop limited edition Sennheiser HD650, gets loud enough on Medium Gain. That's listening to a modern record. If you put on original masters of classic rock, you'll need to turn on High Gain. These 300 Ohm headphones actually sound complete on the Opus. More or less. I mean, there is very little improvement from my desktop DAC/Amp, the Audio-GD NFB-28. From the Opus, the HD6XX is smooth and warm. It's rich, with a delicate, resolving render. There's a big, live feel to the music. The HD6XX puts out a full, wholesome sound from the Opus#2. And that's in single-ended! I want to hear these things from the DAP's balanced output. Alas! I have yet to build all the right cable and adapters for that endeavor.
The Audeze LCD-2.2 Fazor is heavenly with the Opus#2. This is the first time I've even attempted to drive these from a mobile player. WOW! Liquid sonics flowing forth with life-changing bass, transparent vocals, and treble you can practically taste. The veil is parted, and you stand exposed before The Soul of Sound and Melody. I have no complaints about what I hear. Like the HD6XX, these sound complete, lacking in nothing. They do not have that underpowered sound full-size headphones get when there's just not enough juice to fill them out properly. The AK120II does a far less impressive job. My LCD-2 gets loud enough on the AK, and sounds pretty good, but it lacks the weight and dynamics the Opus brings to the field.
Don't get me wrong, there is a serious step up in quality from my desktop system: NFB-28>Balanced Output>Silver-Gold Alloy cable>LCD-2.2F. No question. However, from the Opus, using the stock, single-ended cable, the sound is still utterly enthralling. One does not feel the loss of the better system while swept up in this kind of audio.
If this isn't the most inappropriate place in the review, let me throw together some other comparisons. They are from memory, but since I wrote reviews on all of them, and I still have the AK as a cornerstone by which to reference each, you don't need to completely dismiss what follows.
FiiO X7 w/AM1 Module:
Brighter. Thinner. Less dynamic. Weaker bass. Slightly smaller soundstage. Quite revealing and transparent, but not on the same level as Opus#2.
Cayin i5:
Warmer. Even bigger bass. Thicker sound. Less detailed, with a slight veil. Not as refined. Noticeably smaller soundstage. Nowhere near as clear or transparent as Opus#2.
Opus#1:
Maybe a smidgen brighter. Note weight is a tad thinner. Dynamics are about the same. Details and transparency are not far off. Not as refined. Less smooth and organic. Smaller soundstage.
Well there it is! Look at the mess I've made. Try and make sense of that, you grubby peasants!
The Opus#2 by theBit is wildly impressive in a lot of ways. I was a bit disappointed to see that it did not absolutely shatter my AK120II. This shouldn't have surprised me, as I've said many times before how the AK delivers a faultless sound. It's hard to blow away something without obvious failings. Nonetheless, the Opus#2 is an upgrade in a number of ways, without forcing me backwards on a single point. That's what I wanted, and that's what the Opus gives me. It's a pocket-size DAP mighty enough to make any reasonably efficient full-size headphone sound complete. My TOTL IEMs have opened up to their fullest potential. This little device gives my desktop DAC a run for its money. Well… they do share a lot of the same components. But still, that's no mean feat.
I'm sorry I can't compare the Opus#2 against more players in this price range, or above. If I get the opportunity to test them out, I shall update the review. In the meanwhile, I'm going to enjoy listening to the best-sounding DAP I've heard to date.
-~::
Pinky_Powers
::~-
The Opus#2 by theBit
Native DSD Playback
32bit / 384kHz High Resolution Sound
4" Touch display (IPS panel)
SABRE32 ES9018K2M x 2EA Dual DAC
ARM Cortex-A9 1.4GHz, Quad-Core CPU DDR3 1GB
Internal Memory 128GB (External Micro SDcard Upto 200GB)
Full Metal Body (Aluminum CNC)
WI-FI : 802.11 b/g/n (2.4GHz)
Bluetooth V4.0(A2DP, AVRCP)
Ultra Power Saving Mode