Member of the Trade: AudioKey Reviews
The Cutting Edge of Digital Audio Processor (DAP) Playback!
Pros
:
Transparency. Resolution, Musicality. Soundstage. Style. Relative Cost.
Cons
:
10 hours of playback. It will not fit in one's pocket. Heavy.
The speed of technological progress is quite profound in this day and age in the audio industry. I am learning this across all manner of High Fidelity (HiFi) components, from IEMs to headphones to amplifiers to DACs to speakers. In this respect, and no doubt others, we truly live in very interesting times.
As I had mentioned in the review of the Astell&Kern SR25:
"As one of the very first developers of the Digital Audio Player (DAP) Dreamus—Astell&Kern was ever-present in conversations, across websites, and certainly in the audiophile and headphone communities. The Astell&Kern brand had been known to me for quite some time, though I had not heard any of its products. I was always curious."
The reason that I had never heard any of its products was that, at the time, I was firmly entrenched in the HiFi Stereo—two channel (speakers)—world and could not ever anticipate not being so entrenched. It is said that everything changes, great and small, and so it does.
These past two years, I have embraced, though reluctantly at first, the Personal HiFi world. Soon after landing in this 'alternative reality', I discovered that which I had spent a lifetime searching for. It was the search for a very specific experience, an experience via an assemblage of components that would communicate to me fully the truth of a given recording. I had that experience when I journeyed into the world of electrostatic earspeakers (headphones) and electrostatic headphone amplifiers. But that was only the beginning.
Thereafter, I discovered other types of headphones—dynamic, planar magnetic—and IEMs and the attendant amplification that would bring me closer to the music in many unexpected ways. And then, there were Digital Audio Players (DAPs) that have pushed the technological process forward at near dizzying speeds. This, of course, brings me to the review of the Astell&Kern SE180 and yet another compelling experience and technological leap in the world of Personal HiFi.
REFRAIN: Unlike most reviews, this review will be non-sequential, as it will start with how the equipment actually sounds and not the process of physically "undressing" it and/or laying out its various accoutrement, specifications, etc. Think of this review then, as a non-linear movie—Memento, Kill Bill, Pulp Fiction, Terminator, The Eternal Sunshine of the Spotless Mind, etc—that, likewise, starts at the end and winds its way to the beginning.
The Sound
It was but a few notes before it was clear to me that the Astell&Kern SE180 was something new, different, and a good deal more than met the eye. It was as if the SE180 in those first few notes was masquerading as something other—a top-flight, high-end desktop system, a HiFi component—far far removed from its SR25 sibling as well as other DAPs.
The SE180 not only performed beautifully with all manner of IEMs, it also performed exceptionally well with topnotch headphones—Meze Empyrean Elite, Meze Empyrean, Meze LIRIC (review coming), Rosson Audio RAD-0, ZMF Véríté, and the ZMF Atticus. And to a one they were all incredibly well served. This in and of itself says a great deal about the SE180 as headphone impedances ranged from 32-Ohms to 300-Ohms and there was not even the slightest hiccup in driving any of them to optimal levels. Instead, there was a commanding sense of high fidelity reproduction every time. What does that mean?
It means a noise-free, black-quiet background and letting loose a transparency and resolution that easily uncovers detail, even the microscopic variety, from venues small and large, voluminous and the nearly volume-less to one's ears. As though you were in the crowd, sitting, standing and able to hear all the nuances which together said 'real'. The SE180 provides a delicate, nuanced musicality and a naturalness of tone and timbre, that beautifully parses instruments and their textures. If you're one who listens with heart and soul but also needs resolution and detail, you will be embraced and well served by the music via the SE180.
Further, the SE180 resolves—makes abundantly clear— the natural sounds that cymbals, hi-hats, brushes across cymbals make that are very much different from the "scchccchchcc" or food "sizzling" away on the grill sounds that many components make. DAPs are not supposed to do this and certainly not at this price level. But then there was also the stratospheric, clear and silky reach of violins via the SE180 that many desktop systems/components and some HiFi components cannot match! Suffice to say, that this came as an absolute and complete shock to me! This is a DAP, after all!
And when one adds the SEM2 module, the short answer is that nearly everything—transparency, detail retrieval, soundstage, and even its sweet musicality— improves! Another quite unexpected development of which the SE180 was chock full. One does not expect a DAP to perform at this level.
I have now listened to a number of DAPs—Cayin N6II, iBasso DX220 (with various modules), Shanling M8, etc.—over the past couple of years. The Shanling M8, at the end of the day, stood above all the previous DAPs, in my subjective opinion of course. However, the distinction between the Astell&Kern SE180, with either module—SEM1, SEM2—and the Shanling M8 cedes a very clear victory in favor of the SE180, which betters the M8 in every perceivable way. No contest.
The SE180 performed beautifully across all genres—Blues, Choral, Classical, Classic Rock, EDM, Folk, Jazz, etc.—and there was always incredible transparency, copious inner detail—positioning and staging cues—and incredible engagement, which together brought more 'life' and engagement to track after track than any previous DAP. Again, one does not expect a DAP to perform at this level.
The Astell&Kern SE180's volumetric cube—its soundstage—width, depth, height—is broad and deep, its background black-quiet, and its staging cues—layering, positioning, separation, microdynamics—truly impressive. The SE180 was at its finest, its most powerful, and its most musical with the SEM2 module, though even its SEM1 module handily dispatched the former king of the hill—Shanling M8—with outstanding transparency and resolution.
The Astell&Kern SE180 for the purposes of this review was partnered with the Vision Ears ELYSIUM and the Obravo EAMT-2C, IEMs, the Meze Empyrean Elite, Meze Empyrean, Meze LIRIC, Rosson Audio RAD-0, and ZMF Véríté, and the ZMF Atticus. Its 3.5mm and 4.4mm headphone outputs were used.
Bass
Eiji Oue's "V. Infernal Dance of King Kashchey" (Stravinsky, Reference Recording) is a great 'decider' for me of a component's bass response and bass resolution and its transient speed. The SE180's bass force, its non-interference with the frequencies above it, its speed, resolution and decay were truly impressive. The thunder of "V. Infernal Dance of King Kashchey," potent and resolving, reached deeply into the stygian depths of the Holy-Bass-Head-Grail via the Astell&Kern SE180. Christian McBride's "Fat Bach and Greens" (Conversation with Christian, Mack Avenue Records) gave the interplay of upright bass and violin a dynamic, tight, wonderfully detailed rendering, with lickety-split transients, and with a reach out and touch texture. And Regina Carter's violin, sweet as a caramel-coated, red-candy apple, soared into Treble+ region freed from its earthly bounds and any associated nasties—sibilance, glare, harshness. How is this $#@%*& possible with a DAP?!
Midrange
Andy Bey's "Angel Eyes" (American Song, Savoy) cues and his baritone voice is immediate, rich, textured and engaging. Each word is clearly articulated, each instrument firmly positioned with clear separation at varying depths across the soundstage. And the music is incredibly engaging. I saw Andy Bey perform this song at Pearls in San Francisco, as I sat at most ten feet away, and it was incredible. The SE180 has captured a great deal of that performance and that experience. Joan Shelley's "Teal" (Like the River Loves the Sea, Absolute Anthem Music (BMI)) sidles in poignant, heartfelt and it too engages immediately. The stage is wide with clear separation, placing instruments and singers in their relative air-suffused spaces via the Astell&Kern SE180. The SE180 is very communicative with both female and male vocals, whilst maintaining a transparency and resolution that should not be possible with a portable player, a DAP. Joan Shelley's "Cycle" moves in with a smooth ease and plays out, though it was not intended for this review, but I play it through, as it is so inviting, so musical. And "When What It Is" sneaks through, I let it play as well.
Treble+
As I mentioned above, Branford Marsalis' "Gloomy Sunday" (Eternal, Marsalis Music) from start to finish was rendered with a musicality and texture that no other DAP that I've reviewed, and certainly those returned unreviewed, has matched. That some desktop and HiFi systems have not matched either. One's jaw did drop at this revelation. But then smiles followed the Eternal performance of the SE180 as it got down to business time and time again. For a triple check on Treble+ resolution I enlisted Patricia Barber's "Invitation" (Nightclub, Premonition Records) and then Dave Brubeck's "Take Five" (Time Out, Columbia-Legacy) and both were flawless. Never was there the slightest portent of the "schhhschcccchh" or food-sizzling-on-the-grill cymbals or some other annoying effect—there was just beautiful music.
The Wrappings and Accessories
The Astell&Kern SE180 comes in a small, nearly form-fitting, matte black, die-cut box. The company logo sits at its front face and the product designation at its lower left front face. True to form it is clean, graphically well designed, practical and efficient. Bling has been eschewed for understated, geometric elegance.
Opening the inner box reveals the moon-silver SE180 comfortably settled within a foam berth, atop a die-cut cardboard cutout. The cutout holds instructions, warranty card, and cables. Inside this SE180 package one finds:
SE180 Device x 1 (Main Body)
SEM1 x 1 (Module)
USB Type-C Cable x 1
Quick Start Guide x 1
Warranty Card x 1
microSD card slot cover x 2
Protective Film (Front x 2, Back x 2)
The overall design of the Astell&Kern SE180 gives a definite nod in the direction of a reduced materials/carbon footprint and a beautiful, understated graphic design implementation.
Design—Look and Feel
The Astell&Kern SE180 like its sibling the SR25 embraces an industrial design motif that brings together the angular lines of modern architecture and functional, modern art, in a beautiful, non-box-like component. Astell&Kern continues to distinguish itself from the balance of the competition in this way. The SE180 employs the moon-silver patina over its aluminum framework and finishes the design with a casual, understated, functional elegance, in which this reviewer finds no fault.
However, unlike its diminutive sibling the SR25, the SE180 is not bound for one's pockets, unless those pockets are quite big. On the other hand, backpacks, purses, shoulder bags and lunch boxes will provide sufficient space for On-The-Go listening. Though overall listening time is but a fraction of its SR25 sibling's 21 hours of playback. The SE180 is only capable of 10 hours of playback.
The leather case that accompanied the SE180 is subtle, and it frames the SE180 efficiently via a side flap that allows the DAP to slip in sideways making for an easier journey, by half, into the case than that of a top or bottom entry.
The Astell&Kern DAPs that we've reviewed to date have been exceptionally well designed, departing from the convention of a straight square or rectangular box and have thus distinguished themselves in this respect to be an easily recognizable brand. Again, bravo!

Functionality/Features
The Astell&Kern SE180 utilizes a a Quad-Core CPU as aligned to a single ESS ES9038PRO DAC. The DAC samples:
PCM : 8kHz ~ 384kHz (8/16/24/32bits per Sample)
DSD Native: DSD64(1bit 2.8MHz), Stereo
DSD128(1bit 5.6MHz), Stereo
DSD256(1bit 11.2MHz), Stereo
The SE180's Wi-Fi capabilities encompass 802.11 b/g/n (2.4GHz) and it supports Bluetooth codecs V4.2 (A2DP, AVRCP, aptXTM HD, LDAC). MQA playback services(Tidal Masters), Local files, External USB, MQA-CD(ripped).
The SE180's utilizes a 5-inch WVGA (1920 x 1080) FDH touch-screen display. And it attends to the following formats: WAV, FLAC, WMA, MP3, OGG, APE, AAC, ALAC, AIFF, DFF, DSF, MQA.
The various headphone outputs/functions across its top face are an unbalanced out (3.5mm), a balanced out (2.5mm, only 4-pole supported), a balanced out (4.4mm, 5-pole supported), and an oblong On/Off button. On its right face is a volume wheel which also displays via LEDs the sampling rate of a current track in play, as displayed below.
Below the volume wheel is a single button which cycles through play/pause (1-push), forward (2-pushes), back (3-pushes)—in a rather efficient and space-saving fashion.
At either side towards the top of the SE180 are two oblong buttons, that when depressed allow the current DAC module to be pulled free from the SE180. It is a straightforward and effortless process to exchange DAC modules.
The Astell&Kern SE180 provides a wealth of downloadable apps, with Tidal, Qobuz, Amazon Music native to the SE180. The Astell&Kern's "A" logo serves as the "Home" button, in the selfsame manner as on its website. Interaction is very intuitive and easily mastered.

A FEATURES list of the ASTELL & KERN SE180:
Some of the features of the SE180 are the following:
Interchangeable All-in-One Module
TERATON ALPHA Audio Technology from Astell&Kern
Next Generation Astell&Kern AMP Technology
Updated UI with Added Functions for Convenience
Quad-Core CPU
ESS ES9038PRO (Single DAC)
32bit/384kHz Bit-to-Bit Playback
5.0" 1920 x1080 Touch Display
Moon-Silver Aluminum Body
10 Hours of continuous playback
3D Glass-Backed Plate
USB—C for charging and data transfer
Fully authenticated MQA
The General Specifications
Model: SE180
Body Color: Moon Silver
Body Material: Aluminum
Display: 5 inch WVGA (1920 x 1080) FDH
Supported Audio Formats: WAV, FLAC, WMA, MP3, OGG, APE, AAC, ALAC, AIFF, DFF, DSF, MQA MQA playback Services(Tidal Masters), Local files, External USB, MQA-CD(ripped)
Input: USB Type-C input (for PC & MAC)
Charging: 9V 1.67A/ 5V 2A
Wi-Fi: 802.11 b/g/n (2.4GHz)
Bluetooth: V5.0 (A2DP, AVRCP, Qualcomm, aptXTM HD, LDAC)
Dimensions: 3.03 "(77 mm) [W] x 5.4 "(137.2 mm) [H] x 0.78 "(19.9mm) [D]
Weight: 9.88 oz (280 g)
Feature Enhancements: Firmware upgrades supported (OTA)
SAR: Body 10g SAR (W/Kg) 2.4 Ghz: 0.016
Wheel: LED Light (LED Indicator
For additional details and specifications please check
HERE
.
Conclusion
A DAP that travels and that does not leave one yearning for one's home-based desktop or even one's HiFi system! I would have thought the SE180 the Astell&Kern TOTL DAP when judged by its abilities, but it is not. Are those above it that good? Or does the employment of new technologies in the SE180—TERATON ALPHA Audio Technology and Astell&Kern's Next Generation AMP Technology—push it beyond them?
I have sat before HiFi systems well into the six figures that could not resolve drums tapping, or cymbals, or the rise and fall of Hi-Hats, or brushes swept across cymbals, or the resultant air of each 'transaction'. The resulting "sounds" were not music, but could have been mistaken, again, for food frying due to the schcchhhhss they produced. How does one say to the owner of such a system, "This sounds like garbage." One does not. One simply writes about it in an anonymous fashion some time later.
The SE180 with both modules—SEM1 and SEM2—was incredible, though by preference, I lean, heavily, in the direction of the SEM2, which stood even above the performance of its sibling, in a more musical and analog-like fashion. Amazing.
Without further ado, we highly recommend the Astell&Kern SE180 and present it with our GOLDEN KEYNOTE Award. Truth be told, I had to think long and hard before doing this. Why? Because it is not even close to Astell&Kern's own reigning TOTL DAPs in terms of price and generally, one imagines, their performance as well. One should leave space for the possibilities posed by the TOTLs of a given line. In the end, however, the SE180 fully deserves the award, regardless.
Audiokeyreviews.com
https://www.audiokeyreviews.com/the-reviews/astell-kern-se180
Reviewer: AudiophileHeaven
Astell & Kern A&Futura SE180 Music Player - Alpha DAP Incoming
Pros
:
+ Build Quality
+ Smooth, Detailed Sound
+ Musicality
+ Battery Life
+ Driving power
+ Streaming Abilities
+ Detailed yet controlled sound
+ Great control at high volumes
+ Display Colors
+ Display has a matte protector, looks sleek and elegant
+ Perfect USB DAC Function
Cons
:
- No cases available anywhere
- Support for Apps is not as wide as vanilla Android DAPs
- Plastic protectors will peel a bit, regardless of how well they are applied
- Just One Nav Button, takes time to get used to
- Heavy physically and sharp corners / edges
Astell & Kern A&Futura SE180 Music Player - Alpha DAP Incoming


This one is going to be good, a DAP costing about 1500 USD, with replaceable DAC / AMP modules, and with Astell & Kern software, so today's review will be a full fledged, full-length one, with comparisons between SE180 and iBasso DX 300 (1200 USD), Lotoo Paw 6000 (1200 USD), HIFIMAN R2R2000 (2500 USD), FiiO M11 PRO (650 USD), and QLS QA 361 (800 USD). Since we're looking at a high-end DAP with tons of driving abilities, I will be doing pairings (Yay!), with Sendy Audio Peacock, Campfire Audio ARA, and Crosszone CZ-10.



---






Introduction

This is the first time I am reviewing a product made by Astell & Kern, so I want to mention that they are the big bosses of Audio in general, with their DAPs being the most requested, most wanted in general, and considered the most premium. Over the years, they had provided the DAPs with the least recalled units, and although they do not have a strong presence in audio forums, they do provide help for every user. This being said, their DAPs and music players are usually quite expensive, so premium does come with a price. In all honesty, I never saw an Astell & Kern or A&Futura user that wasn't happy with their purchase, so it is intriguing to see what the hype is all about and whether I'll enjoy it as much as all the other music lovers out there. One little mention that I should be making is that they will provide a warranty to match the price, so you don't have to worry when purchasing one of their DAPs about whether it will be supported properly or not.




It should be noted that I have absolutely no affiliation with Astell & Kern. I'd like to thank Astell & Kern for providing the sample for this review. This review reflects my personal experience with the Astell&Kern A&Futura SE180. Every opinion expressed is mine and I stand by it. The purpose of this review is to help those interested in A&Futura SE180 find their next music companion.
Package & Unboxing

The unboxing experience is quite unique, and while not as flashy as that of DX300, it is quite premium too. Astell & Kern does not include a carrying case with SE180, and there is none available right now, not even from Miter, but they do include protectors for every edge and side of SE180, and you'll have to apply those yourself.





I apologize for the rest of the review, but this will be a long one, as I have been having a unique experience with SE180, and I hope my review helps you with questions you may have about the DAP, the behavior is quite different from all the other DAPs I tested to date in many ways.
Build Quality/Aesthetics/Functionality

Startin with the build, SE180 is a tank of a DAP. Not only quite large, but also with pretty sharp edges, it is really well built. I've seen a lot of people asking about a case, and unfortunately, they don't have one, but it comes with some really high quality protectors that you apply to it. All protectors are matte, opposed to all the DAPs that come with Glossy protectors, including the one for the display.

AK SE180 has absolutely no buttons for playback, which can be a bit unusual at first, and which makes navigation and usage a bit different than what I'm used to. The behavior of the software system regarding folder navigation also makes me change the folder more often than on other players, but at the end of the day I find myself discovering more music this way.




I've seen a lot of talk about the battery of SE180, so I gave it more time than I do with my usual DAP review, but found the battery life to be quite excellent, with a drain of around 10%-12% per hour, using the 4.4mm output, at 130/150 volume, Dual DAC, Maximum Brightness and changing songs with every song. This is about as good as DX300, Lotto Paw6000, and other flagship DAPs I have reviewed so far. Under maximum consumption scenarios, I was able to get around 9-10 hours of battery life, which is really good, as most folks won't be listening this loud, nor change the songs this much, and so on. This is the maximum realistic consumption I was able to experience. One thing I noticed about the battery life, though, is that it was not consistent for the first few cycles. First three or five charge cycles started as 12 hours, 7 hours, 8 hours, 7 hours, 10 hours, 10 hours, and since then I am able to get around 9-10 hours per charge in my maximum burn scenario. The battery life changing from the first charge means that the OS is adjusting to it, it is something normal for certain systems to optimise the life they can get out of a battery to the maximum.




Astell & Kern proves their ability to design a modern DAP by having support for all the fancy features we love, like Balanced output (both 2.5mm and 4.4mm), Single Ended 3.5mm output, MQA support, aptX and LDAC support, both for sending signal and for receiving signal. We basically see all bases covered, and this includes file type support for Flac and DSD files. We also have replaceable DAC/AMP modules which you can use to flavor the sound, and AK is probably the only company that offers options to replace both, not just the DAC.




The 5" design is enough for navigation, and there are some bezels that help reject unwanted touch inputs. We're looking at a fat looking DAP with a thickness of 20mm, so nothing like a 6-9 mm phone. The LED around the volume wheel changes colors depending on what the depth of the file is, and we get red for 16 bit FLAC files, green for 24 bit, blue for 32 bit, and purple for DSD. If you don't like the presentation, you can disable the LED entirely. Although we don't get our typical playback buttons, we do have one button that controls the playback, and it can do a play/pause for one click, double click to go forward, and three clicks to go backward. I found using it to be a bit different because it sits flush with the rest of the DAP and it is hard to feel for it while using the SE180 Pocketed.

The replaceable DAC/AMP modules do not require a screwdriver, but instead you have to push on the two buttons at the top of the SE180. Both modules available right now, SEP1 and SEP2 feature the same outputs, and a power button, and all outputs can either be used as a headphone output, or true line out. SEP1 comes with ES9038PRO, while SEP2 comes with dual AK4497EQ DACs. They both have 1 OHM of output impedance on Single ended, and 1.5 OHM output impedance on the balanced output.

I personally prefer the shape / ergonomics of both the Paw 6000 which is smaller and more rounded, and the DX300 which is more rounded, but larger, at least in theory. In practice, I have an excellent grip on SE180, and despite it weighing 280 grams, I like the way it has those matte protectors on all sides, so I can use it without a case, but with peace of mind. Really well done for Astell & Kern. None of the surfaces that are exposed gathered any scratches and I used it outdoors a ton. All in all, it is practical, but large. I have large hands. I have a harder time navigating the smaller PAW6000. SE180 is pretty much ideal for my hands. I personally am also thrilled by the fact that AK SE180 uses Type-C connectors between the AMP module and the DAP as those are easy to replace even years after it stops being supported by anyone officially.




Astell & Kern are quite different from FiiO, as Astell & Kern does not brag too much about the extra features of their DAPs, but SE180 supports fast charging, and battery charges really quickly with the Xiaomi Charger I have from my Black Shark 4, and I'm seeing the battery go from about half to about full in about one hour, which is in line with their around 3 hours for full charge on Fast charge.

I did not use the bluetooth much with SE180. It is awesome to have, but for using it to pair with a bluetooth headphone would be wasteful, and to use it as a receiver would be kinda fun, but at the same time I want a DAP to disconnect from the world of my smartphone and notifications, I don't want those notifications pushed on SE180. During the time I tested its Bluetooth performance I got zero dropouts, zero issues. Same for the Wifi experience, it auto updates itself, and supports ROON too with the latest update. It downloads with a speed of about 5 MB / s for updates, and up to 10 MB/s for music, at least as far as I can tell.
Software

The first thing I want to mention is that both modules and the DAP itself supports all kinds of files, including FLAC, WAV, FLAC, WMA, OGG, MP3, ALAC, AAC, AIFF, DSF, DFF, MQA, and DSD. SEP2, the module with the AKM chip, goes as high as DSD512, while SEP1 goes as high as DSD256. In practice, I found none of my most listened to albums in DSD512 available online, so it does not make for an interesting test for me. What does make an interesting test for me is support for multi-language FLAC files, including Japanese, Turk, and Russian, and support for MP3, or badly encoded music files. SE180 has no trouble browsing through everything, including odd characters from other languages. The battery life is similar with both modules installed.

We have 256 GB of internal memory, and support for microSD cards up to 1 TB. The display has a crisp resolution of 1920*1080, which looks extremely sharp. The overall system is generally very responsive, and in line with most devices running at 60 Hz (seeing it next to my Black Shark 4 that runs at 144 Hz, I can see why most DAPs are called slow by smartphone users).




If you're coming from a smartphone, you need to enable the floating back button, which will make browsing the SE180 a breeze and a whole new fun experience. In the main playing screen, there is a seek bar that you can press, but it is fairly small and easy to miss if you're not paying attention. I have only used folder browsing, but tested it and SE180 sees all my tags correctly. I just find it easier to navigate my folders as I have a neat way of ordering music. The EQ function is also surprisingly good, and a must mention. We have either a main EQ mode, or an advanced one, and honestly I prefer using the main one which has 20 sliders, and precise 0.1 adjustments to adjust the EQ. Using the EQ drops the main sound volume to about 5dB. The EQ has a vast positive effect on sound, and is deeply customisable, but at the same time can take a while to get right.




Although we have a customised Android experience, SE180 vouched to offer support for Streaming, and we have the Open APP service that fulfills the promise, with support for Tidal, Spotify, Qobuz, Amazon Music, Deezer, and more. You can always download the APK for an app and install it using the Open App service, and installing the Tidal official App will provide support for saving files offline, which is not supported for the default installed version.

When it comes to my personal usage, I personally feel like I'm swapping folders with AK SE180 more often, most probably because it has a swift navigation, but I also mostly used Shuffle for playback. I noticed that it has a true shuffle, and that came in handy for me to discover new music. Some players and software especially like Hiby, tries to learn your taste, and the more you listen to something and play entire songs from a band, it tries to push the next song on shuffle to be from the same band, same style, same BPM. Interesting, but for a true shuffle, I'd prefer it not doing that. I also found myself having an easier time with SE180 for navigating songs than I ever had on PAW6000 and DX300, despite the DAP being larger in size, and less ergonomic (sharper edges). The font is really comfortable for my eyes, and so is the matte display. The display and design of SE180 is really uncluttered, with very few options, but it still manages to have support for everything you may need, so despite it being quite simplistic about the menus, I never felt limited by it. On the contrary, I always felt like I could do everything I really needed quickly and efficiently.




Using it as a Desktop DAC for windows works really well, and once again, some DAPs have problems here and there and do some POP sounds when a song starts, or when you change the song, but SE180 has none of those issues, and works by default with Adobe After Effects and other production software too, so it is a worthy USB DAC. I noticed no delays with games, and videos / AMVs.

SE180 does not charge while being used as a USB DAC and does not discharge either. It only takes as much battery as it uses. This does not seem to affect battery life in any way, and Astelll & Kern designed an elegant way around it, it stays cooler than those DAPs that do charge while being used as a USB DAC, and I noticed no difference sonically, so no noise is inherited from the PC while using it as a USB DAC. Updating the system while writing this review seems to have made it a bit faster, which is how I will describe it during today's review.



Sound Quality

Today's review will focus mostly on the SEP 1 module, the one that comes by default with SE180, and I plan on making another review about SEP 2 soon too. This is because each module costs 300 USD at the moment of writing this full written review, so each deserves their own review (I usually make a full review for products above 150 USD, even if they come grouped). For writing today's review, I used Metalure Wave, Sendy Audio Peacock, Audeze LCD XC, Campfire Ara, Campfire Dorado 2020, Avantone Pro Planar, Unique Melody MEST MK2, and Verum One MK2. I like changing headphones a lot during testing, to be able to pinpoint the actual tuning of a source, but on an overall level, I spent the most time listening to the Peacock using the SE180, as I received them both around the same time. Rather, I started using both at the same time, as I received SE180 a bit before, but I've been away on personal issues as well as work-related (you know, my guys, Audiophile-Heaven does not provide enough income for me to not have a dayjob, so if you could check out Seven Heart Studios and our game Eternal Hour and support us there, it would be really appreciated).




I noticed that SE180 has a really unique signature, smooth, deep, and really detailed. It is one of the most musical DAPs I've ever heard, with a really fluid presentation of every musical, with everything connecting and playing effortlessly, without sounding soft, and actually having a really nice impact. I think that SE180 is one of those really sweet sounding DAPs that has a signature resembling an R2R source rather than a traditional one, all without being one.




It looks like this is an usual trait for Astell & Kern DAPs, as they all seem to be known for their deep and rounded bass. In fact, the bass of SE180 is one of those really full and deep ones, with a really good extension down low. It is actually one of those DAPs that can transform a headphone, when other DAPs aren't able to deliver the proper deep blow the headphone needs. And I'm talking about fairly hard to drive headphones here, like Crosszone CZ-10, which becomes deep, and a real bass cannon when paired with SE180, and which really starts to rattle with zero distortion, but with a deep and honest bass. I appreciate the fact that SE180 has lots of nuance all while having one of the best impacts I heard from a portable DAP. This is regardless of the headphones, and SE180 is probably the only DAP I can say gets louder and drives better than I can whiststand. This means that I was able to dial in more volume with SE180 than I could stand physically, on all headphones I tried it with, but without it distorting. Usually, I would stop from adding volume because the source started distorting, but with SE180, I need to stop because it is too loud for me, never distorting though.

We get a really clean and clear midrange, musical and fluid, with SE180. The soundstage is wide, deep and has a really 3D presentation. All this, while still sounding natural, with a really nice amount of detail and micro-detail. This is something I noticed in particular, because I've been using the Lotoo Paw 6000 for a lot lately, together with DX300, and the way the three present micro detail is so different that it is sometimes hard to describe it, but DX300 is the hardest most vanilla sounding of them all, the most natural presentation. Lotto Paw 6000 comes through as the softest, most gentle one, and SE180 comes through as the most musical and deepest, with the most fluid presentation. They all have their own flavor, and depending on what you're listening to, the way textures are presented on SE180 is the most fatigue-free while still having all the detail you could ever desire, the most emotional while having a fluid signature. I enjoy SE180 a lot when I am tired and want to get all the resolution there is in my music, without getting tired. The raw amount of micro detail SE180 is able to present with normal songs is inane, and I noticed this ability with really entry-level music, nothing like my usual Rings Of Saturn, or large orchestral compositions, but normal everyday pop and rap songs, where I am noticing many details in the background that I never knew about. And I am not listening closer to those, SE180 makes it really easy to notice those details, without being a tryhard.

The treble of SE180 is also quite magical, really well extended, sparkly, airy but also fatigue free. SE180's signature is all about musicality and fluidity, a congestion-free signature that you never have to fear, a signature that you always find peace and tranquility in, despite it presenting all the details that are in your song. There's something about the upper midrange of SE180 too, as it is not very emphasized to obtain this effect, rather the DAP having enough life and energy to actually present upper treble and detail, opposed to most midrange DAPs that go for cheaper tricks like a slightly emphasized upper midrange. SE180 goes all the way to having a proper treble with extension all the way to the sky. I think SE180 sounds perfect with everything and I never felt like it favors a certain music style over others. I'm able to listen to orchestral music and then quickly swap to rap and pop, then do some hard grindcore and technical deathcore, only to return to some of my favorite orchestral works, like those of Cepheid. Never before a DAP was able to match the raw anger in Killwhitneydead with the emotion and control needed for Jill Tracy and refinement needed when presenting orchestral works like those of Yuki Kajiura. If you're looking for dynamics, SE180 has all of it too, being the main DAP that I go for when I want to listen quietly and have similar dynamics to when I listen loud. Some of my friends actually purchased Astell & Kern DAPs because they are the best ones at reproducing high dynamic ranges at very low volumes, and I'm talking about real quiet listening here.



Comparisons

I tried my best to include all relevant competitors to the test, so we have a comparison between SE180 and iBasso DX300, Lotto Paw 6000, HIFIMAN R2R2000, QLS QA361, and FiiO M11 PRO. All in all, today's market for DAPs is hot, and this means everyone is improving. More and more music lovers appreciate a good portable, and more and more take advantage of using it at home, so we're seeing features never before thought possible, approaching levels of Star Trek and Star Wars fantasy of support seen from companies, with Astell & Kern being one of the leaders in this audio revolution.




Astell & Kern A&Futura SE180 vs Lotoo Paw 6000 (1500 USD vs 1200 USD) - Let's start with a hard one, as both DAPs have LDAC, and both are made by companies dedicated to sound above all. I honestly think that the shape and ergonomics are large enough differences to go for either, PAW 6000 is much smaller, thicker, and feels more made for portability. The battery life is also slightly better on the PAW6000. The overall shape is more sharp, more edgy, more sharp and more cool on SE180. We get much better streaming support on SE180, and it seems to move a bit faster, the display is easier to navigate, especially for larger lists of songs. SE180 is more snappy and moves faster in most menus, except for EQ, which seems to work smoother on PAW6000. The EQ of SE180 is easier to customise and deeper customizable. The sound is softer, more gentle on PAW6K, more soft in everything, including the bass, softer treble, where SE180 goes for a smoother presentation, with more dynamics and more impact. The overall depth is better on SE180, and so is the driving power, which is slightly higher on SE180, compared to PAW6K which seems to struggle a bit with the same hard to drive headphones. If you're looking for a DAP only and don't need much extra, PAW6K has a softer, more gentle sound, while if you're into streaming too, SE180 has more driving power, slightly less battery life, more punch, more dynamics and more micro detail.

Astell & Kern A&Futura SE180 vs iBasso dX300 (1500 USD vs 1200 USD) - We also have a situation where two DAPs are priced similarly, but they are vastly different. iBasso decided to approach the generalist market, as more and more folks are into streaming, and in my subjective experience, those two DAPs are quite different and will be loved for very different reasons. I prefer the larger, more bright display of DX300, and I feel it is more fun to use for streaming in general. DX300 is also more rounded and more ergonomic, but is more slippery and provides less grip. Although this seems like a small thing, having a matte screen protector is an actually big thing and makes SE180 more comfortable and look more sleek in practice. If you want a smartphone-like experience, I recommend DX300 more, while if you're looking for a powerful DAP with streaming, SE180 is going to suit your needs more. The power delivery differences are also a valid reason to go for SE180, as it can deliver a bit more power, sounds more dynamic at lower volumes, where DX300 is warmer and more sweet in the midrange. SE180 sounds smoother in general, with a more fluid tuning, whereas DX300 sounds more solid. I generally find myself liking DX300 more for its treble performance, and SE180 more for its bass performance. The battery life is better on DX300, but both have good overall reliability as DAPs. From this comparison, regardless which you decide to go with, you'll be happy, but they offer a vastly different experience.

Astell & Kern A&Futura SE180 vs HIFIMAN R2R2000 (1500 USD vs 2500 USD) - When I see this kind of situation, I feel happy. HIFIMAN delivered something that seemed impossible before, with R2R2000 being an actual DAP with an R2R ladder DAC, so people rapidly fell in love with it. This being said, it was much more of a portable DAC/AMP than it was a DAP, with the firmware being a bit unstable at times, and with people reporting that it has funny behavior if using it as a DAP, complicated GUI, and unreliable operation in general. SE180 is perfect as far as the actual operation goes, it is reliable, stable, and has a nice GUI too. I also enjoy the overall Astell & Kern experience a lot, and their sound manages to outdo R2R2000 at its own game. I'm talking about the overall level of dynamics, punchiness and detail / resolution. SE180 has more detail, more driving power, and less distortion at high volumes, plus it manages to have that magical smoothness that R2R usually promises to deliver. The only thing that R2R2000 does a bit better is being small, asd it has a much more petite form and is lighter, but if you need something with actual power behind the wheel, higher resolution and great reliability, SE180 totally delivers on all those fronts.

Astell & Kern A&Futura SE180 vs FiiO M11 PRO (1500 USD vs 650 USD) - We get two DAPs, one costing about 3 times as much as the other one, but for good reason. While I liked the M11 PRO quite a bit, the company is rapidly falling behind the others when it comes to DAPs, releasing pricey and less effective DAPs (M17 for about 2000 USD). FiiO also makes it harder to review their DAPs by me, because they don't trust I'll like them enough, and well, I don't blame them, M15 was pricey and not as good as DX300. M11 PRO was an interesting deal at 650 USD, but many folks are asking me for good upgrade options. The overall app support is slightly better on M11 PRO, and the whole CPU feels a bit snappier, but when it comes to actually using both, SE180 is much more reliable for driving harder to drive headphones, and IEMs, with less noise, less distortion, better control, more overall punch, and vastly better dynamics. I also prefer the Astell & Kern software, which is simpler, quicker to use, and thought more responsibly. FiiO used to be a budget king, and for 650 USD, it was easy to recommend M11 PRO, but if you need a considerable upgrade in every way possible, SE180 should be able to deliver that nicely, including support for ROON, Tidal, MQA, and all of the stuff that makes enthusiast enjoy this hobby to bits.

Astell & Kern A&Futura SE180 vs QLS QA 361 (1500 USD vs 800 USD) - When two companies both go for making the best sound they can, they can actually go opposite ways. This is what happened here, and QLS went for a gentle, soft sound with less impact but good dynamics. SE180 was designed with far more impact, better overall dynamics, more energy, a more direct and impactful sound. The overall DAP experience is much better for SE180, with a larger display, touch control, good overall support for music files, good support for bluetooth, streaming, and more. It feels like QA361 is hard to recommend now, despite it having been a fairly good simple DAP. The power delivery is also an issue, as SE180 can punch much harder, at higher volumes, with less distortion, better control and generally is better for power hungry headphones / IEMs.



Pairing

We have pairings again, and we will have for most expensive products from now on, at least those that offer a really interesting when paired with specific IEMs / headphones, and which offer a result that's out of my expectations, transforming certain IEMs and Headphones into true power delivery boys. The pairings of today will include Sendy Audio Peacock, Campfire Audio Ara, and Crosszone CZ-10. I've used SE180 with many others, but those surprised me greatly.




Astell & Kern A&Futura SE180 + Campfire Audio Ara (1500 USD + 1300 USD) - Given my experience with the Doprado 2020, and with Vega 2020, plus my prior experience with Atlas, I expected the Ara to be quite dark and heavy, but instead I was surprised by a really snappy and detailed headphone. The bass is always there when called for, but the midrange is magically musical, dynamic and punchy, and even at low volumes I'm able to appreciate things I was never able to notice before on other IEMs, including micro details that were not present with others. All in all, this pairing made me a really happy camper.

Astell & Kern A&Futura SE180 + Crosszone CZ-10 (1500 USD + 900 USD) - This is the headphone I noticed the largest difference between other DAPs and SE180 with. I usually crank the volume and take my initial listening impressions, but I was not that impressed when I first listened to CZ-10. It sounds great, but lacks body and depth, so I was shocked when SE180 pushed one of the deepest, most controlled bass I've heard with it. This was the same with both DAC/AMP modules, so you don't need to invest in SEP 2 to experience the full bass of SE180, and although it may not sound like much, having that bottom end tailored correctly, changed the CZ-10 from a somewhat mid centric headphone, to a true lush, deep and fun experience, pumping it from being a great headphone to being an unforgettable one.

Astell & Kern A&Futura SE180 + Sendy Audio Peacock (1500 USD + 1500 USD) - This is another headphone I enjoy greatly with SE180, and this one for making me listen quieter. I usually pump the volume as high as I can take, for my personal enjoyment, but the dynamics and punch on SE180 are so good that I find myself often going much lower than the maximum volume I can take, and while I would normally go as high as 130 / 150 high gain with the Peacock, I find myself listening to them around 70 - 90 / 150, which makes me appreciate the detail, resolution, micro detail and engagement of the headphones considerably more. The sound is really detailed and fun, with excellent deep bass, and a really sparkly treble. Peacock can be a bit bright with some sources, but SE180 is not one of those sources, and most of the sounds that Peacock produces while paired with it are smooth, musical and enjoyable.



Value and Conclusion

In life, We reach a point where we have to make a decision. Most of our decisions are not governed by logic or by some mystal extreme force of coherency, but by raw emotion, and judging the value of something is always a subjective process. Nothing bears an objective value, absolutely nothing, except for the human soul, which is priceless and has a higher value than the entire material world combined. This being said, SE180 has a uniquely high value, for those who are in the pursuit of sound above all. It is able to maintain control at higher volumes, provide more versatility and has more detail than most of its competitors, all while providing that magical dynamic and punchy presentation that we're used to seeing on R2R designs. It is not quite as versatile and smartphoney as DX300, but it is able to beat R2R2000 in sonics while costing a bit above half of the price of that one.




The market surely is on fire and companies are trying their best to present new and relevant products, and if I am to compare SE180 to anything, it is like an Opus DAP in 2021, it reminds me a lot of the impressions I had of those back in the day. SE180 is beautifully done, with an excellent sound, it is practical, but does everything to keep its personality, ends up sounding so good that you simply need to take it with you everywhere you go, and at the end of the day survives a full day of usage just fine. I'm enthusiastic about it as it's been able to power some hard to drive headphones, even better than most of my desktop tech, and even while having something like the cyrus One Cast on my desk, I still install SE180 most of the time as a DAC/AMP, thanks to the magical sound it provides.




It is funny, but I never thought I'd be arguing for a DAP that sounds excellent both at quiet and loud levels, and Astell & Kern managed to open my eyes to how enjoyable quieter listening volumes can be. They can deliver all that dynamic at a lower listening volume, so I'm going to add SE180 to Audiophile-Heaven's Hall Of Fame for opening my eyes and maybe saving my hearing for years to come.




At the end of today's review, Astell & Kern have a unique OS or operating system embedded in their DAPs, but their sound makes it worth investing in their DAPs, and the good battery life, handsome aesthetics, plus exquisite sonic signature, that's moddable anyways, make the SE180 one of the DAPs I can recommend the most in late 2021 and early 2022 as well.
Last edited:
180-degree turn!
Pros
:
choice between different tonalities, solid build, modular design, hi-res 5" display, modules (SEM1/SEM2) with 2.5mm/3.5mm/4.4mm outputs, MQA support, aptX and LDAC Bluetooth (both Tx and Rx).
Cons
:
battery life, cost of additional modules.
---
The product was loaned to me for the review purpose in exchange for my honest opinion. The review was originally posted on my
site
, and now I would like to share it with my readers on Head-fi.
Manufacturer website:
Astell & Kern
, Available for sale directly or from on-line retailers like
Audio46
.
---
Intro.
Looks like I can't use "when hell freezes over" anymore when talking about Astell & Kern DAPs. In October of last year, they finally introduced 4.4mm BAL output, in addition to Wireless LDAC protocol, in an all-new KANN Alpha DAP. And if you thought it was just a fluke or one-time thing, here comes the latest A&futura series SE180 modular DAP release with LDAC and 4.4mm BAL, along with 2.5mm and 3.5mm, on stock SEM1 and optional SEM2 modules.
SE180 announcement caught everyone by surprise, and not only because of LDAC and 4.4mm BAL output, but also a modular DAC/amp design and a reduced price. While A&K didn't exactly reinvent the wheel here with a modular dac/amp design, they improved it and set a high bar to even challenge their current flagship. Years ago, DAP competition was less fierce. Today is a different story with a highly competitive market, and A&K responded with a highly competitive product release.
I received SE180 as a loaner for 2 weeks because this is the first and the only demo unit available in US now, and I appreciate the opportunity to test it. I didn't have time for a lot of my usual pair up and comparison examples, but I still tried to cover as much as I can to paint a detailed picture of this new A&K DAP from A&futura series. So, let's take a closer look at what I found.
Unboxing and Accessories.
I received SE180 without a packaging box, just the chassis and SEM1 and SEM2 modules, so there is nothing to write about the unboxing experience or accessories. I'm sure packaging will be similar to SE200 or other entry and mid-fi level A&K DAPs, probably including a manual, a few sets of screen protectors, and a premium quality charging/data usb-c cable. I don't expect leather case to be included since I don't recall seeing SE200 unboxing with a leather case. Would love to be proven wrong, but SE180 is cheaper than SE200 and I expect it to follow the same footsteps.
Design.
I think many audiophiles are well aware that A&K pays as much attention to the sound tuning as they do to chassis design of DAPs. All of their players have a unique signature look and solid build, and sometimes you don't even feel like hiding it inside of a leather case. To me, their flagship A&ultima SP2000 has a more formal classy look, while their "entry" level SR25 A&norma pushes the envelope with a funky tilted screen and slightly tilted sides design. SE200 also has a unique tilt of the chassis when you look at the side profile and a sculptured wavy line around the volume wheel.
SE180 picked up a lot of cues from SE200 design. The same size screen (5") and overall dimensions are close, 77x137.2x19.9mm, just a little taller and thicker due to a modular design which contributes to 380g of weight (100g more than SE200). SE180 also features tilted chassis sides and a little less pronounced wavy line around its LED volume wheel with multi-function light that lit up with red (16bit), green (24bit), blue (32bit), and purple (DSD) which can also be disabled. The wheel itself has a signature A&K watch crown design with a precise click action control as you turn the volume up/down using your thumb. But what I found atypical here is a single playback physical button with functionality of single click to play/pause, double click to skip forward, and triple click to skip back.
You no longer going to find 3 separate buttons on the opposite side from the volume wheel, and you also going to lose being able to fast-forward/back by holding separate skip buttons. It took me a minute to get used to this new multi-control button, typical control of wireless headsets. Afterwards, I found it quite intuitive and convenient since I was able to control the volume and the playback using my thumb due to their close proximity to each other. The only thing I was missing is pushing the volume wheel to turn display on/off. For that you have to reach to a power button located at the top of the DAP. I'm so used to SP2000, that I continued to push the volume wheel on SE180.
With volume wheel and playback multi-function button on the right side, the left side is empty. At the bottom of the DAP, you have usb-c multi-function port used for charging, file transfer, USB DAC in connection, and USB Audio out connection. Next to it is the spring-loaded micro-SD card slot to expand the internal storage. The top of the DAP is where you will find a new major element of SE180 modular design – that is where the actual module goes in. And at the top left and right corners of the chassis sides you will find small release buttons you have to push in to release the DAC/amp module. Unlike other modular designs with 2 screws holding the module down, here you don't need any tools.
I will go into more details about the modules in the next section, but do want to mention that stock SEP1 module and optional SEP2 have the same look and the same ports, featuring single ended 3.5mm and balanced 2.5mm and 4.4mm headphone/LO outputs. Each module also has a power button used to turn the display on/off as well as power down/up the DAP. One thing to keep in mind, SEP modules are
not
hot-swappable. Once you remove a module, SE180 will power down and you will have to turn it back on after inserting a new module.
Under the hood.
As one can imagine, the first thing that stands out from under the hood is the modular design and 2 removable interchangeable modules. While SE200 had multi-DAC design, SE180 modular design allows you to completely remove and replace a card with another DAC/amp combo.
The default SEM1 module has
ES9038Pro
DAC and comes with 3.5mm SE (1ohm output impedance) and 2.5mm/4.4mm BAL (1.5ohm output impedance) outputs that can function as either Phone Out or Line Out. In addition to providing access to digital filters of corresponding DAC, for the first time I also see access to change the gain, either Normal (SE 2Vrm, BAL 4Vrms) or High (SE 3Vrms, BAL 6Vrms) which going to be useful for IEMs with higher sensitivity.
The optional SEM2 module will come with
dual AK4497EQ
DAC, and also has 3.5mm SE (1ohm output impedance) and 2.5mm/4.4mm BAL (1.5ohm output impedance) outputs that can function as either Phone Out or Line Out. Similar to SEM1, you have access to digital filters of corresponding DAC and access to change the gain, either Normal (SE 2Vrm, BAL 4Vrms) or High (SE 3Vrms, BAL 6Vrms) which going to be useful for IEMs with higher sensitivity.
It is not coincidental that A&K selected ESS module to be default since audio market is still recovering after AKM factory fire and experiencing AKM DAC shortage. Based on what I heard, while SE180 with SEM1 should be shipping soon, availability of SEM2 module is delayed until July.
Both modules yield about
10hrs
of playback time on 3,800mAH LiPo battery. I didn't have enough time to test battery endurance under different conditions, but from my experience of testing other A&K DAPs, this number usually holds true using average sensitivity IEMs from balanced output while playing FLAC files in the loop with display mostly off. This battery life is no different than SE200 using AKM output. Another thing to keep in mind, while both DACs support all the popular formats, such as WAV, FLAC, WMA, MP3, OGG, APE, AAC, ALAC, AIFF, DFF, DSF, MQA, SEP1 w/ESS goes up to DSD256 while SEP2 w/AKM goes up to DSD512.
The rest of the features are common, such as internal 256GB and storage expansion with microSD (Max 1TB). The touch display in SE180 is 5" like in SE200, but the resolution went up from 1280x720 to an impressive 1920x1080. You will also find a support of BT5.0 Wireless standard that includes both aptX HD and LDAC (while SE200 had BT4.2 and only aptX HD). Plus, now BT supports both Tx and Rx. Unfortunately, there is only 2.4GHz Wifi band, wish they would implement a dual with 5GHz to improve the connectivity. Still OpenApp support to load a number of popular streaming apps, but the Android OS is closed and if I'm not mistaken, based on Android 9.0 with additional sound optimizations.
GUI.
When it comes to A&K DAPs user interface, once you get familiar with one, you will feel like at home using all of their DAPs. Basically, they all share the same interface, even SR25 with its smaller display uses the same GUI, scaled down to fit its screen. But as soon as I powered up SE180, I noticed right away a new addition. Instead of a touch home button underneath the screen (no longer available in SE180), A&K added Navigation Bar at the bottom of the display with a name of a currently playing song, Home button, and Play/Pause and Skip buttons. It is always visible and makes it easy to get back to the main Playback screen or to control the playback from any other screen. The Floating Back button is still there and can be easily disabled by dragging it to the middle of the display or disabled in the Settings menu under Input Method. The button itself could be moved to anywhere along the left/right sides of the screen.
Once you press Power button, you are greeted with "A" logo and arrive to the main Playback screen. The embedded artwork (with cover art) window occupies top half of the screen, tapping on it expands the view and shows lyrics if one is available. Swiping artwork window left/right skips to prev/next song in your playlist. Above it you get a summary of song format (file type, bit depth, and sampling rate), with a link to Now Playing (where you can edit/modify from within) in the upper right corner and a link to Navigation Menu in the upper left corner. Right under the artwork window there is a thin strip of transport control to fast forward/back by swiping through it. You no longer have physical buttons to fast forward through the song, so it is either swiping the transport bar or holding the Next/Prev touch buttons. And in the lower half of the screen, you have a row of controls, additional song info, and playback touch buttons.
The Navigation menu, accessible by pressing "A" in the upper left corner, takes you to a list with various Sorting option (song, album, artist, genre), Playlist, Folder view, MQS, CD library, Services (streaming), and Settings. You can also access this screen by swiping display to the right from the main Playback screen, where youh can also swipe to the left and get into Now Playing screen. Under every sorting option you have other options to add songs to playback queue, different layout to view album (single, double, or triple columns), view artist with every album under each name, genres according to id3 tags, and my favorite Folder browsing which also gives you extra info about internal storage.
Settings menu is very important, but you can also access some of the shortcuts by swiping the screen down to see what's available in Notification bar area where you can toggle Wi-Fi, Bluetooth, EQ, USB mode, external usb, AK connect, Line Out, Car Mode, Wheel lock, and shortcut to the main Settings menu. Many of these toggle options don't just enable the function, but if you long press it will take you to the menu of that function. In the main Settings screen, you have Wi-fi, Bluetooth and Codec selection, AK Connect and File Drop, then Equalizer, Gapless, Line Out, L/R Balance, Playback setting, Notification Panel, AMP (normal and high gain), CD ripping, usb mode and usb audio, Car mode, DAC filter (digital filters associated with particular SEM# dac), and other system settings.
With EQ, you have one blank EQ preset and no other genre specific presets. EQ interface has two modes: Main and Advance. In the Main you have standard Paragraphic EQ sliders for 20 bands (30, 45, 60, 90, 120, 180, 250, 380, 500, 750, 1k, 1.5k, 2k, 3k, 4k, 6k, 8k, 12k, 14k, and 18k) where you can either slide the bar or use a precise 0.1 adjustment, as well as scrolling through available frequencies. As you adjust, it gets reflected in the lower right corner, showing the overall shape of EQ. Switching to Advance, turns EQ adjustment into Parametric EQ with a full GUI view of EQ shape where underneath you have FREQ band selection (a choice of 20), Gain selection in 0.1 and 0.01 steps, and Q bandwidth. Since bands frequency is fixed, I consider this to be semi-Parametric EQ. The interface looks great and the actual adjustment finally has a more noticeable effect on the sound.
Open APP Service.
Open APP Service is implemented in all A&K Android based DAPs, including SP1000 SS/CU, SP1000M, SE100/200, SR25, and SP2000 SS/CU, with SE180 being no exception. More info could be found
here
, where Astell & Kern goes into details about how to install and to use it.
When you start dealing with Android apps, in many cases you do need a Back button for navigation, so Floating back button come in handy when dealing with streaming apps. While Astell & Kern offers a built-in Tidal service (without off-line storage support), for a long time their customers been asking to add Spotify, Qobuz, Amazon and other streaming services. A&K latest DAPs do run on Android, but it's a heavily modified closed OS without access to Google Play. In a way, it's a blessing for a manufacturer to keep DAP performance optimized since you don't have to worry about customers installing and running other unstable apps.
If you decide to install a non-blacklisted app, you need to download APK file (use a site like
https://apkpure.com/
), copy it to Open Service Folder located on internal storage, go to Services on the DAP, and when you see the app being recognized and listed in there, click to install it. Keep in mind, for example, you will have to install Tidal apk if you want off-line downloads. Also, installed apps will not be updated automatically since you are not running Google Play. You will have to keep track of app updates and manually download and install new versions.
I installed and used without a problem Amazon Music HD and Qobuz.
Sound Analysis.
The sound analysis of SE180 was done using Oriolus Traillii, playing a selection of test tracks, such as Agnes Obel "The curse", Sandro Cavazza "So much better" (Avicii remix), C-Bool "Never go away", Ed Sheeran "Shape of you", Alan Walker "Darkside", Galantis "Hunter", Iggy Azalea "Black widow", Indila "Boite en argent", Dua Lipa "Love again", Counting Crows "Big yellow taxi", David Elias "Vision of her", and Michael Jackson "Dirty Diana". I was told that each module had about 60hrs of playback time when I received it, and I put another 20-30hrs on each, thus plenty of burn in time.
I prefer to describe the DAP sound based on the comparison to other DAPs and pair ups with different IEMs/headphones since the DAP by itself doesn't have a "sound". What we hear is how it sounds through connected IEMs/headphones or the difference in sound relative to source comparison using the same pair of IEMs/headphones. This is my subjective opinion, describing how
I hear it
while analyzing the sound difference between SEP1 (SE180ESS) and SEP2 (SE180AKM). One thing to note, it will heavily depend on what you are testing it with since in some pair ups the difference was more noticeable while in others it was more subtle.
SE180ESS vs SE180AKM
- AKM card has a more revealing tonality and more transparency in sound (less coloring) while ESS card sounds a little smoother. One of the reasons why I hear it that way because to my ears AKM card has more sparkle in treble while ESS card has a slightly stronger bass impact and smoother treble. From a technical perspective, AKM card sound is tighter, faster, with a blacker background and faster transient of notes, while ESS is more relaxed, laidback, more soulful in comparison to AKM card. Also, AKM card has a wider and more holographic soundstage while ESS gives sound a more intimate feeling with a slightly narrower soundstage expansion. ESS module soundstage is still wide, but relative to AKM module I found the latter one to be wider.
You will get two different tuning flavors depending on your pair up preference. And, each card has a full set of shared headphone/line out ports, normal and high gain setting, and access to digital DAC filters.
2.5mm/4.4mm (BAL) vs 3.5mm (SE)
Just like in my testing with other A&K DAPs, the difference in power output is definitely noticeable when going from SE to BAL where I always have to lower the volume. Another noticeable difference is BAL output having a wider soundstage and blacker background. Other than that, the sound signature and tonality are nearly the same within corresponding module.
Comparison.
In every comparison I used Oriolus Traillii, volume matched while listening to the same test tracks between DAPs. Also, for a more meaningful comparison I tried to match other DAPs with either SE180 ESS or AKM based on similarities in sound signature. Furthermore, I only covering the difference in sound as
I hear it
, not the design and other functionality.
SE180AKM vs Hiby R8
- didn't expect it to be that close, but it was nearly impossible to tell them apart in a blind test. These DAPs have the same tonality, the same soundstage expansion, and the only difference I can pick up is a little more air/sparkle in pair up with R8, but I could be splitting hair here. In a blind test I got them wrong more than half of the times. Both use AK4497EQ x2.
SE180ESS vs Cayin N6ii w/E02
- nearly the same tonality, being smoother and more soulful, with the main difference of SE180ESS being a little more neutral and balanced while N6ii w/E02 having a slight lift in mid-bass, giving the bass more impact. Another variation is N6ii w/E02 having more width in soundstage (similar to SE180AKM), with the sound stretching wider while SE180ESS has a more intimate soundstage expansion where it sounds like you are a few rows in front of the performer. Both use the same ES9038Pro dac and have replaceable DAC/amp cards.
SE180ESS/AKM vs iBasso DX300
- this one is a little trickier because I feel like DX300 fits somewhere in between of comparison to ESS and AKM cards. The bass of DX300 has impact similar to ESS card, while its tonality is closer to AKM card due to having more sparkle and more revealing sound presentation. Also, DX300 soundstage is closer to AKM card than ESS. Thus, I couldn't narrow it down if DX300 with its CS DACs fits closer to ESS or AKM cards. SE180 has replaceable DAC/amp while DX300 has replaceable amp card only.
And last, but not least…
SE180 AKM vs SP2000 SS
- SP2k has a better technical performance with more 3D soundstage expansion and better layering of sounds with more air between the layers. The tonality is very similar to AKM and a little more revealing than ESS. SP2k treble has more sparkle and air which improves the sound layering in comparison to both AKM/ESS cards. Also, SE180AKM has a slightly narrower soundstage while the gap in soundstage expansion with SE180ESS is even more noticeable relative to IEMs I tested it with. SE180AKM uses AK4497 while SP2k uses AK4499. And it actually makes you wonder that in theory they can make another dual AK4499 dac/amp card and tune it identical to SP2k.
Pair up.
Here is how SE180 pairs up with some IEMs and headphones. Unfortunately, this is going to be a very short section of the review because I didn't have as much time to go over different pair ups and spent more time using Traillii for sound analysis in comparisons above. Thus, these are just brief notes.
I found SE180 to drive full size headphones, regardless if it is high impedance or planar or full-size dynamic driver, with the same authority as SP2000 SS. And with full size cans the gap in sound performance using SEP2 (AKM card) was less noticeable between SE180 and SP2000 SS. As a matter of fact,
Meze Audio Empyrean
(planar) was driven better by SE180AKM then SP2k, with tonality being more transparent and the sound being more detailed. But
Audio-Technica R70x
(470ohm) and
Beyerdynamic T5p
(2nd gen) were driven and sounded nearly the same between SE180AKM and SP2k.
With IEMs, I spent more time testing with
Oriolus Traillii
and enjoyed more revealing nature of SEP2 (AKM) module, but with IEMs it will come down to pair up synergy. Brighter and more revealing IEMs paired up better with a stock SEP1 (ESS) card, while I preferred a pair up of more neutral and warmer tuned IEMs with SEP2 (AKM) card. But either one worked fine. Of course, if you want to squeeze out every ounce of technical performance, SP2000 is still at the top, but compared to SE180AKM the gap was not as big.
And for those who are curious, neither SE180ESS nor SE180AKM hiss with sensitive IEMs like
Campfire Audio Andromeda
or
Solaris
.
Wired and wireless connections.
Besides being a portable DAP, you can expand SE180 functionality as a transport to drive external DAC/amp, to use external AMP, or to turn the DAP into wired/wireless usb DAC. And of course, you don't have to be limited to wired headphones, and can take advantage of Wireless Bluetooth connection.
Wireless/Bluetooth.
I tested SE180 BT Tx with various headphones; SE180 paired up within seconds and had the acknowledgement message on the screen to indicate which codec was used. I was able to change volume from SE180 and from wireless headphones, as well as control the playback and skip tracks remotely. Wireless connection worked about 30ft away from SE180 in open area.
SE180 also has Bluetooth Sink Mode to enable BT DAC "Rx" mode to use SE180 as a wireless DAC. Once turned on, I was able to find and pair up with SE180 from my Galaxy smartphone and set LDAC codec.
USB Audio Out.
Connected to L&P W2 USB DAC/amp without a problem. In notification bar of SE180 have to be sure External USB is selected to enable USB Audio mode. Volume was fixed on SE180 at 150, and I can adjust it from W2. The sound characteristics was typical of W2 DAC/amp while using SE180 as a digital transport.
USB DAC.
Recognized right away by my ThinkPad T480s (Win10Pro). In notification bar of SE180 have to tap USB Mode to select DAC. Volume can be adjusted from Laptop or SE180. No need to install any additional drivers, and the sound was typical of SE180 headphone output.
Line Out.
Connected to
Cayin C9
, I had to select Line Out from notification bar and was able to control the volume from both external amp and SE180. If you need to color your sound with an external amplifier or need to drive more demanding headphones, access to LO is convenient. Plus, I was finally able to use 4.4mm to 4.4mm interconnect cable from SE180 without any adapters.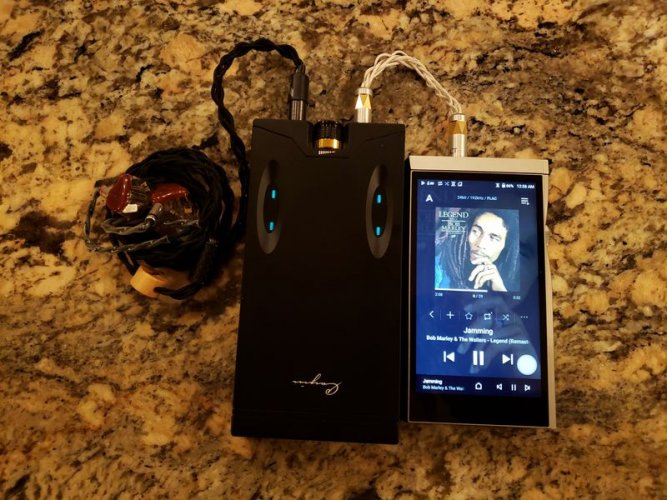 Conclusion.
You can probably sense from my review that I was impressed with this new release. Last year A&K stepped it up with SR25, and now did it again with SE180, blurring the lines between their entry, mid-fi, and summit-fi DAPs. There is no longer a big gap in performance based on the price alone. And if I were A&K, I would narrow down their product line to SR series as a small, portable, all-day battery, entry/mid-fi level pocket warrior. Then, combine SE and SP series as their swiss army knife modular flagship, including high resolution upper end modules to bring it closer to SP flagship level of performance. And keep KANN series for those who need a more powerful output to drive demanding headphones with a desktop level performance in a pocket.
Regarding SE180, A&K took the concept of their SE200 dual dac/output model and expanded it into a modular design while actually lowering the price, though SE180 with stock SEM1 and optional SEM2 modules cost nearly the same as SE200. The modular design has a clever release mechanism that doesn't require screws. Furthermore, both modules come with 3.5mm SE and both 2.5mm and 4.4mm BAL outputs, something A&K fans been wishing and praying for years. LDAC wireless protocol is here to stay as well. Plus, you have other improvements not available even in some of their previous flagships, such as access to gain control and DACs digital filters, a more noticeable semi-Parametric EQ adjustment, and a brand-new Navigation bar. It is an impressive design and a great A&futura series update. Makes you wonder, if they put so much work into SE180, what are they going to come up with in SP series next?