Joined

Apr 4, 2017
Posts

43
Likes

71
Hey everyone! Joseph over here and to be succinct, I've been working with
@thatonenoob
to provide tech/audio reviews and updates for the last year and a half. I'm an audio enthusiast myself, and about a month back, I received an invitation by the Sony Singapore Team to join a Sony Experience event alongside the Hong Kong High End Audio Visual Show. I'll be posting more updates on this thread as the event moves along, so feel free to ask me any questions.
Those who would like to know more about Sony's other releases during this event can take a look at the following threads that I have created:
-
Sony MDR-Z7M2
-
Sony's Three New Earphones
I'm also on the SEAudio discord channel and will regularly be posting updates there as well. If you'd like to hear from me, you can join our server
using this link
We have as well recorded technical interview with the engineers that you guys can watch over here:
Otherwise, lets dive in to what we're able to find out so far
Specifications
__________________________________________________________
______________________________________________________________________________________

Layout:
1. Design / Philosophy
2. Engineer Technical Video Interview
3. General Impressions

______________________________________________________________________________________

1. Design / Philosophy
​

So this digital music player is more transportable than portable, cause its pretty big. Sony's emphasis on the design is for headphone users, since they already have a dac/amp, they did not make this one come with a full range of ports, arguing that if people wanted more port options they would just get Sony's TA-ZH1ES.


​

To give a rough idea of how large this device is, we can look at this photo where the MDR-Z1R is leaning on the DMP-Z1. It is comparable many full size solid state desktop amps.


Sony's aim to obtain a clean, detailed, and untainted sound is achieved through the use of dual DAC's, battery power supply along with a high end analogue rotary volume controller. As seen in the specification sheets, the use of AK4497EQ DAC along with the TI TPA6120 amp chip; through this they hope to portray accurate detail and source signal received by the headsets. This music player also features a full analog amplifier with a very refined volume control that the engineers claim can maintain audio signal purity even at low volumes. They have also used li-ion batteries for a clean linear power supply, with a separate battery for the built in digital circuit. Using good quality lithium ion batteries, which can be thought of as a decent substitute for a linear power supply, the engineers aim to produce a clean headphone output that is free from distortion, as well as provide powerful amplification capable of driving a wide range of headphones.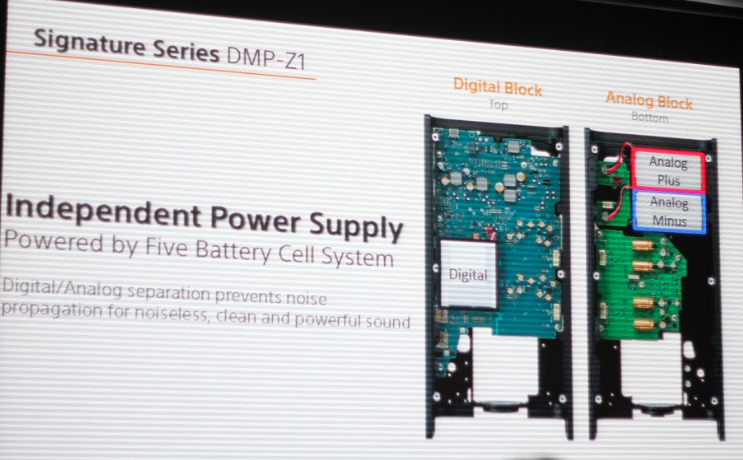 So the battery configuration is something that was planned out by the engineers; the separate power powers for digital and analogue circuits means less noise which can translate to a blacker background. The battery cells for the analogue circuit ensures linear supply of power to the volume coil, which can deliver powerful sound that is also clean.


​


Overall, this is a premium product and Sony strives to embody the Japanese spirit where quality materials are found not only on the outside of the product but also on the inside. While getting ready to test this amplifier with the supplied MDR-Z1R, one of the event handlers was very excited to emphasise that the internal wiring is exactly the same as the kimber cables found attached to the Z1R, maintaining the notion that every section of this product is made of the final materials. The outer body is made from aluminium monocoque chassis, which brings out the sleek and smooth finishing seen on this product. Perhaps something I find a little peculiar is that everything the engineers put a lot of effort into making this product sleek, but its overall weight and build size still makes it kind of a clunky product. But for now, stay tuned for more updates on this thread!

​
​
Last edited: