Joined

May 24, 2008
Posts

2,808
Likes

14
Hello,
My name is Felix, if you've been over at the Portable section of Headfi, you might've heard of me from my multiple reviews of earphones, and my upcoming ones on JH Audio Customs and Westone Customs.
Well, due to the fact i have my hands on a load of custom cables now, i decided to get the $69 Enyo cable from NullAudio to see how they stack up against the stock cables of JH Audio, and Westone. Null Audio was kind enough to send me a unit of them and here they are!
NullAudio Enyo Series Cable
NullAudio is a relatively new company founded last year 2008, their main focus in the beginning were to offer high quality replacement cables for Ultimate Ears Universal and Custom series. Later on in 2008 and 2009, they have taken their own very technology and applied it to many other cables including mini to mini interconnects, LODs, and even Headphone cables. The Enyo was their first creation, later followed by the $109 Lune Series (Custom Cable Price) and the $599 Crystalino cable (Custom Cable Price) that many have praised on here.
[size=medium]
Specifications
[/size]
Braid Style: Quad-Cable braid, Dual-Cable Y-Split
Soldering: Silver
Wiring: OFC Copper
Material: Chemical and Thermal Resistant
Length: 1.2m
Pins/Prongs: Anti-Oxidizing, Gold Plated
Connector: Neutrik or Pailiccs
Memory Wire: None, 2 inch Silicone over the Ear cable guides.
Packaging wise, not many things to say. They are packed in a rather, "easy to damage fashion" But being a cable, i don't think there's a problem. They are gently wrapped up, put in a simple plastic bag and shipped in a thin cardboard Null Audio box.
[size=medium]

Build Quality
[/size]
Build Quality wise, i've got nothing more to say than absolutely fantastic! the quad braiding, though done by hand looks and feels although it was done through a machine. The braiding is consistent and tight, unlike it's competitors from JH Audio and Westone, it's not just simply twisted together where you are able to unravel it and have them separate; Null Audio had rather braided it instead keeping everything together nice and neat. The Quad braiding terminates into two (left and right) dual cable wires, the thin cables in these two terminations are simply twisted together like any other Custom monitor cable, however it's twisted fairly tight and even at attempts to unravel the two thin cables, no success at all. Overall, the braiding and twisting of the cable is absolutely top-notch, durable, tight, anti-raveling, flexible, and near to no microphonics.
There are no strain reliefs on any part of the cable itself, only simple heat shrunk coverings. The Y-Split in the middle is just a simple heat shrunk covering for the termination of the wiring within. At the plug is also a small portion of heat shrunk covering, which in all keeps everything together very neatly and nice, however some strain reliefs would be nice.
The Memory wire is not present, what NullAudio does offer is a soft silicone ear guides which lead the cable behind your ears, but it's unlike the stock cables you get with Custom monitors where the first two inches of the monitors are able to mold to the back of your ears keeping them in place. The Enyo lacks this feature, and sometimes the cable tends to pop up away from the ear, i didn't find it to be a problem though some may find it to be irritanting.
The 3.5mm is a heavy duty, and beautiful Pailiccs connector (the one i received had a Pailiccs connector, neutrik is also available for no extra cost). It's rock solid, with a stiff and well built feel to it, a very great choice for using on the cable itself.
Pailiccs Connector
Quad-Braid
Pins and Silicone Guides
Y-Split
Connectors (Top Left, Clockwise. Enyo, JHA Silver/White, JHA Black, Westone)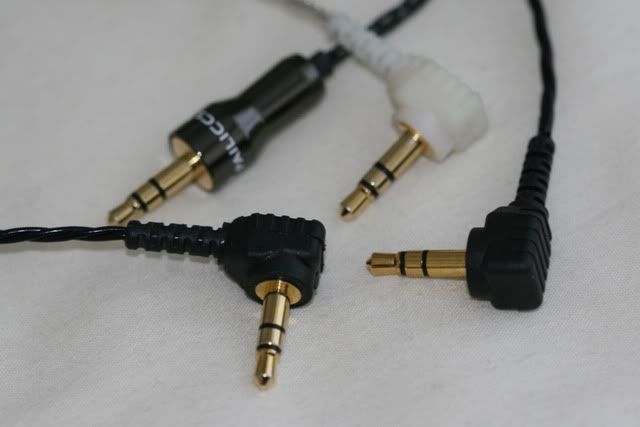 Y-Splits (Top to Bottom, Westone, Enyo, JHA Silver/White, JHA Black)
Cable Management (Top to Bottom, Westone, Enyo, JHA Silver.White, JHA Black)
[size=medium]
Sound Quality
[/size]
NullAudio has incorporated OFC cables, silver soldering, and also the braiding to offer the maximum sound quality and lowest interference possible. They don't lie about this, even i who believe cables like these wouln't make a difference at all; i had to take back my words after listening to the Enyo.
Highs
Listening to my ES3X and 10X3 with the Enyo, the Enyo cable tends to open up the highs a bit. You get more detail with a crispier, and crystal clear ring to them when compared to the stock cables that come with the,. Cymbals especially are quicker, and more transparent. Decay overall for the highs has significantly improved the stock cable whether it was on the ES3X or the 10X3.
Mids
Mids on the other hand, rather than improved, the presentation was different. The mids are now more forward than before, whether it be the ES3X or the 10X3. Around the same amount of detail and depth, but the Enyo puts the Mid on a more forward layer than before.
Lows
Lows are deepers, quicker, and more powerful. The ES3X neutrality turns into a monster of dynamical presentation, similar to the Westone 3 but a far superior version. Lows on the 10X3 are now even faster, despite Jerry's super speed drivers, the lows are even faster, punchier, and have a deeper tone and depth to them. The lows jump to another level, compared to using the stock cable.
Soundstage
When using the Enyo, you will notice that the Soundstage widens a bit. Using it on the ES3X and the 10X3, the 10X3 benefits more from the cable itself, creating a wider and longer soundstage compared to using JH Audio's stock cable. The ES3X also widens up, but to less of an extent compared to the 10X3.
Other factors like instrumental separation, and stereo imaging stay around the same compared to the stock cables. But overall, the result turns the monitor in a beast of fun listening, Lows are quick and punchy now, mids are rather forward with the singer seemingly singing in your face, and the highs now have a twinkle ring to them.
[size=medium]
Usability
[/size]
The Enyo is made of slightly stiffer material compared to the stock JH Audio and Westone cables, therefore the Enyo are not as soft and flexible as the stock custom cables you receive with your monitors. Therefore, the microphonic levels are higher, and touching or moving the cable exerts more noise through your earphones compared to the JHA or Westone cable.
There is no memory wire though NullAudio states they do, the Enyo simply has a silicone ear guide shrunk onto the Pin's plug so they bend around your ear, there's no metal wire so the bend stays molded to the exterior of your ear. It's just as comfortable, but when you tend do sports or running when the cable moves the guides don't stay in place well enough so they move up and make your cable position feel like as if you didn't have the monitors on properly.

Bottom (Before Y-Split, Left to Right, Westone, Enyo, JHA Silver/White, JHA Black)

Top (After Y-Split, Left to Right, Westone, Enyo, JHA Silver/White, JHA Black)
[size=medium]
Overall
[/size]
In the End, costing $69 the Enyo is an rather impressive cable. Despite being the base model of Null Audios creations, they enhance the highs and lows significantly on a top-tier custom, and gives you a slightly different talk on the mids. Build quality is above any cable offered by JHA or Westone. The Quad braid and the twisted dual to your earpieces are extremely tightly braided/twisted making it near impossible to unravel the cable. The only downsides of the cable are the silicone ear guides, where a normal memory wire would do much better in performance and keeping the fit the user is needing. Also if the Enyo could be slightly more flexible and soft, with less micrphonics that would make this cable absolute perfection on the entry level upgradeable cables. Conclusion, i would recommend this cable to people looks for an improvement in build quality, and lows and highs presentation (or mid forwardness), as they really hit the spot in terms of sound quality for the price.