Joined

Jun 8, 2015
Posts

72
Likes

215
Pros
- Cool design and nice build quality.
Comfortable fit.
Decent active noise cancelling performance.
Nice, full-bodied sound.
Great battery life and incredible charging speed.
Cons
- Not much improvement over the E7 in terms of ANC and sound quality.
Micro USB port.
No voice notification when ANC is turned on/off.
When thinking of ANC headphones, the first two brands that cross people's minds are definitely Bose and Sony. Those who know the industry better would probably come up with names such as B&O, B&W, Jabra, AKG, etc. In fact, almost all famous audio companies are making ANC headphones nowadays. But products from those industry-leading brands normally cost quite a fortune, and aren't always easy to recommend to average headphone users.
Fortunately, we've also seen an increasing number of affordable ANC headsets entering the market in recent years. The Samini N1 ($49), Taotronics BH060 ($59.99), and COWIN E7 PRO ($67.99) are all solid entry-level offerings for basic listening. Last month I had the pleasure to review the Mixcder E7. My expectations weren't very high before I got the sample but those headphones turned out to be very well-designed, and way better-tuned than what their price tag had suggested. I ended up recommending them to a lot of friends that were looking for closed headphones. The new Mixcder E10 comes with aptX support, a more premium design and an astonishing 30-hour battery life. Priced at $89.9 on Amazon, they are clearly a higher-end offering, and arguably the most expensive from Mixcder to date. These headphones even won the 2019 Prestigious National Parenting Product Awards (NAPPA) for its Active Noise Canceling Technology and sound quality. But how much more do they really offer than entry-level products, and how will they compare to the best in the industry? Let's find out in this review.
Specs of the Mixcder E10
Brand: Mixcder
Model: E10
Speaker Diameter: 40mm
Impedance: 32Ω
S.P.L: 120dB
THD: <3%
Frequency Response: 20-20KHz
Bluetooth Version: Bluetooth v5.0
Support Profile: A2DP/AVRCP/HFP/HSP
Support Audio Codecs: SBC, AAC, aptX, aptX Low Latency
Weight: 304g
Package Content: 1*headphone, 1*carrying case, 1*AUX cable, 1*Micro USB charging cable, 1*airplane adapter, 1*user manual
Retail Package


Like the E7, the Mixcder E10 also comes with very simple packaging. There is a nice-looking faux-leather carrying pouch inside the box. In addition to the E10 headphones, the case also contains a Micro USB charging cable, an AUX cable, an airplane adapter and a user manual. Although the cables are very high-quality, I have to say I am a little disappointed to learn that, as the top-of-the-line product of Mixcder, the E10 still hasn't upgraded the charging port to Type-C.
Design


Mixcder has taken an extremely subtle approach with the design of these E10 headphones. There is nothing quite shouty, nothing brash and in your face. Even the Mixcder branding, which is normally very prominent on the back of the earcups of their headphones, is inconspicuously marked on the joints between the headband and the cans.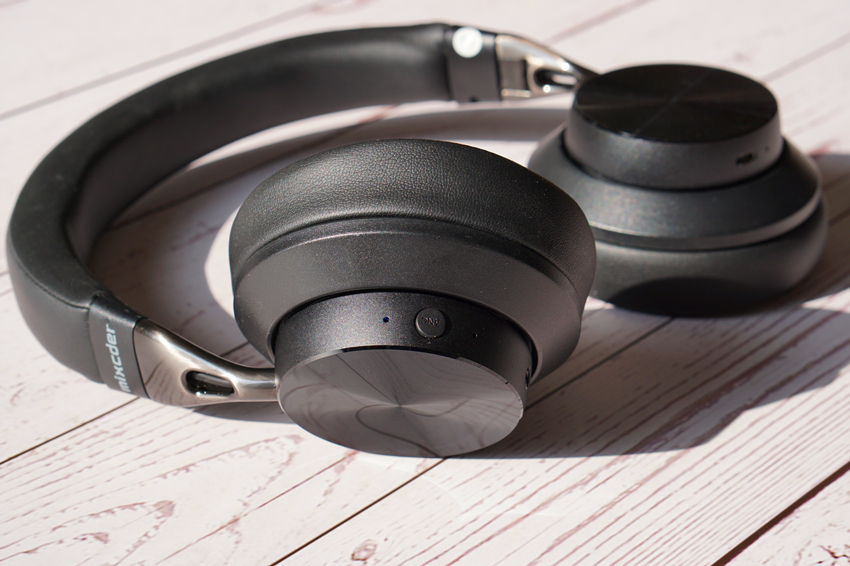 The chassis of E10 is a combination of plastic and aluminum. It's nicely finished and not tacky. The leatherette earpads and headband are very soft and offer ideal cushioning for the head. The product feels extremely premium, in fact these headphones look like they belong to the same class of much more expensive headsets such as the B&O Beoplay H8 and the B&W PX. Most people I've shown the E10 to could not believe these were sub-100-dollar headphones.
The joints on these headphones have fantastic flexibility as the earcups can swivel and rotate in many different directions for users to achieve the most comfortable fit.
The hinge is smooth and quiet. The buttons (power/pairing and ANC) are quite solid, offering decent travel, and snap back quickly after being pressed. You can turn on or turn off active noise cancelling, but the E10 doesn't offer different levels of noise reduction like some high-end ANC headphones do. A Micro USB charging port and a 3.5mm audio jack sit on the and left and right can, respectively.
Mixcder headphones are known for their good quality, and the E10 is no exception. Although these headphones have the most flexible joints I've seen on Mixcder's products, they still feel quite robust, and look like they could even survive some occasional falls.
Connection


Pairing the E10 to your smartphone is very easy. Press and hold the power button for a few seconds, until the LED flashes in red and blue, then you can find the "Mixcder E10" in the Bluetooth settings on your phone.
I had no trouble pairing and repairing these headphones with a Huawei Mate 20 Pro and Apple iPhone X. I was also able to maintain a reliable wireless connection, far more reliable than the Jabra Elite 65e and Creative Outlier Air earphones.
Comfort, isolation and ANC


These headphones get great ratings from me for comfort and isolation, as the leatherette pads and headband both have an ideal amount of padding. Clamping pressure is just right for my normal-sized head and the smooth rotating motion on the earcups help them mold closers to my ears. I
The headphones are closed back and this does an excellent job of blocking out unwanted external noise. Even when active noise cancelling is turned off, they still offer very satisfying isolation. Listening to music at medium volume can make you forget about most noises from the outside world, and these earcups don't tend to leak sound into the environment.
But when you are taking a crowded morning bus, or walking down a busy street in the city center, or sitting in an airplane, the passive isolation is simply not enough. Fortunately, the E10's active noise cancelling works nice, helping to drown out most low-frequency noises such as the rumbling of cars, buses and trains, knocks from the construction sites. One day, when I was crossing a big shopping mall to get to the movie theater, the loud, boomy Chinese hip-hop song being played there turned into gentle, light music coming from a distant place. Another day when I was wearing these headphones on a subway, there were a couple of middle-age women chatting right behind me, but the Active Noise Cancelling greatly diminished their presence and made it much harder to pick out individual words.
There is slight pressure on the ears when active noise cancellation is turned on, which is something to be aware of. While I still think the Bose QC35II offers slightly better noise cancellation, the Mixcder E10 isn't far off, and even slightly edges the Panasonic HD605N in comparison, although the latter has 3 adjustable noise reduction levels for you to play with.
But there is one complaint from me. The E10 doesn't give you any form of voice feedback when ANC is enabled/disabled. In a relatively quiet environment, it's hard to know whether it is on or off. Besides the ANC button there's an LED indicator, which will light up in blue when active noise cancelling is turned on, but who would really take off their headphones just to see that?
Sound
The E10 headphones feature 40mm Neodymium Iron Boron speaker units, and support SBC, AAC, aptX and aptX LL (Low Latency) codecs while streaming music via Bluetooth. In theory, these headphones should sound a bit better while using an Android device that supports the aptX codec, but I did not hear noticeable quality reduction paring them to the Apple iPhone X.
In terms of audio, I was expecting amazing sound from the Mixcder E10, as the much cheaper E7 really wowed me last month. Unfortunately, it turned out that the E10 is only a minor step up from the E7, thus still wouldn't match the likes of the Bose QC 35II or Panasonic HD605N when it comes to overall sound quality.
Bass
The low-end is the highlight of the Mixcder E10. It is composed and clear whilst at the same time managing to deliver solid levels of sub bass. These headphones have the ability to hit quite hard, but I would not consider them as bass-head headphones, since the lows are never really over-exaggerated. Details have been preserved quite well as you can feel different layers coming together to offer a great sense of attack. One thing I need to mention is, when ANC is turned on, these headphones will lose a lot of bass, making bass-centric recordings sound less engaging. I also detected this kind of bass-reduction with the E7, and reported the issue to Mixcder. Hopefully they will be able to solve this problem in future products.
Mids
The midrange is smooth and warm with good separation amongst instruments. I found that they sounded great with stringed instruments. There is a decent amount of decay through the midrange notes and engage you with a sense of intimacy. Detail retrieval from the mids is okay, but they do lose out to the Panasonic HD605N in out an out clarity. However, bass bleeding into the mids can be detected on bass heavy tracks. Vocals, especially female vocals are not particularly refined and can sound distant in wireless mode.
Highs
These aren't super-bright headphones. The treble is smooth and inoffensive, rather than challenging and brimming with high-frequency sizzle. Fortunately, there are lots of fine details in the highs, and the E10 never sound harsh.
Soundstage
The soundstage of the E10 is good, but not impressive, especially when compared to the open-sounding Panasonic HD605N. There is a decent sense of space around your head. Instruments have some room to breathe most of the time, but still jostle for attention with more complex recordings.
Wired vs Wireless
I found the E10 sounded a lot better in wired mode with tamer, tighter bass and a much wider soundstage. The vocals are also clearer and more straightforward. Whenever the wire isn't that much of an annoyance, I prefer listening to the E10 with AUX cable plugged in.
Battery life
In terms of battery life, the E10 comes with 30-hour rating with noise cancelling activated, which is excellent, and easily beats the playing time offered by the B&O Beoplay H9 (14 hours), Bose QC35II (20 hours), B&W PX (22 hours). Only the Jabra Elite 85H (35 hours) can last longer on a single charge. I have been using headphones extensively since they arrived two weeks ago, but only until two days did I get the notification to charge them.
Mixcder's own quick charge feature is also amazing. Just 5-8 minutes of charging will yield 3 hours of battery life, a full charge takes less than 1 hour. In comparison, the SONY WH-1000XM3 charges fast in the first few minutes (10 minutes' charging gives you 5 hours' battery life), but will take significantly longer to finish a full charge (3 hours). ANC headphones from other brands don't even come close to what Mixcder has achieved with the E10 in terms of charging speed.
Verdict
If you want the very best, the Sony WH1000XM3 and Jabra Elite 85h still offer much more mature noise cancelling technology (4 or 8 noise reduction microphones respectively) and arguably superior wireless sound quality due to their support for more advanced Bluetooth codecs such as aptX HD and LDAC. But Mixcder gives those with a tighter budget a more-than-solid alternative here. With a premium design, great build quality, decent noise reduction performance, impressive audio, and a battery life that can rival the best of the best, the Mixcder E10 ANC headphones are easy recommendations to anyone who wants a pair of over-the-ear headphones.