Joined

Nov 17, 2010
Posts

333
Likes

124
Recently, I had seen that JLab Audio were set to debut some new true wireless headphones for the gym and active lifestyle. I contacted JLab and asked if I could review the
JBuds Air Sport
. JLab was nice enough to send me a pair last week. For the last week I have put them through their paces both at the gym and hiking.
Accessories:
As you can see from the picture, the Air Sport come with 3 gel tips, and one set of Cloud Foam ear-tips. They also come with a carrying case that also doubles as the charging case, with the integrated usb cable built into the bottom of the case.
Here is what the inside of the packaging looks like
Features and Controls:


Front and back view of the earbuds
JLab's newest earbuds come with an
IP66
rating meaning that they are supposed to be resistant to both dirt and sweat. I have found that they have not had any problem during my workouts or hikes, they have operated without incident. The included case is fairly compact, with the built in usb charging cable on the back. The JBuds Air Sport allow for
6 hours of play time
, but with the case(for charging) makes it so that the earbuds can have a total of 40 hours of play time. The only caveat I have found with the case is that the cable is really short, I have to connect them in a way so that the case does not dangle in the air. It works when connecting to a laptop or a usb plug that is on the same level as the case. The case has 3 blue led lights that show how much charge is left which can be seen from the outside and another 3 led lights on the inside. It takes the guessing out of how much charge is left. The Air Sport are held in the dock with magnets, so they are easy to reseat for charging, and blue leds(on the earbuds) showing that they are docked and charging.
Closer view of the charging cable
JLab's JBuds Air Sport are now Bluetooth 5 with a class 1 laser. This means that they will have 30+ feet in range and better connectivity than prior models. They also support HSP/HFP/A2DP/AVRCP protocols. The Air Sport have an 8mm dynamic driver and Neodymium Magnet, touch controls, and over-ear hook. They also sport JLab's custom EQ3 sound settings that include JLab Signature, Balanced, and Bass Boost. Volume is changed by single tapping the left ear to lower it and the right bud to raise the volume. Play/pause is engaged by double tapping the right ear bud. Moving between tracks is accomplished by pressing and holding the left bud button for a second or more to go back and doing the same on the right bud allows you to advance. Double tapping the left bud activates Siri/Google. Lastly, these have the Be Aware mode, where you triple tap the right ear so you can hear your outside surroundings. This can come in handy for safety reasons so you can hear what is going on around you.
Front view of the battery lights
Pairing\Distance\Connectivity:
JLab's JBuds Air Sport are very easy to pair. As soon as I took them out of the case, a voice said ready to pair. I looked at my phone and it showed that they Air Sport were available in the Bluetooth section. I paired them to my old Samsun Galaxy S7. I want to mention that the earbuds automatically pair to each other and the already paired phone as soon as they are taken out of the case.
Earbuds sitting in case
For distance, I usually leave my phone on the side and in the gym area and then use the free weights. I found that indoors at the gym I could go about 40ft away from my phone before it started to break up\lose connection. When used outside, I tested using the phone in both the left and right pocket of my shorts, I had no connectivity problems. I also found a pair of shorts that had back pockets to test my phone in the back pocket, and again no connectivity or drop out problems. I use my phone also in an Otterbox Defender case and holster, and I had no connectivity problems.
Build Quality\Fit:
JLab Audio has made the Air Sport out of a durable plastic with an ergonomic earhook. The earhook is firm, yet pliable, and fits easily around your ear. The earhook helps keep them in your ear when being active and also allow for you to get a better fit when moving the earhook forwards or backwards. I did this to position the earbuds to get better isolation and bass response. I found that the Air Sport provided fairly decent sound isolation, and with the largest gel tips was able to get a pretty decent seal. I would like to see a different design sometime where I could even get a better seal, maybe by reducing the size of the housing. Or maybe JLab could have them held in the ear differently where they could allow for an even better fit, deeper insertion in the ear.
Sound\Performance: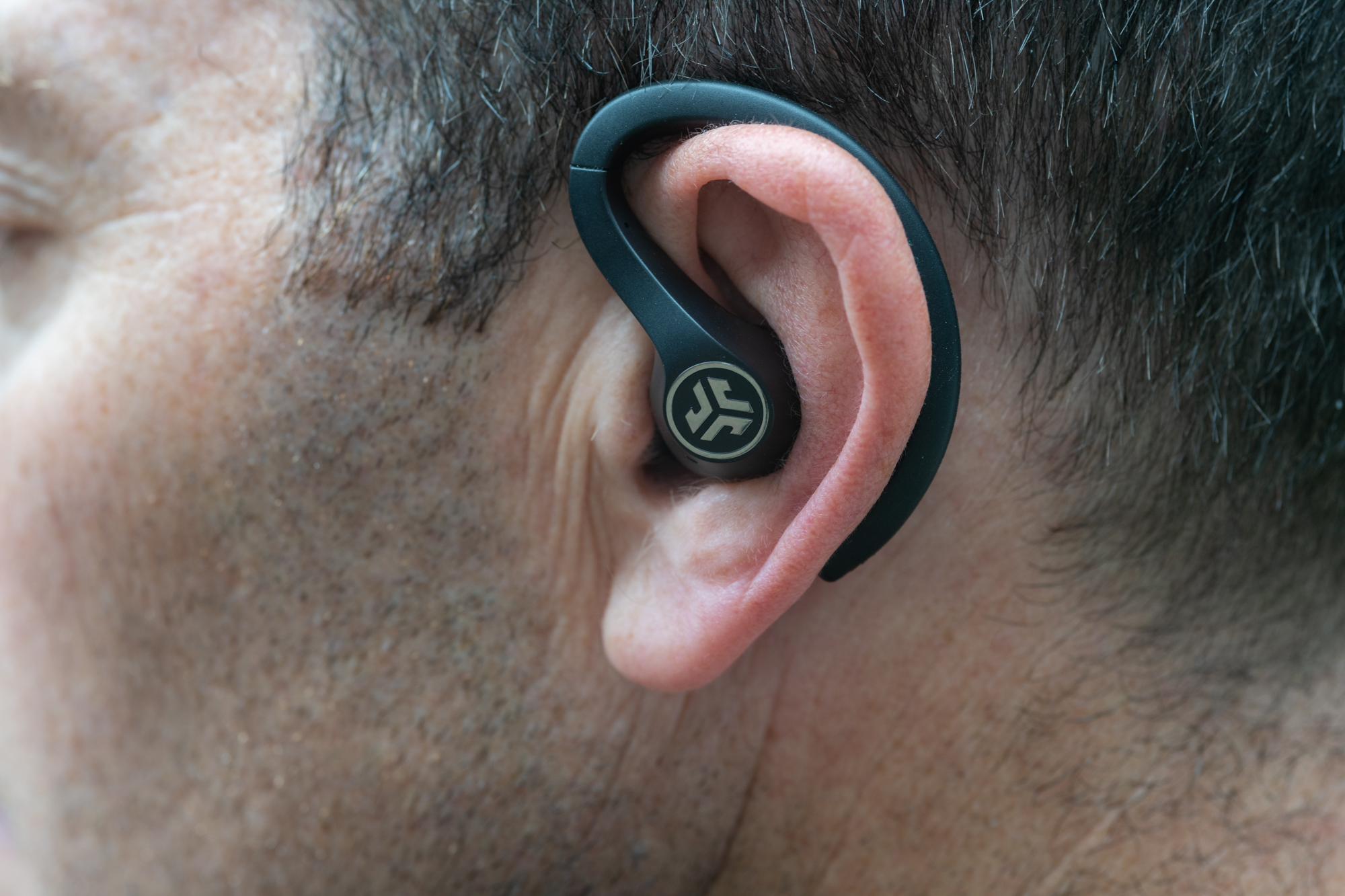 Like the last reviews I have done, I am still utilizing my Samsung Galaxy S7 and have all the music on the extra 128 gig card on my phone. I did not use these with Spotify or any streaming service with my phone. The files I used were WAV, FLAC, and 320bps mp3. I listened to Jazz like Dave Brubek's Take Five, Porcupine Tree, Megadeth, Primus, Mustasch, Rush, and so on. I found that out of the 3 EQs provided by the earbuds, the JLab Signature sounded the best to me. I normally listen to music with my no EQ, just flat, but these earbuds sounded the best to me with them on the JLab Signature setting. These earbuds are not for critical listening so I think it is ok. When listening to various tracks I was able to discern the different instruments, it was not muddy sounding to me, the highs and bass were decent. I am not a bass-head so I do not want too much bass.
Taking Calls:
These are pretty decent for calls, the Air Sport let you know a call is coming in and you can single tap the right earbud to answer, double tap to hang up, and press and hold to reject a call. While testing these I actually used them on a business call and the caller could hear me clearly and I could hear them clearly. I also took a call from my wife and she did not complain about the sound quality.
Overall I am quite happy with the
JBuds Air Sport
for the gym and on the go. I tried shaking them lose during running or on the elliptical, but they stayed in. These earbuds will not fall out. At $69 they are a very decent option when comparing them to Beats or Apple Air Pods. I know that they definitely have a better seal than Apple's buds and don't look as ridiculous. Anyway, I believe you will be happy with the Air Sports if you choose them and they are backed by JLab's 2 year warranty should you ever run into a problem.
Last edited: