Joined

Oct 11, 2013
Posts

978
Likes

157
Introduction
(feel free to skip)
:
For nearly a decade, my family has been frequenting Xiamen (厦门) which is the largest city in the Fujian province in South Eastern China for vacations as my grandfather was born near the area prior to migrating to the Philippines.
I actually got into Hi-Fi and specifically IEMs and headphones because of those vacations. From purchasing the Pioneer SE-CLX60 in a random tourist gift shop to go with my iPod Nano back in 2010/2011 as a 13 year old and falling in love with music to 2012 where I buy TWO pairs of Beats Solo HDs in Coodoo, a retailer of Apple products that was huge before the rise of Huawei and XiaoMi, and my subsequent disappointment and questioning about their quality which led me to Head-Fi, Xiamen holds an extremely sentimental value to me as an audiophile.
This year the right channel of my Flare Audio R2Pro died but I only began to seek a replacement after demo-ing the Sony IER-M7. Armed with Christmas gift money and in Xiamen for the holidays, I sought for the best price I could find them for in the area. Being sold for $700 in the Philippines, $569 with a cash discount from the Xiamen Sony store, and $499 from an Amazon sale, I decided to have it shipped to a friend visiting Hawaii. That didn't push through which forced me brush up on my Mandarin and scour through Chinese search engines which then led me to
https://www.jd.com
which I might add had amazing prices for almost all the IEMs I searched.
I found the IER-M7 for sale for RMB3499 or around $493. I locked on this but came across the issue that I was departing Xiamen in less than the amount of days it would take to deliver. Frustrated, I renewed my search via Chinese internet but this time scouring through Chinese audio forums which led me to this article documenting a successful Xiamen headphone meet:
https://zhuanlan.zhihu.com/p/76608246
After a google translate and identifying the host of the event:
Welcome to 港天耳机 (pronounced kangtyen erchee) or 港天 Earphones

I had now found what I think to be the major, if not only, physical store of headphones, IEMs, and related gear for enthusiasts in Xiamen.
The store is located in:
厦门思明区汇文路81号罗宾森二期1号楼112店
Robinsons Galleria Shopping Mall Xiamen, Phase 2, 1st floor, Unit 112
Contact numbers: 13606089599, 2698799
Website:
www.soogt.com
Online Store:
https://gterji.taobao.com
Photo of the store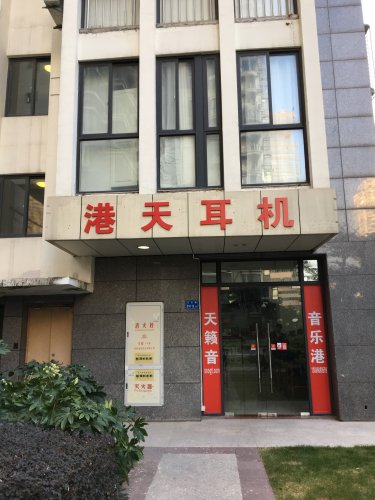 Store and owner
Video of some items on sale
https://drive.google.com/open?id=1Tetc_ltv01y-r1-u9wGzapF1VDTQmRHY
Last edited: