Unique Melody UM Mest Indigo
Another MEST have, before it's gone.
Pros
:
updated quadbrid driver design (DD/4BA/4EST/dBC), powerful dynamic bass impact, natural-detailed hi-res tuning, new 3D Sapphire Pinewood faceplate, replaceable nozzle filter, updated PWA Copper M3 cable, AZLA Xelastec eartips, custom Dignis leather storage case.
Cons
:
higher price than Mest MKII, the sound is eartips dependent, universal only.
---
The product was loaned to me for the review purpose in exchange for my honest opinion. The review was originally posted on my
site
, and now I would like to share it with my readers on Head-fi.
Manufacturer/product website:
UM
. Available for sale from
MusicTeck
.
---
Intro.
Every time I post a teaser about a new audio product, I get flooded with requests of early impressions and to hurry up with a full review. This time, I got flooded with the same even before I received the product. As a matter of fact, I decided to borrow the latest Mest Indigo for review because a lot of my readers asked me to compare it to Mest MKII which I reviewed early this year. I still can't get over how popular Mest has become. Per my own personal preference, I found the 2nd gen version of Mest to be an upgrade over the original. Yet, many of the people who are pinging me now, got both OG and MKII and don't want to part with either one.
So the big open question, what is Indigo? Is this Mest MKIII? Is this a Special Limited Edition Mest MKII with a new faceplate? Or, is this an all-new IEM that just carries Mest DNA? I honestly thought this is going to be one of my shorter "in-a-snapshot" type of comparison reviews with a focus on Indigo vs MKII. Shorter write-up is where I'm heading now due to the amount of review samples I receive and limited time I have to write long reviews. But after a few days of burn in, as I started listening to Indigo, this latest creation from UM put me under its deep-blue spell, and I decided to finish the full review which I'm sharing with you today.
Unboxing and Accessories.
The unboxing experience of Indigo is very similar to MKII, plus a few additional updates. It still features the same giftbox quality storage box with UM logo on top. Once a magnetic top cover is lifted, you are presented with a deep blue leather case, also labeled with UM logo. In the original Mest you had to remove the case to get to the bottom of the box so you can access the remaining accessories. With Indigo, just like MKII, Unique Melody added a drawer at the bottom which slides out from the side to give you an easier access to the rest of the included goodies.
You should also expect similar accessories as MKII, though a few have changed. For example, you will still find Dignis storage case with a zipper top, roomy enough for your IEMs, cable, and other extra accessories. Inside, it has a flexible velcro partition so you can separate shells and the cable. This is a premium brand name product, not some filler. The color of the case is deep blue to match Indigo color theme, and the top cover has the same design as their Fabled Sound/FuSang flagship iems, with a layered velour corner insert, making it more premium and unique.
Furthermore, you will find a new PWA (
P
eter
W
ong
A
udio) brand name copper cable, which I'm going to talk about later. Next, a plastic warranty card (the size of a credit card), with a printed S/N, website address, and a service email. There is a grey cleaning clothe/pad to keep those shells fingerprint free. Then, you have a complete set of eartips with blue-heart silicone S/M/L, and popular brand name AZLA Xelastec SS/MS/M eartips. Those provide a superior isolation and a very secure fit. There was also a leather cable storage/organizer clip. From what I have seen on Musicteck page, the Magnetic Earphone Clip (MEC) for cable storage and foam eartips are included with Indigo as a bonus accessory package, available to first 50 customers.
Just like with original MKII, you will find a lot of brand name popular accessories here, Dignis custom leather case, PWA copper cable, AZLA Xelastec eartips, etc. When it comes to accessories, UM likes to spoil, and we are not talking about the overall quantity, but the actual quality and usability.
Cable.
Looks like UM decided to continue with PWA collaboration (
P
eter
W
ong
A
udio – PWA), and for this limited release Peter cooked up a new copper cable. Labeled as UM Copper M3, it is all new cable with 22AWG gauge high grade OCC copper wires. The cable features 4 wires with PVC shielding and nylon protective sleeve. The 4 conductors have a loose braiding between the plug and y-split, and twisted in pairs going up to IEM connectors. The original MKII cable was thinner, 24AWG wire gauge, while having a similar PVC/nylon shielding and sleeve but just in black. Indigo cable has thicker copper wires, which should decrease the resistance of the cable, and the sleeve has a deep blue color to match the Indigo color theme. And, thanks to this sleeve, the microphonics is reduced down to minimum.
Furthermore, the cable hardware has been completely redesigned and updated. Now, it features bronze metal alloy finish, the same as the faceplate frame of Indigo. The plug, which could be selected in 2.5mm, 3.5mm, or 4.4mm termination (Musicteck lists 2.5mm and 4.4mm, have to ask separately about 3.5mm) features an all-new hexagon shaped housing with a round shaped notched end, custom square y-split with an oval-shaped end and matching oval-shaped retractable chin-slider, and a matching bronze metal 2pin connector housing with UM logo facing outside. You will also find a pre-shaped heat-shrink earhook.
This is not a cheap stock cable with just pretty hardware. The cable feels solid, durable, relatively soft, non-microphonic, with a beautiful matching hardware, and from one of the top brand name cable makers. The Copper M2 cable was selling by itself for about $500, and I'm sure this one is more expensive considering thicker wires, higher grade pure copper, and custom hardware.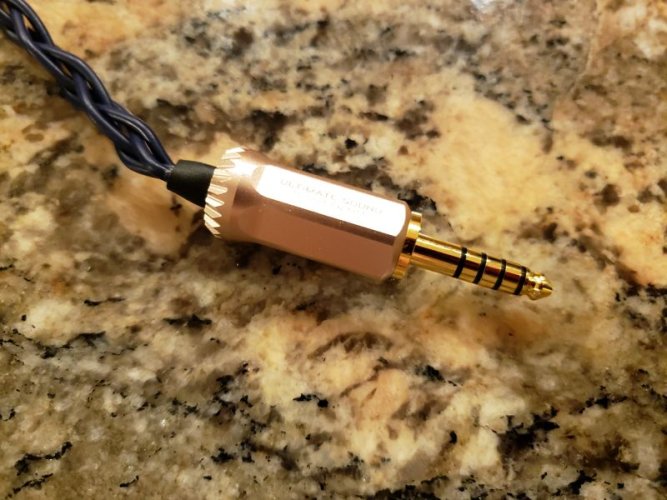 Design.
There is a very good reason why UM decided to call this new limited edition release MEST Indigo. It has a lot in common with the original and MKII releases of MEST. And at the same time, it has so many changes that take it to a whole new level.
First of all, a new "facelift". That is probably the biggest and the most noticeable change you will see before even putting these little gems in your ears. The original Mest/MKII carbon fiber lightweight shells infused with gold flakes looked nice, but the look itself was more modest. The new Indigo shells are gorgeous. The shell itself now features Indigo carbon fiber material with an infused blue accents, but the focus is on the faceplate that features 3D Sapphire Pinewood insert. The color and the pattern are mesmerizing, surrounded by a bronze alloy frame around the edges. The same bronze alloy metal finish is featured in hardware of the new UM Copper M3 cable, along with deep blue cable wire sleeve to match the Indigo theme of the design.
The overall shape and the size of Indigo shell is nearly the same as Mest MKII. But there are a few important changes. In order to maintain a solid look of the faceplate, the metal-plated venting port is no longer in the corner of faceplate, moved to the side, just a small pinhole vent at the top of the shell closer to the faceplate. One big change is removable and replaceable nozzle mesh filter. If that mesh screen gets clogged or broken in Mest/MKII, you have to send it for a repair, while in Indigo you just unscrew the top and replace it with included spares. This also opens a door to offer a different pattern mesh filters in the future, something that can alter the sound and act like a real sound filter, if UM ever considers that.
Inside, the driver config has been updated with addition of 2 more EST drivers. Now, Indigo features a configuration with a total of 10 drivers grouped in 4 types: DD, BA, EST, and Bone Conduction, a 4way quadbrid design with a 5-way crossover, including
DD
bass
driver,
2BA
mid
drivers,
2BA
treble
drivers,
4EST
ultra high
drivers, and one full range
dBC
dual sides
Bone Conduction
driver.
Similar to MKII, and in contrast to a single side BC driver in OG Mest, Indigo also uses double sided piezoelectric bone conduction driver which is placed in between two supporting plates and visible underneath of the faceplate. At the center of that dBC driver is the vibration board covered by ceramic coating on both the front and the back. Also, this dBC bone conduction driver now has a larger contacting area with the shell and has a wider effective frequency response range from 500Hz to 20kHz, in comparison to OG with BC that covered 1kHz to 16kHz. It is hard to zero into dBC effect and I don't want to speculate since we can't compare Indigo with and w/o dBC. But the 3D precision of imaging and multi-dimensional effect of upper frequencies makes me wonder if it is part of dBC contribution.
The fit.
Sound Analysis.
I analyzed Indigo sound performance paired up with a neutral LPGT source while playing a variety of test tracks, such as Agnes Obel "The curse", Sandro Cavazza "So much better" (Avicii remix), C-Bool "Never go away", Ed Sheeran "Shape of you", Alan Walker "Darkside", Galantis "Hunter", Iggy Azalea "Black widow", Indila "Boite en argent", Dua Lipa "Love again", Counting Crows "Big yellow taxi", Bob Marley "Jamming", David Elias "Vision of her", and Michael Jackson "Dirty Diana". I let it burn in for about 50hrs before I started taking my notes.
With addition of two more EST drivers, my expectations of Indigo tuning turned out to be completely off. The original Mest/MKII gained popularity and captured the attention of many audiophiles due to its deep analog bass and crystal-clear sparkly treble, with revealing mids not too far behind. That combination yielded a fun tuning with a mildly U-shaped sound signature. So, while going from dual EST to quad EST, one can assume more treble, and maybe even deeper U-shaped or V-shaped signature? But that is not what you are going to hear with Indigo after 40-50hrs of burn in when the sound starts to settle in.
Right away I noticed a balanced tuning with W-shaped sound signature. It is clear that it wasn't just addition of drivers but the update in both low end and high end of the tuning. The faceplate tuning vent of Mest/MKII was gone, "relocated" to a pinhole vent found at the top of the shell. And along with that, the tuning of the bass also has changed a bit, slightly scaled up in weight of the sub-bass rumble and impact of the mid-bass slam. It is not a drastic change that going to boost the bass significantly. I'm sure UM wanted to stay closer to the original tuning, but the boost is noticeable, and I can also hear more body in lower mids.
The original Mest/MKII had a more neutral lower mids which gave the vocals more revealing tonality and took some body away from acoustic instruments. Original tuning was more about fun signature, while Indigo added more body to the lower mids which gave vocals more presence and acoustic instruments more organic tonality. Then, when you focus on the upper frequencies, you notice a boost in lower treble. That probably comes from additional two EST drivers. This boost was done with a precision to completely avoid any sibilance, and instead give upper mids/vocals a more forward presence.
The mid-treble and overall treble extension are unchanged based on what I'm hearing and multiple measurements. But as a result of a fuller body mids and lower treble change, the perception of the treble tuning has changed, and Indigo treble is much less piercing now in comparison to Mest/MKII. As they say, a little change goes a long way. And all these little changes accumulated into the updated finetuning that I personally found to be quite effective.
The technical performance hasn't changed. You still have a similar soundstage expansion, wide, with more width than depth, creating a sort of an oval soundstage spacing around you. Imaging still approaches holographic level, and you can still expect an impressive layering and separation of sounds and vocals.
For my own personal preference, I enjoyed original Mest/MKII with more EDM and pop/rock tracks, while the improvement in Indigo tuning that added more body in the lower mids and deeper low end extension made it great with vocal, instrumental, and acoustic tracks as well.
Eartips Selection.
The selection of eartips is crucial to any universal in-ear monitors and will affect the sound, especially the bass impact depending on the seal. Due to a large opening of my earcanals, I usually go for the largest size eartips to get a better seal, but with a slightly bigger diameter of Indigo nozzle, in some cases I had to step down to medium size eartips. Also, please keep in mind, eartips impressions are subjective and will be based on anatomy of your ears. Here, I was analyzing the sound using LPGT and stock cable.
stock AZLA Xelastec
- The sound sig I hear is balanced W-shaped with elevated deep textured sub-bass and strong mid-bass impact, natural organic fuller body mids with a decent retrieval of details, and sparkly treble with a good airy extension. I was going between M and ML size eartips, so if the included M size doesn't give you a good seal, try to get Xelastec ML/L size pack.
stock Silicone
– the seal here is more relaxed and the sound sig is between W-shaped and a very mild U-shaped because upper mids/vocals sound a little more distant and slightly reduced in quantity. The low end is very powerful here, and in a contrast with mids, bass scales up a bit because mids sound a little thinner and brighter. Mids/vocals still have a natural tonality, but a little less warm in comparison to Xelastec eartips. Treble has extra sparkle but still staying under a threshold of my harshness tolerance. For EDM track, this is a good eartips pair up.
Symbio F
- I tried L and M size, both give a good isolation and similar mids/treble, but the bass was attenuated with M-size, thus I switched to Large for a better seal. The sound sig with Symbio F is balanced W-shaped, with a more even and linear tonality across entire frequency range. While some other eartips give you a little extra bass or treble emphasis, here the tuning was nicely balanced, giving the sound more transparency and less coloring in mids. Bass still elevated and goes deep with a nice textured rumble, but a little less than Xelastec; and mid-bass is more articulate with a better control. Mids have body, but a little less warmth and more transparency, making them sound a little more revealing. Treble is crisp and airy, and still natural.
SpinFit CP145
- with these SpinFits the sound sig is closer to U-shaped tuning where bass and treble are more elevated and upper mids sound more distant. Bass here is scaled up in quantity, I hear a lot more sub-bass rumble and overall bass has more weight and more presence. Lower mids are closer to neutral, thus vocals loose some of the body and warmth. Treble is crisp and bright, not harsh but getting closer. Wasn't too crazy about these eartips with Indigo.
Final Audio Type E
- another pair of eartips with a narrow bore opening, similar to SpinFit where I hear a slightly more U-shaped sound sig tuning. Bass goes deeper, has stronger punch, and overall, more elevated. Mids/vocals are not as smooth or warm, a little thinner and a bit distant, further out of your head. Treble is crisp and bright, not harsh but they are getting a little closer to my personal borderline of tolerance. Wasn't my favorite pair up.
Xelastec and Symbio F were my favorite eartips with Indigo, a similar conclusion I reached with MKII, but keep in mind, it is very subjective and relative to my ear anatomy. Bottom line, sound does vary with different eartips so don't jump into the final conclusion until you experiment with tip rolling.
Cable pair up.
I'm aware that some people don't believe in cables and have very strong opinion about it. It's not my intent to change those minds. Instead, I'm just sharing what I hear during my testing. What makes sense to me, a metal wire is a material with physical properties of resistivity, conductivity, purity, and unique geometry, all of which put together act as a filter between your source and headphones. Variations of these physical properties can affect the conductivity of analog signal, resulting in a sound change, from a subtle to a more noticeable level. If the talk about cables upsets you, please skip this section. Otherwise, enjoy these short impressions.
stock to EA EVO10
– when I tested MKII with this cable, I heard a little bit of improvement in soundstage. But the overall tonality, sound signature, and the rest of the technical performance are similar.
stock to PWA No 10
- I hear the signature to change slightly, being more U-shaped due to bass being slightly elevated and treble going higher in quantity due to mids being slightly scooped out, making the sound brighter and more revealing. Felt like I was going back to MKII tuning.
stock to Eletech Socrates
– another change in sound where in this pair up the bass and mids remained nearly the same while the treble got boosted and became brighter. I know some people don't believe in cables, but here the change was rather drastic due to treble boost.
stock M3 to MKII M2
– I was very curious about this one, and found that M2 cables made Indigo lower mids thinner and also slightly reduced the impact of the mid-bass. When you switch back to M3, the vocals had more body and mids sounded smoother. The change wasn't necessary drastic, but was quite noticeable.
If you have other flagship cables, go ahead, it never hurts to try, to see if you can bring more refinement to the sound. But considering the quality of stock PWA copper cable, I don't think you need to invest into a cable upgrade with Indigo. The stock cable is great looking, great sounding, and has a great pair up synergy here.
Comparison.
The comparison was done using Indigo with a stock cable, Xelastec stock eartips, and LPGT source; volume matched in every comparison.
Indigo vs FiR Audio M4
- Indigo soundstage is a little bit wider, perhaps due to Indigo having more air in upper frequencies which gives its soundstage a more open and expanded width. Their bass, from sub-bass rumble to mid-bass impact, has a lot of similarities, not exactly identical, but it is very close in weight and presence. Upper mids are very similar as well, making vocals sound natural and detailed, and lower mids are not too far off either, though, overall, I found M4 mids to have a little more coloring and Indigo mids to have a little more transparency. Both have energetic highs, but Indigo adds more air and has a little better treble extension.
Indigo vs 64 Audio Trio
- Another interesting comparison since original MKII was closer in tuning to Trio. But now the tuning gap is a little wider. The first thing you notice is a V-shaped tuning of Trio vs more balanced tuning of Indigo. Soundstage expansion is close, maybe with Indigo being just a little bit wider. Both have elevated DD bass with a deep sub-bass rumble and healthy mid-bass slam, but Trio scales up in quantity just a little higher, which could also be a part of the perception due to a more V-shaped sound sig. Upper mids are very similar in quality, while Trio's lower mids are a bit leaner. When it comes to quantity, mids are more recessed in Trio, while Indigo mids/vocals are more forward and have more presence. Both have energetic treble with plenty of sparkle and airiness, but Trio's tia sounds splashier in comparison to more controlled Indigo treble.
Indigo vs Campfire Audio Solaris 2020
- Also an interesting comparison to another popular hybrid. Here I found Solaris being just a touch wider in soundstage while both have the same depth/height. Both have a balanced tuning, and as a result have W-shaped sound sig. But there is some difference in bass impact where even with its deeper sub-bass extension and a good punch, Solaris has less weight and low end presence then Indigo. In comparison, Indigo bass scales up in quantity to give you more sub-bass rumble and stronger mid-bass punch. Mids/vocals are similar in quality, being more natural and detailed, though Indigo has a little more body in lower mids while Solaris is a bit leaner. Both have a clear and sparkly treble, with plenty of energy, but Indigo treble sounds more natural while Solaris treble is a little brighter and a bit less natural.
Indigo vs Mest MKII
– to summarize what I have already covered in Sound Analysis section; the sound signature has been changed from mildly U-shaped in MKII to balanced W-shaped in Indigo. The bass scales up across sub-bass and mid-bass with a little more rumble and impact, not a significant lift, but noticeable enough to add more weight to Indigo bass. Lower mids now have more body which gives mids/vocals a more natural warmer tonality, and upper mids itself are more forward which contributes to a balanced sound sig change. While treble in general didn't change, its perception did due to changes in mids, which now makes treble sound less peaky and more natural.
Source pair up.
In each source pair up I was using a stock premium cable. Indigo is easy to drive considering its 118dB sensitivity and 13.2ohm impedance. No hissing was detected. For your reference, here are my brief pair up notes. And by brief, I just focus on any changes related to signature and general tonality, without going into too many details of technical performance difference.
Lotoo LPGT
- the baseline sound with wide soundstage, balanced W-shaped sound sig; deep extended sub-bass with an elevated mid-bass slam, natural detailed mids/vocals, crisp extended treble.
Cayin N6ii w/R01
- wide soundstage, balanced sound sig; bass has a deeper sub-bass rumble with a similar mid-bass impact, mids/vocals are natural and detailed, treble is a little bit brighter and crisper. I still consider the sound sig to be W-shaped, but a little extra sub-bass emphasis and treble sparkle makes it borderline mild U-shaped.
Hiby RS6
- wide soundstage, balanced sound with a slightly more mid-forward sound sig; extended sub-bass with a fast mid-bass impact, but overall bass quantity was a bit more neutral; mids are natural and detailed, high in quantity and a little more forward in presentation, and treble is airy, with plenty of sparkle, and overall extra energy. Probably the brightest treble in comparison to other daps.
iBasso DX300 w/amp11 mkII
- wide soundstage expansion, W-shaped balanced sound signature with a deep sub-bass rumble and stronger and faster mid-bass impact, natural organic detailed mids/vocals, and crisp and well-defined extended treble. Excellent pair up synergy.
A&K SP2000 SS
- wide soundstage expansion, a balanced W-shaped sound signature with slightly elevated deep and textured sub-bass rumble and a faster mid-bass impact. Mids were natural, detailed, with a fuller body in lower mids; treble was extended, airy, sparkly, but not as aggressive, more controlled.
Conclusion.
In the conclusion, let me get back to the question I raised in the intro, what is Indigo? In my opinion, I think it is more than one thing. From what I have been told, UM made only 200 pairs worldwide and once they are gone, that will be it. So, it is a Special Limited-Edition release. Would I consider Indigo as MKIII or next gen Mest? It definitely has Mest DNA, inside out. The driver config has been upgraded from 8 (DD/4BA/2EST/dBC) to 10 (DD/4BA/4EST/dBC) and the tuning has been refined to give you more natural tonality with a slight elevation in bass and fuller body more forward mids that change the sound sig perception from mildly U-shaped to balanced W-shaped.
But it is more than just internal driver config change and updated tuning. The whole shell was upgraded with all new finish carbon fiber material and a new premium 3D Sapphire Pinewood faceplate. The shape of the shell remained the same, but everything else has changed, including new replaceable nozzle mesh filter and relocation of bass port vent. Plus, they stepped it up with an all new PWA stock cable that features thicker conductors, matching color deep blue sleeve, and an all-new custom design bronze hardware to match faceplate frame. Even the included Dignis storage case has been customized to match Indigo color theme.
The price has gone up as well, and I did receive quite a few questions asking me if the difference worth the new price tag. In my personal opinion, even from reviewer rather than consumer perspective, Indigo has so many inside-out upgrades going from MKII that I find the price increase to be justified. As a matter of fact, while the new driver config and tuning felt like MKIII upgrade, the exterior redesign along with a new cable and customized Dignis case felt like the infusion from UM flagship Fabled Sound.