Introduction
Located on the Pearl river in what is currently China's third most-populous mainland city is a company named TOPPING. Founded in 2008, TOPPING aims to
make affordable but great value HIFI products.
Over the years the company has made a series of DACs, amplifiers and headphone amplifiers, including their very popular NX series of portable DACs and amps. Recently they unveiled a full balanced DAC & Headphone amplifier, the DX7 and today we'll be taking a look at how it performs. The DX7 supports PCM 32bit/384K and DSD and can be used as a DAC/AMP, standalone headphone amplifier, a digital transport and a preamp, making it a pretty versatile device. Read on to find out more.
Disclaimer
This sample was sent to me for the purpose of an honest review. I have no affiliation with the company and all observations and opinions here are my own, based on my experience with the product.
The Topping DX7 currently retails for $399 and can be purchased from Amazon and AliExpress.
Topping website:
http://www.tpdz.net/en/index.htm
Amazon link:
https://www.amazon.com/dp/B073TS193L
Packaging and accessories
It all starts with a rather large, textured, black box that simply has TOPPING printed in white text and a High-Res AUDIO label on the bottom right corner. This looks great and has an understated elegance to it.
What's in the box
Sitting in a slab of thick, black foam in 3 cutout sections is the DX7 DAC & Amp, remote control USB cable and power cable, along with a User's manual and warranty card. Also included is a 3.5 mm to 6.35 mm adapter. It's a nice presentation that lays everything bare for you to see right away and as you can see from the pictures everything is held securely in place and should be well protected during transit/shipping.
The USB and power cables are both thick and of nice quality but the real highlight of the accessories is the gorgeous, fully metal remote control. It has a weightiness and solidity to it that makes it feel very premium in your hand. The matte, anodized aluminum finish is smooth to the touch and also resistant to fingerprints. It's actually the same finish that's used on the DX7's chassis which is a classy touch and makes it feel a cohesive part of the system rather than a lackadaisical addition.
Build and design
With dimensions of 25 cm x 20.5 cm x 5 cm and weighing in at 1.95 kg the DX7 takes up a fair whack of desktop space but luckily it's sleek and unimposing design looks great and with 2 color choices (silver and black) it should fit in well with your surrounding decor.
The chassis is constructed from anodized aluminum and is a straight edged, rectangular shape. On the top and sides are two ridges running in parallel from front to back to break up the otherwise plain surface. There are no ventilation vents anywhere on the unit which will help prevent dust from reaching the internals and makes it rather surprising that the DX7 doesn't get hot or even warm during use.
On the front panel (from left to right) are:
6.35 mm headphone output
Balanced headphone output
OLED screen
Remote control receiver
Volume knob /Multi-function Button
Moving to the rear panel we find (from left to right):
2-1 Right channel analog XLR output
Left channel analog XLR output
Left and right Right channel analog RCA output
COAX output (only available when there's a USB input)
USB input
COAX input
OPT input
AES input
Power input
Fuse
Power switch
Everything on the rear panel is cleanly laid out and clearly labeled. Input selection can be done via the multi-function button or remote. A double click changes the output mode between headphone out, DAC+headphone out and line out.
The OLED display has 2 brightness levels but can't be turned off. Fortunately it's neither gaudy or offensive but I'm sure there will still be some people who would like the option to turn it off. However I think it's fantastic with text that's large and clear enough to read from a distance without being distracting or gaudy. It's particularly useful for seeing the current volume level as the volume knob itself spins infinitely and does not give any indication of level so you know when plugging something in, like a sensitive IEM for example whether you need to make any adjustments before hitting the play button.
Finally, on the bottom there are 4 silicone feet that lift the DAC slightly up off the surface and provide a good, grippy footing. Overall the DX7 is a plain but attractive, straightforward device that's very easy to configure and use.
Internals
The DX7 utilizes dual, separate ES9018K2M DACs and amplifier chips for the Left and Right channels. There's also a possibility of an upgraded version in the future that will use the ES9038Q2M.
Specifications:
TOPPING's product page
DX7 specs
Sound
Equipment used for testing
PC/Foobar2000 > DX7 via USB > Acoustic Research AR-H1, Meze 99 Neo, Ultrasone Performance 860, Beyerdynamic DT990 Pro, DUNU DK-3001, LZ A4.
For testing I had the filter set to "Slow". I found the changes when using different filter settings are very slight and for the most part barely perceptible.
6.35 mm vs balanced output:
I currently have two headphones that can be used with the balanced output and both are low impedance. I didn't notice any significant changes when using them balanced compared to the standard output (apart from balanced having more output power) but it sure is nice to have the option there.
The impression I get of the DX7 is transparent, detailed and balanced that faithfully reproduces sound and lets your accompanying equipment do any coloring or alterations. While not as smooth as the Arcam irDAC-ii it does reveal lots of detail and has an excellent soundstage (and is roughly half the price). To my ears it has a very neutral presentation which means that what you're hearing comes down to which headphone or IEM you plug in.
Listening to Keb' Mo's "France" the DX7's rhythm and timing is spot-on just and there's a great sense of depth in the soundstage that makes the live recording come alive. The vocals seem slightly more forward compared to the ATC DP20 DAP that I've been listening to lately. With "Groove Attack" by Infected Mushroom the punchy drums are driven along effortlessly with perfect pace and excitement while all the smaller details rise up out of the bass heavy track. Treble notes have a light openness about them giving tracks air and energy.
Headphone compatibility is listed as 16-300 ohms from 6.35 and 32-600 mm from the XLR output so it should be compatible with your transducer of choice whatever that may be. At no time have I detected any hiss, pops or background noise with the DX7, it simply does it's job. The THD+N (Total Harmonic Distortion) from the headphone out is only >0.003% at 33 ohms for the 6.35 mm and >0.0007% at 300 ohms from the balanced out so you can rest assured that you're hearing music just the way it was recorded.
I tested the line out via Coaxial connected to the Arcam irDAC-II which worked perfectly so if for any reason you want to use the DX7 as a digital transport it's very easy to do. Testing was also done using the RCA output, connected to the FX-Audio 1002A (great budget amp by the way) and my Elac Debut B6 speakers and was again very satisfied with the result.
Pairing
Ultrasone Performance 860
This is a headphone that I feel doesn't get as much recognition as it deserves with its stellar build quality along with a linear, balanced and detailed sound. Pairing with the DX7 is a real treat with it's black background and resolving presentation. There's plenty of bass punch, excellent soundstage and loads of detail while still being musical and non-fatiguing.
Beyerdynamic DT990 Pro
With its heavily V-shaped signature and impressive detail the DT990 is also a good match for the DX7. The accentuated bass is very pleasing to the ears but for some the treble might seem a bit strident. Personally I prefer this headphone with a slightly warmer source, ideally something with tubes!
Acoustic Research AR-H1
The AR-H1 is the brand new planar magnetic from Acoustic Research. It has a very balanced sound with superb instrument separation and a very controlled, punchy bass. While not the most revealing in terms of detail it still has plenty of musicality and emotion and being open backed has an impressively wide soundstage. The impedance is only 33 ohms but it does benefit from a powerful source. I've tested with single and balanced output and found little difference in the sound apart from higher volume coming from the balanced output. It's fantastic paired with the DX7 and only slightly outdone by the irDAC-II which seems to give the sound a little more body.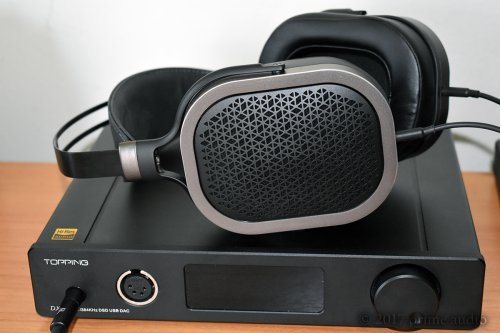 Although the 6.35 mm headphone out has an output impedance of 10 ohms it handles IEMs with aplomb. I don't currently have any pure multi-BA earphones with me but the single dynamic + 3 BA DUNU DK-3001 sounds spectacular through the DX7, as did all of the earphones that I tested.
Conclusion
The title of this review was probably an early indicator of how I feel about the TOPPING DX7. It has a professional yet unassuming aesthetic with impeccable build quality. The OLED screen is a very handy feature to have, giving you plenty of information about what's going on at a glance. It has lots of options for inputs and outputs making it compatible with a large number of devices and it's very versatile as well, being a DAC, DAC + headphone amplifier, preamp or digital transport. Then of course there's the single ended or balanced headphone jacks allowing you to use almost any headphone in your arsenal without the need of adapters and that fantastic remote! At the retail price of $399 the DX7 is one of the cheaper units to offer balanced XLR output. It is an excellent and affordable solution for anyone wanting to dip their feet in the waters of balanced sound or just looking for a very capable DAC/AMP solution.