Hi there,
This is my first review. I spent quite a few hours browsing different models of DAP, and I hope you'll find the answer right here. If not, feel free to drop me a message. 
Case / built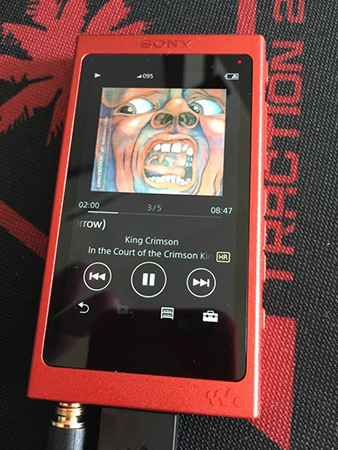 Sony built this DAP with nice ingredients: not luxury but not cheap either. It feels the right weight. It has a good finish.  
The edges and the back are slightly different red ($200 remember that).  
The micro SD hatch is protected by a plastic/rubber lid. Large fingers like mines can still insert/remove the card without difficulty.  
The physical buttons on the right are made of plastic and the play/pause button is marked with a tactile dot, so you can feel it even in your pocket.
The jack output at the bottom is at the right place, like the iPhone 6S.  
Screen
The coating is really good, slightly less gliding than the Apple Gorilla glass! It does not scratch easily.  
The pixel density is pretty good, texts appear sharp and contrasted, blacks are deep.  
I had no difficulty to read it outside at bright light. I wish Sony would have implement a light sensor to automatically adjust brighness, although thinking about it, you need to pay for it and this extra consume some power of its own.
User Interface
Sony did a good job at
lesser is better
.  
The main screen works like a star: slide up, down, right left and you'll have immediate access to different screens to navigate through your music collection and options.
A long list of albums doesn't slow down the scrolling although there is always a few milliseconds of lag, not a big deal.  
Since almost forever I take good care of the tags in the audio file, this DAP had zero problem to recognize them.
The only option I change
Artist List Display
to
Album Artist
instead of
Artist
, works better with compilation.
In the setting screen, I love the counter of total hours of playback, this is really fun 
Battery life
Sony brags its own way with digital signal processing option, DSEE HX and such but not much about home made DAC.  
They are the master of the balance between energy consumption and quality, nothing to say about this, all DAP on the market are really struggling to feed power to the 3
rd
party DAC they use.
Well done Sony!
Sound quality
It is a nice step up from my iPhone 6S: more clarity, sharper and definitely not as round/smooth as the Cowon Plenue D I returned a couple of month ago.  
I'm using Earsonics SM3 v2 IEM, I don't feel the need set the volume over 60-70/120 when I use public transportation.
Features I would like to see
Sony I beg you, please embrace USB-C instead of your proprietary connector
An app on my phone to remote control the DAP
Percentage of battery life not just full, medium 1 / 2, low
Other DAPs I considered
Plenue D: excellent battery life but much too round/warm sound for me
DX200: ruled out for battery life to short
FiiO X5 3rd gen: read a mixed bag of feedbacks, and again poor battery life
Sony ZX2: huge price gap compare to this one
AK70: battery life way too short!
Pioneer XDP 300R / Onkyo X1-A: an android OS with lots of CPU power and a large screen was tempting, but I already have an iPhone
See also the
thread on the forum