Rating: 8.9
Sound: 9
Intro
2999 €, welcome to my personal utopia. First of all: The KSE1500 offers an impressive listening experience. I can say without a guilty conscience that I have never heard an IEM that delivers such a performance in terms of transparency, resolution and above all the 3D sound image.

Nevertheless the KSE1500 is an IEM with which I don't get 100% warm. Objectively and at the same time subjectively seen the KSE1500 will surely be an end game for some people, at least concerning the wallet, but I guess I'm still on the never ending search.

With the KSE1500, SHURE is a kind of pioneer when it comes to an electrostatic driver in in-ear format and has certainly caused a sensation in 2016.
Meanwhile 4 years have passed and the technology has continued to develop. But is the KSE1500 still the benchmark to climb? Yes and no.


Handling
So, what do you get for such a used middle class car:
1 x charger with USB cable
1 x Micro-USB-B on Lightning cable, 20 cm
1 x Micro-USB-B OTG cable, 20 cm
1 x 3.5 mm jack cable, approx. 15 cm
1 x 3.5 mm jack cable, approx. 90 cm
1 x 6.3 mm jack adapter
1 x leather storage bag
1 x Comfort Transport Case
1 x aircraft adapter
1 x volume control (what for, the DAC/amplifier already has a control?)
1 x cable clip
2 x rubber safety straps
1 x microfibre polishing cloth
In addition, there are also different variants of silicone and foam tips. So it should not fail because of the accessories. All this is delivered in a big black box, which also has a drawer to store everything. So you have a small cupboard in miniature format at home.
What surprised and disappointed me the most is the IEM and its design. Plastic in plastic with a firmly connected, thick cable, which makes a valuable impression, but unfortunately has memory wire reinforcements.
The actual housing of the electrostatic driver was packed into a plastic cover, which gives the KSE1500 a somewhat unusual appearance. It is also a bit rounder and larger than its SE cousins, but without any restrictions it wears just as fantastically. The workmanship, or rather the choice of materials, doesn't make me suspect, however, that I'm holding just that much money in my hands here.
Since I can operate the KSE1500 by its individual cable connection (LEMO) exclusively with the provided amplifier (large point of criticism), I must lose also briefly one or two words to this. This has a somewhat longer rounded cigarette box format and makes a very robust impression in contrast to the KSE1500. When fully charged, it lasts up to 12 hours and the integrated DAC can be easily connected to a mobile phone via OTG or the line-in. Of course also with other mobile players or the laptop, where it is also directly recognized. It has a simple menu navigation, a volume control and above all a graphic level indicator on the small display, where the current volume, equalizer setting, connection type (line, or USB) and the charge level are also shown.
Sound
For the review I control the DAC/amplifier via USB with my mobile phone, with the USB Audio Player PRO and MQA - That means I consume the music Bit-Perfect and let the integrated DAC (24-bit/96 kHz) do its job. The equalizer setting is set to FLAT and I have not made any other modifications. The DAC offers the possibility to create your own equalizer setting and has also predefined settings, such as Low-Boost, De-Ess, or Loudness, but this falsifies the sound too much and does not reflect the KSE1500 anymore.
The bass is what is probably called "slightly north of neutral" in the "technical language". It is slightly emphasised in the mid bass and drops off towards the sub bass. For my taste, I miss the impact and it serves more as a necessary element to keep the signature from drifting into sterility, instead of putting its stamp on the music and making you bounce along. He does his work sovereignly, is very clean, but does not develop the desired pressure. I'm aware that this is a criticism that is not very objective and the KSE1500 certainly doesn't want to inspire with bass, but with an authentic and neutral music reproduction, but I'm concerned about the weighting in the signature and there the trebles dominate a bit too much compared to the bass. Apart from that, the bass has a good texture and is to the point, but not particularly punchy. If you're looking for an authentic, unobtrusive bass reproduction, you'll find what you're looking for here. But be careful, if you want to give the bass a little fire under its butt (DAC equalizer), it tends to overdrive and becomes unclean. But you can't blame the bass for its quality and it's available in enough quantity to survive in any genre, just not in focus.
The mids are fantastic. Very natural, incredibly high-resolution and transparent, and absolutely uncoloured. But they are neither boring nor undynamic, they are mostly musical and filled with life. Voices have a very authentic timbre, guitars are sometimes soft, sometimes crisp and you can't get enough of them. The separation is extraordinary, clean and sharply separated without it appearing artificial. You have your hands full to follow all the information in the music, which can sometimes even be a bit overwhelming. So why don't you get the full score? Well, the KSE1500 is not the absolute all-rounder for me and this is also reflected in the mids. Every now and then they are a bit too thin for me and I would like a bit more body. They fluctuate a bit between the analytical and the musical, but that is grumbling at the highest level. Some of you will find your End-Game here.
The trebles are more or less the counterpart of the SE846. If they drift a bit into the dark on the SE846, and don't have the absolute detail diversity, the KSE1500 mercilessly reveals all the musical information in a track. That can sometimes even be a bit exhausting. Not because there would be unpleasant peaks, or the sibilants are strongly emphasized (they do, but they don't become very annoying), but because the trebles are a bit too much in focus for my taste and are tuned slightly too bright. While trebleheads won't want to take the KSE150 out of their ears, everyone else will enjoy the overwhelming amount of detail that's buzzing around everywhere in their heads. A really amazing listening experience, but which can also become overstraining with time, as you might not always want to have everything presented razor-sharp with this precision, but also want to relax with your music. With the KSE1500 I can hear nuances that I hadn't noticed before and that's what makes it so special.
What happens in the panoramic picture of the KSE1500 is as outstanding as it is unusual for an in-ear. It's a real out-of-ear experience, which continues in the horizontal axis. Several levels can be identified without any problems and localisation is child's play.
Outro
The KSE1500 does not make the final evaluation so easy for me. What is certain is that this is an IEM that uncompromisingly transports music into the ear and also wants to be fed with high quality stuff. I repeat myself, but the listening experience is one that I would like to recommend to every audiophile. But here also lies the problem. The KSE1500 is exciting, but at some point this experience wears off and you wish for a bit more everyday life and comfort. Car lovers will surely also like to heat up a Lamborghini with 300 km/h over the Nürburgring, but then they will also look forward to their VW Passat, which is more comfortable and where you know every flaw and imperfection, but still don't want to miss it.
Apart from the fact that I can only use the KSE1500 in combination with the SHURE amplifier, I enjoy the musical time with it, but in the long run it is too correct and a little bit know-it-all for me. Yes, I know that some of my favourite bands don't always have the perfect recordings, but do you have to point that out to me all the time?
What I don't understand, though, at this price, is the product as such. Plastic, no detachable cables and of course the plug, which is not compatible with any other DAC or amplifier. So I have to use the SHURE-DAC/amplifier whether I want to or not. Apple says hello. The DAC is not bad, but is it really still up to date? No MQA, limited to 24-bit/96 kHz (okay, I admit that at some point I won't hear a difference anymore) and what it can do with DSD I can't judge.
If I understood it correctly, the KSE1200 is for over 1000 € less, the same IEM, only without the integrated DAC in the amplifier. Now spending over 1000 € for a DAC may not be unusual for some people, but then you have a digital headphone amplifier that is also compatible with other IEMs. At least please include an adapter or whatever. For the hobbyists among you, you might want to solder a LEMO female connector to a 2.5mm, or 3.5mm phone jack to get around this.
Yes, the KSE1500 is mobile high-end through and through, but for me it's enough to spend half a day with it and then I'm longing for something more solid and compatible, as well as less excited. For me nothing for everyday life, but if, I would like to spend time with him specifically.
Purchase possibility:
https://amzn.to/31GG10K
The DEMO-In-Ears were kindly provided directly by Shure Distribution Switzerland GmbH.
https://www.shure.ch/de-CH/produkte/ohrhoerer/kse1500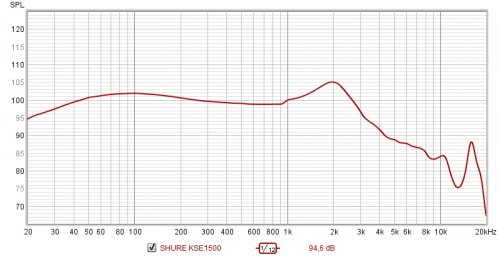 ___________________________________________________________
More reviews:
CHI-FIEAR
Facebook:
https://www.facebook.com/CHIFIEAR/