DISCLAIMER: Sennheiser provided me with the IE800S in return for my honest opinion. I am not personally affiliated with the company in any way, nor do I receive any monetary rewards for a positive evaluation. I'd like to thank Sennheiser for their kindness and support. The review is as follows.
Sennheiser are bonafide industry legends. From headphones, to in-ear monitors, to microphones, to wireless systems, it's impossible to ignore the legacy they've built on a global scale. The company is no stranger to innovation, which their monumental Orpheus systems will attest to. Their HD800S headphones have also proven their tact in remastering their greatest hits. But, nowhere are both qualities more clearly exemplified than in their flagship in-ear monitors: The IE800S. With refinements in driver tech, acoustics and damping, how does the IE800 successor measure up in today's landscape?
Sennheiser IE800S
Driver count: One dynamic driver
Impedance: 16Ω
Sensitivity: 125dB @ 1Vrms
Key feature(s) (if any): Proprietary Extra Wide Band drivers; patented dual-chamber absorption system
Available form factor(s): Universal in-ear monitor
Price: $999.95
Website: en-us.sennheiser.com
Packaging and Accessories
The IE800S arrives in a black box sleeved within high-resolution prints and metallic silver text embossed along the front. It's a more commercial aesthetic than the more boutique custom IEMs I've reviewed recently, but it's flawlessly executed nonetheless. The inner box is satin-grey with the Sennheiser logo on top – reminiscent of the cases that house their HD headphones. Underneath, the monitors are stored snugly within foam cut-outs, plus the leather case and accessories.
The leather case is a wonderful inclusion; showcasing the luxury and class befit of a $1000 price tag. It adopts a subtle aesthetic, which emphasises its exceptional construction – cut, stitched
and
engraved with precision. It comes equipped with a magnetic latch, a metal badge with a serial number and a solid foam insert. The insert has cut-outs and ridges for the earphones and cable, respectively. Although the solution is secure, some may find it cumbersome to wrap the cable around the entire enclosure in order to store them. An additional, compact zipper case would be ideal in this scenario.
Below the earphones and the case are the IE800S's suite of accessories. These include a selection of foam and silicone tips, as well as termination options for the cable, which we'll get into later. The tips are individually seated on a plastic card of sorts with lettering engraved to denote the tips' sizes. This is a vast improvement in organisation over the cheap, plastic baggies I've seen with monitors in the past. This benefits security too, as you're less likely to lose the tips when they're securely seated like this. The tips all come equipped with wax guards too to maximise longevity and hygiene.
Cables and Build Quality
The IE800S maintains the original IE800's semi-detachable cable system. Instead of the more common philosophy where the wire detaches completely from the monitor's housing, the IE800S's cord detaches at the Y-split in a 2.5mm plug. This can then be adapted into a wide range of terminations. Sennheiser has included three by default: 3.5mm single-ended, 2.5mm balanced and 4.4mm balanced. I appreciate the sentiment of at least a semblance of a swappable system, but I wish Sennheiser had committed to the more common ideology and separated the entire cable from the housing. This would allow further customisation, potentially removed a risk of failure and solved a few quirks the cable currently has.
An example would be length. The wires between the earphones and the Y-split are awfully short. The Y-split sort of sits at the neck rather then the chest when wearing them down. This design is infinitely more comfortable on-the-go with the cable running down the back. Another major issue is microphonics. The IE800S's cable is terribly noisy. The slightest bit of contact with any part of the wire sends an irritating noise that disrupts the listening experience. The IE800S is best heard when stationary or with the included shirt clip to keep the cable still. In 2018-2019, these issues are disappointing oversights in my opinion. And again, these problems would've easily been solved with a fully detachable cable system.
But, with that said, I must give Sennheiser utmost praise when it comes to the earphone's build quality. The matte-black ceramic housings are as robust as they are breathtakingly gorgeous. Although the in-ears are small, never once have they felt fragile, light or insubstantial. They truly look
and
feel like quality products, and I have no complaints whatsoever here. In terms of wearing comfort, they excel as well. They've maintained the original IE800's self-adjusting system where they seat themselves in place no matter how deep you try to force them in. I've found this system to achieve a consistent fit with utmost security and comfort, so kudos to Sennheiser again here. With the silicone tips, isolation is perhaps not the best, but that's to be expected with the acoustical technologies at hand. The Comply's are best for noise isolation.
Dual-Chamber Absorber System
Aside from the refined XWB drivers, the IE800S also features Sennheiser's patented dual-chamber absorber (D2CA) system. This was first introduced on the original IE800, then incorporated into Sennheiser's acclaimed open-backed flagship HD800S. According to Sennheiser's website:
"This innovation overcomes the "masking effect", where low-volume components of a sound are obscured by much louder sounds in a lower frequency range occurring at the same time."
In the next page, you'll see some parallels between this quote and what I've written about the IE800S's midrange. Although the lower-midrange harmonics are more reserved, they are resolved expertly well. I believe this has much to do with D2CA.
Presentation
The IE800S possesses a spacious sig with strong emphases on cleanliness, detail retrieval and refinement. Instruments sound compact, snappy and clear, set against a holographic, well-layered and precise stage. In addition, the earphone positions its instruments neutrally on the stage – neither too intimate, nor too distant from the listener – with heaps of air and space between them. Because of this, its soundscape constantly possesses an open, free, voluminous profile. But, the single-driver configuration preserves coherence and unity, so
zero
listening fatigue is provoked along the way.
The IE800S's overall tone is neutral. There aren't any obvious peaks aside from a hint of mid-treble glare. With tracks like Ariana Grande's
Imagine
, the '
s
' notes may stand out. It's not harsh per se, though it does get hot. But, aside from lemons like these, the IE800S possesses a mindful balance between smoothness and articulation. As mentioned, the IE800S's instruments are compact and tight. This isn't a signature for audiophiles who prefer warmer, mushier, more intimate-sounding monitors. But, they aren't withdrawn either. Sufficient midrange presence generates the vibrance needed to complement the extremes – resulting in a dynamic monitor with an ear for detail that does
not
compromise coherence.
Bass
As expected from a dynamically-driven low-end, the IE800S's bass possesses great physicality – doling out solid, meaty punches without having to overdo quantity. This is done through extension, which the IE800S excels at. The mid-bass may sit in line with the midrange and treble, but you can still feel the impact coming through clearly and unobtrusively. In that way, you get the best of both worlds. A downward slope from the mid- and upper-bass is what gives the IE800S its clean, black background. The sub-bass makes its presence known in hip-hop tracks like Royce da 5'9″'s
God Speed
. In fact, the low-end's darker tone meshes beautifully with the whole genre – clean and defined, yet visceral all the while.
For genres like jazz, I'd personally prefer a bit more warmth to the bass. Contra basses like the one on Michael Bublé's rendition of
Song For You
may lack a bit of resonance. It isn't the most musical or emotive low-end. Instead, it's more matter-of-fact. But, where this benefits is in its delivery of texture and detail. Bass instruments are excellently resolved to the minutest of nuances, allowing the listener to analyse to their heart's content. However, the low-end does not sound sterile or dry in the least, because of the aforementioned extension
and
impressive sub- to mid-bass balance, respectively. The dynamic driver exhibits outstanding authority over the low-end, resulting in marvellous headroom. So, this detail and energy is delivered effortlessly with zero bleed upstream, and with impact, physicality and verve to boot.
Midrange
The IE800S's midrange rides the line well between body and definition. It does have the common lower-midrange dip to maximise cleanliness as naturally as possible. But, the dip isn't egregious, so instruments maintain enough integrity to sound realistic. Returning to
Imagine
, Ariana Grande's crisp articulation is noticeably louder than her deeper, chestier overtones. But, the latter still come through with authority and resolution, so her voice never sounds thin or incomplete. The same goes for snare drums. The dominant sound is the
snap
and
crackle
of the drum, but enough body is retained to do lower-tuned snares justice too. This is because of a gorgeously-tuned 1-2kHz rise. It gives instruments this density, roundedness and heft that – when paired with the IEM's uncoloured tone – strongly evokes pristine, refined neutrality.
This is further bolstered by the midrange's technical performance. The IE800S maintains its excellent composure and resolution here. No matter how crowded arrangements get, the image remains stable and the black background still comes though. Instruments are clean and well-separated, but not clinically so. There's a warmth to them that prevents any plasticity from settling in. When combined with the aforementioned resolution, it creates a presentation that's both precise
and
organic. Sennheiser doesn't really commit to the former nor the latter, but striking that in-between makes the IE800S a very versatile monitor. Those who prefer a more upfront, intimate presentation may prefer more energy around 3-4kHz. But, for 95% of my library, it's a difficult midrange for me to fault – coherent, full-blooded and clean.
Treble
The top-end is where the IE800S is most energetic. Articulation, clarity and air are all emphasised via peaks along 6kHz and 10kHz. The former compensates for the upper-midrange dip by giving instruments a vibrant, punchy pop. Although they're neutrally-positioned on the stage, they still project with liveliness and sheen. The 10kHz peak sharpens transients and gives every note a crisp leading edge. With most tracks, it pairs perfectly with the 1-2kHz rise, complementing that meatiness with clarity and definition. But, with others, there can be a bit of glare. An example is Pusha-T's
DAYTONA
album, except for the track
Infrared
. So, it may inch towards
bright
at times, but it remains composed for the most part.
In terms of technique, the top-end performs just as skilfully as the rest of the ensemble. Marvellous extension gives the IE800S lots of headroom. This is what allows that black background to constantly come through in the loudest of mixes. And, this is also what keeps the bass authoritative and composed. Although the treble is prone to the aforementioned glare at times, those brighter notes never linger for too long, because of the top-end's admirable speed. It isn't as fast as the balanced-armatures or electrostats I've heard lately, but they're fast enough to prevent any fatigue from setting in. Finally, the treble delivers spatially as well. The diagonals are well-defined, allowing panned percussion to have genuine depth. Stereo separation impresses too, solidifying the IE800S's precise imaging and its immersive, holographic stage.
General Recommendations
The IE800S's designated timbre allows its technical performance to take centre stage. But, the density it's allowed to possess at the same time gives it versatility as well. Here are three qualities that best encapsulate the IE800S's fortes:
Crisp, clean, clinical neutrality:
The IE800S is exceptional at segregating instruments and giving each their own pocket of space. In addition, the line
between
instrument and space is extremely well-defined and crisp. It easily produces the giddying sensation of instruments popping out of nowhere all around you, whilst remaining refined at the same time.
Top-class separation and resolution:
Thankfully, the IE800S doesn't tighten its notes and push its top-end just to fake a perception of clarity. Its resolution comes from genuine extension, so all that detail is easy on the ear
and
comes with headroom. Unlike less-capable IEMs, the lower harmonics are resolved fully (and not abandoned) on the IE800S as well.
A balance between crispness and body:
Despite the IE800S's bias towards compactness and separation, it possesses a fair amount of meatiness too from a 1-2kHz rise. Instruments have density and integrity, so they sound fully-formed whilst being clean and crisp at the same time. So, the IE800S is ideal for those who crave detail without sacrificing structure.
However, that very same signature does accept several compromises in order to bolster its separation, cleanliness and clarity. If the three aspects below are what you're looking for in your next in-ear monitor, the IE800S may not be for you:
Warmth, wetness or euphony:
The IE800S is a mostly neutral monitor, but its timbre tends to lean more towards tightness. Instruments don't necessarily bloom or radiate warmth. Rather, there's an effort to limit that sort of wetness as much as possible. If you prefer your monitors sounding less stringent and more loose, the IE800S isn't the best option for you.
An intimate vocal presentation:
U-shaped is an apt term to describe the IE800S's vocal positioning. Even though they're well-resolved and fully-formed, they're positioned further back on the stage. And, they're smaller in size too. The IE800S definitely isn't a monitor to relish your favourite vocalists on, unless clarity and air are
very
high on your list of priorities.
A smooth, relaxed or rolled-off top-end:
The IE800S's top-end is crisp, airy and articulate. Although it's been refined to remove as many bright spots as possible, it can glare or bite with inherently hot recordings. The clarity it produces is integral to the earphone's signature, so if a softer, mushier top-end is your cup-of-tea, the IE800S likely won't be.
Select Comparisons
Astell&Kern Rosie by JH Audio ($899)
The Rosie is a six-balanced-armature monitor designed by JH Audio. Like the IE800S, it's a sub-$1000 in-ear aimed at redefining what's possible at that price range. And, I believe both companies have made truly admirable efforts. The Rosie possesses a balanced signature with a neutral tone, but it differs from the IE800S in note structure and top-end timbre. Unlike the IE800S's upper-mid dip, the Rosie possesses great vibrance around 2-3kHz, which adds a wetness to instruments like electric guitars and horns. Those very same instruments sound more compact and less playful on the IE800S. But, they sound cleaner on the latter. This is also because of the IE800S's noticeably sharper top-end peaks.
The IE800S possesses a more prominent upper-treble. Aside from the crisp transients that produces, it also accentuates the contrast between the notes and the background. So, you get sharper, more dynamic and clear-cut instruments with the IE800S, while they're more laid-back on the Rosie. Finally, that top-end energy highlights the air between instruments as well, which enforces the IE800S's perceived separation. On the other hand, the Rosie comes across more linear and more even-handed. Its transients aren't as energised as the IE800S's are, so they're easier on the ear. Of the two, Rosie has the edge in long-term listening. Plus, the Rosie's impressive extension allows it to achieve similar levels of resolution without forcing the top-end. It can't achieve the IE800S's level of contrast, but it gets close
with
less tonal compromise.
64 Audio A6t ($1299)
64 Audio's A6t follows a similar tonal direction as the IE800S. It's neutral and clean-sounding with full-bodied, meaty and dense-sounding instruments. In addition, it's muscular and powerful down low as well. Although they strike similar hues, they do differ in presentation. The IE800S compacts its notes and emphasises the spaces around them, which highlights separation, cleanliness and background blackness. The A6t possesses larger, wetter, more vibrant instruments that play and intermingle with each other. Although it resolves just as well, the A6t webs them
just
enough to form an engaging, interweaved wall of sound. So, it wins points in musicality, long-term listening and fun. Conversely, the IE800S distances its instruments as far as possible. So, it has the edge in organisation, left-right separation and background blackness.
The A6t possesses more bass presence, which adds a great foundation to tracks like Lake Street Drive's
Good Kisser
. The IE800S's low-end is tighter and more authoritative, but that's a given considering the technology at play. In timbre, it's aimed more towards retrieving nuance and dissecting mixes, but the extension it possesses gives it the ability to be fun-sounding as well. The A6t's low-end isn't as clinical, but it's more pleasurable to rock out to with genres like hip-hop and modern pop. Vocals are positioned further forward on the A6t. The IE800S's midrange is comparatively leaner. How tight those notes are certainly help bolster the IE800S's separation and clarity. But, they may come across small at the same time. The A6t's livelier images are more actively engaging, but less surgically precise. So, it depends on the presentation you prefer. The top-end is crisper on the IE800S for utmost clarity, while the A6t's is thicker and more linear to my ears.
EarSonics EM64 (€1140)
The EarSonics EM64 is somewhat of a bridge between the 64 Audio A6t and the IE800S. It shares its neutrality with both monitors. All three are tonally well-balanced and refined. With the A6t, the EM64 shares its vibrance and note size. The images within the EarSonics monitor's stage are large, lively and engrossing. But, it terms of segregation and the ratio between instrument to background, it has more in common with the IE800S. So, the EM64's instruments are tighter than the A6t's, but less clinical than the IE800S's. In terms of stage construction, it's certainly more akin to 64 Audio's A6t. The IE800S's stage is clean and clinical, but a hair deeper than it is wide. The EM64's image is more carefree by comparison with more forward instruments. However, its resolution is in the ballpark, even if its notes aren't as surgically separated.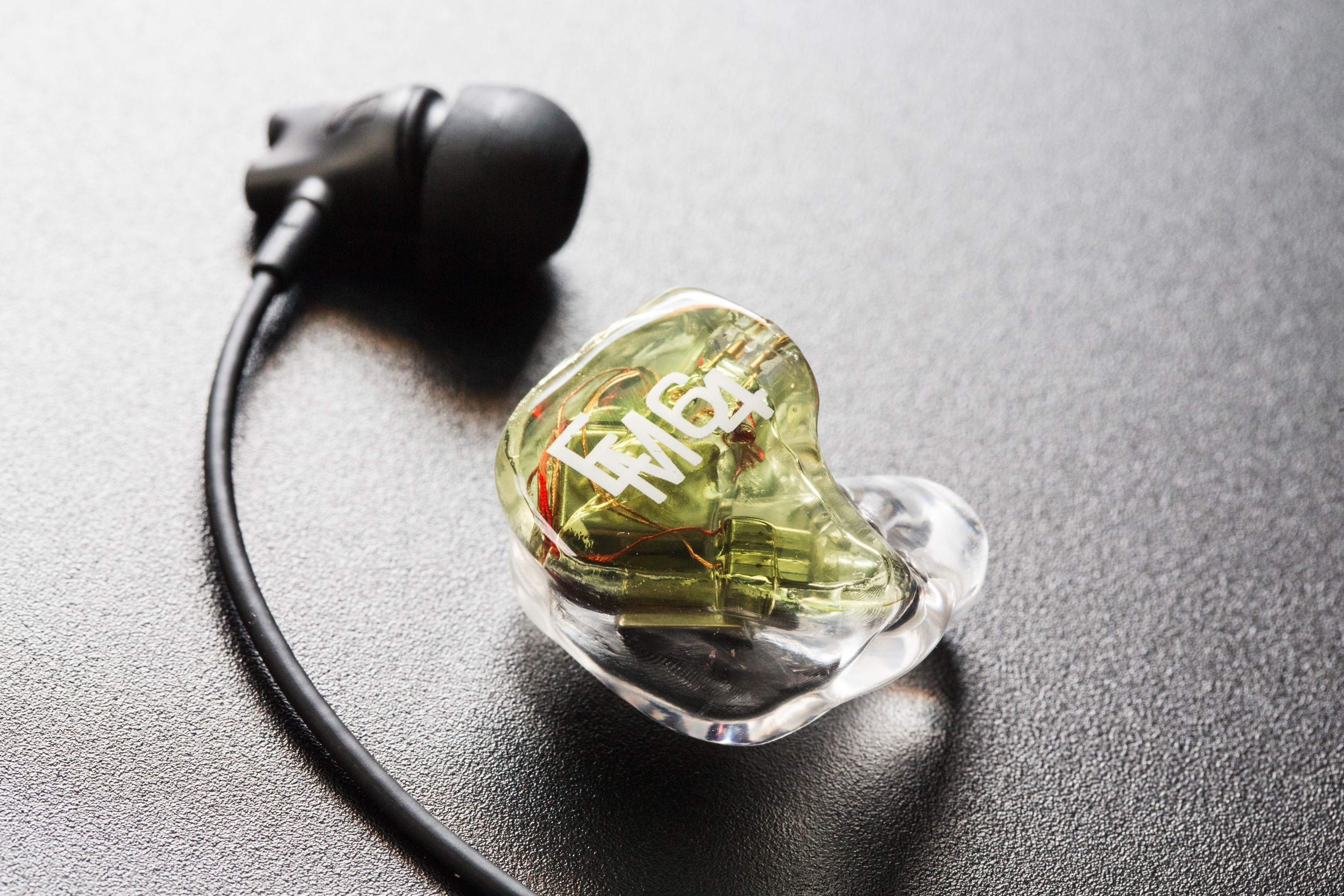 The EM64 is most like the IE800S in top-end timbre. There's a touch more crispness on the latter, but both trebles are crisp, airy and articulate, yet infinitely refined as well. Both possess excellent headroom, which allow whatever bite-y notes there are to breathe. The IE800S does have a brighter low-treble, which makes it more susceptible to glare with less ideal tracks. Despite this similarity, the EM64 is the more coherent monitor overall because of its fuller midrange; the upper-mids, specifically. The IE800S's 3-4kHz dip creates a slight gulf between the lower- and upper-ends of the spectrum to achieve its separation. It's not egregious enough to be harmful, but it's noticeable. The EM64 bridges more effectively. Stereo separation may not be as high, but the edge in linearity can certainly end up being more appealing.
Verdict
Sennheiser's IE800S is a technical triumph. At $999.95, it offers a great value for neutral in-ear monitors that emphasise separation, clarity and resolution without compromising bass performance, coherence and organicity. The definition it possesses makes it ideal for audiophiles who love dissecting mixes and discovering nuances. The black background and stability it exhibits is top-notch. But, the meatiness and unity that single dynamic driver brings allows all of it to come through as naturally, effortlessly and refined as possible. If you like your monitors warmer, wetter or more intimate, the IE800S won't perhaps be your cup-of-tea. A couple issues with the cable threaten to bring it down too. But overall, I believe the IE800S to be a very impressive performer that exemplifies why Sennheiser are the icons they are today.