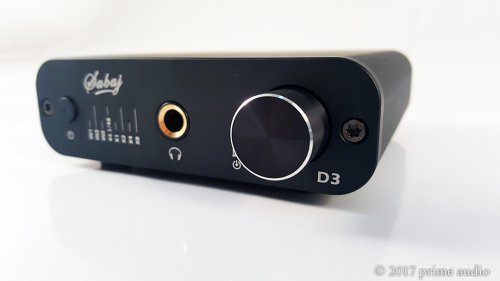 Now more than ever people are beginning to realize that they can get a much better audio experience by forgoing the on-board sound from their computers or smartphones in favor of a dedicated DAC. Not only that but it's becoming less of a hardcore enthusiast type of product because with so many new startup companies such as Sabaj bringing prices down, DACs can now be found at mainstream prices that are far less prohibitive to mainstream consumers and non-audiophiles. Also with the booming increase in streaming and digitally downloaded music there are more people than ever using computers as their main storage device and source for their music collections. It's for reasons like this that products such as the Sabaj D3 Audio DAC are created and that is what we'll be looking at today. Read on to see if this is something you want to add to your setup.
Disclaimer
I purchased this item directly from Amazon for the purpose of this review.
Amazon link here:
https://www.amazon.com/Sabaj-D3-Headphone-Amplifier-Optical/dp/B01M7RNYU5
Sabaj website:
http://www.sabaj.com.cn/en/index.asp
At the time of writing the Sabaj D3 is retailing at $78.99 USD.
Sabaj (SHENZHEN DAHAO TECHNOLOGY CO., LTD) was founded in 2016 in Shenzhen China. According to their website they are an "internet-direct factory store" with a goal of allowing music lovers and audiophiles to "get a good unit with a much less cost".
Packaging and accessories
The D3 comes in a simple, clean looking box that is black on the sides and white on the front and back. On the front is just some basic text with brand and model and on the back are diagrams of the front and back panels plus specifications and features printed in Chinese and English.
Inside the box are the DAC and bundled accessories all held securely in black foam. It's simple and to the point, basic but includes everything you need to get up and running with minimal fuss. So let's see what we have inside: Sabaj D3 DAC/AMP, 5V power adapter and USB to micro USB cable. Okay, well that was short and sweet but that just means we can get to the listening sooner.
Build and functionality
The D3 boasts an aluminum chassis with a matte finish, small form factor and rounded sides. It's really quite small, not much larger than your average drink coaster so it's perfect for those who have limited desk space.
On the front panel are the power/source select switch, LED indicators, headphone jack and volume knob which also functions as a button. The power button also acts as the source selection switch. Simply give it a short press to cycle through the available inputs and a longer press turns the unit on and off. LED indicators on the front display the currently selected input and bitrate. Next is the headphone jack which is a standard 6.35 mm. Finally the volume knob which is also a button (can I call it a knobbon?) It changes the volume and when pressed acts as a mute button. Because the volume is digitally controlled the knob spins infinitely and also means that there's no output channel imbalance.
Moving around to the back we have (from left to right):
Left and Right RCA analog outs
coaxial In
optical In
USB in
DC5V In
The analog outs are variable level outputs so the D3 can be used as a preamp. This unit also has support for the OTG function so can be connected to some smartphones as well.
Specifications
-USB input:16bit-32bit/44.1kHz-384kHz(asynchronous)
-Optical,Coaxial:16bit-24bit/44.1kHz-192kHz
-RCA Output:2Vrms
-DAC Dynamic range:111dB
-DAC SNR:91dB
-Headphone Amp SNR:89db
-DAC THD+N:0.0009%
-Headphone Amp THD+N:0.0035%
-Decoder IC:CS4932
-Digital Receiver IC:LC89091
-Op Amp IC:NE5532
-Power consumption:1.3W
-Headphone power (@0.1%THD+N)
-32ohm/152mW 64ohm/236mW
-150ohm/114mW 300ohm/55mW
-Distorton:0.003%@10mW 300ohm
Accessories: 5V power adapter,Micro USB cable
The Sabaj D3 is almost the same size as my laptop's mouse!
Sound
Surprising to say the least. When you're talking about a DAC/AMP that's less than a hundred bucks you tend to expect some pretty serious drawbacks but the Sabaj D3 is really a strong performer. The sound is clean and balanced and throws out sound with an ease that belies its modest price tag. It's immediately apparent that the sound is a step up from a computer's built in audio solution and it only takes a good song to let it be known. Throw on Triosence's
Go For It
and the D3 flexes its rhythmic agility and conveys the upbeat excitement of the track with aplomb. Of course it's not as refined as a higher end product, lacking a little of the dynamics and greater detail of a higher end DAC but nevertheless it impresses with a transparent and uncolored presentation that's sure to challenge its low budget peers.
The amp section also does well with its clean output and no apparent background noise even when using sensitive IEMs. There's enough grunt to power the Beyerdynamic DT990 Pro (250 ohm) but that's starting to push it to its limits as far as output power goes. It won't be able to drive really inefficient or higher impedance headphones but for 250 ohms and under, all the way down to low impedance IEMs it does an admirable job indeed.
To get an idea of the DACs performance I hooked the RCA output up to the class-A Phatlab Sassy II portable tube amplifier and the result was gratifying. The DAC really shone here, delivering an uncolored and clear sound that was further enriched by the warm characteristics and enhanced soundstage of the Sassy II. Having mentioned that, it goes without saying the D3 is also great for using as a preamp to power speakers as well.
Conclusion
I'm going to say this right now - at $78.99 the Sabaj D3 DAC/AMP is a steal. Able to decode up to 32 bit files - it's actually ahead in that regard to most competitors in the sub $100 niche. It has a clean and balanced sound, is versatile with several input options plus an analog output. There's a lot of functionality packed into this little thing. It will comfortably power most things up to 250 ohms, OH and I forgot to mention that it can be powered from your computer's USB or even a power-bank, without the need to plug in to the mains.
If you want to get your feet wet in the world of HIFI and are looking for an affordable upgrade from your computer's built-in sound then this is a great place to start.
4.5/5