he Rock Zircon's are a great looking pair of earphones with it's 'angle' designed earbuds. Beside it's great looks, they deliver a wide dynamic sound, have an premium build quality, and low priced. Currently, this is the best deal you can get for this money. Take a look at out Rock Zircon review below to find out why these are so great!
Sound
The most important reason people buy a nice pair of earphones, is for it's sound. The part where the Rock Zircon's are differentiating itself from it's competition, is it ability to deliver a wide dynamic sound. It's provides a great contrast in it's bass, mid-tones and treble. The bass is punchy and deep, which you can also clearly feel through these earphones. In combination with clear mid-tones, that results into a bright delivery of sound. Finally the trebles are very good, they have crispy high's. You are able to listen long sessions through these earphones. And as mentioned before, they are really dynamic which is really fun to listen to.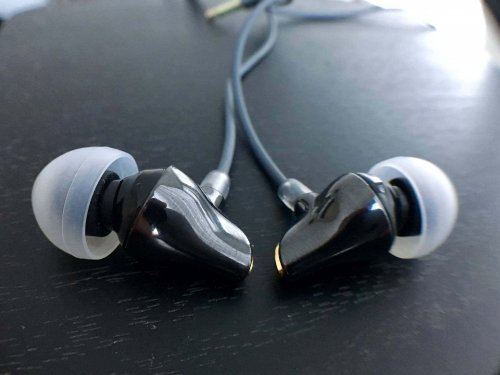 Design & Build Quality
The Rock Zircon's have angle shaped earbuds, which is personally really like. Next to the angle shaped design, they are also a bit curved as you can see on the pictures. The earbuds have a kind of dark grey/black metallic paint on it, with gold colour highlights on the ends of it. The metallic paint is providing the earphones a a premium look, that really looks good. The earbuds are created of ceramic, which provides them really premium quality and look! The outside of earphone cable is braided, which not only looks good, but also prevents your cable from winding. Finally, the headphone jack is aluminium and L-shaped, what prevents cable damage and providing also a premium look and feel.
Comfort
Thanks to the slightly curved earbuds, the earbuds are fitting really well. Furthermore, they are light weight, so you can barely feel them when you wearing the earphones. I use the earbuds currently as my number 1's, so I'm using them a lot listing music when I'm working and working out. You can use them for long listening sessions, without any irritations and hurting to your ears.
Conclusion
All in all, we found in this Rock Zircon review that they are real winners. They are performing amazing on all fronts. I haven't encountered any earphones, that perform so well on all fronts. Even $100+ earphones can't hold up to these guys. I strongly recommend to buy these headphones, for this price you can't ignore them!
GearBest link:
https://www.gearbest.com/iphone-headsets/pp_234355.html?lkid=11945607
This review was originally posted on EarphoneKing.com.