Item information
Added by
Views

13,999
Reviews

5
Last update
Rating

4.60 star(s)

5 ratings
General Information
plusSound X8 IEM Cable
Latest reviews
Pros
:
Excellent in construction, very soft and flexible. No microphonic. Very balanced sound with lots of detail and tight bass. Wide and deep soundstage getting outside your head. Vocal to die for.
Cons
:
You paid for what you got.
Hi there,

This is MusicLove123, I have been using PlusSound Exo X-8 Silver Plated Copper (Type 6 Litz) IEM cables for several months. Using one MMCX cable for Shure SE846, and another 2-pin cable for Massdrop X Noble Kaiser 10.

Both are excellent in construction, very soft and flexible. Absolutely no microphonic at all. Nice to hear the music; instead of the sound of the cable rubbing on my shirts. The X-8 can fully bring out the potential of both IEMs.
The bass were tremendously tight with plenty of visceral feel of the drum kits. Mid are smooth with clear vocal. You can hear every breath of the singer when doing close mic recording. The high is extended without feeling any rough edges or sibilance. Vocal to die for!

I recently bought a custom molding Ultimate Ears (UE) Pro18+ and the stock cable has a new IPX connector. This is something I called a miniature size of MMCX connector. The UE stock cable is very thin and keep tangling and coiling up all the time. Very difficult to handle when travelling. No one making a custom cable yet, till I received a nice email from Christian at PlusSound announced the new IPX cable. I immediately ordered one Exo (2-wire Silver Plated Copper) to try on my UE Pro18+ IEM.

Switching out the stock cable with PlusSound new IPX Exo custom IEM cable showed the true color of the UE Pro18+. The highs are crystal clear. Mids are warm with excellent texture of human voice. The base is extremely well control and tight. Transient response of bass drum is top notch. Wide and deep soundstage getting outside your head. Plenty of air. No stress. Total relaxation. Maybe burning in for 100+ hours will be even better. This is an Absolutely Fantastic cable!!
Pros
:
Design
Customization
Durability
High-quality material
Customer service
Cons
:
Price
Wait time
Ergonomic
PlusSound X8 Gold-plated Silver + Copper
|
http://plussoundaudio.com/customcables/inearmonitor.html
About
: (
from the site
)
X8 Series Custom Cable:
"Popular 8-wire cable for maximum sound quality and performance."
"
Our X8 series doubles the wires, sound, and build of our Exo by using EIGHT high quality custom designed UPOCC stranded wires with durable and flexible polyethylene outer insulation which are braided to provide better quality sound while reducing low range and interference noises. Most unique feature is the option of creating hybrids - combining two different wires with different sound qualities, making this is the ideal solution for finding the perfect sound you have been looking for. Selecting Type 6 Litz wires will prevent electrical anomalies such as skin effect and proximity effect, in addition to preventing oxidation by applying a special enamel coating to individually insulate every strand for long lasting sound quality and appearance. The multiple proprietary dampening cores function to reduce vibration - keeping conductivity constant throughout for the best quality sound. All wires are cryogenically treated to strengthen the structure of the wires for maximum durability and performance. Constructed with the highest quality components make this the very best performing and quality interchangeable cable on the market.
Overall Length: 4 ft / 48 in / 1219.2 mm / 121.92 cm
Wire Size: 26 American Wire Gauge (AWG)
Wire Type: UP-OCC
Wire Construction: Type 6 Litz
Estimated Build Time: 20 Business Days / 4 Weeks
"
Gold-plated Hybrid Wiring:
"
First of its kind wire featuring 50% 24K gold plated silver and 50% 24K gold plated copper wires bundled in enamel-coated groups inside for decreasing electrical anomalies (i.e. skin and proximity effect) but prevents oxidation to maintain same appearance after very long use, increases durability greatly, and sound quality improvements through its configuration. A semi-conductive material is added at the core of each strand group (total of 7 cores), to retain round shape while staying on the surface of the conductor, reducing mechanical vibration in the process. Utilizing PE insulation for flexibility and durability and wires are cryogenically treated for long lasting, enhanced sound quality. It transmits electric signals faster than ever with much less distortion and electrical resistance. Along with no crystal boundaries and molecular junctions, these advantages makes it the most advanced wire available for audio.
"
Splitter:
"
Anodized Aluminum
We offer a variety of cable stopper designs, built from the ground up. Lightweight, compact, and durable. Available in two configurations:
- Housing has been sized accordingly to work specifically for our custom cables.
- Made our of CNC machined anodized aluminum.
- Added 3-layer design for sleek appearance and improved durability.
- Dual gold screws hidden inside for keeping cable from moving.
- Every component of splitter is cryogenically treated BEFORE it is assembled for optimal durability.
"
2-pin:
"
Cryo Treated CIEM
- High conductive pure gold plated copper pins.
- All new heat resistant PEEK insulation for optimal durability.
- Special screw design to prevent connector and shell from ever coming off due to repeated insertion and removal.
- Shell is made of thick black aluminum, allowing clean signal flow and preventing RFI/EMI.
- Every component of plug is cryogenically treated BEFORE it is assembled for optimal durability and sound.
"
3.5-mm:
"
- High quality base metal for better conductivity.
- New screw design.
- Solder tabs, tips, and body are surface plated with gold or rhodium.
- Housing has been replaced with black anodized aluminum, allowing clean signal flow and preventing RFI/EMI.
- Extended jack for easier connection with devices that have cases.
- Heat resistant insulator, separated contact layout, and 6.5mm exit hole for better quality sound and build.
- Embossed design for better grip of inserting and removing plug.
- Every component of plug is cryogenically treated BEFORE it is assembled for optimal durability and sound.
"
Disclaimer
:
This review is intended to provide information for research purposes only. It does not advice, nor constitute any solicitation or endorsement for any purchase. Any purchase you make is done at your own risk and full discretion. Please be informed that impression written in this review is relatively subjective. Please keep in mind, that your impression and usage experience may vary. The PlusSound X8 Gold-plated Silver + Copper cable was purchased by me as a part of my personal collection. I am not affiliated with PlusSound Audio. All rights reserved.
Build quality:

The PlusSound X8 Gold-plated Silver + Copper (GPSC), is composed and built with 8 wires which are woven together in a neatly braided round pattern. It has quite a mesmerizing uniform pattern and colours.
There are three patterns available for the main body of the X8 model; Square, Round, and Flat. And two braiding patterns after the splitter, for the left and right part; Round, and Flat. All customizable in the website's customization page.
The 8 wires are made out of 4 gold-plated silver, and 4 copper; type 6 litz, 26 AWG wires. They are split by a cool-to-the-touch anodized aluminium splitter. The cable that I have, comes with a rubber-like plastic slider to help secure on the head. You can customize yours when ordering, with a selection of wooden and aluminium sliders beside plastic.
This cable may seem a bit bulky, but it actually is lighter than it looks. Even though it has 8 wires, it's approximately only two or three times heavier than stock cable. Furthermore, this cable doesn't have memory wiring.
One of the downside of the X8 I've discovered, is its unsuitability for use on the go. Due to its rather unwieldy body, the X8 isn't very fit to be used walking or in a mobile environment. Also, the X8 GPSC sadly, is not the most affordable cable. That being said, a difference in cable material or model selection from the website could help.
Connectors on the X8 GPSC cable (i.e. the 2-pin and 3.5-mm jack) are applied very securely. The X8 that I have uses double heatshrinks to help minimize bends and movements between the cable and connectors.
Overall, the X8 GPSC cable quality is superb. After using it for many hours, for more than a couple of weeks, the cable remains spotlessly immaculate. It never feel flimsy. And there hasn't been any form of oxidation or coloration in the wiring so far.

Sound quality:

EDIT: No significant difference found.
Switching from the stock cable, the first thing I noticed the cable provides is a quieter background. Further improvisation of signal quality can also be felt from the slight increase in resolution of sound. This in turn aid in creating a clearer and more focused imaging.

Soundstage presentation feels cleaner, and airier. Each musical notes sounds a bit more defined. Instruments also feels like they produce a slightly more articulate sound.

The brightness from the lighting of this cable creates a unique sense of transparency. It is not a very clear cold analytical form of lighting, but more of a rather warm subtle one.

The X8 GPSC cable slightly balance and smooth peaks throughout the upper frequency, making listening felt less fatiguing than with the stock cable. To me it felt like it furnishes a more pleasant sound presentation.

In the lows, mid-bass notes feels a little denser, and more resolute. The impact of the punch feels deep, and tighter. Sub-bass decay feels a bit slower, and more natural than with stock cable.

In the midrange, the sound feels it's gaining a bit more warmth, and clarity. Texture of each notes I hear sound a bit full, weighty, and better-defined. It may be lush, and more resolving compared to the stock cable.

Additionally, the upper-frequency increase in density, judging from each of their notes.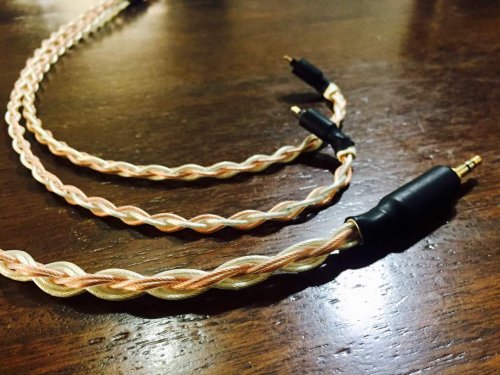 Pros
:
Smooth, natural tonality
Cons
:
8-braided version's price might be high, and cable is a bit stiffer
I would like to thank Christian from plusSound for providing the X8 GPC in return for my honest opinion.
Introduction
PlusSound started making cables around 2012, and has consistently been growing since then. Ater rapidly making their name for high quality cables, they successfully collaborated with Unique Melody to provide upscale stock cables within a few months of their conception. PlusSound slowly started expanding there workforce, allowing them to reach a wider audience through a network of distributors. Not long after, they started looking forward to new lines of development, resulting in the well-received Cloud Nine amplifier, and more recently their 3D printed earplugs. From what I understand, there not leaving it there, but will continue to expand their horizon in 2017 with even more products. But for now, we'll focus on one of their cables: their gold-plated copper cable, a smooth sounding cable with a very natural tonality.
plusSound X8 Gold-Plated Copper
Alloy:                   Gold-plated copper
Conductors:         8 braid
Construction:       Litz construction
MRSP:                 $825 (4-braid = $400)
Packaging
PlusSound delivers the cable in a stylish matte black box with the recognizable plusSound logo. Inside the box, you'll find the cable comfortably seated on a foam bed for protection. Besides the cable, there's a greeting card with product information and a plusSound band for stacking dac/amps.
Build & Design
With its 8 wires, there's no denying the GPC is a full-sized cable that you'll feel, and others will notice. I'm not sure if people usually don't notice the large customs and cables I wear when walking around, but with the GPC I got a few remarks. Nothing negative, just basically acknowledging its existence. 'Huh, fancy cable'.
The beige brown wires are on the thicker side, so in the full glory of its 8 wires configuration its among the larger cables I own. For someone coming off a stock OFC it might be a significant difference, although that isn't necessarily a bad thing. I'm accustomed to upgrade cables and personally enjoy a quality 8-braid in looks and size, so I don't mind its presence. Despite its thicker size, the cable remains flexible and has good ergonomics for practical use. It doesn't pass on microphonics during portable use except when rubbing on hard surfaces, but nothing out of the ordinary for an upgrade cable. Overall, while the cable might be heavier than usual, in remains easy in its use.
The wires are braided together tightly in a cube braid, the craftsmanship is very good. The connectors and splitter are all in a matching matte black. The GPC comes with plusSound's own gold-plated jack with golden screws, finished off with the plusSound name and logo. The splitter is a similar matte black color with golden screws. It's somewhat sober compared to the wooden or metal splitters other brands use, but there's also a certain elegance to the simplicity. The cable is finished off with matching connectors with golden screws on the outside, and the PS logo on the inside.
Sound Impressions
The GPC has a smooth midcentric tonality, with a focus on tonal accuracy. While the tonality is on the warmer side, the cable doesn't sound overly warm. It's an inherent warmth in the midrange that gives it a natural sound, rather than a warm atmosphere due to an enhanced mid-bass presentation. Compared to a stock OFC copper cable, the GPC has slightly more body in the midrange, and a transparent upper midrange. The midrange has greater resolution, resulting in better definition and air around individual notes. As such, notes aren't overly colored or thicker than neutral. More importantly, the mid-bass isn't overly warm and very well controlled. This results in a clean stage and accordingly, very good separation. This makes for a detailed yet smooth presentation. While the GPC doesn't necessarily affect the width of the stage, it offers nice depth to the presentation.
While there are more expensive cables that might offer a higher resolution, the GPC's focus is on tonality, and dare I say - it outperforms most of those in this regard. This is where the GPC excels: by simply having a very natural presentation, with an accurate instrument tonality.
Bass
The GPC has a relatively neutral bass in overall quantity, leaning slightly towards north of neutral, specifically its mid-bass. There's slightly more mid-bass compared to sub-bass, resulting in a warm and softer tone, rather than emphasizing a deep or punchy bass. This results in a natural, lifelike bass; an instrumental bass, rather than a hard-hitting punchy bass suitable for electronic music. As such, bass lines are mostly characterized by a satisfying tone and definition. In addition, the GPC offers a nicely resolved mid-bass, with good control. This isn't an overly warm mid-bass, which benefits the airiness of the stage. Similarly, the sub-bass quantity is not enhanced, but tighter in its definition and positioning.
Midrange
The GPC shines in the midrange. Not by coloring the signature with warmth or size, but by sounding natural, smooth, and accurate. This is a midrange that has just the right amount of warmth and density to sound natural. The midrange isn't as forward and warm as something like SilverFi's IEM-R2, but at the same time it doesn't impose its signature on the iem as much. It might not be as emotional, but it provides a more uncolored sound, which can equally be seen as an advantage. There's an inherent warmth to the midrange that not only adds smoothness to the sound, but aids in recreating an emotional vocal reproduction. The lower midrange has enough presence, but isn't overly forward. Similarly, the upper midrange sounds clear and beautiful, without overpowering the lower and center midrange. The tonal balance throughout the lower to upper midrange is simply very good. Accordingly, the midrange sounds natural, but also quite clean and airy.
The vocal presentation is smooth, with a nice bit of body and density, making the GPC my preferred cable of choice for iems that already excel here like Zeus or the 8.2. Similarly, the upper midrange can be considered uncolored, but transparent. This adds a nice bit of realism, a natural form of clarity, rather than an artificially brightened upper midrange. Cables like Labkable's Samurai III or the Rhapsodio Golden add a bit of brightness here that gives it more clarity, though sacrificing on naturalness and accuracy. While I'll use something like that to listen to electronic music with the S-EM9 or NT6pro, the GPC has a tone that brings the best out of instruments from an audiophile perspective, by sounding accurate.
Treble
The GPC offers a smooth treble presentation, an essential finish for its natural presentation that fits very will in the complete picture. While the treble isn't laidback altogether, it has a warmer tone that sounds tonally accurate. Snare drums or cymbals can easily sound too bright, especially with iems that might have a brighter treble like the NT6pro or Samba. While a brighter treble can improve the note articulation, a warmer, smoother treble will sound more coherent, bringing the music together rather than dissecting it in tiny pieces.
 ​
Comparisons
Rhapsodio Golden ($700)
The Golden has a warm V-shaped signature, a combination of thick notes with a brighter signature that creates a distinct, euphoric type of sound. Compared to the GPC it has a more forward bass presentation, with an enhanced sub- and upper bass presence. This gives it a thicker note recreation, as well as richer lower harmonics. However, it reduces the stage airiness, while its imaging is less precise. It sounds a bit messier compared to the cleaner and more neutral sounding GPC. The GPC has a slightly warm midrange, with an uncolored but clear-sounding upper midrange. Despite the thicker notes, the Golden's midrange is less warm, and its upper midrange is brighter. Similarly, the upper treble region is brighter. The Golden offers a high level of clarity, but the upper treble can sound sharp with already bright iems. This works very well for pop and electronic music, really making synthetic melodies shine. But it is obviously colored, especially compared to the smoother and more natural sounding GPC. The GPC's treble is articulate, smoother, with a warmer and more natural tonality. The Golden and GPC: pop art versus contemporary.
Labkable Samurai III ($875)
The Samurai has less bass quantity, specifically its mid-bass. This gives it a more spacious feel, even thought the stage dimensions are roughly similar. The Samurai's stage might be slightly wider and the GPC's deeper, but the Samurai's stage appears as cleaner. Its bass hits are leaner, with less impact than the rounder and warmer sounding GPC. Both cables share a similar thickness in the midrange, but where the GPC sounds purer and more natural, the Samurai adds a bit of brightness to the upper midrange, though not to the same extent as the Golden. This is reflected in the treble, where the Samurai's is a bit brighter, while remaining smooth. As the GPC, it is articulate, though not overly prominent. Taken together, the GPC has a fuller bass presentation combined with a more natural midrange, while the Samurai combines a leaner bass with an airier stage and slightly brighter midrange.
 ​
Concluding thoughts
When I first started listening to the GPC, I wasn't necessarily wowed by it, at least directly. It doesn't impress with a larger soundstage, or a more detailed upper midrange. However, I kept coming back to it. At first because I was still in obligatory listening phase since I'd eventually have to write about it. But then it just started becoming my go-to cable. Especially if I didn't want to alter a smooth or warmer iem's signature too much, but simply get the most out of it. And it remains one of my most used cables. The X8 GPC can be seen as a counterpart to something like the recently reviewed Pandora, which offers a higher resolution, but a less natural sound. As such, they each have their specialty and use.
The GPC offers a solid upgrade in performance, a cleaner stage and better extension, but really sets itself apart when it comes to tonality. This is just a very natural sounding cable, without overly coloring the sound. It can either pair well with midcentric iems, my main use, or to make a brighter iem smoother. I can imagine its 8-wire version being a bit too much in terms of size, ergonomics, and price, but there's always the 4-wire at half the price. Cables remain expensive either way, but if you're looking for an improvement in performance while retaining an accurate tone and natural sound, plusSound's GPC comes highly recommended.