Disclaimer
Thank you, Yang, from
Optimization Elements (OE) Audio
for sending me the
2DualOFC
in exchange for my honest opinions. I am not affiliated with the company and no incentive will be given for a positive review. Here is my review.
Introduction
I heard of OEAudio from Alex Twister, founder of Twister6. He introduced the
OEAudio adaptor
, which is the smallest in the world in his review of
Westone W80 and UMPro50 cable rolling with 2pin cables.
Quote Alex's words in his review:
"Then I noticed MusicTeck listed new OE Audio adapters and decided to give them a try. Never heard of this company before, Optimization Elements, but they turned out to be the best I have tried so far"
I head to the OEAudio website immediately to check out the adaptor. I have been searching for a high-quality adaptor for cable rolling and Alex's recommendation makes me pull the trigger. Thank you, Alex, for such a good recommendation. Besides the adaptor, the cable listed on the website caught my attention too. I talked to the person-in-charge and it is my honor now to review this cable to the audiophile community.
Unboxing
2DualOFC comes in relatively simple packaging - no redundancy. It is stored in a white box with the brand and model name printed on it.
Removing the outer sleeve, users can find the cable in it.
Besides 2DualOFC, here is the unboxing for our world's smallest adaptor!
Technical Specification
Length: 1.2m/4ft
Material: ≤8PPM Purity Nexans® Oxygen Free Copper
Cords: 4 Cords (2 Cores x 2 Cords)
Inner Cords: 0.08x19x2
Insulation: Teflon
Coating: TPU
Build
The overall texture of this cable is soft and supple. A stiff cable could be a deal-breaker and I am glad that OEAudio took this into consideration.
While wearing it, I can move around freely without getting annoyed by the microphonics.
You can choose your termination and connector when you check out from the store. For connector, currently, OEAudio provides MMCX and 0.78mm 2-pin connector. I foresee there would be more choices soon. There are more connectors to cater to customers' needs. These are the choices available for plugs.
3.5mm unbalanced
2.5mm balanced
4.4mm balanced
Lightning
USB Type-C
I got my unit in 0.78mm 2-pin connector and 2.5mm balanced terminated. There is no ear guide at the connector.
This is a piece of good news for me because ear guides are a disaster to me as a myopia sufferer.
I like the plug particularly. It is sturdy and durable based on physical appearance. There is a logo engraved on the plug.
Sound Analysis
This is the most crucial part - sonic performance. I paired the 2DualOFC with several IEMs for this analysis. These are the IEMs I used:
TinHiFi P1 (Planar Magnetic)
TFZ No.3
NiceHCK NX7
Simgot EM2
I would call 2DualOFC a good entry ticket for beginners to enter the world of HiFi. The company offers a good entry-level upgrade cable with high build quality to the community. The overall sound signature of 2DualOFC is warm - a typical copper cable sounding. The presentation is smooth and rich.
The feeling is like drinking a cup of hot chocolate in the winter, comfortable.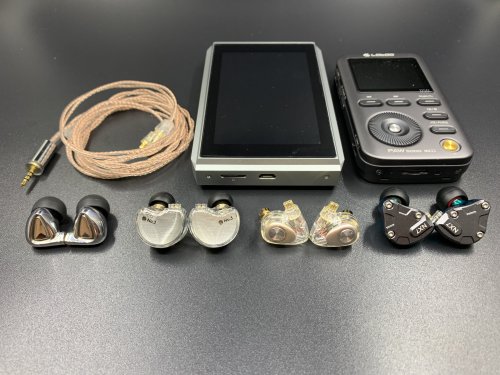 Lows
2DualOFC has a good boost in the lows - especially prominent on those IEMs with a brighter sound signature. NX7 and P1 are always shy in the lows. With 2DualOFC installed, the lows are pushed forward, more rumbles and stomping of the foot. The overall presentation is now more musical, fun and enjoyable.
Besides adding the quantity, it also alters the texture a little. It slows down the decay of lows - making the sound signature warmer as compared to the stock cable. This again, make it a good pairing with my P1 and NX7. It reduces the harshness and emptiness of those IEMs. However, for those IEMs with bombastic lows, 2DualOFC would not be a good choice because it would make the lows to be too boomy - just like my TFZ No.3.
Mids
The warmth from the lows had been carried forward from the lows to the mids, injecting good emotion to this frequency spectrum.
With 2DualOFC installed, the mids for P1 and NX7 sound more natural - both of them are slightly towards the analytical side before attaching them to the 2DualOFC. This makes the vocals sound more emotional. When listening to Simon & Garfunkel, they sound sweet and breathy. It is enjoyable to listen to.
Instruments wise, the notes are becoming thicker. This results in a good coherence between instruments. All the gaps are precisely filled, making the whole presentation to be smooth, like a stream of flowing water. For those IEMs which originally have a warmer sound signature, like EM2, it is not encouraged to pair up with this cable. Warmth overflow caused the fidelity to reduce.
Highs
The 2DualOFC can be a good sibilance killer. It suppresses the harshness and pierces from the highs. The result is most significant when I paired it with P1. I always find the soaring highs in P1 is an untamed beast, it roars mercilessly on your ear and it stabs on your eardrums.
The 2DualOFC is like a beast tamer, control the beast and make the performance more polite.
As mentioned in the previous section, for those IEMs which originally exhibit a warm signature, 2DualOFC is really not a good choice. Warm sounding IEMs tend to have a shy highs performance and with this cable attached, the highs are pushed more backward. This results in an undesired result - losing fidelity and causing muddiness.
Verdict
The 2DualOFC retails for USD$57.99 to USD$66.99, depending on the choice of termination. It can be purchased on
OEAudio official website
. OEAudio provides free global shipping for all customers.
The OEAudio 2DualOFC is a great choice for entry-level audiophiles who are looking for an affordable upgrade cable within the price range of USD $100. For those who which to fine-tune current IEMs to the warmer side, this cable will definitely be a good investment.
Its price to performance is indeed high - attractive physically and superior sonically.