INTRO:-
Nguyen Custom Monitors better known as NCM are a custom In Ear Monitors maker from Vietnam who have plethora of models under their belt. Starting with single BA driver NCM NC-1 and single dynamic DS1 to 9 driver single dynamic 8BA hybrid Bella, they have earphones for everyone, let it be for a beginner, a pro or a performer, they have models for everyone, and all of their models are available with universal and custom fit which is a feature on its own.
The single driver earphones cost somewhere around $150 (3500000 VD) and the totl Bella costs around $1010, the NC5 V2 middles these with a price tag of around $540 and is equipped with a 10mm Dynamic driver and 4 balanced armature drivers with 4 way crossover it pushes details like a pro (more on that later).
Facing competition from the Bravado, Fibae 3, dunu-dk3001 and many other earphones in this price range, the NC5 v2 does a few things like no one in the above mentioned earphones can pull off.
Get your pair from here :-
http://nguyencustoms.com/ncm-nc5-v2/
(scroll down, fill the form, submit, Thomas will get back to you for other details)
Gaze at other models here :-
http://nguyencustoms.com/
ACCESSORIES & PACKAGING:-
As the NCM NC5 V2 comes in both universal and custom trims the universal model comes with 4 pair of silicon tips and a pair of comply tips. The NC5 V2 comes with the stock OFC ultra soft cable.
The NCM V2 comes with a hard carry case, draw string carry pouch and a cleaning cloth.
BUILD QUALITY:-
The NC5 v2 has only acrylic shell option with a handful of colors for shell and back plates. The build quality is very good with a middling size for a 5 driver earphone, one of them being a 10mm dynamic driver.
They have both MMCX and 2pin options
at the order form, one can go for which ever they are comfortable with. My unit has mmcx port. Both the Face plate and body are nicely fused together.
It has 3 bores, one for the dynamic driver, one for dual mid range drivers and one for dual treble drivers. One of them being a stainless steel bore (not from the dynamic driver). There is huge bass vent for the dynamic driver to breathe.
The only problem with the whole earphone is the nozzle length, which is smaller than most of the earphones available in the market, giving it a shallow fit. Putting a 5mm bore tip on the NC5 is easy.
CABLE:-
The cable is a simple OFC cable. Nothing fancy here. It has very good build though, feels very supple and is without much memory, there is no bounce in it either. It has a good layer or rubber on it, protecting it from any type of mishaps or damages. There is a cable inserted cable guide, the 3.5mm jack is a 60 degree one with good enough stress reliving.
Sadly there is no cable slider.
COMFORT, ERGONOMICS AND SEAL :-
The NC5 is very comfortable, if you forgive the short nozzle length, it is very comfortable without any type of discomfort even after long periods of time. Thanks to the shallow fit, the seal is just average at best, isolation is not class leading but will get the work done.
Ergonomically it has a semi custom universal shell, giving it a very ergonomic feel.
CAUTION:-
don't use earphones where you have to be aware of your surroundings like driving and walking on the road, stay home and enjoy your music or at gym.
SOUND QUALITY:-
The NC5 v2 is a very unique and clear sounding earphone, housing 5 drivers, 1 dd and 4 BAs it has the truest character of a hybrid earphone we all wanted since the inception of hybrids. Most of the brands struggle with the tuning, some tune the dynamic down, some tune the DD very awkwardly, and others tend to dial the treble down.
That is not the case with the NC5, it delivers exceptional clarity and presence all across the spectrum. The crossovers are exceptionally clear, especially of the DD with the BA drivers.
If you think you need to move out of the clinical and analytical sounding earphones or want something which sounds equally good with bass mids vocals and highs, the NC5 v2 is the best option for around $500.
The NC5 has bass in its heart and details in its mind, and man does it delivers.. It overwhelmed me.
The Dynamic bass and elevated mid range gives it a W shaped signature which is bright, warm and slightly colored still sounding very natural. As I said, it's a very unique sounding earphone.
FYI the NC5 v2 is burned properly and the source is Plenue D and Plenue R. I am using aftermarket Sony or KZ tips for this review.
I have used tons of music for this review which includes Biffy Clyro, Breaking Benjamin, Arctic monkeys, Lupe fiasco, some pop and some electronic.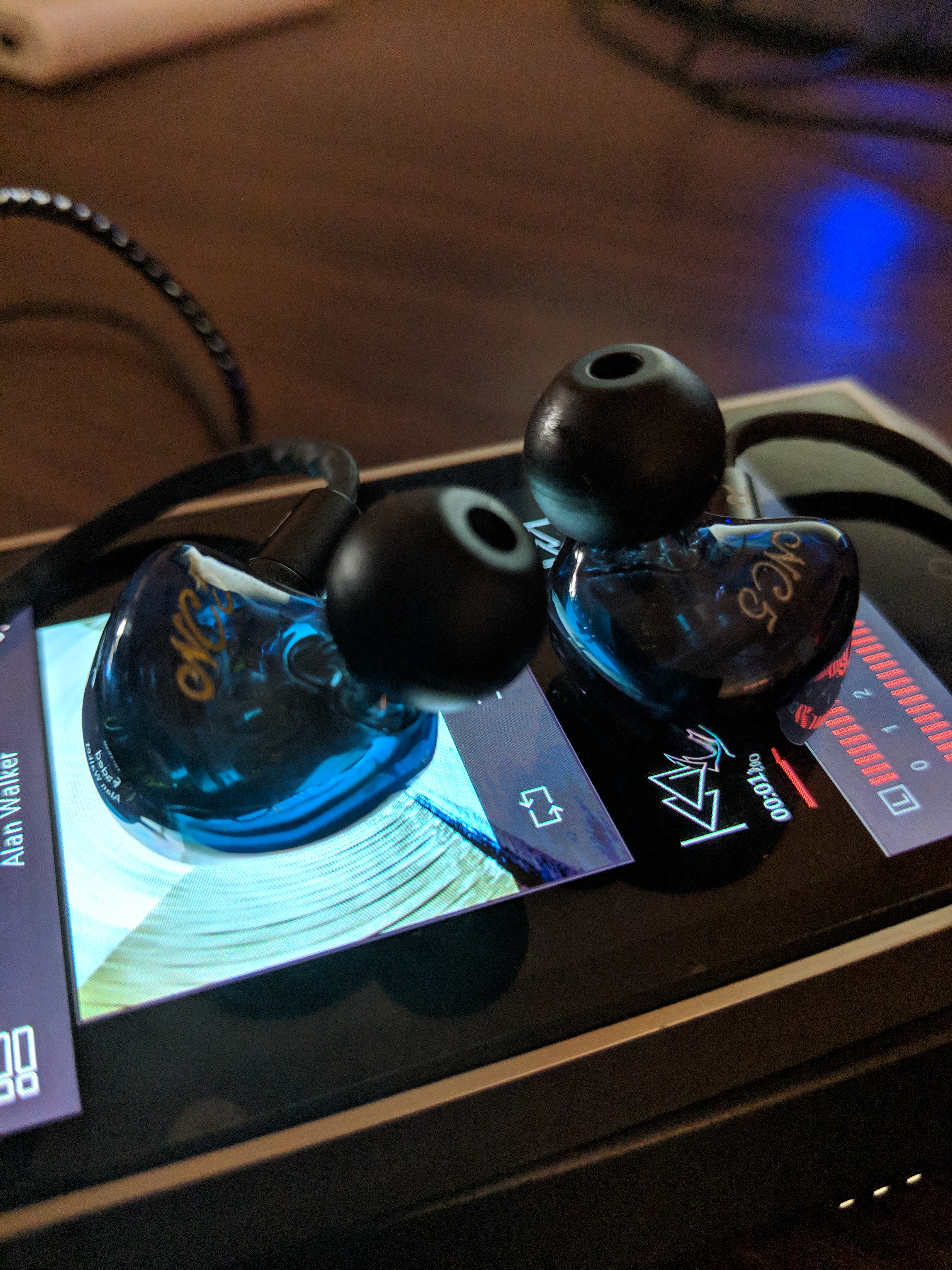 TECHNICALITY AND MATCHABILITY:-
The NC5 is very easy to drive and gets very loud. With a 19 ohm impedance and 111db sensitivity one can easily drive it from their portable device, the NC5 sounds decent out of mobile phones too.
Amping is not required, but it does help the treble to gain slightly more energy.
The NC5 is not a choosy earphone either and sounds fairly good out of any decent source.
BASS:-
This is the bass I was expecting out of hybrid earphones, a meaty, punchy dynamic bass loaded with texture and details. An independent, clean and clear sounding bass with plenty of thump and body. Finally the NC5 v2 delivered on this front. The Lear Kaleido has bigger bass but the NC5 sounds more resolved and detailed, the Lear tends to focus more on the mid bass and lacks this much of sub-bass.
The NC5 has a very pleasant bass presence, it has a well rounded body, moves plenty of air with a nice slam thanks to the huge vent. The lower end extension is very deep and sub-bass presence is class leading, the sub-bass level goes neck in neck with the Bravado and does better than the Bravado in keeping the mid bass away ( in other words its ability to discover bass notes is class leading), sounding more mature and resolved. The level of sub-bass presence and rumble is superior with the NC5 thanks to the bass vent. It delivers punches like a champ, meaty and whole hearted punches, without holding back.
Mid bass has slightly more presence at 90hz -120hz, not exaggerated by any means while adding to the overall body and slam of the notes. Upper bass to maintains very good amount of energy and adds more details to the mix. The overall body is as big as the bravado, still the decay is slightly faster giving the NC5 better control and accuracy in comparison.
It has very good amount of details texture and clarity. Notes are weighty and very juicy. The level of resolution and amount of resolved details is slightly better than the Bravado.
The biggest strength of the NC5 is the way it separates the bass from rest of the spectrum. It feels exceptionally separated and the tuning is bang on.
MID RANGE:-
The mid range is handled by two BA drivers and have their own separate bore. Transition from upper bass to lower mid has a drop in energy to keep the notes distinctly separated. It's not flaw less as the crossover is evident.
The Mid range doesn't have the level of energy of the bass, it still maintains good amount of forwardness, notes are very clear and the level of transparency is very good. Notes presentation has good amount of bite and sharpness. Its not excessively thin or thick giving it a natural notes thickness which sounds truer to the nature of instruments. Thanks to this instruments sound very clear and crisp with good amount of air between them. At the same time it maintains the juice with a true to the nature decay speed making the experience more musical and enjoyable. The upper mid range do gain more energy helping cymbals and other instrument shine. Some might find it slightly aggressive but that's it, it doesn't get uncomfortable at all.
Vocals sound clear and crisp. Both male and female vocals sound natural with good amount of details and texture to them. Notes are presented with accurate depth and sharpness. It has very good resolution and transparency. Vocals on NC5 v2 aims and succeeds in delivering a very good balance between details, coherency, accuracy and natural tonality. It has more energy than the Bravado and doesn't have unnatural sharpness of the Avalon.
Layering, separation and spacing between the instruments is very good. It's has very good amount of resolution, details and density. The level of micro details in slightly lower than the Nocturnal Avalon and is neck in neck with the Bravado.
Sound stage is nicely rounded with good amount of width depth and height but is not exactly huge. It is still bigger than most of the main stream earphones in the market. Its Feels slightly lacking in all dimension compared to the bravado.
HIGHS:-
Treble region of the NC5 has very good amount of details, the rise of energy from upper mid range is maintained at the lower treble region too which gives it a more detailed presentation and bite. It feels very lively. They are not overly sharp like the Avalon and is devoid of any type of sibilance unless you are not someone who can take some spark with their treble. The extension is good, but it is not as good as dunu DK-3001.
The NC5 doesn't have excessive energy, it does have a nice bite to it but it is not something to leave an impression.
Let it be pianos, trumpets or cymbals the sharpness and the finishing of the note along with the presentation is very good.
If you are the kind of person who enjoys top end energy and spark, The NC5 v2 will bring you good amount of satisfaction. Yes it is not beating the Avalon or the AF1120 by a long shot when it comes to energy or extension (the avalon has the sharpness and details to die for, AF1120 has the similar details with an extension to kill for).
Needless to say that separation and layering is up to the mark with good amount of air and space between instruments, the stage size is good enough to give proper spacing between instruments. The presentation is very good.
SELECT COMPARISONS:-
VS Dunu DK-3001:-
The Dunu lacks with thump, sub-bass rumble and body. It does have sub-bass but NC5 v2 has more. Both have similar texture and details but the 3001 has faster decay. The Dunu doesn't really stand in front of the NC5 v2 bass.
The dunu beats the v2 when it comes to vocals texture and timber, but the NC5 get back with better instrument transparency and details. Both have very good resolution but 3001 lacks a bit of density. When ti comes to stage size, the Dunu is still bigger, if not very big, it is 10-15% bigger in every dimension.
Highs of the NC5 has lesser extension against the 3001 which has extremely good extension, but have better energy and spark to them. Layering and separation of the Dunu is better as it has more air between instruments but the NC5 has better transparency.
The 3001 lacks with transparency and details and is technically inferior to the NC5 v2. It does have bigger stage and forward vocals going for it.
Vs Fibae 3:-
First thing first, the Fibae 3 doesn't have a single sharp peak in its spectrum. Every note is nicely rounded and feels full bodied.
The fibae 3 is a delightful earphone, it has slightly better sub-bass extension but the rumble is not as big as the v2. Uverall bass of the NC5 v2 is multiple times bigger than the 3. It has faster decay, slightly less texture but with similar amount of details. Mid bass is not as prominent.
Mid range is a delight on the Fibae 3, its very smooth and detailed, has slightly less transparency, but has similar control and accuracy, the stage width and height is similar but depth is better. Vocals are slightly less sharp than the NC5. All in all the mid range is less forward compared to the NC5 v2.
Highs of the Fibae 3 has better extension and has better energy as it goes in to the spectrum. Thanks to its better lower treble energy the NC5 feels more tingly or say lively. Layering and separation is better on the Fibae 3. Stage of the Fibae has better depth.
If you like bass prowess.. the fibae 3 will fall flat. If you want sonicality, fibae 3 is head and shoulders above.
Vs Nocturnal Avalon:-
Avalon on straight is a better earphone technically, it has better transparency and air between instruments.
But when it come to bass, nothing mentioned in this article has better and bigger bass than the NC5 v2. Avalon has faster bass decay and is slightly mid bassy.
Mid range is similarly V shaped. NC5 have better vocal thickness and the timber is more accurate. Details in better here. Stage size is similar.
Treble is better on the Avalon, better energy, extension and transparency. Layering and separation too in better.
VS EE Bravado:-
Both have fairly similar bass, the Bravado has slightly more mid-bass emphasis and the decay is slightly slower. It has similar texture but notes feels more refined and softer.
Mid range is considerably less energetic, is not forward by any means but has similar details and has bigger stage size. The whole imaging and resolution is slightly better but lacks bite at the same time. Overall stage size is bigger in every dimension. Has slightly less density.
Treble has better extension and maintains good amount of energy till the end. There is no hump of any type, feels very smooth and relaxed. Layering and separation is slightly better here. Lacks forwardness and may feel dull in comparison. Notes have slightly slower decay.
If you are shy about high but want similar bass power, the Bravado comes very close with more leveled or say linear mid range and highs.
In general:-
The NC5 v2 is a very capable earphone and is technically superior of the 64audio u3 and Earsonics ES3.
CONCLUSION:-
" Mr Thomas Mr. Thomas we have a big problem, the NCM NC5 V2 is awesome, and I aint giving it back, cut me a deal.."
Why this? Why did I do that? If its not exactly better than the Avalon or Fibae 3 at some point?
Because it has the balance of bass, mid range, and treble I had not experienced at this price range.
1. The bass is full bodied with plenty of slam, energy, rumble and texture.
2. The mid range has accurate vocals and good amount of details.
3. Treble has nice amount of energy, sharpness and spark to it.
If this meets your expectations, go get it, its a fantastic sounding earphone.
Cheers, Enjoy your music.