Special thanks
to Vivian from KEEP HI-FI arranging to have the KBEAR Lark sent over for a full review. These were sent out before the retune so I've only got the "4k" version over here. But the non-affiliate purchase links down in the description below are for the retuned versions of the KBEAR Lark unless you request for the "4k" version. Nevertheless, the "4k" version has given me a good understanding of what the retuned Lark could be like and possibly, why KBEAR had to retune the "4k" version.
Price and specifications
Price: USD$29.99
KEEP HI-FI Official Store
KBEAR Official Store Aliexpress
Drivers: 1DD 1BA
Connector: 2-pin 0.78mm (TFZ)
Frequency response: 20-20kHz
Sensitivity: 105dB
Impedance: 16ohm
Accessories
3.5mm 4-core SPC cable with L-type gold-plated
KBEAR hard carrying case
3 pairs of white silicone ear tips (S, M, L)
3 pairs of charcoal silicone ear tips (S, M, L)
1 pair of charcoal silicone ear tips (M, already attached to IEMs)
Comments on accessories
Very well done, I was so happy to see that the package included a sturdy hard carrying case even at this competitive price point. I have zero complaints about the cable, it's thin, light and looks pretty; it's hard to do badly in this department unless you throw in the old brown KZ cable.
Build, comfort and isolation
The IEM shell is made up of environmentally-friendly plastic with a faceplate made of zinc alloy. The IEM mold is stated to be exclusive to KBEAR although it looks just the same as the likes of other IEMs such as the KZ ZS10 Pro and TFZ Galaxy T2 - they all fit the same to my ears and comfort isn't an issue. Passive noise isolation is pretty much what you'd expect with any UIEM.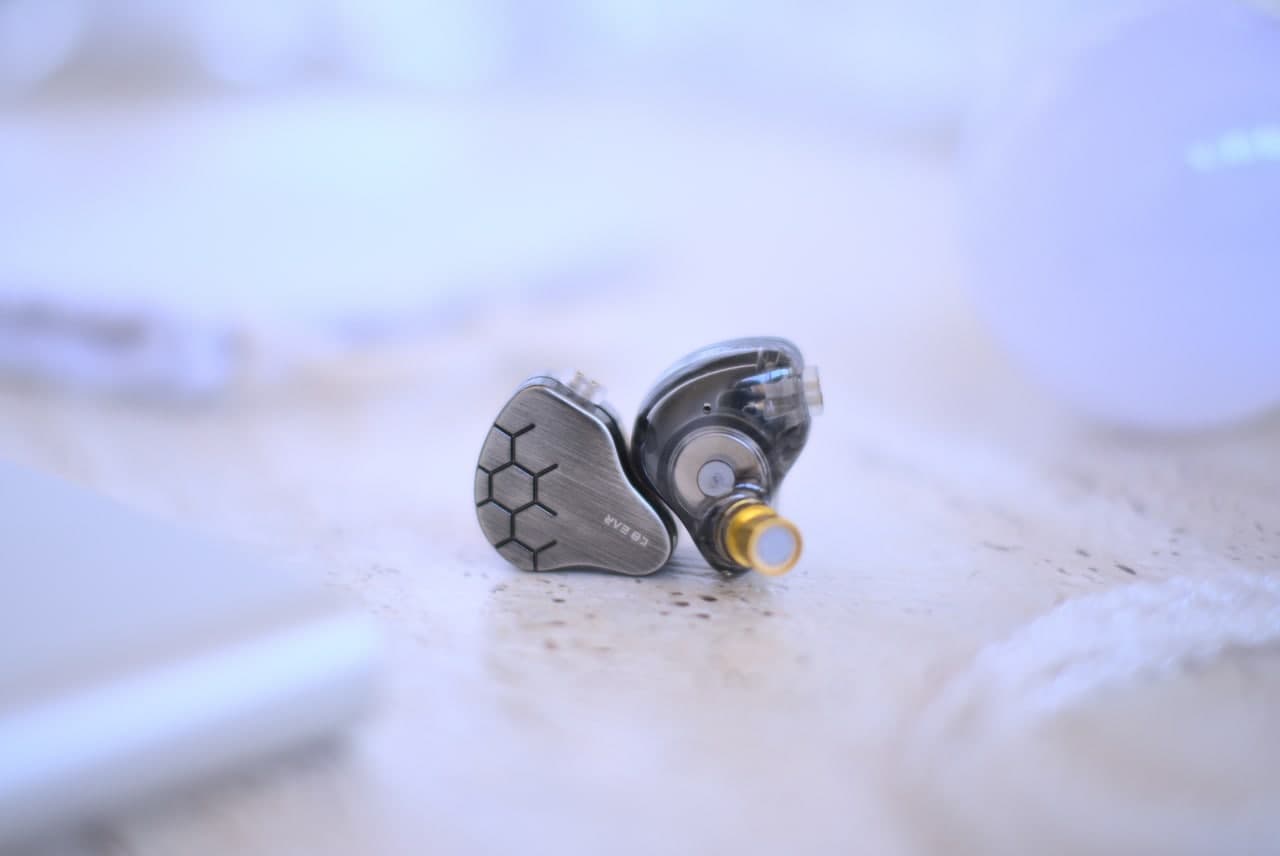 Sound
The KBEAR Lark "4k" version features a reverse L-shape sound signature. That's not to say that there's little bass; there's certainly a counter-clockwise tilt with a larger focus on the upper mids and treble.
The dynamic driver delivers bass that is fast and tight. The Lark "4k" has a fairly linear bass response with a gentle emphasis on the mid-bass for some warmth; this does not stretch into the upper bass which gives the Lark "4k" a pristine midrange.【1】
I've tested these on warmer sources such as a Sony ZX300 (DMP-Z1 firmware mod), IFI Zen Can and MacBook Pro and the "4k" version doesn't have a hard, aggressive sounding upper midrange at safe listening levels. I've never heard them for myself with neutral to bright sources so your milage may vary with those.
The fact that they were still tolerable to listen to was a pleasant surprise given what I was expecting after the announcement that these had to be retuned. However, I feel that the extra energy at 4kHz relative to the other frequencies does not negatively impact the Lark "4k" in terms of listening tolerance but rather, it does more to cause vocals to border on sounding tinny.【2】
From my experience, a balanced IEM with a pinna gain that rises from 1kHz to between 3-3.5kHz sounds most tonally accurate to my ears and those with extra energy at 4kHz have a bit more "bite"/clarity to the sound.【3】 One can normally expect the latter to have mild sibilance especially when coupled with a mid-treble boost which is the case of the Lark "4k". This is exacerbated with brighter sources and those that have too high an output impedence for the Lark "4k".
The Lark "4k" version's treble is characterised by its mid to upper-treble boost as compared to a lower-treble boost which is all too common these days. A lower-treble boost often gives the music more presence or as some people coin, an "in your face" type of sound. Instead, the mid to upper-treble boost in the Lark brings forth cymbals and hi-hats in an inoffensive manner. This may be attributed to the brand new customized BA used for the higher frequencies. My only complaint is that they sound too tight and thin for my liking in the Lark "4k".【4】
Wow. Colour me impressed.
At just USD$29.99, the Lark "4k" has good instrumental separation and resolution. Some may argue that the boosted 4k and upper-treble gives the auditory illusion of more details but having already taken that into account, it is indisputable that the Lark "4k" is indeed slightly more revealing than your average set of IEMs. To top this off, the Lark "4k" has layering and imaging that I would never have expected in this price range.
When I first learned that the Lark "4k" was going through a retune, I thought that it was pretty troublesome given that my review unit had already been sent out. But listening to this "4k" version has given me insight as to why the retune was pushed to happen. The KBEAR Lark "4k" is already a technically proficient pair of IEMs; it also comes with that hard carrying case which outdoes the rest of the competition at this price bracket and maybe even higher.
Conclusion
To me, the only drawback to these is the brittleness in the tonality from the extra energy in the high-end. I've never heard the retuned version but I am confident that by retuning these for a safer, more balanced sound, it would make these the next big go-to sub-50 budget option for many.
The bass and technicalities should be untouched in the retuned version. Having a personal preference for warm and balanced sound signatures, I am truly excited to hear what the retuned version has to offer in today's competitive budget audio market. You can be certain that I will do another review if I get my hands on a pair of the KBEAR Lark retuned version.
Thanks for reading!
You may find more reviews on my
Head-fi thread
.
These are some of the notable tracks used to come to my conclusions for those who're interested (not exhaustive).
Sample tracks for reference:
Artiste 1
–
Song 1, Song 2
.
Artiste 2
–
Song 1…
1.
Falling In Reverse
-
Popular Monster
.
PVRIS
-
Nightmare, Hallucinations
.
Milet
-
Ashes
.
2.
Of Monsters And Men
-
Stuck In Gravity, Wild Roses
.
Andrew Lloyd Weber
-
The Music of The Night, Amigos Para Siempre
.
3.
MY FIRST STORY
-
失踪FLAME
.
Coldrain
-
Runaway, THE SIDE EFFECTS, SPEAK
.
4.
ONE OK ROCK
-
完全感覚Dreamer, Nobody's Home
.
Royal Blood
-
Hole in Your Heart, Out Of The Black, Figure It Out
.