FiiO EM5 - One ear bud to rule them all
Pros
:
- Finally an open ear bud with real bass
- Spacious and open sound
- Natural tuning
- Very comfortable
- Top tier excellent cable with swappable plugs included
- Full accessory pack
Cons
:
- Requires excellent fit to sound correct
- No ear hooks included
FiiO EM5

One ear bud to rule them all.
Do you hate iems penetrating into your ears?
No problem we have the solution for you!
Introduction
Do you remember open fit ear buds?
They were once the only available in - ear headphones that they ruled supreme till the introduction and evolution of the iem's which eventually almost whipped them out.
Well almost because there has always been a small limited audience that continued to prefer them because of their unique ability not to penetrate deep into the ear canal.
Some companies continued to produce ear buds , among them FiiO which has always had an usually entry level model in its catalog.
And suddenly they decided that ear buds users have equal rights to audiophile sound and so they presented us with the EM5.
Behold FiiO EM5
The modern looking and luxurious finished FiiO EM5 is a single dynamic driver ear bud featuring a large 14.2mm beryllium coated diaphragm which is very light and at the same time very rigid.
The beryllium special properties in combination with the long stroke structure of the driver allow for a better bass performance with lower distortion.
The usual disadvantage of ear buds is the early low end roll off and FiiO in order to address this problem they have opted for a unique solution.
Thanks to the special 3D printing manufacturing process the EM5 contains inside a flute inspired acoustic bass tube that acts something like the bass reflex of the speakers and effectively boosts lower frequencies.
The EM5 features a fixed non detachable cable , a choice thoughtfully made by FiiO in order not to compromise the excellent anatomical fit of the ear bud.
The cable itself is a marvel made of high purity sterling silver in litz braiding featuring a twist lock swappable plug that allows us to switch in seconds between 2.5mm/3.5mm/4.4mm heads to cover all possible use scenarios.
A truly unique cable that we would definitely like to see from now on in all the future mid tier and up FiiO iem's.
FiiO suggests that for better sound quality we should use the EM5 with the provided foam ear tips which fine tune the sound and help with the fit.
There are three sets (bass boot , treble enhancing and balanced) with six pairs of tips for each set stored in their own plastic case.
Sadly no ear hooks are included and that's a pity because they help a lot with fitting
Finally an extra leather carrying case (HB3) is included to safely store everything in it.
Listening
Thanks to the new swappable heads cable changing from single ended to balanced was easy as a breeze and we used various dacs and daps like the award winning FiiO M11PRO lately awarded with the EISA prize.
Of course there is no need to use something exotic to drive the EM5 as it will play with everything you have at your disposal thanks to the 32Ω impedance with a high 109dB sensitivity.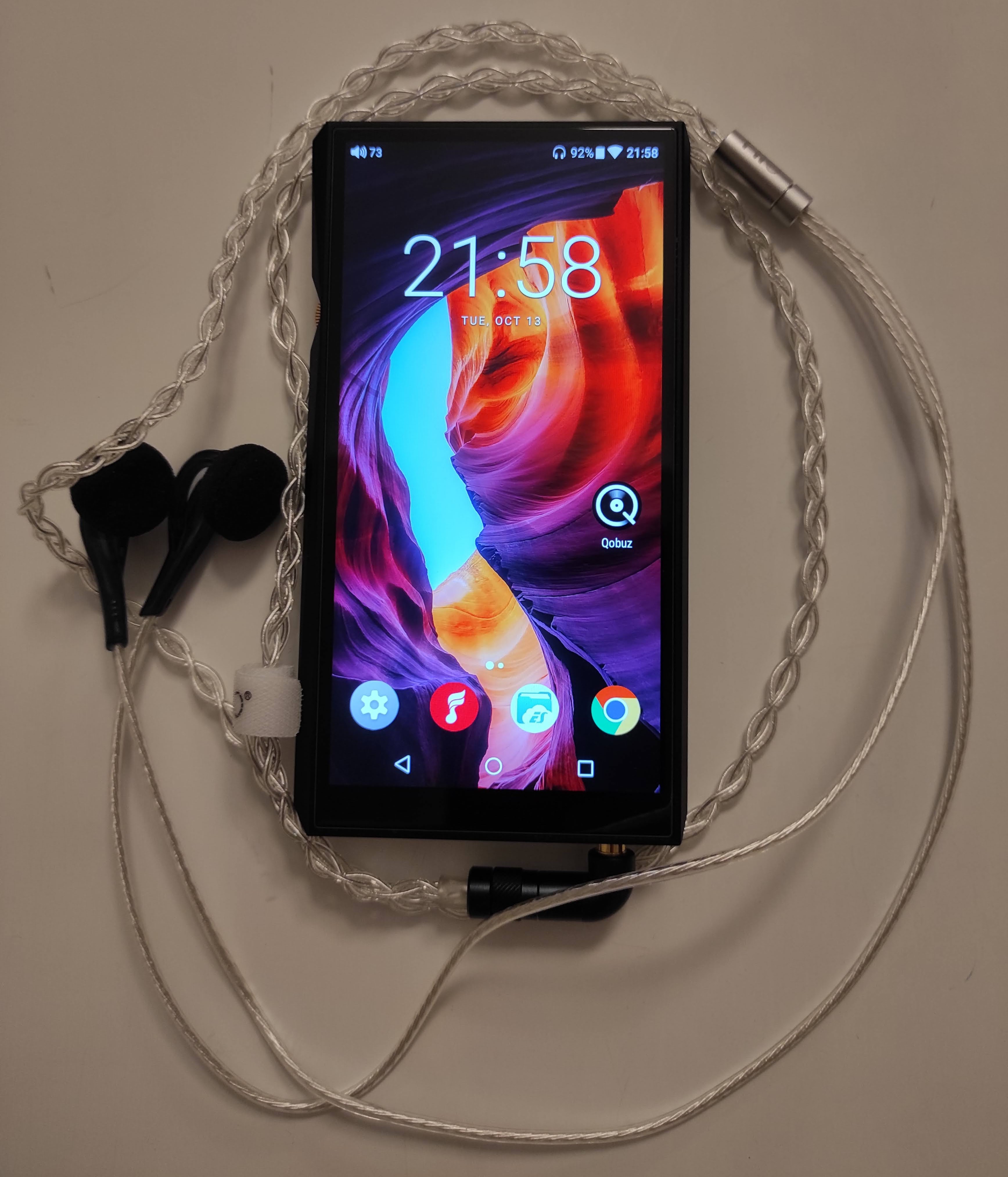 Fit and comfort is just excellent as it is to be expected from an open fit ear bud but we should definitely keep in mind that proper fitting is of utmost importance for the sound quality.
So assuming that the EM5 are properly fitted then they sound exceptionally balanced with a pleasant and natural tone full of harmonic richness.
The big surprise was that we actually heard bass yes real bass (not bloated mid bass pretending to be bass) not ever heard in an ear bud so far and we have heard a lot.
Low end extension is good without much roll off with excellent quality characteristics making for a tight and well layered bass with adequate body and fullness.
Of course do not expect subwoofer performance or super intense dynamic behavior , let's not forget that we are talking about an ear bud here , but in real life you are going to enjoy most types of music and most listeners will be satisfied well except the hardcore bass heads.
The mids - that are more or less fit agnostic - stand out as the star of the show with a tastefully done emphasis resulting in a lively and full bodied presentation with a very natural timbre.
Higher above there is enough energy to resolve details clearly and the EM5 sounds airy and transparent with good note extension and decay but never being sharp or sibilant.
With open fit ear buds that we lose in passive noise isolation - that is practically non existent - we gain it in space allocation due to their open nature
And here is where the EM5 really shines with a sound presentation reminiscent of large good open back headphone.
The EM5 has the unique ability to project a spacious and holographic scene with excellent imaging and the correct proportional placement of instrument individuals and groups even during the most complex passages.
A superb performer that will surprise you by the openness and the unique out of the head experience.
The supplied foam ear tips provide some very welcomed fine tuning while they help a lot with the fit of the ear buds.
Let us close the sound impressions by emphasizing once again the importance of the proper fitting since in any other case we will surely experience loss of low end and/or unwanted exaggeration of the higher frequencies.
At the end
Well it just can't get more simple and straight by expressing our honest opinion that to our ears the EM5 is the best audiophile ear bud on the market right now.
At last after so many years of lying into the shadows an almost forgotten headphone species is reborn from its ashes.
We have in our hands an excellent sounding top tier open fit ear bud with a performance that is not that far behind from the same priced iems while in some areas it even surpasses them by a fair margin.
Ear bud devoted friends should rejoice because thanks to FiiO's EM5 you can still enjoy your beloved comfortable fit but this time without any loss of sound quality.
Excellent.
Copyright - Petros Laskis 2020.
Last edited:
FiiO EM5 - Beryllium-Coated Bliss
Pros
:
Excellent sound quality, detailed bass, clear mids, sparkling treble, open and spacious sound, swappable plug, build quality (cable included)
Cons
:
Fit will vary from person to person, no ear hooks included, they are earbuds so no isolation, price
FiiO EM5
Disclaimer
I would like to thank FiiO for providing me with the FiiO EM5 earbuds in exchange for my honest opinion. No incentive was given for a favourable review.
EM5
Drivers: 14.2mm beryllium-plated diaphragm
Frequency response: 10Hz - 20kHz
Sensitivity: 109dB at 1mW
Impedance: 32Ω at 1kHz
Cable: 4-stranded 120 cores Litz sterling silver cable
Plug: Twist-lock with swappable 3.5mm SE and 2.5mm/4.4mm balanced plugs
Price: US$299.99
Links:
https://www.fiio.com
https://www.facebook.com/FiiOAUDIO/
Preamble
Earbuds? Yes, earbuds. The eternal paradox in my audiophile life. I don't review them much, I have not heard many of them, I can rarely even find them for sale where I live, and yet they are my most used piece of gear. I love listening to top-of-the-line IEMs that cost thousands and yet when I heard FiiO was releasing a pair of $300 earbuds my heart skipped a beat. Flagship earbuds? Oh yes please!
What is it that turns some audiophiles to a form factor with such strong and inherent physical limitations? I can't really explain it, but there is something very pleasant about using earbuds. It is an open and unintrusive form factor that is easy to use and comfortable. That is not something you can always say of IEMs. I remember one manufacturer recommending lubrication if you had trouble using their recommended triple flange silicone tips. That's lube, rubber and ribs, but I am not sure if pleasure comes into it. Headphones too are not always the pinnacle of comfort. Some manufacturers seem to dispense with it altogether and go full Frankenstein. It leaves me wishing they would just go the whole hog and add jumper cable clamps as connectors for the headphone cable to finish off the look completely. At the end of the day it is the simplicity of the earbud form factor that I find so attractive. It is why I use them on a daily basis and why I always return to them when I want a break from IEMs.
I guess that might be part of the reason why FiiO's founder James Chung was so nostalgic about them that in early 2017 he decided to set out developing modernised earbuds worthy of a "flagship" status. FiiO have published a detailed account of the R&D story on Head-Fi and from that it is clear that the EM5 were always going to be a pet project. Not a market-oriented product, but rather something like a proof-of-concept or a "let's see what we can do for the fun of it". FiiO is well known for producing affordable products with a high bang-for-the-buck ratio, so why not do something different for a change? Why not cater to a niche just to see what is possible? I like that!
Unboxing
The unboxing experience is a fairly standard affair. A big black box that opens up to reveal a top layer with the earbuds sitting comfortably in the foam, their glossy shells and sterling silver cable shining in the light, which I of course completely failed to capture in my picture. Photographic ineptitude aside, it is always a nice sight to see something displayed like this. When you pay this much for earbuds, their unboxing reveal might as well draw full attention to the earbuds in question. Below the top layer are a leather carrying case and the 2.5mm and 4.4mm balanced plugs, as well as three boxes with each carrying six pairs of foams: bass, balanced and crisp. It is a good selection of accessories, although there is something missing that I will come to in the next section.
Build quality and fit
With earbuds there is always a challenge to achieve a good build quality while keeping the weight down as much as possible for comfort. Quite often I see very expensive earbuds still being built around the ubiquitous cheap plastic shells, which are light and durable, but not exactly in keeping with the high-end price tag. Other manufacturers go with metal shells, which are befitting the higher price tag and I personally really like it, but does add quite a bit of weight. FiiO found an alternative by using their 3D-printing expertise and I like the result they achieved. The shells are made of a smooth and seamless resin that feels very sturdy and a lot better than any other plastic earbuds I have come across. Granted, that is not that many earbuds, but this feels more like solidly built IEM shells, which is not what I had expected and a pleasant surprise.
Moving down FiiO added a high quality fixed cable. I saw a lot of comments about the cable not being replaceable, but I agree with FiiO that something like MMCX connectors would just have added bulk and weight, while this is the most elegant solution. The cable itself is a pure silver cable and well designed. It is a high quality, ergonomic cable that I expect accounts for a large part of the $300 price tag of the EM5. It is fairly supple, but does exhibit some memory, as the review unit has kinks in the cable where it was bent in the packaging.
At the end of the cable is FiiO's own changeable plug. This immediately resolves one issue that some people might have with a fixed cable, that you can't switch to balanced unless you re-terminate. With the changeable plug it is easy to switch from single ended to balanced and from 2.5mm to 4.4mm. I am a huge fan of this and FiiO's solution is very good. I have used others like DITA Audio's Awesome plug and FiiO's plug is small to the point that it adds barely anything to the size of a regular plug and the locking mechanism is very elegant. I do find it does not feel quite as solid as the Awesome plug, but even after switching many times over the course of this review FiiO's plug has proven reliable.
As for fit, this is an area highly dependent on a person's ear shape and mine are admittedly crap for earbuds. I almost always have issues and so too with the EM5. They just won't sit securely if I move around a little, or even when I eat something. Here FiiO could have done people like me a huge favour by adding ear hooks. Those were a blessing with the Astrotec Lyra Collection and I like the small 'shark fin'-shaped ones to secure the earbuds in place, but those were not possible to fit on the EM5. I was able to use the bigger ones from Astrotec on the EM5 and while a solution, I did not find it quite as comfortable for longer use.
Source
All listening for this review was done with the Lotoo PAW6000 from its 4.4mm balanced out. I also used the EM5 extensively with my MacBook Pro using the Lotoo S1 and its 4.4mm balanced out, directly from the 3.5mm single ended out of my MacBook Pro, from the 3.5mm single ended out of my Sony XA2 phone and occasionally from the Cowon Plenue 2 from its 2.5mm balanced out. The EM5 always performed well and are clearly easy to drive to their full potential, so no worries whatever your source.
Presentation
I honestly did not know what to expect from the EM5. I had used the similarly priced Astrotec Lyra Collection on a daily basis for well over two years, but something suggested to me that FiiO really did push the form factor to a new level of performance. The EM5 also had the "bass-enhancing acoustic flute design" I did not really know what to make of. After giving them plenty of time to run in, I was ready to sit down for a serious listening session and…
No, still listening.
and…
Don't bother me now, can't you see I'm listening.
and…
Maybe I should go to sleep, but I'm still listening.
Pretty much that. Even with the might of multi-thousand dollar IEMs the EM5 managed to captivate me. Every time I started listening while I was doing something else I caught myself dropping whatever it was to close my eyes and just sit there enjoying the music. FiiO really did do something special here.
The EM5 have quite a forward presentation that sounds more like IEMs than what I am used to from earbuds. Everything sounds detailed and controlled from the bass on up and while the stage is very spacious, nothing seems to suffer a loss of texture from the open form factor. There is great width and especially depth to the stage where notes contrast cleanly against a surprisingly black background. The signature is well balanced with a controlled yet fun bass, forward sounding mids and good treble sparkle.
Of course it depends on the foams you are using. The bass foams felt to me a little fuzzy or veiled, the balanced foams felt really good with just the right amount of smoothness, but I also liked the added clarity and a little bite from the crisp foams (which felt to me the same as using no foams, except that gave no grip for a secure fit either). My impressions are mainly based on the balanced foams. The sound also depends a great deal on how the earbuds sit in your ear, so 'YMMV' is very much applicable here.
Bass
The 'acoustic flute' that is such a prominent feature in the design of the EM5 certainly seems to be doing its work. I initially expected a more booming bass, but instead the EM5 have a surprisingly tightly controlled and high quality bass. I personally feel that while it does not extend to the sort of depths I am used to with IEMs, the bass of the EM5 extends very well for earbuds. If you add a little EQ the EM5 are actually capable of a bit of rumble. Switching to the 'Dance' PMEQ setting of the PAW6000 I found the EM5 really good fun for down-tempo EDM with a meaty and impactful bass that feels unusual for earbuds due to its physicality. Without EQ the EM5's bass sounds a little tame for the same music, but perfectly balanced for acoustic music and classical. What surprised me most was just how much detail the bass of the EM5 is able to deliver. It is the sort I would expect from IEMs, but not earbuds. There is texture and detail to a tympani in classical symphonies, the double bass accompanying Caro Emerald feels substantial and a cello solo by Yo-Yo Ma is a joy to listen to with a very realistic tone. With pop music like AURORA or Walk the Moon the bass is tight and has excellent physical impact to bring fun and excitement.
Mids
If you like your vocals, and I definitely do, then the EM5 will cater to your needs with forward, more intimate sounding vocals with a little sweetness. Vocals are clean, clear and realistic. In fact, the mids are very clear and have a crisp quality to them even with the balanced foams, and I mean that in a very positive way. Notes are quite articulate, but the EM5 stay well clear of sounding thin. The mids are organic and realistic and thoroughly enjoyable. My favourite vocals such as Agnes Obel and Hannah Reid sound alluring, and especially with Madeleine Peyroux the EM5 deliver the sweetness of her voice with wonderful intimacy that instantly draws me in. Accompanying instruments sound natural and lively with great tonality. This makes the EM5 especially well suited to acoustic music with an intimate setting, but they are equally at home with classical music. There is also a liveliness to the EM5 that brings fun and energy with pop music, but I do think the EM5 start falling short a little when moving to metal. Perhaps "falling short" is a little overly critical, it is not bad at all, but simply does not show off the strengths of the EM5. Give the EM5 Agnes Obel's 'Brother Sparrow' and you are really in for a treat.
Treble
The treble of the EM5 is a very good quality with lots of sparkle and a bit of bite. Perhaps I am getting more used to treble, or the EM5 simply don't push too much in the area where I am most sensitive, but I like it. The EM5 can be a little unforgiving depending on the quality of the recording where the treble will sound a bit bright, leaning towards a colder, harsher treble, although I would say that it is never sibilant. When I listen to classical music with soprano vocals there is more bite to those then I usually prefer and this could be a bit much for people sensitive to that. The treble also gives a bit of extra bite to strings such as from guitars or violins. For violins this is an advantage because the EM5 render surprisingly well-textured violin strings for earbuds and it makes them a joy to use for the articulate playing styles in Paganini's violin concertos. When the music has a sweeter treble in it like Tchaikovsky's Nutcracker the EM5 render that as it is intended with a wonderful sparkle that gives that unmistakable feeling of Christmas.
Comparisons
-Astrotec Lyra Collection-
The similarly priced Astrotec Lyra Collection have been my daily earbuds for well over two years now and I love those to bits. A comparison to the EM5 though feels like two completely different propositions. The EM5 are warmer and fuller sounding earbuds with a bigger stage, whereas the Lyra Collection have a more intimate stage and a much leaner note size. Where the Lyra Collection sound unmistakable like earbuds, the EM5 present music much closer to what I would expect from IEMs. The EM5 have a more prominent and higher quality bass with more detail, impact and extension. The bass of the Lyra Collection feels rolled off and anaemic by comparison. In the mids it becomes more interesting. The EM5 have a clearer midrange with more forward vocals, but the Lyra Collection actually sound to me as having the more natural midrange and are more capable of conveying tonal nuances. The Lyra Collection feel more delicate, where the EM5 are a little heavier handed due to their forward presentation. The treble of the Lyra Collection is more rolled off and sweeter, but that also makes them more forgiving than the EM5. The Lyra Collection is an easier listen, smoother and less forward then the EM5. I actually think this makes the EM5 more suitable when there is environmental noise because details are pushed more forward and are not as easily lost as with the more subtle Lyra Collection.
The Lyra Collection have a very nice build quality and they have held up well over the years, but the EM5 feel more solidly built and the cable is a clear step above the thin wires on the Astrotec. The Lyra Collection comes with fewer foams, but does have the all-important ear hooks, which is countered by the EM5's excellent changeable plug. Not sure which of those I find more practical, but the ear hooks have the biggest impact for users who do not get an optimal fit.
In my opinion the EM5 are a step above the Lyra Collection, but I won't be retiring those any time soon either.
Conclusions
If you have not guessed yet, I am very impressed by the FiiO EM5 and I genuinely think that FiiO have been able to achieve something that pushes earbuds to a higher level of performance. I have to reserve some judgement because I don't have a great overview of current top-end earbuds, so please take that into account, but I would be surprised if at this price point there are many contenders out there to take on the EM5. (I would love to know if that were so.) Even at their arguably very high price tag of $300, I feel the EM5 should definitely on the radar of anyone who enjoys a good earbud.