Empire Ears Bravado MKII (2021)
Empire Ears Bravado MKII (2021)
Pros
:
- Warm, engaging sound with a lots of detail and good stage
- Impactful but not overdone bass
- Scales well with source and recording quality
- Well made, attractive IEM and cable
- Very good price-/performance ratio
Cons
:
- Slightly artificial upper midrange and treble (still on a very high niveau)
- Rigid cable
Intro
Empire Ears are opening 2021 with some new and exciting products. One of them is the BRAVADO MKII, the next iteration of their best-selling IEM. At a retail price of $799, it marks the starting point of their entire collection. This is a markup of $100 over its predecessor.
The reason why is quickly explained: While the original Bravado had 2 drivers to get the job done, the 2021 model is way more complex being a 4-driver tribrid design.
The BRAVADO MKII belongs to EE's X Series which is mainly targeted at consumers rather than professionals. Those are covered by EE's EP, or Empire Professional Series.
Specifications
4 Driver, Tribrid IEM Design:
Universal in-ear monitor
1 Next Generation W9+ Subwoofer - Sub-Bass/Bass
1 Proprietary Balanced Armature Driver - Mid
2 Premium Electrostatic Drivers - High, Ultra High
4-Way synX Crossover Network
EIVEC - Empire Intelligent Electrostatic Control Technology
A.R.C. Anti Resonance Compound Technology
Impedance: 4.0 Ohms @ 1kHz
Frequency Response: 5 Hz - 100kHz
Sensitivity: 99dB @ 1kHz, 1mW
Handcrafted Alpha-IV 26AWG UPOCC Copper Litz Cable
Disclaimer
My review consists solely of my own thoughts, opinions and impressions of the product. I paid for the tested product, it was not given for free. All pictures were taken by myself unless stated otherwise.
Review gear
Burson Audio Conductor 3X Reference (main testing source)
Astell & Kern SP1000M DAP
Cayin N8 DAP
Cayin N6 II DAP with E02 module
Empire Ears Alpha-IV cable (2.5mm balanced)
Satin Audio Medusa II cable (2.5mm balanced)
Music selection/Testing playlist
Voices, midrange, acoustic guitars etc.
Tenacious D - Tenacious D - Wonderboy
Marily Manson - The Pale Emperor - Day3
Chris Jones - Moonstruck
Sara K. - Hell or High Water - I Can't Stand The Rain, Stars
Ana Tijoux - 1977 - Partir de Cero
Channel separation
Tenacious D - Tenacious D - Kielbasa
NIN - The Downward Spiral - Hurt
Johnny Cash - The Essential - Ring of Fire
Stephen Coleman - Westworld Season 2 Soundtrack - C.R.E.A.M.
Soundstage, treble, electric guitars etc.
Alice in Chains - MTV Unplugged - Rooster
Korn - MTV Unplugged - Freak on a Leash
Anneke van Giersbergen - Symphonized - Feel Alive
Howard Shore - The Hobbit: An Unexpected Journey - Blunt the Knives
Dynamics, bass, subbass
The Diary - The Gentle Storm - Endless Sea |Gentle Version|
Wardruna - Runaljod: Ragnarok - Tyr
Hans Zimmer - Man of Steel OST - Look to the Stars
Hans Zimmer - Pearl Harbor OST - Tennessee
Ice Cube - Raw Footage - Gangsta Rap Made Me Do It
Andreas Vollenweider - Vox - Enchanted Rocks
Packaging & Accessories
The packaging for all Empire Ears (EE) products is more or less the same which to me makes sense, because it shows consistency throughout their whole range. You get a very nicely designed white cardboard box with the Empire Ears Logo and the name or logo of your particular product. It's not too big or small and radiates class and style. It consists of an outer "slider" cover and a sturdier inside box.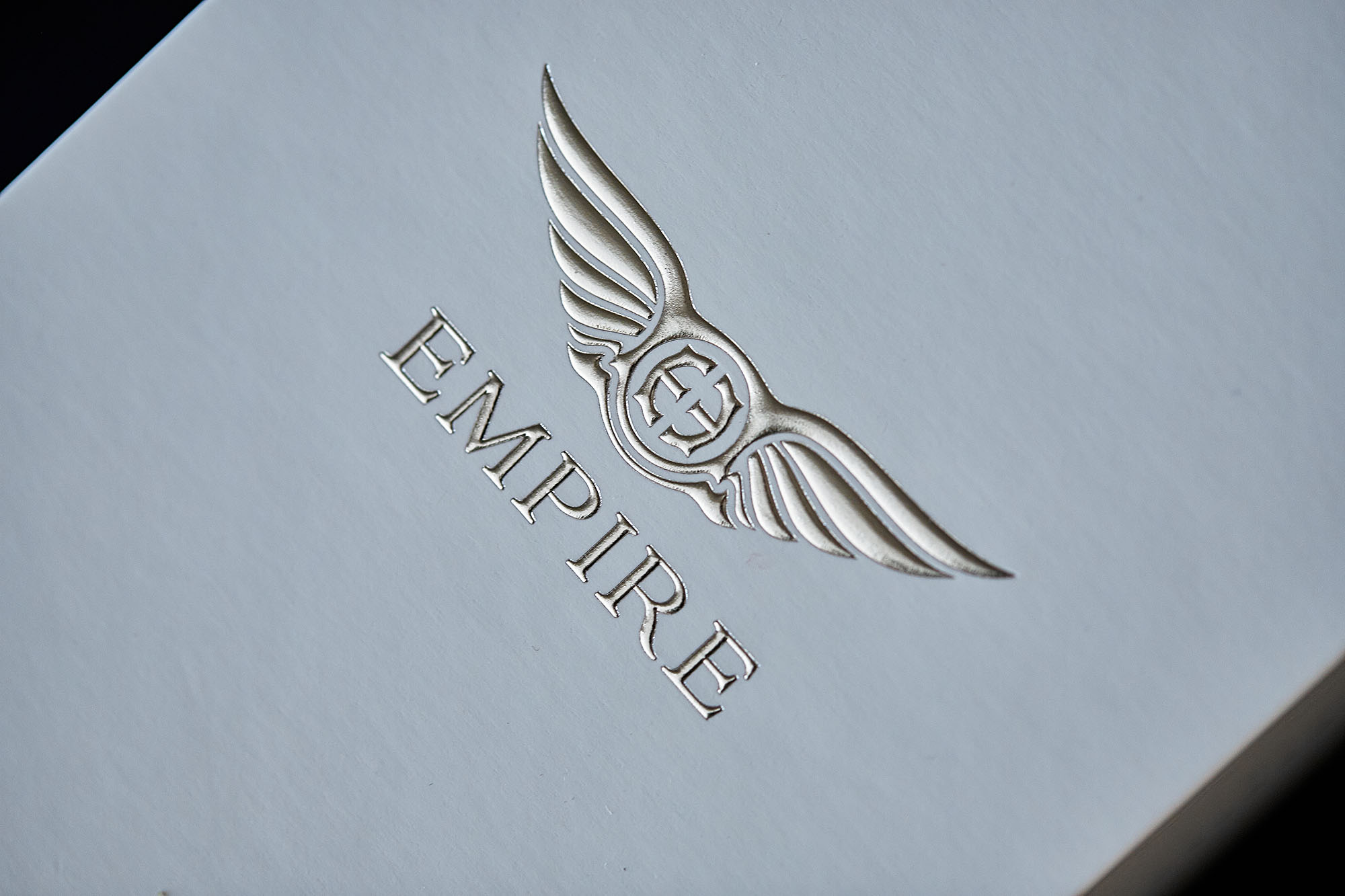 Once you open the magnetic flap of the box inside you find a compartment with a quick manual and a "thank you" card from EE congratulating you to your excellent purchase
Underneath looms the IEM and cable ready for you to rip out and enjoy the music. A classy drawer underneath reveals an aluminum sheet containing various Final Audio silicon tips to choose from. The great thing here is that Empire Ears not only gives you the standard S, M and L sizes but XS, S, M, L and XL instead, which simply gives you a wider range of tips to match to your ears.
As my ear-canals are slightly different in size, it makes it easier for me to get a good fit. However, I would have wished for a selection of foam tips as I generally prefer foam over silicon. The included tips work well though.
Last but not least you get EE's phantastic Pandora case, a black aluminum capsule to safely transport your precious in-ears. It's built like the proverbial tank and is engraved with Empire's logo and the name of your product.
Build quality & Fit
IEMs


The build quality of the BRAVADO MKII is excellent, just as it is with any of EE's in-ears. I actually haven't seen any difference in build quality from their entry- to top-level products to be honest. To me, that's simply a sign that they make no compromise in quality no matter the price. I like that!
The new BRAVADO MKIIs are black with gold logo and some sparkling gold dots on the faceplates. The design update is rather subtle and that's just fine. I have seen some early prototypes of the MKIIs with a very flashy, daring design that I did not like very much. Apparently I was not the only one and Empire Ears changed it for the final product. The BRAVADO MKIIs went through several iterations design- and soundwise as EE took the feedback of their alpha- / beta-testers to heart. To me personally, as a user experience designer, this is a philosophy that makes this company very sympathetic.
Fit and comfort, at least for my average sized ears is good with rather long nozzle enabling a good seal. Hence the IEMs do not sit flush in my ears but stand out a couple of millimeters, which is no problem for me.
Cable
EE are using a variation of Effect Audio's Ares II which they call Alpha-IV or simply A4. You get to choose from 3.5mm single ended or 2.5mm balanced. I always go for balanced but that's my personal preference. It's a beautiful, classy and well made cable and I particularly like the sleek connectors and super small y-split. Yes, that cable looks gorgeous in my opinion.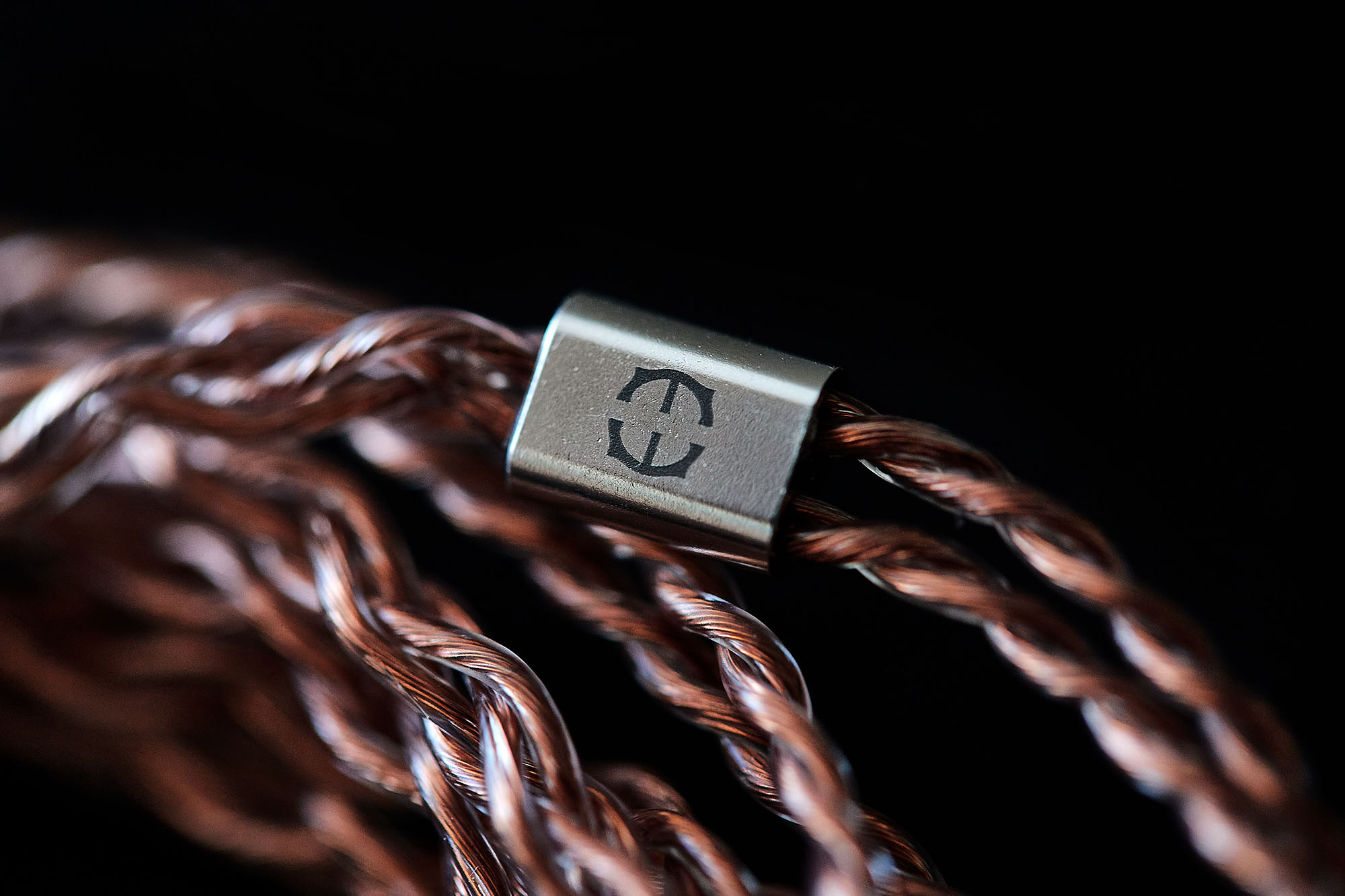 What I don't like so much is the rigidness of the cable. I have mentioned this several times in previous reviews as for me, flexibility, especially for an IEM cable, is an important factor of good usability. I clearly prefer softer, more flexible cables. However, cable noise is at an acceptable level / no issue. Soundwise I have no complaints whatsoever. It's a good cable.
Sound
Now what can you expect soundwise from the BRAVADO MKII?
Overall tonality
I consider the overall tonality of the BRAVADO MKII on the warmer side with good impact and detail level. I think the goal here was to create an IEM that will play nice with most popular genres and give you some bang for the buck and bang you get for sure.
Treble
The dual electrostatic (e-stat) drivers deliver a slightly elevated but nicely detailed treble spectrum without being harsh or annoying. Strings and guitars sound like you expect them to, maybe sometimes just a little bit compressed and a tad artificial. But that's really complaining at a very high niveau. There is enough sparkle and shine to make you happy and despite using 2 e-stat drivers, the overall treble presentation is rather tamed than overly pronounced. There are other IEMs that deliver more detail but at a much higher price.
An important factor here is the quality of the recording as the BRAVADO MKIIs are not very forgiving. Excellent recordings sound excellent, bad ones sound, well, as bad as they are. I did not notice any sibilance at all so you should be able to use them as your daily drivers without a problem.
Midrange
Voices, male and especially female ones are a bit pronounced and nicely rendered with a very slight artificiality in the high tones. The upper midrange, just like the treble, seems a bit elevated putting certain instruments and vocals in the foreground.
I suspect an overall w-shaped tuning here, but can't confirm that with measurements.
Bass/Sub-bass
Once more the excellent "Weapon-9+" subwoofer is providing the necessary foundation for an overall engaging and pleasing sound.
I am listening to Jeff Goldblum and the Mildred Snitzer Orchestra and the sub-bass is providing the necessary warmth and depth to make those relaxed sessions a pleasure to listen to. Switching to Ice Cube's "Gangsta Rap Made Me Do it.", the BRAVADO MKIIs punch hard and deep so I can feel the baseline rather than just hear it.
The bass is not overblown but rendered with a certain level of control. Of course, it's not as massive as with Legend X or as well controlled as on the Odin, but very very enjoyable.
Soundstage
The soundstage seems to me above average. Live recordings sound spacious and you will actually be able to enjoy the "live" experience on the BRAVADO MKIIs. The stage appears more wide than deep. All in all pretty nice for the asking price. I think I am starting to see that this universal IEM is quite universal in terms of music genres too.
Channel separation/Instrument separation
Channel separation is good, slightly above average. Instrument separation capabilities very much depend on the recording quality here. I stated before that the BRAVADO MKIIs playback will simply represent the recording be it good or bad. Nothing added, nothing taken away.
Neutrality
The BRAVADO MKIIs are once more not neutral sounding IEMs as is none of the X-Series products from Empire Ears - and that's ok, that's the idea: Get some emotions out of your music because listening to music is all about emotion. (At least for me)
Amplification/Matchability/Scalability
The BRAVADO MKIIs are a bit of a special case I think. Their performance very much varies with different sources and the recording quality. Also they scale well with the rest of the equipment. I dare say that, with the right source, they can punch way above their price point. So when you try them, make sure to try them with different sources if possible.
A very good match is the combination with my Burson desktop DAC/Amps which I mainly use for reviews as I consider them neutral and well balanced.
Cayin DAPs will get you more warmth and bass and seem to have a good synergy with the BRAVADO MKIIs. (And with most of the other EE IEMs I tested). Treble is particularly smooth and detailed here as well. Going from N3pro to N8 shows how the BRAVADO MKII can scale. Color me impressed!
I did a little cable-rolling as well and switched from EE's Alpha-IV cable to Satin Audio's Medusa II (259,-$) mainly for usability reasons. It seems a little experimenting on this side could be rewarding too.
As of the time of writing this review, the BRAVADO MKIIs still have below 10 hours of usage, so I will give them a bit more time for either my ears to adjust and/or the IEMs to burn-in, however one might prefer to call it.
Comparisons
Shozy Black Hole ($799)
I am comparing those two for one reason only: the same price. In fact, those are so different that it's hard for me to compare them at all, but here goes…
Tonality and sound signature could not be more different due to the very different designs: The BRAVADO MKIIs a 4-driver tribrid and the Black Hole (BH) a single dynamic driver (DD) with semi-open-back design. Both are excellent in what they deliver for the money and this one is purely about preference and maybe even the usage situation.
While the BRAVADO MKIIs sound like a very good IEM, the Black Hole sound a bit more like over-ear headphones. While the BRAVADO MKIIs isolate you from the outside world, the Black Hole lets sound from the outside through on purpose.
Treble is certainly more engaging on the BRAVADO MKIIs with their 2 e-stats per side whereas the single DD on the Black Hole delivers a more relaxed treble performance. That is not to say it is missing detail! Detail rendering on both IEMs is pretty much on the same level, just the tonality is a very different one.
Voices tend to sound more natural on the Black Hole whereas the BRAVADO MKIIs have more bass- and sub-bass impact. All in all the BRAVADO MKIIs provide a bit of a warmer sound vs. a more neutral one on the Black Hole. As I said, the overall very different sound signature is making them hard to compare.
Personally, I use both in-ears in different situations, depending on my mood and the use case (on the go vs. sitting at home, studio recordings vs. live recordings etc.) So in the end, you will need to test and decide yourself, I can't possibly make a decision here as both are very good options in their own right - one is not better than the other per se.
Verdict


I wish I had the original Bravado to compare to and see if/how EE have improved upon their best selling IEM. Unfortunately, I could not get my hands on one although I really tried. So I'm left with summing up my experience with the BRAVADO MKIIs.
From a technical standpoint, I think it's impressive what Empire Ears have crammed in this IEM for the price. Yes, it's 100$ more this time around, but there's a lot more high end-tech in the BRAVADO MKIIs than was in their predecessor.
Fortunately, the technology goes to good use here making the BRAVADO MKIIs another price-/performance champion, just like its older sibling. You get a very good IEM with little limitations that has lots of potential to scale as you upgrade your gear along the way.
Other reviews
Empire Ears Valkyrie MKII
Empire Ears ESR MKII
Last edited: