Item information
Added by
Views

14,428
Reviews

3
Last update
Rating

4.67 star(s)

3 ratings
Latest reviews
Pros
:
- Super sturdy, folding design
- Excellent wireless range
- Engaging sound
Cons
:
- Bass emphasis can overpower at home
- Midrange a bit unnatural
Pros –
Super sturdy, folding design, Excellent wireless range, Engaging Sound
Cons –
Bass emphasis can be overpowering at home, Midrange is a little unnatural
Introduction –
I've always had a strange fascination with V-Moda. They are an audio company that lean towards professional application, as the DJ's headphone of choice, but their products are served with undertones of consumer fashion sense. As such, they've always existed in a limbo for the audio community; offering far more quality than your regular retail store headphone while lacking that last iota of focus possessed by enthusiast models. But that's just common perception, in my experience, V-Moda are a company that deserves your attention whether you're a regular consumer or a hardened audiophile.
Some may turn their noses up to the company's talk of fashion and customizability, but a strong tuning methodology permeates beneath their sharp aesthetic styling. The Crossfade 2 Wireless absolutely exemplifies this as a headphone that is both exceptionally solid and surprisingly innovative. With a highly engaging sound, rock solid build quality and the liberation of Bluetooth connectivity, the Crossfade 2 presents a very strong offering within the portable headphone scene. And, at a $330-350 USD asking price (depending on configuration), V-Moda undercut the premium competition priced closer to $400. Let's see what V-Moda's latest cans are all about.
Disclaimer –
I would like to thank V-Moda very much for their quick communication and for providing me with the Crossafed 2 Wireless for the purpose of review. All words are my own and there is no monetary incentive for a positive review. Despite receiving the headphones free of cost, I will attempt to be as objective as possible in my evaluation.
Accessories –
The Crossfade 2 Wireless ships within very distinct packaging that draws parallels to V-Moda's hallmark angular styling. Unclasping a leather strap enables the carry case containing the headphones and accessories to be removed. The first thing buyers will notice is that the case is absolutely minuscule; especially considering that they contain a wireless over-ear headphone, 3.5mm audio cable and micro-usb charging cable.
It really drives home how portable the Crossfade 2 Wireless is, and the headphone's hexagonal design permits space to store the cables inside the case for access at all times. The case has two vents that can be opened to allow the headphones to breathe, presumably after a workout, or vigorous gaming or DJing session. And, where most wireless headphones include an audio cable that is almost an afterthought in quality, the included cable here is better than those on most wired headphones. It's a fully featured V-Moda Speakeasy cable with remote/mic, 45-degree plug and durable braided cord. I separately purchase these cables for use with other headphones, they're terrifically well constructed.
Design –
The Crossfade 2 Wireless embodies a delightful mix of portability, durability and usability. It's distinct, angular styling harkens back to the M100 and original Crossfade; all distinct and stylish headphones. However, the Crossfade 2 is perhaps V-Moda's most feature-rich headphone yet, retaining the folding design of the M100 while compounding on the innovations of the original Crossfade. The result is one of the most practical daily driver headphones I've had the pleasure of using, and I've personally owned almost every portable headphone on the market.
At a glance, the Crossfade 2 Wireless is a very low profile over-ear headphone with a mostly metal construction. The earcups are clad in V-Moda's signature faceplates customizable with an array of materials, colours, textures and even user specified designs; I opted to etch in my website's logo. The bulk of the earcups are constructed from a well-finished matte plastic that feels as solid as they come; if not quite as opulent as designs from Bowers and Wilkins or Bang and Olufsen. The Crossfade 2 Wireless achieves especially impressive solidity through a one-piece metal frame that also serves to keep the whole package looking coherent.
As aforementioned, the headphones fold for transport via hinges on the metal frame. The hinge is steel with a solid locking mechanism. Furthermore, when folded, they are easily the most compact I've handled, occupying minimal bag space. The headband adjustment slider is also incredibly sturdy, adjusting with defined clicks. I would have liked some numbered markings, but they did hold their position perfectly well during testing.
Comfort will vary between users as V-Moda headphones have always had shallower more unorthodox hexagonal earpads. That said, the Crossfade 2 has V-Moda's plushest pads yet and even more spacious XL pads are available for $20 on their website. The stock pads were a little snug for me, but they're made from a soft pleather with compliant memory foam innards. Combined with the headphone's soft fabric headband and relatively lightweight, I found the Crossfade 2 to be comfortable for hours of listening.
I did experience some mild discomfort on the outsides of my ears and the pads don't breathe well, getting a little hot over time, but these are easily one of the more comfortable portable headphone's I've used. The headphone's closed design and strong seal produce low sound leakage and great noise isolation that is easily sufficient for public transport. That said, fit stability isn't excellent due to their looser clamp force. Resultantly, they don't compress the head during longer listening sessions but they will shift with the wearer's head position.
Usability –
The Crossfade 2 is quite typical for a wireless headphone with no snazzy touch-sensitive panels or flashy LED effects; this is a refined and straightforward setup. The right earcup houses the main interfaces with a 3.5mm audio input, sliding power button and 3-button media controls at the top. The control buttons are relatively easy to distinguish but have terrible tactile feedback with shallow travel and little click. The left cup is featureless besides a micro-usb charging port at the bottom.
When it comes to wireless performance, it should be noted that not all Crossfade 2's are identical. The rose gold version being reviewed is $20 more expensive and supports Apt-X whereas the standard version does not. From a source with Apt-X support, this codec does deliver tangible benefits to sound quality and certain implementations feature lower latency ideal for films and videos. And, in testing, my rose gold unit offered one of the most agreeable wireless implementations I've experienced.
Pairing is simple, activated by holding the sliding power button for a few seconds and signified by the flashing status LED. Once paired, the headphones automatically attempt to reconnect with the last paired device and can be connected to two devices simultaneously. During my testing, connection was stable and latency was noticeable but not obtrusive; both videos and movies were practically in sync. But perhaps the most impressive aspect of the Crossfade 2 is its wireless range; they stubbornly hold onto a signal like few other wireless headphones. I was able to traverse the entire first floor of my double brick house with just a few hiccups at its extremities. In close proximity, connection is rock solid.
Battery life is rated at 14+hours which is very respectable amongst wireless headphones. Better yet, the headphones easily met that claim, lasting ~16hrs around low-medium volume over 6months of testing. When the battery becomes depleted, connecting the audio cable disables all electronics, enabling them to function identically to a wired headset. Moreover, background hiss was barely noticeable during wireless listening and volume was easily sufficient. The headphones also introduce no additional sound processing over a wireless connection in the pursuit of fidelity and lower latency; something that can bother on other wireless headphones.
Sound –
As the Crossfade 2 Wireless is designed to be used over a Bluetooth connection, the following comments will be over an Apt-X wireless connection from my HTC U11 and Fiio X7 II. The headphones received over 200hrs of burn-in prior to final evaluation to ensure optimal performance during testing.
Full Specifications:
here
Tonality –
The Crossfade 2 is obviously sculpted; leaning more towards consumer than audiophile tuning with a vivid V-shaped signature. That said, their tuning is well-considered with emphasis lying mostly within sub-bass and lower-treble. This style of tuning creates a sound that isn't thick down low nor splashy up top, while still delivering heaps of slam and crispness. Mids don't hold as much presence, but they do possess great clarity that tends to draw attention. These features culminate to produce a sound that isn't natural but wows on first impression and continues to engage with every subsequent listen.
Bass –
It's no secret that V-Moda headphones favour bass orientated tuning, but common perception is that the Crossfade 2 Wireless is their most balanced yet. Though undoubtedly true, these headphones don't lack warmth or impact, its emphasis' are just a little altered. Sub-bass holds dominance in the Crossfade 2's sound, providing a very physical foundation to its sound. Bass is also well-extended, delivering visceral rumble and slam. As is typical of most portable headphones, V-Moda also employ some mid-bass emphasis to provide fullness and impact. Resultantly, the headphone's low-end leans in the direction of warmth however, this is redeemed by a fairly significant dip in their upper-bass.
Such a sculpted sound inevitably has its caveats, the most notable being the Crossfade 2 Wireless' unnatural timbre. However, as a result, bass isn't overly warm and mids are impressively uncoloured. Muddiness is evident, stripping their sound of some articulation. Still, the Crossfade delivers notes with very impressive control and tightness despite its emphasis, contributing to their very physical quality. This style of tuning creates huge slam while retaining defined, textured and focussed notes; even if they are lacking some detail through lack of linearity. But though not linear, the Crossfade 2 Wireless sounds especially dynamic down low due to great contrast between their bass and midrange.
Mids –
Clarity is the Crossfade's greatest asset when compared to similarly bass orientated headphones. And interestingly, it is achieved not through excessive brightness but their aforementioned upper-bass attenuation. As bass is still emphasized, vocals are slightly chesty and lower details slightly muffled, but that dip into the lower mids effectively counteracts their added warmth, enabling a clearer presentation. Of course, linearity is always key to a realistic image, and the Crossfade's uneven tuning does result in a notable lack of vocal density. This manifests through the headphone's somewhat dry midrange presentation but also contributes to its excellent separation. Still, combined with their upper-midrange brightness, the Crossfade 2 Wireless is impressively revealing and isn't affected by bass spill or congestion.
Though more emphasized and less coloured by bass, upper mids tell a similar story. Female vocals don't sound perfectly natural but are never hollow or raspy while upholding a high level of clarity. In fact, upper mids are rather nicely expressed within the realm of dark and over-bright portable headphones; and the V-Modas tend to bring details to the fore more naturally than most. Instruments can sound slightly inconsistent, a little warm down low and a little thin above, but notes are always defined, clear and delineated. So despite sounding a little unnatural, the Crossfade 2 Wireless remains easily enjoyed and highly engaging.
Treble –
The headphone's generally more revealing nature can also be attributed to their aggressively detailed high-end. And unsurprisingly, the headphones don't strive for realism up top either; rather pursuing engagement and addictive contrast. This mainly stems from their clear lower-treble emphasis that brings intricacies to the fore and forms their crisp presentation. In particular, cymbals and strings are delivered with great clarity and attack though this narrow-band emphasis does sap some instrument body. Actual detail retrieval is also very pleasing even if they are a little flavoured to resolve bundles of background detail. Regardless, strings are textured and cymbals polished without succumbing to artificial glossiness or stridence.
Middle treble possesses smaller but notable accentuation that produces higher levels of treble air. I suspect this is intended to mask some roll-off up top because, though certainly airy with plenty of shimmer and decay, micro-details are not particularly well resolved and upper-treble elements such as high-hats sound truncated. That said, this is a fairly common deficit non-specific to the V-Moda's and their extension is easily above average, producing similarly pleasing resolution. They also produce quite a clean background and refrain from either sibilance of the blunting of most active lifestyle headphones. Thus, the Crossfade 2 Wireless skillfully mitigates fatigue during high-volume listening while maintaining a revealing image.
Soundstage, Imaging and Separation –
The Crossfade 2 Wireless delivers a spacious stage that extends well beyond the confines of the head. Due to their enhanced air, highs are atmospheric and their sound is very separated due to its reduced upper-bass body which thins out their note presentation. This does aid definition and clarity, but imaging takes a hit with sparse layers and vague placement. Resultantly, the V-Moda is best enjoyed with modern albums which don't rely as heavily on natural timbre and precise imaging. They are also very suitable for movies and videos due to their space, bass impact and clarity, however, they may lack some precision for competitive gaming.
Wired –
Though designed for wireless listening, that's not to discount V-Moda's rich heritage with competitive wired models. Over a wired connection to my Fiio X7 II, the Crossfade 2 Wireless did indeed sound better; not a transformative change but one that was easily appreciated and, of course, very welcome. Their 32ohm impedance made them relatively easy to drive, requiring just a little more volume than headphones like the Denon MM-400, but not enough to necessitate an external amplifier.
And similar to other Bluetooth headphones, I found the Crossfade 2's low-end control to most notably improve; likely a result of better amplification over a wired connection. This, in turn, contributed to higher coherence throughout. Their sound signature and balance weren't altered, but bass was cleaner and more defined. Mids sounded a little more linear but retained their slight dryness and warmth. Highs improved most notably through enhanced extension that benefit resolution and micro-detail retrieval. As such, the headphones sounded appreciably more technical and generally coherent over a wired connection. Imaging also improved by a fair margin which would explain why the V-Moda's are such a popular choice for gamers.
Comparisons –
Denon MM-400 ($400):
The Denon's aren't wireless, but they are subjectively one of the best bass-orientated portable headphones on the market. Its wooden build is just as iconic as the Crossfade's angular customizable design but they trade the hard-wearing properties of the V-Moda for additional aesthetic charm. The MM-400 is slightly more comfortable as it is lighter with larger pads that fully encompass the ear. Both fold, but the Crossfade gets a lot smaller if bag space is a concern.
It's in listening that the Crossfade's interesting bass tuning reveals its strengths and weaknesses. The Denon is notably warmer than the V-Moda, but also more linear and balanced. It has a slight mid-bass focus and lacks the upper-bass dip of the V-Moda's, sounding a lot more natural as a result. The Denon also delivers tighter rumble and greater deep-bass definition. However, mids are a lot clearer on the V-Moda as they are less coloured by its bass. The Denon is more natural and possesses the density that the Crossfade lacks, but lower-mids can sound a little muffled as a result.
That said, the Denon's have a similar upper-midrange lift that enhances clarity and they retain their more natural timbre on top. The Denon has a little lower-treble emphasis but it is noticeably less aggressive than the Crossfade 2. It also lacks the middle-treble air of the V-Moda but has a little extra extension and upper-treble energy in return. As such, both are clean sounding headsets with similarly engaging tuning whose unique character is derived from their differing bass tuning.
Master & Dynamic MW60 ($549):
The MW60 is among the most prestigious wireless headphones on the market. It has a gorgeous metal/lambskin leather build that feels more opulent but less hard-wearing than the more utilitarian V-Moda. Its design isn't as sleek as the Crossfade's, but its deeper pads are more comfortable during longer listening. Both fold for storage and have excellent wireless implementations with great range and Apt-X support.
The MW60 has a warmer, darker sound that is more linear but also considerably less vibrant, lacking the high-end and midrange energy of the Crossfade 2. Both are bass boosted, but the MW60 has more evenly distributed emphasis and is a little tighter. However, the V-Moda has quite a lot more midrange clarity and is a little more transparent; as the MW60 is darker with greater bass spill and colouration.
Highs also have a little aggression on the M&D headphone but they are vastly smoother overall where the V-Moda has greater emphasis and air. The MW60 does extend a little further despite its less revealing nature and delivers higher resolution and greater detail as a result. Both have fairly impressive soundstage presentations for portable headphones, the V-Moda is more spacious and a lot more separated but lacks the coherence and precision of the MW60.
Verdict –
Mad Max is a tale of redemption. And, much like the film, the Crossfade 2 Wireless does much to redeem the reputation of consumer headphones. Because, though not without its flaws, the new Crossfade forms a synergistic blend of form and feature; this isn't a statement in fashion or luxury, but a hardened headphone adapted for daily use and abuse.
Their combination of engaging tuning, rock-solid build and practical form factor culminate to a headphone that excels with daily use; a vital trait to all wireless headphones. Their sculpted sound is slightly unnatural and may be a little over-cooked for home listening, but it is immensely engaging and balances out nicely in louder environments. Additionally, low-latency apt-x wireless lends them well towards videos and films. This is a versatile headphone perfectly evolved for its intended uses.
Verdict – 7.5/10,
These are not lounge chair headphones, Bluetooth was never designed with such uses in mind. Rather, the Crossfade 2 Wireless pursues functional excellence; a road warrior, imperishable and enchantingly coloured.

Thanks for reading! If you enjoyed my review, please see my website for more just like it!
Pros
:
High Definition, Dynamic, Sparkle, Clean and Highly Textured Bass
Cons
:
Separation and Space Between Layers/Instruments
Product Introduction
Technical Specifications
Sound Analysis
Signature
Stage
Resolution and Imaging
Transparency
Layering And Separation
High Frequencies
Middle Frequencies/Vocals
Low Frequencies
Comfort
Wireless
Comparisons
Pairing
Suggestions For Improvement
Conclusions
Product Introduction

​
I was lucky to be selected by VMODA to review the Crossfade 2 free of charge. The Crossfade 2 Wireless (CF2W) is the natural successor to VMODA's Crossfade 1 headphone. The CF2 was engineered to be a dual purpose headphone with excellent sound in wired and wireless modes. A miniaturized amp developed by VMODA called the Vamp is inside the headphones, the amp can be disabled and analog mode enabled by using the headphone in wired mode.
"…very fast, durable and made in Japan…It wants to be reference and high resolution…so I had to tune it a lot to still have bass! It took me 100+ cushions and many variations of other components to get it just right."

Technical Specifications
Sound Analysis
​
All sound impressions will be done in wired mode as this provides the maximum sound quality the headphone is capable of. At the end of the sound analysis section I will compare wired vs wireless sound. In order to provide the most accurate review I will be pairing the Crossfade 2 with my Chord Mojo. Mojo is a neutral slightly warm DAC with exceptional detail and sufficient power to drive most headphones. Music will be in FLAC format and from a variety of genres, all being highly dynamic and audiophile quality recordings in bitperfect playback mode.
deep
into the highs and lows. It's a unique take on the V shaped signature in that it shares some aspects of U shaped signatures as well. The mids are slightly recessed but not to the point to where the user has to crank the volume to hear. To those familiar with other VMODA headphones, they will find the mids as being forward but this is because in the past VMODA has utilized quite a recessed mid-section. Not so with the CF2 as the mids are very detailed. The signature can be tweaked by adjusting the position of the headphones, a slight movement up or back will tilt the sound a little more toward the upper mids and highs. The CF2 plays well with all genres but sounds best with electronic music in my opinion. The CF2's give me a warm relaxing feeling after listening for hours, as if I'm sitting on my back porch watching the sun go down enjoying a beer on a Friday night.
Keywords: Audiophile, Dynamic, Smooth.
Many factors can affect our perception of a headphones stage. Texture and depth cues are important to understand when analyzing stage properties. In the outdoors, the further away a sound is the less texture it'll have when it reaches us. The texture is absorbed by land and atmosphere. Quiet sounds and sounds with reverb also sound further away. Highly textured sounds appear closer to us than sounds lacking texture.
Below: the Y-axis is the height, the X is the width and the Z is the depth. From these three planes we form a 3D stage.
​
The CF2 has an intimate stage. At its' widest it sounds as though it's coming from about an inch outside the closed back CF2's. Some of this is due to the nature of the CF2's being closed back. Vocals typically are positioned forward with regard to stage position (not frequency response as if you are standing at a live show near the front looking up at the band. Like vocals, drums and bass are also focused in toward the center of the head just slightly further back than the vocals. The stage is much wider than it is tall or deep. This creates an "amplified width" effect wherein the stage sounds wider but also creates a simultaneous tightening where height is moderate and instruments can sometimes sound close to each other or as if they are competing for the same space.
Keywords: Width Dominant, Moderate, Tight, Intimate.
The CF2's are high definition headphones, in fact resolution is one of the best technical capabilities of this headphone. Fuzzy distorted guitars, string slides, and mid/sub bass are all highly detailed with rich texture. Reverberations and micro details come through clean and on par with louder sounds. I don't find the definition to be focused in one region, it is evenly spread across the spectrum-masterful tuning given the deep sub bass and sparkly highs which tend to focus detail in those regions.
Keywords:
High definition.
A top of the line transparent headphone should be free of distortion and have a natural tone. These two things among other factors create transparency. Tuning for transparency is often a balancing act between dynamism and naturalism. The CF2 is dynamic and unashamed. It has good transparency but loves to have a good time more. The deep, powerful and simultaneously fast decaying sub and mid bass tend to reduce transparency but simultaneously increase dynamism. If you're a fan of a dynamic sound you'll love the CF2. I've found that significantly stretching out the headphones and flexing the headband makes them fit looser which creates a bit more of a transparent effect because when they're clamping down hard on your head it tends to muffle the sound and make it sound closer.
Keywords: Dynamic.
Keywords: Blending at the edges.
Some have reported the CF2 is harsh, I heard a bit of harshness pre-burn in but after 100+ hours of burn the harshness was totally gone. Sometimes with a V shaped signature there is a tendency for the listener to crank the volume to hear more of the mid-range. I did this myself for experimental purposes and even then I didn't feel as if the highs were fatiguing, sibilant or harsh. I find treble natural in tone. The deep reaching sub bass contrasts nicely with the sparkle to mellow it out and make the sound more dynamic. The treble does not interfere harmonically with the midrange in the sense of reducing decay.
Keywords: Sparkle.
Middle Frequencies/Vocals​
The midrange is clean and high definition, while retaining some of the characteristics of a V shaped signature. The lower mids are slightly thicker than the upper mids but they are restrained such that they don't congest the excellent definition of the upper mids. Vocals are forward with regard to the rest of the mids yet slightly recessed with regard to the rest of the sound. The ever so slight warmth in the midrange allows CF2 to retain a natural tonality. Mid bass punches hard when called upon but doesn't hang around to overly color the sound. Midrange vocals and instruments alike are highly defined, both male and female vocals share this high definition.
Keywords: Definition, Clarity.
The mid and sub bass on the CF2 are hard and fast in attack but polite and tidy in decay allowing for a high definition audiophile style sound. Bass can slam and punch when called upon. Bass quality and texture has been emphasized over quantity. I get more slam and punch than rumble. The bass quantity is enough to be tactile and vibratory.
Keywords: Deep, Hard Hitting, Punchy, Textured, Uncongested, Clean, Tidy.
Comfort​
The CF2's need a good stretching out before they will be comfortable. I have been wearing them 10 hours a day for weeks. I do not find the weight to be a problem due to the comfortable memory foam which does a great job at absorbing weight and keeping the headphones in place. I would however prefer bigger cups because the CF2's tend to clamp down on the ears instead of encircling them at the edges. At the end of the day my ears are a little sore-it's nothing dramatic and I don't notice it unless I touch them. I understand VMODA wants to keep the footprint small but I would prefer the option of ordering a unit with XL pads instead of the default small ones. Heat build has been an issue for some people but not really a big issue for me. No one could hear my music in the office and I had a good seal.
Connecting the CF2 to my S7 Edge was easy, I held the sliding power button in the forward position for two seconds, activated the Bluetooth on the S7 Edge and the headphone was quickly found and paired. I was wireless and streaming Bandcamp to my CF2's! I then opened UAPP, I
had
to know if I could play flac files wirelessly, I could! I then disconnected from my S7 Edge and connected the CF2 to my Macbook Pro. It connected without issue. I opened Jriver and VLC and both showed "VMODA Crossfade 2 Stereo", both programs had no trouble connecting. Flac files played fine and sounded great. I did experience a bit of stutter every few minutes playing flac files while standing about 20 feet away from the S7 Edge or MacbookPro but it disappeared when I got closer.
I don't think it's fair to compare the sound quality of the CF2's wired to a Mojo/CDM running FLAC in bitperfect mode to my S7 Edge streaming flac that has been upsampled by the Android DAC, but to my surprise the difference minimal due to the performance of the Rose Gold CF2. It has exceptional wireless capability and I would strongly advise anyone considering this headphone for wireless purposes to pay a little more and go for the rose gold version. In wireless mode I find the bass goes deep and the mid bass retains punch just like the wired version. Treble reaches just as high as the wired version. Layering, separation and soundstage are mostly unchanged from wired mode. Detail retrieval remains very high.
All the buttons worked well in wireless mode and provided positive tactile response. Sound quality was pretty good for phone calls as well. I tested both the call answering and call blocking features and both worked. I also was able to listen for the full 14 hours on one charge at my normal volume (little past ½ on my S7 Edge), a rare feat as most manufacturers overstate battery capacity.
Meze 99 Neo:
Beginning with the Highs, CF2 extends further than 99 Neo but both remain smooth headphones. The CF2 sparkles, the 99 Neo does not. Both are dynamic headphones but the CF2 is a more dynamic. Mids are more forward and less recessed on the Neo's as they have a more balanced instead of V shaped signature. Both headphones are non-fatiguing although some sensitive to high frequencies may find the Neo more tolerable. Neo has slightly thicker mids and the taller stage while the width is similar between the two. The 99 Neo has a clearer less claustrophobic sound with more air. The CF2's have higher resolution and detail; offering the most high definition sound and texture of the two headphones. The 99 Neo has more separation between the instruments and a more spacious sound due to its' taller and deeper stage. The CF2's have deeper reaching, more textured bass and more slam/punch than 99 Neo. Both have similar approaches with regard to bass attack and decay; that being a strong quick attack and a quick cleanup or tidy decay. 99Neo's were more comfortable right out of the box and for extended listening sessions while the CF2's required a good week long break in period and repeated flexing of the headband.
Chord Mojo:
High resolution texture and detail. Increased warmth, tamed sparkle. Smaller stage than CDM.
Mojo + CDM:
Much taller and wider stage than Mojo alone and with better separation and layering. Space between the instruments has increased, less congestion. More dynamic and vibratory sound, ends of the spectrum have a stronger attack for example high hats are more audible.
ALO CDM:
Similar stage, dynamism and tactile sound as Mojo + CDM. Brighter sound as the slight warmth of the Mojo has been removed.
S7 EDGE:
The pairing with the S7 Edge is very good for a smartphone and it had more than enough volume. The mid and sub bass remain well controlled with regard to decay. Mid bass has solid punch. The highs have good decay and extension. Of course you lose a little bit of dynamism given the power differential between sources like Mojo/CDM and the S7 Edge but the S7 edge is a good match with the CF2's especially when you consider the convenience and coolness of going wireless.
Suggestions For Improvement
​
I always try to find improvements no matter how minor. The stage could have been larger, which affected layering and separation especially in complex passages with many instruments such as an opera. Making the raised portions of the buttons protrude a little further would also be nice as in wireless mode they can sometimes be hard to find.
Few manufacturers put the time, research and quality materials into their headphones that VMODA does. These headphones are very very very tough. The included accessories are all top notch; the case, the gold plated connector and cables. With VMODA it's obvious that they pay extreme attention to the details that others forget; take the case, it has dual straps for the cables and dual vents to vent moisture or heat.
love
these hinges, I wish every headphone had them, they allow the CF2's to shrink down into a miniscule footprint which is perfect for travel. In my opinion the Crossfade 2 is a headphone that could easily be $500+ if VMODA wanted to charge that much, it's a steal at $350 for the Rose Gold and $330 for the other colors.
The CF2's are an audiophile headphone. They are incredibly resolute and highly detailed for their asking price. They will sound great with any genre but they sound spectacular with electronic music. If you're a detail fanatic who loves a great value and you want a wireless headphone you'll enjoy the Crossfade Wireless 2. If you are interested in the Bluetooth aspect, make sure you get the Rose Gold version as it has apt X. The CF2 looks spectacular, is tough as nails, allows you to be free of wires, has a very long battery life (14 hours) and produces excellent sound quality. Overall a very solid offering from VMODA and at $350 it's going to be very hard to beat at that price.
Reviewer: Audio Rabbit Hole
Pros
:
Most balanced V-MODA sound yet, wired or wireless usage
Cons
:
A little heavy, apt-X only in Rose Gold, better Bluetooth mic needed
V-MODA has a pretty diverse following that has grown over the past few years and their offerings have progressed along the way, positive progression in my opinion. V-MODA is one of the few brands that bridges the gap from commercial appeal to audiophiles.
I really enjoyed the sound of the V-MODA XS but there were some things that I didn't like, the isolation was poor. Granted it was an on-ear but to me it was even poor by on-ear standards. The second issue was that I couldn't wear them to the gym because with any quick movement they would shift on my head and I would be staring into an earcup.
The M-100 has been one of their most popular headphones. The M-100 bass has been its long suit but to me it's loose, uncontrolled bass can become overpowering fast. I really enjoy a warm overall sound and V-MODA has always delivered on that, but I was left wishing for more detail in my listening to go with all that warmth.
I will say, up to this point, the majority of audiophiles that own a V-MODA own them as their fun, non-critical music listening headphone and it is sometimes nice to throw on a pair of headphones without worrying about critical listening for layering, bass extension and rolled off treble. However, I consider myself a critical listener and was never satisfied with that aspect.
I have been hoping for a V-MODA offering that will offer fun, yet controlled bass and give the sound buff in me some satisfaction. Could the latest V-MODA be the one? In a word…YES!
Let's take a closer look at the best all around headphone, in my opinion, in the V-MODA stable. I am especially curious to hear the first headphone release since Roland has owned a major stake in V-MODA. I introduce you to the V-MODA Crossfade 2 Wireless.
V-MODA Crossfade 2 Wireless
-MRSP: $349 Rose Gold apt-X
-MRSP: $329 Matte Black/Matte White
http://v-moda.com/crossfade2-wireless/
https://www.amazon.com/V-MODA-Crossfade-Wireless-Over-Ear-Headphone/dp/B06XX1SR33
I want to thank Luca at V-MODA for providing me the opportunity to review the Crossfade 2 Wireless. Thumbs up!
TECHNICAL DETAILS
Type - Over-Ear Circumaural Bluetooth
Drivers - 50mm Dual-Diaphragm (patent pending)
Frequency Response Wired - 5 - 40,000Hz
Headphone Sensitivity - 100 dB @ 1kHz 1mW
Micropphone Sensitivity - 42dB @ 1kHz
Impedance - 32 Ω
Weight - 309g (with standard aluminum shields)
Battery Capacity - 430mAh (up to 14+ hours music playback)
Cable - 1-Button Reinforced SpeakEasy™ Microphone 3.5mm cable
To me, the name of the product, Crossfade 2 Wireless holds the key to this new offering from V-MODA. They are called the Crossfade 2 Wireless and not the Crossfade Wireless 2. In my opinion the company was trying to produce an excellent wired headphone with the addition of Bluetooth instead of vice versa. To my ears this is one of the first Bluetooth wireless headphones that sound almost equal wired vs.wireless, great job for a Bluetooth headphone.
Below is what you receive for the price of admission when you purchase the Crossfade 2 Wireless. I always enjoy opening a box of headphones from V-MODA, cutting the ribbon makes you feel like the Mayor doing a ribbon cutting at a new Public Recreation Center or something along those lines anyway.
The exoskeleton case is the usual V-MODA fare. Inside they provide strapping for cable storage and the headphones fold to create a small footprint and fit just perfectly in the case. One thing I thought was nice about this case is that there are vents to allow air into the case to assist in drying from sweating, particularly nice for DJ's and workout buffs. There is also a Carbiner clip attached to the case, another nice touch.
The styling hasn't changed much from some of the previous V-MODA styles and these are very distinctly V-MODA. All of the usual customizations are available as well through the V-MODA site including the 3D printed shields. I want to add that owning a "Rose Gold" color did not appeal to me at first. Once I saw them, my opinion changed as it would be what I would describe as a deep copper color. I really like it. They also have the CliqFold hinge of the models past to create a small footprint for storage.
The build quality of the headphones and the cables are very good and sturdy and as usual the V-MODA's are built like a tank. They are a touch heavy at 309g and also sit a bit heavy on the head. Included is a micro VAMP that functions when the headphone is in wireless mode. I am certain that ads a bit to the weight. Let me say that these are a very comfortable headphone, weight aside. The headband comfort has benefited from the five years of comfort research as well as the earpads being exceptionally conforming and comfortable. I easily wear them for my one hour walk in the morning and never feel the need to adjust them. I live in Florida and I do not notice these making my ears sweat any more than any other earpads, it is Florida and it is hot and humid so it is very difficult to not sweat. They are a cushiony memory foam that conforms very well to my ears and I would think to anyone's ears.
These are not ANC headphones so aside from the isolation inherent in the headphone there is not active noise cancelling to create an artificial buffer. The buffer against outside noise is created by the more than adequate isolation and the solid bass when listening to music. To some it might have been a nice addition but if active noise cancelling is not done right it can change the sound signature of the headphone. The positive here is there is nothing to negatively alter the impressive sound signature. These are Certified Hi-Res Audio (wired mode) but we are seeing that designation more and more.
They say you can expect 14+ hours of battery life. I am not seeing that quite that long, but I do utilize the volume on highest setting and use my cellphone or source to control the listening volume. I also play a lot of FLAC files when utilizing my Opus #2. If you are using the V-MODA REMIX, which I reviewed earlier
https://www.head-fi.org/f/showcase/review/18392
, it is fully compatible with their, VAMP, internal amp in the REMIX.
I want to address the buttons on the headphones that control the Volume UP, Volume DOWN and Multi - Function button for pausing, answering calls etc. I am in favor of actual push buttons as opposed to touch controls on an earcup as I have found touch controls to be a little inconsistent. However, I am not a big fan of the feel or placement of these buttons. I find them a little difficult to push and to know which button you are pushing when you are feeling blindly above the earcup, with more Bluetooth listening time I am sure I could get used to the function. The function control of say the Sennheiser Momentum 2 is easier to get the hang of.
With regard to the Bluetooth functionality, these paired easily with everything I attempted to pair them with. The Bluetooth functions phenomenally and I have found I can go the 30ft. as advertised without a drop. In fact I cannot recall any drop outs or disruption in sound when using them wirelessly. I have found when talking on the phone while using the Bluetooth, along with the built-in mic, people say they are noisy. Traffic or wind makes it frustrating for the other party. However, with the enclosed cable they are fine for conversation.
Let's move on to the sound, shall we?
I want to address a couple things from the Head-Fi Crossfade 2 thread. There is a bit of discussion about codecs in the Crossfade 2 Wireless thread. As can be seen from the photos I have a pair of Rose Gold/Black headphones. The Rose Gold/Black offering utilizes apt-X and that is about all I can tell you regarding any other codecs utilized. AAC is the gorilla in the room with some folks and they feel there needs to be more clarification as to its existence. I would say if there isn't any mention of a specific codec on the box or on the company website, it doesn't exist in this offering. The only question I have regarding codecs is why all of the color models don't offer at least apt-X, only the Rose Gold? With apt-X I hear a wee bit more clarity and a little added spaciousness but it really isn't earth shattering. It is nice to listen using apt-X if your equipment takes advantage of it and I feel it is a nice addition to offer the consumer.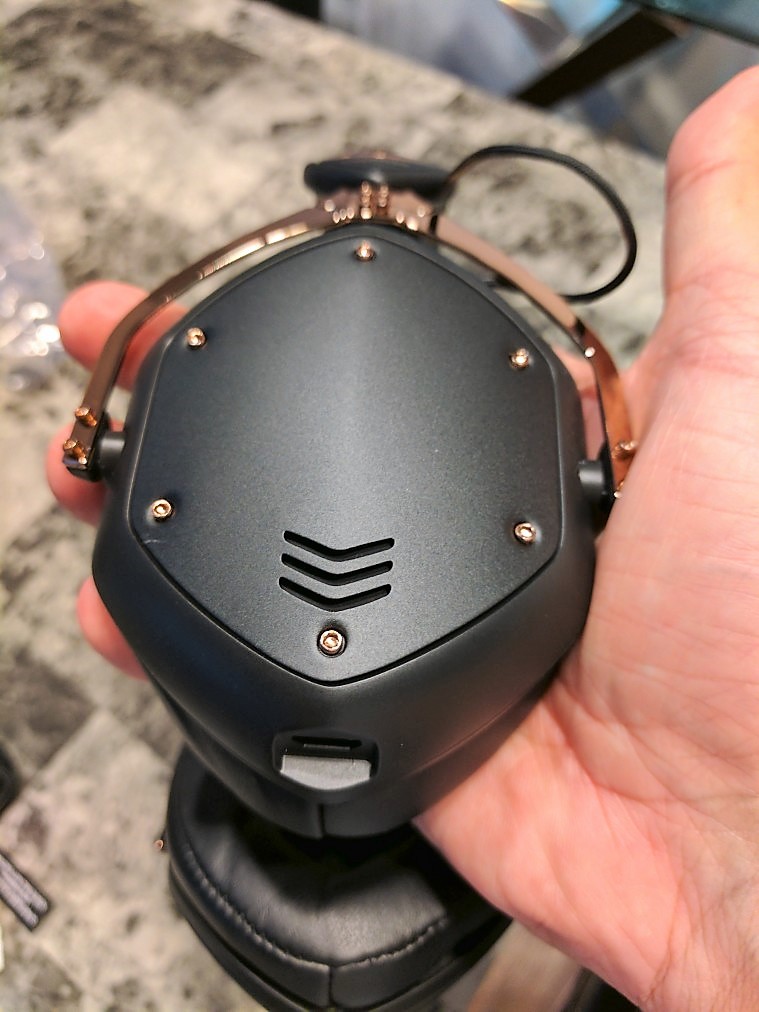 In my opening I briefly said the Crossfade 2 Wireless checked a lot of the sound boxes I have been waiting for from V-MODA. I think we need to discuss the basic V-MODA house sound. V-MODA's are generally warm, bass tilted, fun headphones. The bass quality is generally impactful but a bit loose and bloomy bleeding into the mids. That said I would take the V-MODA house sound over MOST of the Beats models if I needed a bass fix. I have always thought of the M-100 as a formidable basshead headphone, although it is a little tiring for me at times. There are many reviews out in the wild on those so I am not going to dwell on the M-100.
The overall basic first listen to the CF2W (CF2W for short, because I am tired as hell writing it out), is warm, and has a bass tilt as well, very reminiscent of their house sound. It is with time that you start to realize the nuances between these and other V-MODA offerings. They do have that V-MODA signature house bass, and that is okay, because as you listen the more you realize there is also a refined treble and midrange that is aptly apparent. As mentioned, the M-100 model the bass is so strong and overpowering that it bleeds into the lower midrange and then some. I am not being overly critical I am merely saying the M-100 have a place in fun music listening or if you are DJ, but not the best for detailed, critical listening. The CF2W is the most balanced offering yet from V-MODA. The bass is sculpted differently than in other models and provides bass detail and solid warmth and does not impede the other frequencies. I use these a lot outdoors and the bass is perfect to cover outside noise.
The midrange on CF2W are a little more forward than on previous V-MODA's and the treble is ever present. The treble is never sharp or harsh and it has great tone and quality. Combine the treble with a more forward upper midrange the overall sensation is that of balance and detail. Given the fact that there is just a slight difference in extension between wired and wireless feel free to cut the cord without loss of sound quality. I do not want to only compare these to prior V-MODA's, but in general these are an enjoyable listen and best so many other offerings available in the same price range.
In closing, I was pleasantly surprised with the CF2W. I had been a loyal Sennheiser Momentum 2 wireless guy since their release, recall and re-release. I never really cared to venture into the wireless realm with any seriousness. I will say that the CF2W has changed that and I have a new daily go to for my wireless listening.
Comments
There are no comments to display.